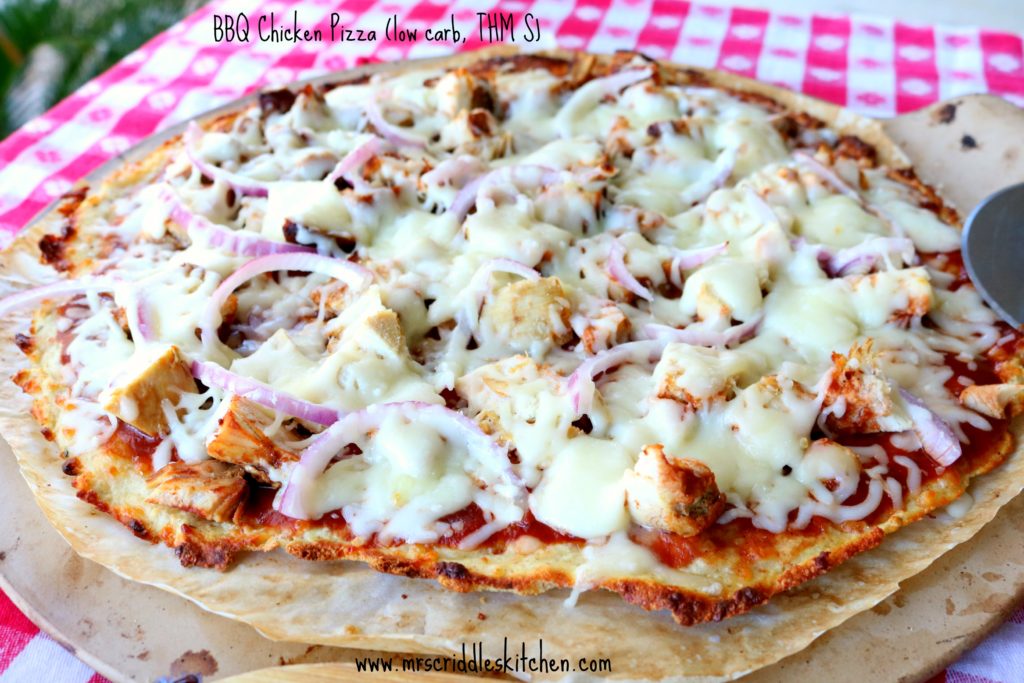 (This post may contain affiliate links. If you choose to purchase through my affiliate link it will NOT cost you any extra, it will just support my blog. Thank you so much!)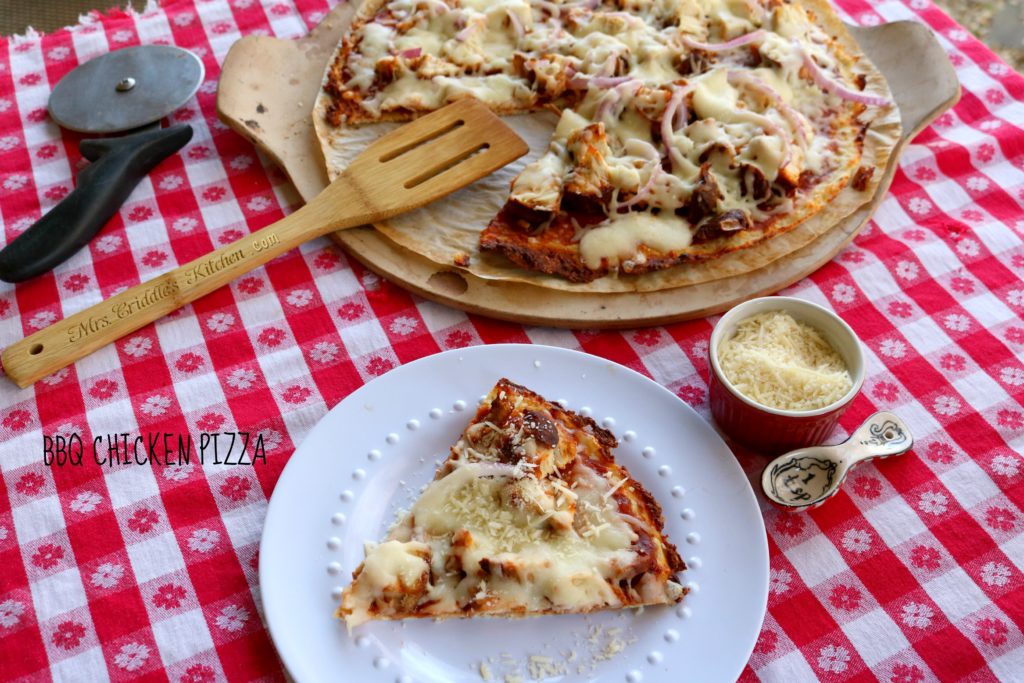 -BBQ CHICKEN PIZZA-
Okay, how many of y'all like pizza? (raises both hands) We love pizza here! The cool thing about pizza is there are sooooo many flavors and toppings and even sauces!
This just happens to be one of our very favorite pizzas! We used to buy it all the time from Schlotzsky's. But now that we eat the Trim Healthy Mama way, I make it.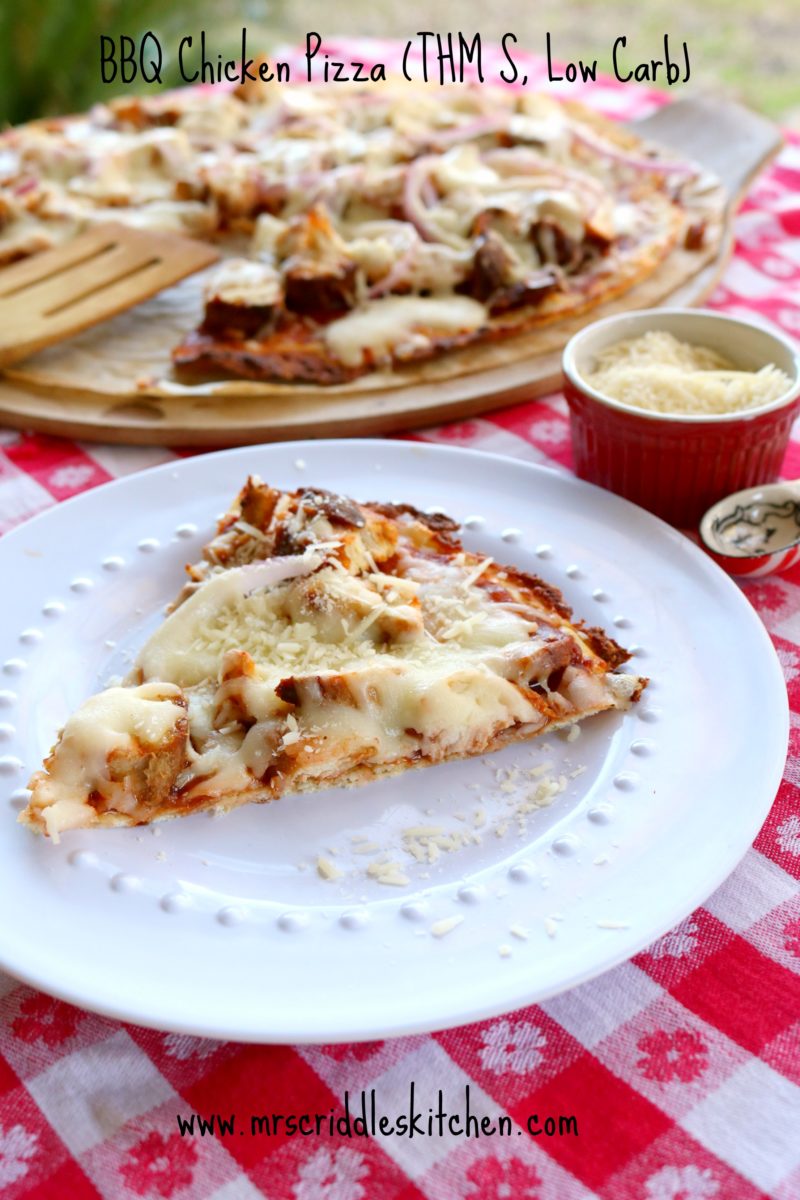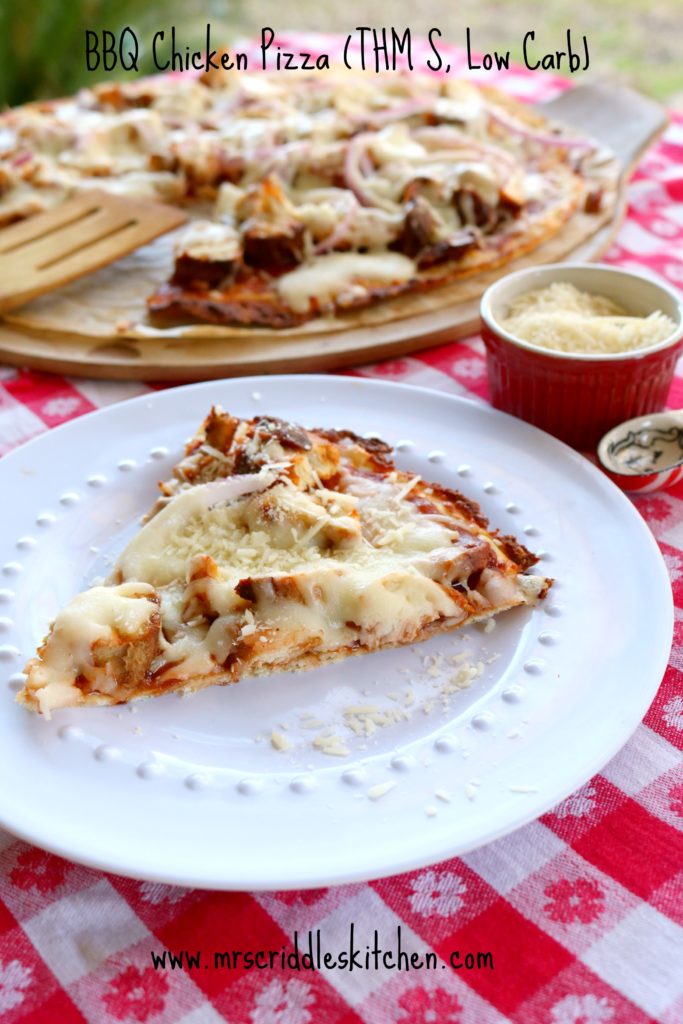 Now for the crust you can just use your favorite low carb pizza crusts or use a low carb mission tortilla just to make it easy. If you are wondering what crust I used, it is the Perfect Pizza Crust from the Trim Healthy Mama Cookbook on page 211. I absolutely LOVE that crust! AND my husband LOVED it!! That was a big deal for me… I've tried many low carb crusts but this one is my favorite. If you are interested in purchasing any of the THM products here is my affiliate link: THM STORE
If you are interested in the cookbook you can find that here:
The crust is not thick… it's thin but honestly that does depend on how thin you spread it out. We like thin crust. Also, I used the family sized recipe option and it made this above plus a big 11X15 cookie sheet of crust.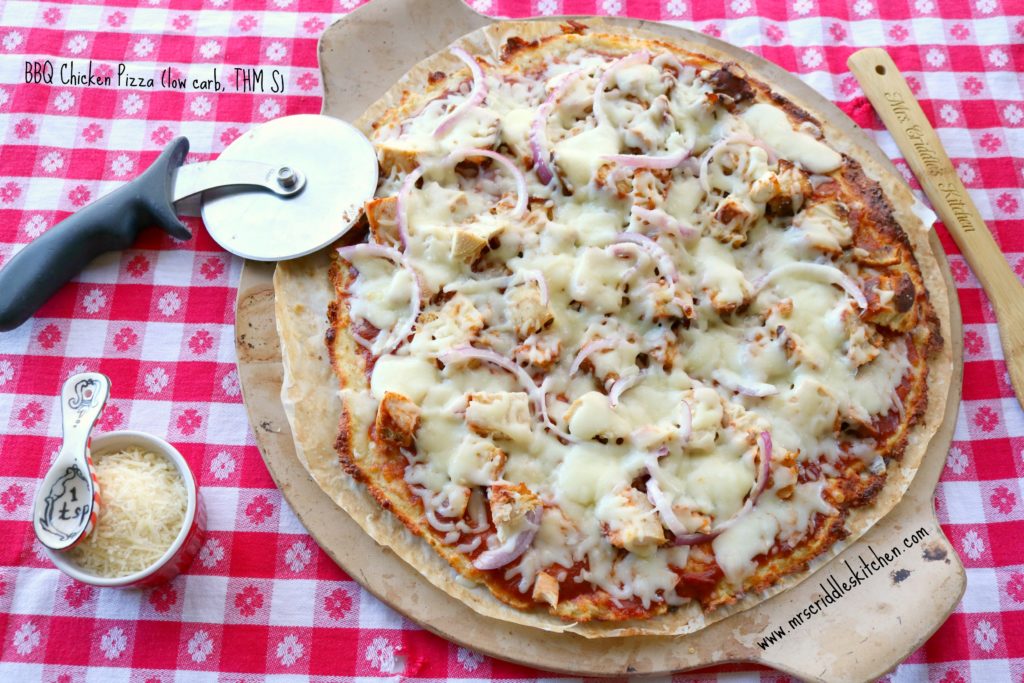 This is a THM S meal for my Trim Healthy Mama friends… You don't have to use low carb, you can use a sprouted wheat crust for a crossover, or keep the cheese to a small amount and have an E.
Now the BBQ Sauce is a MUST!!! You can find that recipe here: Sweet Southern BBQ Sauce
Hope you enjoy!!
Print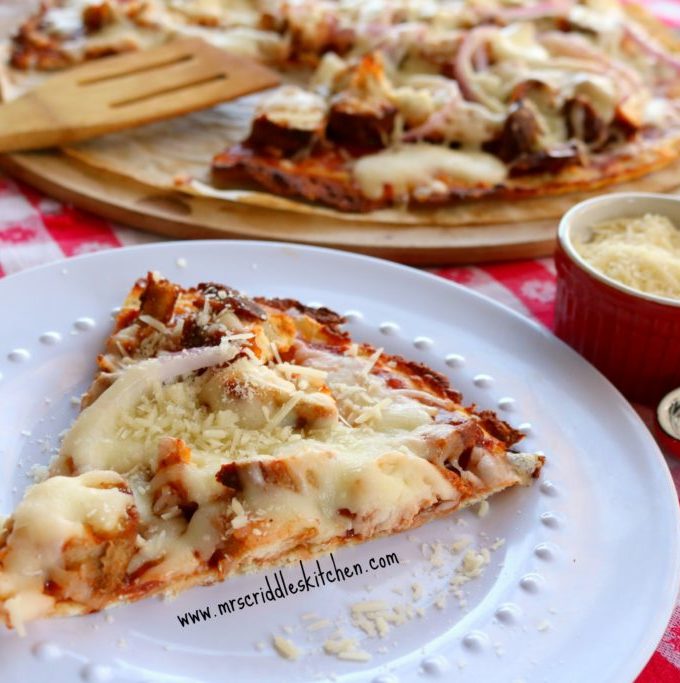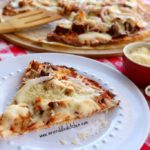 BBQ Chicken Pizza THM S, LOW CARB
---
Description
BBQ CHICKEN PIZZA is yummy spin on regular Italian pizza! It's sauce is a Sweet Southern BBQ Sauce that goes perfect with red onions, mozzarella and chicken!
---
1

– recipe for Perfect Pizza Crust on page 211 in the Trim Healthy Mama Cookbook (or you can use your favorite pizza crust- low carb for an S or sprouted whole wheat for a Crossover, you can also use Low Carb Mission Tortillas to keep it simple)

1

– recipe of the Sweet Southern BBQ Sauce (recipe on my blog but included in the post above)

2

cooked seasoned chicken breasts chopped

1/2

a red or purple onion sliced thin

1

small jar of pickled jalapenos whole sliced (optional but we add to ours)

8 oz

of mozzarella cheese (more if you like it really cheesy)

1/2 cup

of parmesan cheese (the green can will work)
---
Instructions
Make the Perfect Pizza Crust and bakes as recipes suggests.
Chop the cooked chicken into bite sized pieces.
Chop purple or red onions into thin slices.
Take out crust, spread with BBQ Sauce on crust.
Cover crust with the chicken & onion slices.
Add as many jalapenos as you would like or non at all.
Cover with the cheese.
Broil for 2-5 minutes or until cheese is melted.
Enjoy!
---
---