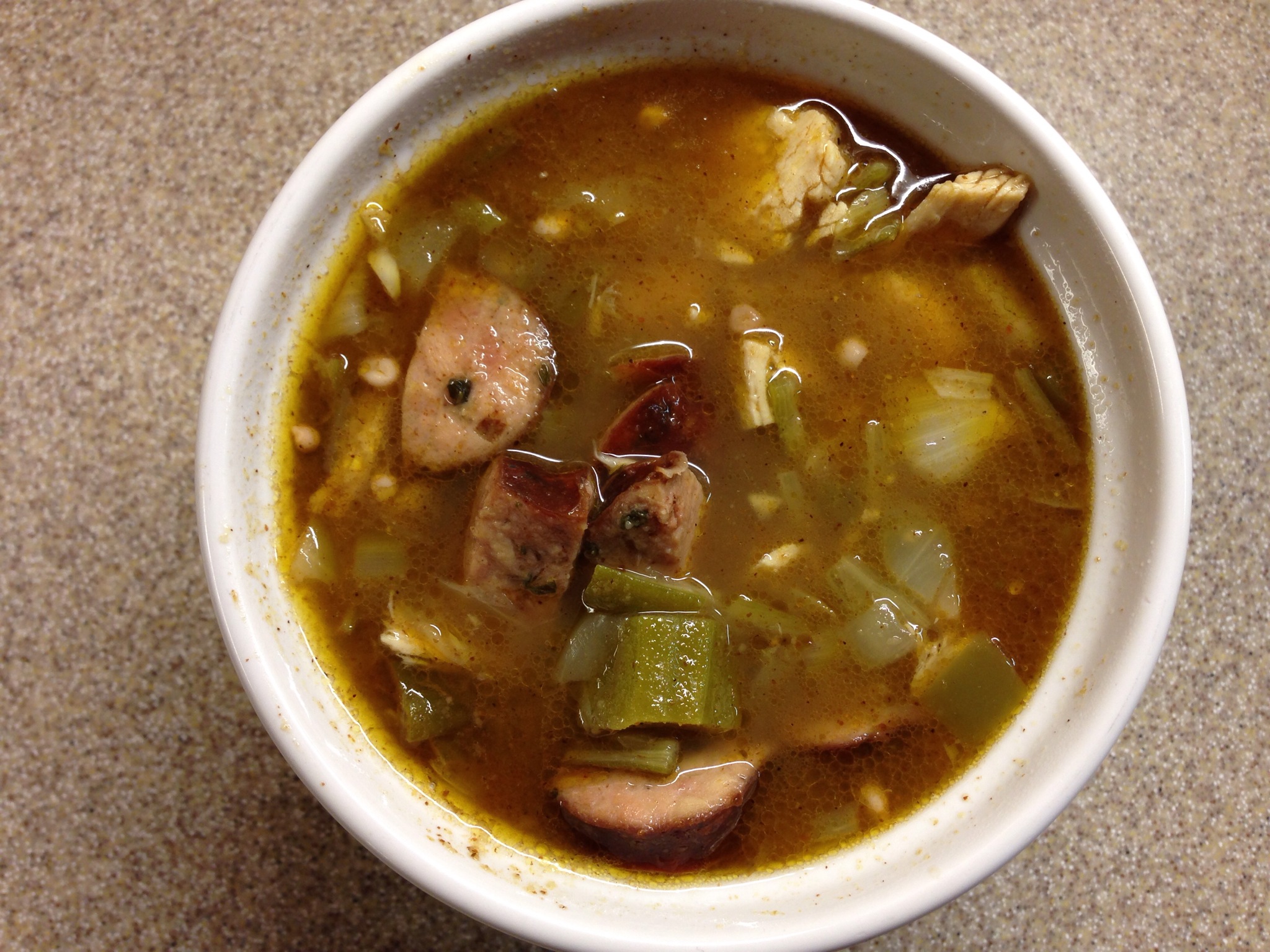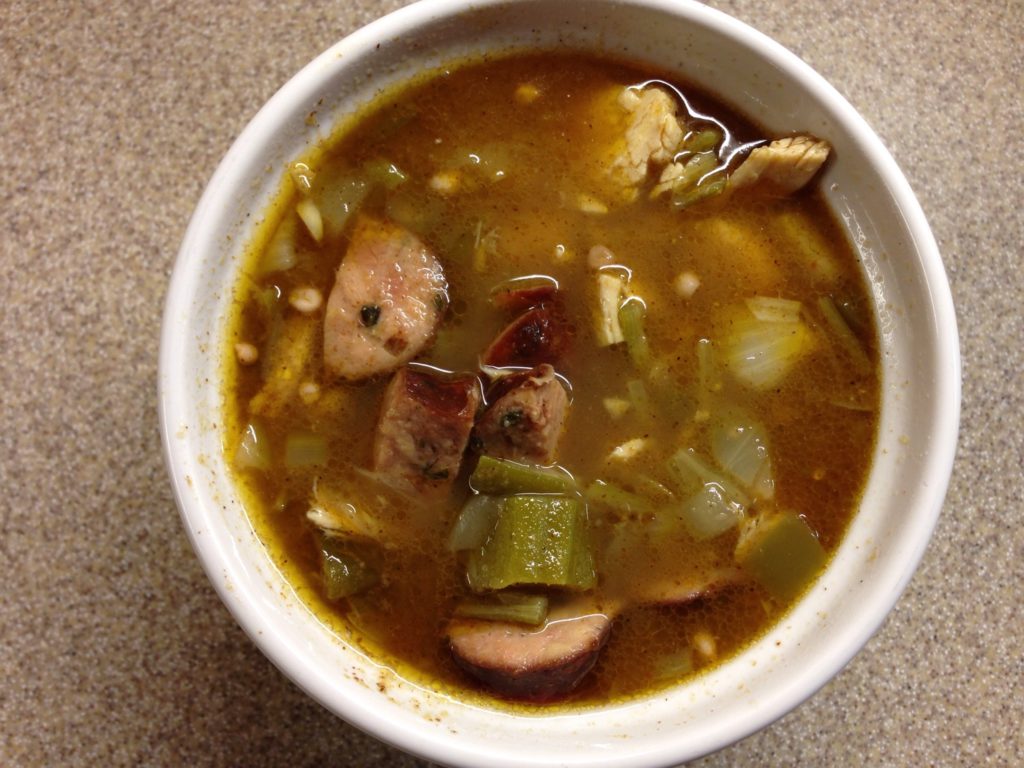 One of my family's favorite soups of ALL TIME, is Chicken Sausage Gumbo! Because both my husband and I grew up near the coast of Texas, Gumbo has always been on the menu. I learned how to make it from my mama, then adapted my own style of gumbo. But then we gave up processed flours and changed our style of eating to be more healthy as I have follow the Trim Healthy Mama (aff link) book (which I LOVE). My husband requested I FIND a way to make gumbo healthier. That's been my quest but I could not figure out how to incorporate the flour with using processed. THEN I FOUND SPROUTED WHEAT FLOUR!!!!! Whoop! I KNEW I had to give gumbo a shot! The thing that makes gumbo is the roux! You cannot just have the soup with out the roux… not the same thing. Roux is easy to make! Don't let it scare you. It's basically mixing flour and oil together while cooking it until it is almost burnt, a dark brown in color.
Before we begin I want to talk a little about the Sprouted Whole Wheat Flour. This is kind of a special ingredient and might not be readily available. I found mine at our local Health Foods Store. I didn't think it was that expensive but some might. Also, if you are gluten free, I have read a couple sites that say people with gluten allergies can actually consume the Sprouted Flours without any problems, but research it for yourself first. Here is one link addressing this issue… http://essentialeating.com/blogs/sprouted-flour/5713662-does-sprouted-flour-contain-gluten Sprouted Flour is so much easier for everyone to digest. Another link of why it's better for you… http://www.organicsproutedflour.net/whysproutedflour.html
In a big soup pot mix your oil and flour (again I used Organic Sprouted Whole Wheat Flour) on medium to medium high heat. You don't wan to burn it too quickly so make sure that you are constantly stirring it. Really the making of the roux is the hardest part of the whole gumbo but once you get it down… it's a cinch.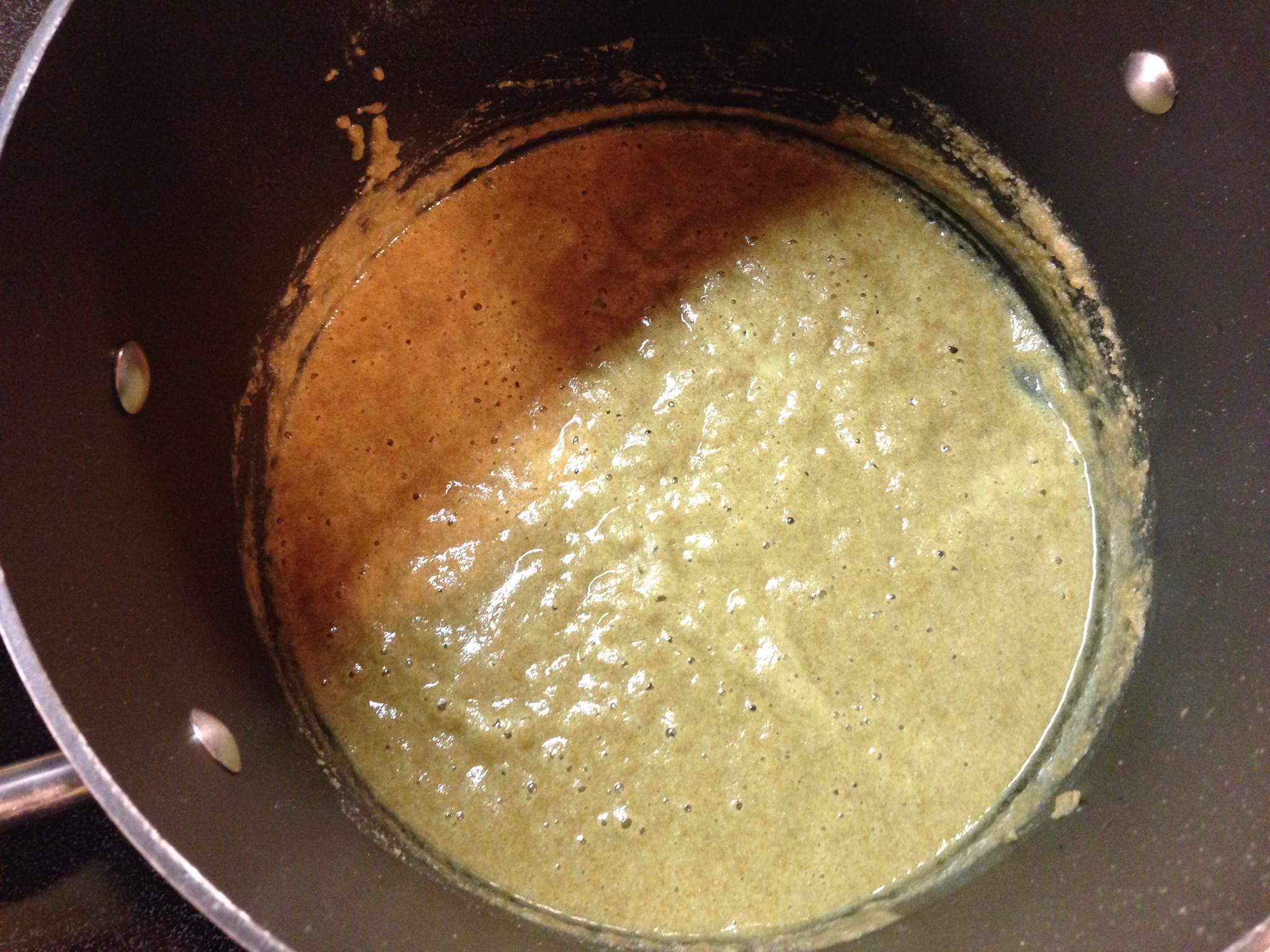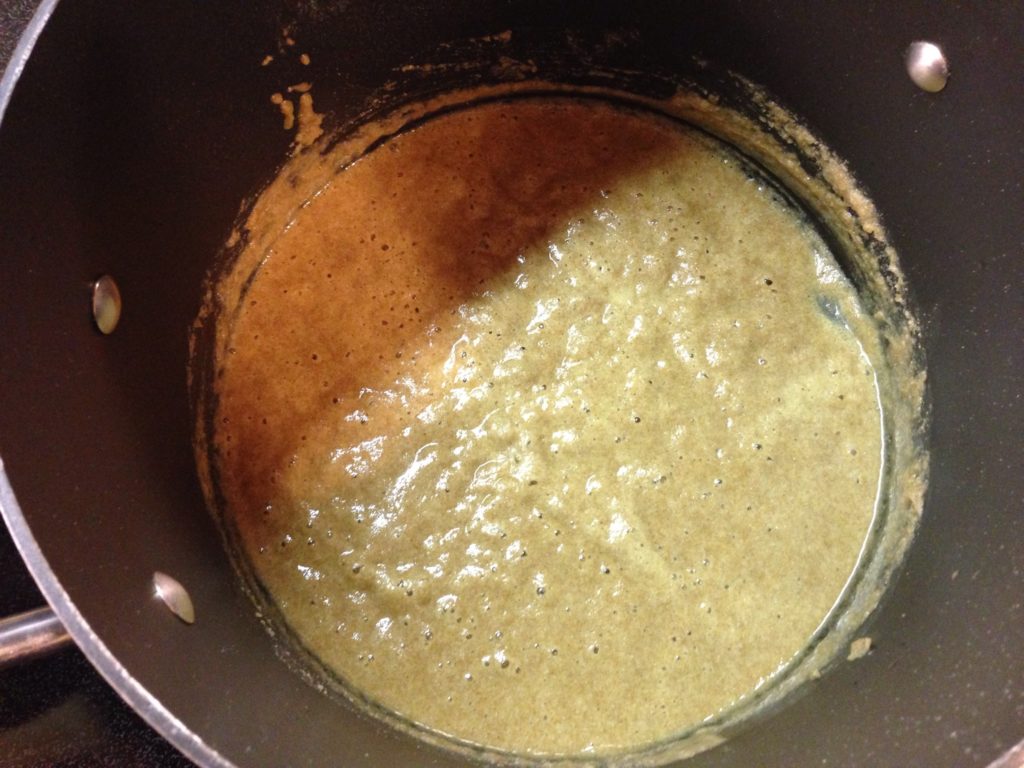 Continue to cook and stir…
I don't have a time for how long to cook the roux, it's more of the look of the roux. Even if you think you have burnt it, it's probably ok. You want it a really rich dark brown. This is what it looks like when it's done.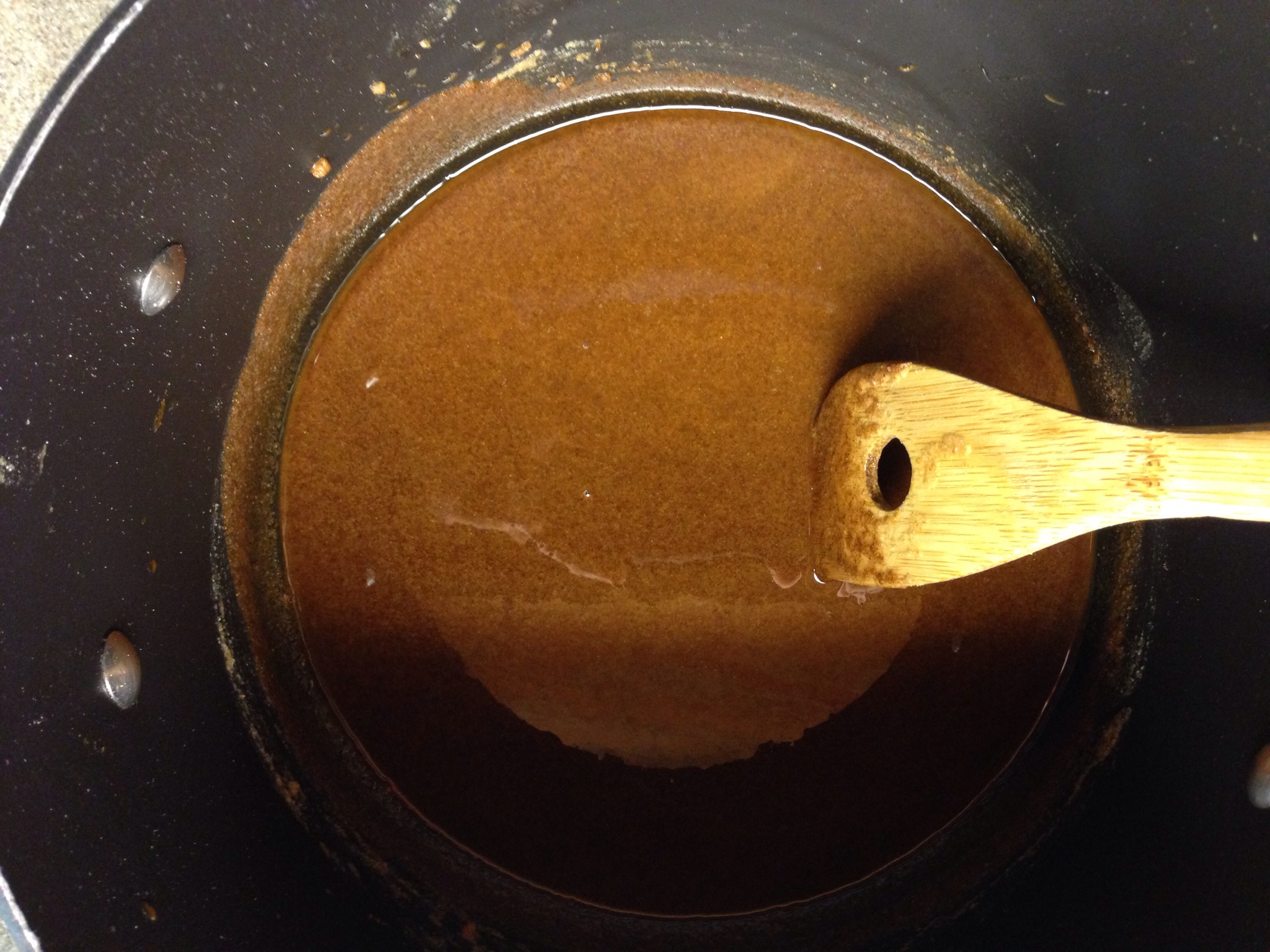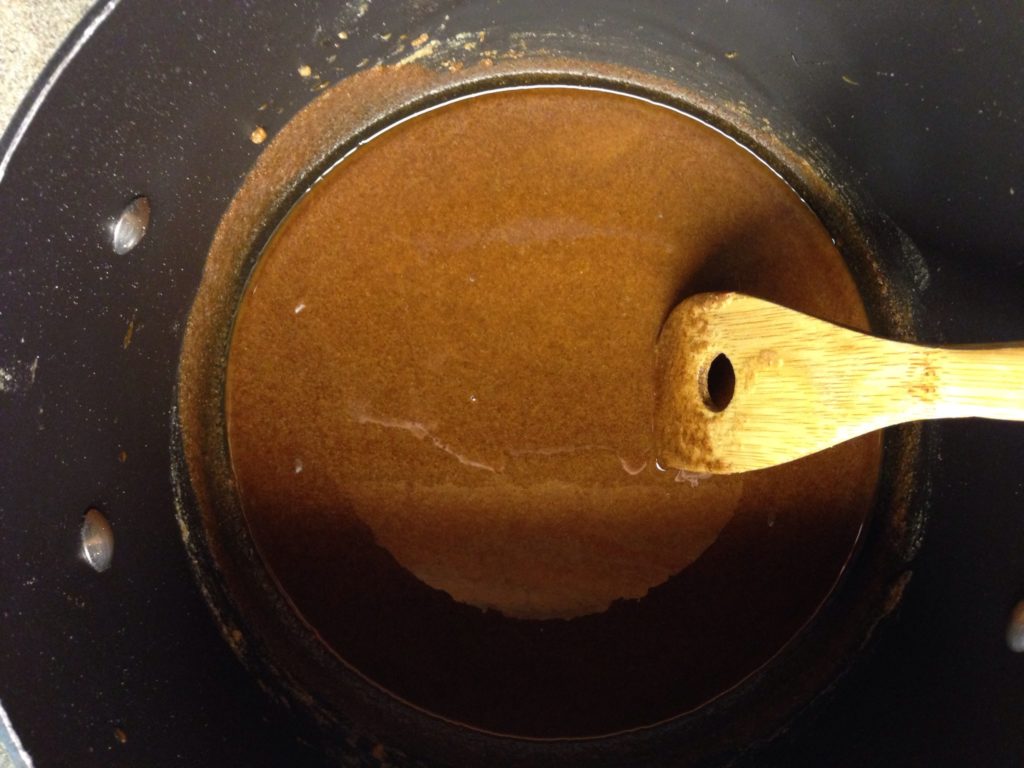 I suggest you chop up your vegetables before you start the roux unless you have a helper. Your focus needs to be on stirring the roux or you will burn it for real! 🙂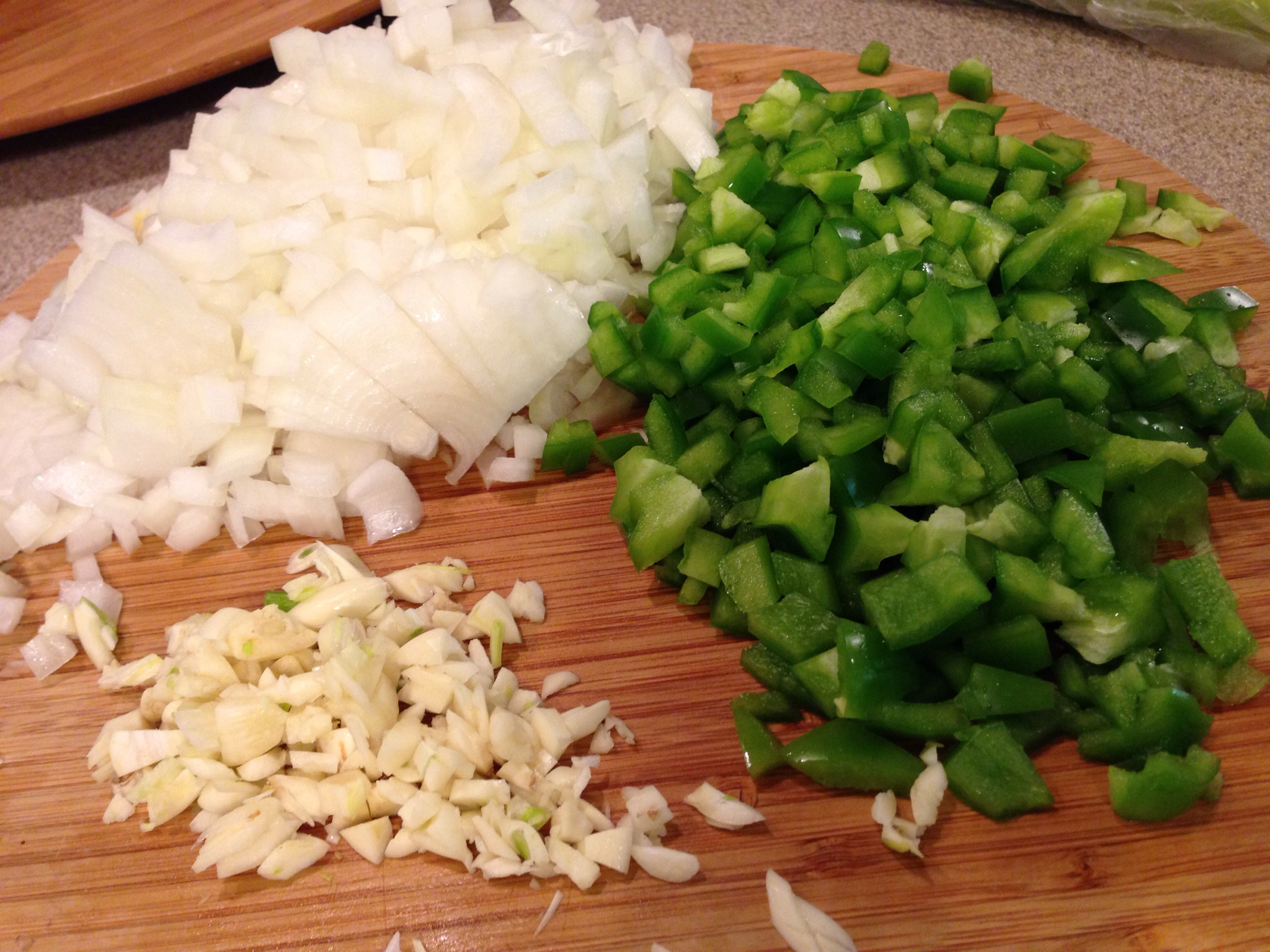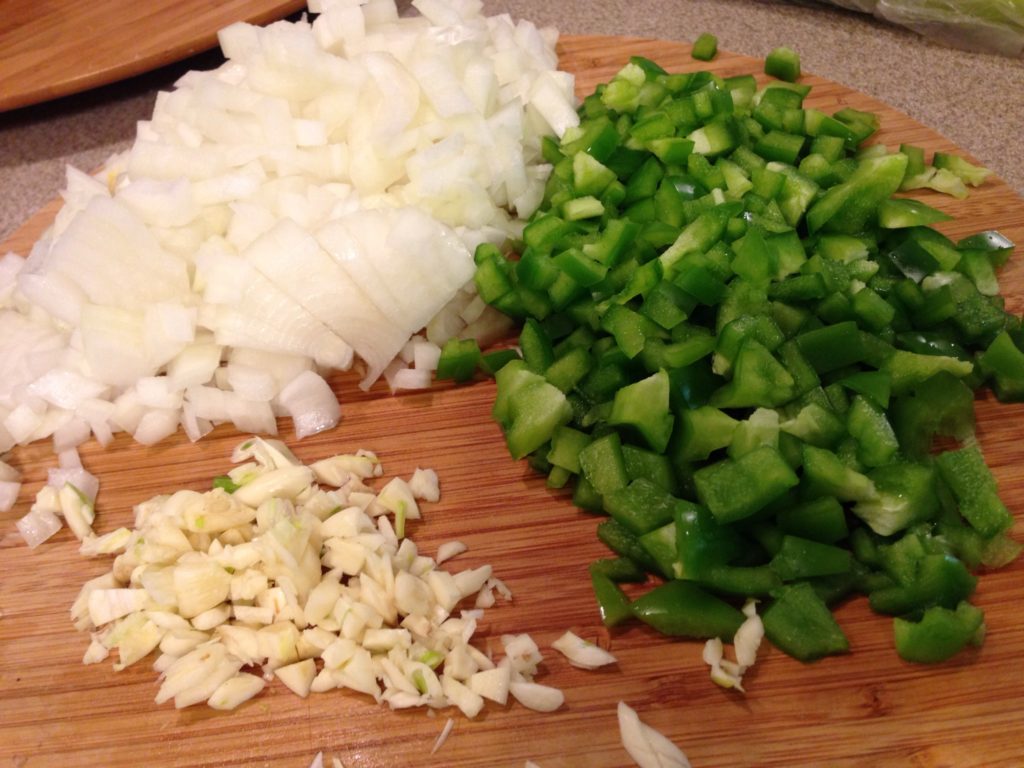 Next, add the veggies to your roux and mix well. This first initial mix of roux, onion, and garlic is one of my most favorite smells in the whole world! AMAZING!!!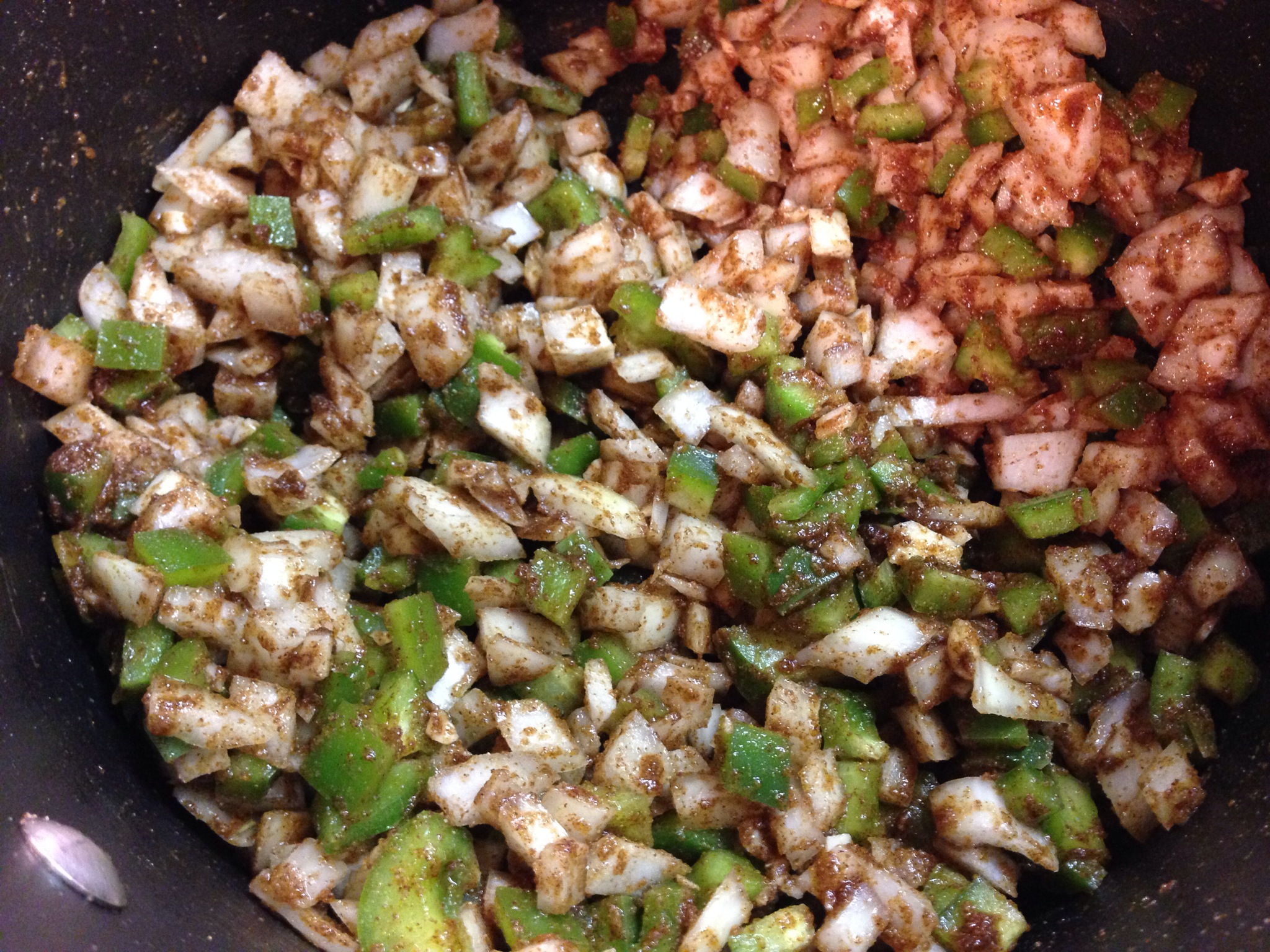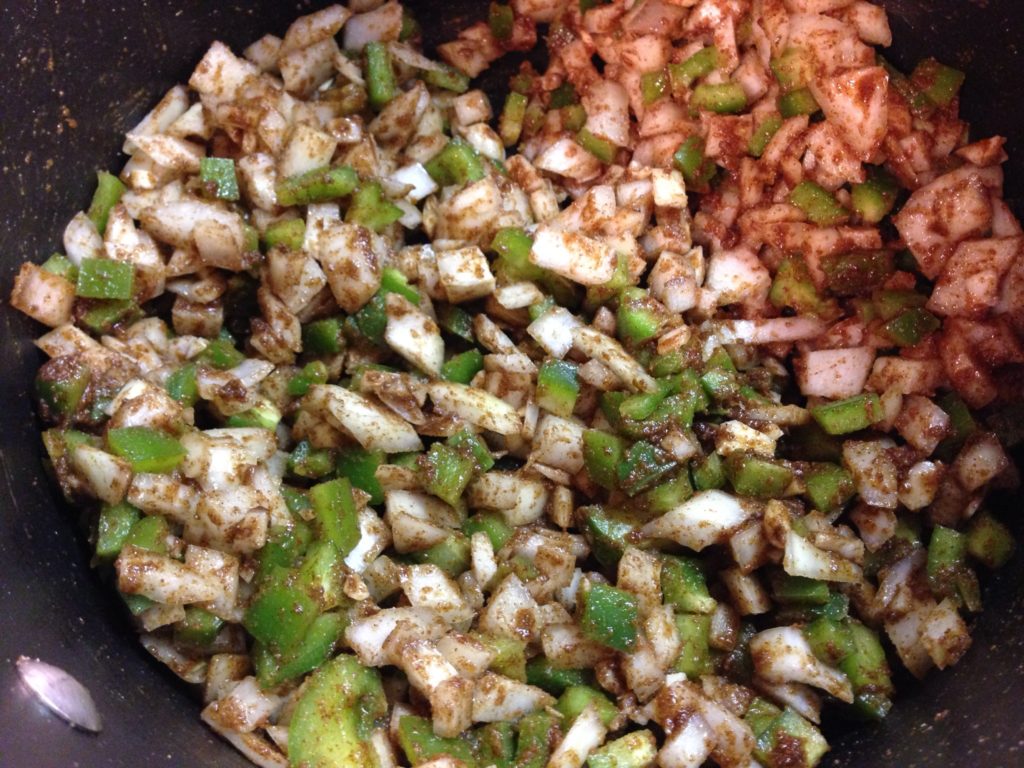 Let this cook until the vegetables are getting cooked to tender (maybe 10 minutes). Add your Cajun spices and salt.
Add in your chicken broth.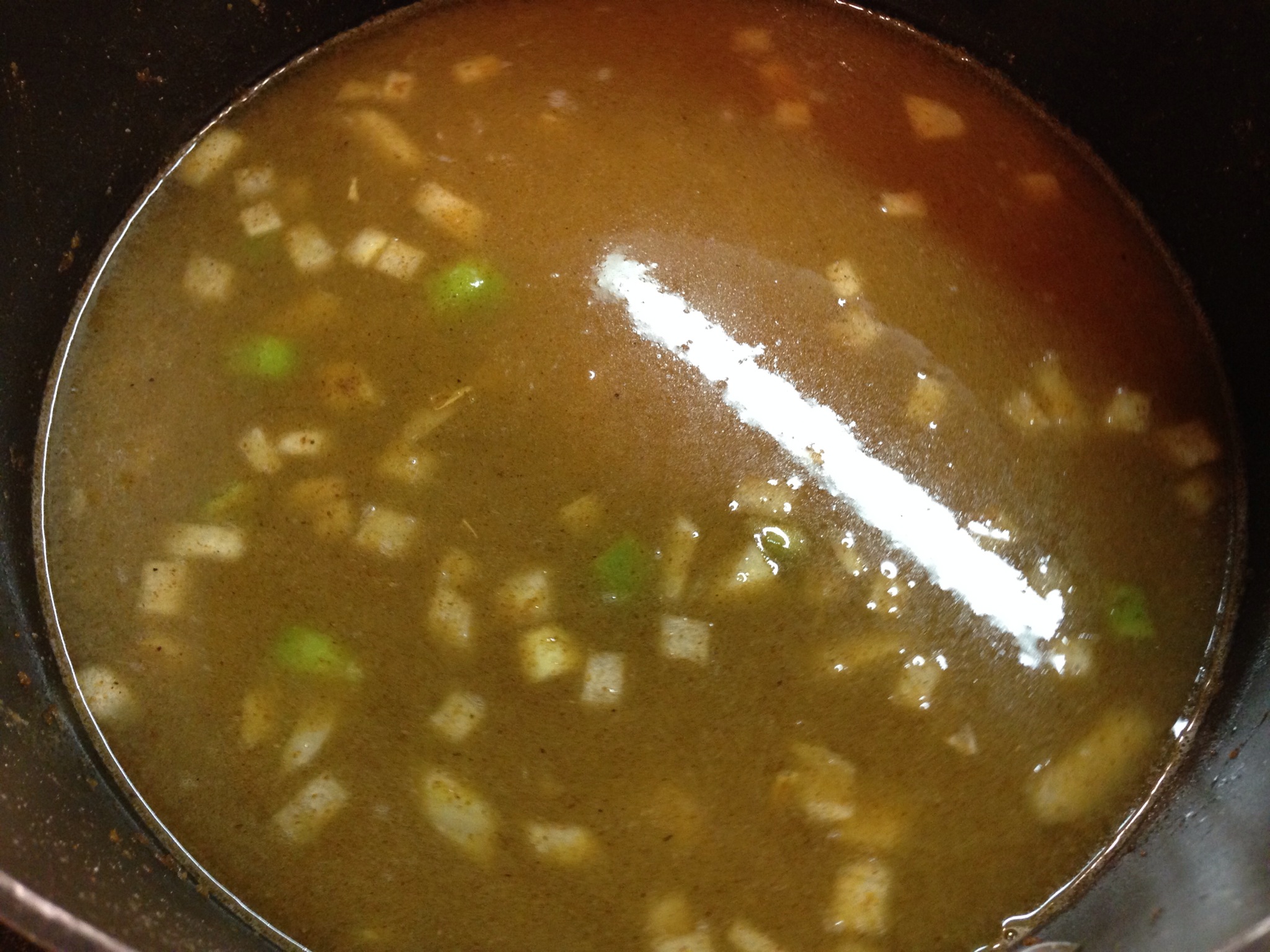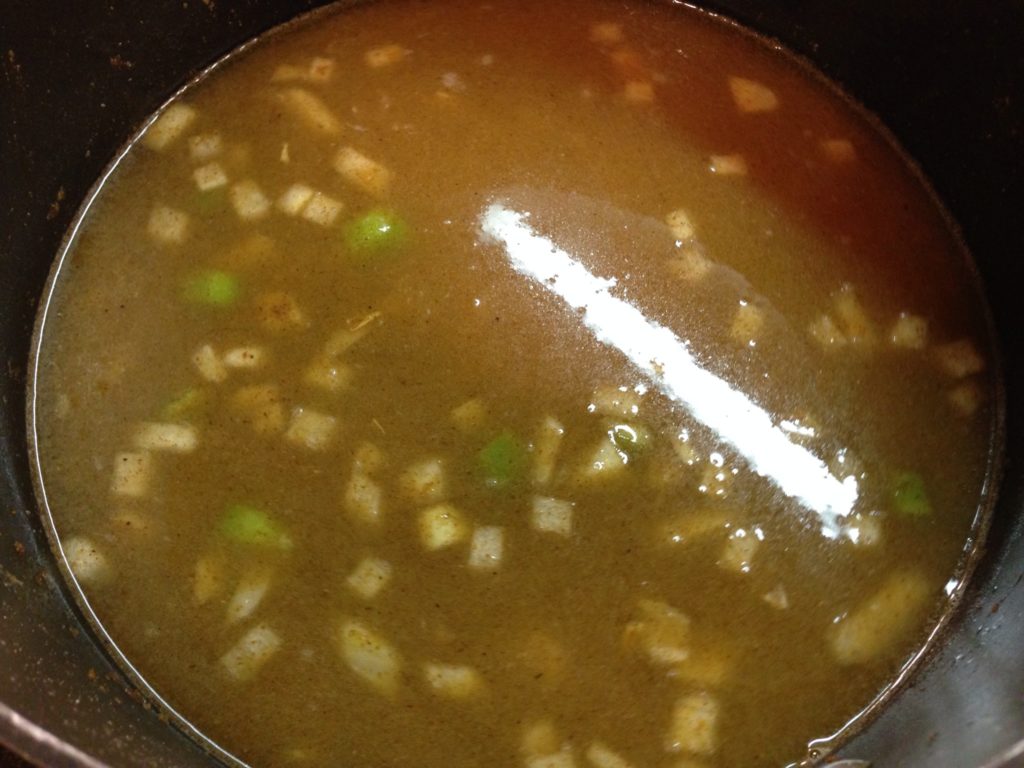 Add chopped sausage (I used Trader Joe's all natural, no nitrates or msg chicken sausage that is already cooked). Then add your okra (I use frozen okra).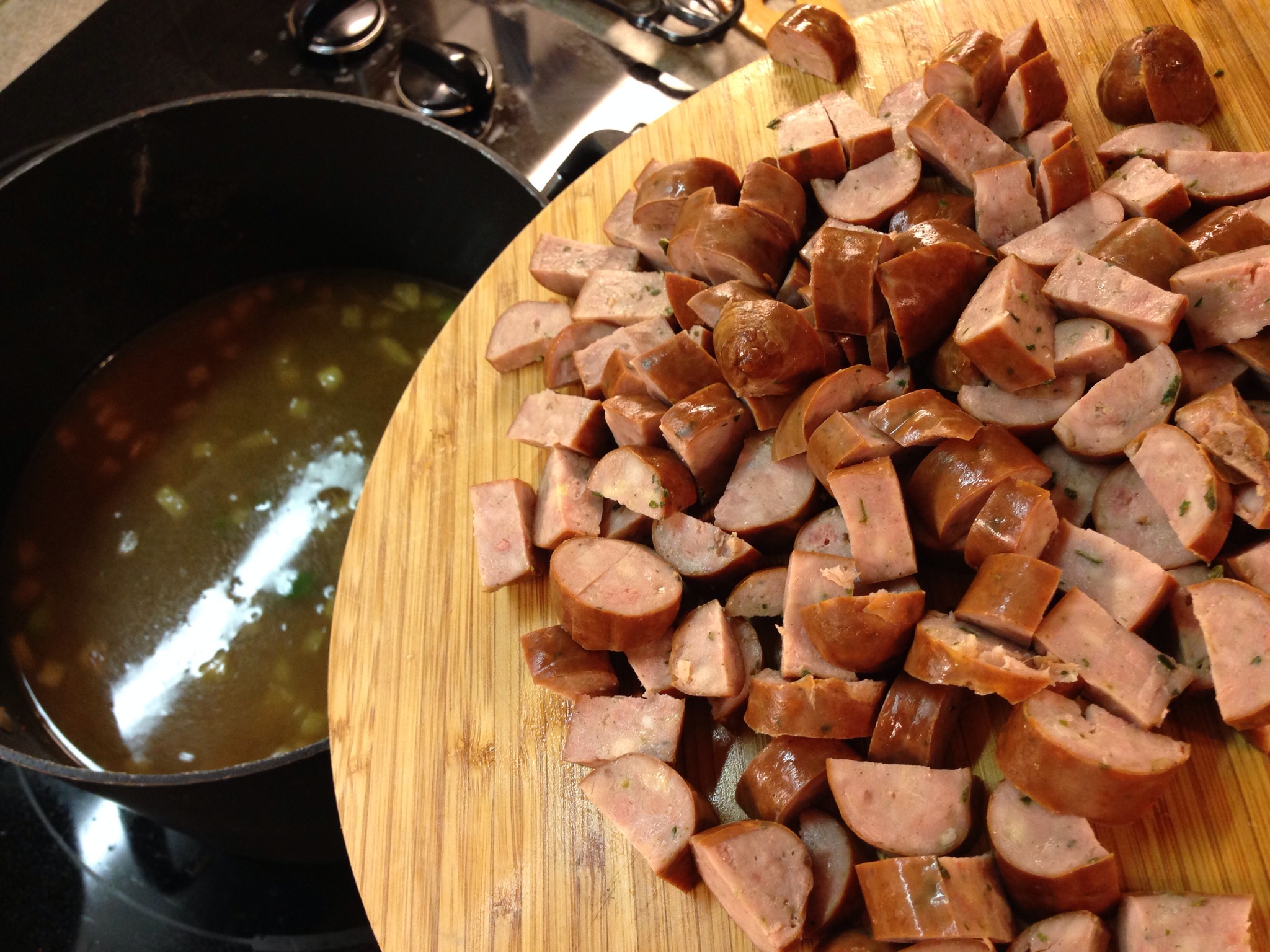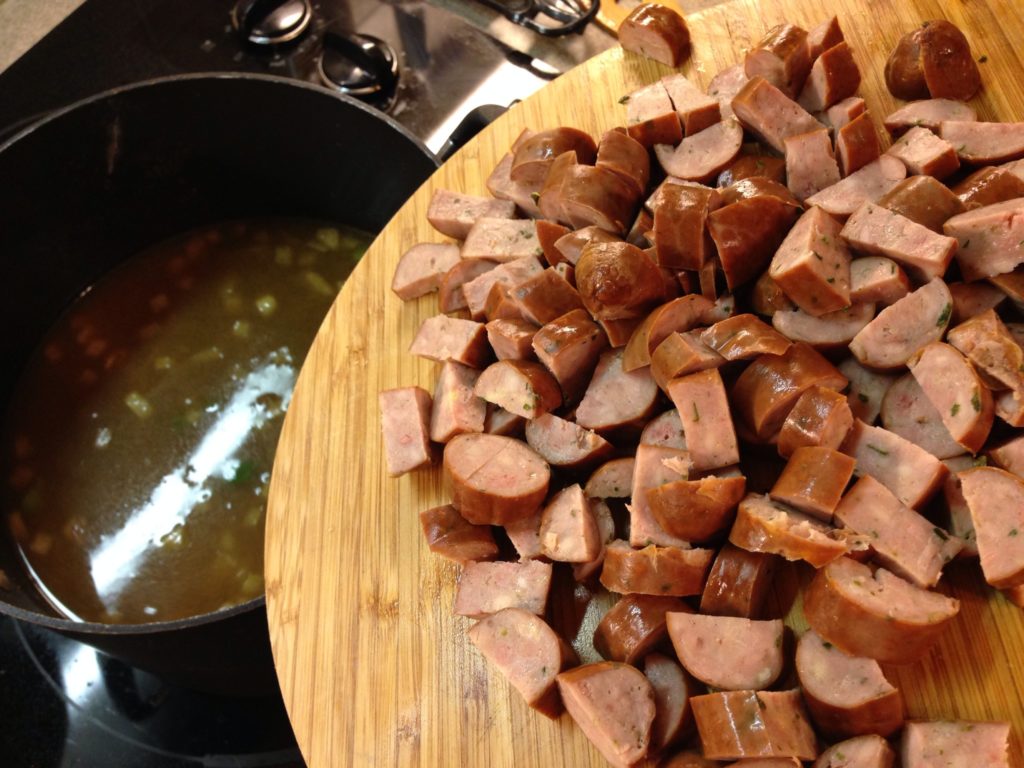 Allow this to boil, then turn down to a simmer. Add file' powder.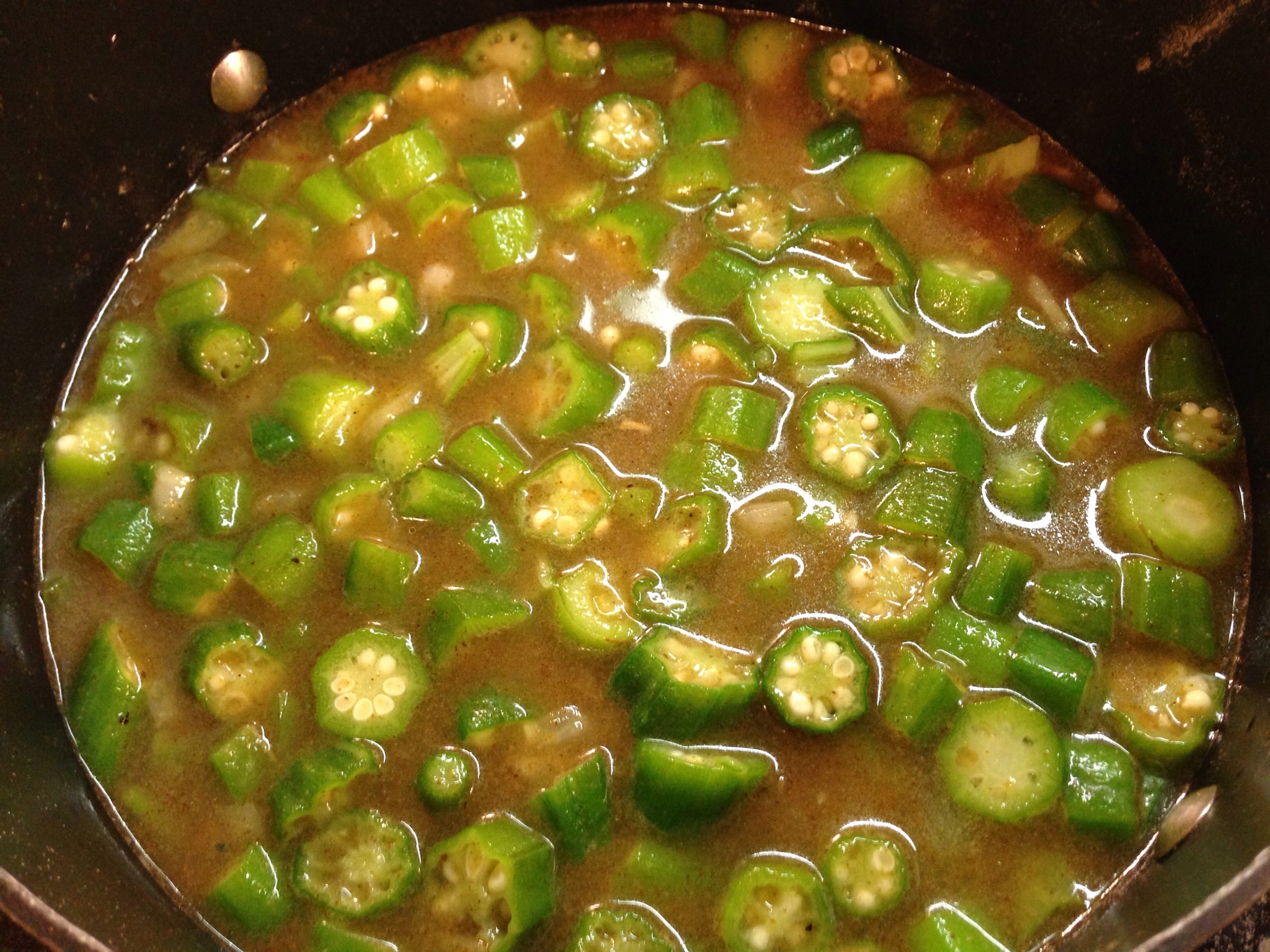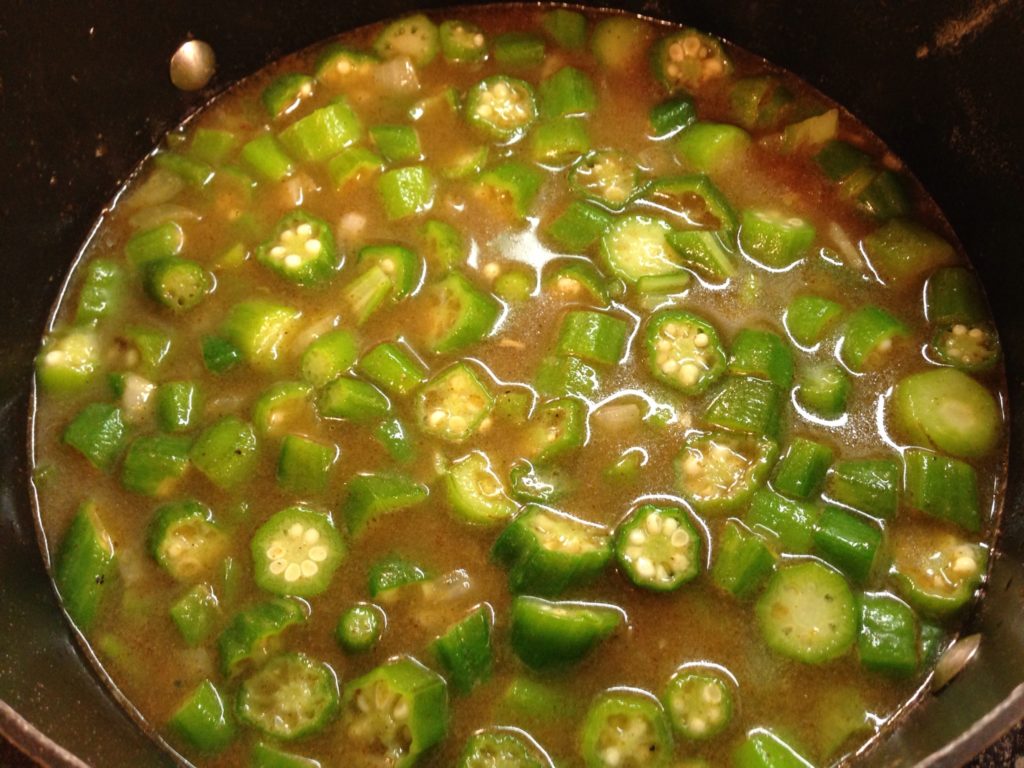 Add in cooked chopped chicken breast.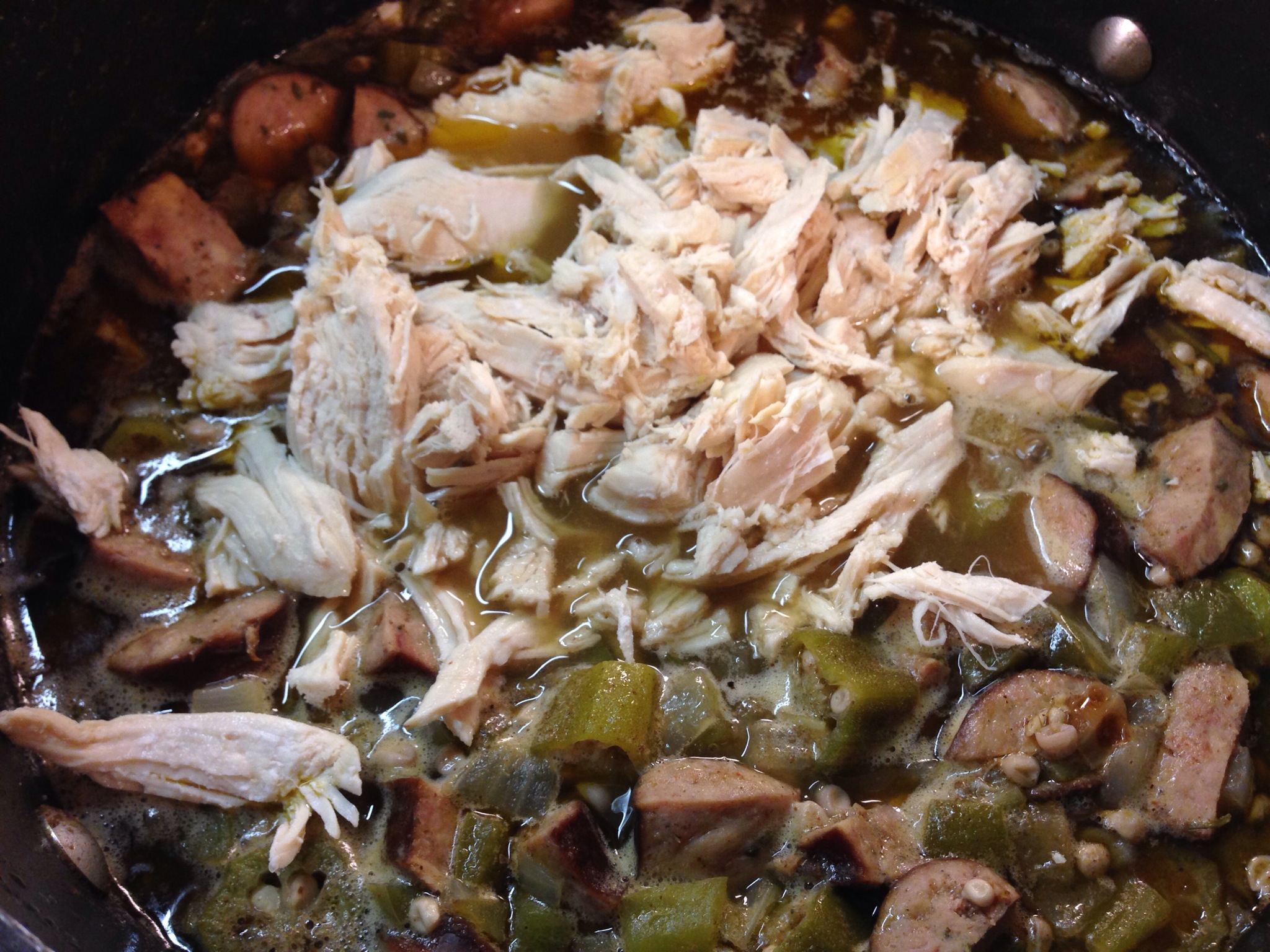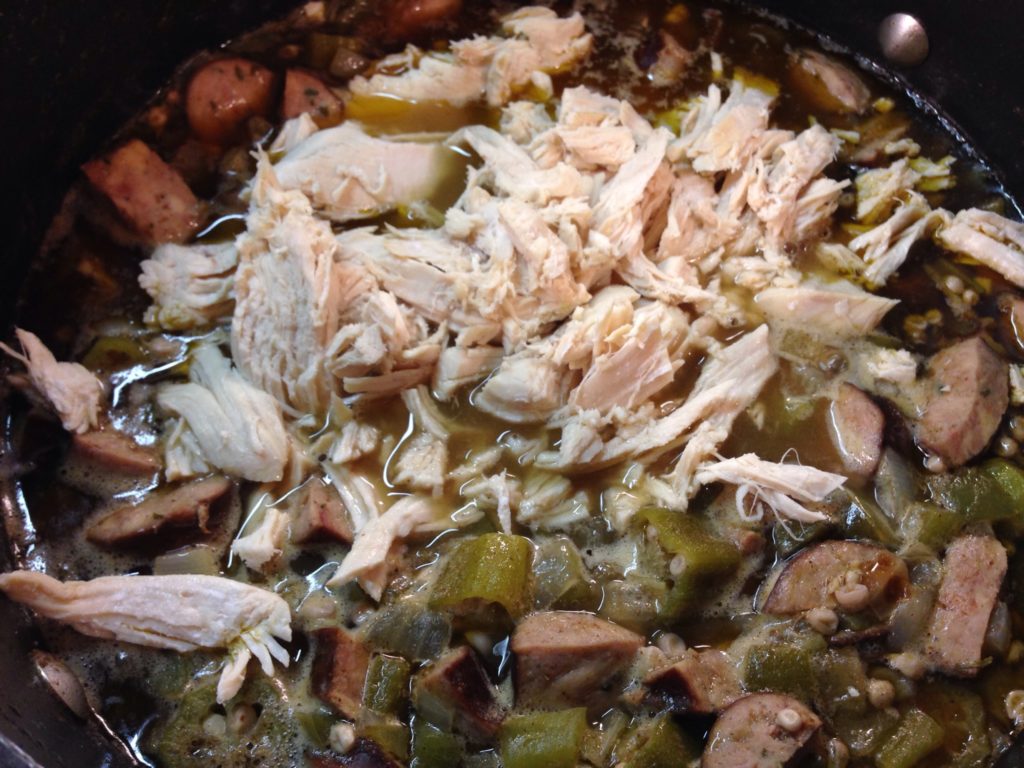 Allow all this simmer for an hour. You can add more file' if you need to or more spice.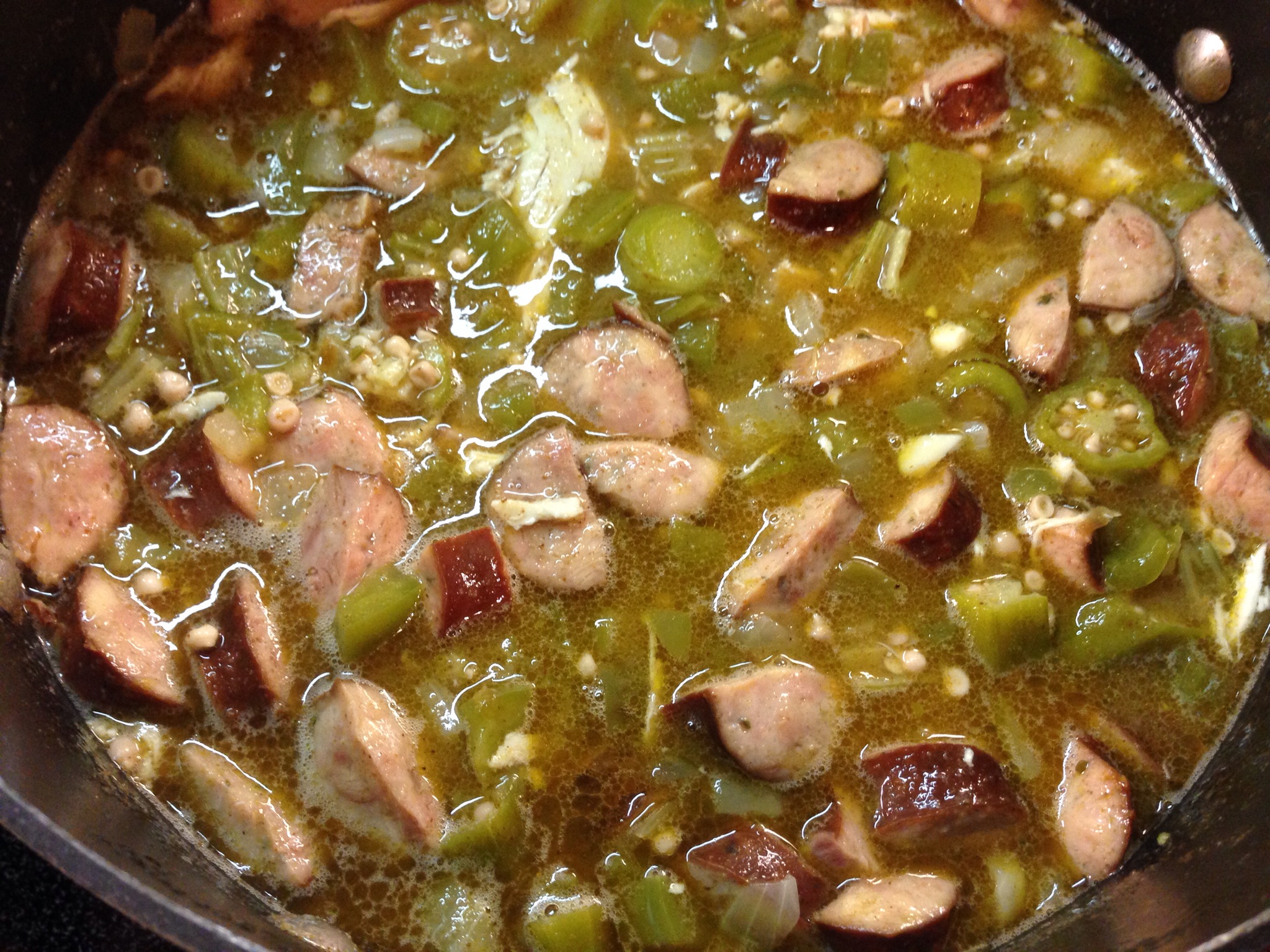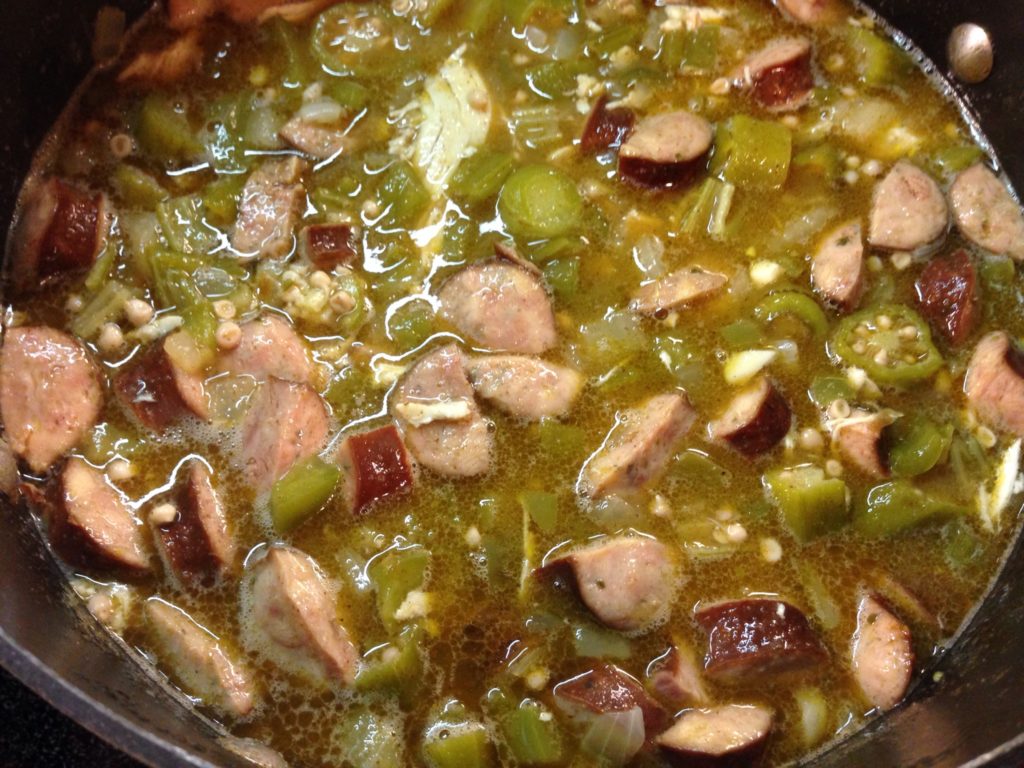 If you follow Trim Healthy Mama, this is an S soup. Even with the Sprouted Whole Wheat Flour it only comes out to about less than 5 carbs a bowl. Enjoy!
Print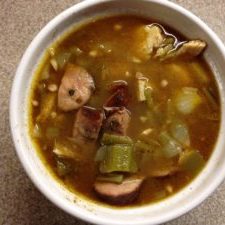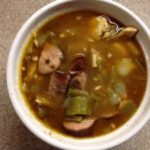 Chicken Sausage Gumbo
Author:

Cook Time:

120

Total Time:

2 hours
---
Description
A Healthier Version of Gumbo that does NOT lose it's taste or flavor!
---
2/3 cup

of Sprouted Whole Wheat Flour

1/2 cup

of Red Palm Oil (you can use Extra Virgin Olive Oil but the Red Palm is AMAZING)

3

to

4

cooked chicken breasts- chopped

4

links of good cooked Andouille sausage (I used Trader Joe's chicken sausage)- chopped

16 oz

bag of frozen okra (I've added more)

2

bell peppers- chopped

1

large onion- chopped

6

cloves of garlic- chopped

8 cups

of fat free chicken broth
Cajun seasoning to taste (I add about 2 to 3 tbsp.)
Salt to taste

2

to

3

tsp of File' powder
---
Instructions
Boil chicken breasts if you do not have any cooked chicken available. Chop, set aside.
Chop all the vegetables. Set aside.
Heat a big soup pot on medium high heat. Add in your red palm oil and flour. Mix together.
Continue to stir while the flour cooks. You want to cook the flour until it is a rich dark brown.
Add the chopped vegetables all at once and stir.
Cook until the vegetables are slightly tender. About 10 minutes.
Add in the spices. Mix.
Add the chicken broth.
Next add in the sausage and the okra. Allow this to boil, then turn down to a simmer.
Add the File' powder.
Simmer for 30 to 45 minutes.
Add the chicken. Allow to continue to simmer until all the flavors have blended well.
---
Notes
Using Sprouted Whole Wheat Flour will keep this Trim Healthy Mama friendly. And because this serves so many, you should have less than 5 carbs per bowl.
---