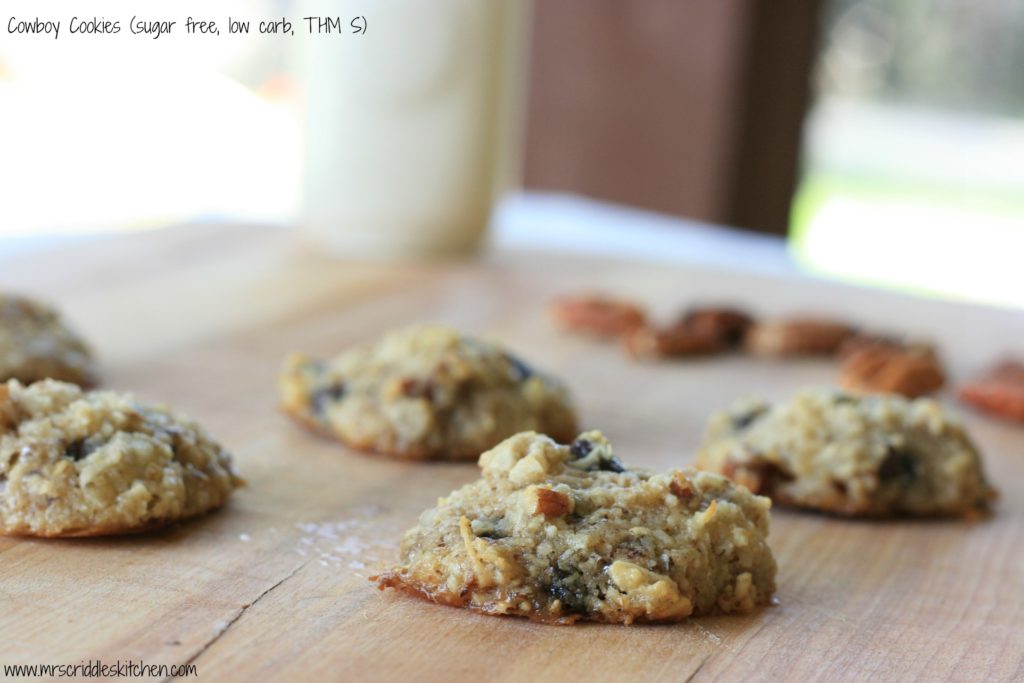 Anyone ever tried Cowboy Cookies? I love them! They have some of my favorite things in them; chocolate, coconut, & pecans! So I made some THM style! For those who have no idea what THM is I'll give you a brief description. THM is short for Trim Healthy Mama (<— click the link (aff) to go to the site store). It is a book that teaches how to lose weight (Trim Up) and get healthy by eating good carbs with low fats and good fats with low carbs in a way that tricks the metabolism into getting rid of all the extra fat. This book has helped me so much! Not only to lose weight but also to FEEL great physically and get back my energy and for a mama of six, that is AMAZING!!
Now back to the cookies… I have to say these are now my favorite THM cookies (ok along with Sheri Grahams No Bakes: http://sherigraham.com/trim-healthy-mama-fudgy-no-bake-cookies-s).
Start with room temp No Salt Added butter (if you only have salted butter don't add any additional salt). Cream together the flavorings, sweetener & the butter till fluffy. I used the THM Sweet Blend (click the link to purchase your THM SWEET BLEND aff link) that you can get from the Trim Healthy Mama store. You can use whatever sweetener you prefer but remember THM is twice as sweet as (say) Truvia. So you would use twice as much Truvia. If using Swerve I would use a cup.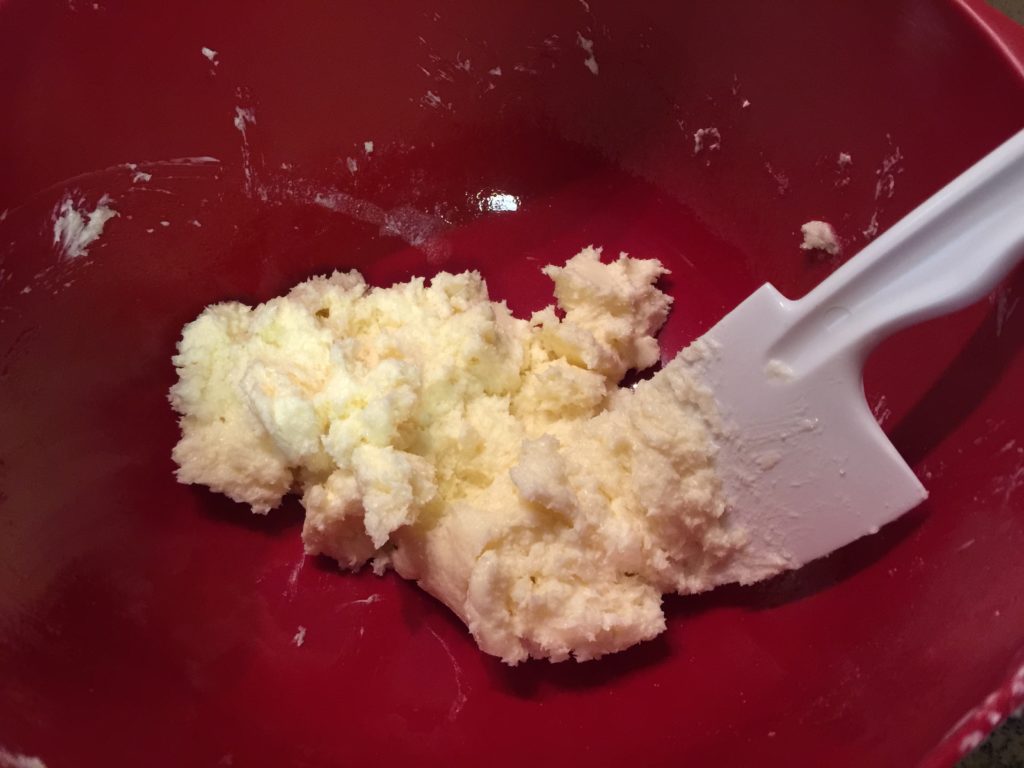 Mix the rest of the ingredients together well.
***NOTE if you dough seems too wet try adding in about 1/3 to 1/2 cup more almond flour or 2 tbsp. of coconut flour!
ALSO, I made a great option for using the new THM Baking Blend!! Especially if you like more fluffy cookies to flatter cookies!
You can by your Baking Blend here: THM BAKING BLEND (aff link)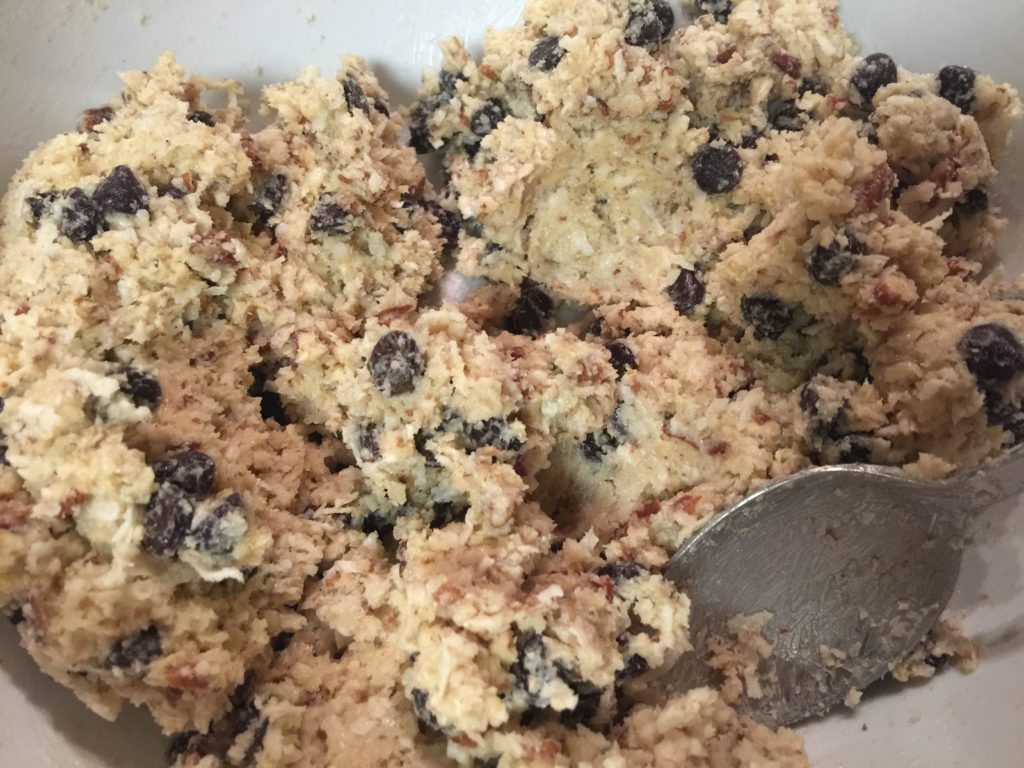 I found this unsweet shredded coconut at Wal-Mart really reasonably priced: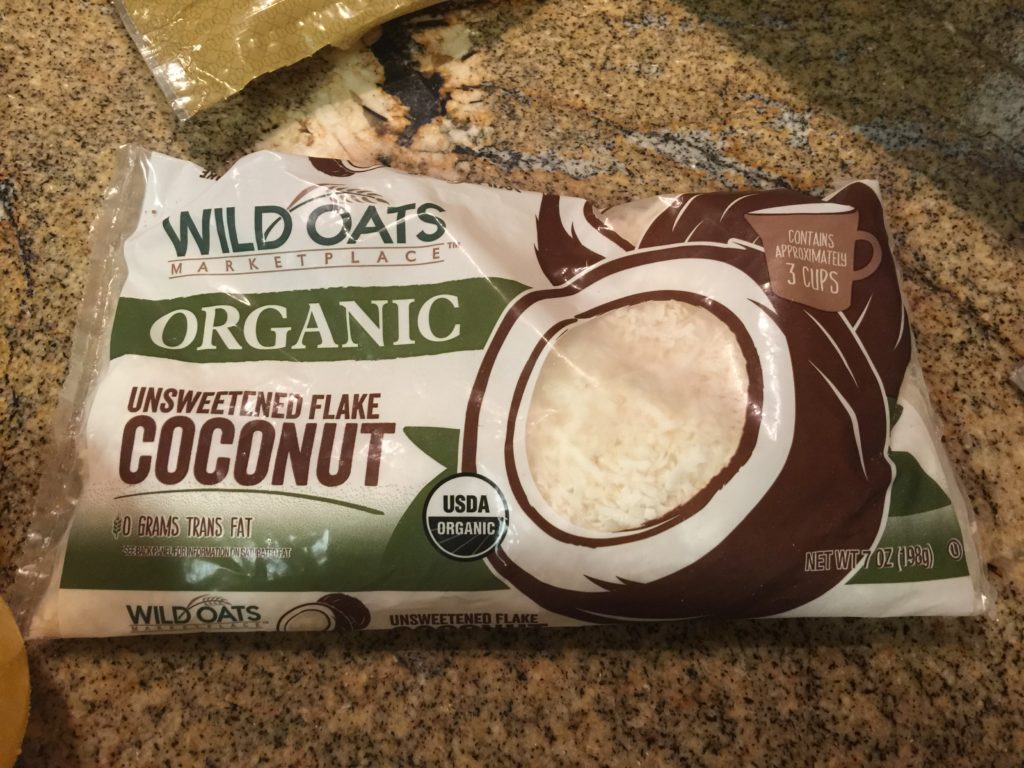 Preheat the over to 375 degrees and place about 1 tablespoons of cookie dough onto a cookie sheet. Bake for 9 minutes. Now these will need to cool for 5 to 10 minutes and the longer they cool the firmer they get. They have more of a chewy texture than crunchy.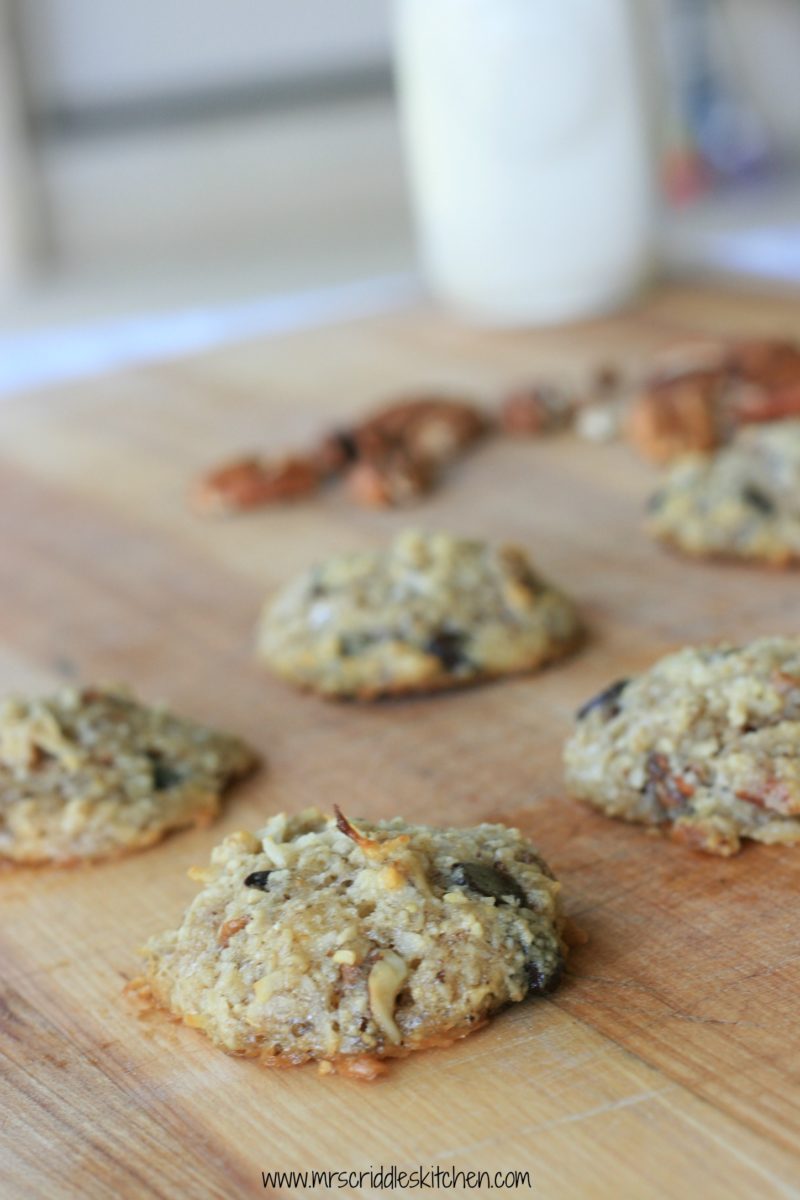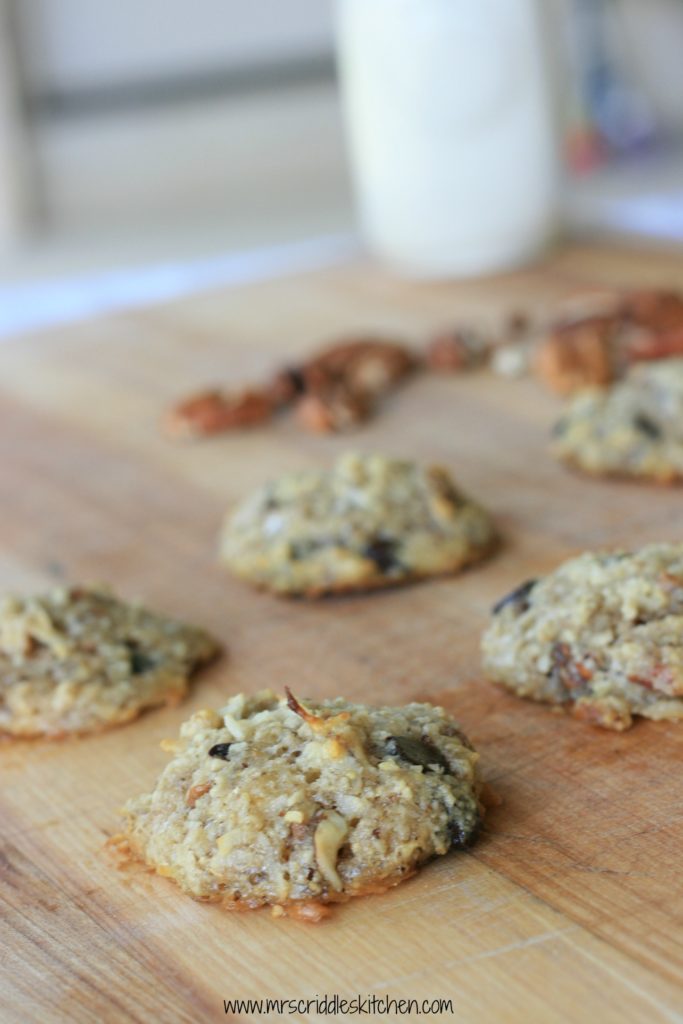 Now, let me tell you a little secret… I left out the eggs the first time. Yeah, it turned into one big crumbly mess…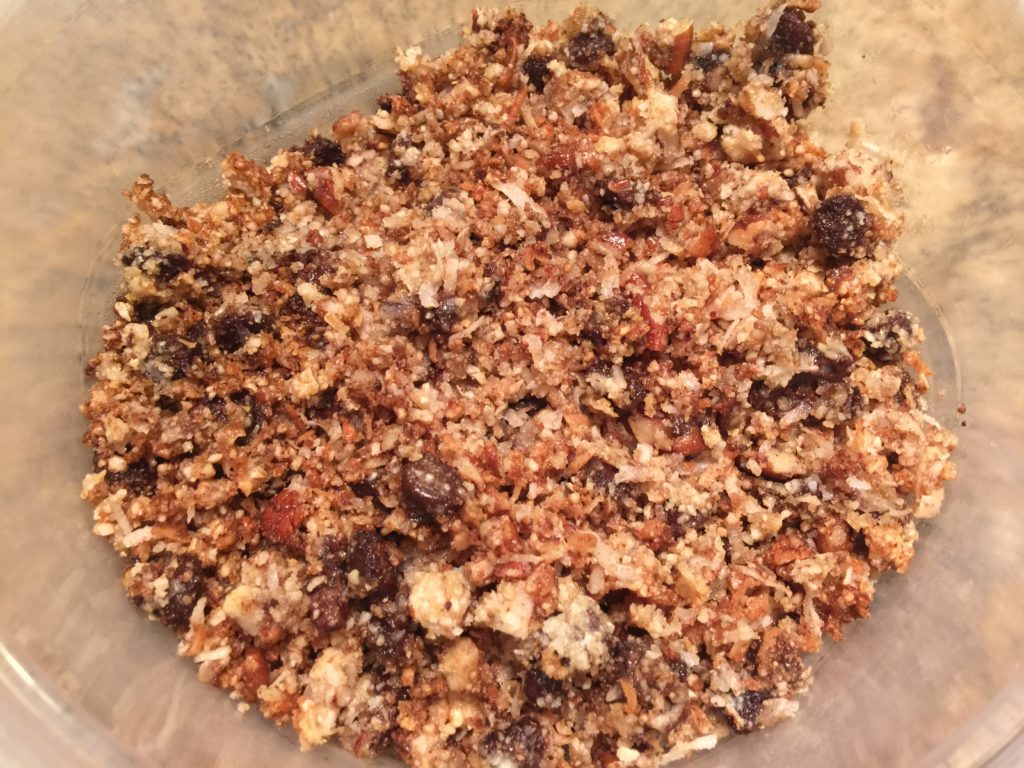 BUT oh my goodness… it was one YUMMY MESS! I saved it in a container to put on smoothies, or cheesecake or ice cream. And I even ate some with a little almond milk, like cereal! SO GOOD!
Anyway, I know this question will come up. I did add in 1/2 cup of oatmeal ground into flour. Wait that has carbs in it, right? Yes! It does have carbs in it but since these recipe makes about 30 cookies that is 2 CARBS PER COOKIE! I would say 3 cookies are a good snack size keeping you in your correct S mode but just be aware of your carb count if you eat these as an after dinner dessert.
** I updated the carb count because I had forgotten the carbs in the chocolate chips. You could still have 4 cookies for an S snack but I would keep to 3 for dinner.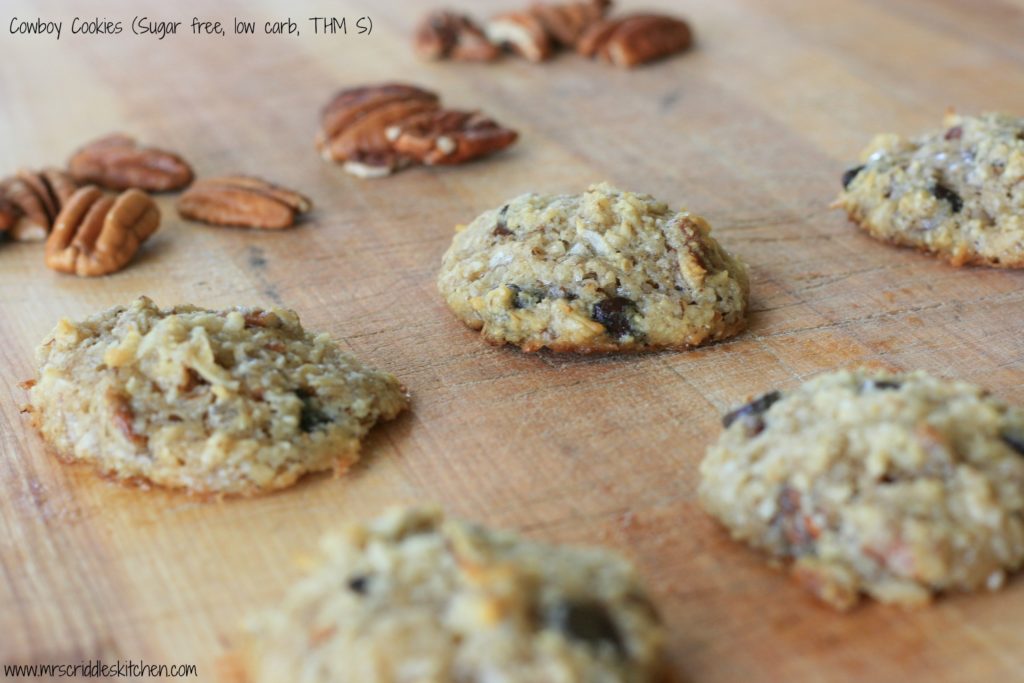 ***Notes: I have had this recipe work differently for some people and work perfectly for others so I am going to try and revise it to get it perfect for everyone.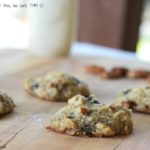 Cowboy Cookies (sugar free, low carb, THM S)
Author:

Cook Time:

9

Total Time:

9 minutes

Yield:

3

5

1

x
---
Description
THM S cookies that are sugar free & low carb! Full of nutty, coconut, chocolate flavors.
---
1 cup

of almond flour

1 cup

of shredded unsweetened coconut flakes

1/2 cup

of old fashioned oatmeal ground into flour

1 cup

of unsalted room temperature butter (

two

sticks… if using salted butter do not add additional salt)

3

eggs

1/2 cup

plus 2 tbsp. of THM Gentle Sweet or 1/4 cup of THM Sweet Blend (if using Truvia use 1/2 a cup, if using Swerve use

1 cup

)

1 tsp

vanilla

1 tsp

baking powder

1/2 tsp

salt

1/4 tsp

maple flavor

1 cup

of pecans chopped

1 cup

of sugar free chocolate chips (if you don't have those use

1

bar of 85% dark chocolate chopped into chunks or you can also use Lily's Stevia Sweetened chocolate chips)
***NOTE: Here are a couple options for a more fluffy cookie, less butter cookie.
Option

1

.

1.5 cups

of THM Baking Blend (instead of almond flour)

1/4 cup

of Oat flour instead of 1/2
(keep butter and all other ingredients the same but allow to cool 5-10 minutes to harden more)
Option

2

.

1.5 cups

of almond flour instead of a cup.

1/3 cup

of oatmeal flour instead of 1/2 cup

1

stick of butter instead of 2 sticks of butter.
Option

3.

for a peanut buttery cookie add 1/2 cup of sugar free peanut butter to the batter
Follow the directions.
---
Instructions
Preheat over to 375 degrees.
Mix butter, sweetener, & flavors together.
Add in the eggs.
Mix the rest of the ingredients together well.
Scoop 1 tbsp. of dough onto the cookies sheet.
Bake for 9 minutes till the edges are slightly golden brown.
Allow to cool for 5 to 10 minutes.
These cookies firm up the longer they sit.
Enjoy!
---
Notes
Please read NOTE in the ingredients section.