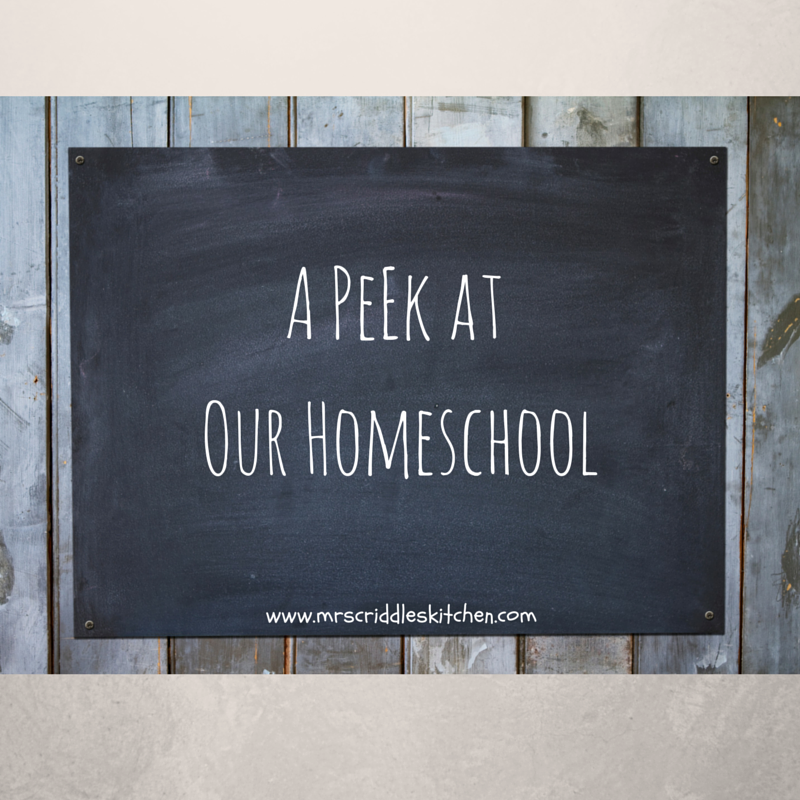 A Peek at Our Homeschool
(from a mom who doesn't really know what she's doing)
I've had several people ask about our homeschool. Wow, I am honored! But it's crazy because I don't feel qualified to answer. Sometimes I really don't feel like I know what I'm doing. But I truck on, praying and hoping that my kids will:
1. Only take in the Good they've Learned. Ha!
2. That their relationship with Christ will be STRONG.
Academics are very important but we believe our kids relationship with Christ is more important!
We are not perfect parents by any means but we do LOVE LOVE LOVE our kids and want THE VERY BEST for them.
This post will include some affiliate links to books, etc. that we use. I am not paid to give my opinion on anything but if you order through an affiliate link I will get a little something for linking to it. Everything I post about in this blog is something I use now or have used and that I like. Every little bit I do receive goes to support my blog… so thank you in advance!
A little background. My husband and I were both homeschooled. Me, from 4th to graduation. My husband was more off and on through out his school years. My husband is a Genius! Ok maybe I am exaggerating but, for real, he is extremely smart! I struggled with a touch of dyslexia and had HATED my public school years, hated to read, couldn't spell for nothing. My parents took me out in the middle 80's when it was not popular to homeschool. After a year of homeschooling, I began to get my confidence back. About 12 years old I FINALLY began to enjoy reading. By 14, I was consuming books and my spelling level was HIGH!
Please don't think I am speaking badly of public or private school… not so. I know many wonderful teachers! In fact, my husband's cousin, Amy McPhail, is a public school teacher and she is AMAZING! I would have been extremely happy to have her teaching my kids! I think teachers are underpaid and underrated! They have one of the most, if not the most, important jobs… teaching our children! Homeschooling is what we feel is best for our family! We love that we know what our kids are learning and that we can help them excel in their strengths and build up their weaknesses. That we can pray with them and teach them life lessons! THIS is why we chose to homeschool! 🙂
Back to homeschooling. This will be our 8th year to homeschool. I've done things differently each year. I've changed my teaching method from extremely strict to more relaxed. When I began homeschooling our oldest, it was very important to keep up with the school systems at her grade level and what she needed to be learning. I pushed her really hard. She didn't really enjoy school at all. I realized this by the time we began homeschooling our second daughter. I WAY loosened up with her. She is at a level of learning that I am actually SHOCKED at. LOL! She picked up reading faster and easier than anything I could have imagined. I know each child learns differently but I do believe if we focus more on the strengths, pushing those, and help them through their weaknesses, they will learn and LEARN WELL!! I am happy to report that our oldest LOVES reading and consumes books. In fact, all of our kids CONSUME books! I cannot keep enough books around the house, and if you are a homeschooling family you know the amount of books we can house! LOL
Down to the books…
I have used ALL KINDS of curriculum. But there are several that I use over and over.
Teaching Your Child To Read in a 100 Easy Lessons. (affiliate link here…Teach Your Child to Read in 100 Easy Lessons
)
We have taught all 3 (going on 4, 5 & eventually 6 & 7) to read with this book. Honestly, I was most scared of teaching my kids to read. That seemed impossible and I did not feel qualified. But this book is amazing and will have them reading fairly quickly. They do not even need to be able to identify the alphabet to start this. So this is one that I started with and will continue to use.
Alpha Phonics. (affiliate link here… Alpha-Phonics: A Primer For Beginning Readers
)
I love Alpha Phonics for when we are finished with Teaching Your Child to Read In 100 Easy Lessons. This gives more in depth lessons on phonics. It's a smooth transition after Teaching Your Child.
Rod & Staff ABC books… (affiliate link here…Early Learning Homeschool Preschool Curriculum: ABC Series of 3 Workbooks
)
Another set of books that I have used with every child and will continue. It teaches them the very basic skills they need, such as coloring, cutting, and beginnings of writing. They also include a Bible story book with a color page that each one of mine LOVE! The link above just has A, B, C but this set can go all the way to F & G.
Saxon Math-
My husband and I both used Saxon math in our homeschool years and we both loved it we used it with our kids. We ventured in a different direction on year but went right back to it the next year. It's simple and repetitive which is what kids need to really get a good grasp of math.
Abeka History & Science-
I love love both Abeka History (especially) and Science. It gives a good biblical back ground for both history and science. And each of my kids have loved reading them.
We are trying out Apologia Science for our middle two this year as I've heard LOTS of wonderful things about it!
BJU English & Spelling-
This is another curriculum that we've used and love. It's very colorful and fun for the kids to read, look at.
Those are the curriculum we've stuck with over all 8 years of homeschooling.
Now here is a unit study that I have done once before and am doing again this year.
The Prairie Primer- (affiliate link here…The Prairie Primer: Literature based unit studies for grades 3-6 utilizing the "Little house" series
)

I absolutely LOVE this book. It centers all basic education around the Little House on the Prairie series. My girls LOVE doing this as do I! I supplement Math. Everything is pretty much included and they tell you weekly what you will be studying. I usually prepare for a few weeks to a month and if I don't have books on the exact thing we will be studying I will use the internet and print pages from it. The Primer does give you a list of books (if you want) to go along with their unit study. You can find most of the books cheaply online or even at your local library. This has been my most favorite schooling to do with my kiddos.
CLASS- (learn more about them here…http://www.homeschools.org/ )
I graduated through Class Homeschool. Christian Liberty Academy Satellite School is what it stands for, I believe. We had done this a couple years earlier with our oldest daughter but honestly, I think it really works best for when you are wanting to keep track of credits for college and get a diploma that will be accepted with any college. I know there are other ways to go about it but this is one we feel good about. Sometimes I just need that accountability. With CLASS they give you two options. One where your child is assigned books and you are to keep track of your kids schooling. The other option is your child is assigned book and CLASS keeps track of everything. This is the option we chose this year for our 8th grader. She does all her work that she's assigned, I keep track of her daily work (some of it will need to be turned in), she takes tests that CLASS grades, and they keep track of her grades/credits and send report cards. This is not for everyone but if you are more nervous about keeping track of the proper credits, this is perfect. CLASS have certain books that they offer but will work with you if you really don't like what they have to offer. CLASS books are mostly Saxon for Math, Abeka & Christian Liberty Press.
So that's what we are choosing to use this year and what I've used in the past 8 years of homeschooling.
The good thing about homeschooling is the freedom to choose what you feel is best for your child and even if you get a book and it doesn't work out you can change. You also can really focus on your child's strengths and let them excel and move them up.
Things that we believe are VERY important and a key part of our homeschooling:
1. Our Kids relationship with Christ! It is our responsibility as parents to teach this to them. We are asked to teach about Him daily & nightly… "Teach them to your children, talking about them when you sit at home and when you walk along the road, when you lie down and when you get up." Deut 11:19
2. Life Lessons. If our kids just get academics down but don't know how to function in life then we have failed. Kids NEED life lessons. Whether it's learning how to be unselfish or how to run a household or how to obey immediately with a happy attitude or how to pay bills or how to help fix a younger sibling lunch. These are life lessons that every child/kid/teen needs to prosper in life!
3. Be Prepared & Keeping good records. Do lots of research on your own to see what style of homeschooling or curriculum will fit with your family in the season of life you are in. Attend homeschool conferences! These are VERY helpful! Lots of seasoned Homeschooling Parents are there to help answer questions or give you details on how-to begin or what to do! Plus, they usually have lots of curriculum vendors for you to check out! Also, you need to try and keep good records of what your homeschool accomplishes. Know your states guidelines and laws on homeschooling. Get a good lesson planner to help you. I have used The Well Planned Day for two years for my lesson planning. I love this book! I think it's responsibly priced too. (affiliate link here… http://hedua.com/cart/index.php/?acc=142949df56ea8ae0be8b5306971900a4 ) Sign up with Homeschool Legal Defense or your state's homeschool defense, in case you face any issues with local, state or school districts.
4. A Good Support System! This is very important! Homeschooling can be overwhelming and yes, even hard but you can do (especially if I can, you can)! Find a local homeschool support group and join. Be a part of the group and see what's available to homeschoolers now! We have access to some awesome things! There are also wonderful co-ops taught by parents or even teachers. A huge variety sporting opportunities are offered now for homeschoolers too! We live in a great season for homeschooling, take advantage of it!
Here are several homeschooling websites, resources that I enjoy!
www.freehomeschooldeals.com
www.raisingarrows.net
www.heidistjohn.com
www.theoldschoolhouse.com
www.hslda.org
Thank you for allowing me to share a little peek of our homeschool with you! If you have questions for me please comment and I will answer to the best of my knowledge… please remember I am just a mom who is barely making it on big hopes and lots of prayers!