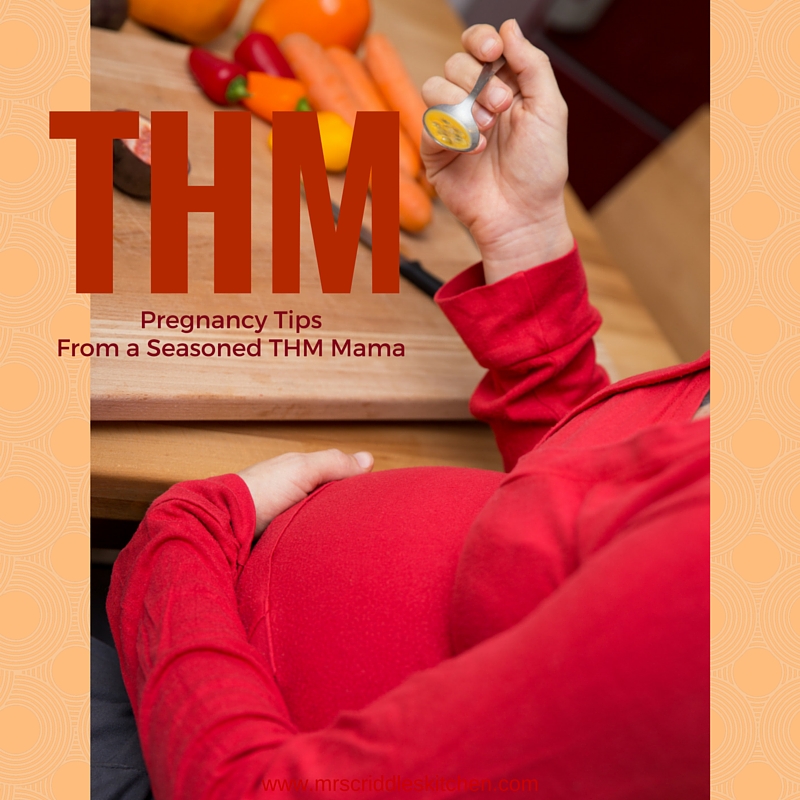 THM PREGNANCY TIPS from a seasoned THM MAMA.
I am currently pregnant with my 7th baby (8th pregnancy). This is my second THM pregnancy and although every pregnancy is different here are some similarities I've noticed with my two THM pregnancies.
1. NO HEART BURN!!!! With every single one of my pregnancy but my last two THM pregnancies I've had horrible horrible heartburn. I actually had to plan to take Tums or Antacids with me everywhere or guzzle milk, it was so bad! The ONLY time I have heartburn now is when I go off plan and eat something not good for me. I know everyone is different but for me, it totally has taken care of Heartburn during pregnancy.
2. Energy! Wow… it's nice being able to say this again. We have six kids right now… a 13 year old daughter, a 9 year old daughter, a 7 year old daughter, a 5 year old daughter, a 2 year old son (who is like 10 boys in one) and a 15 month old boy who is now into everything. We own our own business, a plumbing company, which I help my husband run. We live out on a little acreage which is work in itself. I'm a homemaker and all that goes with it. I homeschool our kids and run this blog… my point is I AM VERY VERY BUSY!! So not being able to manage all that's on my plate would be a very bad thing. There was a time I did cry out to God and wonder how I was going to manage… I just couldn't function with 5… now I have six going on seven and I am able to keep up with everything I need to, thanks to finding Trim Healthy Mama (here is my affiliate link to the THM store if you want to check it out). I honestly believe it was the answer to my prayer!
3. I feel good! My body feels good. I'm 35 and have birthed 6 babies… but dare I say, I feel young. The aches and pains are very minimal. How awesome is that! Before I could barely get off the couch or out of bed now it's not an issue.
4. Less pregnancy weight gain. My last THM pregnancy I only gained 15 pounds. I believe my body continued to trim up while my baby grew healthy! Even though I wasn't able to get back down to my pregnancy weight before I got pregnant with this baby I am hoping I continue the pattern of a small gain.
5. A great birth and healthy baby! I had a very good home birth and a very healthy baby who was one of my smaller babies! My 5th baby was a 9 pounder. My sixth (first THM) was a 7 pounder. Wow what a great difference that made! Especially for a home birther. And I had a great recovery. I felt so good I wanted to get up and get with things right away… don't do that! My husband didn't let me anyway, haha!
So here are a few tips…
Switch it up. Keep switching it up. But add in crossover when you need them. E meals are a little harder for me, I've noticed, while pregnant but I found that if I add in more lean protein it will hold me over better. Those E meals are really good for both pregnant and nursing ladies.
PROTEIN is so important!!! Try to get in a LOT of protein! I have noticed that this really helps with morning sickness for me. And again, it helps when you eat E meals to have plenty of protein to hold you over. Put plan approved protein bars or nuts in your purse or beside your bed. Also take plan approved wraps with you, if you are going out, to make it easy to eat THM! Burgers can be done with a lettuce wrap instead of a bun. Tacos are good ones to transfer to a wrap. It's doable for sure!
KEEP THINGS SIMPLE! If you are experiencing morning sickness or having a rough pregnancy THM is still do able… just keep it simple! When you have a bit of energy prepare your protein ahead to make it easy to work around. Just yesterday I boiled two of our family serving size of chicken to be ready to quickly create dinner or lunch for us. That REALLY helped! If you cannot do that right now get things that are quick fixers. Something I LIVED off for a while was cottage cheese and my favorite fruit. If you cannot do cottage cheese try greek yogurt. Or peanut butter and celery. Boiled eggs are quick protein snacks that have little smell! Maybe even pre-packaged salad you can dump a can of salmon in. Those Progresso Light Soups are perfect E meals when you do not want to cook! For me when I'm pregnant EASY IS BEST!
Drink LOTS of water! GGMS is good too! You can even enjoy the Shrinker. If you go out, take a long a nice bottle of water to keep you and your baby hydrated! I've also learned that staying hydrated helps keep the morning sickness bearable.
Eat what you crave… if you crave chocolate, eat Skinny Chocolate. If you crave Fried Chicken, eat a plan approved Fried Chicken! Almost everything can be THMed! Believe me! 😉
Pamper YOURSELF! Take a bubble bath, get a new-to-you maternity outfit that makes your feel good, or a nice pair of pajamas for when the baby comes, take a leisure walk for fresh air and those happy endorphins, drink hot tea or even a cup of coffee with cream, check out a good library book, enjoy this time of growing a baby! Your body is working overtime to create a precious blessing!!
Prepare Freezer Meals… Another tip I would suggest is once your start feeling good again (usually in the second trimester for me) begin to prepare some THM meals & snacks you can freeze. That will make it easier to stay on plan once that precious baby comes and you aren't in charge of cooking. We have been blessed in the past by friends and family bringing us meals after our babies are born! I EAT THEM and enjoy them and know that they are a blessing. But once things settle down, it's nice to have those PREPARED THM Meals to fall back on!
GIVE YOURSELF GRACE! You are growing a baby! If you need a cheat, have a cheat. But just be careful not to get in a rut of constant cheating. Your body will thank you for staying the course and your baby will thank you too! But do allow yourself a cheat treat once in a while! 😉 And after the cheat, wait three hours and hop back on. The best choice of meal after a cheat would be a healthy fat and protein with yummy fresh greens!
Don't forget your husband!!! Since the Trim Healthy Mama book does encourage being FOXY (Chapter 34)… I thought I needed to add this to my tips. Sometimes our men get put on the back burner… with kids, pregnancy, hormones, it's hard to keep working on our marriage too while growing that baby. But don't forget your mate! Let him spoil you, take you out on dates, let him enjoy your body that he helped put in the beautiful condition your are in (giggles) and enjoy him enjoying you! If you are able, go on a pre-babymoon or plan one at home. Pregnancy and the pregnant body is a wonderous beautiful thing.
So these are my tips. I hope this might help others. Please note that these are just MY tips! I've done these while having two wonderful THM pregnancies. They may not work for you but maybe you can get some ideas here that will work for you. I absolutely realize that no woman's body is the same, each unique, and what works for one may not work for another! Be blessed!!