(This post contains affiliate links.)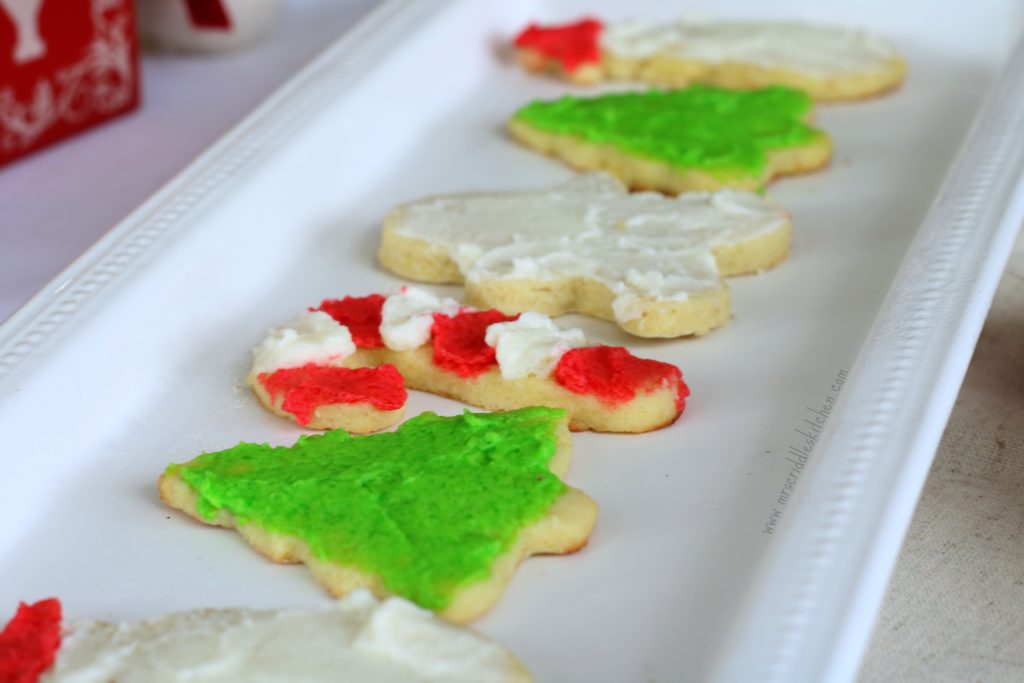 Adrienne's Christmas Cookies
I'm so excited to get to share these CHRISTMAS COOKIE with you! And the fact that they are OH PLAN, won't spike your blood sugar, OR make your kids crazy! I don't know but I am super happy about that!
This brilliant lady, Adrienne Droogsma, adapted my Coconut Cake into they beautiful cookies! Seriously yall, how cool is that? AND she was so awesome to let me put them up on my blog so they could be easily accessible!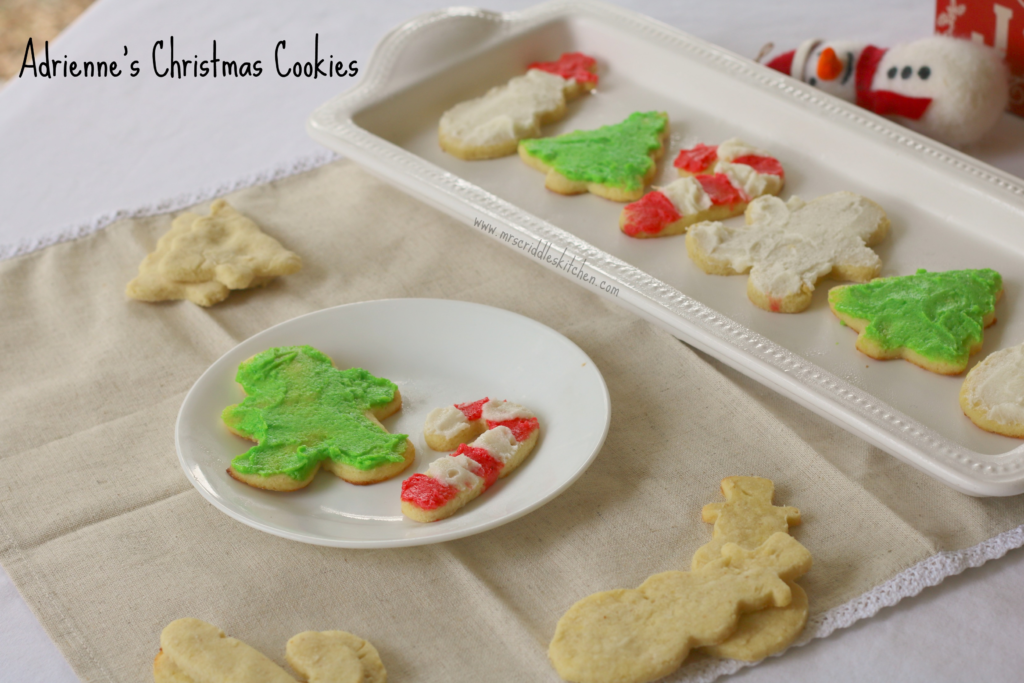 How pretty are these? I made a batch and they were gone the same day. My kids loved them! For me, that is HUGE! So I really hope you give them a shot!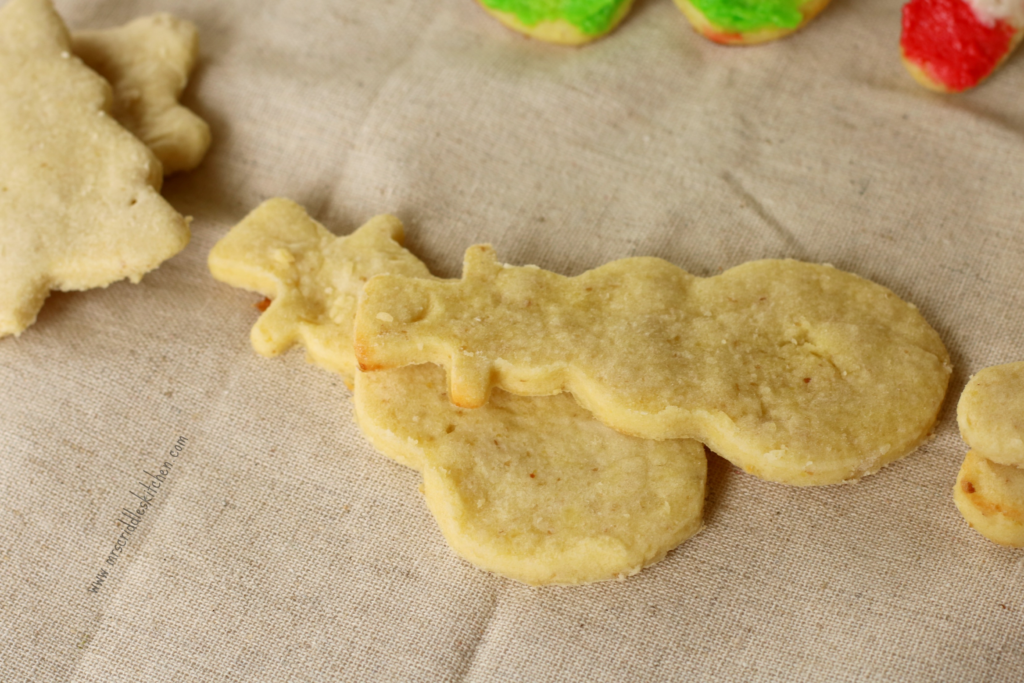 Baking as a Trim Healthy Mama can be a bit tricky but it CAN be done! Adrienne gave awesome directions which I will include in the recipe below so please follow those directions. I will also add my notes, so be sure to check those out!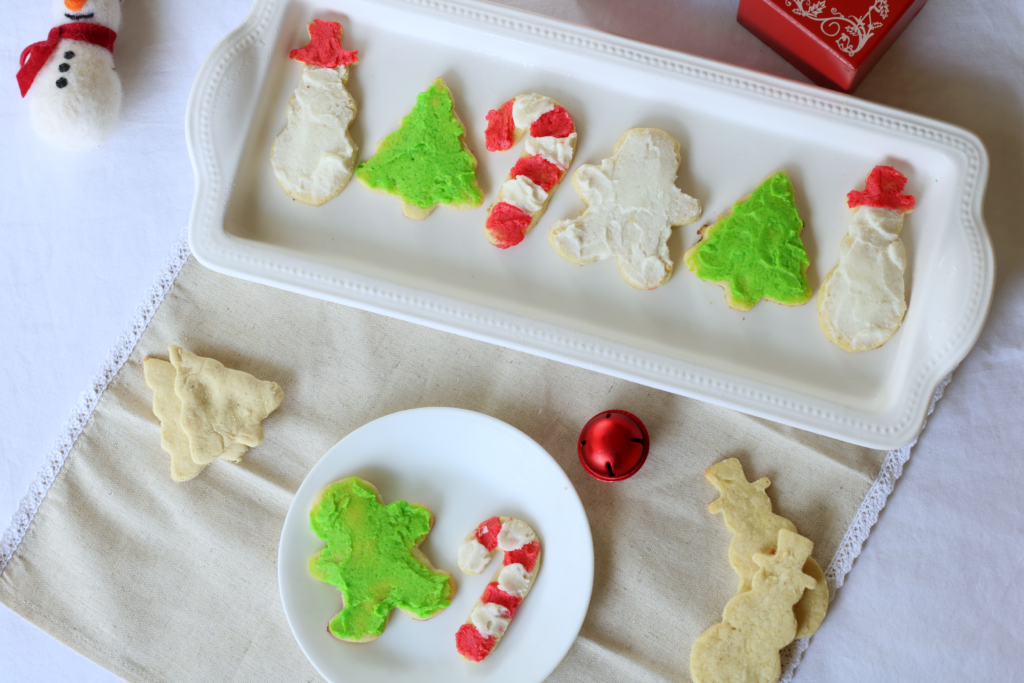 These are NOT hard crisp cookies… they are more like the cut and decorate cookies in a tube you buy at the store. They are soft and buttery! There are so many wonderful ways I've seen other THM ladies decorate these cookies!! And so many different frostings out there to put on them… I will try to include a few links here. The icing that I used in the pictures is this recipe here (only because I was out of cream cheese at the time) Sugar Free Vanilla Buttercream Frosting from Sugar Free Mom
You can try the Vanilla Bean Glaze from this Recipe Ginger Bread Donuts with Vanilla Bean Frosting
You could also try these… French Buttercream Frosting Recipe from Gwen's Nest (scroll down in her cookie recipe to find the frosting recipe)
And the frosting off of this recipe Pumpkin Bars from Briana Thomas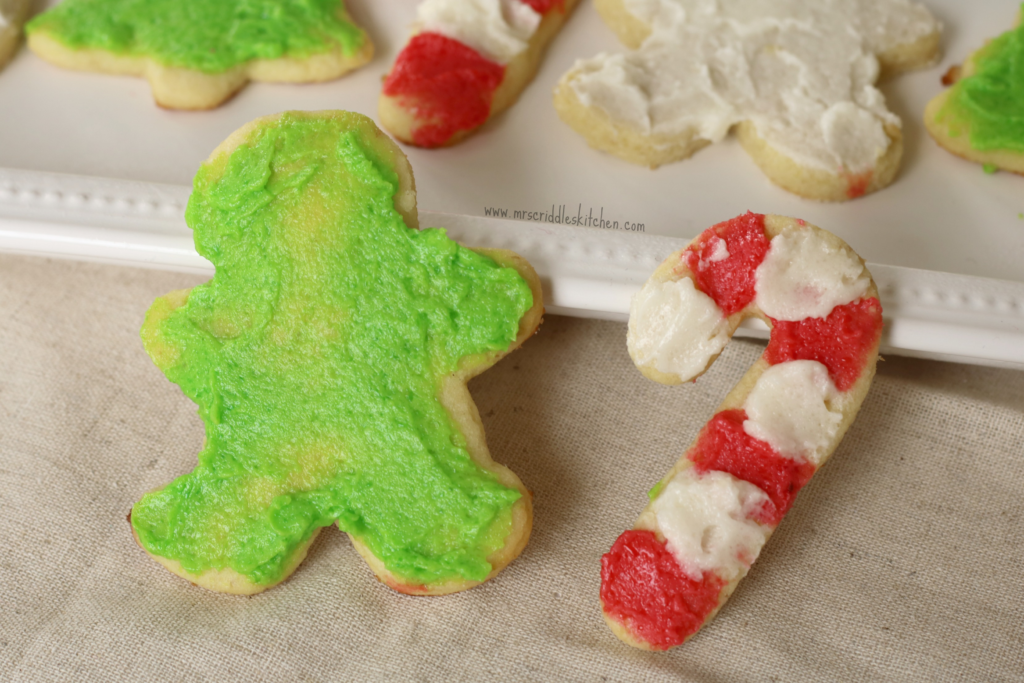 The dough can be soft so be sure to keep very cold before baking! I actually took my dough right out of the freezer, rolled out, placed back in the freezer and cut out, then baked.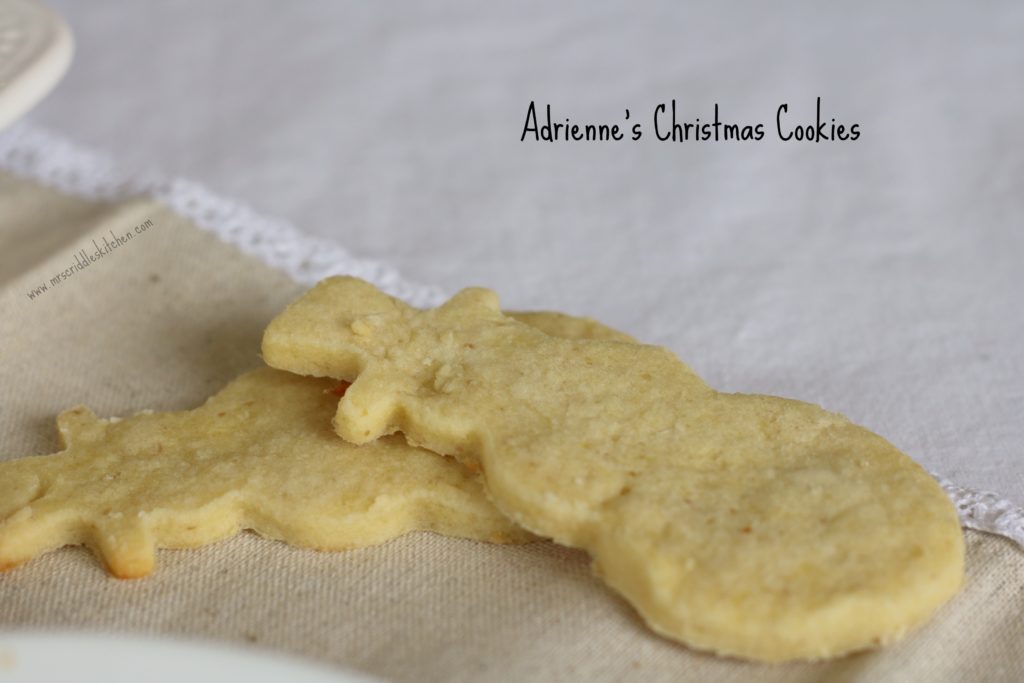 How cute are those snowmen!!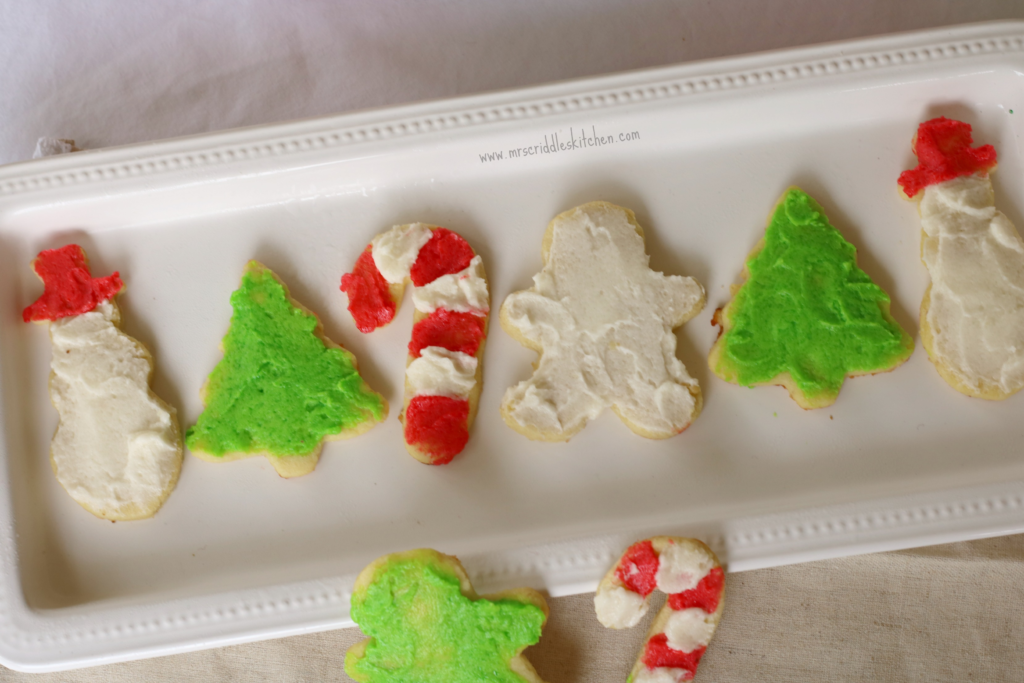 These are a THM S so they will work as a great S snack or S dessert! Try to keep to 3 to stay good on your carbs… especially if you are counting carbs in your S meal!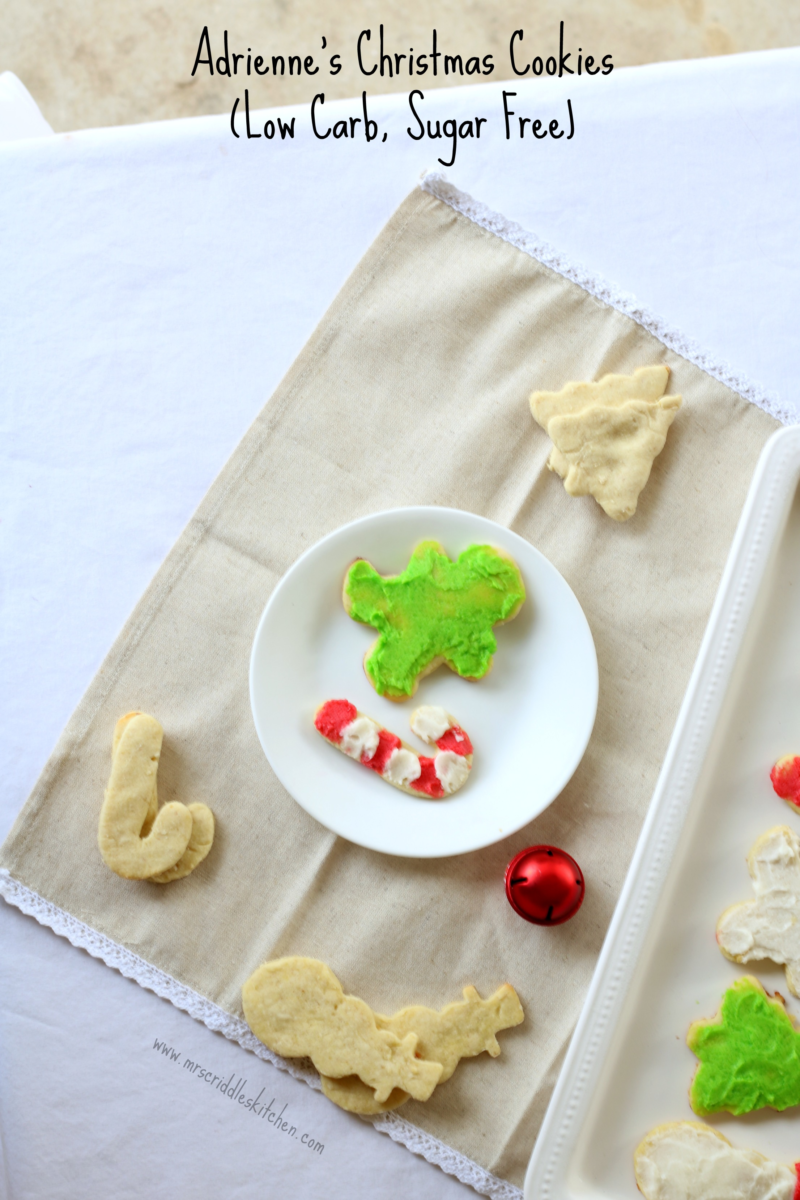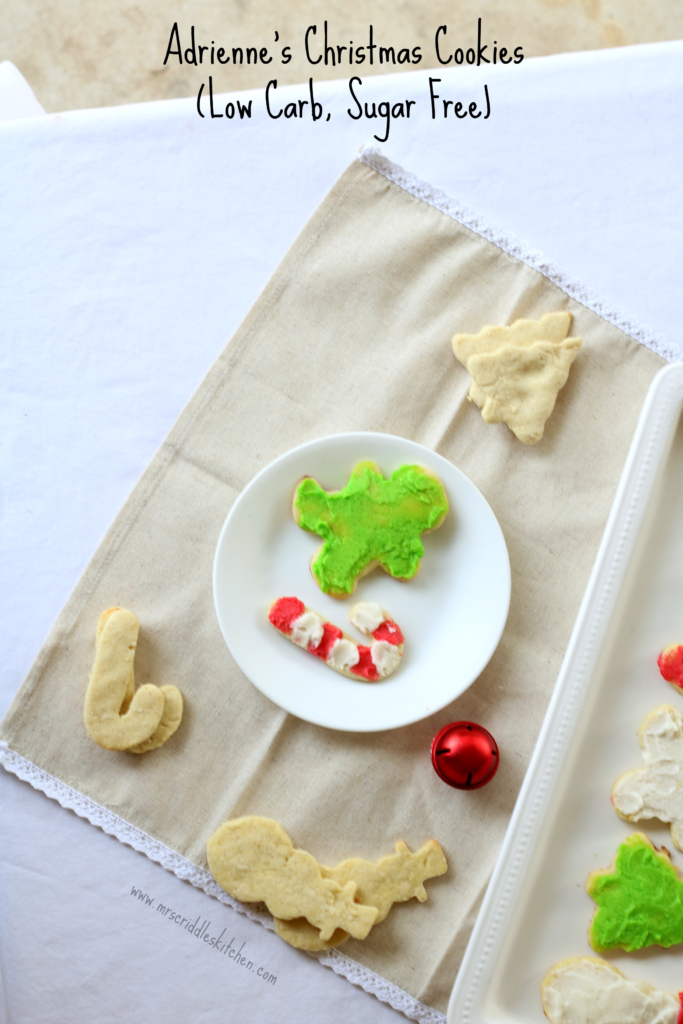 I hope you enjoy this beautiful creation by Adrienne Droogsma and please go check out her facebook page here… Cooking A Healthier You and PLEASE WATCH her HOW TO VIDEO HERE!! ADRIENNE'S COOKIE VIDEO . THANK YOU SO MUCH ADRIENNE!!!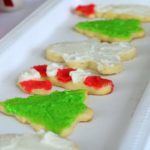 Adrienne's Christmas Cookies
---
Description
On Plan Christmas Cut Out Cookies
---
Christmas Cookies-

1/4 cup

of unsalted butter (if you use salted butter leave out the salt in the batter recipe)

1/4 cup

of coconut oil melted (use refined coconut oil if you don't want the coconut flavor)

1/4 cup

plus 2 tbsp THM Super Sweet Blend (Mrs. Criddle used

1/2 cup

plus

2 tbsp

of THM Gentle Sweet)

1/2 tsp

vanilla extract

1/2 cup

of sour cream or

1/4 cup

of sour cream & 1/4 cup of plain greek yogurt

2

eggs plus 1 & 1/2 tbsp egg whites

3/4 cup

almond flour

1/2 cup

THM Baking Blend

1/2 cup

of Oat Fiber (plus some for flouring)

1 tsp

baking powder

1/4 tsp

salt
Cookie Icing-

4 oz

of 1/3 less fat cream cheese

1/2 cup

(

1

stick) of butter (I used salted)

1/2 cup

of THM Gentle Sweet (or

1/4 cup

of THM Super Sweet ground into powder or

3/4 cup

of Xylitol or Swerve ground into powder)

1 tsp

vanilla extract
Heavy whipping cream as needed to reach desired frosting consistency
Natural food coloring
---
Instructions
Cookie Dough Directions-
Mix butter, coconut oil, sweetener and vanilla until fluffy.
Add sour cream or sour cream/greek yogurt, mix well.
Add eggs plus egg whites, mix well.
Add dry ingredients and mix on high for a minute or two or until all ingredients are well incorporated and form a semi thick dough (it should resemble a soft cookie dough).
Cover bowl and refrigerate for at least 4 hours.
Preheat oven to 350 degrees.
Lay parchment paper out on cookie sheets
What you will need to make the Cookies
Cookie Cutters
Rolling pin
Small flat spatula for transfering cookies to cookie sheet
OAT FIBER
Parchment paper, cookie mat or clean flat surface for rolling out dough
NOTE: this dough is soft and can be sticky so a liberal dusting of OAT FIBER is NECESSARY on your rolling surface and on top of dough when rolling (this is very important)
Split dough into 4 portions, work with each portion until scraps are too small and then add scraps to next portion and so on until dough is gone.
Dust counter surface/parchment paper/cookie mat with a LIBERAL amount of oat fiber.
Take 1 portion of dough and set on rolling surface, dust the top of the dough with oat fiber and proceed to roll out dough adding more oat fiber as needed to prevent sticking.
Rolll to desired thickness (mine were about 1/8-1/4″ thick).
Using cookie cutter press into dough.
Remove scraps and using a flat spatula (dusted with oat fiber) transfer cookie shapes to the parchment paper lined cookie sheet.
(Mrs. Criddle's Note- I froze my dough, took out of the freezer, laid on dusted parchment paper, placed parchment paper on top, rolled out in between the parchment paper, froze for a few minutes more after rolling out, took out of freezer and cut out with cookie cutters.)
Between each rolling, re-dust rolling surface and top of dough with oat fiber to prevent sticking.
Once your cookie sheets are filled bake for 7-9 minutes.
My cookies were not brown on the bottom at all.
After pulling them from the oven let them sit for about 10-15 minutes on the pan and then transfer to a cooling rack.
Icing Directions-
Using a hand mixer or stand mixer blend together cream cheese and butter until combined.
Add sweetener of choice and vanilla, blend again.
While mixing add heavy whip until desired consistency.
**optional- decide how many colors you want and divide frosting into separate bowls and add food coloring. You can find natural food coloring at some health food stores or online.
ENJOY!
---
A few things you might want to check out (affiliate links ahead)…
THM Gentle Sweet
Gentle Sweet™ (Xylitol, Erythritol & Stevia Ground Blend) 16oz Bag
THM Baking Blend

2018 Calendar by Briana Thomas