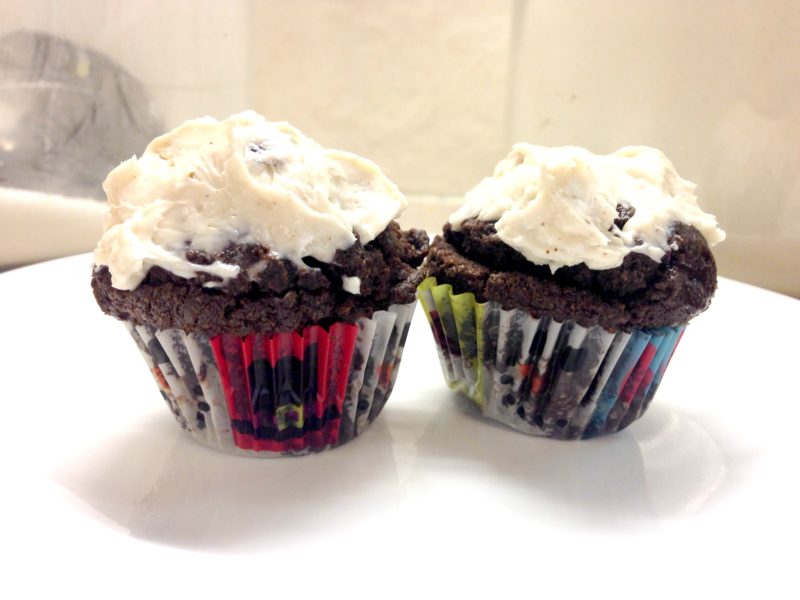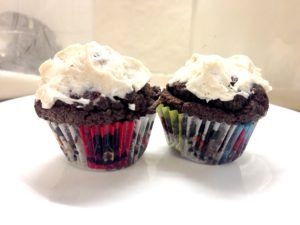 I Love Chocolate! I know, I know, you do too! And I LOVE cupcakes! I had a dream once about opening up a cupcake shop… long time ago. But now I CAN DREAM ABOUT CUPCAKES AND EAT THEM TOO! I seriously did a victory dance after making these. Even surprised my husband… he walks in … takes a bite… comes back where I was nursing our baby… has a HUGE smile on his face and says "These. Are. Good!"! Fist bump!!! I know, you probably get sick of me mentioning how I love to make my husband smile… but he has the most beautiful blue eyes that just twinkle when he smiles… "sigh"
Anyway… I made these again using the THM Sweet Blend which you can find at : www.trimhealthymama.com
I've told you over the last few desserts how much I love that stuff! I didn't know eating healthy could be so delicious and fun!!! Loving my Trim Healthy Mama journey!!
Start by getting you dry ingredients together… Mix you wet ingredients with the THM Sweet Blend. Add the dry ingredients slowly because it will PUFF up in your face… yes, I was covered in cocoa powder…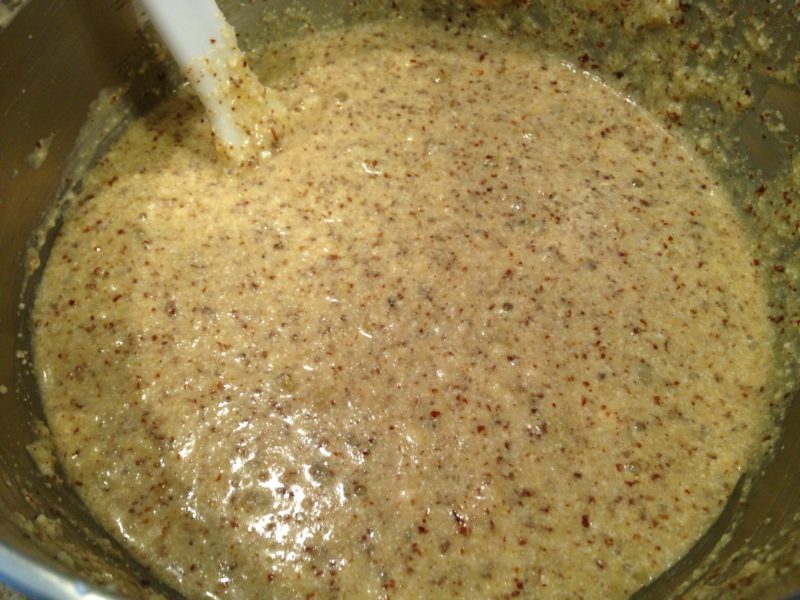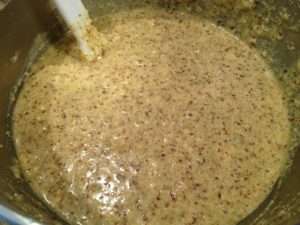 Chop an 85% dark chocolate bar (I used a 4 oz Lindt 85% Dark Chocolate Bar) finely and add last to the batter. Mix well. I recommend using a chocolate bar because it will help make these more moist (read the note below)!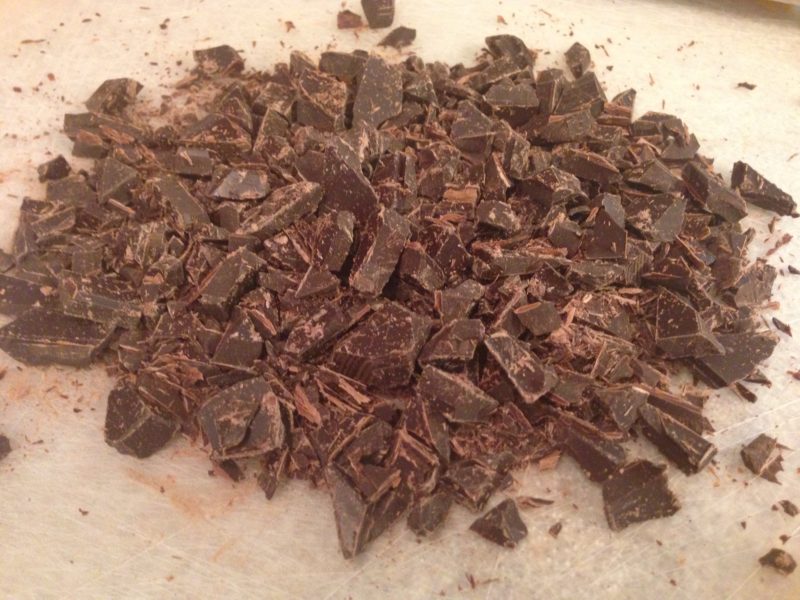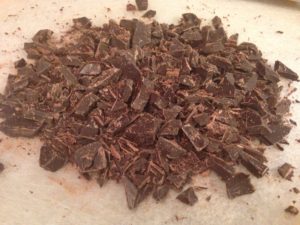 Line a mini muffin tin with cupcake liners. And put about a tablespoon scoop (not flat) of the batter in. I have a tiny cookie scoop that worked perfect!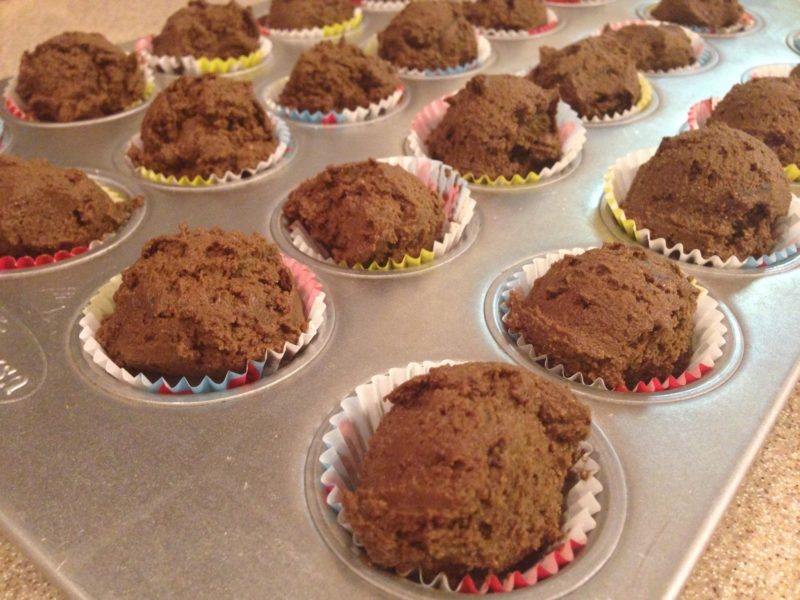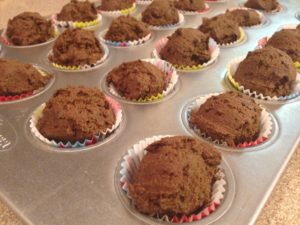 Bake & allow to cool before icing!!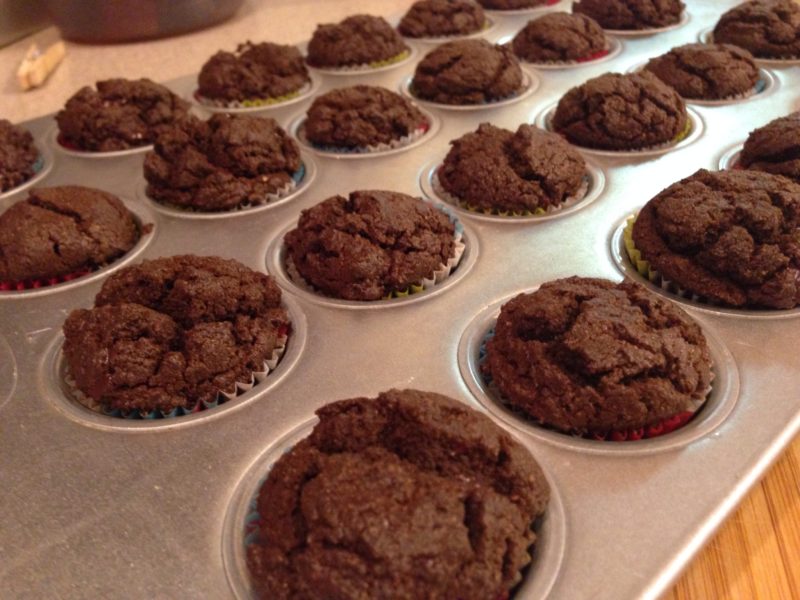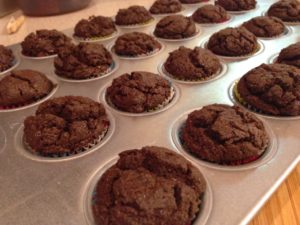 Mix up your icing while the cupcakes cool! I just used the cream cheese icing recipe from my Italian Cream Cake.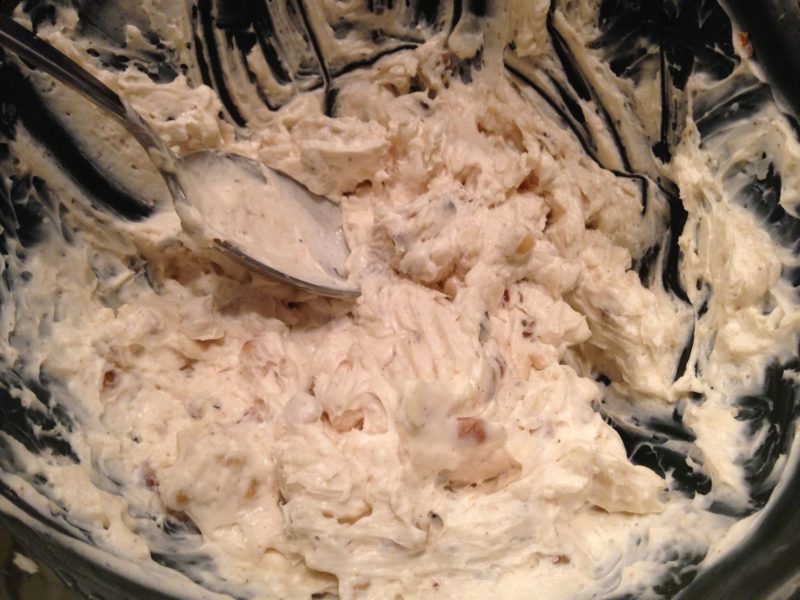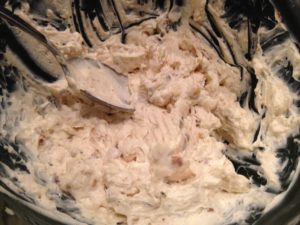 Ice the mini cupcakes! Enjoy!! These are sugar free (except for the small amount in the dark chocolate bar) & and do not have any wheat or oat flour in it. They are an S dessert! (I was going to arrange these in a pretty way for a display picture but when I came home from grocery shopping they were completely gone… my husband and kids finished them off before I got a good photo of them… oh well, I will just make them again)
** PLEASE READ- ok I feel like I need to talk a little about coconut flour here. It is NOT the same as regular flour or even almond flour. It will taste differently and have a different texture also it REALLY absorbs any liquid and can be dry if you do not add enough eggs/liquid or something to help make it moist. I am trying to use it a little more when creating recipes because it is cheaper and goes further than almond flour and has more heath benefits, plus if you have an allergy to nuts this a good alternative. I would definitely make sure to use a chocolate bar in this recipe because if you don't it could be dry. If you don't have one use an extra egg and or some more coconut oil or butter to help with the moist. Just my little note! 🙂
**NOTE: I have been off of sugar for over a year. My taste buds have changed so much. A little sweet goes a long way for me now where as a year ago some of the things I like now would have tasted barely sweet to me. I just wanted to throw that out there. If you think you might like things sweeter please add more sweetness to these! 🙂 And let me know, I really appreciate feedback!! 🙂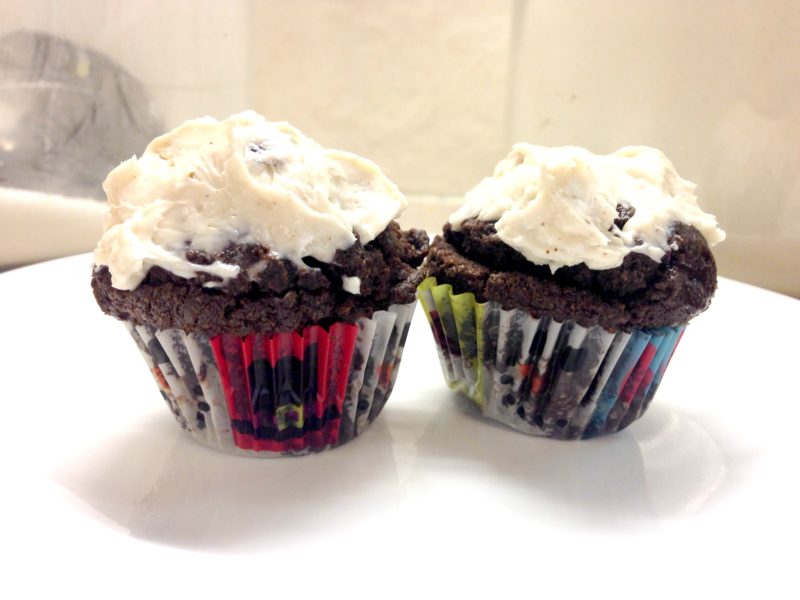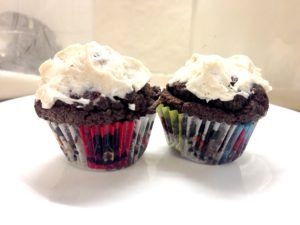 Print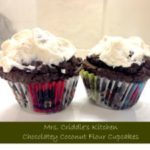 Chocolate Coconut Flour Cupcakes
Author:

Cook Time:

25

Total Time:

25 minutes

Yield:

3

4

1

x
---
Description
Yummy chocolate mini cupcakes without all the gluteny flour and sugar but oh so tasty!!
---
Batter
1 cup

of coconut flour (just scoop & shake off- you can take off

2 tbsp

. to make sure it wasn't packed in)

3/4 cup

of butter

1/2 cup

plus 2 tbsp. coconut oil

7

eggs

4 tbsp

. THM Sweet Blend if you like it more sweet than chocolate muffins add a tbsp. more (you could use Truvia but it would probably need

1/2 cup

or so, also I wanted to note here as well)

1 tsp

salt

1 tsp

baking soda

1 cup

of cocoa powder (if you like less dark chocolate cut the cocoa powder down to 3/4 or

1/2 cup

)

1 tsp

cinnamon

2 tsp

vanilla
1- 85% dark chocolate bar chopped fine
Frosting
2

– packages of 8 oz cream cheese bars

1

stick of butter (

1/2

a cup)

4 tsp

THM Sweet Blend

2 tsp

vanilla

1/4

to a 1/2 tsp salt

1/2 tsp

cinnamon

1 cup

of nuts (optional)

1 cup

of shredded unsweetened coconut (optional)
---
Instructions
Batter
Mix dry ingredients together in a bowl except the THM Sweet Blend.
In a mixer add the butter, coconut oil, and sweetener.
Blend well.
Add dry ingredients slowly.
Add eggs slowly until everything is combined well.
Add chocolate bar pieces.
Scoop a full tbsp. of batter (not flat) and put into mini cupcake liners.
Bake at 300 degrees for 25 minutes exactly.
Allow to cool completely before icing,
Frosting
Add all ingredients but the optional nuts and coconut.
Blend together slowly until combined.
Add to nut & coconut last.
Mix well then ice cooled mini cupcakes.
---
Notes
This is an S dessert if you follow Trim Healthy Mama! Enjoy! **NOTE: I have been off of sugar for over a year. My taste buds have changed so much. A little sweet goes a long way for me now where as a year ago some of the things I like now would have tasted barely sweet to me. I just wanted to throw that out there. If you think you might like things sweeter please add more sweetness to these! 🙂 And let me know, I really appreciate feedback!! 🙂