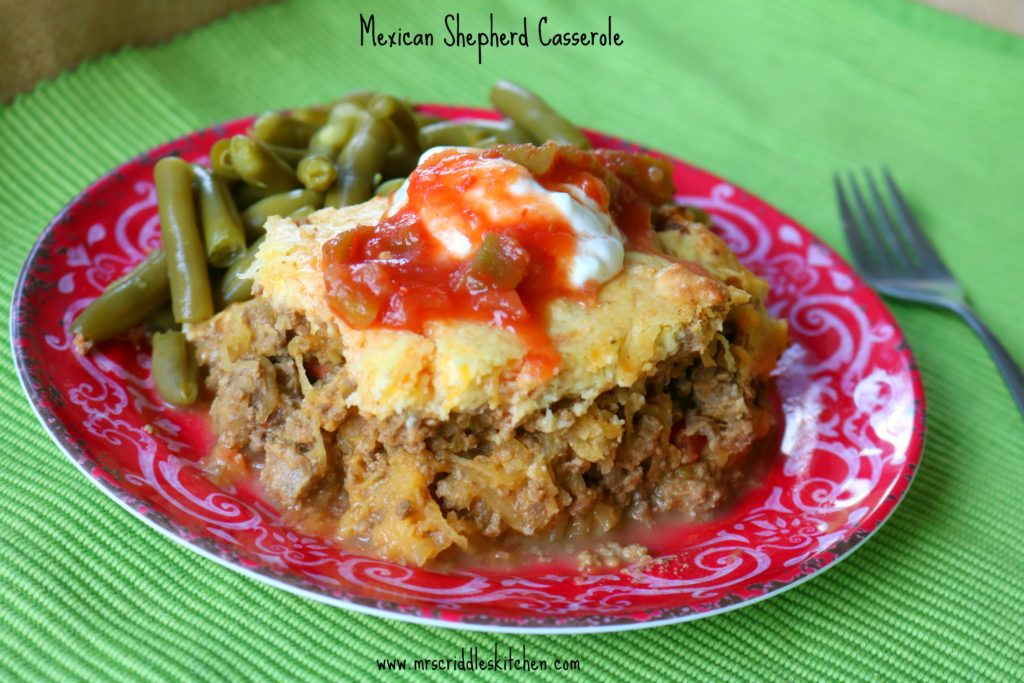 -Mexican Shepherd Casserole-
(This post may contain affiliate links. These affiliate links do not cost you a thing but helps support my blog. THANK YOU for using my links!)
Here's how this little recipe was created…
It was late one evening last week. I needed something to make fairly quickly.
I had taco meat cooked already so I knew it had to be something using taco meat.
I also had a spaghetti squash (I love love love spaghetti squash).
(Here is the way I cook spaghetti squash quickly: stab it a couple times with a knife, place in the microwave and cook for 20 minutes. Carefully take it out of the microwave and cut it in half. Scoop out the seeds and veins. There you have it!)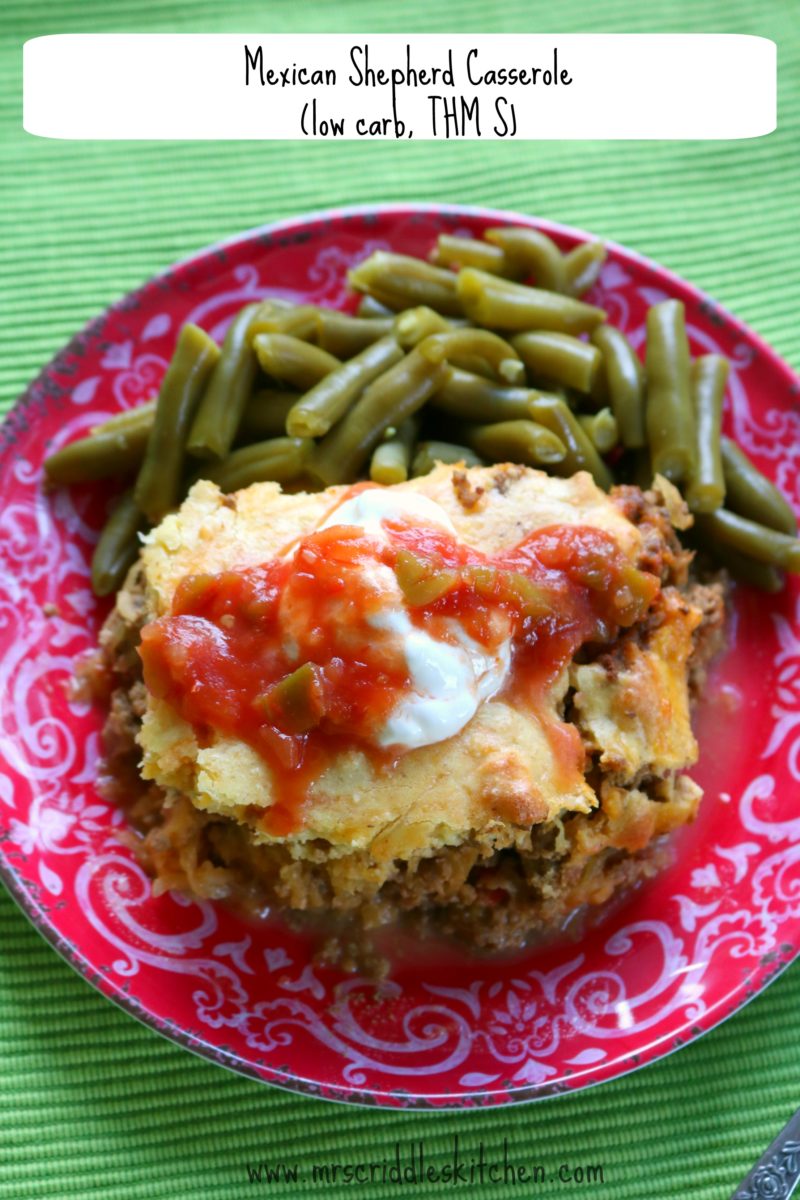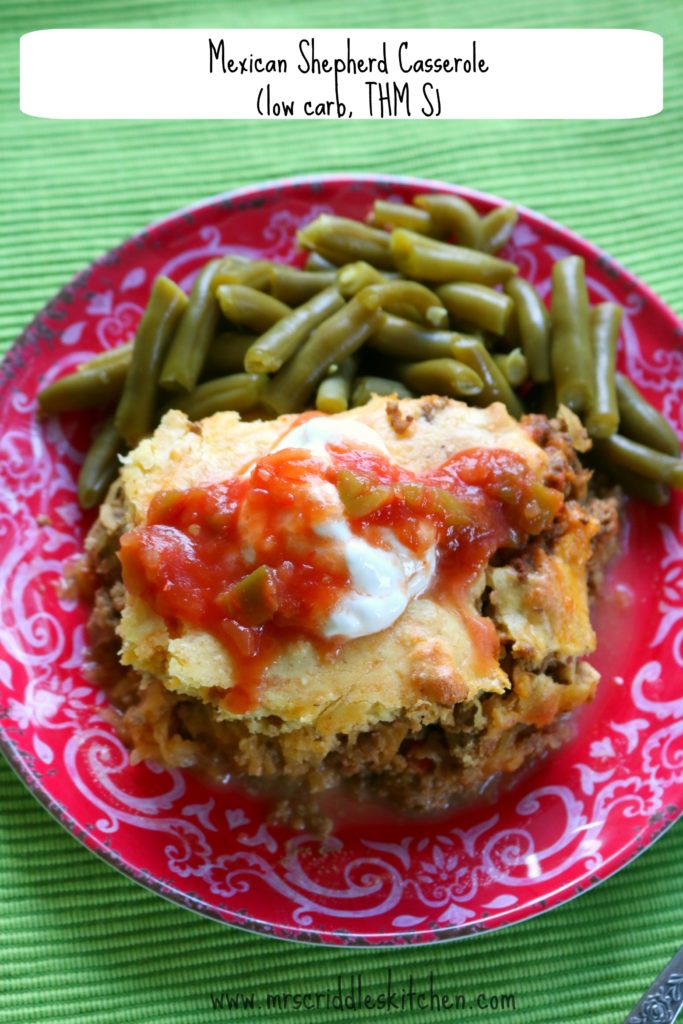 So I basically started throwing things together.
THIS is how many of my dishes get made… throwing things together.
And, you can ask my husband, these throw-together-meals are some of my BEST dishes!
SO I made this Mexican taco base but wanted a breaded topping.
I whipped together a crust using the AMAZING THM BAKING BLEND (<–you can order through my affiliate link)! I love this stuff! If you are wanting a lower carb baking blend, you need to give this stuff a try! This is one of the four THM items I HAVE TO HAVE in my kitchen!
I spread the topping on, sprinkled with more cheese and YUM!
Baked this dish in the oven for 30-35 minutes!
Once baked, we topped with sour cream and salsa. You could also top with guacamole or cheese dip!
This little casserole turned out so good! And for my THM friends, it is an S casserole!
Enjoy!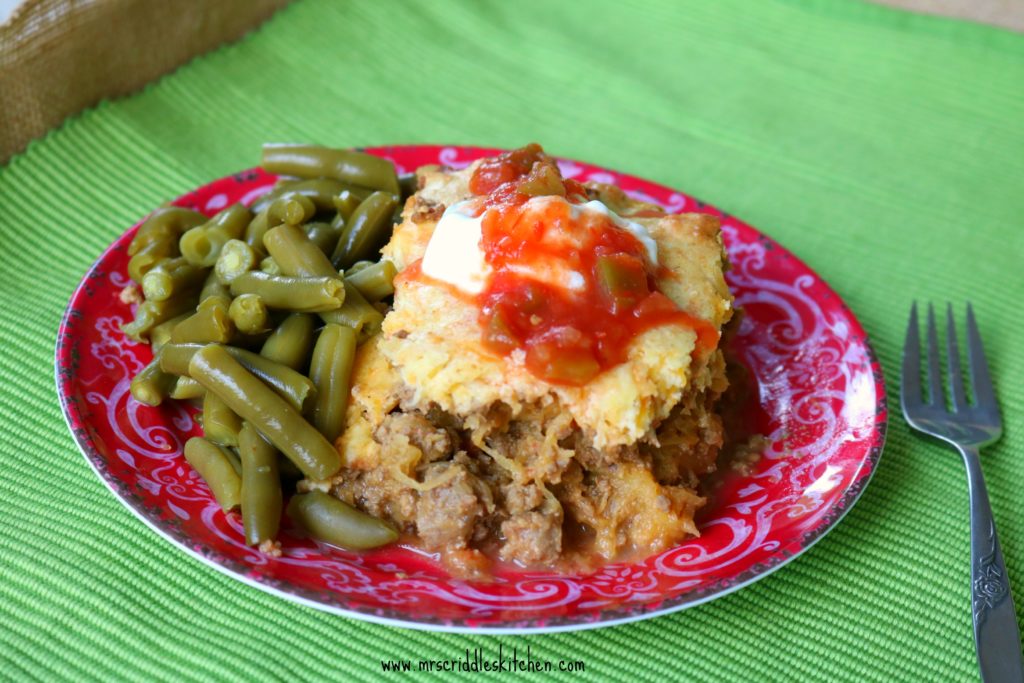 Here are some items you may be interested in purchasing… (all my affiliate links below)
THM Gentle Sweet– my favorite favorite sugar free sweetener
THM Baking Blend– my favorite lower carb baking blend
Glass Containers– I love storing things in glass. These are too cute!!
THM Mineral Salt– this stuff is so much better for you than processed salt
Mason Jar Salt & Pepper Shakers– oh these are so adorable! Put your mineral salt in this cute jar!
Trim Healthy Mama Planbook– I LOVE THIS BOOK! For real, if you need a life-changing book for you health, order this!
Trim Healthy Mama Cookbook– this book goes along with the THM Planbook. Also, I was blessed to have one of my recipes included in this book. Give me a shout out if you find my recipe!
Recipe Book Holder– need a way to keep your THM Cookbook open? Here is a cool one to check out!
Casserole Dish– who doesn't need one of these glass casserole dishes!
Casserole Dish Carrier– if you are wanting to take this dish to a party or get-together, here is a great carrier to keep it warm!
Print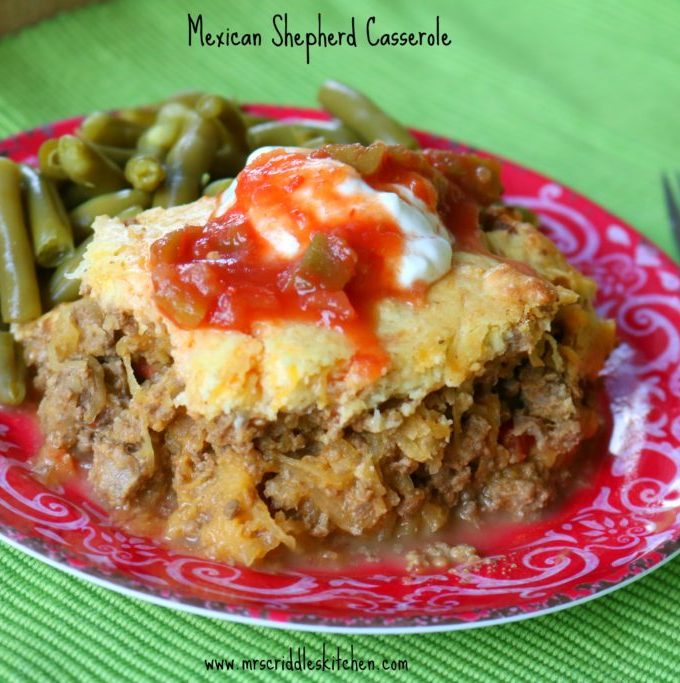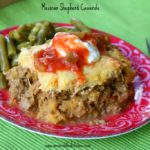 Mexican Shepherd Casserole (THM S)
---
Description
My twist on a Mexican casserole & Shepherd Pie! This is lower carb and THM S!
---
Meat Base-

1

spaghetti squash, cooked and seeded and deveined

2

lbs of ground beef cooked and seasoned with taco seasoning

1

can of Rotel (canned green chilies and tomatoes)

1/4

of a Queso Blanco Cheese (like velveeta cheese but I buy the HEB brand. If you would rather not use this just add in about

1 cup

of Monterey jack cheese or cheddar cheese with 2 tbs of heavy whip)
Topping-

1/2

a cup of THM Baking Blend

2

eggs

1.5 cups

of cheddar cheese (save the

1/2 cup

to sprinkle on the top at the end before baking)

1/2

a cup of half & half or heavy whip
Salt and pepper to taste.
---
Instructions
Cook your spaghetti squash your favorite way. (I cook mine in the mircrowave by stabbing a couple times, then cooking on high for 20 minutes. Carefully take out, cut in half and remove seeds and veins.)
Cook your ground beef and add taco seasoning (for seasoning I use 1 tbsp. of garlic, 2 tsp of chili powder, 2 tsp of onion powder, and 2 tsp of cumin, then salt and pepper to taste.)
Add a can of Rotel to the meat.
Add in the spaghetti squash.
Mix in the 1/2 cup of Monterey Cheese or Velveeta Cheese.
Place in a 9X13 glass baking dish.
Preheat oven to 375 degrees.
In a bowl mix the eggs, THM Baking Blend, 1 cup of cheddar cheese, 1/2 a cup of heavy whip or half & half, and salt and pepper to taste.
Spread over the top of meat mixture.
Sprinkle with the remaining cheese.
Bake for 30 minutes until golden brown on top.
---
---