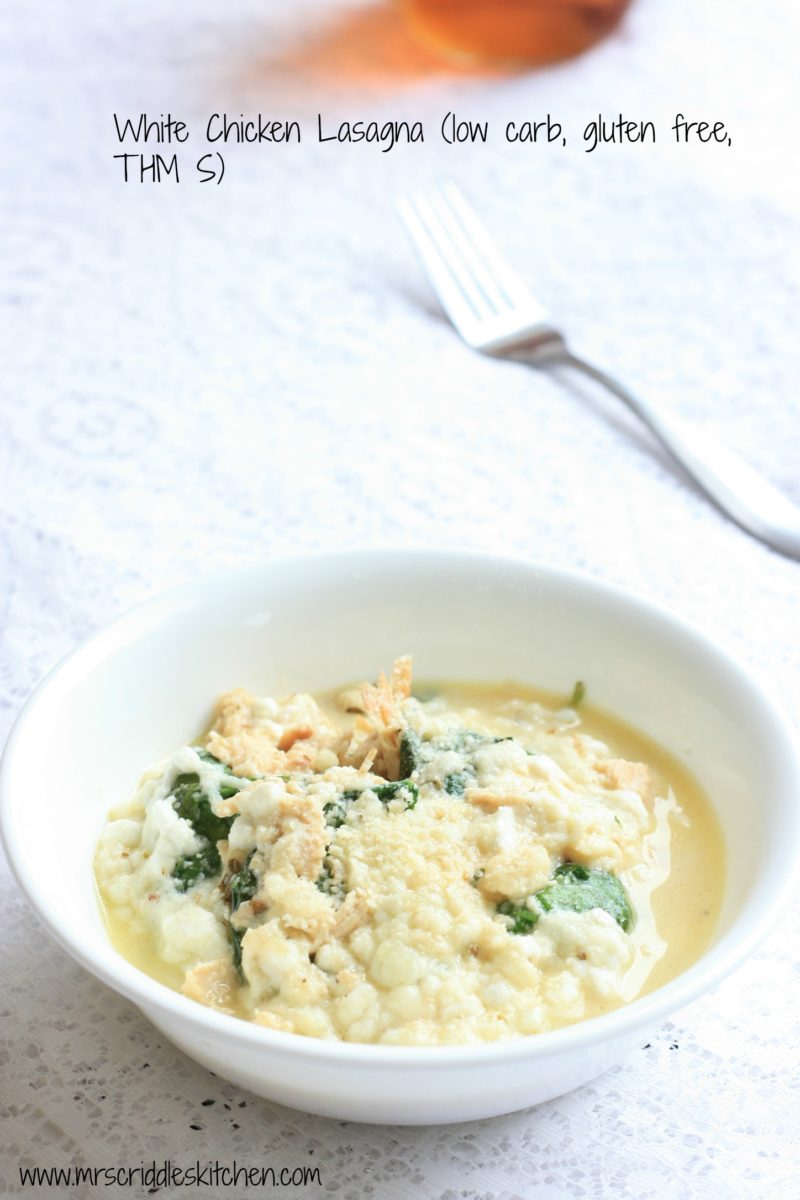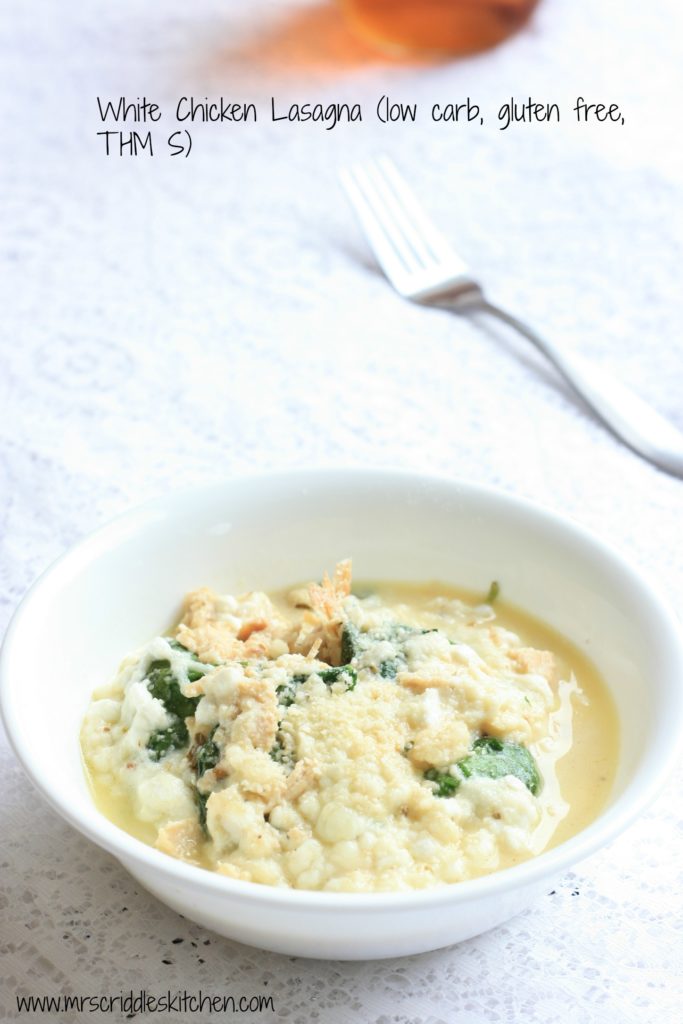 So, I've made this twice in one week because my husband loved it so much!! This is really, right now, our favorite recipe ever!
Let me tell you how I created this… haha! I had been out all day, had no idea what to fix for dinner with the chicken I had thawed. I thought Chicken Spaghetti but I didn't really feel like red sauce… I wanted comfort food. Sooooo, I thought how about a creamy white sauce and use up my almost wilted spinach as well. DING DING!!! Yep!! Also, my dish washer is broken right now so I NEEDED this recipe to NOT make a huge mess! One bowl, one pot is all it takes!! Well, that is if you have a 6 quart Dutch Oven! Man, if you don't have one… get one!! My husband has bought me three… on three different Christmas's. I LOVE MY DUTCH OVENS!!! You can cook on the stove with them and then transfer everything into the oven! It cooks so evenly. My roasts also turn out so lovely in the Dutch Oven! I'll post a link to one at the bottom of this recipe! But if you don't have a dutch oven, you will need to put the cooked chicken and sauce into the bottom of an oven safe baking dish… 9X13 is fine!!
Ok, put some oil in the bottom of your big pot and cook up your chicken on medium heat. Add in garlic and onion chopped, along with the herbs & seasonings!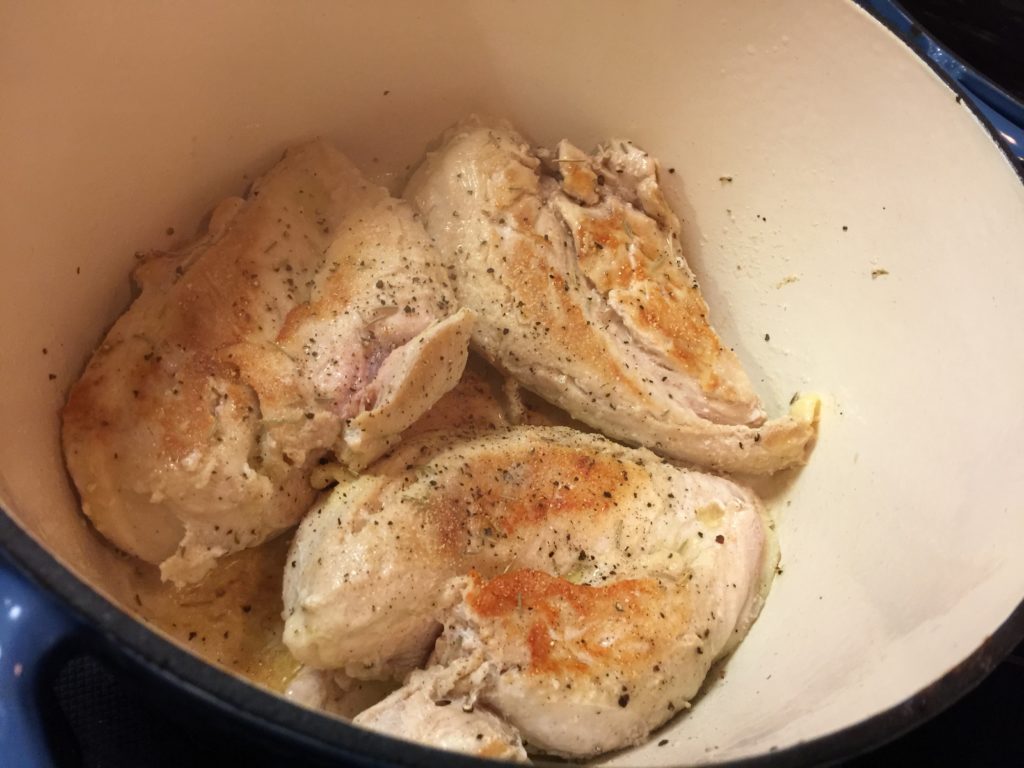 Once both the chicken, garlic and onion are cooked, turn the heat down to medium low and add the butter, cream and parmesan cheese (the kind from the green container).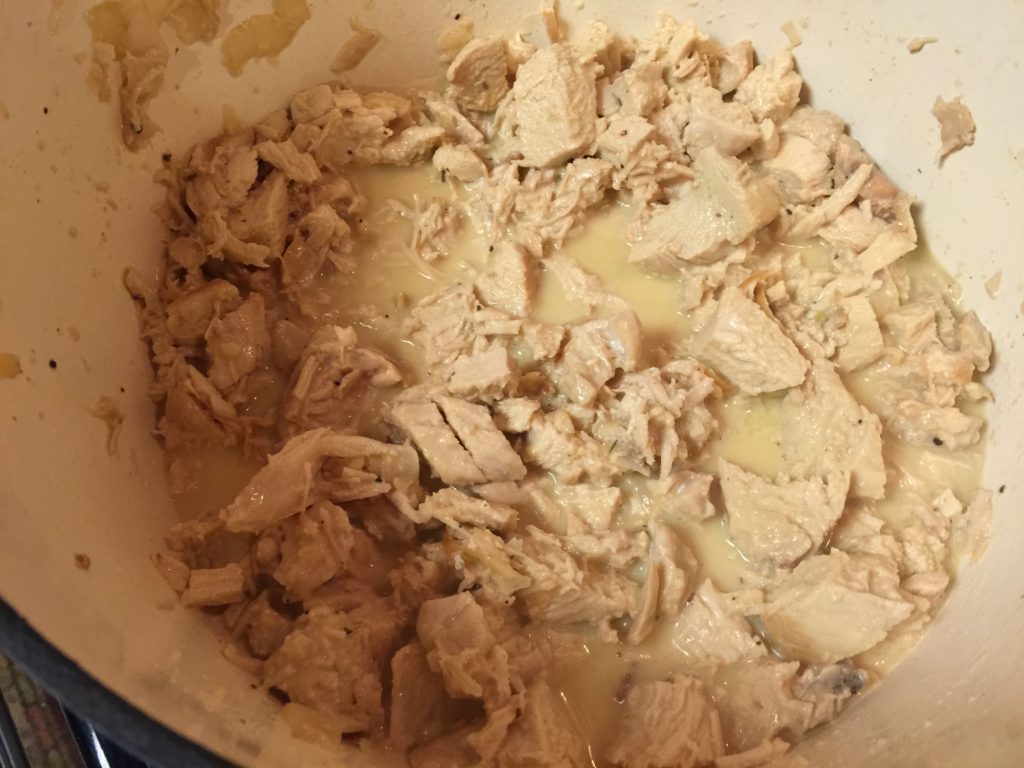 Let that cook for a few minutes until it thickens a little. Then turn the heat off. Preheat your over to 350 degrees. Remove the pot from the heat and cover the chicken with baby spinach. I used almost a whole large container.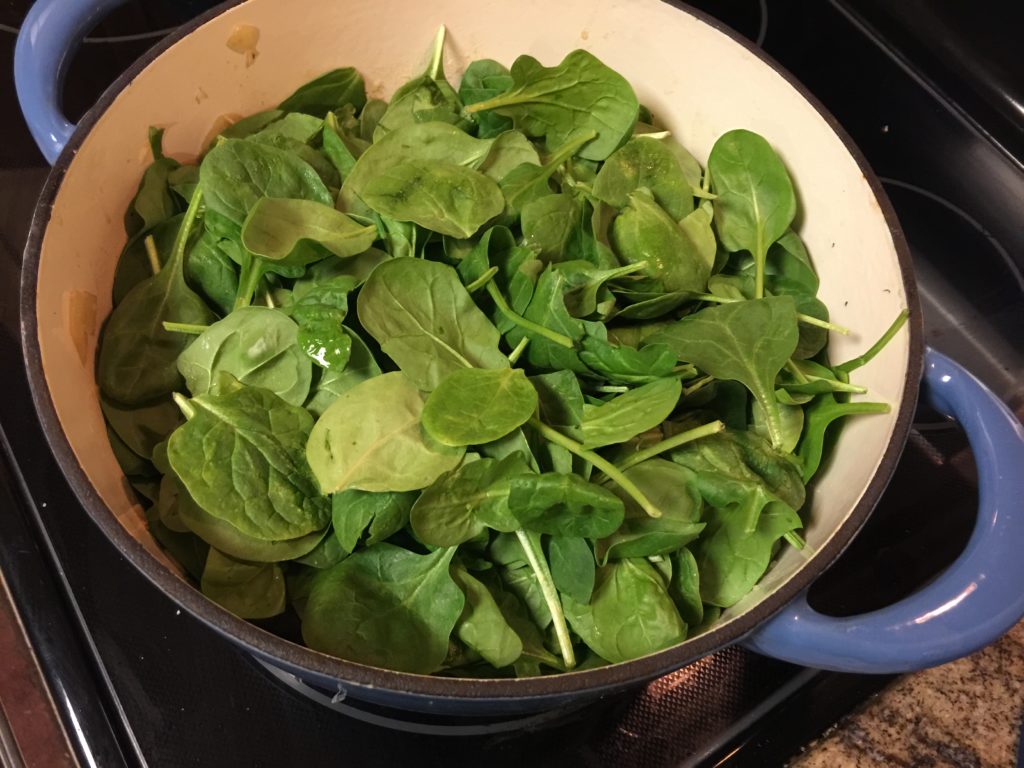 Next, mix up the cheese filling and put on top of the spinach.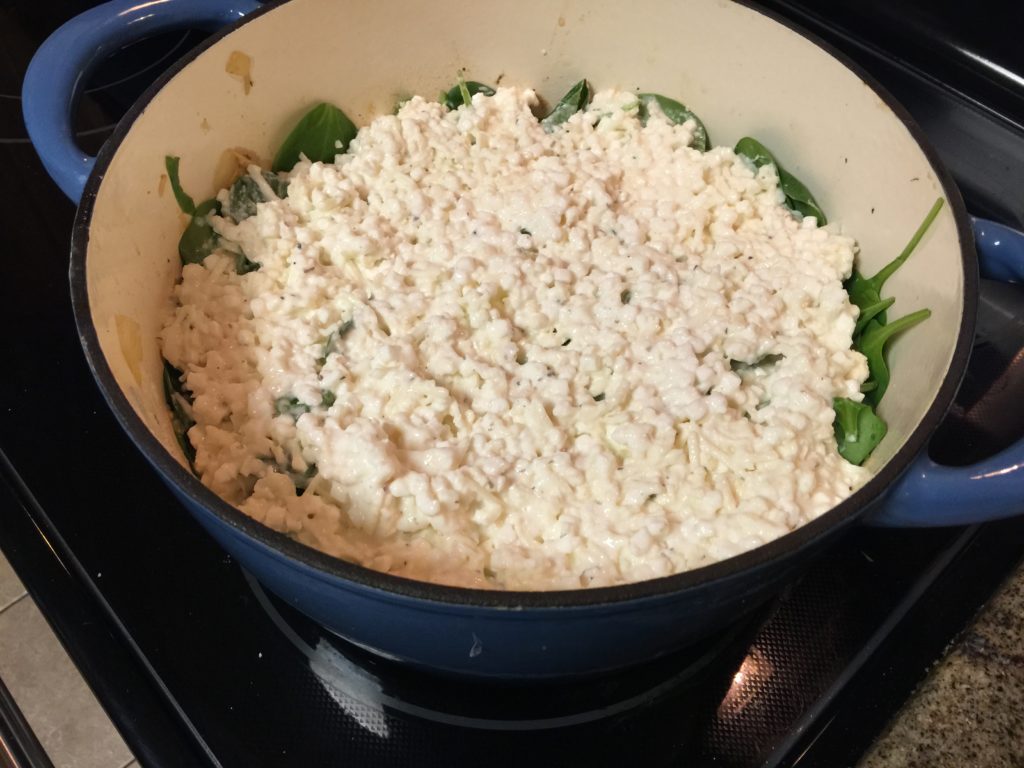 Sprinkle with more cheese. Cover and bake for 30 minutes.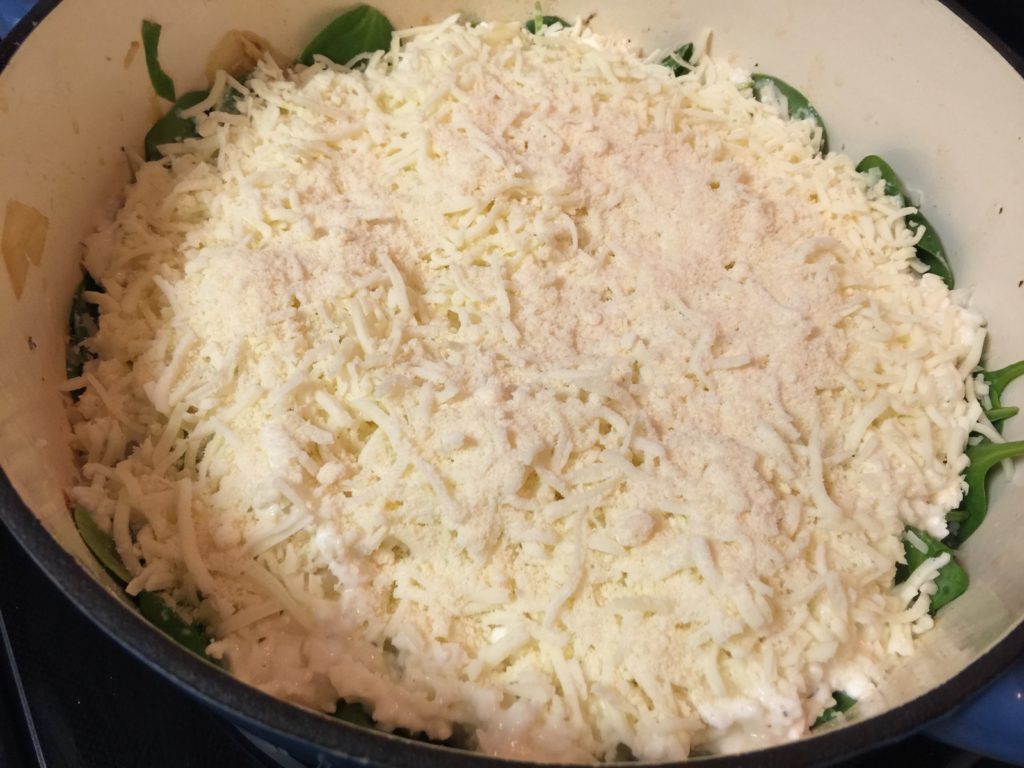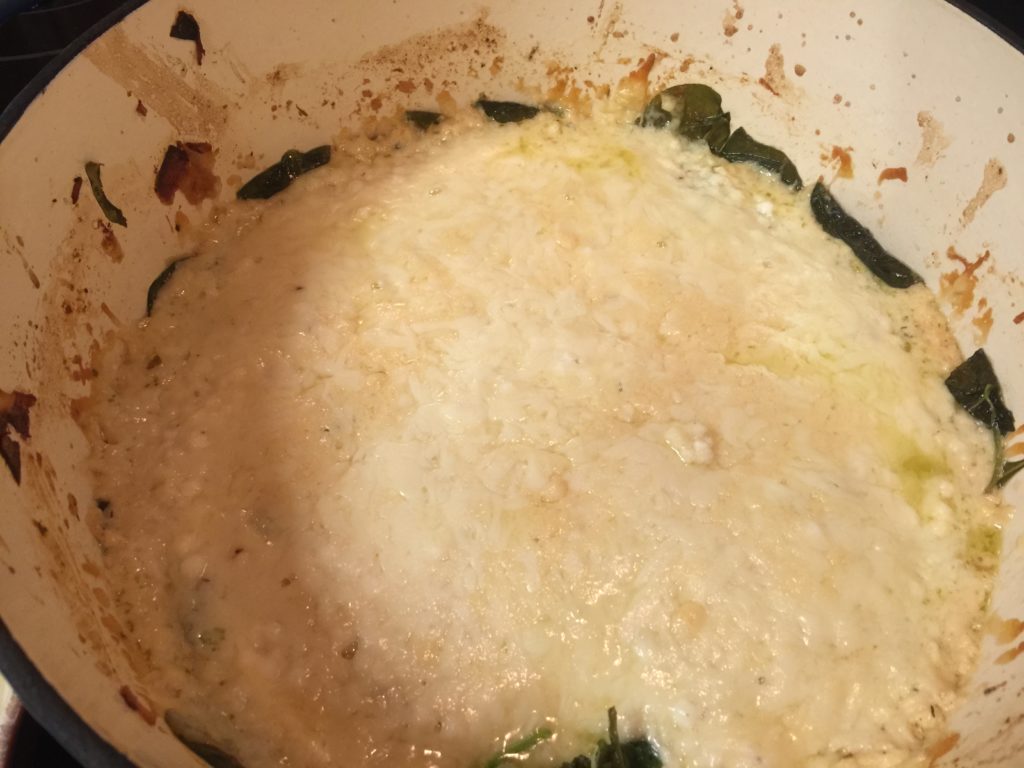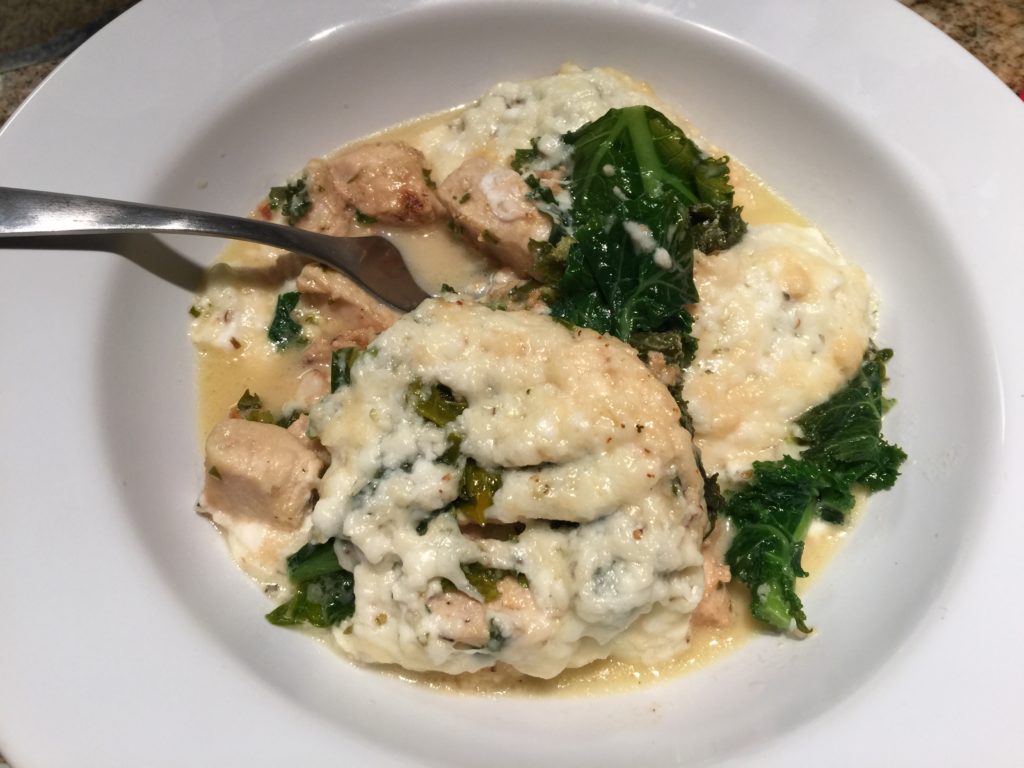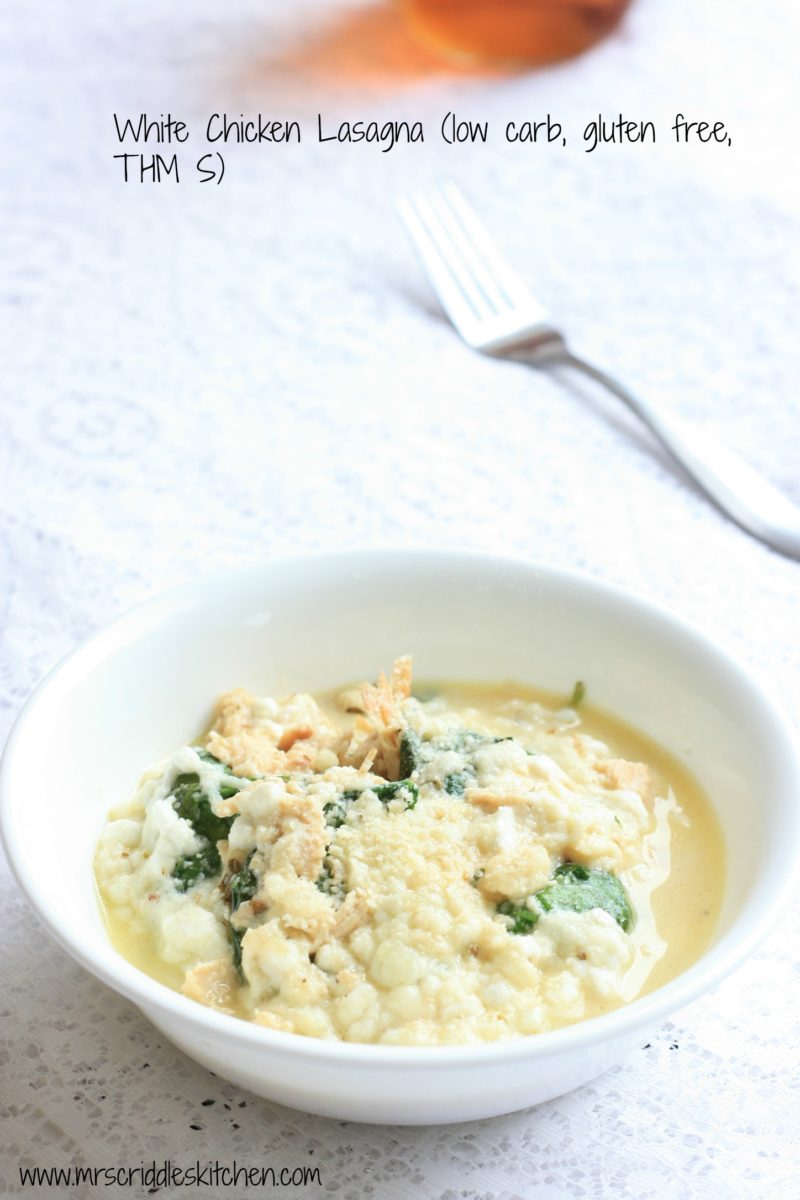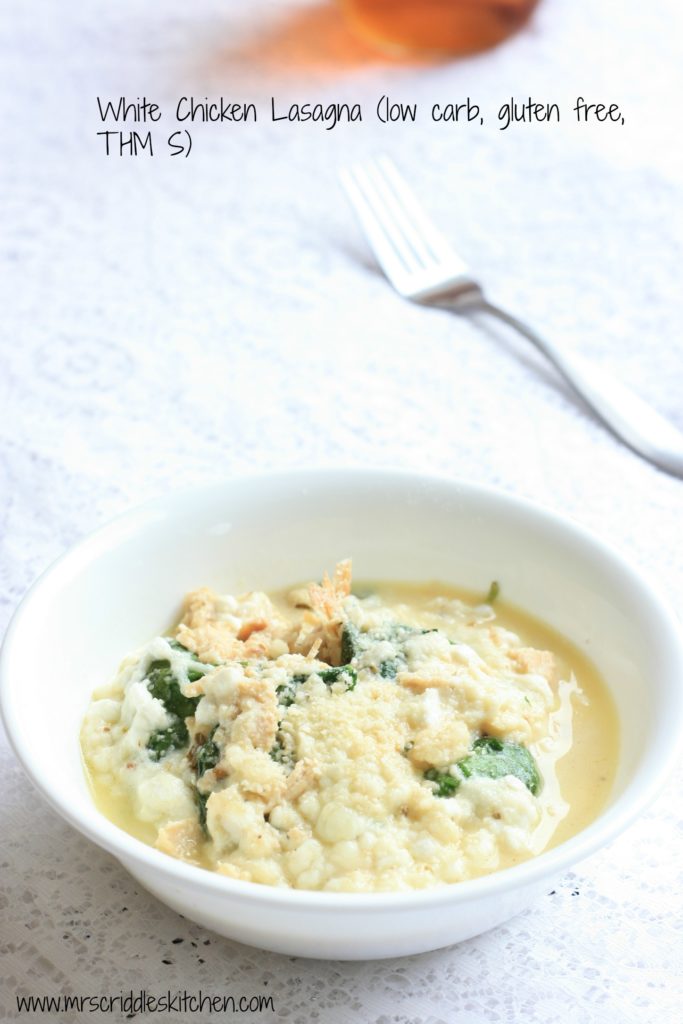 Now like I said I've made this two times. Once with spinach and the next I used frozen Kale. The spinach made the dish more liquidy so I use the word Lasagna very liberally and mainly because it is layered like a lasagna using some what of the same ingredient types. But this recipe is NOT like lasagna in the sense that you can cut it in big squares. It is more scooped out with a big ladle. The second time I made it I used frozen Kale. The Kale was less watery and I LOVED it because I love Kale but my husband prefers Spinach so I will make it with spinach from now on! 🙂 But if you like Kale… USE KALE!!!! But just remember it will not come out like lasagna… use a big spoon and scoop it out. You will want to SLURP the juice… on my goodness its so good.
Now if you are a Trim Healthy Mama this is an S (click Trim Health Mama to go the store -affiliate link). If you are ok with using Dreamfield Pasta (I do on occasion) this would work AMAZING over it. ALSO, you can make this in a crockpot but I would recommend cooking the chicken, onions and garlic first, then put it in the crockpot. Make the sauce then layer as directions say. It should work wonderful!!
Ok here is also a link to a dutch oven (aff): Lodge Color Enameled Cast Iron Dutch Oven, Island Spice Red, 6-Quart
Print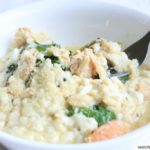 White Chicken Lasagna (low carb, gluten free, THM S)
Author:

Cook Time:

30

Total Time:

30 minutes
---
Description
A easy THM S meal that is SURE to please!! My husband's favorite!! Creamy, comfort food goodness.
---
3

large chicken breasts

2 tbsp

. of your favorite cooking oil

3

cloves of garlic chopped

1/2 cup

chopped onion

1 tsp

rosemary

1 tsp

thyme

1 tsp

garlic powder
salt & pepper to taste
Creamy Sauce

4 tbsp

. of butter

1/2 cup

of heavy cream

1/2 cup

of parmesan cheese (green container is perfect)

8 cups

of fresh baby spinach or a small container or

half of a

bulk sided container
Cheese Topping

2 cups

of cottage cheese (I used

2

%)

2 cups

of mozzarella cheese

1/2 cup

of parmesan cheese (green container)

1 tsp

oregano dried
Cheese to sprinkle on top

1 cup

mozzarella
sprinkle parmesan on top to your taste
---
Instructions
Heat a big pot with oil on medium.
Cook chicken.
Added onion, garlic & seasonings and cook till done.
Take out chicken & cut it up (you could also do this before hand).
Put chicken back into pot & add the butter, parmesan & heavy whip.
Turn down the heat to medium low.
Cook this for 5 minutes.
Preheat oven to 350 degrees.
Add the spinach on top of the chicken.
Mix up the cheese mixture and drop on top of spinach until you can spread it around.
Sprinkle a cup of mozzarella & parmesan on top.
Cover with the lid or foil & bake for 30 minutes!
**If you do not have a dutch oven pot just use a regular pot to cook the chicken and cream sauce in and then transfer to a 9X13 baking dish and layer as the directions say. You can also use a crockpot but cook the chicken & onion/garlic first, then add to the crockpot & make the cream sauce. Layer as directions say and cook for at least 3 hours on low.
ENJOY!
---
---