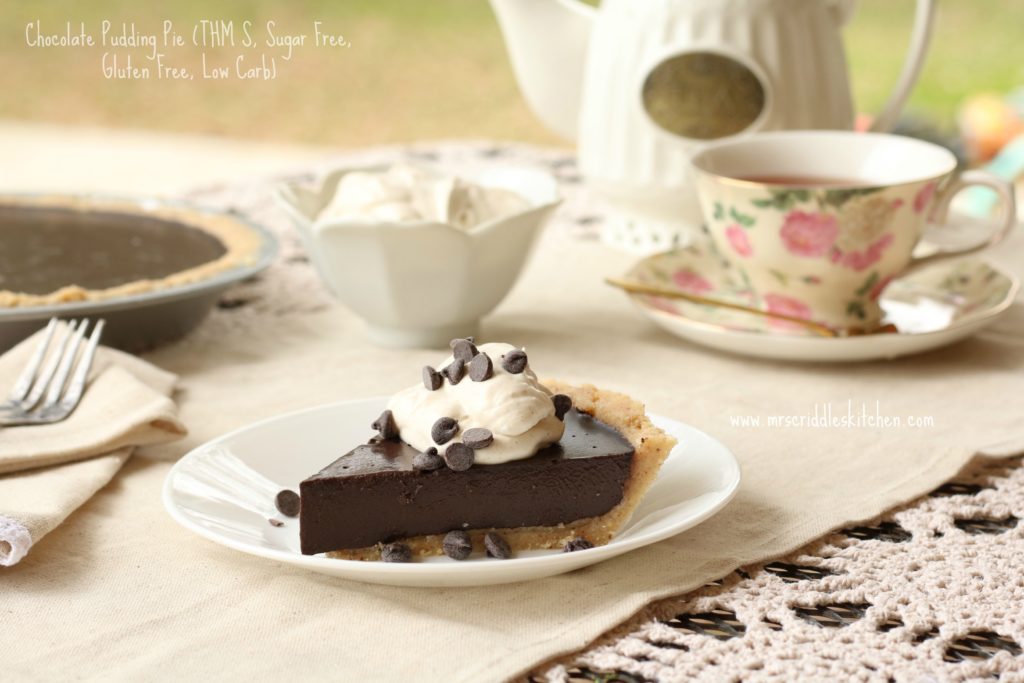 Chocolate Pudding Pie
Lately my daughters and I (we have 5) have been trying to make it a habit to have afternoon tea.
They are loving it! I am loving it!
We are making precious memories together! Even my boys want to join in now!
So I have been trying to create more fun tea time dishes!
What is a tea party with out pie?
And Chocolate Pie too!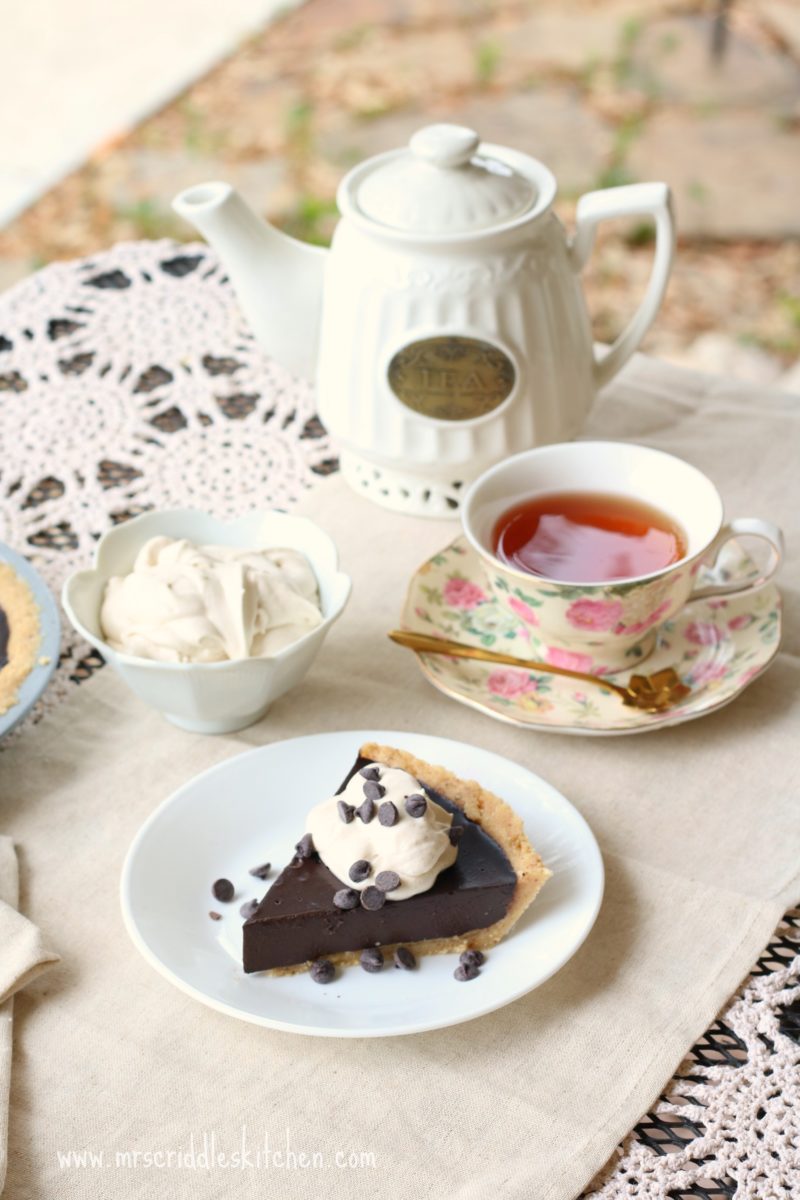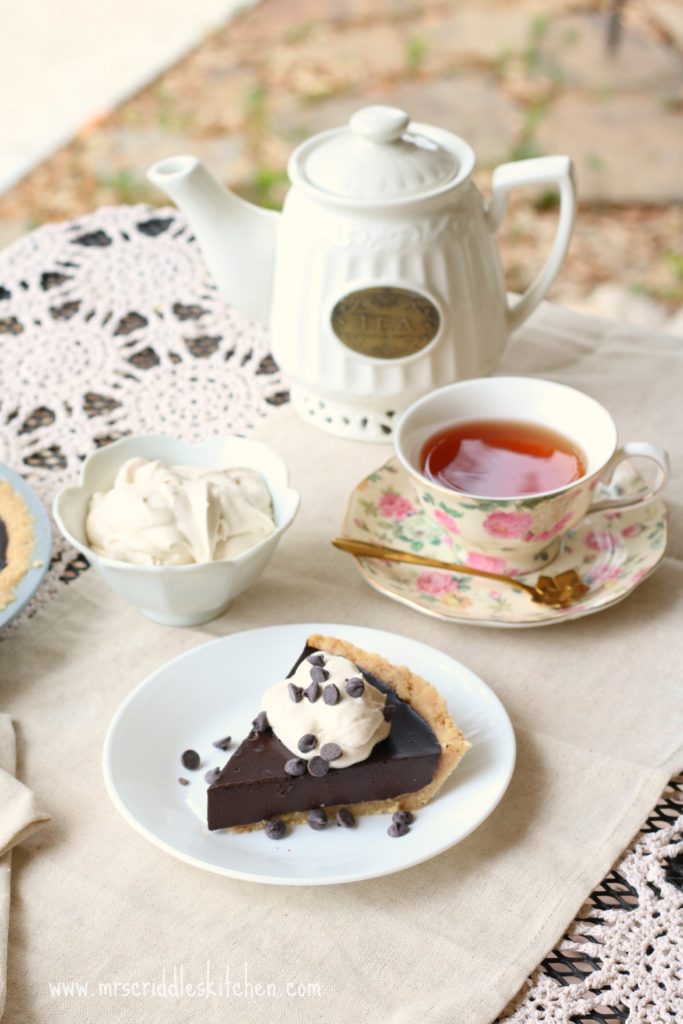 And I call it Chocolate Pudding Pie because the filling is made from my pudding recipe!
I've been making this rich chocolate pudding for a while now!
It's so decadent and yummy!
I figured it would make one delicious pie if I could get it to hold together well!
And it does!!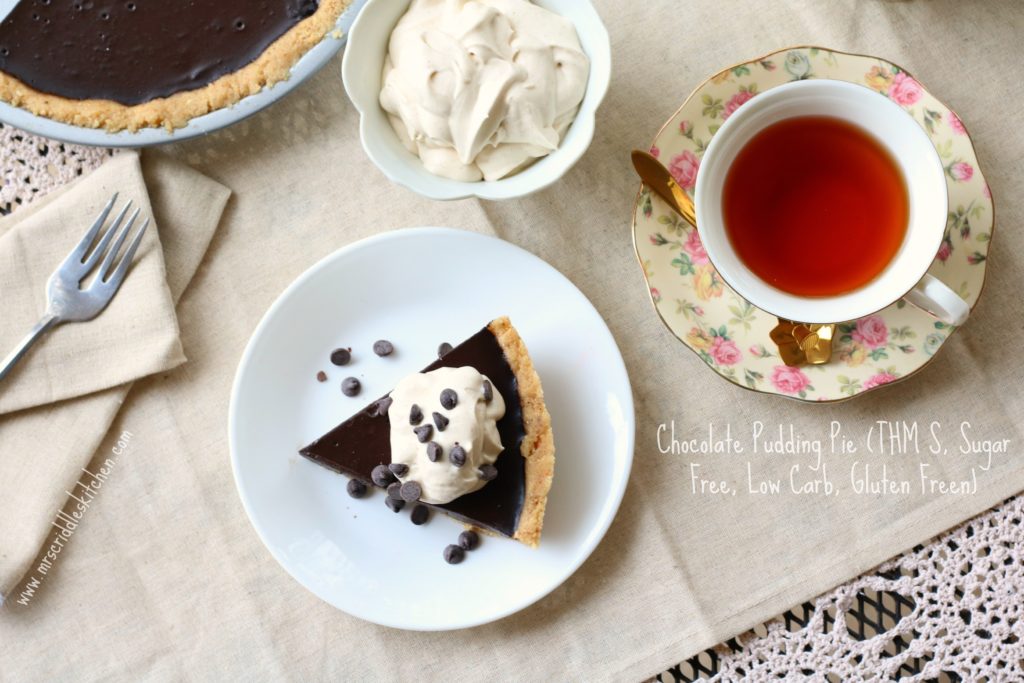 This Pie is great to make ahead for a party! And to serve with a homemade whipped topping! Sprinkle on nuts or chocolate chips… I use Lily's Stevia Sweetened Chocolate Chips. I also added a little cinnamon to my whipped topping!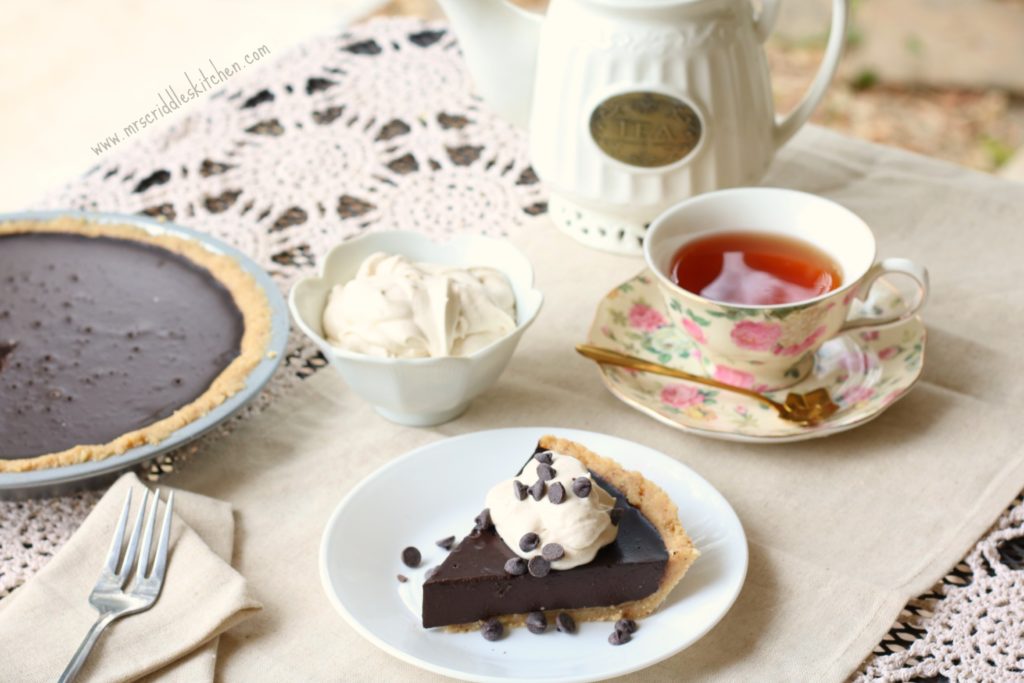 I also wanted to make it a No-Bake Crust so it would just be easier!
This crust is soooooo good!! I use it in my Fruity Summer Delight dessert too!
If you need a good no bake crust, go with this one!
This pie is a sugar free, low carb, gluten free & THM S! Woohoo!
Good fats and wonderful to share!
NOTE: I wanted to talk a little bit about tempering eggs… when you are making the pudding part of the pie, you will need to temper the eggs or you will end up with Scrambled Egg Pudding! haha That does not sound yummy! Tempering eggs is not really as hard as it sounds! Whisk the yolks and egg together well in a separate bowl. Scoop up about 1/2 a cup of the hot pudding. Slowly with one hand pour the pudding mixture into the eggs while you whisk with the other hand. Don't pour the eggs into the hot mixture, make sure it's the pudding mixture into the eggs. Once you have it all mixture in and whisked together well you can pour into the rest of the pudding mixture on the stove.
Print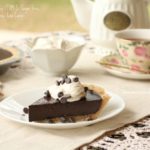 Chocolate Pudding Pie (THM S)
---
Description
A yummy rich Chocolate Pudding Pie with a supper yummy No Bake Pie Crust!
---
Pie Filling-

5

egg yolks

1

whole egg

2/3

to

3/4

cup of THM Gentle Sweet (use the more if you like sweeter. If you don't have Gentle Sweet, you can use

1 cup

of Swerve or

1 Cup

of Xylitol. Or

1/3 cup

of THM Super Sweet)

1

& 1/2 cups of Unsweetened Cashew or Almond Milk (I like cashew because it is lighter flavored

1/2 cup

of heavy whipping cream

1/4 cup

(

half a

stick) of unsalted butter

1/2 cup

of Hershey's Special Dark Cocoa Powder (or your favorite kind)

2 tsp

vanilla

1 tbsp

. of THM Gelatin
a pinch of salt
Pie Crust-

1

& 1/2 cups of Almond flour

1/3 cup

of almond butter (naturally sugar free)

1/4

to

1/3

cup of THM Gentle Sweet (you can use your own sweetener)

1/3 cup

of unsalted butter melted
A pinch of salt
Heavy Whipped Topping-

1/2 cup

of heavy whipping cream

3 tbsp

. THM Gentle Sweet or your favorite sweetener

1 tsp

of vanilla

1/2

a tsp of cinnamon
a pinch of salt
---
Instructions
Make the crust first and place in a buttered pie dish.
Mix all crust ingredients together.
Press into a pie plate using plastic wrap so you are mess free.
Place pie crust into freezer to harden.
For the filling.
Mix the milks, cocoa powder, butter, sweetener, salt & vanilla in a sauce pan on medium heat.
Stir until all ingredients are mixed well and mixture is hot.
Separate the yolks of 5 eggs and place in a bowl.
Add the whole egg.
Whisk the eggs together well.
Next you will need to temper the eggs.
It's easier than it sounds and very do-able if you follow the instructions.
After the pudding mixture has mixed together well and is HOT (but not boiling)
you will scoop about 1/2 a cup of the pudding mixture up.
With one hand pour the pudding mixture into the eggs while whisking quickly with the other hand.
Make sure you pour the 1/2 cup of pudding mixture into the eggs not the eggs into the pudding.
After you have whisked the pudding into the eggs you can then pour the egg/pudding mixture into the remaining pudding on the stove.
Continue to mix on medium heat until the pudding thickens up a bit (about 10 minutes or so).
Then sprinkle the 1 tbsp. of Gelatin into the pudding mixture.
Stir well and allow to cook for another 5 minutes or so.
Allow to cool for at least 10 minutes or so.
Pour pudding mixture into the hardened pie crust.
Place in the fridge for at least and hour or two.
It should harden up.
Top with homemade whipped heavy whipping cream that mix up using a handheld mixer or blender!
You can also top with nuts and sugar free chocolate chips.
I use Lily's.
---
Notes
This is my pudding recipe so if you want pudding just serve in bowls instead of pie crust! Add whipped topping!
---