Faux Reese's Cupcakes (low carb/thm s)- these cupcakes are a spin on Reese's Peanut Butter Cups but are low carb & sugar-free!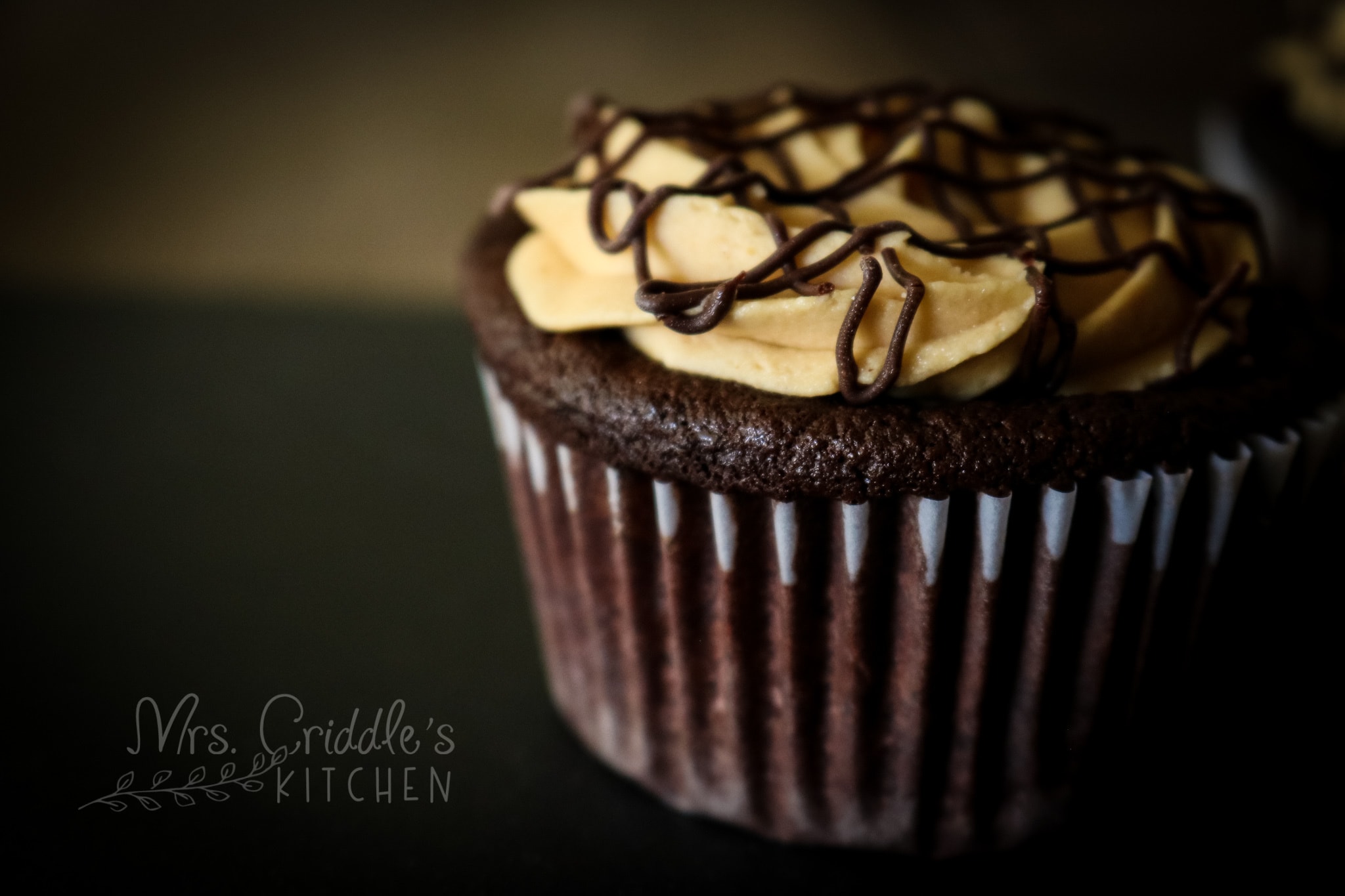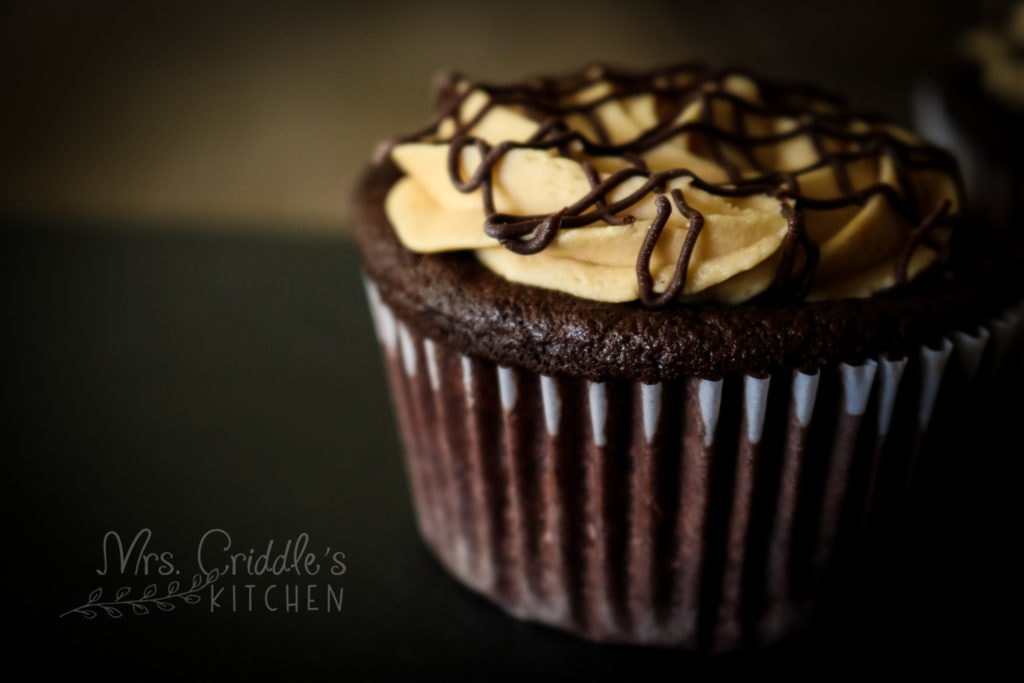 (This post may contain affiliate links from Amazon and or Trim Healthy Mama.)
These Faux Reese's Cupcakes are another win-win in our house! My daughter, Abby, created this recipe for a birthday party to have an option for us sugar-free people! And it was a huge hit even amongst the regular sugar eaters too!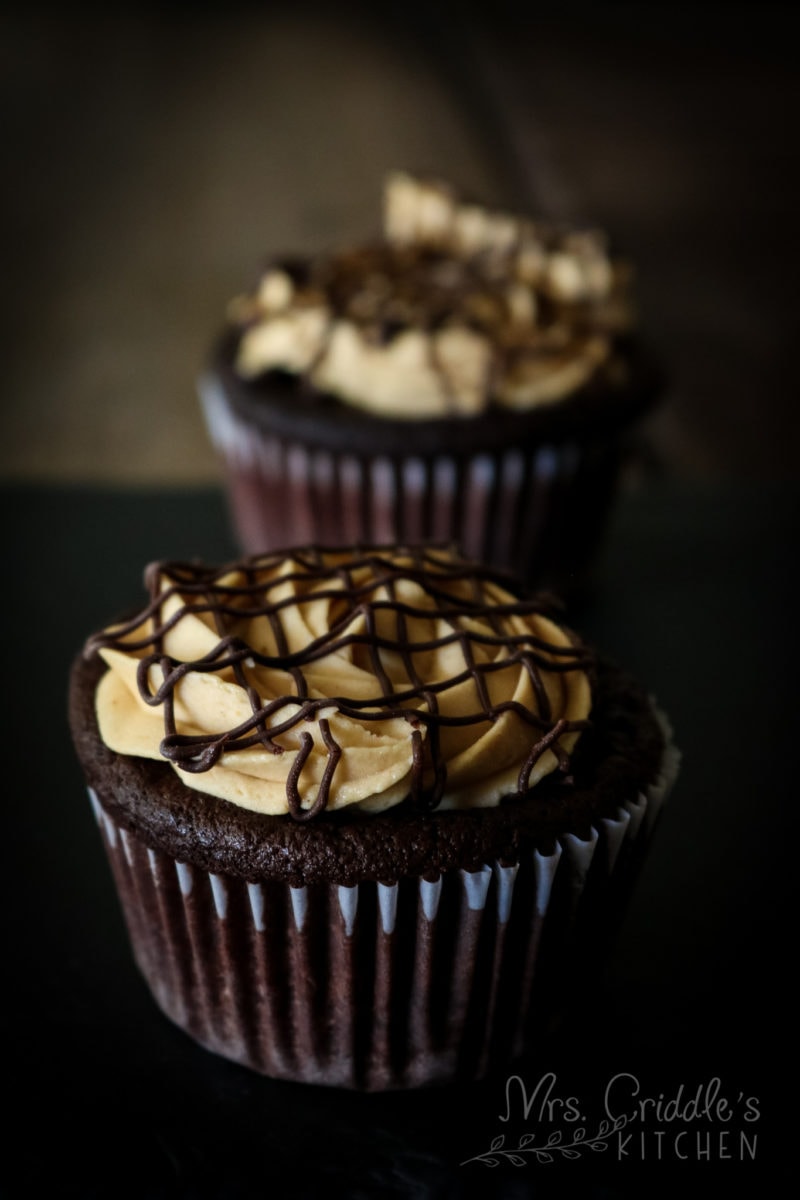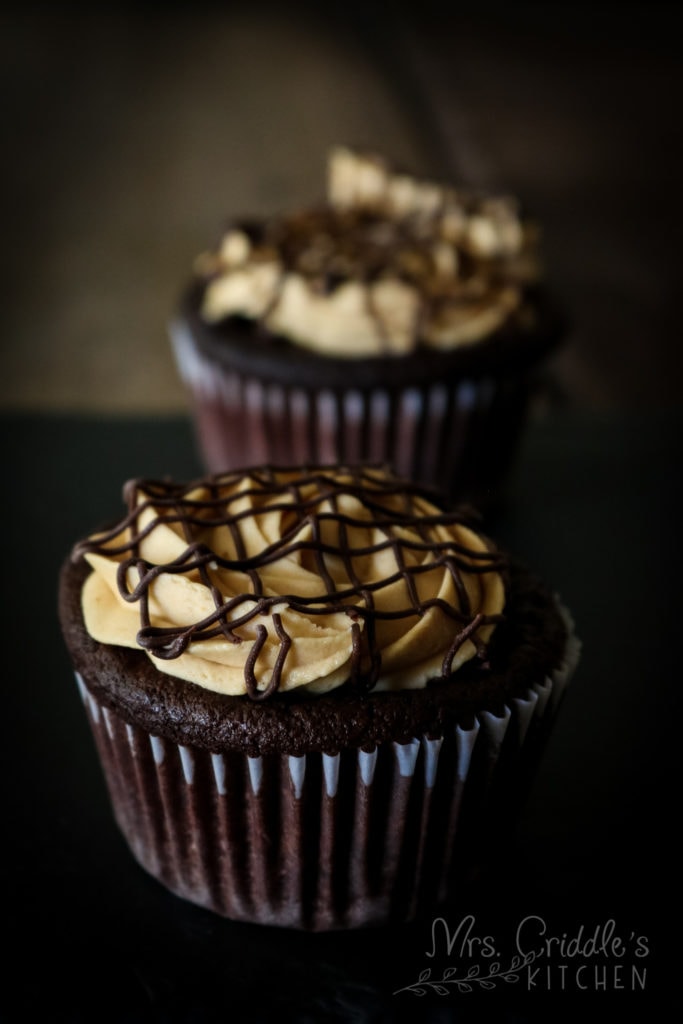 They base of these cupcakes are chocolatey… made using the low carb THM Baking Blend. I really enjoy using this "flour blend" because not only is it lower in carb but it's also lower in fat and calories than almond flour.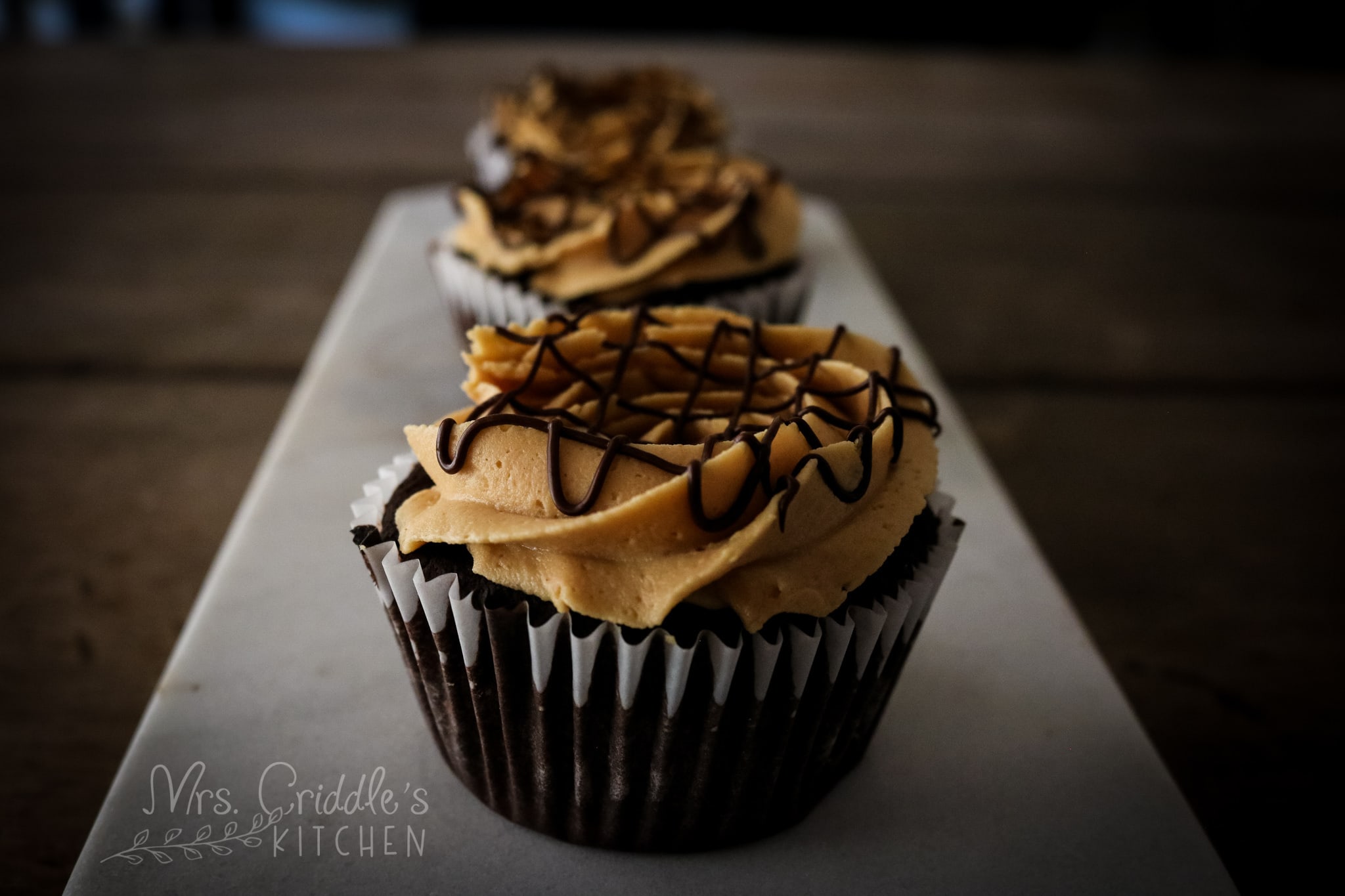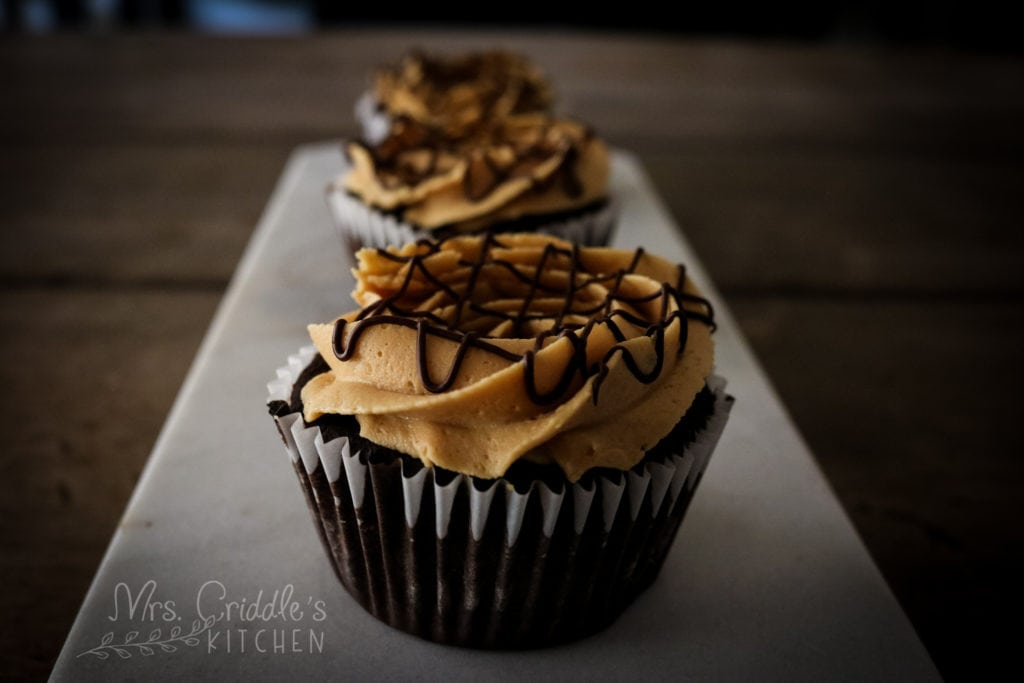 The frosting… that gives it that "Reese's" taste, you use room temperature unsalted butter (if you only have salted, that will work just leave out the pinch of salt), Powdered Swerve, Peanut FLOUR (make sure that it's de-fatted), vanilla and a pinch of salt.
I used Powdered Swerve because it's "powdered" so no grit in the frosting.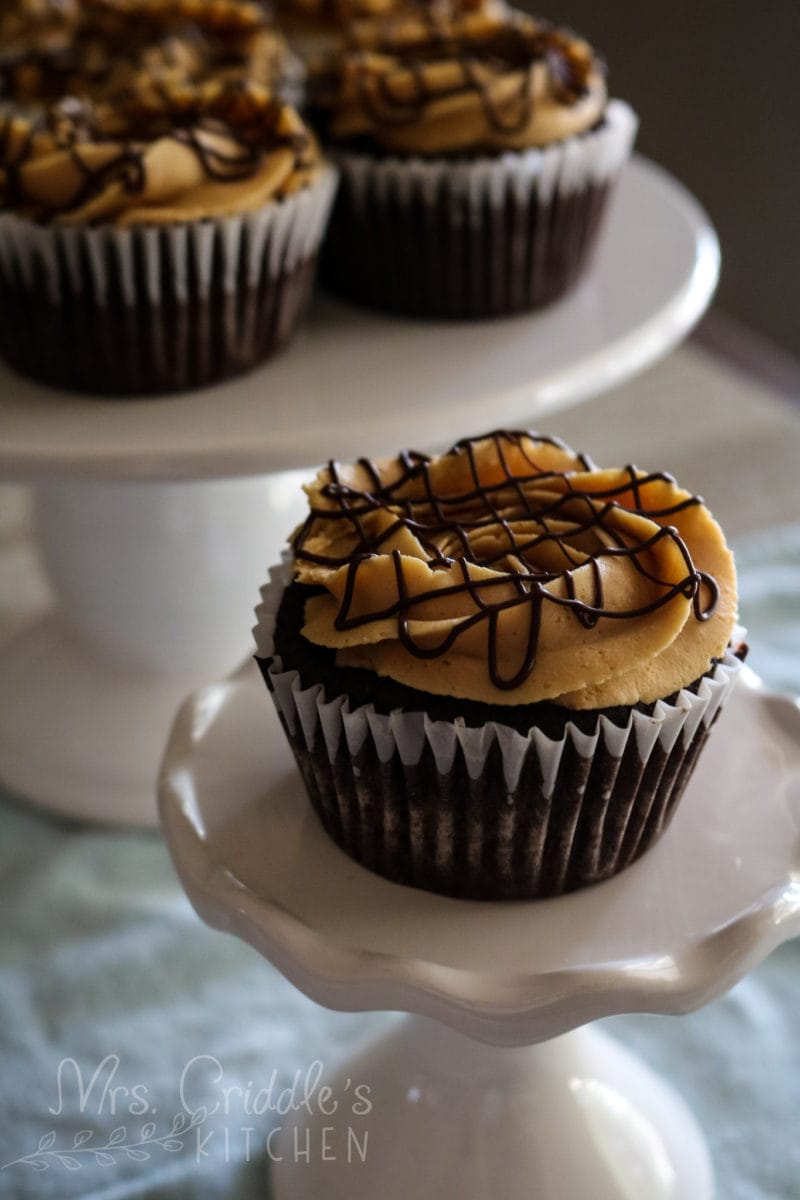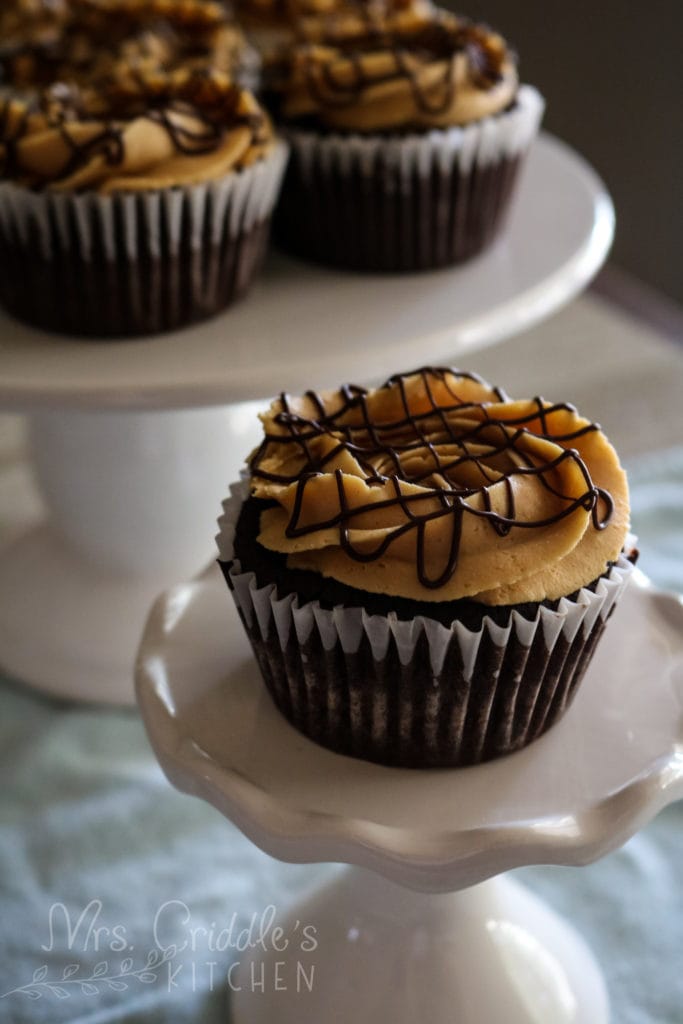 For the chocolate drizzle on top, we simply used melted Lily's Dark Chocolate Chips… you can use Semi Sweet Chocolate Chips or even a melted Lily's Bar. Stick with sugar free or low sugar to stay in the low carb range.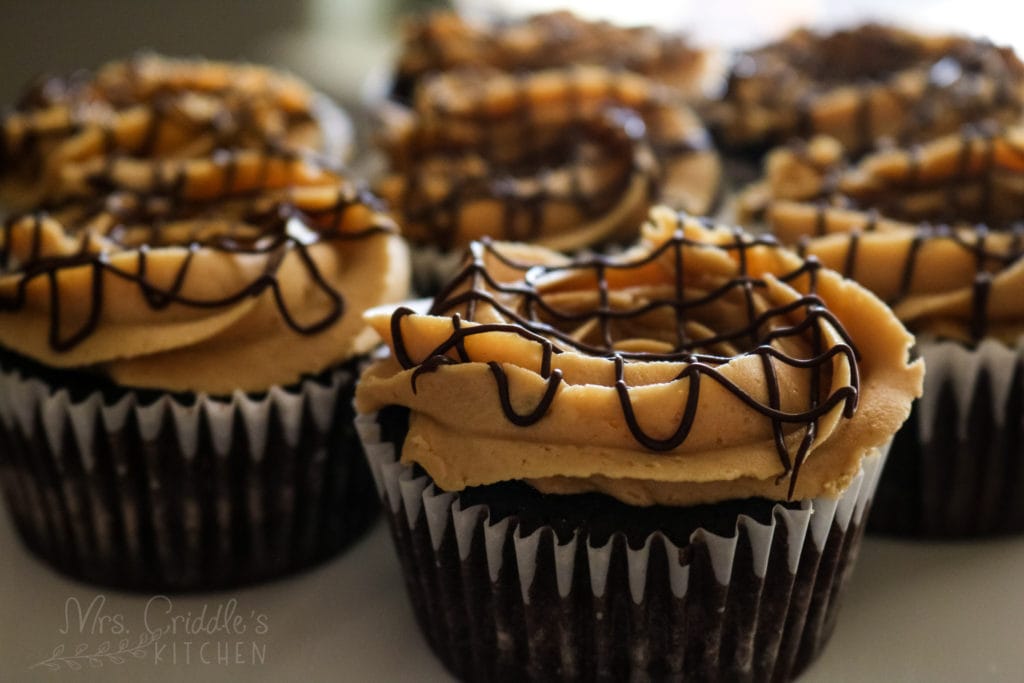 This Faux Reese's Cupcakes recipe make roughly 12 cupcakes with a good amount of frosting on top. I would store these in a container in the fridge. They are preservative-free so they will go bad faster left out in room temperature.
The cupcakes are a THM S… which is low carb.
Here are a few items you may wish to purchase through my affiliate links:
Other Recipes you may want to try:
Vanilla Cupcakes with Chocolate Frosting
Vanilla Cupcakes with Cream Cheese Frosting and Strawberry Jam Filling
Chocolate Cupcakes with Chocolate Frosting
Print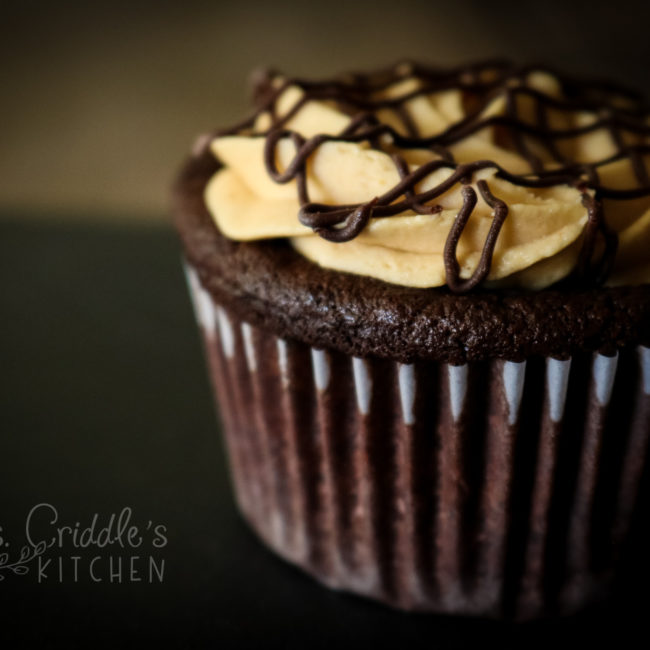 Faux Reese's Cupcakes (low carb/thm s)
---
Description
Faux Reese's Cupcakes (low carb/thm s)- these cupcakes are a spin on Reese's Peanut Butter Cups but are low carb & sugar-free!
---
Chocolate Cupcake Batter:

1 2/3 cup

 of THM Baking Blend

1 1/2 tsp

 baking soda

2 tsp

 baking powder

3/4 cup

 cocoa powder

1 1/2 cup

 of THM Gentle Sweet ( you can use 1 cup of Truvia or Pyure or 2/3 cup of THM Super Sweet)

2/3 cup

 of melted coconut oil

3

 eggs room temperature

1 cup

 of unsweetened cashew milk, almond milk or coconut milk

2 tsp

 of vanilla

1 cup

 of very hot water

Pinch of salt

Peanut Butter Buttercream-

2 1/3 cup

Powdered Swerve

1 cup

THM Pressed Peanut Flour

1 1/3 cups

of unsalted butter (2 sticks but 5 tablespoons)

1/3 cup

plus 1 tsp of unsweetened cashew milk or almond or

half an

d half

2 tsp

vanilla

Pinch of salt 

Chocolate Drizzle-

1/2 cup

of Lily's Chocolate 
---
Instructions
Preheat oven 350 degrees.
Combine dry ingredients (baking blend, baking soda & powder, cocoa powder, sweetener) in a bowl.
Add the coconut oil. Mix.
Add the eggs and mix.
Add the cashew milk and vanilla, mix well.
Heat water in microwave or stove until very hot but not boiling.
Slowly at to batter while mixing… be very careful.
Make sure all is combined.
Line your cupcake pan with cupcake liners.
Fill 2/3 full or put 3 tbs. of batter in.
Bake for 22 minutes.
Cool before piping buttercream on top.
To make buttercream, place all buttercream ingredients into a big bowl.
Mix well until combined… this could take a minute or two.
Place in a piping bag with a star tip (Wilton 2D) & gently pipe in a circle rotation pipe onto cooled cupcakes.
For chocolate drizzle-
Microwave chips in a microwavable bowl for one minute, mix and microwave again for 30 seconds.
Drizzle chocolate over the top.
Keep cupcakes refrigerated.
Enjoy.
---