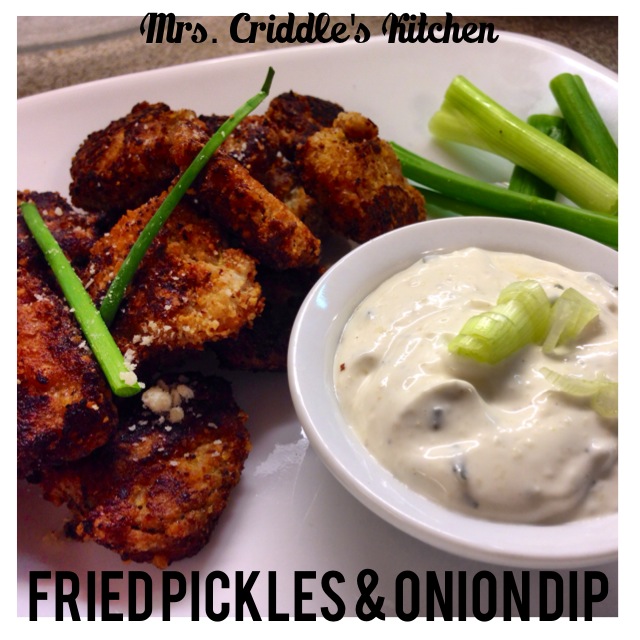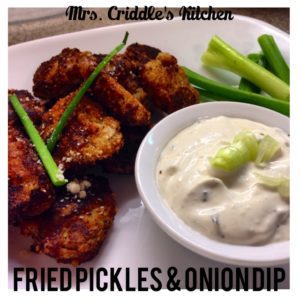 If you have been following my recipes for a while now you know that I follow the THM plan! So most of my recipes are my THM version of favorite recipes. I love this plan because I can have my Fried Pickles and eat them too! haha My husband introduced Fried Pickles to me a couple years ago. I did not WANT to try them… sounded GROSS! But I did… oh yeah that was good! Sour, salty, crunchy and a yummy dipping dressing to go with it! But oh they did not do good on my waist line. Enter THM and the Freedom to eat Fried Pickles with yummy dressingness!
SOOOOOO, not to delay any longer, here is my version of FRIED PICKLES!
Start with… PICKLES. Dill is the best choice! And if you can find a small jar with large thick slices, that's best! Dry the pickles off. I just put them on a couple paper towels and patted them dry.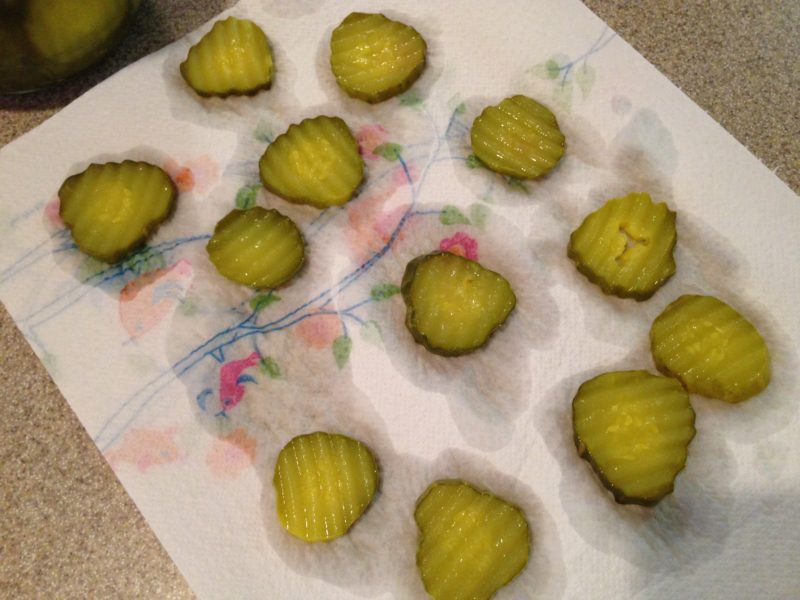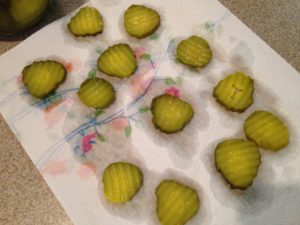 Next, crackle a couple eggs… whisk it up and dip the pickles in it.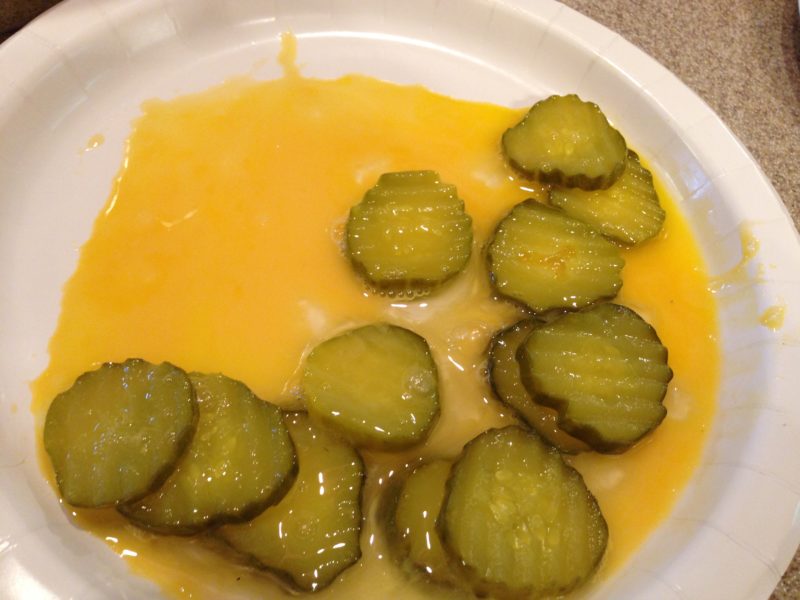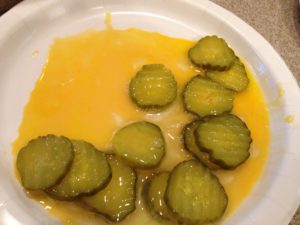 Gather your dry ingredients and make sure that you mix that up well to coat the pickles with. I used almond flour meal because I find it cheap at Trader Joe's, but if you have a finer version of almond flour, use that. It will coat the pickles nicer.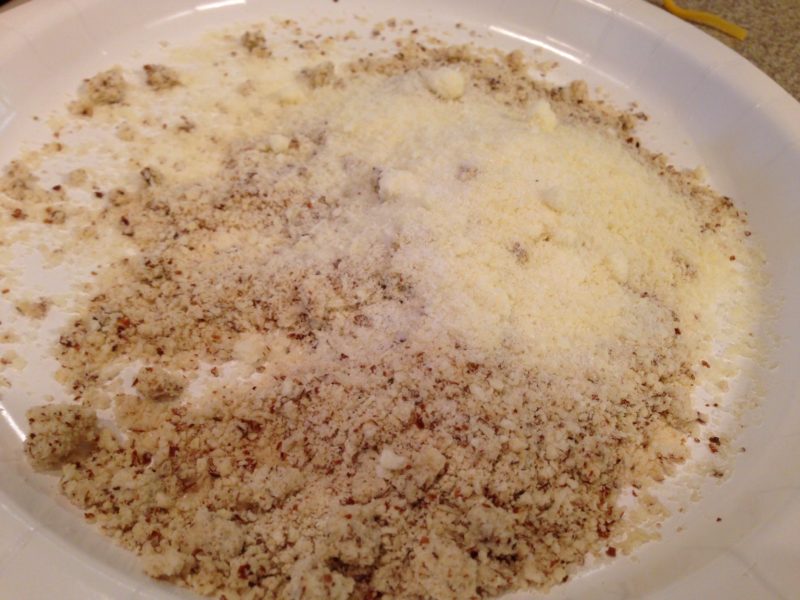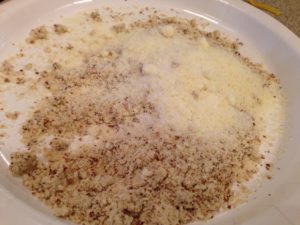 Coat each pickle with the dry ingredients. I tried this two ways. The first way seemed to work best but it will take longer so if you have the time, this way is best. After the pickles are coated with egg, gently coat each pickle with the almond flour mix by laying the pickle in the dry mix, turning the pickle over and coating the back. Then depending on how much batter you want… coat again in the egg and redip in the batter. The flour batter stayed on better with the second egg dip but I've also done it with only one egg dip and it worked fine too. Whatever you have time for. Just don't throw the pickles in a bag with flour and shake… didn't work well for me that way.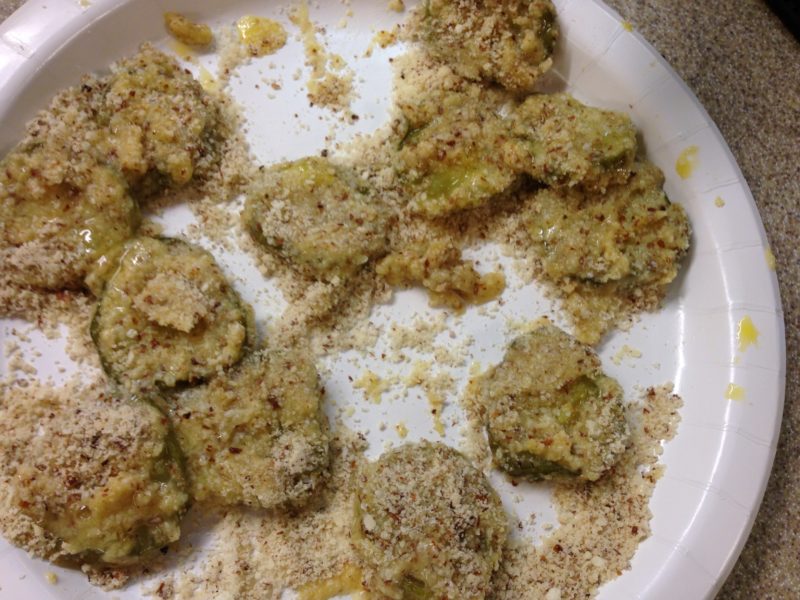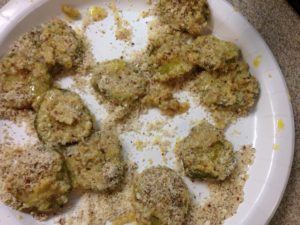 While you are rebattering the pickles get your oil heating. Now, you can use whatever oil you want but coconut oil might give it an unusual flavor… haha. I used Olive Oil. Red Palm would work great, I think too. Gently lay your pickles down in the oil. You might want to use metal tongs for this… I popped myself and it hurt…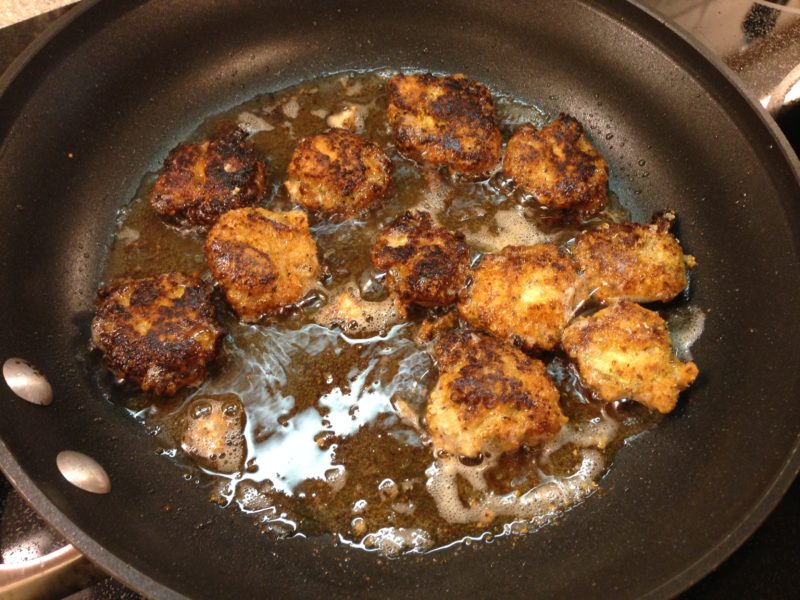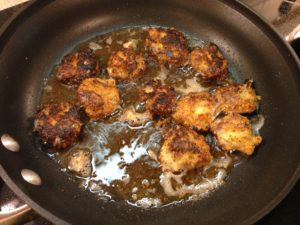 The picture above makes the pickles look burnt… they weren't, just bad lighting. You want the pickles to be a golden brown so I would say try a minute at the most on each side. When they are the color you want, take the pickles out of the oil and place on a paper towel. Whip up a batch of the French Onion Dip and enjoy!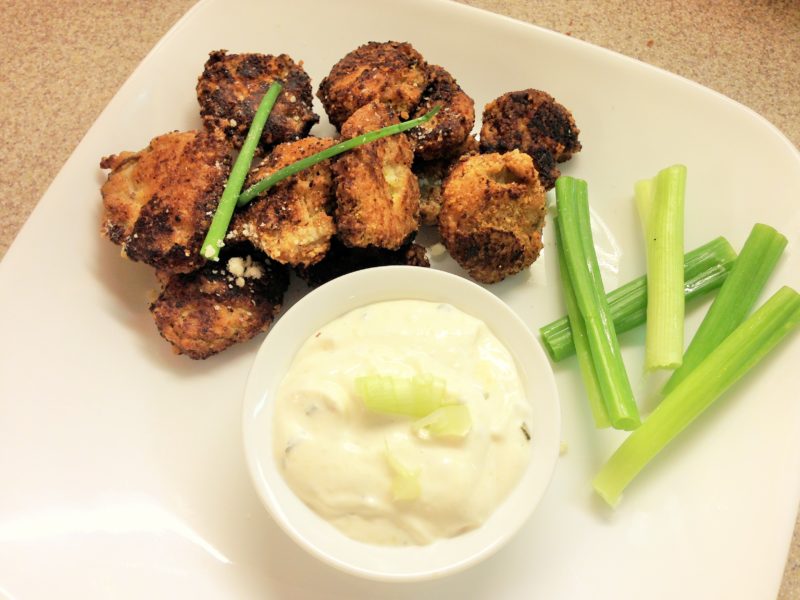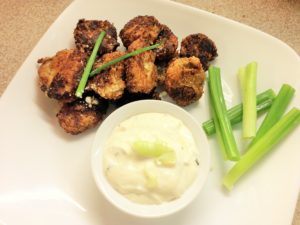 Now, I also did fried Cauliflower and Fried Sliced Bell Peppers… OH YUM! The Red Bell Peppers were AH-MAZING!!!!! Just follow the instruction above. I did not do the egg wash twice on the red bell pepper and cauli though. Beautiful, eh?
Fried Red Bell Peppers and Fried Cauli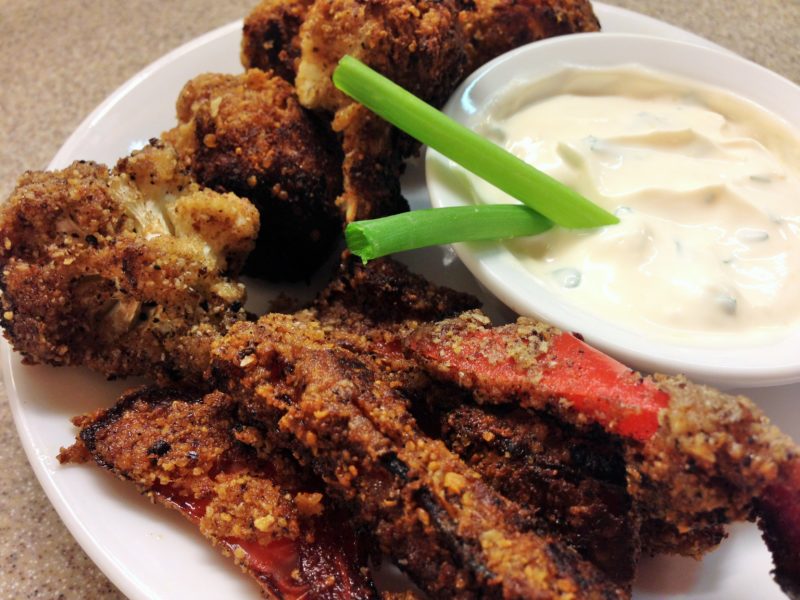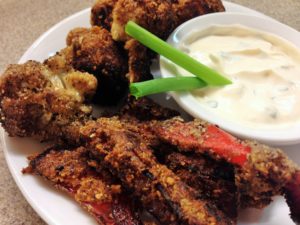 Fried Pickles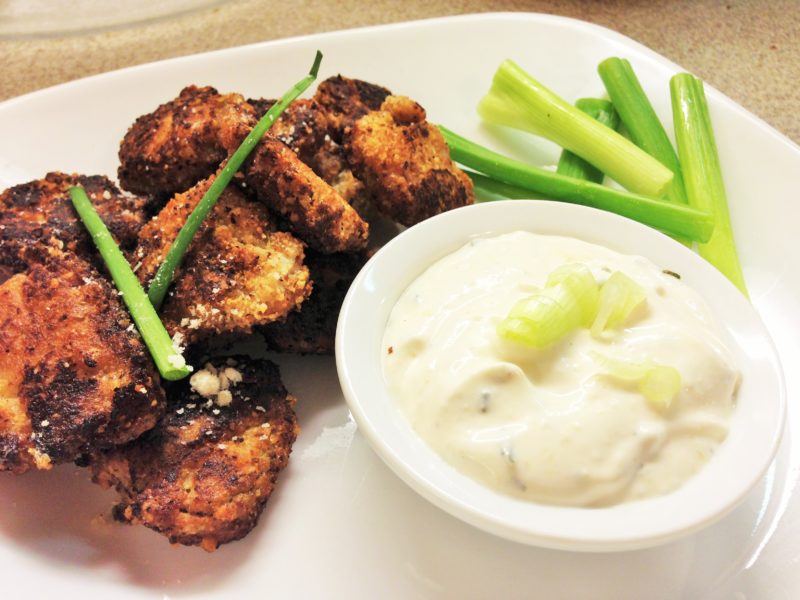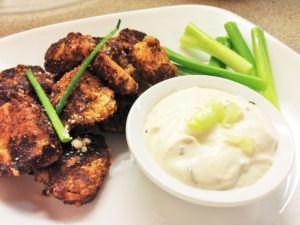 These are an S because of the oil and almond flour and because you will want plenty of French Onion Dip!
French Onion Dip
1/2 cup of mayo (the real mayo)
1/2 cup of 0% Greek Yogurt
1 tsp onion powder
1/2 tsp garlic powder
Salt & Pepper to taste
1 tsp dried Parsley
1 tsp dried Chives
2 tbsp. Parm
Mix all ingredients together. Add some fresh chopped green onion if you would like! Such a great versatile dip!!
To learn more about Trim Healthy Mama click this website… www.trimhealthymama.com
---
Description
A wonderful alternative to the "white flour fried pickle"! Yummy, crunchy, salty, with that dill flavor! And your THMers can enjoy as an S.
---
1

small jar of sliced Dill pickles- drained and patted dry with a paper towel (try to get the thicker sliced dill pickles)

1 1/2

to

2

cups of almond flour or meal (I used meal but flour might be better)

2

eggs whisked

1/4 cup

of parmesan cheese

1 tsp

of onion powder

1 tsp

garlic powder

1 tsp

of Cajun seasoning (optional)
salt & pepper to taste
Oil for frying (I used Olive Oil)
---
Instructions
Drain and pat dry the pickles.
Whisk up the eggs on a separate plate.
Mix all dry ingredients on a separate plate.
Coat pickles in the egg.
Place pickles into the almond flour batter and coat each side.
You can repeat this step if you like a thicker batter which is what I did the first time.
Heat your oil to medium high.
Gently place into the oil using long tongs.
Allow pickles to turn a golden brown on one side then flip.
It doesn't take a long time. Less than a minute each side.
Place fried pickles on a paper towel to remove excess oil.
You can sprinkle with more parm or a little more salt if you like.
Whip up the French Onion Dip and ENJOY!
---
Notes
You can use a fry daddy if you have one of those, just gently place the pickles in so it does not lose it's batter.