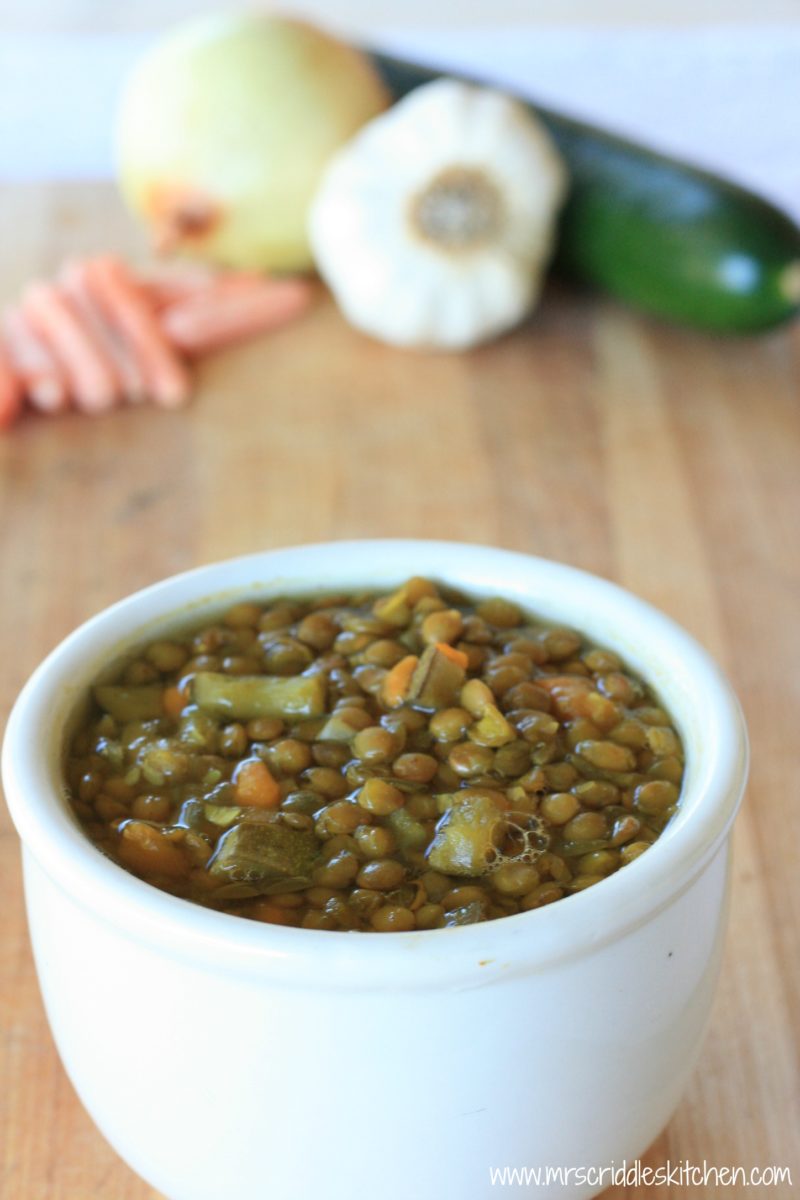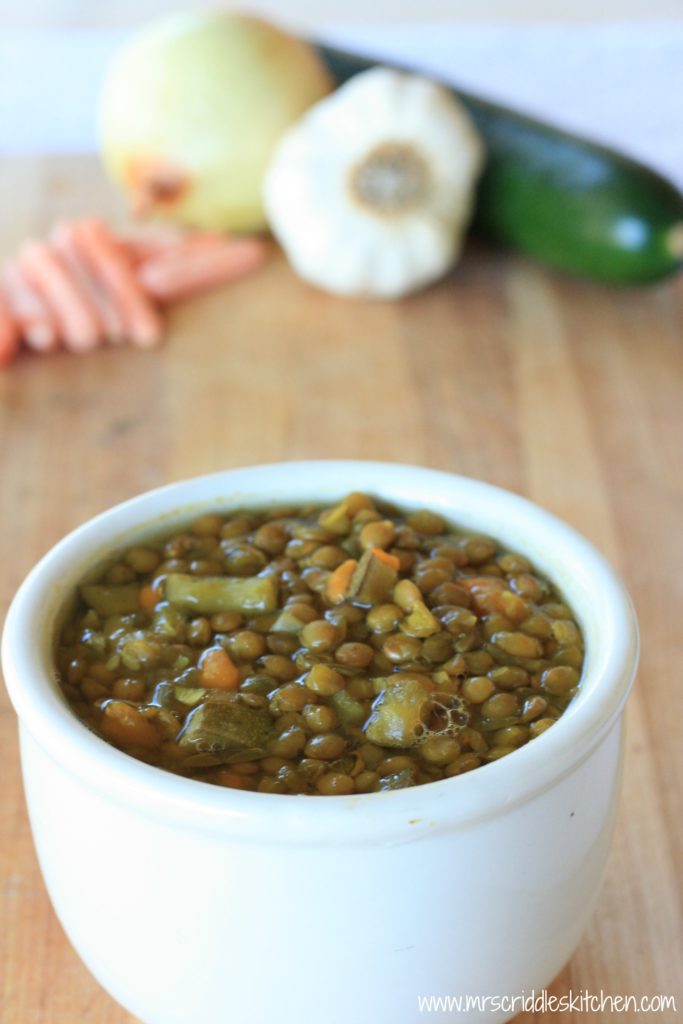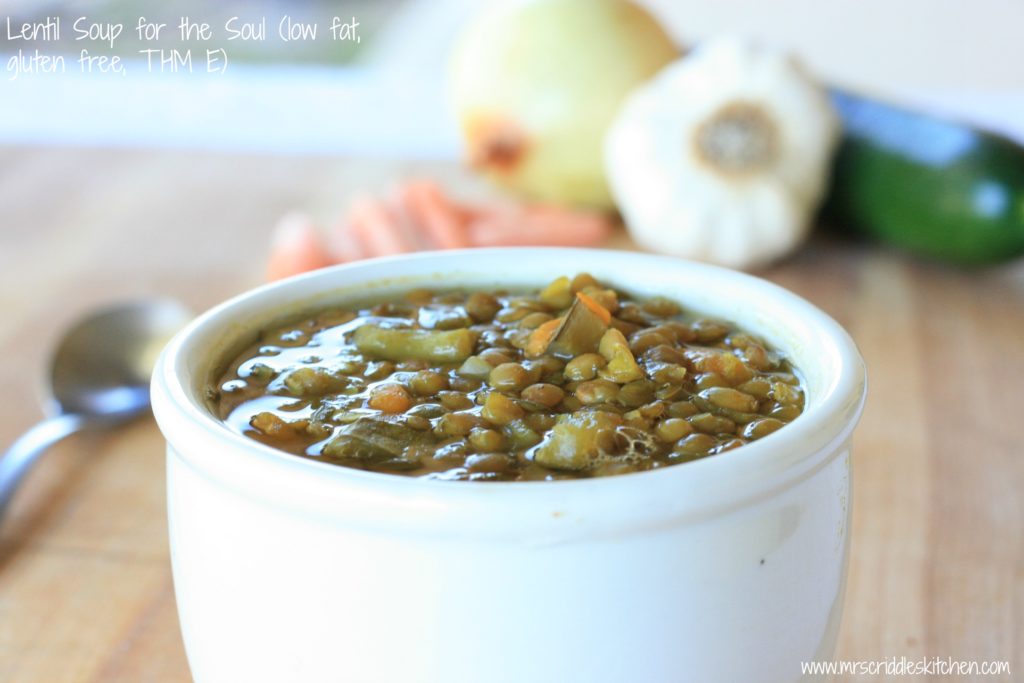 Lentil Soup… sounds so bland and boring. But honestly this soup is anything but bland and boring! It is so versatile! Not only is it hearty during this cold winter season but it's very healthy, full of protein, super fast to cook compared to other legumes, it's budget friendly (I'm talking less than a dollar for a 1 lb bag) and great for big families (or small for that matter)!
A 1 pound bag of lentils makes a pot big enough to feed my family of seven. So don't pass up this legume the next time you see it.
I chopped up one medium onion, a half of a red bell pepper, 4 cloves of garlic, and 4 peeled carrots. You could add pretty much anything kind of vegetable that you have available. Celery, sweet potato, zucchini, squash, jalapeños, spinach, whatever suits your fancy (or you have available, like me).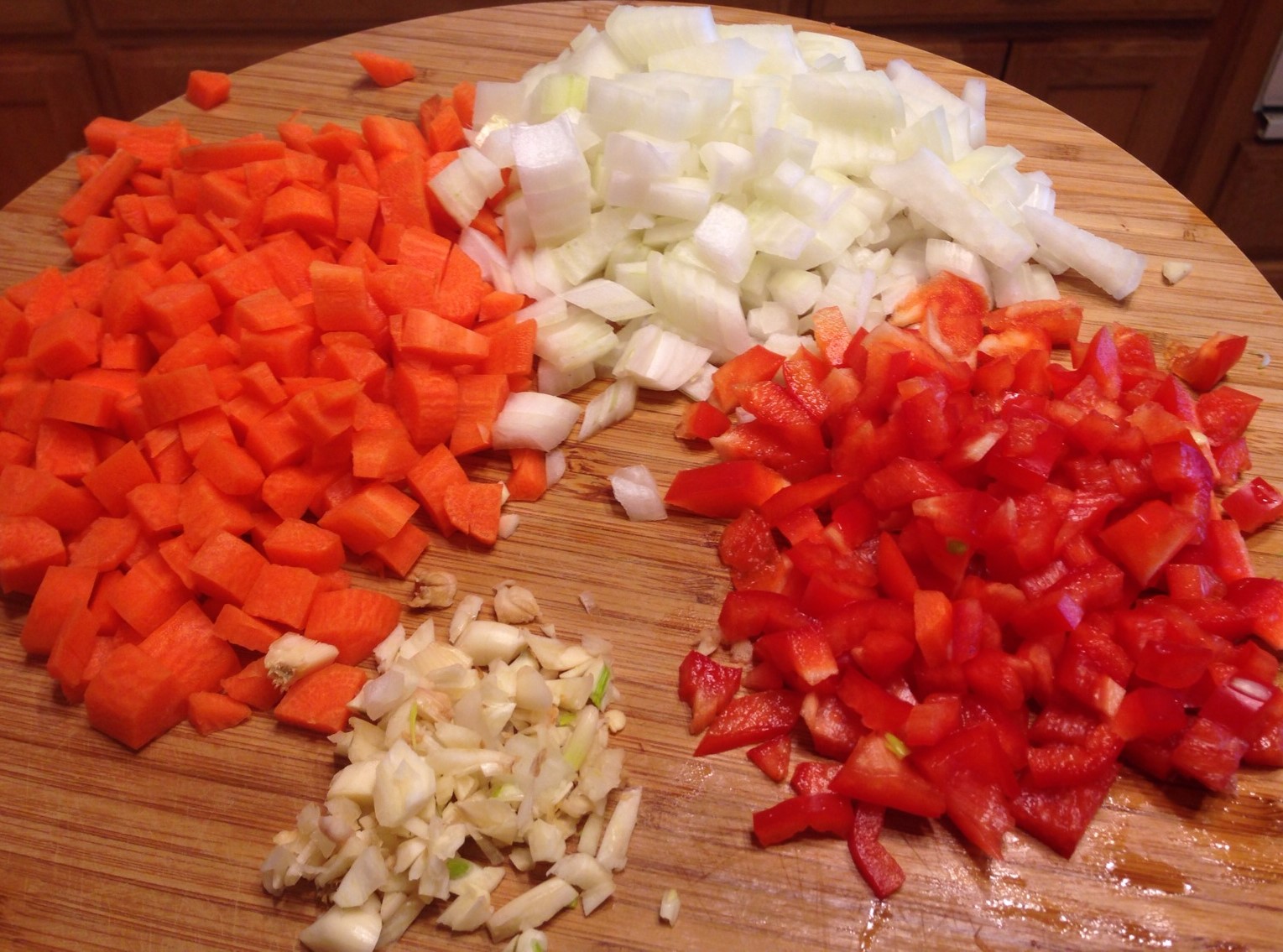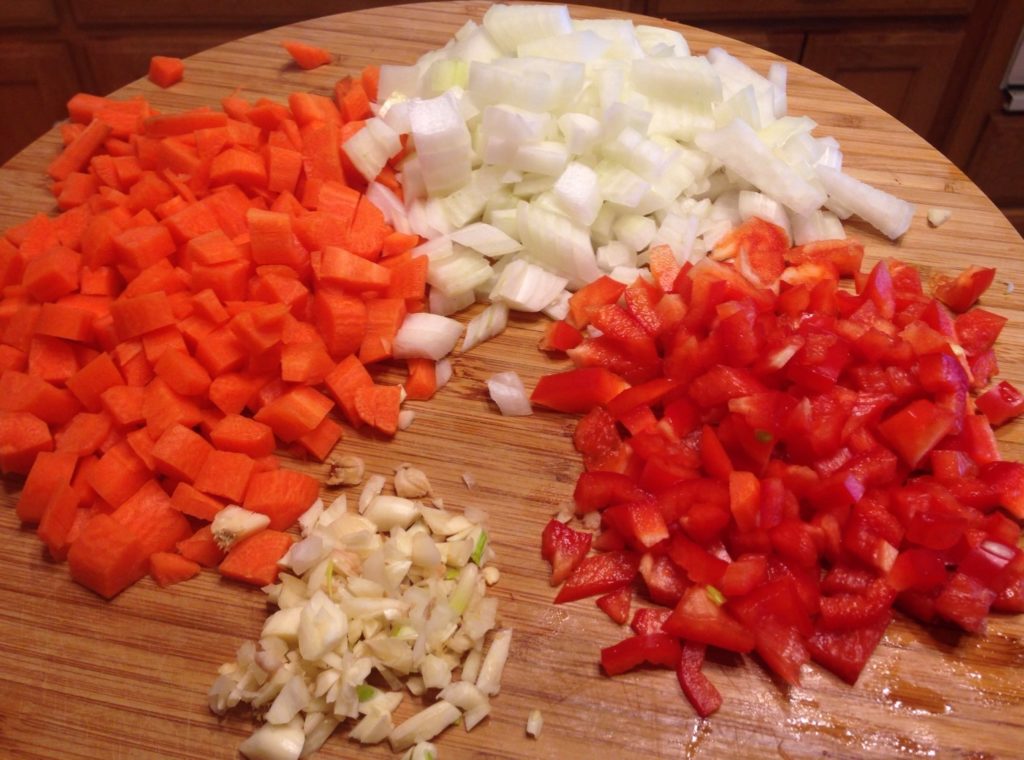 Put a big pot on the stove with a couple of tablespoons of Extra Virgin Olive Oil. Heat at medium.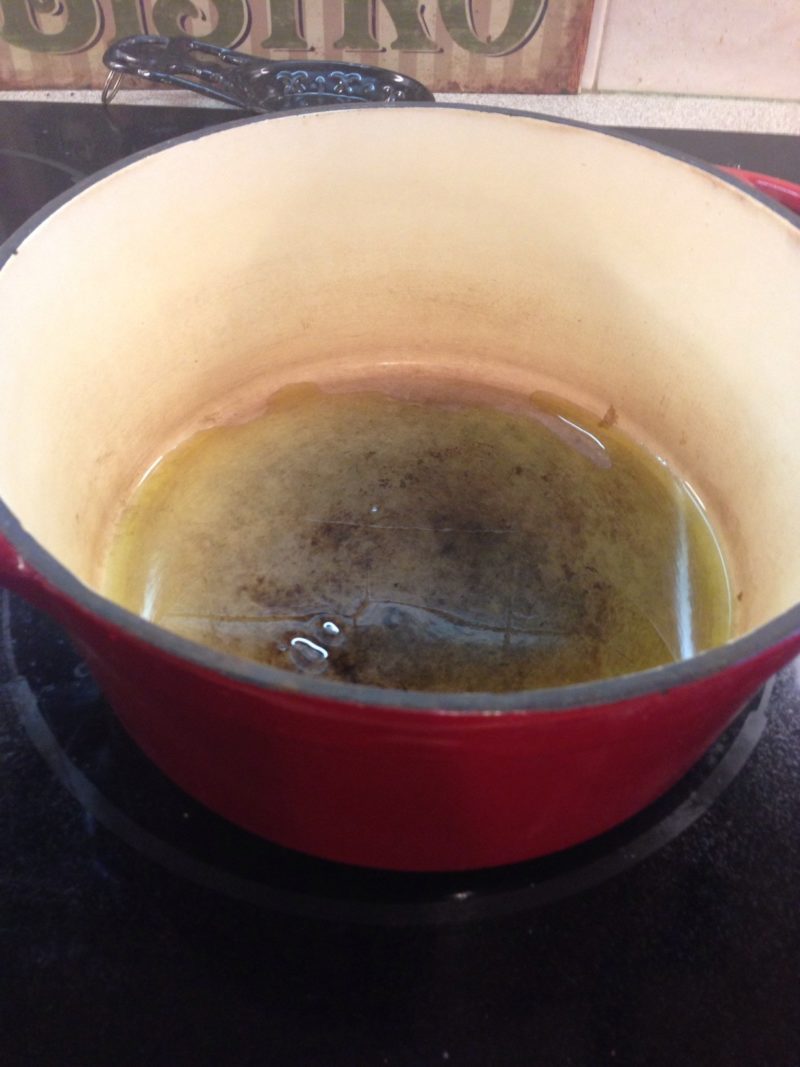 (I just love my cast iron dutch oven… I own a couple of them)
When the oil is good and hot, add your veggies & take a big whiff because the smell of the veggies hitting the hot oil is… AMAZING!!!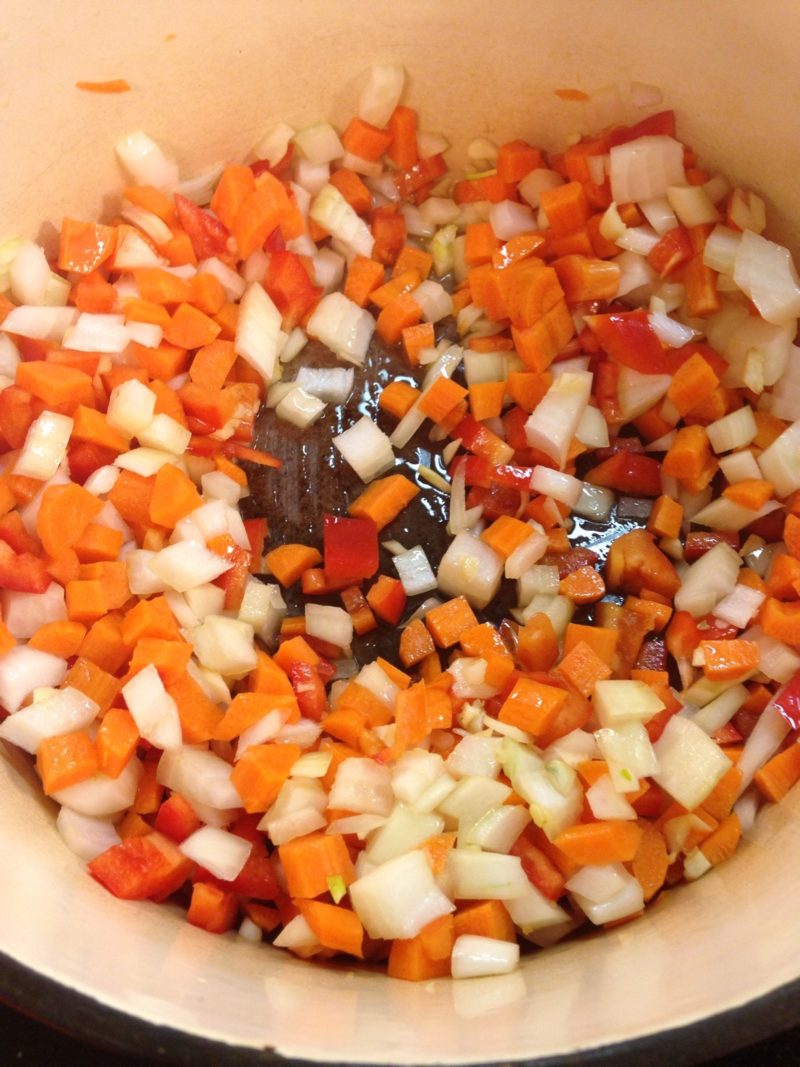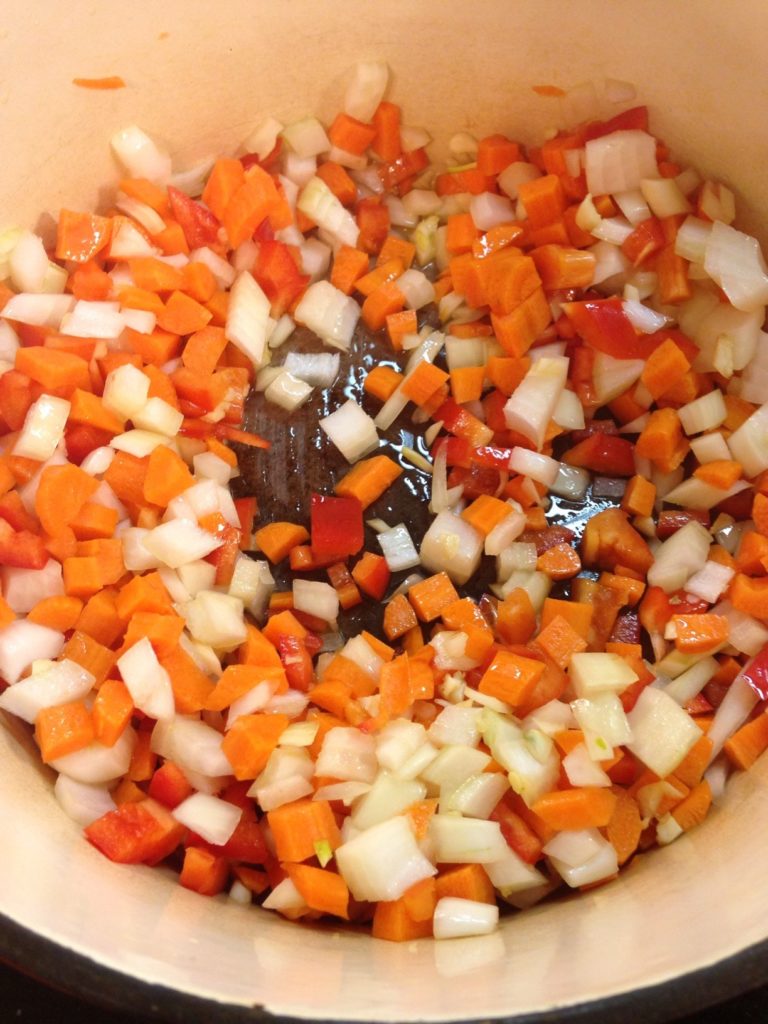 This is where your flavor comes in. Spice time! I add lots of spices because I love flavor but you can tone it down if you don't want it too spicy. Here is the spice breakdown…
1 tsp garlic powder
1 tsp cumin powder
1 tsp onion powder
1 tsp chili powder
1 tsp curry powder
1 tsp turmeric powder
1 tsp black pepper
1 tsp Red Chili flakes
Salt to taste
Let this cook for 10 minutes, stirring occasionally.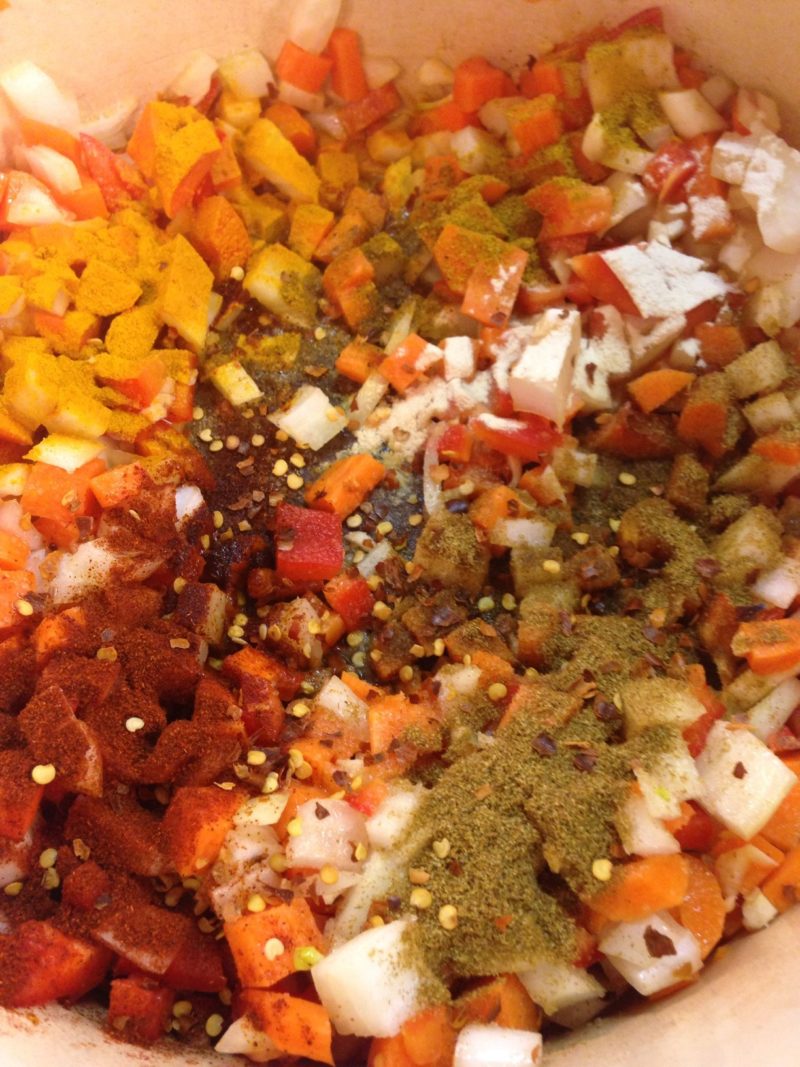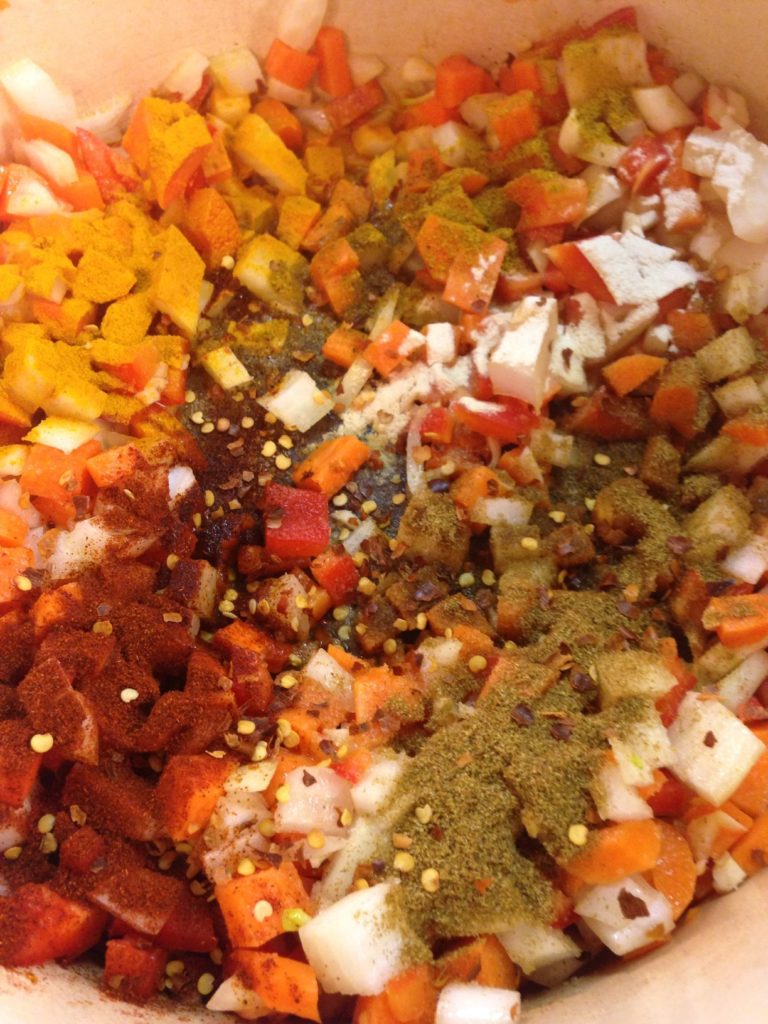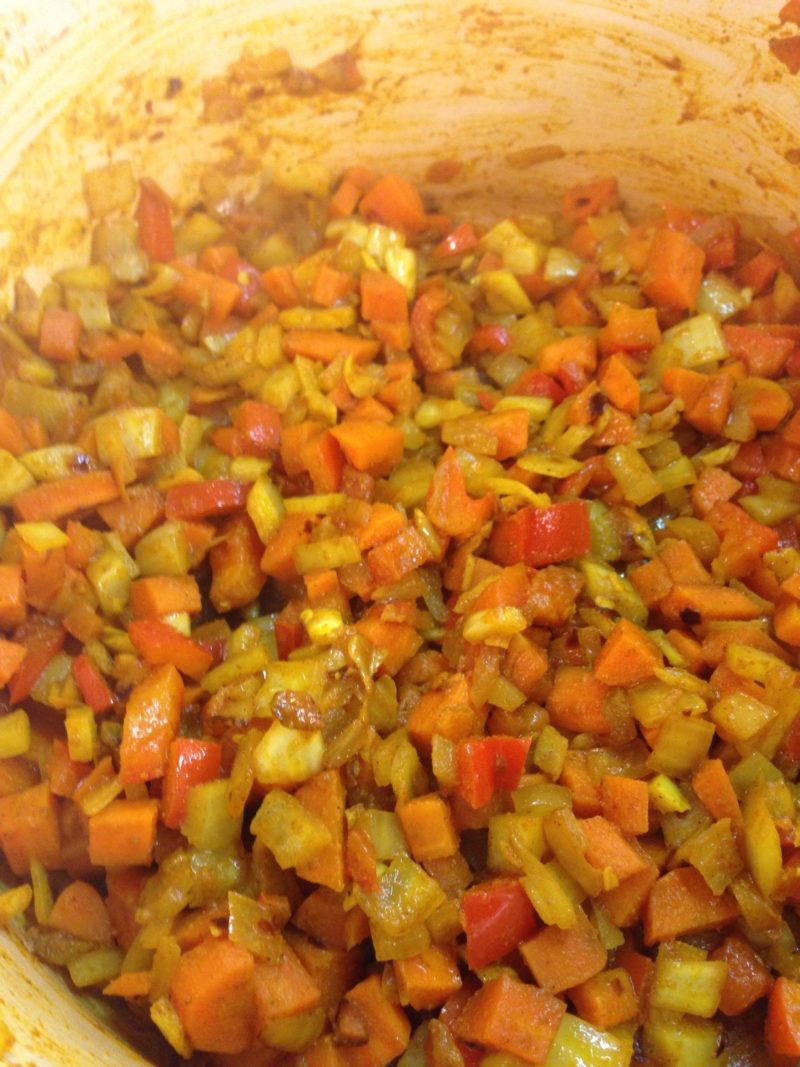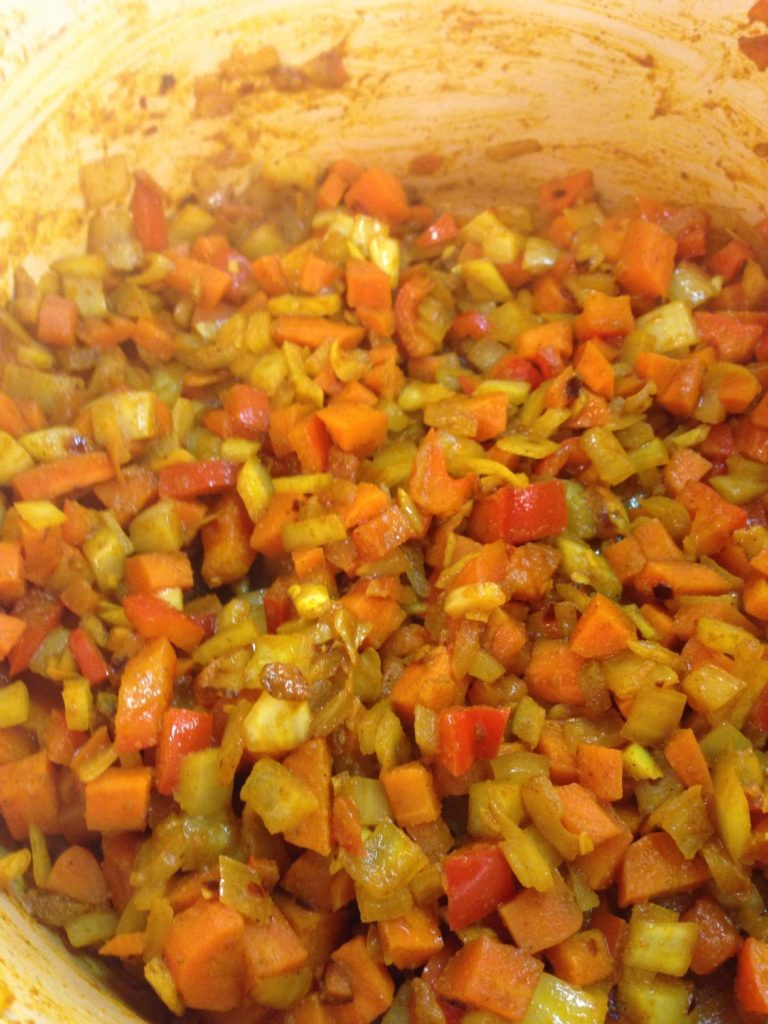 Pour in your 1 lb bag of lentils, stir.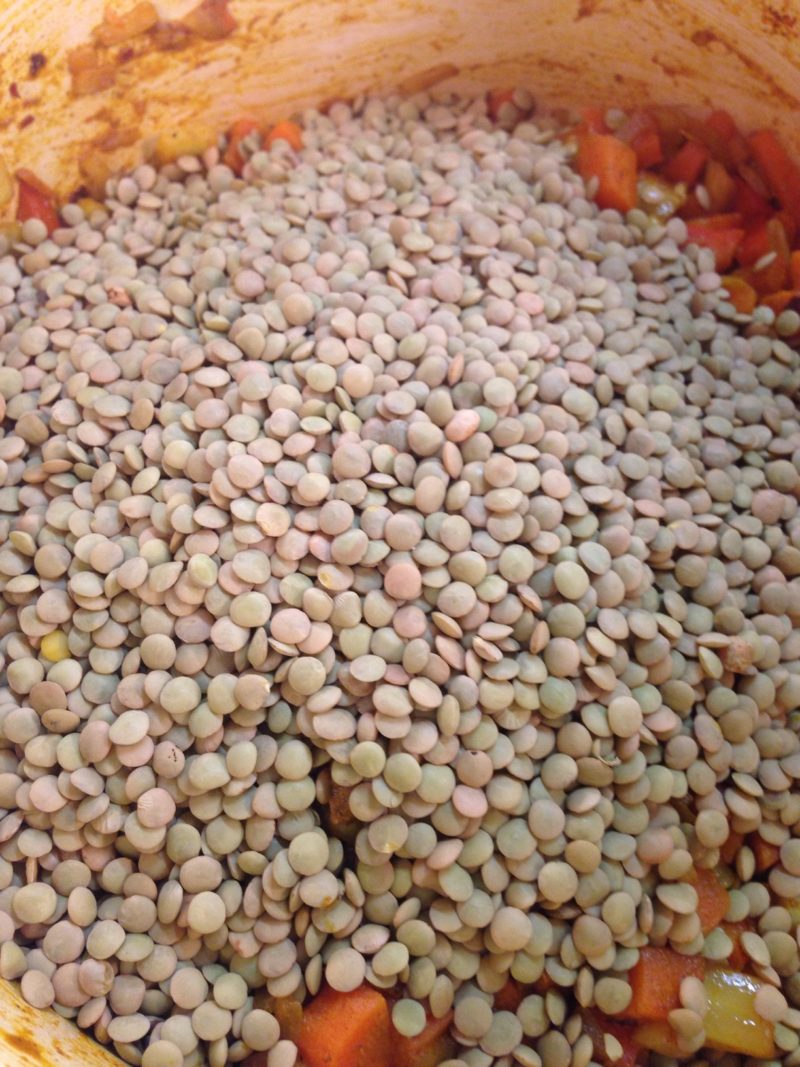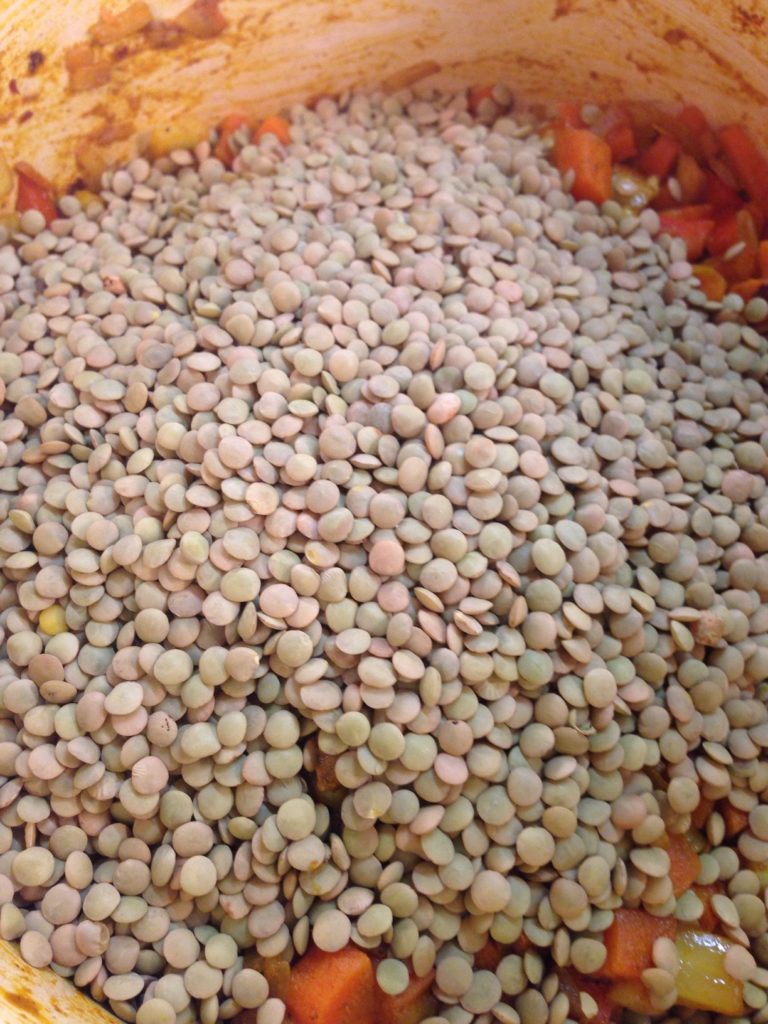 Add 2- 4 cup boxes (mine comes in a box) (8 cups all together) of fat free reduced sodium Chicken Broth. Add a cup of water more if needed.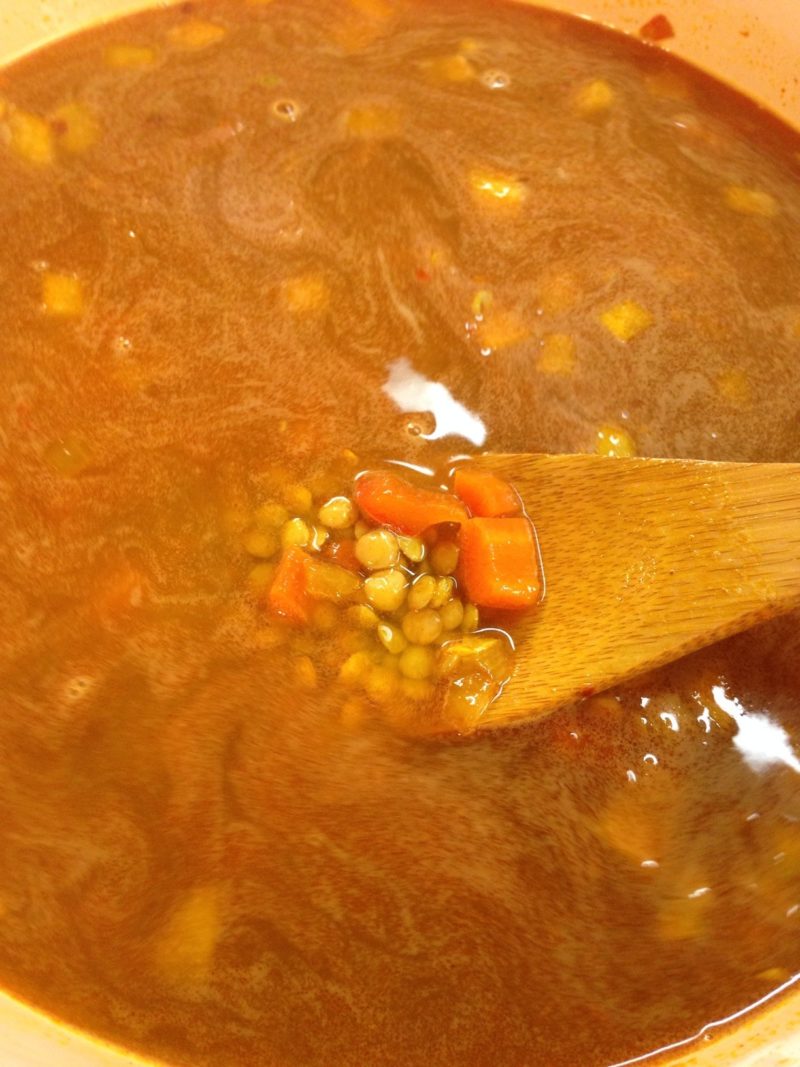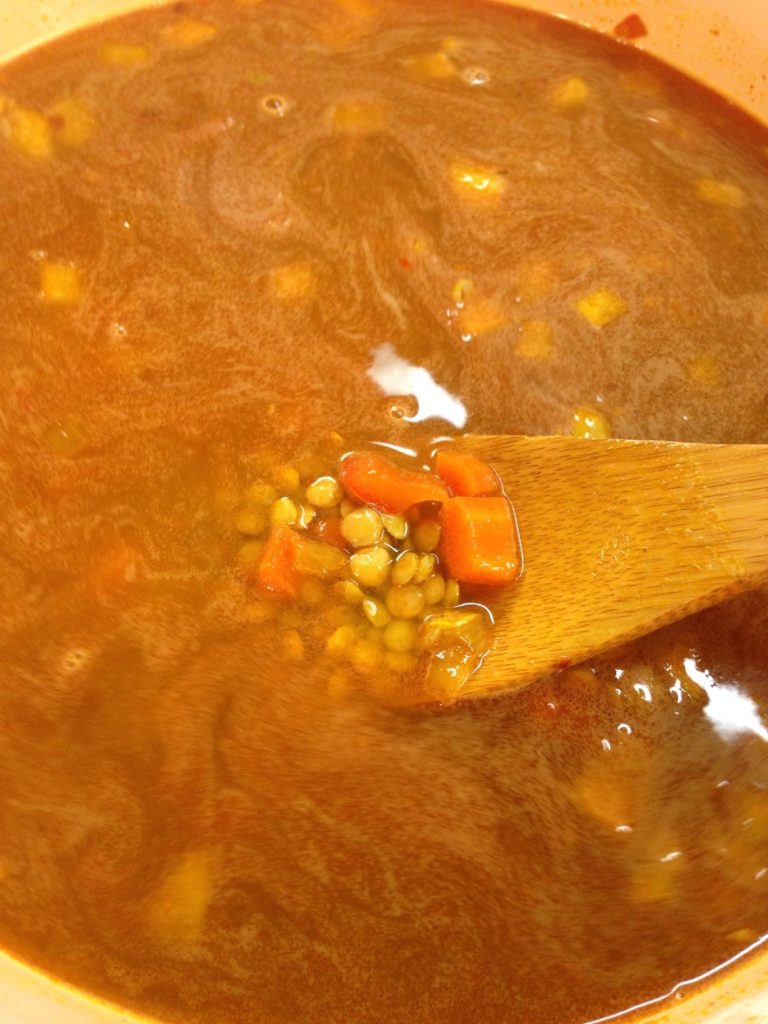 Cook on medium for a couple of hours or until creamy and most of the broth has absorbed. Perfection!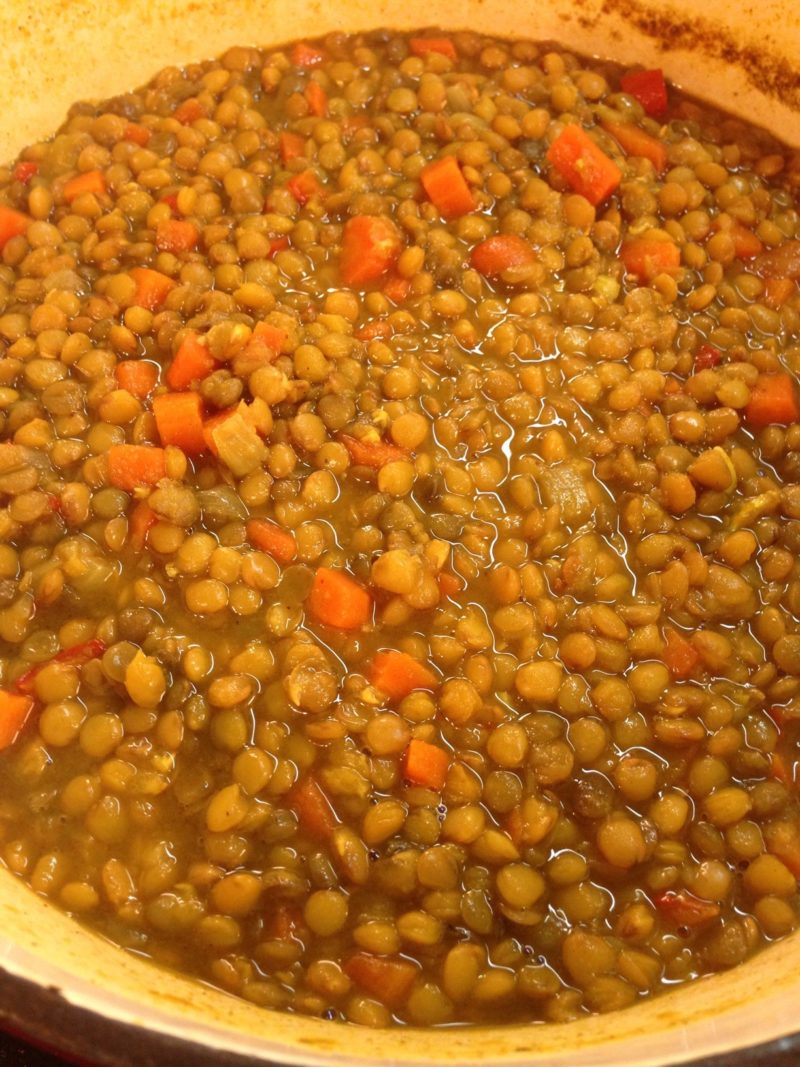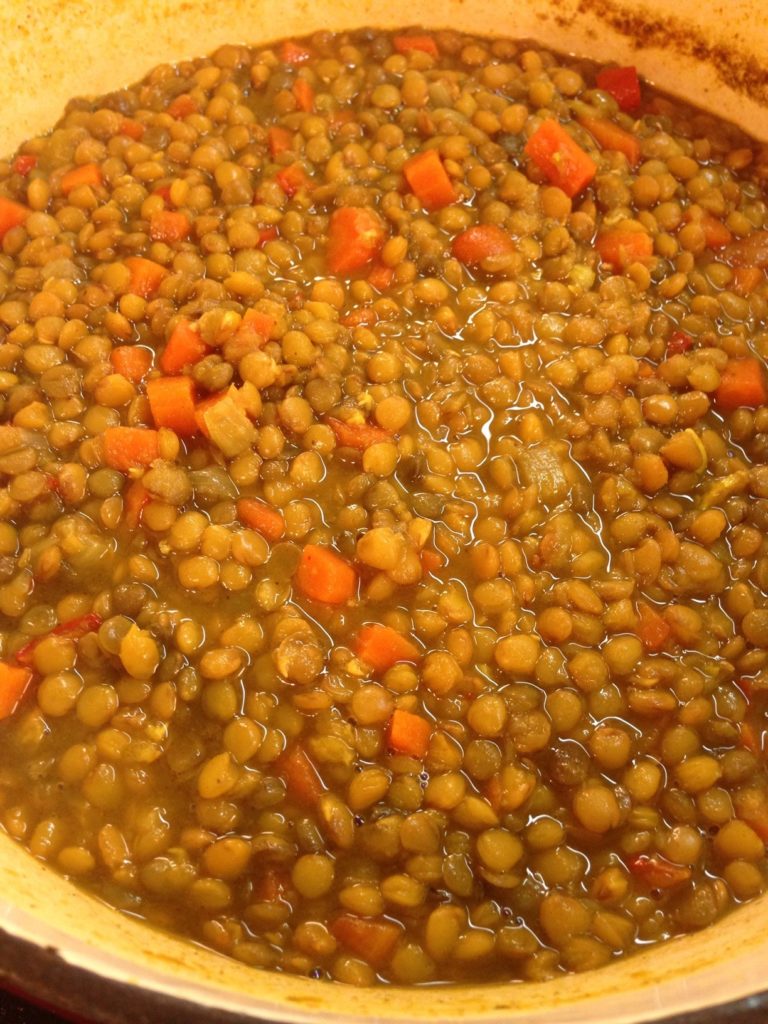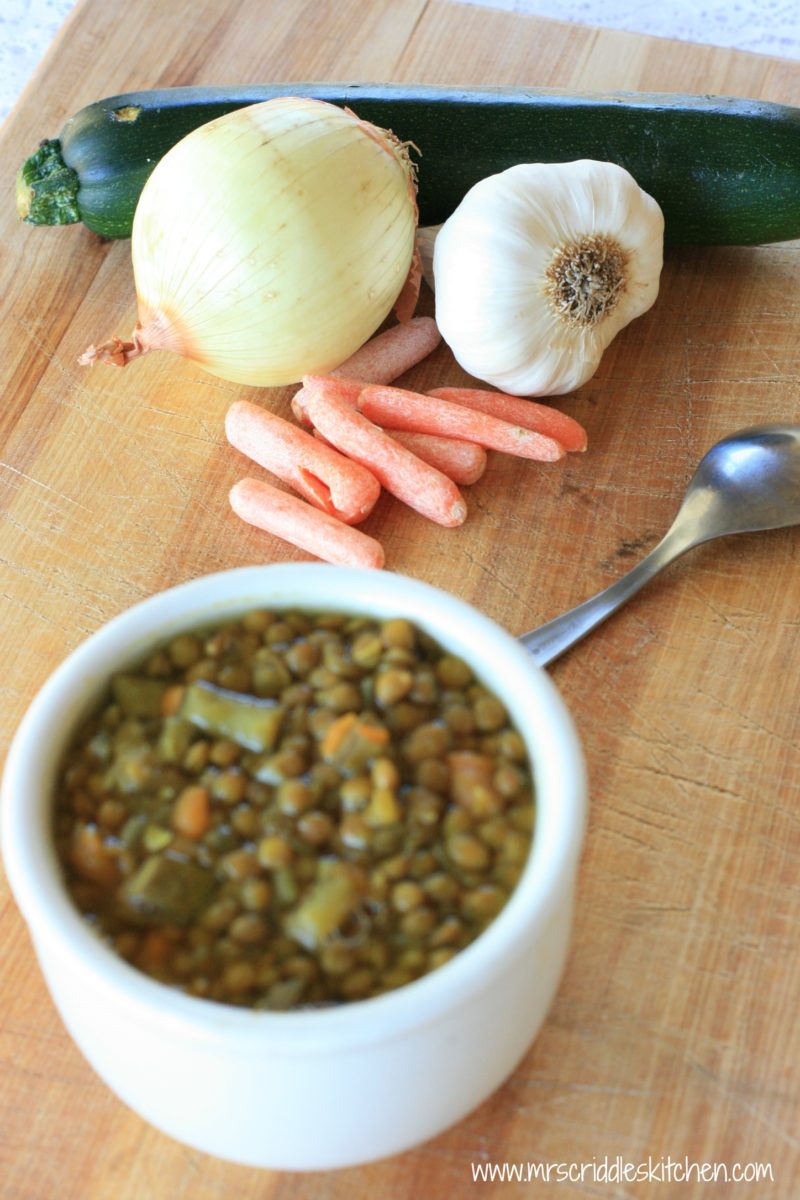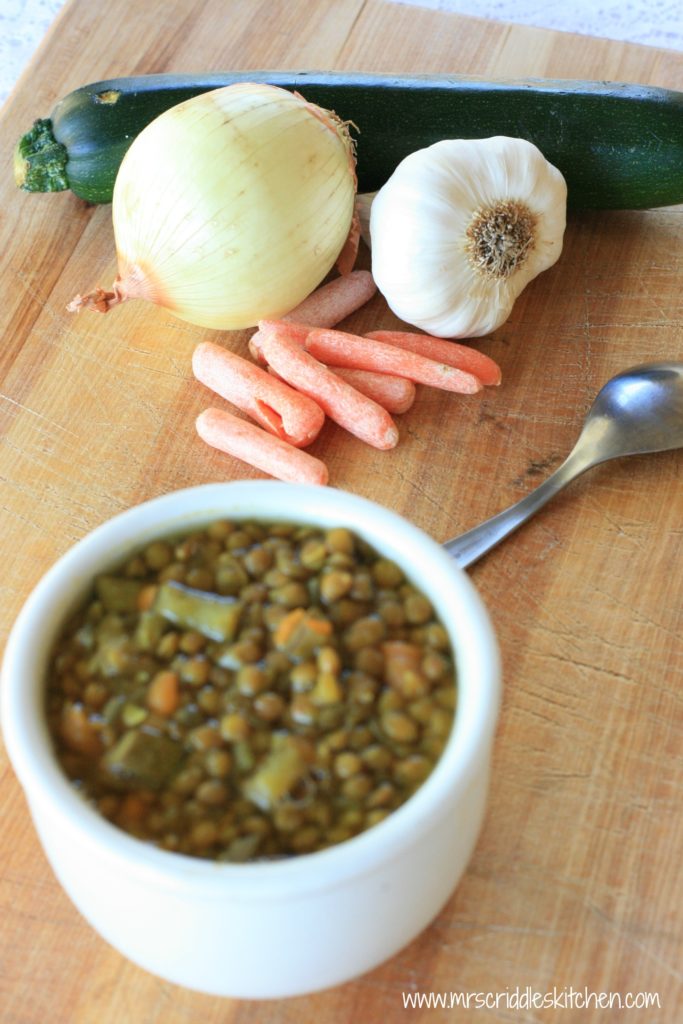 Serve with chopped cilantro or tomatoes. Also, to get the protein in that you need add a little greek yogurt or a small sprinkle of mozzarella cheese, parmesan cheese, or even a little sour cream! This fed my family of 7 (3 adults eaters, and 4 little eaters). I figured the cost to be about $5.00 for the pot (assuming you have the spices already). If you want it to be even more inexpensive you could cut half of the broth back and add water instead. This takes a little away from the flavor but will work too.
If you are following the Trim Healthy Mama Plan this is an E dinner!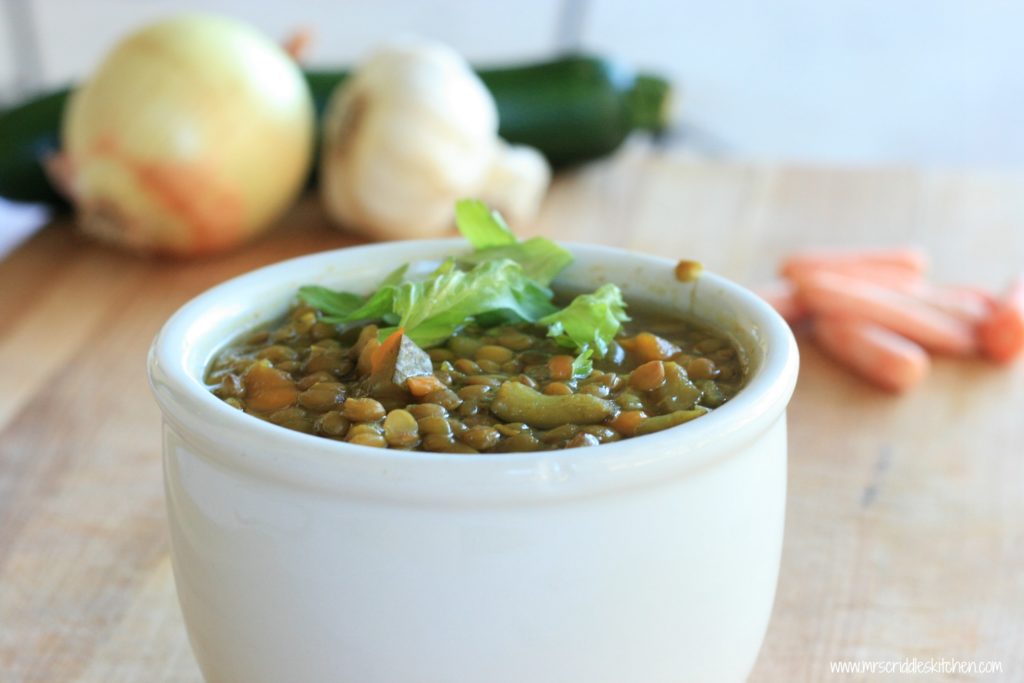 Enjoy!
Print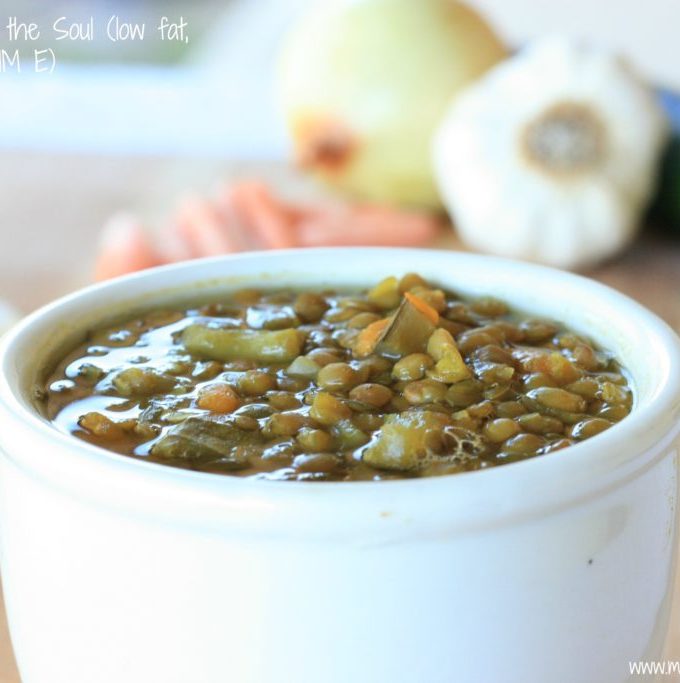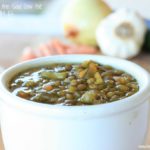 ---
Description
Lentils soup- a great carb source E meal for Trim Healthy Mama's. Full of flavor and very comforting!
---
1

–

1

lb bag of dry lentils

1

– medium onion chopped

1/2

red bell pepper chopped (you can use any color bell peppers you want)

4

cloves of garlic chopped

4

– peeled carrots chopped or

1 cup

of baby carrots chopped

1

zucchini chopped

2

– boxes (

4 cups

each box) beef or chicken broth fat free low sodium

1

–

2

tbsp. oil ( your choice)
Spices
1 tsp

garlic powder

1 tsp

cumin powder

1 tsp

onion powder

1 tsp

chili powder

1 tsp

curry powder

1 tsp

turmeric powder

1 tsp

black powder

1 tsp

red pepper flakes
salt to taste

1 cup

of water more (if needed)
---
Instructions
Heat up big dutch oven pot or big pot.
Add the oil.
Chop all veggies.
Add veggies to oil.
Cook for 10 minutes on medium till.
Add lentils and spices.
Add broth.
Stir well.
Allow to cook for a couple hours until tender.
Crock pot option
Add everything to the crockpot and stir.
Set crockpot on high for 4-6 hours or low for 6-8 hours.
---
Notes
(if needed cook longer until tender)
---