Low Carb Coney Island Casserole– a low carb casserole version of Coney Island Hot Dogs! Beefy chili & hot dogs, layered with onions, cheese & mustard, covered in low carb tortillas.
(This Post may contain an affiliate links to Amazon or Trim Healthy Mama.)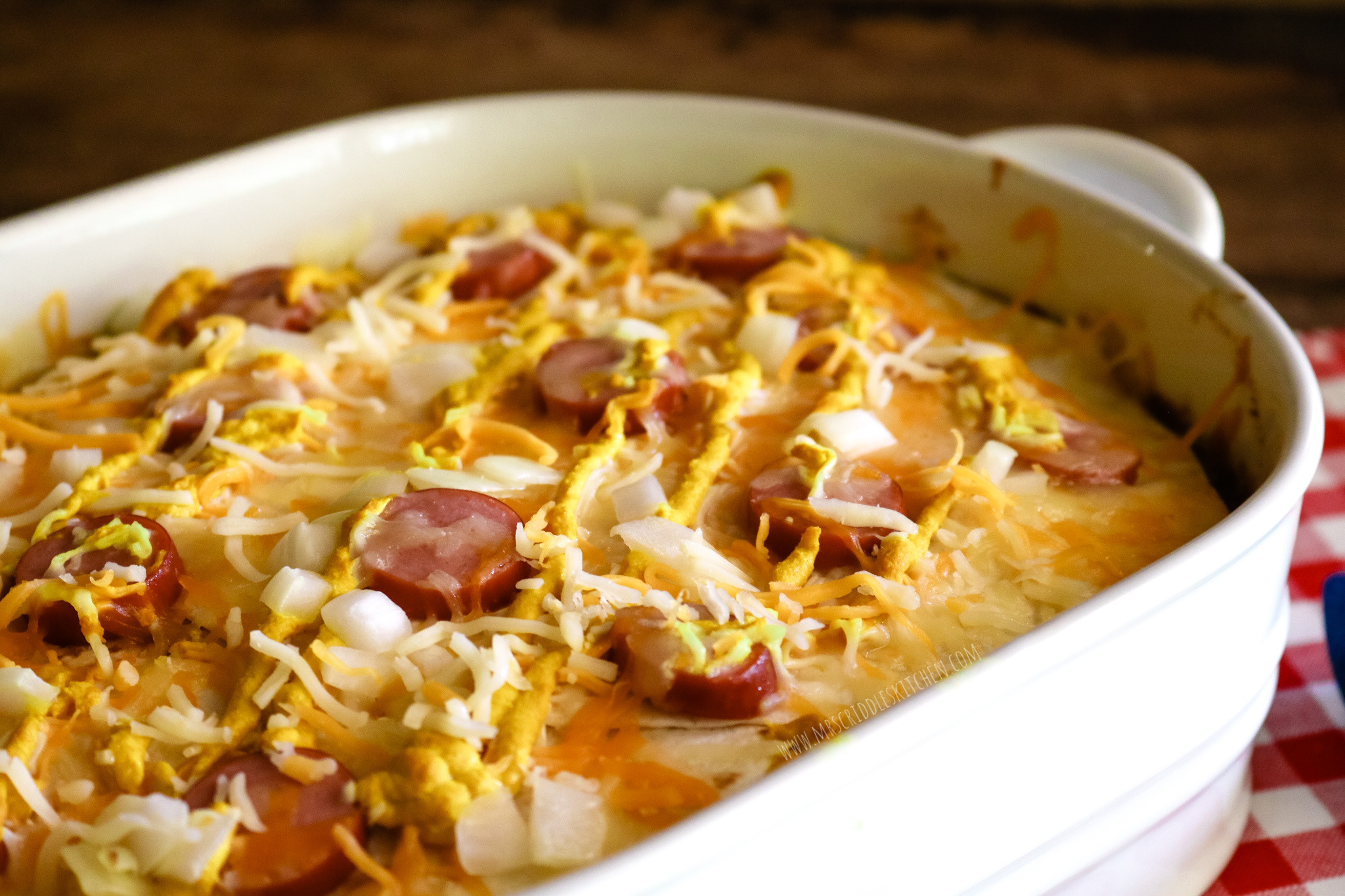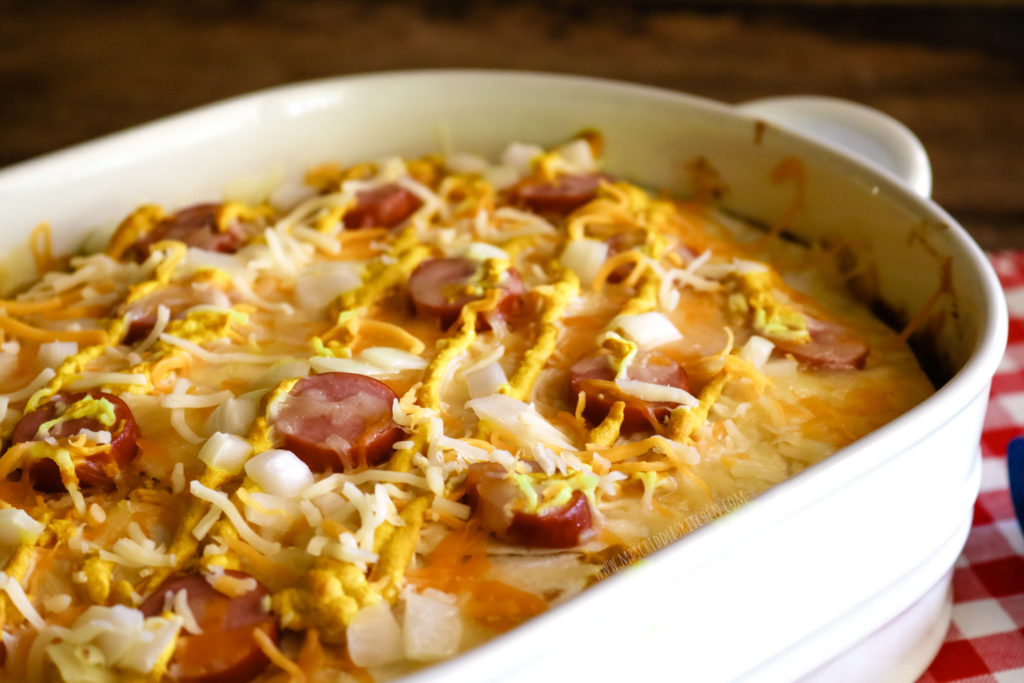 Low Carb Coney Island Casserole is one of those casseroles that will stay on your menu, once you try it!
Or as my husband says,… "The best parts of a Coney Island Hot Dog put into to one low carb bowl!" Because he requests this about twice a month!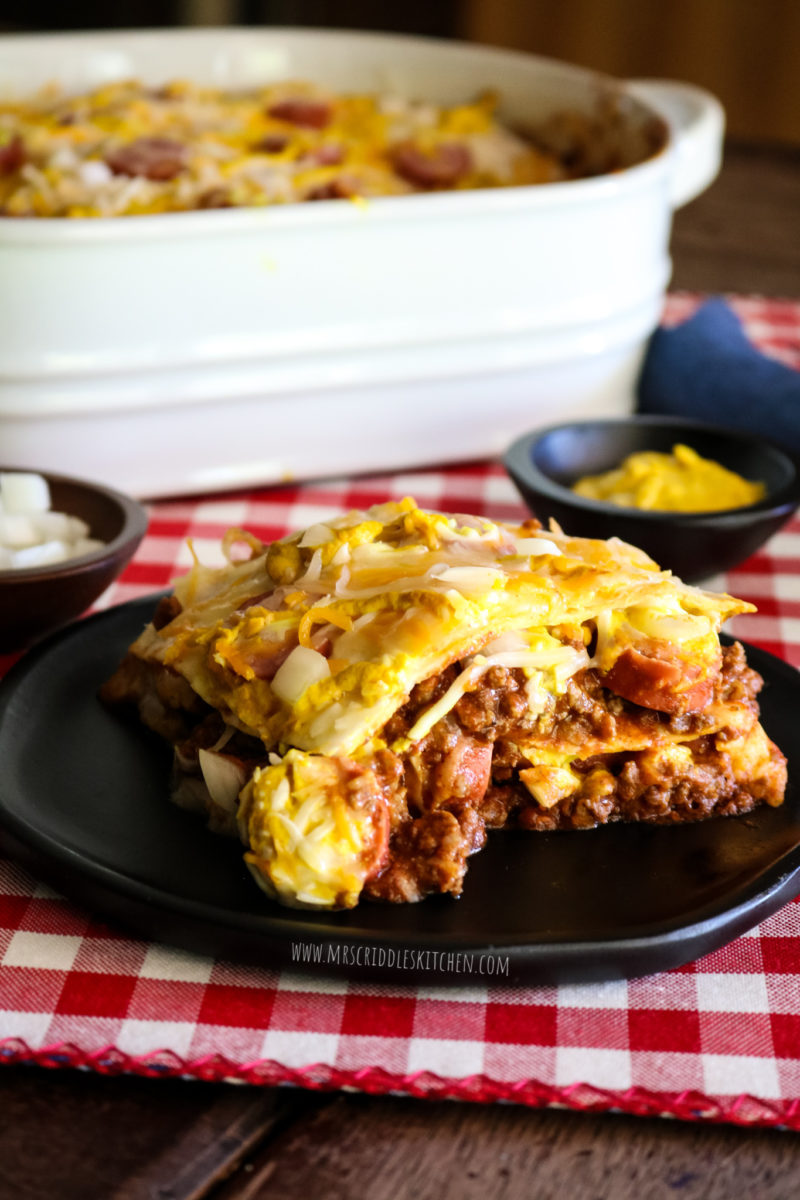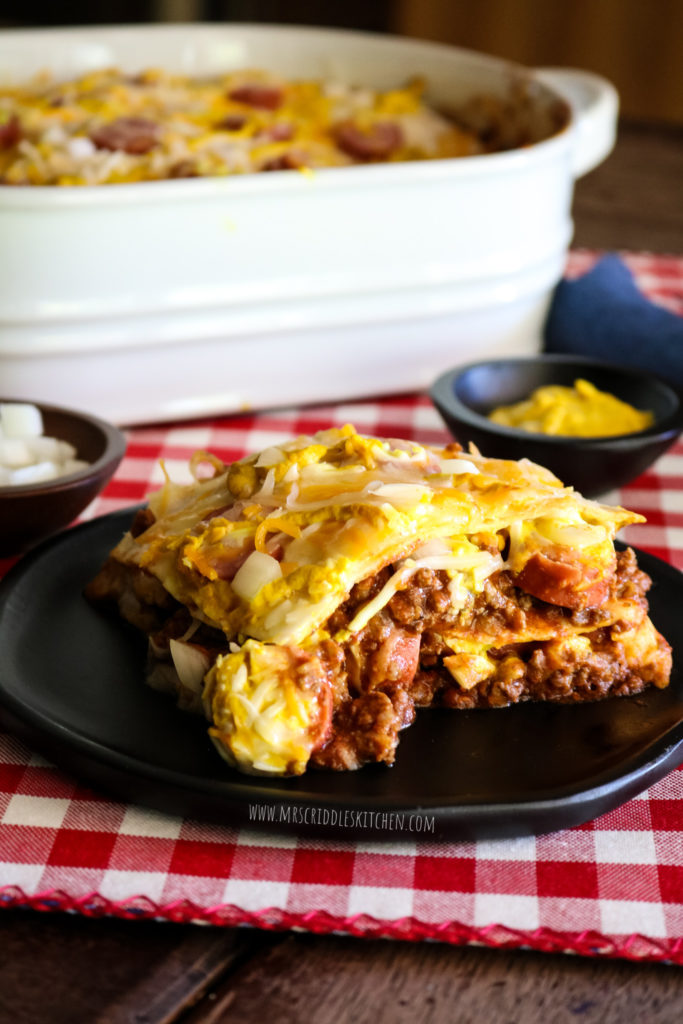 Growing up, in the summers, we always had Coney Islands. Hot dogs just seem to be the THING and so this was a STEP UP from plain hot dogs. If you don't know what a Coney Island hot dog is… it's basically a pan of hot dog buns filled with beef chili, stuffed with cheese, a hot dog, onions on top and last a drizzle of mustard… or if you'd rather, mustard on the bottom, cheese on the top. Then you cover with foil and bake for 30 minutes. Uh, YUM! These were always a huge hit growing up! Kind of the epitome of summer for us.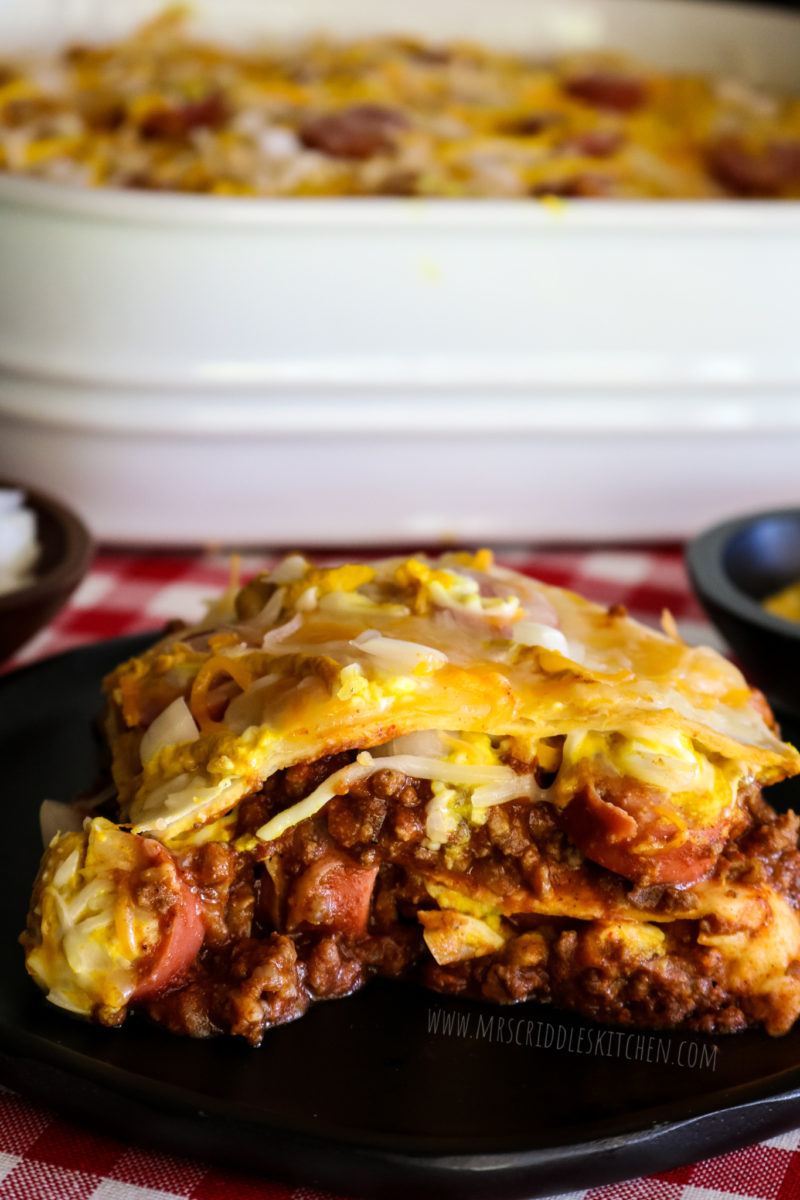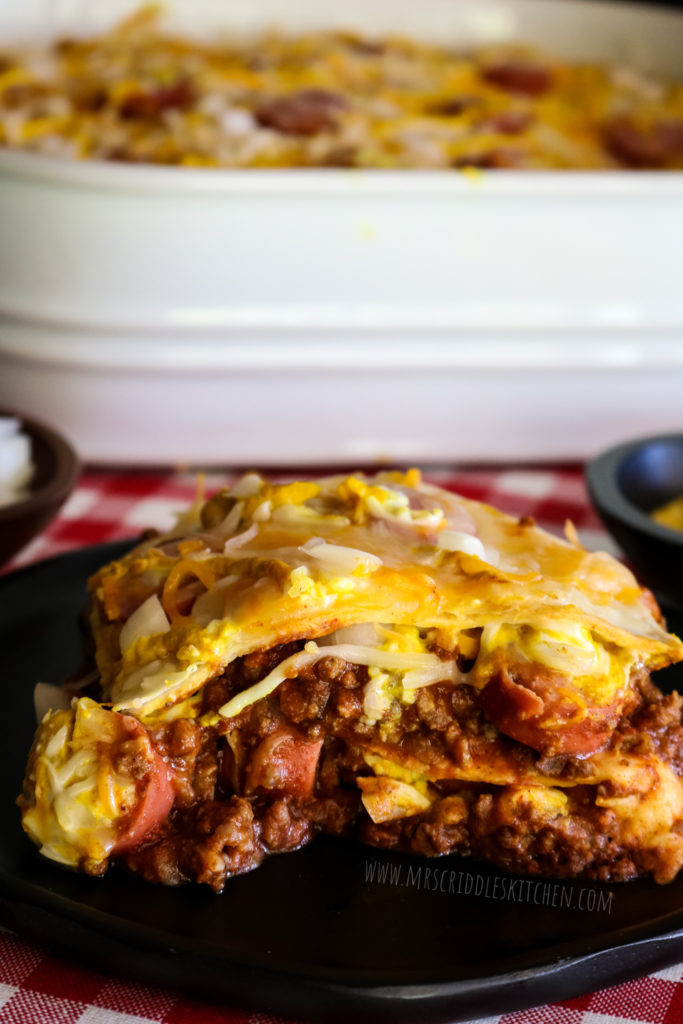 I brought that recipe into our marriage and of course, my husband loved it. After starting THM though, I knew I needed a better, healthier version of this for my husband. I had made the Coney Island Party Dip recipe but because it was a dip it wasn't as thrilling to eat for my husband as a one-plate meal would be.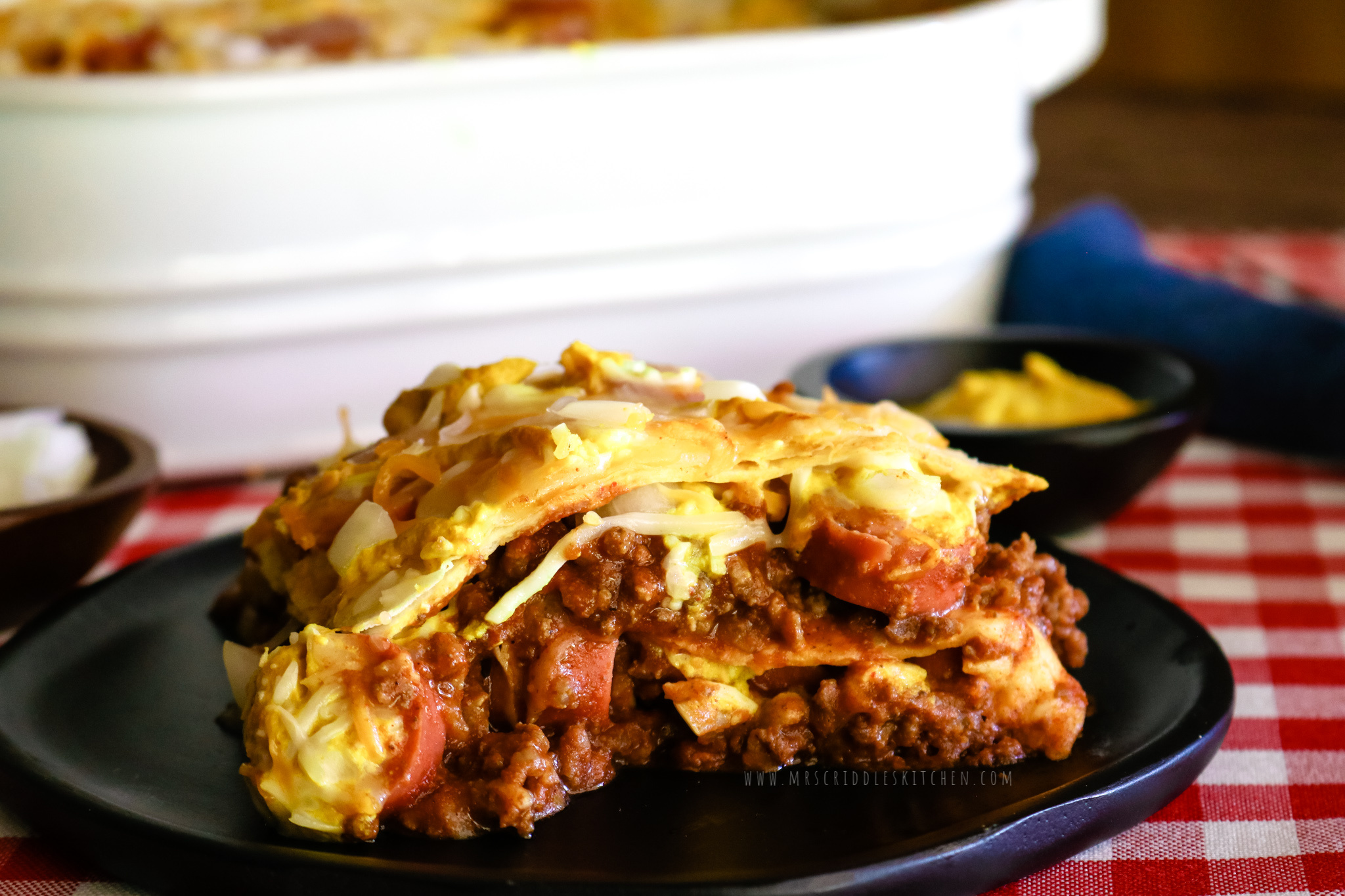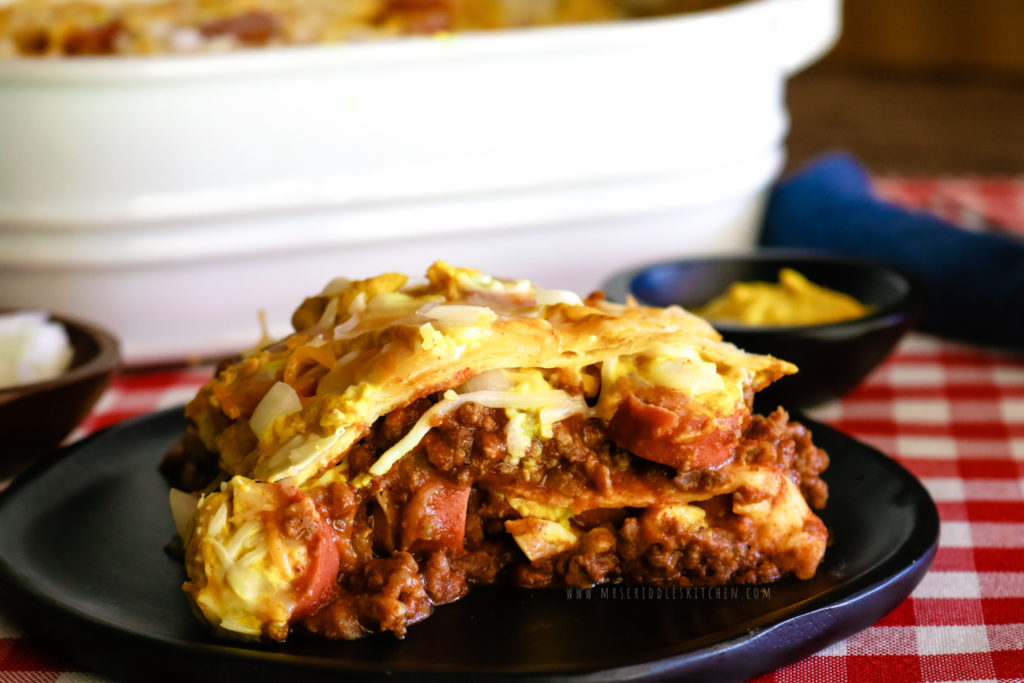 I had to come up with a better way to eat this dish… I had a brainstorm… LAYERING WITH LOW CARB TORTILLAS! BOOM! Low Carb Coney Island Casserole was born! The first bite was AMAZING!! You do not even miss the hot dog buns!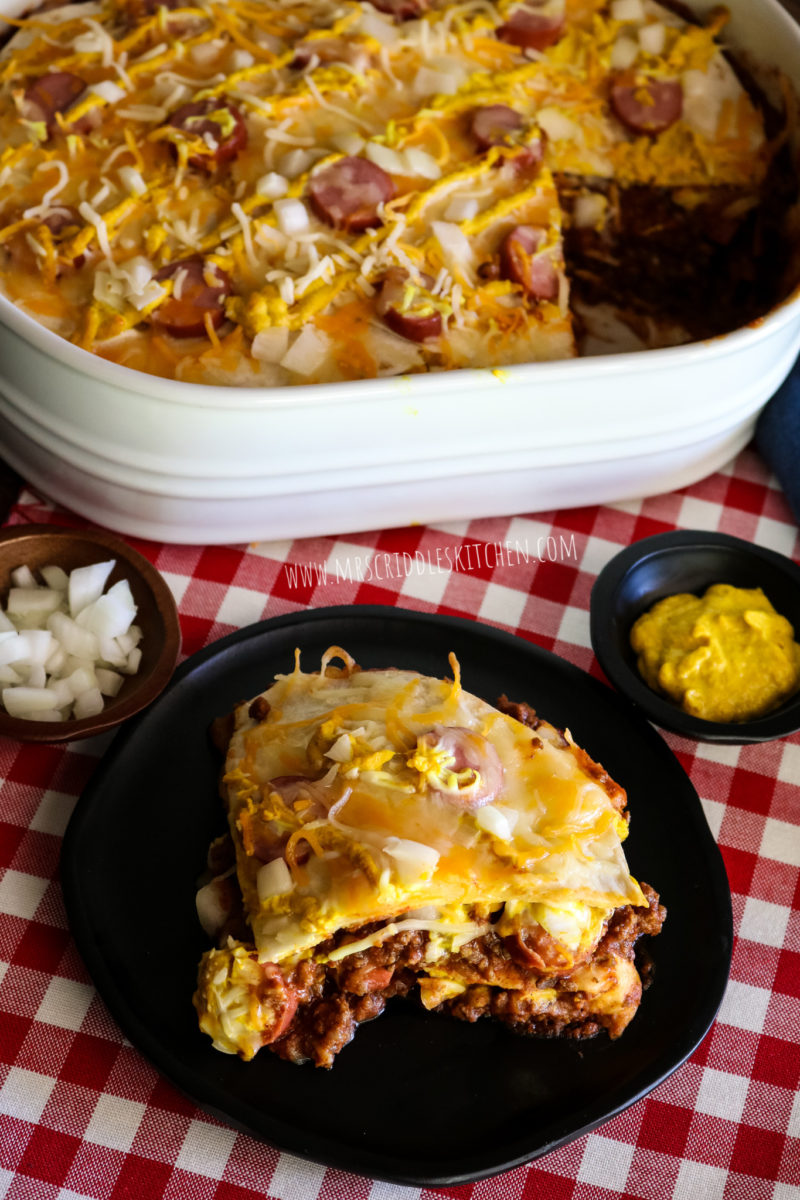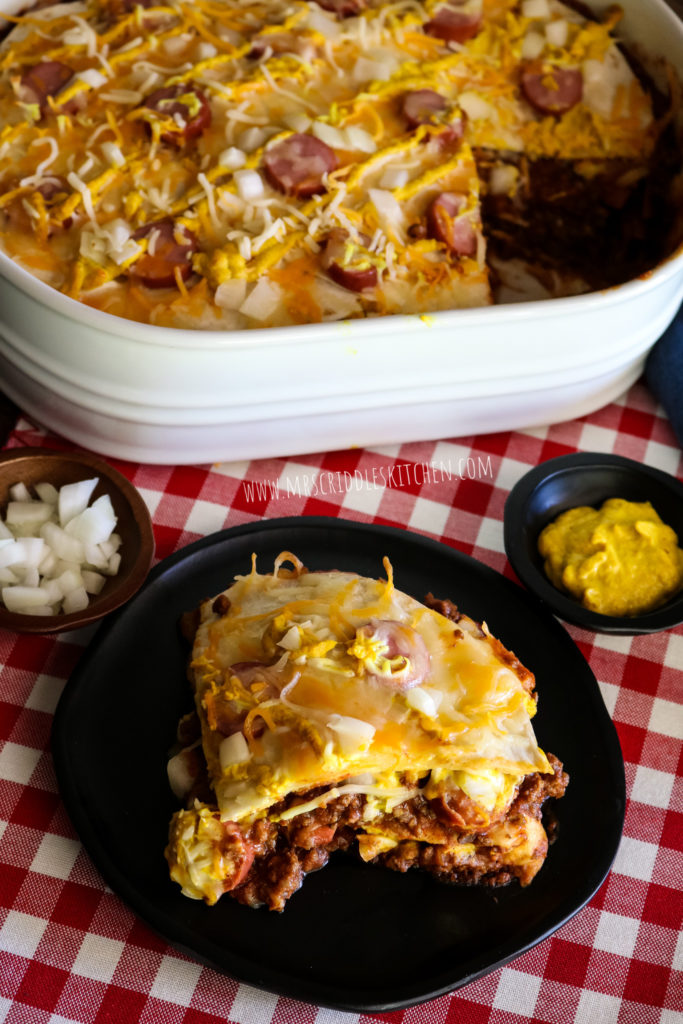 This Low Carb Coney Island Casserole is one of those dishes you can take anywhere and get compliments! NO one would even guess that it's "low carb". It's not just a "man-meal"… my kids LOVE it!
I always go for the all-natural hot dogs without the junk in it. And thankfully, I can find that most places. I also use the Mission Brand Carb Balance Larger Low Carb tortillas. If you cannot find those, any low carb tortilla will work but make sure that it's layered well enough.
If you want to lighten it up a tad or beef is harder to get, try it with lean ground turkey meat. I do this sometimes.
But I do believe your family will love it! And I hope you enjoy!
You might want to try this recipe from my blogging buddy…
Chili Dog Bake by My Table of Three
Affiliate links:
Print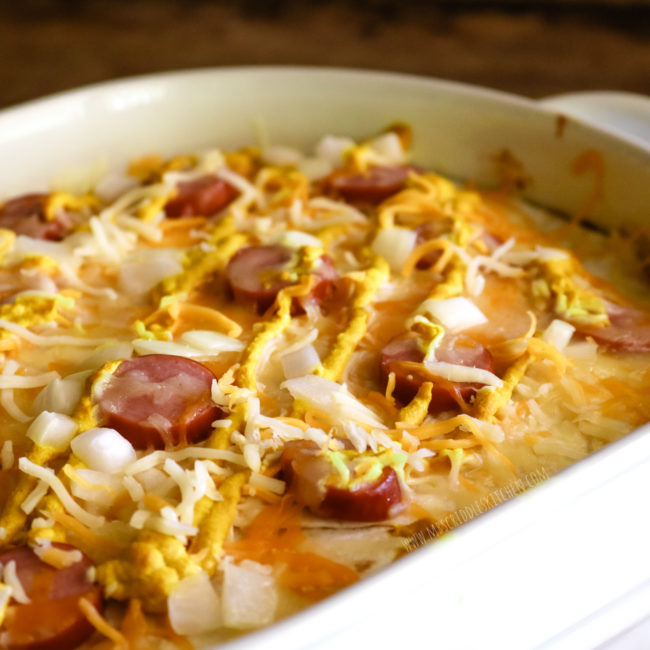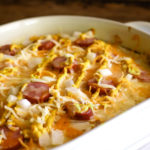 Low Carb Coney Island Casserole
---
Description
The favorite parts of a Coney Island hot dog in one place and it's LOW CARB!
---
2 lbs of lean ground beef or ground turkey cooked
1 package of all natural hot dogs
2- 15 oz cans of tomato sauce
3 tbsps of chili powder
2 tbsps of cumin powder
1 tbsp of garlic powder
1 to 2 tsp of salt depending on your preference
1/2 tsp of black pepper
1/2 an onion chopped
2 cups of cheddar cheese or blend of favorites
4 – Mission Carb Balance Large Low Carb Tortillas (4 grams each tortilla)
Mustard
---
Instructions
Pre-heat oven to 350 degrees.
In a skillet, brown the ground meat.
Once, cooked, drain off the excess grease and rinse with hot water (if you would like).
Put back into the skillet and add your spices, salt, and tomato sauce.
In a medium casserole dish add half of the chili mixture.
Slice up 4 of the hot dogs and put on top of the chili.
Sprinkle 1/3 of the onions and 1/3 cheese over the meat mixture.
Add a good line of mustard on that and then layer two of the low carb tortillas.
Add the remaining chili meat mixture to the top of the tortilla.
Cut up three hot dogs (save one hot dog for the top) and put on chili mixture.
Sprinkle another third of the onions and a third of the cheese to chili/hot dog mixture.
Add mustard again and the remaining two tortillas.
At the very top put the rest of the ingredients evenly and a good several lines of mustard.
Cover with foil.
Bake for 25-30 minutes.  
Enjoy!
---
Notes
This should serve six people.