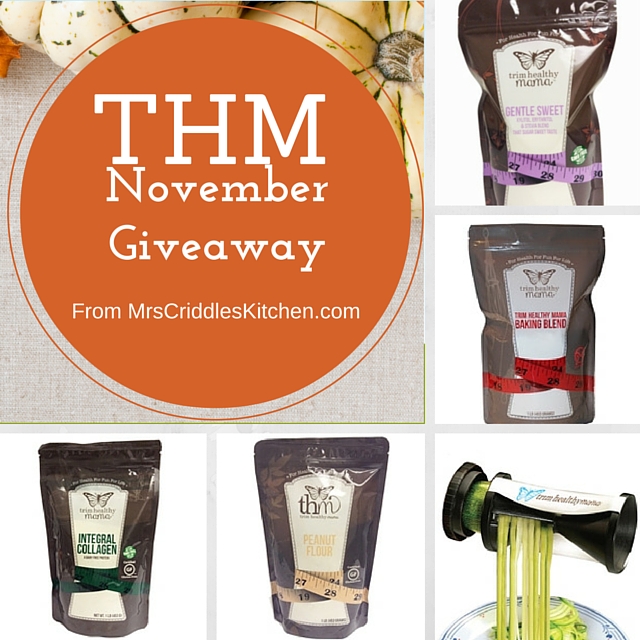 THM Product Giveaway- (this post does include affiliate links.)
Hey guys!!! It's been a while since I've posted!
Wow, a lot has been going on here. From being 25 plus weeks pregnant with #7, to most of my kiddos coming down with chicken pox, the whole family getting a stomach bug, us refinancing our house and needing tons of paper work, running our plumbing business… yeah, you get the picture.
I've been a Trim Healthy Mama for over 2 and a half years. I am working on my second THM pregnancy. I've had my cheat meals, cheat days, yes, even cheat weeks… just being completely honest here. BUT, I ALWAYS know that I can come right back to THM. Not only that but, I feel MISERABLE eating any other way than THM. THIS is an eating lifestyle I can keep forever and feel good about!
I love Thanksgiving and ALL that it stands for… mostly being Thankful!
So this post is about being THANKFUL! Thankful for THM Products and being THANKFUL for you!
To show how thankful I am for all my THM sisters/friends, I am giving away the above THM Products!!
They are some of my MOST FAVORITE THM Products, the ones that I have in my kitchen… (see-I really do)!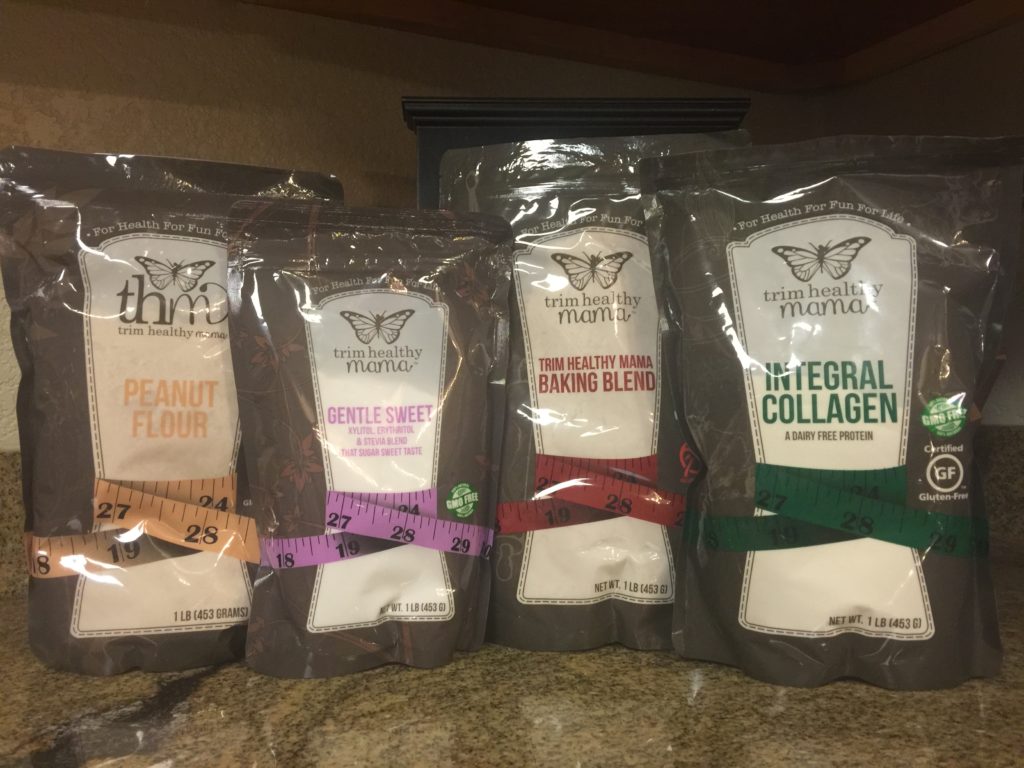 I use these ALL THE TIME!
The THM Gentle Sweet is the most amazing-non-weird-tasting-sweetener EVER! I am not sure what those sisters did to create such a perfectly perfect product but they hit the nail on the head with this sweetener! I love this sweetener in my drinks, in my baked goods, in my savory dishes that need a touch of sweetener, sprinkling fruit with it, smoothies. You name it, I've used this sweetener in it!
The THM Baking Blend is another really awesome amazing creation from the sisters that I HAVE to have in my kitchen! I make cookies, cookies-in-a-bowl, brownies-in-a-bowl, muffins-in-a-mug, I batter things I fry with the Baking Blend. Its just one of those easy things I like to keep around… ALL THE TIME! One of my favorite recipes I make with this is… Caramel Brownie Pie.
The THM Peanut Flour– oh my gosh I love this stuff!! It gives that peanut flavor without the fat for those E meals that need a peanut kick! I make E style Chicken Lettuce Wraps and use the Peanut Flour in my Spicy Peanut Sauce and it's FP! Here's that recipe if you want to check it out…. Chicken Lettuce Wraps. This ingredient makes a great addition to cookies, No Bake Cookies, and I've even used this for smoothies!!
The THM Integral Collagen– this is new addition to my kitchen but I LOVE IT! I've used collagen in the past but knowing the quality of THIS collagen makes me want to KEEP this in my kitchen. This stuff breaks down easy in drinks, soups, smoothies, etc. It has amazing health benefits to your body, hair, skin, nails, even nervous system! It is packed full of protein in it's little scoop and even gives energy!
The THM Troodle– first of all, I just love the name of this, haha! I don't have a THM brand Troodle but I do have one of these. Mine was more expensive, unfortunately. I would much rather have this one promoting my beloved Trim Healthy Mama. This product is just too much fun! AND you can make ZOODLES (zucchini noodles) among other things. I use zoodles to replace noodles in soooooo many recipes! Your kids will actually love helping you with this, lol, mine do!
Not everyone has it in the budget to have each of these amazing products or maybe you can but just haven't had the time to try them… so I wanted to share my favorites with you all and enjoy being THANKFUL for THM sisters/friends & Trim Healthy Mama!
PS- you don't have to have ANY of these items to do Trim Healthy Mama! Nope, you don't! They are just there as an extra awesome blessing!
If you can't wait for the giveaway results, you can always visit the >Trim Healthy Mama Store< and order from my affiliate link NOW! 🙂 I do not work for THM in anyway other than having an affiliate link to their store so my words are my own. My reviews are my own words about what I love and how it works for me! Not one single person is pushing me to say anything I don't want to say. Just felt that you should know that THM actually works for a normal average mama of almost #7! 🙂
ENTER GIVEAWAY BELOW!!! (the giveaway is for US Residents only– also it is best to enter by laptop or desktop, entering by mobile might work but it's best on a real computer. You do not have to have a facebook account to enter. You can enter with an email address.)