Chicken Lettuce Wraps with Spicy Peanut Sauce (THM S, E or FP by Tweaking)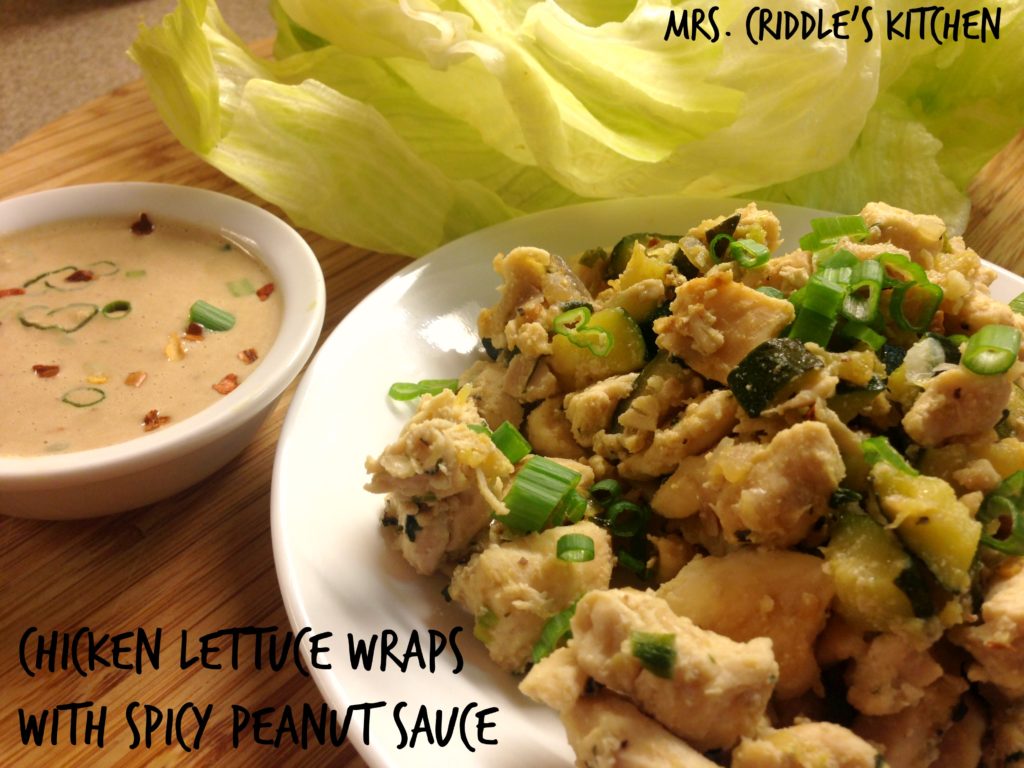 I love chicken lettuce wraps! I remember several years ago my father & mother-in-law told my husband and I to try the chicken lettuce wraps at a restaurant… oh my oh my! I loved the spicy tangy peanut sauce over the cooked veggies and chicken. Then putting it in a crisp cold lettuce "taco"… just smelling it made my taste buds water! Big bite… it's like an Asian adventure in my mouth! Yum YUM! Well, I had to make some THM approved, without all the sugar and corn starch. Worked on it last night… had it for dinner. Perfect! Sweet, Sour, Tangy, Salty, Crisp… once again my taste buds explode! And it isn't as hard as you might think to make! Most of the ingredients you should have around the house (if you like spice)!
Start with cutting up the chicken breasts in chunks. Easy enough.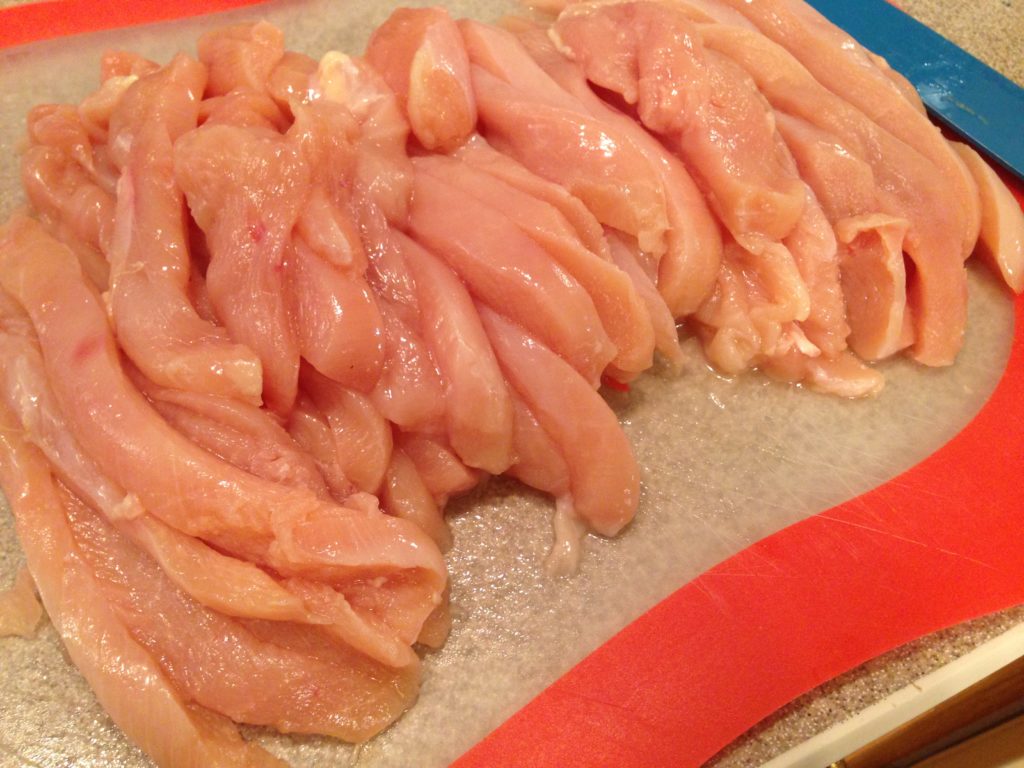 Get this cooking in a big skillet with some olive oil.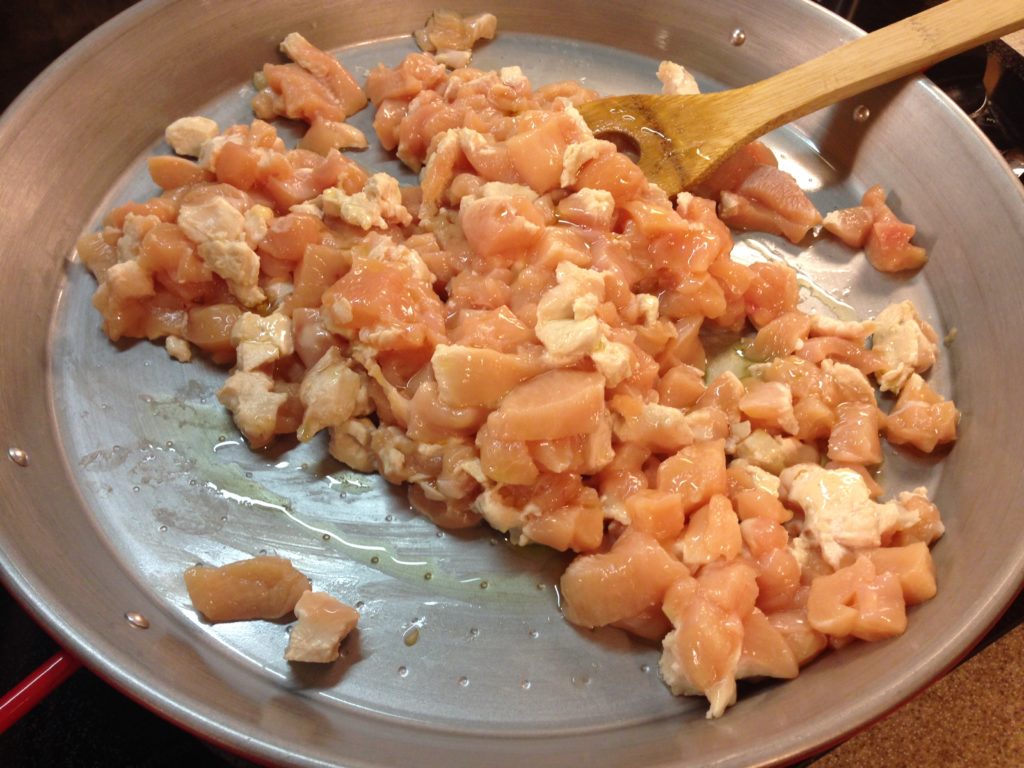 Mix the spices together.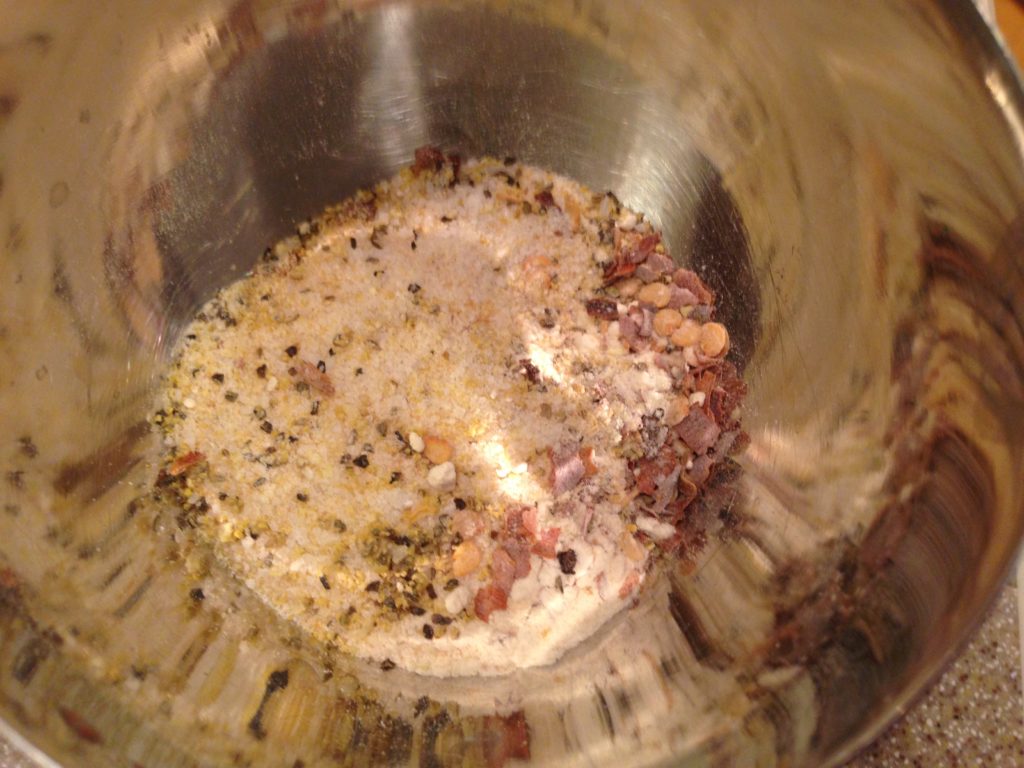 Gather and chop the veggies.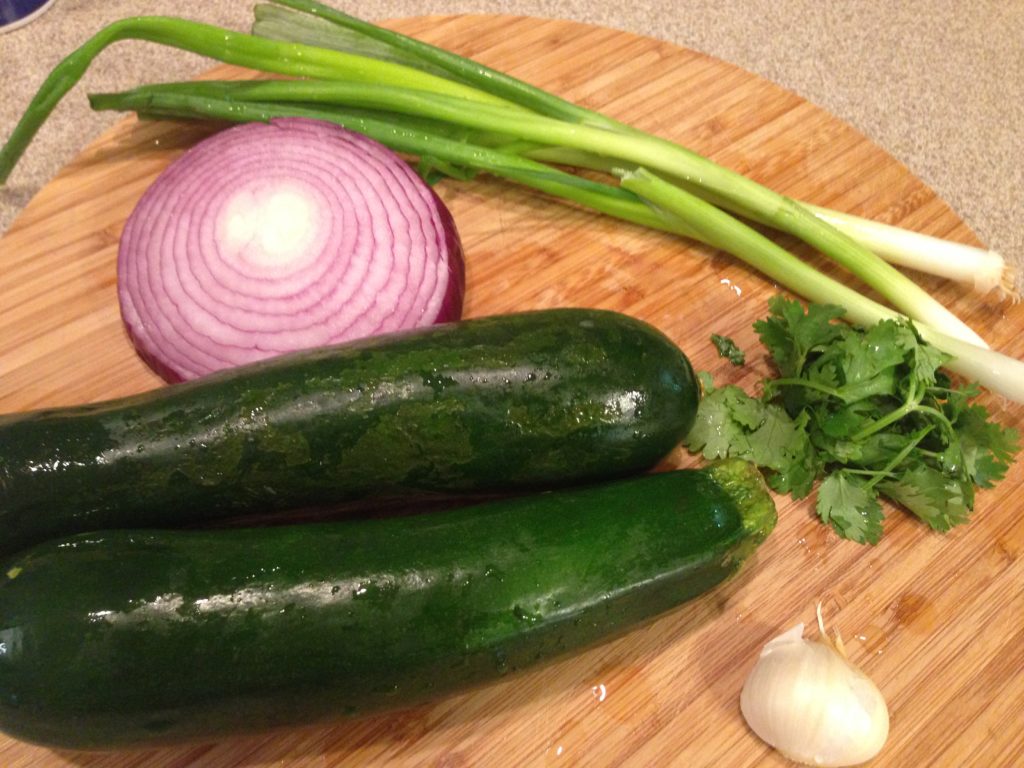 Add the spice and veggies to the cooked chicken.
Cook all the ingredients until the veggies are tender.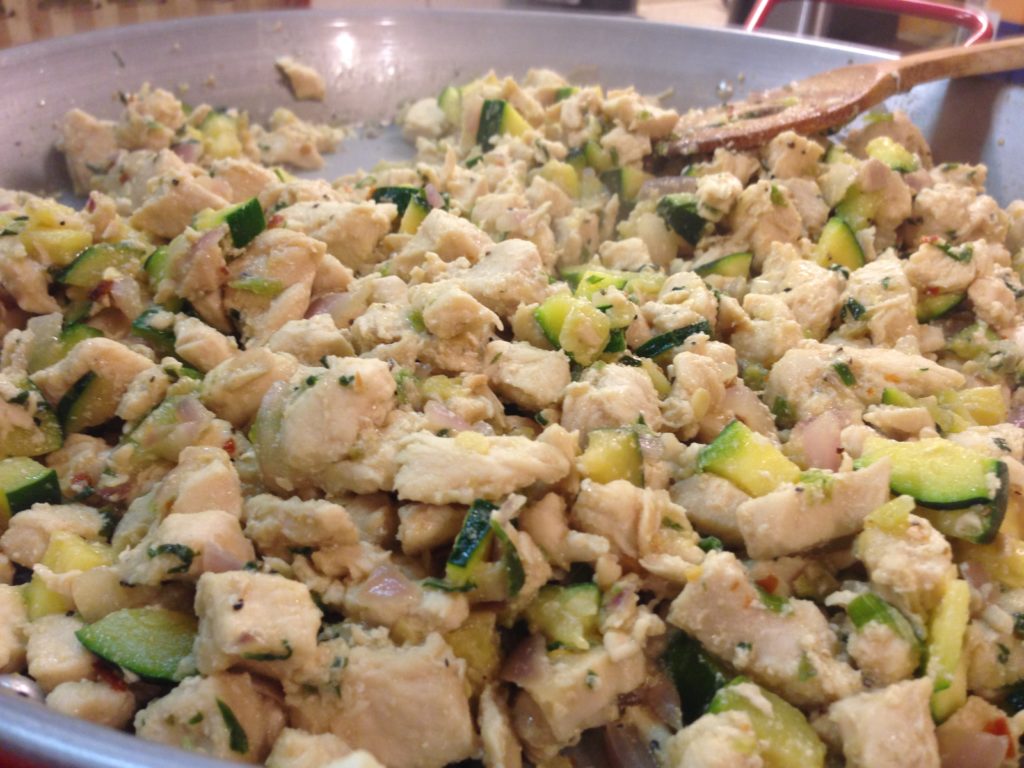 Now to work on the peanut sauce.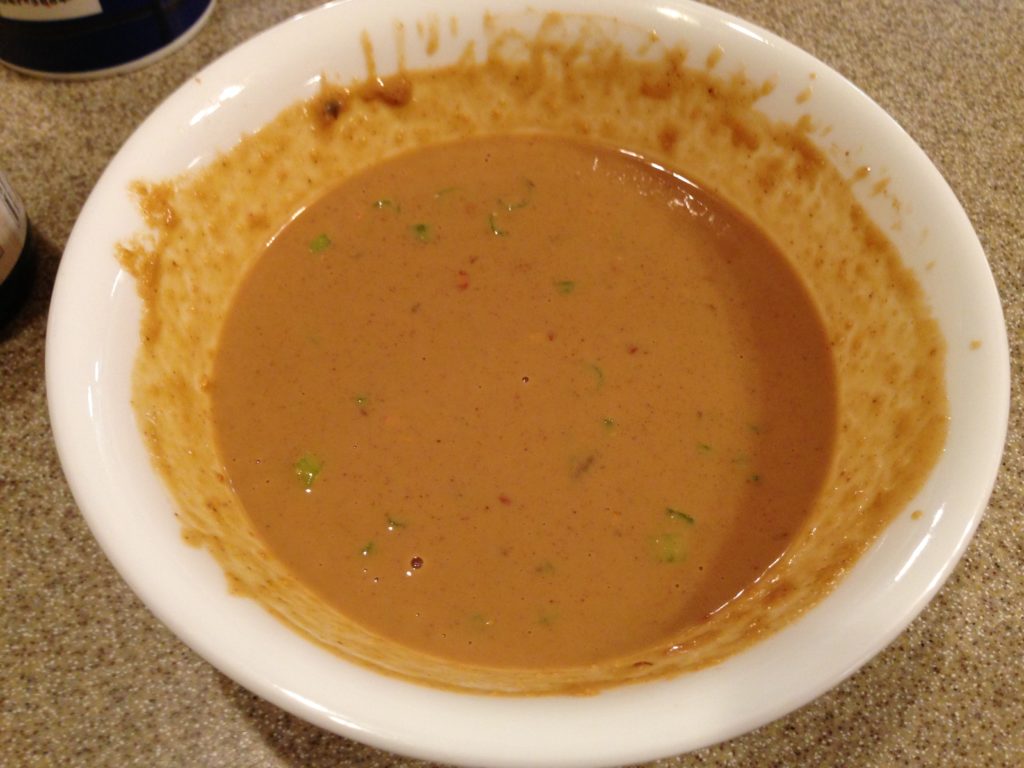 That is all! Make sure the iceberg lettuce is really crisp. Scoop up a bunch of the chicken, put in a lettuce taco, drizzle peanut sauce over it, take a big, ENJOY!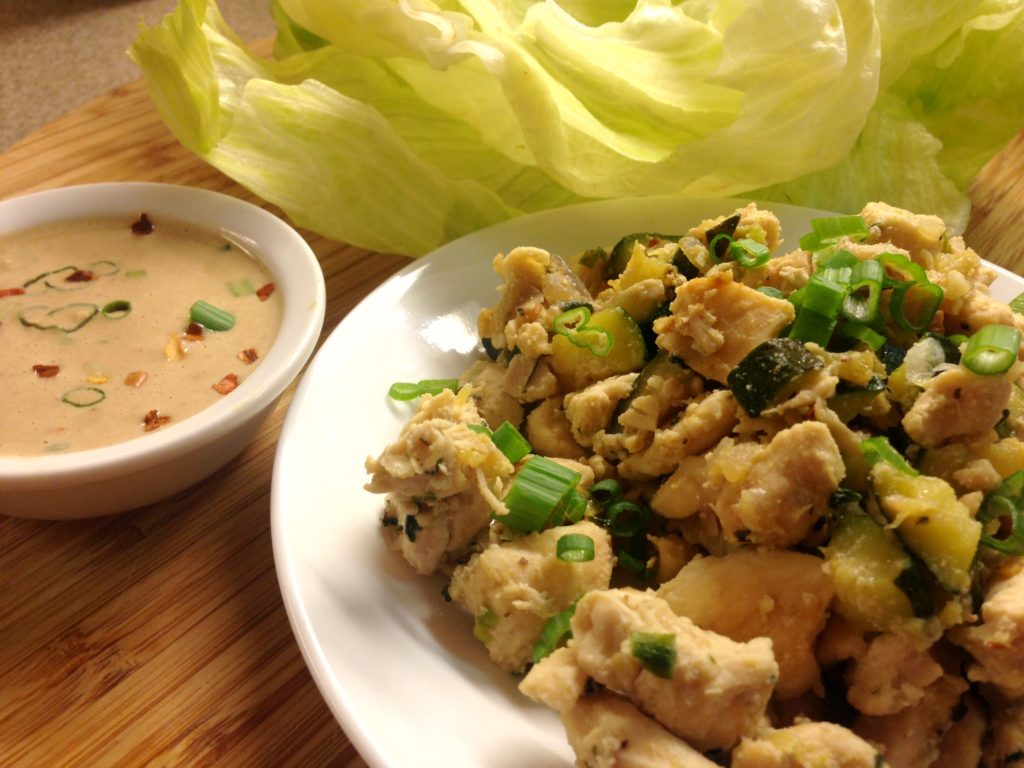 If you follow Trim Healthy Mama this would be an S meal as shown in the pictures but you can also tweak it to be either E or FP. To make it E add in some brown rice. Also, cook the chicken in just a small amount of oil. And then tweak the peanut sauce by adding peanut flour instead of peanut butter. Doing that will also make the sauce FP! 🙂 If you would like to purchase THM Peanut Flour you can go here… THM STORE (aff link).
Print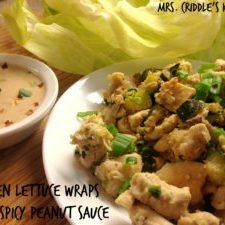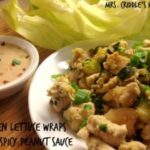 ---
Description
A spicy, tangy, sweet & sour Asian dish that is sure to please. An S meal but can be tweaked to be an E or FP.
---
Chicken Mixture-
For an S-

6

boneless skinless chicken breasts- chopped

2 tbsp

. olive oil

1

large head of ice berg lettuce- cold

2

zucchinis- chopped

1/2

of a red onion- chopped

3

green onions- chopped

2

cloves of garlic- chopped

1

large handful of cilantro- chopped

2 tsp

garlic powder

2 tsp

onion powder

1 tsp

lemon pepper

1/2 tsp

red pepper flakes

1/2 tsp

ginger powder

1 tbsp

. vinegar
Salt to taste
For an E simply use less oil and add in brown rice to the above ingredients.
For an FP you can use less oil as well. You can change the chicken out for shrimp.
Peanut Sauce (S)-

1/4 cup

sugarfree peanut butter

1/4 cup

liquid aminos

2 tbsp

. vinegar (white)

2 tbsp

. water

1/2

green onion chopped fine

1/2 tsp

red pepper flakes

1/2 tsp

ginger powder

1 tsp

of Texas Pete Hot Sauce (or your brand hot red pepper sauce)

10

–

12

drops of liquid stevia (or

1 tsp

of truvia or

1/2 tsp

THM Sweet Blend)
Salt to taste
To Make the Peanut Sauce (FP), simply replace the peanut butter with defatted peanut flour, equal parts.
---
Instructions
Chicken Mixture-
Heat skillet with a couple tablespoon of olive oil or coconut oil.
Chop chicken and put into skillet.
Cook chicken on medium heat till cooked through.
Chop vegetables and add to chicken.
Add all spices to chicken and vegetables.
Allow to cook until veggies are tender.
Peanut Sauce-
Mix all ingredients together well. If too thick add a little more water.
Carefully pull apart the ice berg lettuce to get your "wrap shells".
Fill with the chicken mixtures.
Drizzle peanut sauce over the wraps.
ENJOY!
---
Notes
You could even add 1/3 to a 1/2 cup of dry roasted peanuts to the chicken mixture to give it an extra crunch!
---