Catalina Taco Salad- my low carb take on this classic Frito Taco Salad with Catalina Dressing.
(This post may contain affiliate links to Amazon and Trim Healthy Mama.)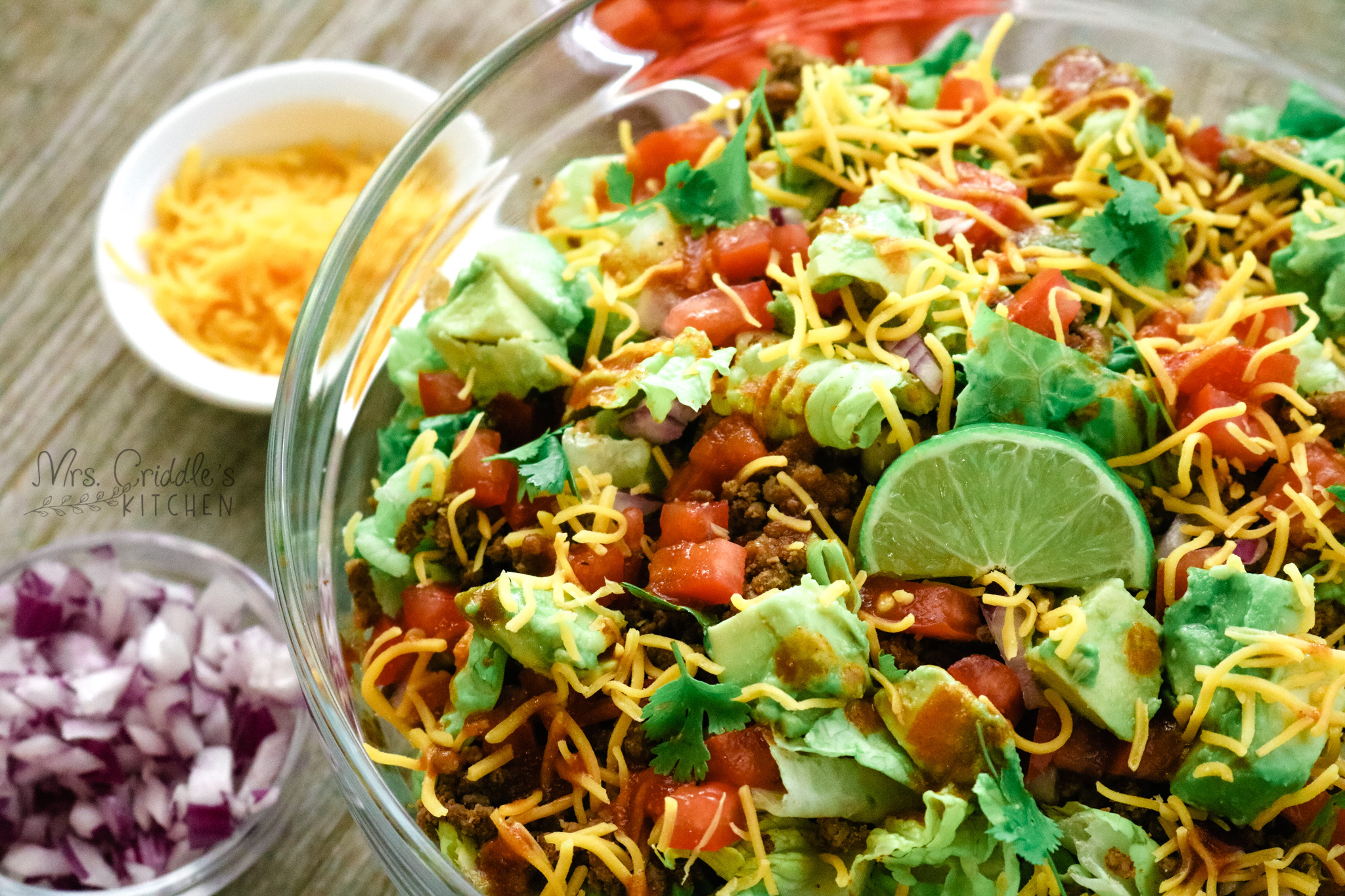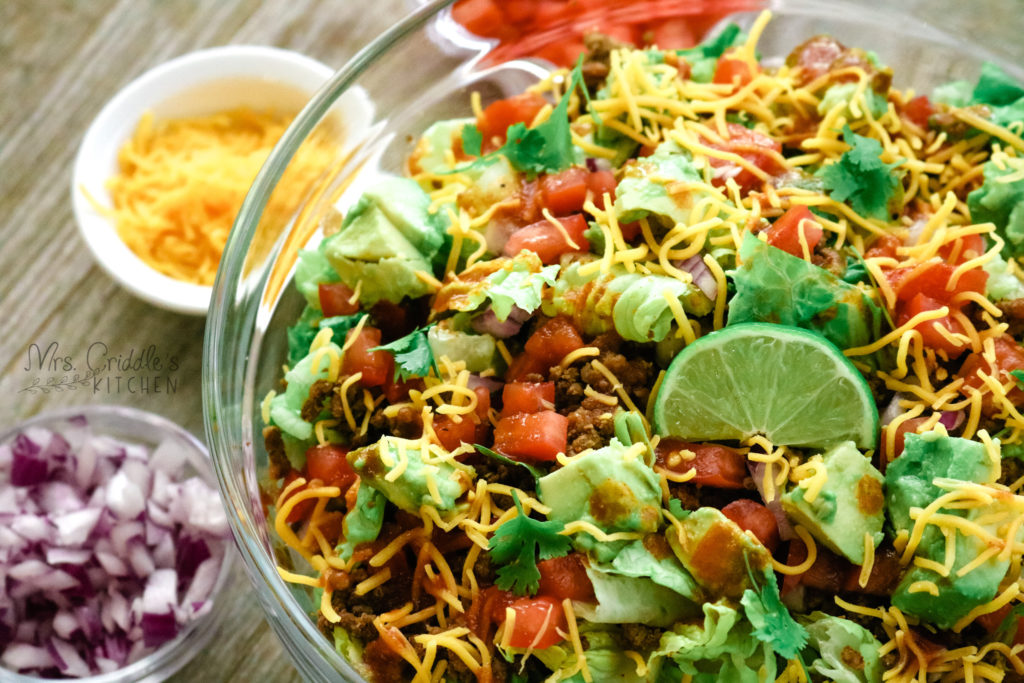 Who else loves a good flavorful salad? Yes, me too! This one is my take on the classic Frito Taco Salad except without the Fritos! Catalina Taco Salad combines both the sweetness from the Catalina Dressing with a regular Taco Salad for an incredible Tex-Mex creation. Have you tried the original?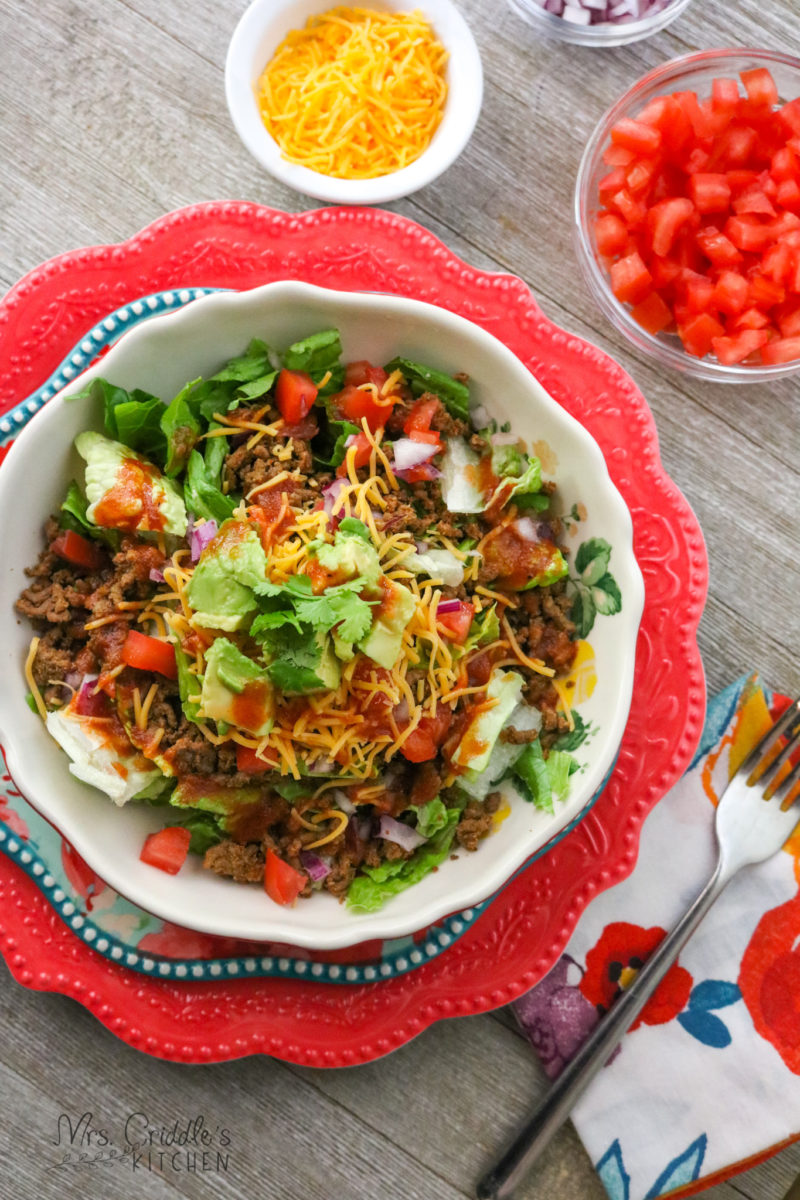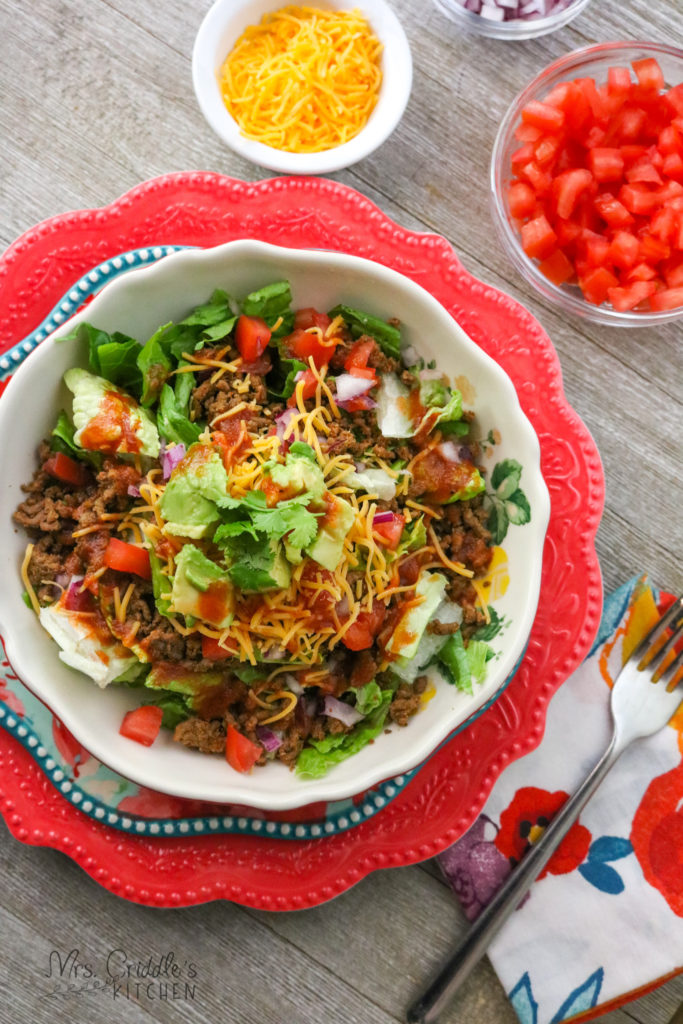 Thankfully this isn't just yummy to eat but oh so pretty and to me, pretty food just tastes better! Don't you agree?!
I kept this recipe really easy by using my Mealthy Multipot (think Instant Pot but even better). I placed my two pounds of frozen ground beef in the Multipot, added about 1/2 cup of water (never forget to add liquid to your Instant Pot or Multipot… it can mess up your appliance), pressed the meat button on medium high, and it was done. I mashed it up with a meat separator, drained it in a colander, running hot water over it to release excess fats and placed in a big bowl ready for my spices.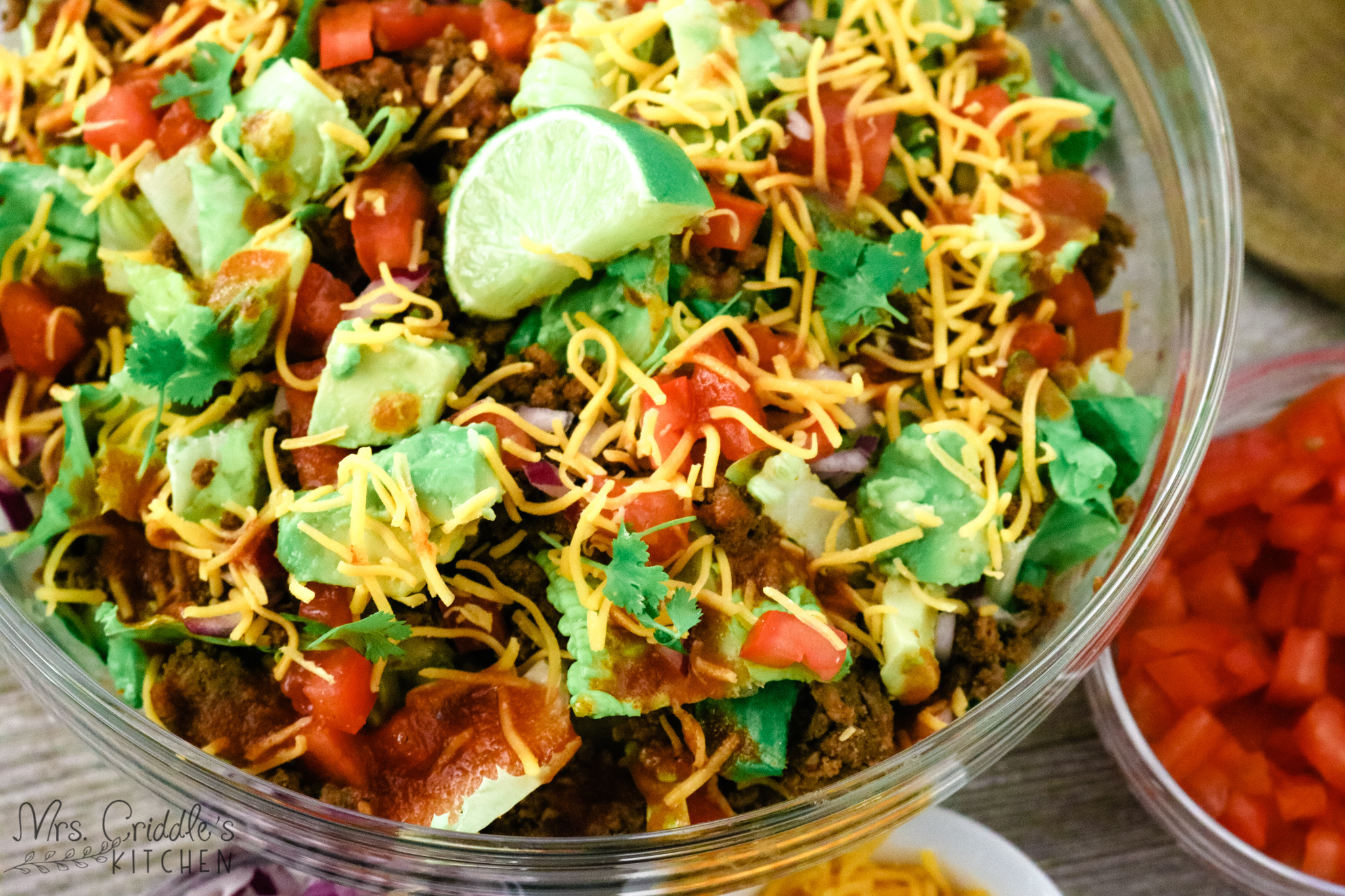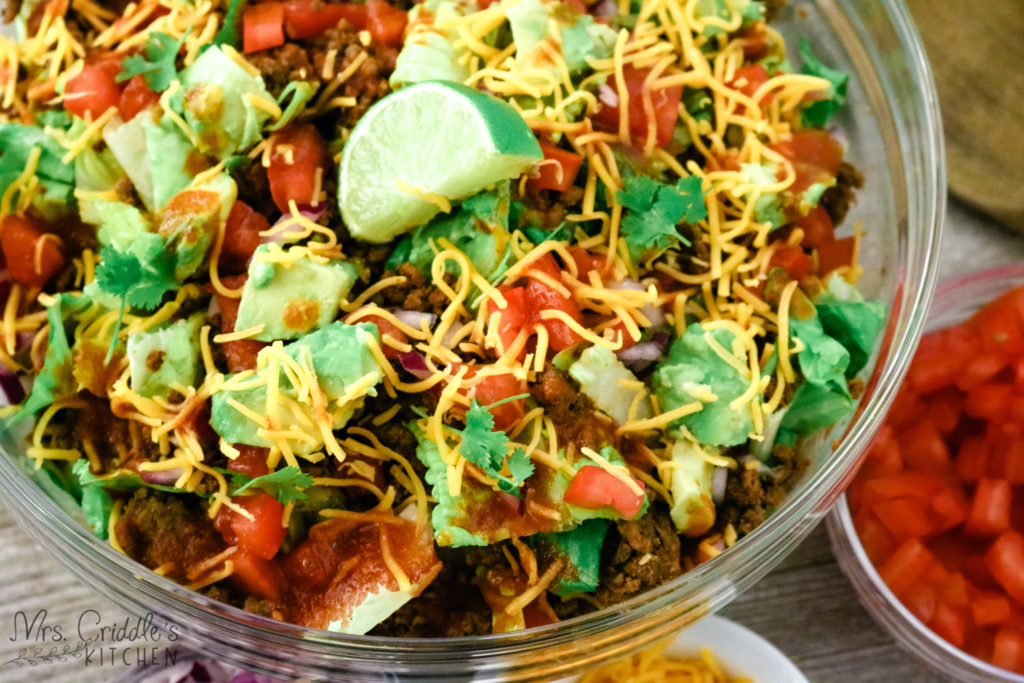 I never buy taco seasoning, ever! For one thing, its FULL of not-so-healthy ingredients and the other things is it's just too easy to make at home! You literally need spices your should have in your cabinet anyway…
Salt
Garlic Powder
Onion Powder
Cumin
Chili Powder
That's it! I use these ingredients for my tacos, taco salad, guacamole… although leave out the chili powder for guacamole.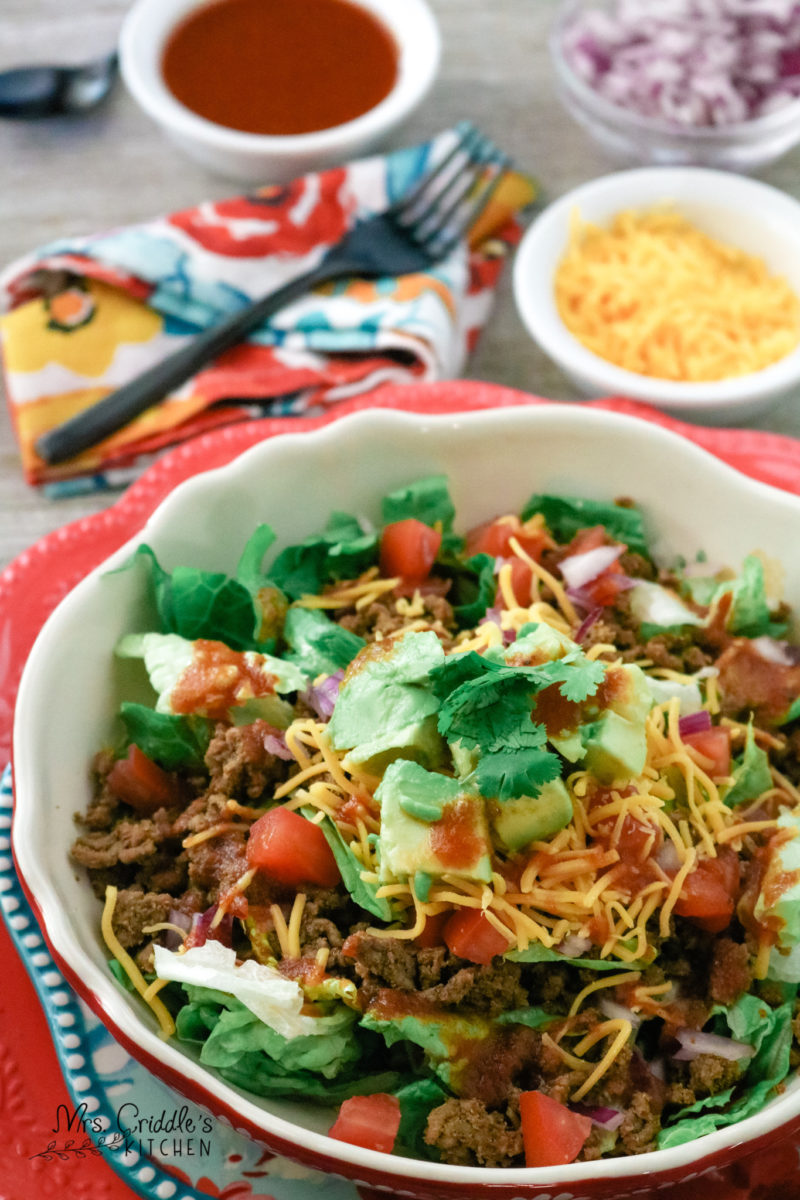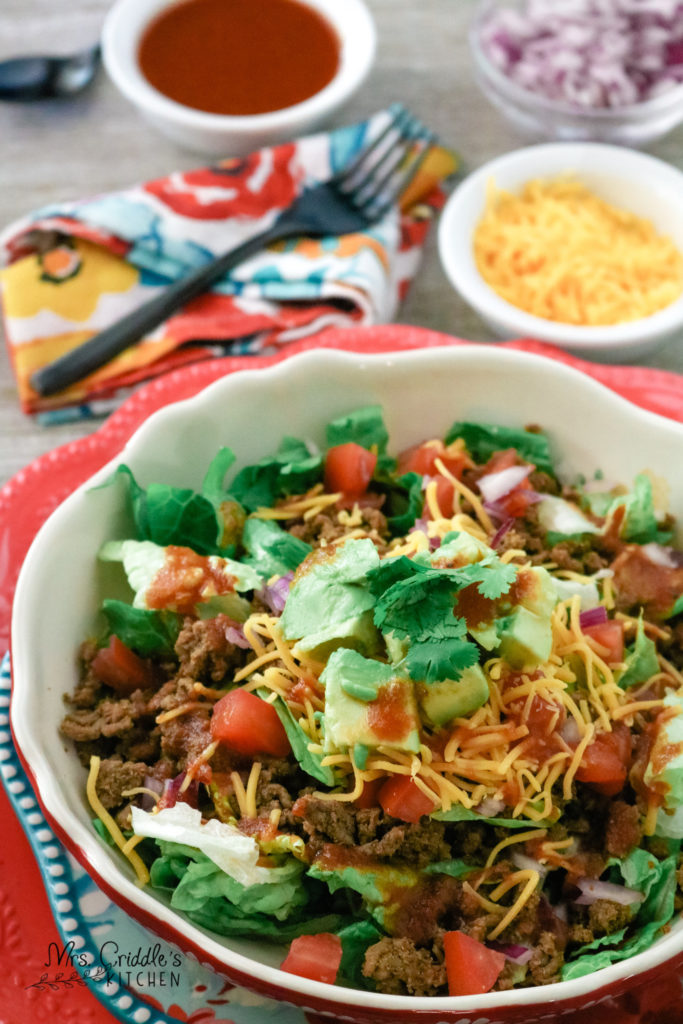 Next is the Catalina Dressing… you will want to make this and just go ahead and keep it in the fridge to have on hand for future salads. I just place the ingredients to this dressing in a mason jar with a lid and shake up. NO STIRRING REQUIRED! Dressings are another thing I rarely buy! Store bought dressings are usually loaded with sugar, etc. Homemade dressings are really just too easy to make at home and taste so much better than the bottled stuff.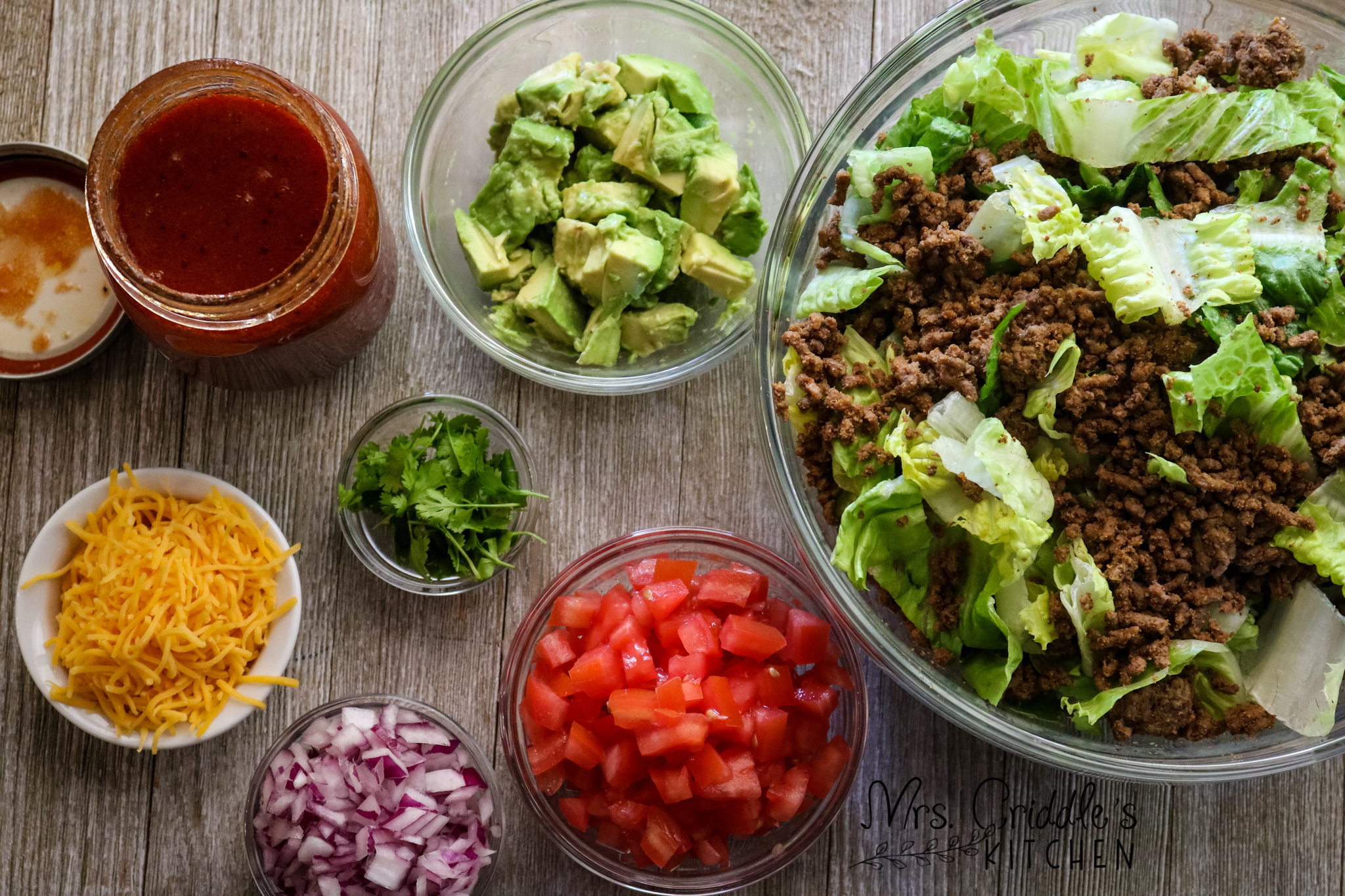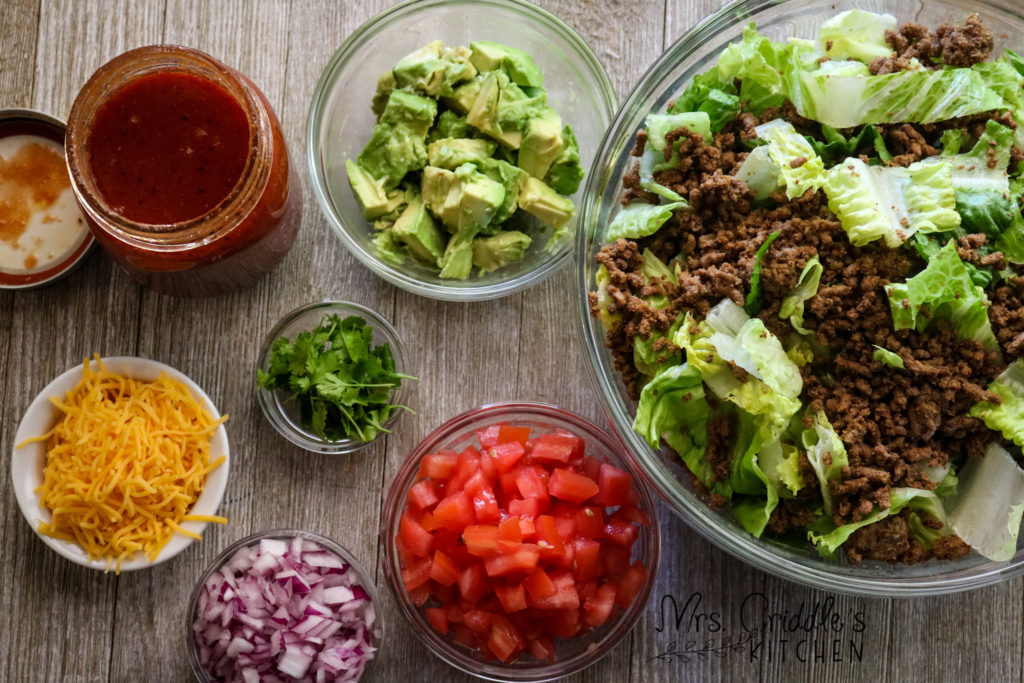 After you have seasoned the meat with taco spices and made the Catalina Dressing, you can assemble the beautiful salad!
For this I used: freshly washed crisp Romaine lettuce, red onions, Roma tomatoes, ripe avocados & cheddar cheese. You could also add black olives, red bell peppers, or green chili peppers as well.
This is different from the Frito Taco Salad because I did not include a chip for the crunch, to keep it low carb. But you could add black corn tortilla chips if you don't mind crossing over and to bring it closer to the classic recipe.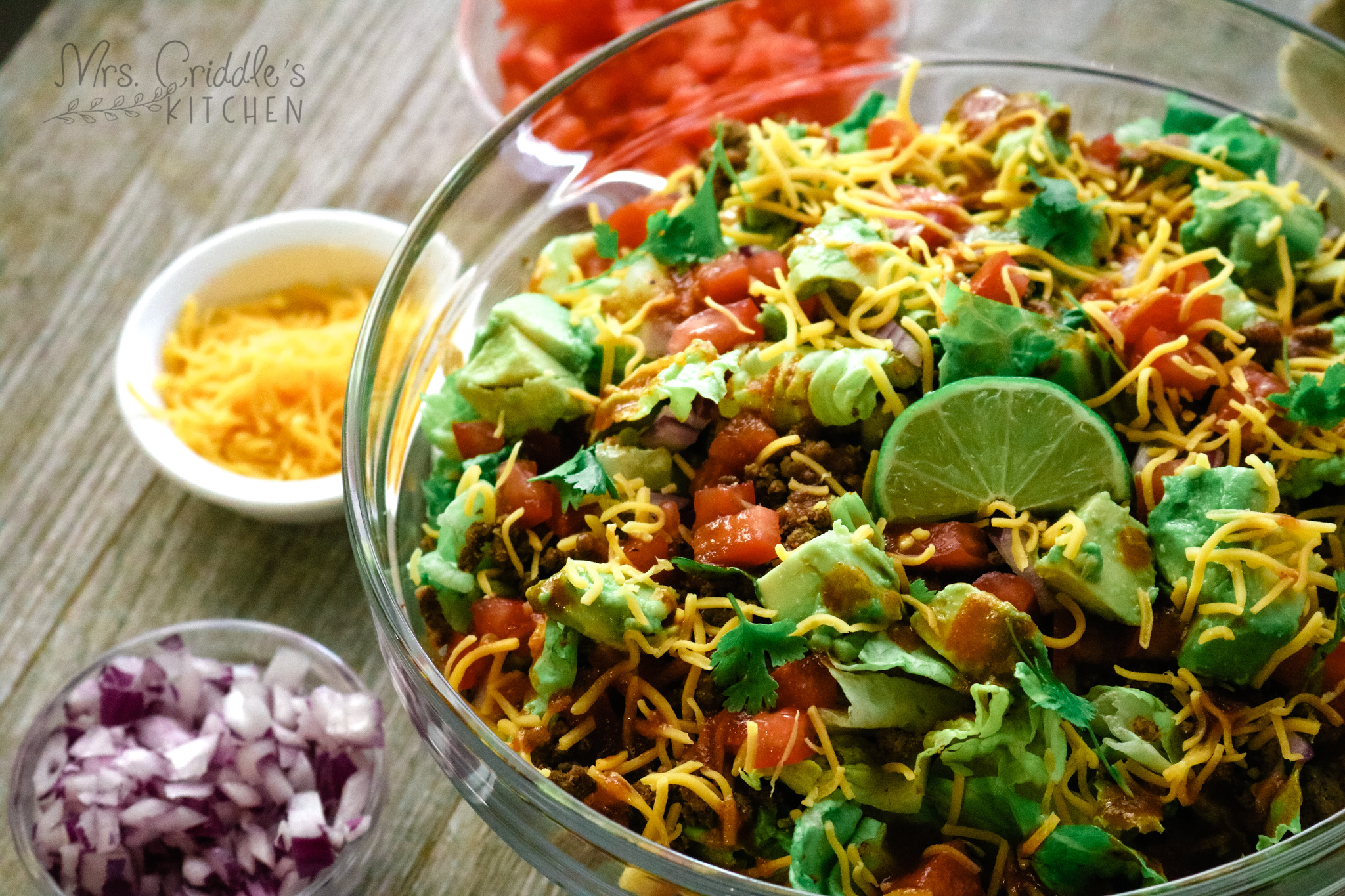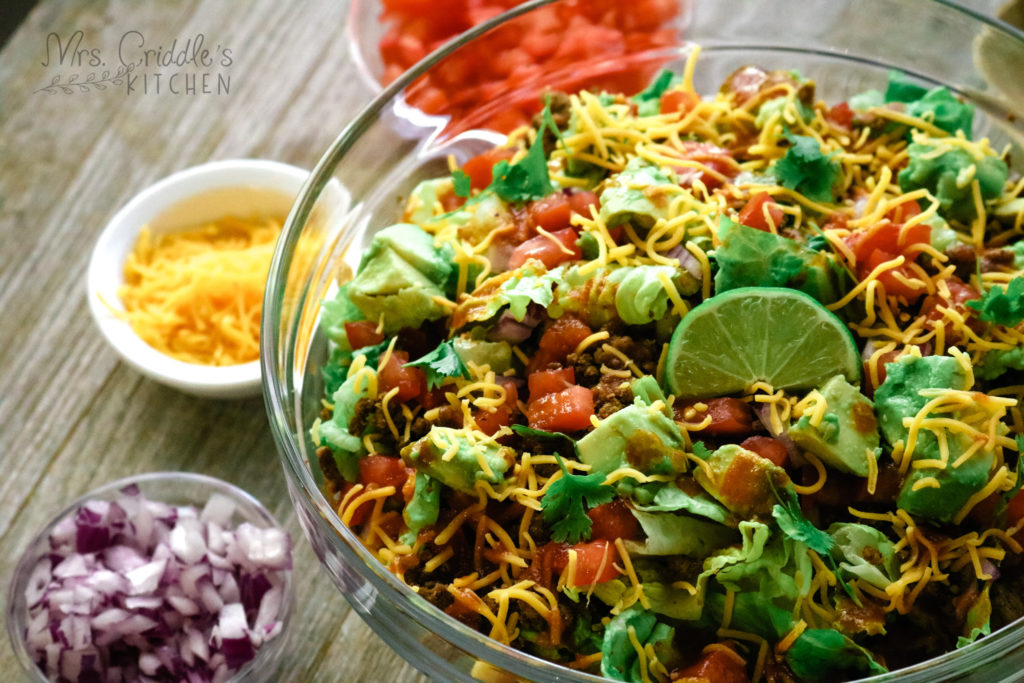 You can mix all the salad ingredients at once or you can make it individually as you go. Kind of like a taco bar… drizzling as much or as little dressing as you would like!
Hope you give this a try and tell me what you think!
Here are a few other recipes you might like:
Taco Salad Crunch (an E, low fat, higher in carb)
Affiliate links:
Print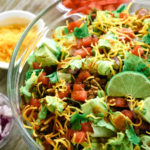 ---
Description
Catalina Taco Salad- my low carb take on this classic Frito Taco Salad with Catalina Dressing.
---
2 lbs of ground beef or ground turkey cooked with fat drained off
Taco Seasoning-
1 tbsp. of garlic powder
1 tbsp. of onion powder
1 tbsp. of chili powder
2 tbsp. of cumin 
1 tsp of salt
1 recipe for Catalina Dressing
2 large heads of romaine lettuce washed & chopped
1/2 of a red onion chopped in small pieces
1 or 2 avocados sliced (you can add a little lime juice to keep it from turning brown)
1 cup of cheese
2 roma tomatoes chopped in chunks
**Optional-
1 can of pinto beans drained
1 can of black olive drained
Blue corn tortilla chips
---
Instructions
Cook the ground beef or turkey in an Instantpotj or in a skillet.
Drain and rinse ground meat in a colander to remove extra fat.
Place in a large bowl, add the taco seasoning, and mix.
Make the Catalina Dressing recipe.
Wash, chop and dry the romaine lettuce.
Chop tomatoes, onion, avocados.
In a large bowl you can place the lettuce, meat, tomatoes, onions and cheese.
Drizzle dressing over and add avocados to the top.
Or you can make like a taco bar so each person can add the ingredients individually.
Enjoy!
---