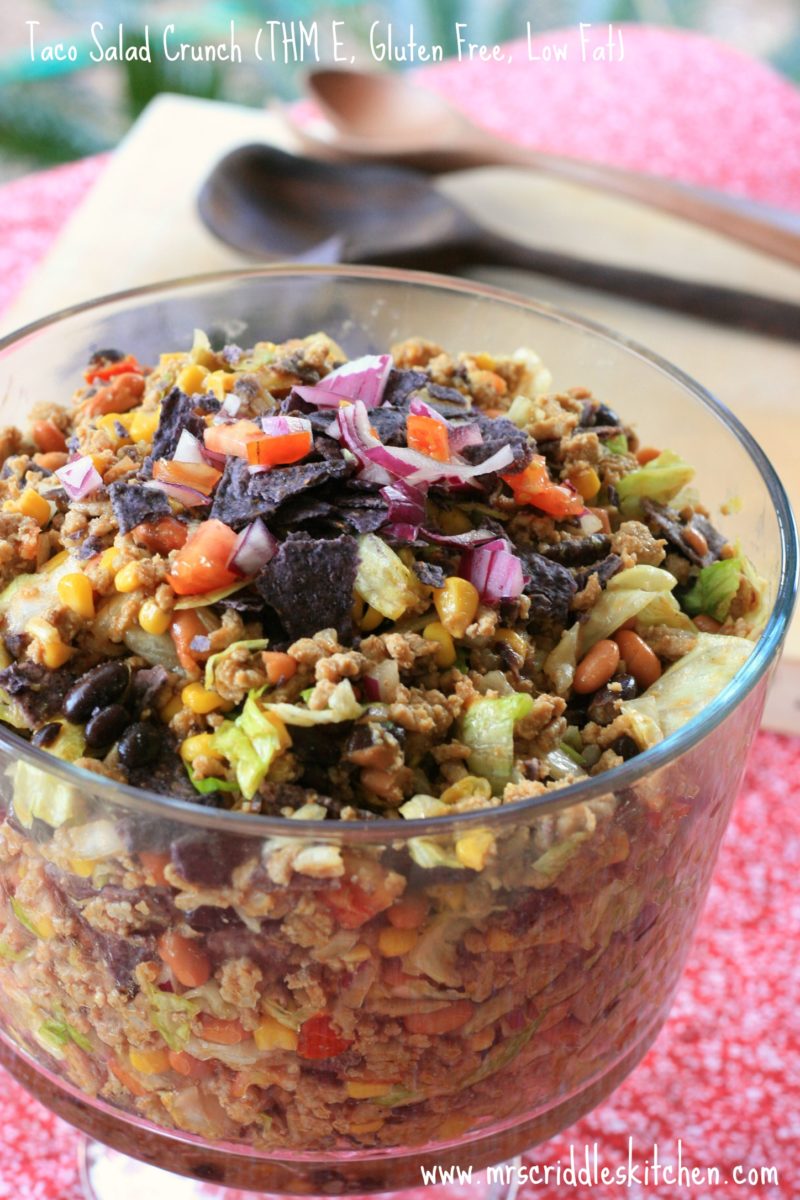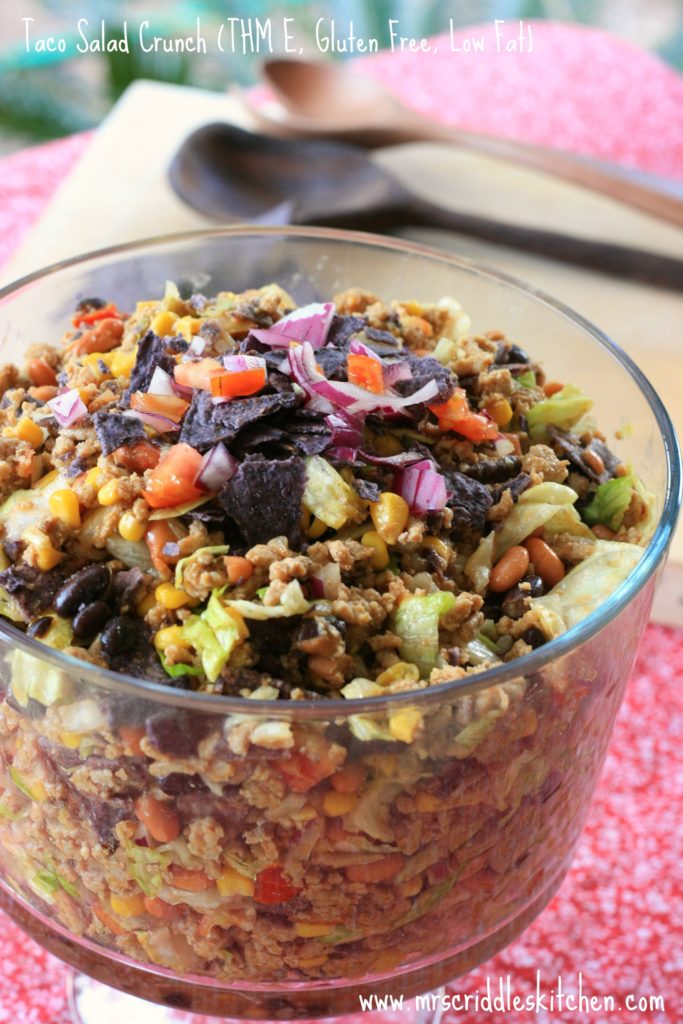 OH MY WORD! You must make this! I mean it!! For real!! Take My Word For IT!!!!!
I'll tell you how this came about… when I was about 14 I had a friend who's mom would make this Taco Salad whenever I came over. This taco salad was good enough for me to remember at 35 years old. The thing about it was that it had fritos in it and it had an Italian dressing. Crazy sounding but it totally worked and worked WELL!. WELL… I've been craving that taco salad from 21 years but seeing as I'm a Trim Healthy Mama how was I going to pull off the Fritos and the sugary Italian dressing… I pulled it off and PLEASE GO TRY THIS!!!!!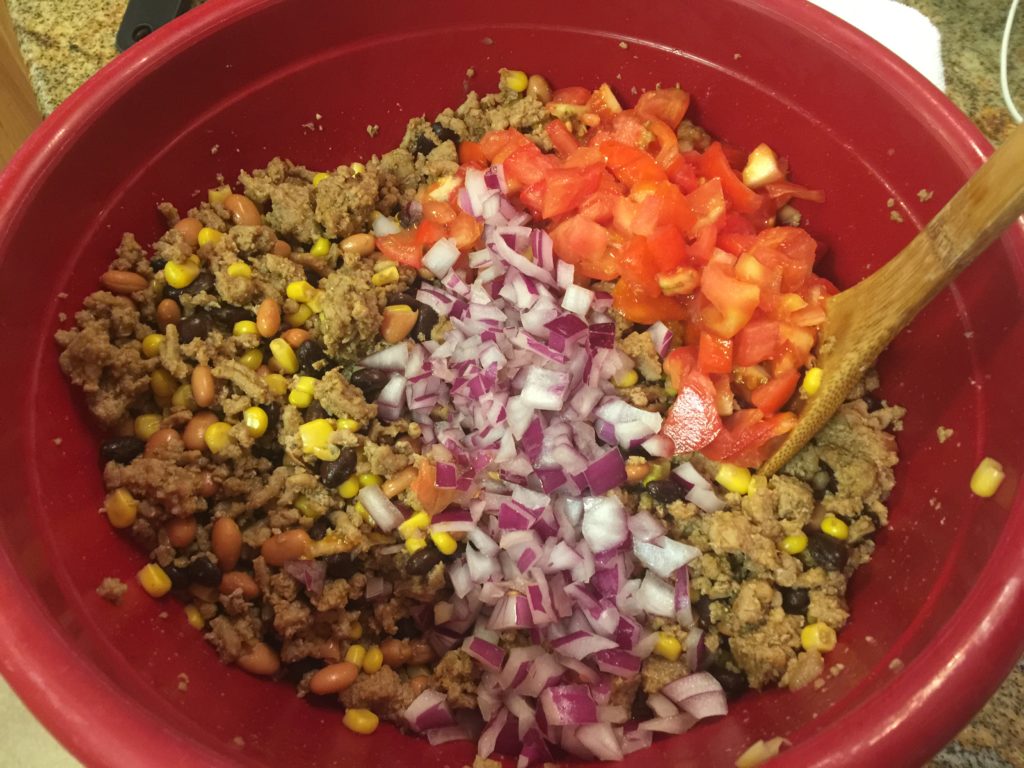 It's REALLY easy!!! I used lean ground turkey meat, black beans, pinto beans and corn. You can add more beans to make it less of a meat meal or you could even go completely meatless and this would work! If you don't want the corn leave it out! This is adaptable! I literally threw this together since the meat was already cooked and the salad was already chopped.. WOW delicious and EASY.. WINNER!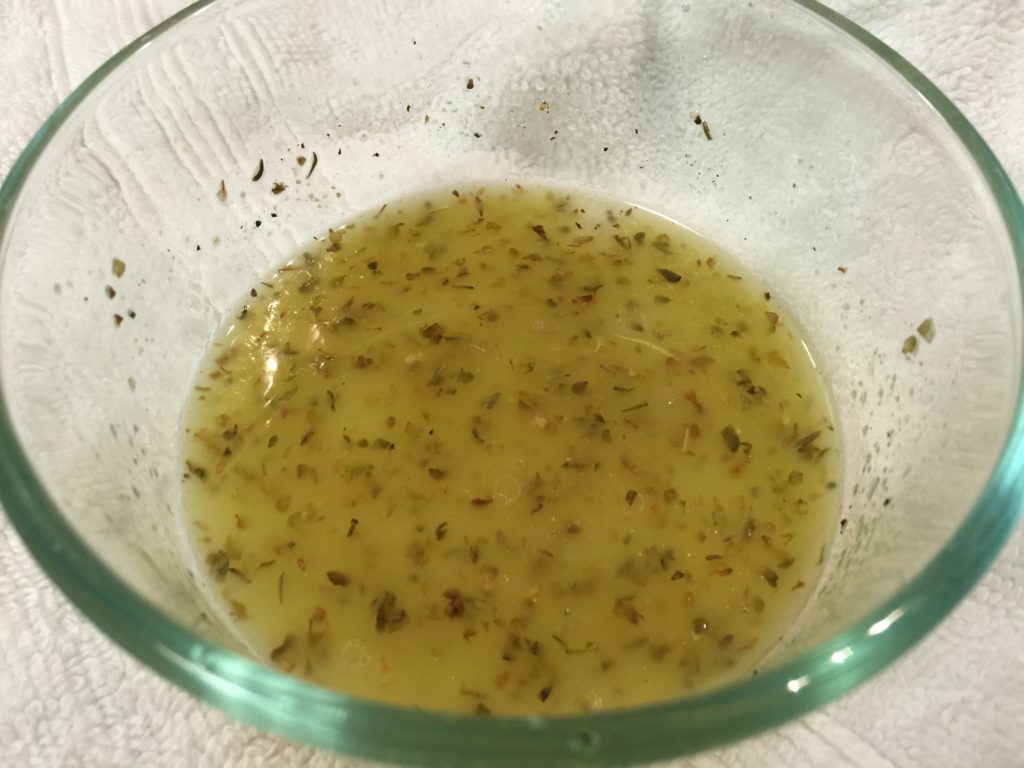 This is a HOMEMADE Italian dressing…. I made it with very simple ingredients! I am LOVING simple lately!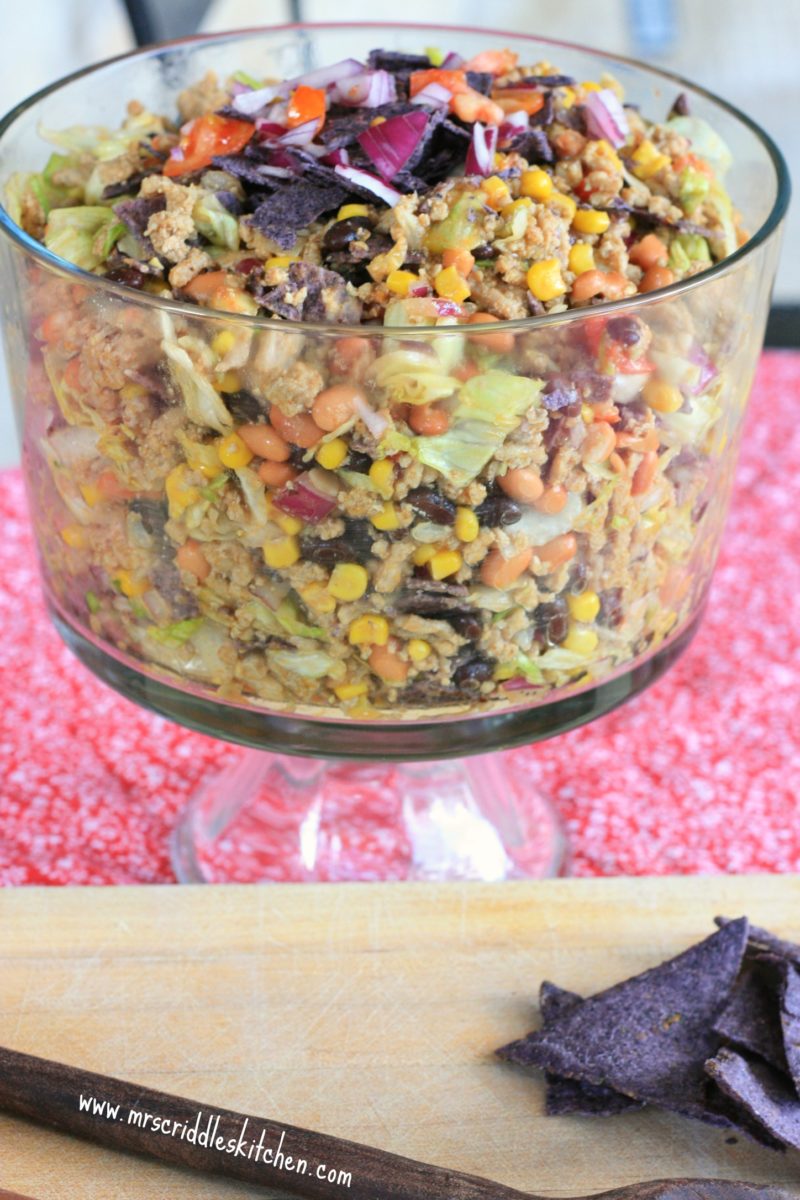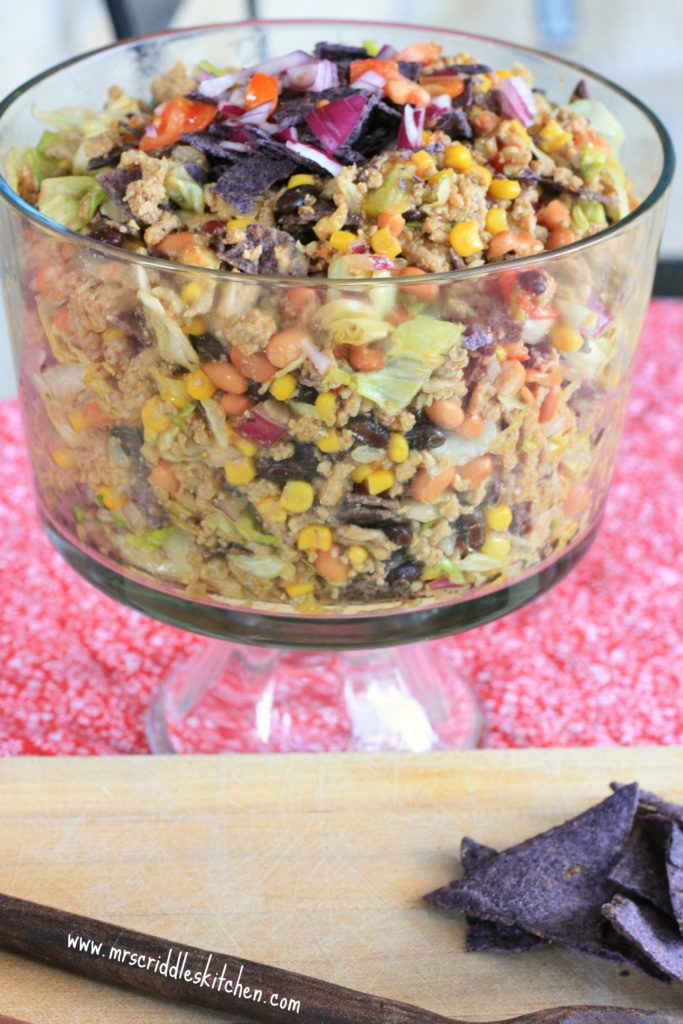 Add in crunchy baked blue corn tortilla chips… Simply mix everything together…. BAM! BEAUTFUL AND TOTALLY TASTY!!!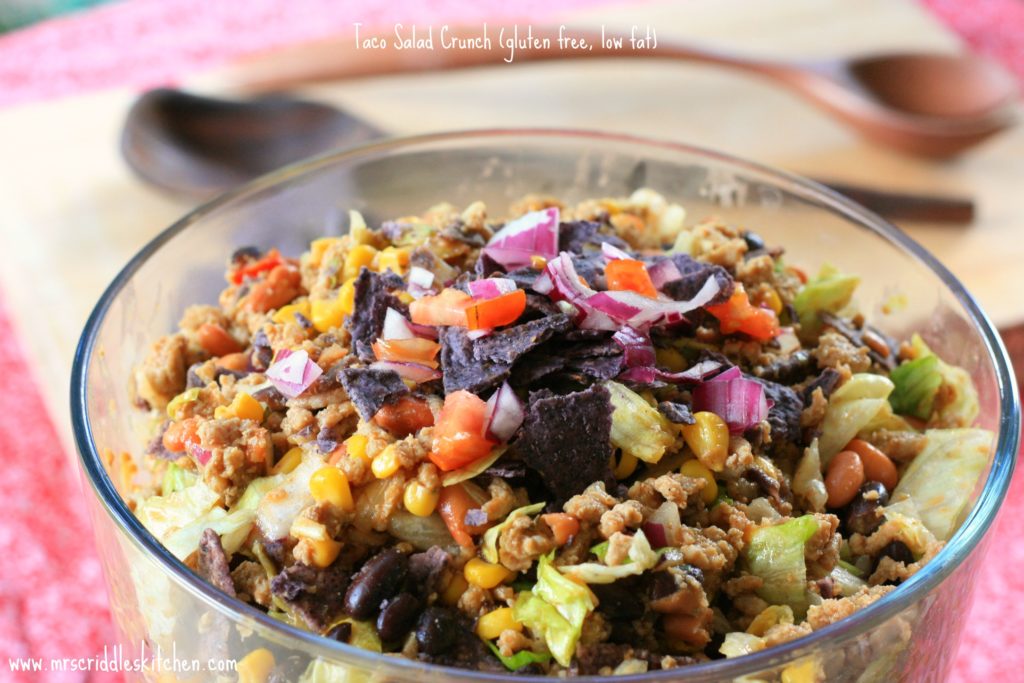 For Realz good! No cheese, low fat, perfect E meal for my Trim Healthy Mama buddies! Trim Healthy Mama has been my health lifestyle for the last 2 years now! I LOVE it!! If you want to get your trim on and get healthy doing it you need to check out the book Trim Healthy Mama! If you are interested in ordering the Trim Healthy Mama book or any of the amazing products that I use daily you can order —> HERE <— through my affiliate link (what money I make through my link helps support my blog so thank you in advance) Make this for church and you will have a following!
ENJOY This Perfect Summer Meal!!!
Print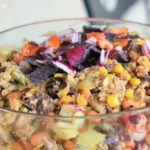 ---
Description
Taco Salad Crunch is NOT boring…. it's the full deal, flavor, crunch, beautiful! Low fat and gluten free too!
---
2

lbs very lean ground white turkey meat cooked
taco seasoning

3

tomatoes

1

can of drained black beans

1

can of drained pinto beans

1

can of drained corn

1/2

a head of lettuce

1/3 cup

of diced red onion

24

baked blue corn tortilla chips crunched slightly (if you do not have any of the baked blue tortillas you can toast up low carb or sprouted tortillas or Joseph Lavash Breads or Pitas or even add a few crunched Wasa crackers for that crunch)
Italian Dressing

1 tbsp

. olive oil (extra virgin)

3 tbsp

. white vinegar

1/2 tsp

of salt

1/2 tsp

garlic powder

1/2 tsp

dried oregano

1/2 tsp

of lemon pepper (or just plain pepper)

1/4 tsp

of THM Sweet Blend or 1/2 tsp truvia or Pyure Stevia (if using xylitol add

1 tsp

or if using liquid stevia add 1/2 a dropper full which is what I used)
---
Instructions
Cook the turkey meat and add taco seasoning.
All meat to sit and cool slightly.
Drain the cans of beans and corn.
Put ground turkey and beans and corn in a big bowl.
Cut up lettuce, tomatoes, & red onion.
Mix up the dressing.
Add the salad to the meat, beans, corn.
Mix.
Pour Dressing over and mix.
Add in the crunched chips and serve!
*** You could double the dressing and be ok too!
This should serve 6.
---
---