It's PEACH SEASON right now! I love peaches! Oh so much!
My parents came down to visit and brought me a BIG 5 Gallon Bucket FULL of peaches from their peach tree. Guys, these peaches are amazing! SO sweet and juice! Not extremely big but oh so good.
I kept thinking WHAT am I going to do with all these peaches??? I've never made peach jam. Or really any kind of jam but I had to do something.
Would this even work without all the sugar & pectin? I have been sugar free here since following the Trim Healthy Mama book. I use the THM Sweet Blend for most everything that requires sugar. It is a mixture of Stevia & Erythritol. Stevia comes from the leaves of a Stevia plant and Erythritol is sugar alcohol that has little to no effect on your blood sugar!
For my jam, I just needed it to be EASY! I am a mama of six, I do not have time to be at the stove for hours and hours. So basically here is my recipes for some of the best peach jam that-tastes-like-peach-cobbler-filling I've had! It probably goes against all rules of canning, lol. But it goes in the freezer, in my mason jars. When I am ready to use it, I will take it out, thaw it and eat it up!
Start by slicing the peaches up. Make sure you remove the seed. I cannot tell you how many peaches I actually used but I ended up with about 10 cups of peaches or more. I also did not peel the peached. I just sliced them up and threw them into my big ole cast iron dutch oven (I LOVE THIS THING). Here is what I used (aff link). Enameled Cast Iron Dutch Oven, 6-Quart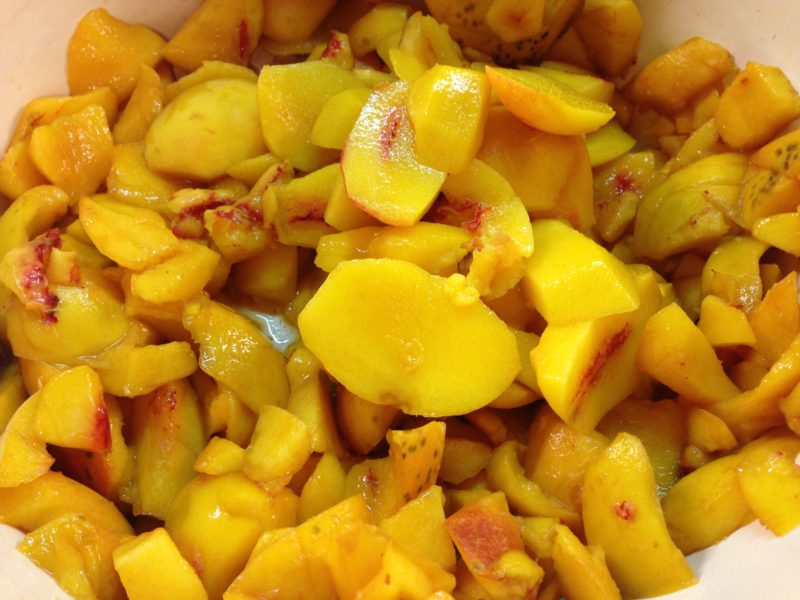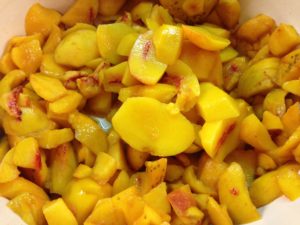 I cooked the peaches down. I did not add water, just the peaches.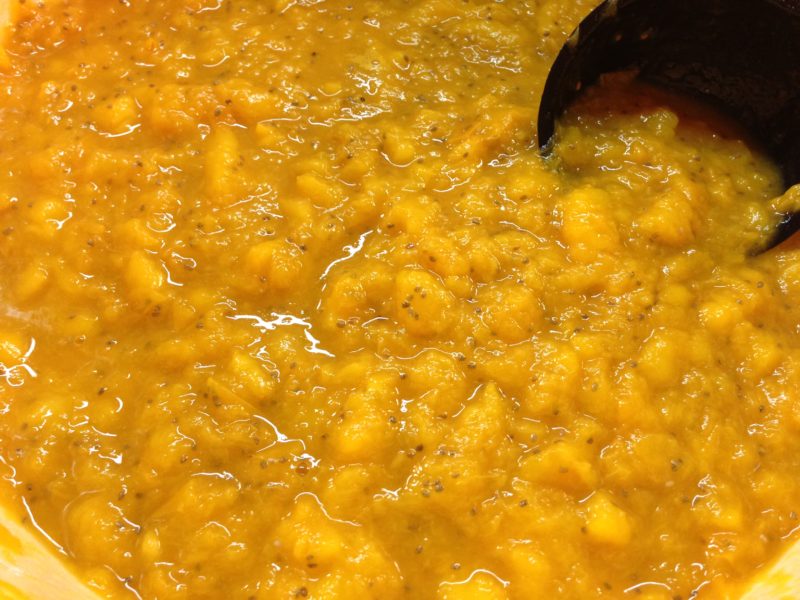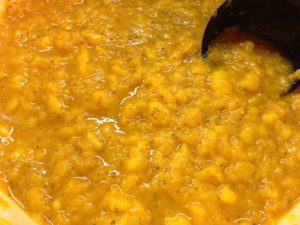 After they cooked for about an hour or so, I added the chia seeds, THM Sweet Blend, a little vanilla, and the juice of half a lemon. I used 2 tbsp. of chia seeds but if your peaches are still too liquidy add more chia seeds!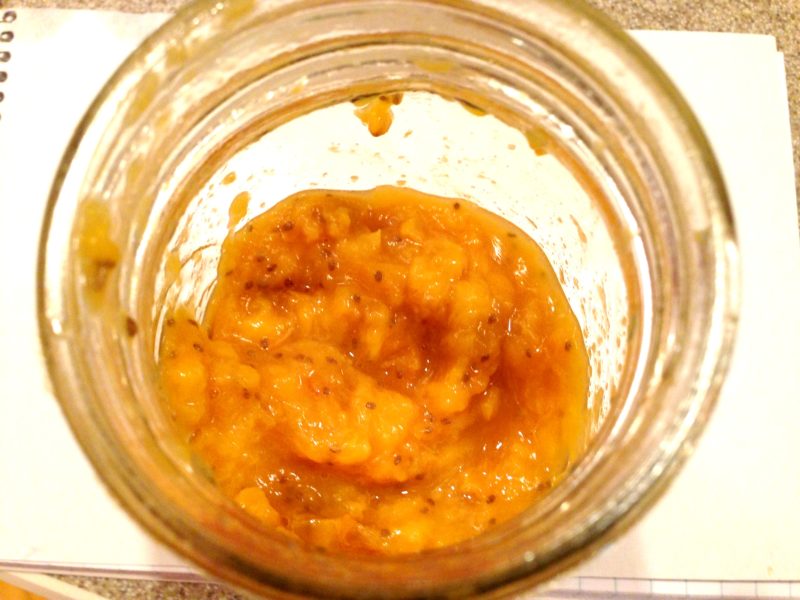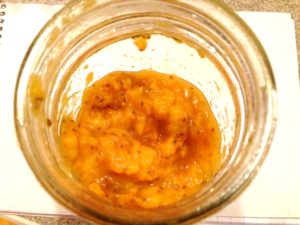 While the peaches were still hot, I filled up about 4 and a half mason jars.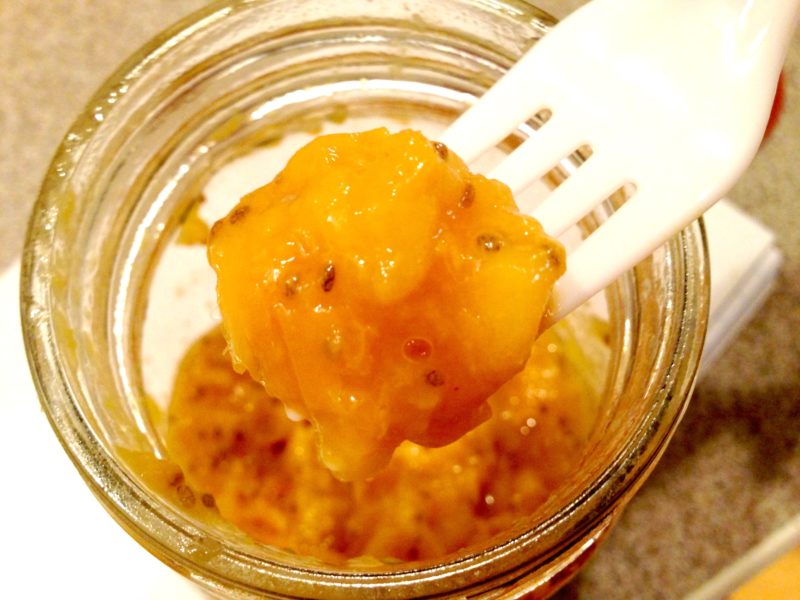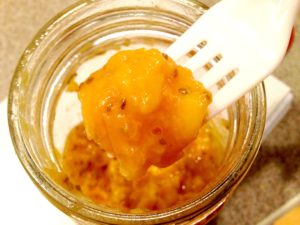 As soon as I put the lid on the filled jars, I turned the jar up side down. It created a suction and the little circle on the top sucked in. I read about this from this website: http://www.injennieskitchen.com/2013/08/easy-peach-jam/ and it worked perfectly! I am so excited! Now, I allow them to cool completely before putting my jars in the freezer.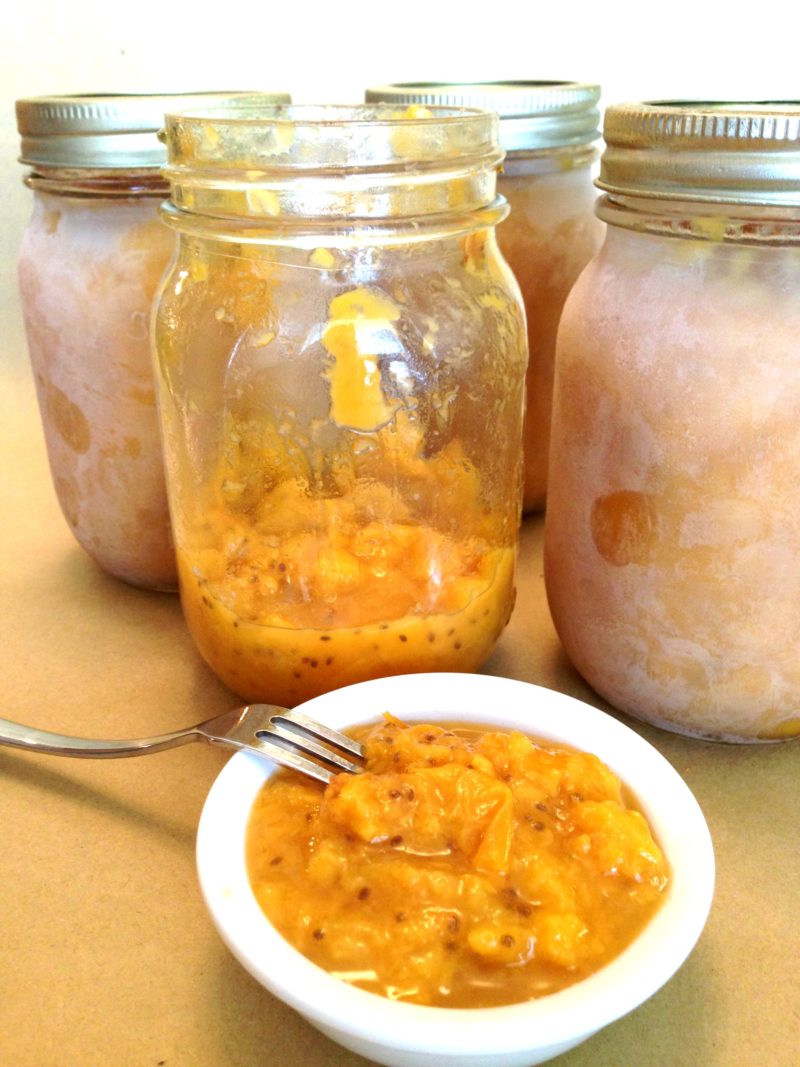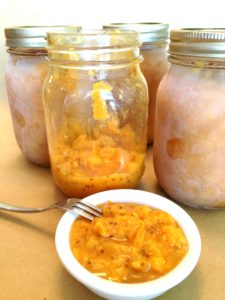 WOW, oh wow, I work this works out for you like it did me!! Just remember this is FREEZER PEACH JAM, I don't think it would last in your pantry. It needs to be frozen. Then I would just allow it to thaw in your fridge! I don't think it will take you long to use it up! We ate a whole jar in one day!
Now for my THM buddies this jam is an E! So yummy!! ENJOY!!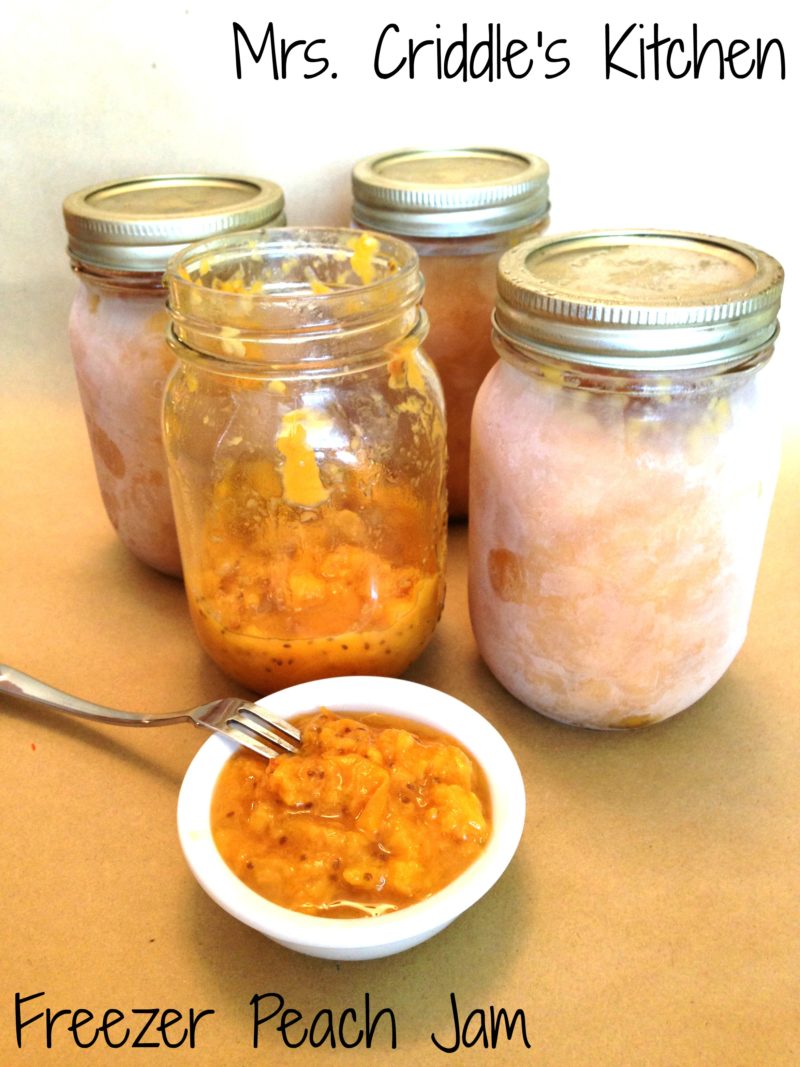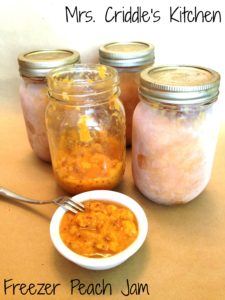 Print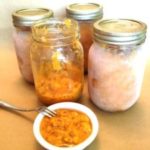 Freezer Peach Jam (Sugar Free)
---
Description
A sugar free peach jam that tastes like the filling of a peach cobbler! And it won't give you that "sugar crash"!
---
10

–

12

large Peaches or enough for at least 8 to 10 cups of peaches, sliced and seed removed (you do not have to peel)

2 tbsp

. chia seeds (more if peaches are too liquidy)

2 tsp

of THM Sweet Blend (that's all I needed but use more if you like it sweeter, or use

1 tbsp

. Truvia or your favorite sweetener)

2 tsp

Mexican vanilla (or your favorite, this is optional)
Juice of

half a

lemon (less if you don't want it too tart)
A couple shakes of salt

5 pint

size mason jars
---
Instructions
Slice and deseed the peaches.
Place in a big pot or dutch oven.
Cook on medium.
When the peaches begin to get liquidy, use a hand masher and mash them up.
Let them cook down for an hour to an hour and a half ( you can go longer if you want).
Add the seeds about 45 minutes into the cooking process.
Add the sweetener, lemon juice and vanilla.
Mix.
Add the hot peach mixture to clean pint size mason jars.
Put the lids on and tighten.
Turn the jars upside down.
Allow those to sit until the jar is at room temp.
They should have a suction and seal.
Place in the freezer what you don't use right away!
---