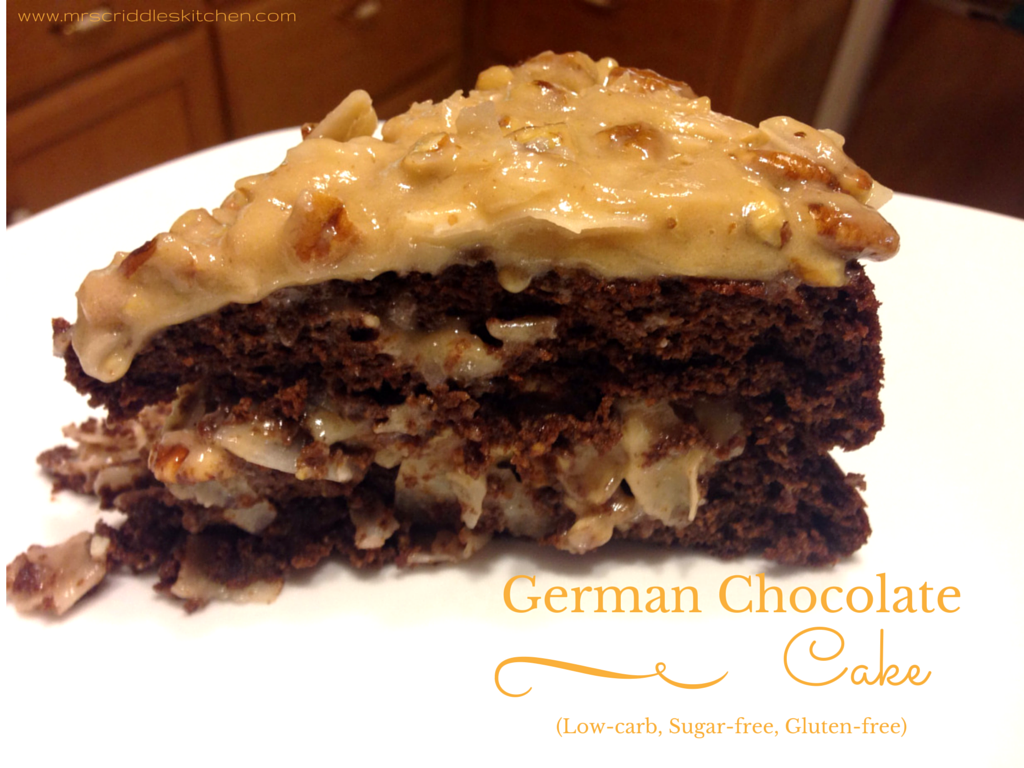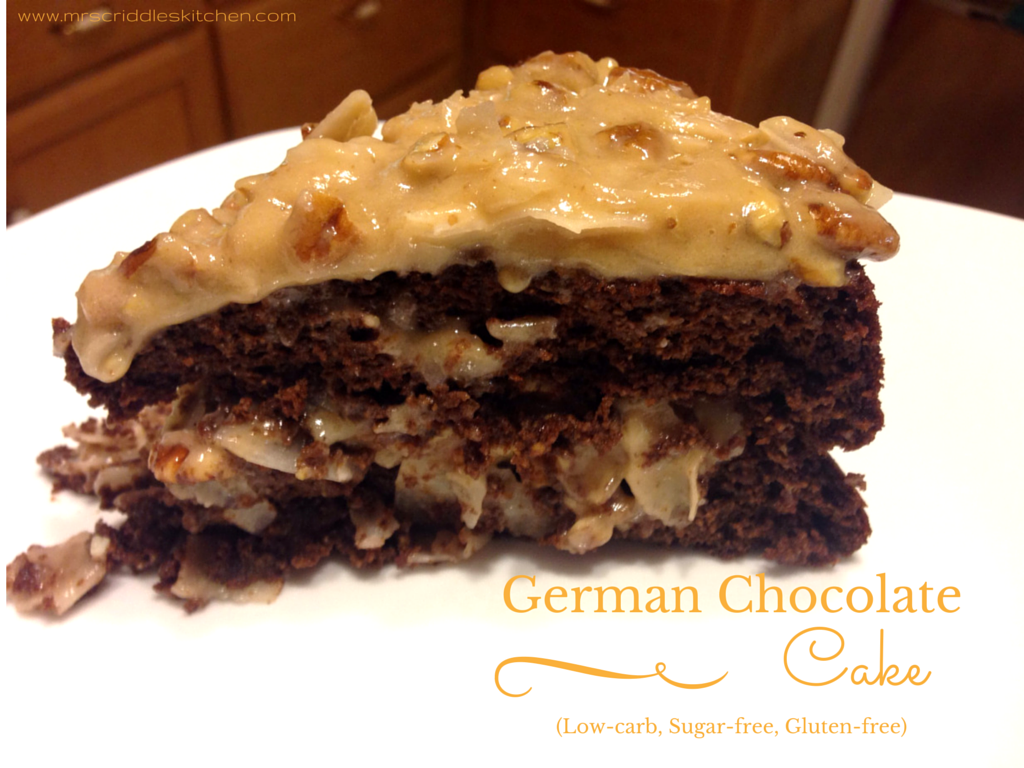 (This post contains AFFILIATE links.)
My husband recently challenged me to make him a Trim Healthy (MAN) German Chocolate Cake with Icing for his upcoming birthday (Ok not till April). I accepted his challenge… reluctantly though. I had a couple ideas flashing around my head but I knew it needed 1. to taste amazing 2. be moist 3. the icing had to be spot on. German Chocolate Cake is my husband's favorite. And I have never ever seen one that is "ok" to eat but you are staying away from sugar and "white flour". I think I might have nailed this one!
Ok, now that I got that out of the way… let's begin.
Melt your unsweetened chocolate with the greek yogurt & almond milk (I used 0% Greek Yogurt & Unsweetened Vanilla Almond milk to keep the cake part a little lighter because of the almond flour and I wanted to use the more "fattening stuff" for the icing) in a sauce pan. The greek yogurt was to replace the butter milk… but it does not take away from the taste… in fact it adds that buttermilk tang! 🙂
**If you would rather do this quickly you can simply place the almond milk and chocolate in a glass bowl and microwave for 1 minute. Take out and stir. Microwave 30 seconds at a time longer if you need to. Mix the greek yogurt into the melted chocolate mixture!

It will blend together well until it looks like this:


But do not boil, just melt on low heat. Once melted and mixed well, take off the heat.
Get your other wet ingredients together. Cream your butter, sweetener, & vanilla. Add your eggs in.

Spray two 9″ round cake pans, then put a round piece of waxed paper at the bottom & spray again. I use the Organic Coconut Oil cooking spray from Trader Joe's. LOVE THAT STUFF!!
**If you would rather not do two separate baking pans just do a 9X13 pan but spray well. You won't have to line it if you plan on keeping it in the glass pan to serve. If you do want to serve it out of the pan then definitely line it.
Slowly pour your yogurt chocolate mixture in the creamed butter/sweetener/eggs/vanilla.

Get your dry ingredients together. I used the Almond Meal instead of almond flour because I get it cheaper than anywhere at Trader Joe's and it really doesn't make that huge of a difference to me.
Pour evenly into the two sprayed cake pans. And bake. Doesn't take too long to bake them both so keep watching.

Cakes are done. They are not hugely puffed up but it made a perfect layer for me!!

Icing time!!!
Melt your butter, add your heavy whipping cream, sweetener. Mix well.

Get together your nuts and coconut. I used unsweetened shredded (but they were not as shredded as I would have liked) coconut.

Whisk up your egg yolks. Very Slowly pour your heated cream mixture (about 1/2 a cup) into the egg yolks while you whisk. Pour the cream/egg mixture back into your pan with the rest of the melted butter/cream. Whisk continually. Make sure your heat is turned down. When it thickens up, remove from the heat (this took me around 5 minutes to get it thickened up). Add your vanilla.
Add the icing ingredients to the nuts/coconut and mix well. THIS IS SOOOOOOO GOOD!!!
This just makes enough to cover both tops of the layer of cake so make more if you want to ice the whole cake.

SLICE IT UP!!!!!!! This is an S dessert! I would use the icing alone to make all sorts of yummy desserts. That icing is totally a keeper. And the cake would be good as a chocolate cake. If you are interested in learning more about my Trim Healthy Mama lifestyle and what it's about please visit: www.trimhealthymama.com
To purchase THM Gentle Sweet please visit my affiliate link here… THM GENTLE SWEET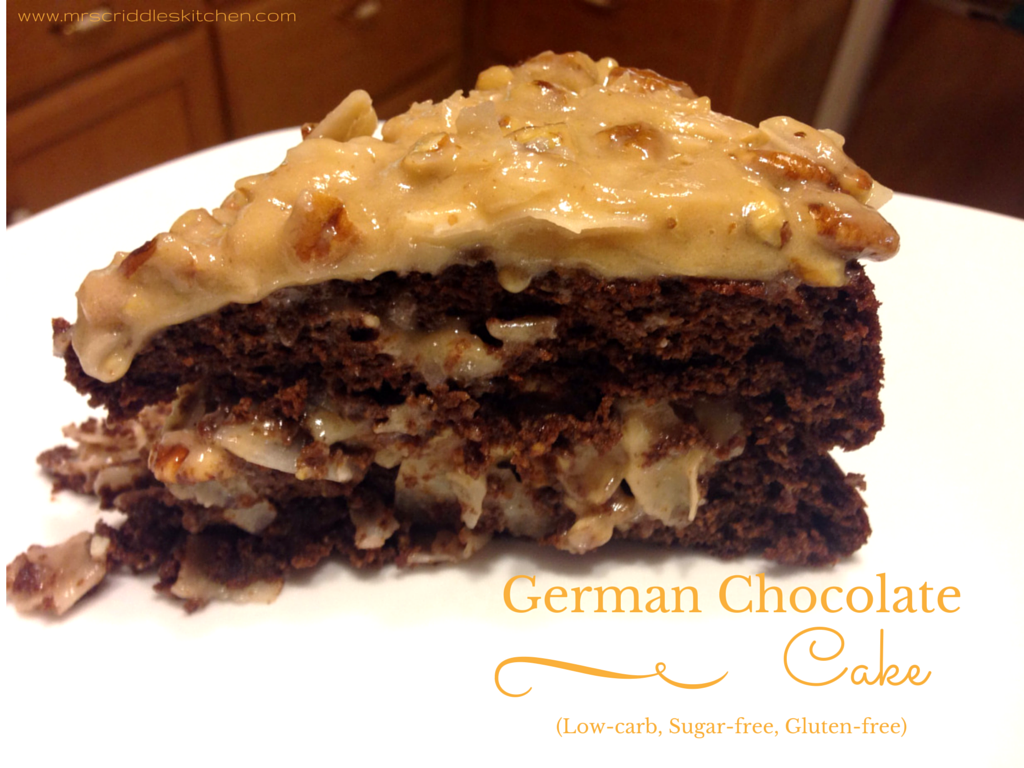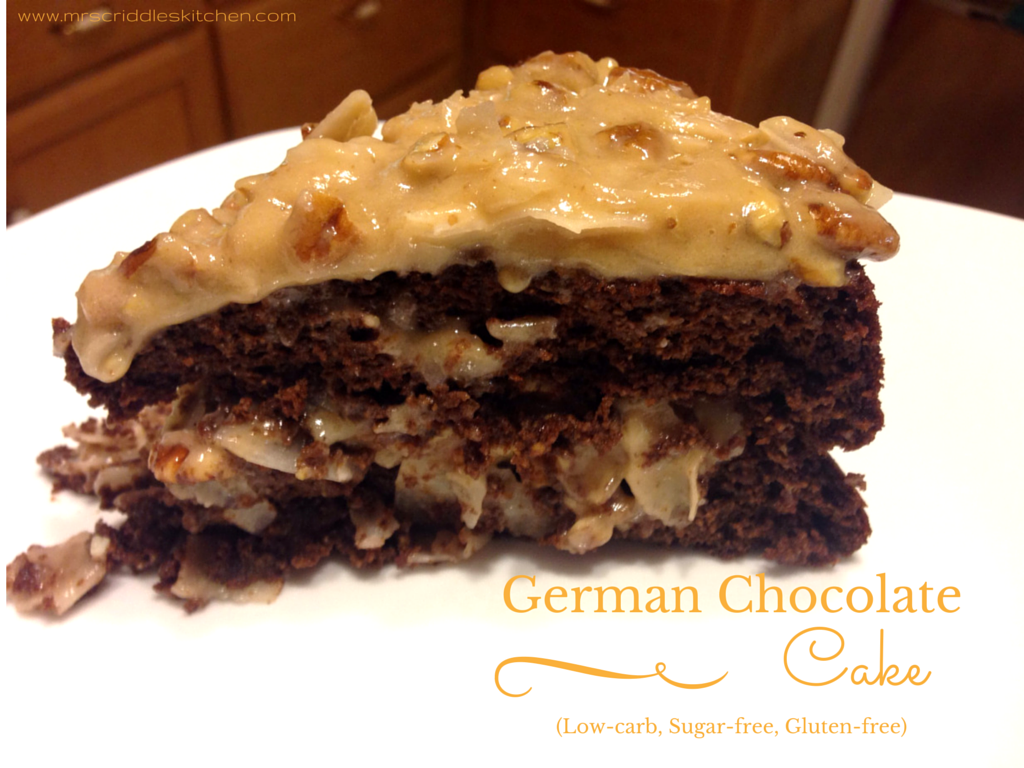 Print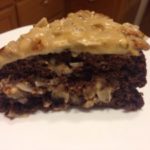 German Chocolate Cake (low-carb, sugar-free)
Author:

Cook Time:

30

Total Time:

30 minutes
---
Description
A low-carb, sugar-free German Chocolate Cake that tastes amazing!!
---
Cake Batter
1

–

4

oz bar of unsweetened chocolate

1 cup

of 0% Greek Yogurt

1/2 cup

almond milk

1 cup

of THM Gentle Sweet (if you want to use THM Super Sweet Blend try less than half the amount)

1 cup

of room temp unsalted butter (

two

sticks)

5

eggs room temp

2 1/2 cups

of almond flour or almond meal

1 tsp

baking soda

3/4 tsp

baking powder

2 tsp

vanilla

1/2 tsp

salt (or your preference)
Icing
1/2 cup

of unsalted butter (

one

stick)

1 cup

of heavy whipping cream (you could possibly use half & half or almond milk but I have not tried this)

1/2 cup

of THM Gentle Sweet (try

1/4 cup

of THM Super Sweet Blend if using that)

5

egg yolks slightly whisked

1 tsp

vanilla
a pinch of salt

2 cups

of unsweetened shredded coconut

1 1/2 cup

pecans or walnuts
---
Instructions
Preheat over to 350 degrees.
Grease two 9″ round baking pans or one 9X13 baking pan.
Line the two round pans with waxed paper and spray/grease.
Melt the chocolate bar, almond milk, and greek yogurt together on low heat until blended.
*You can also do this quickly in the microwave.
In you mixing bowl cream the butter, vanilla and sweetener until combined.
Add eggs in one at a time.
Add in the almond flour and baking powder, soda and salt.
Slowly pour the chocolate mixture and mix well.
Pour evenly into the round baking dishes (or 9X13 pan).
Bake in the oven for 25-30 minutes (if you need to go longer try 5 minutes at a time).
Once the cakes have cooled, place a plate or a cake platter over the top of one of the cakes, flip and the cake should come out.
Pull the liner off.
Icing
In a bowl pour the nuts and coconut. Set aside.
Melt butter and sweetener in a sauce pan on medium heat.
Add the heavy cream and mix.
In a separate bowl whisk your egg yolks.
Slowly pour a little of the heated milk mixture into the eggs while whisking to temper the eggs.
This will allow the eggs to temper so the yolks do not scramble in the heated milk mixture.
This is a very important step.
Once eggs are tempered pour the milk/egg mixture into the rest of the butter/milk mixture on the stove while whisking.
It takes 5 minutes or more on low/medium heat to thicken the egg mixture.
Do not boil.
Once thickened add in the vanilla.
Pour this mixture over the nuts and coconut.
Mix well.
Pour half on one of the cake layers already on a platter.
Place the other cake on top of the icing and remove the liner.
Pour the rest of the icing on the top of the cake.
This serves 8-10 people!
Enjoy!!
---
---