A Beautiful Red, White & Blue Trifle with a low carb yellow cake base, fluffy white whipped cream, and red & blue berries!
(This post contains affiliate links from Amazon & Trim Healthy Mama.)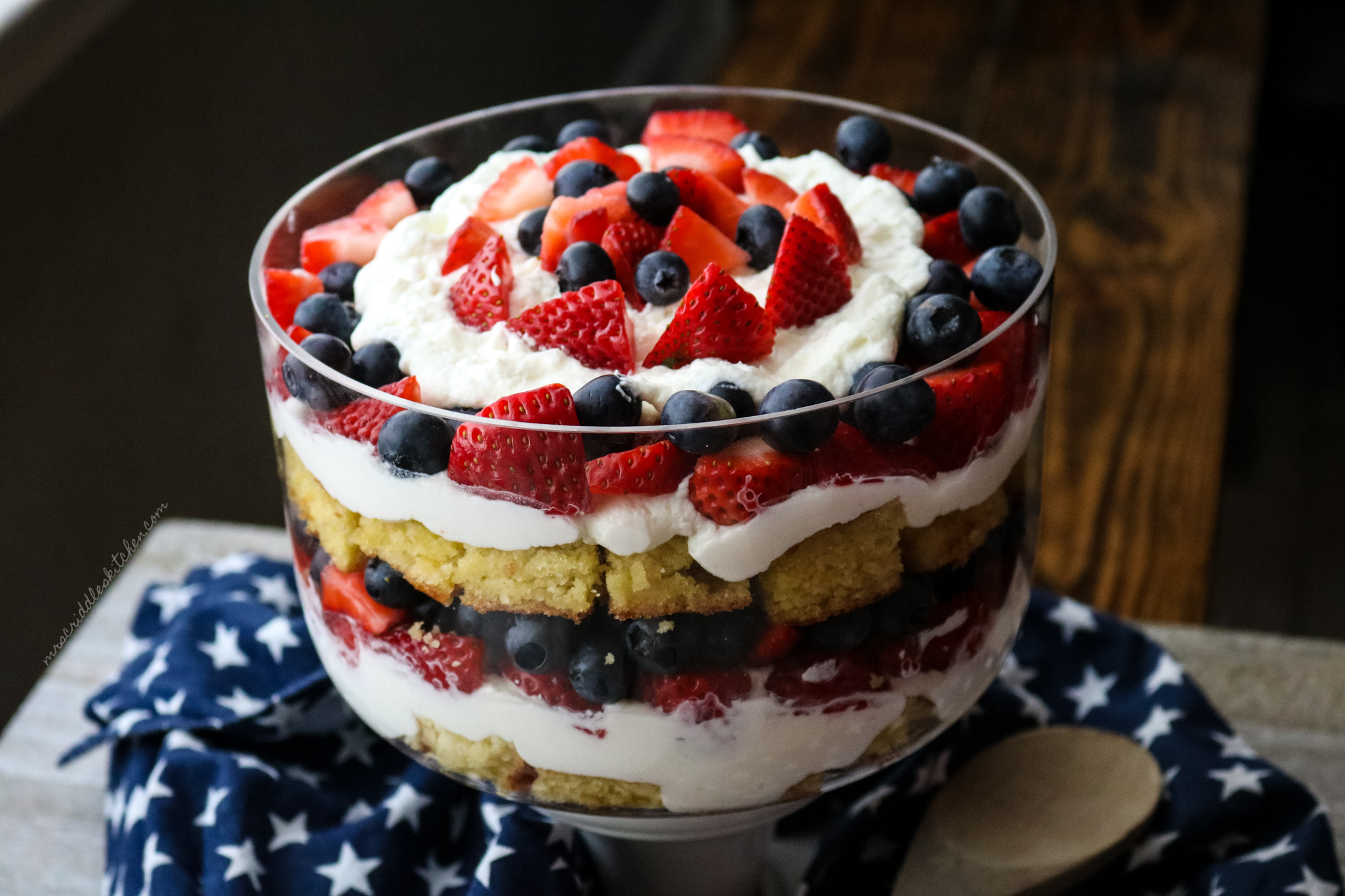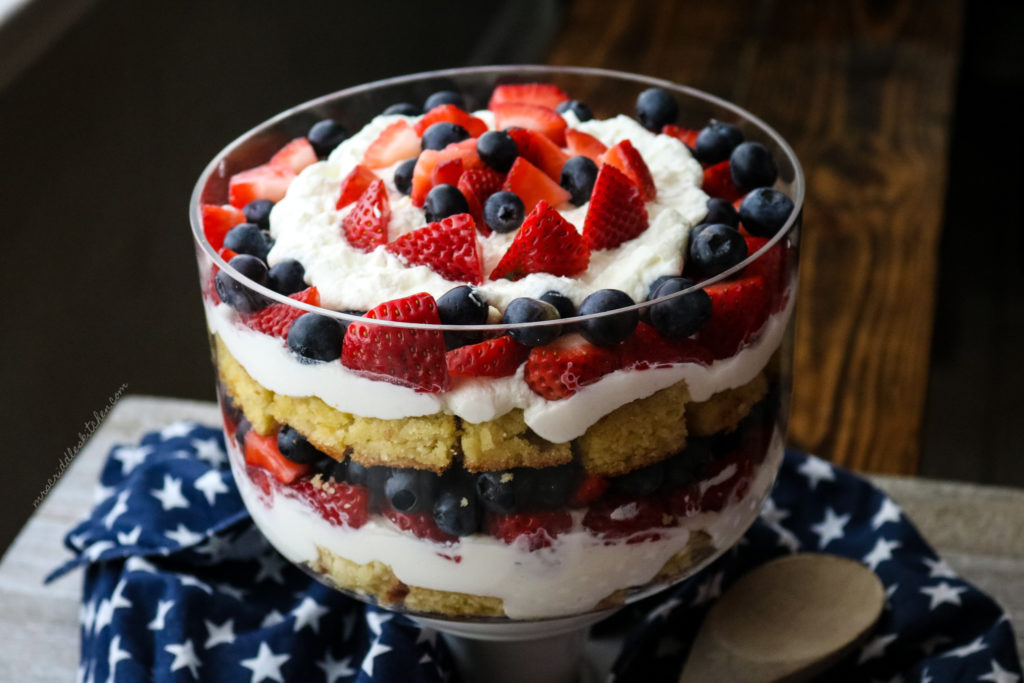 Who doesn't love a Trifle, especially a sugar-free Trifle. They are just a fun, festive desserts to take to an event or party! With both Memorial Day & Independence Day right around the corner, I thought this low carb Red, White & Blue Trifle was just perfect!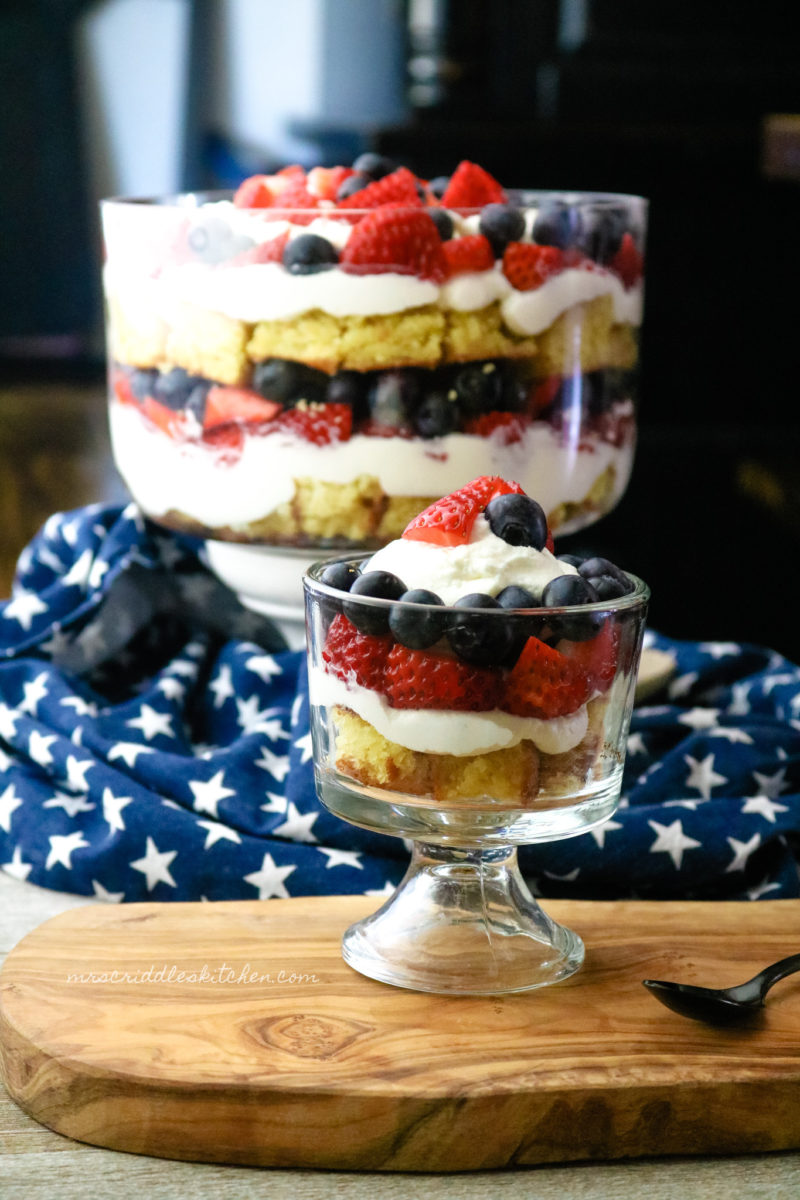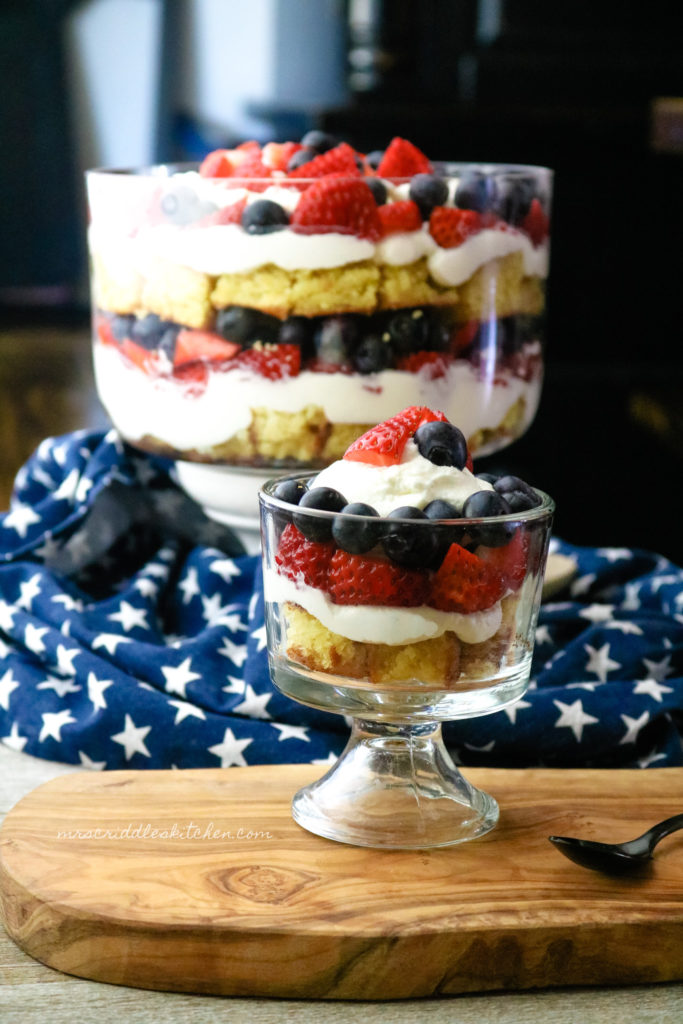 I love this trifle's cake base! It might be my favorite cake base yet! I tweaked my coconut cake recipe just a touch to come up with this delightful cake. It's vanilla flavored with a hit of almond but my husband said it tasted like the Pineapple Upside Down Cake base… that made me happy because that is one of my favorites.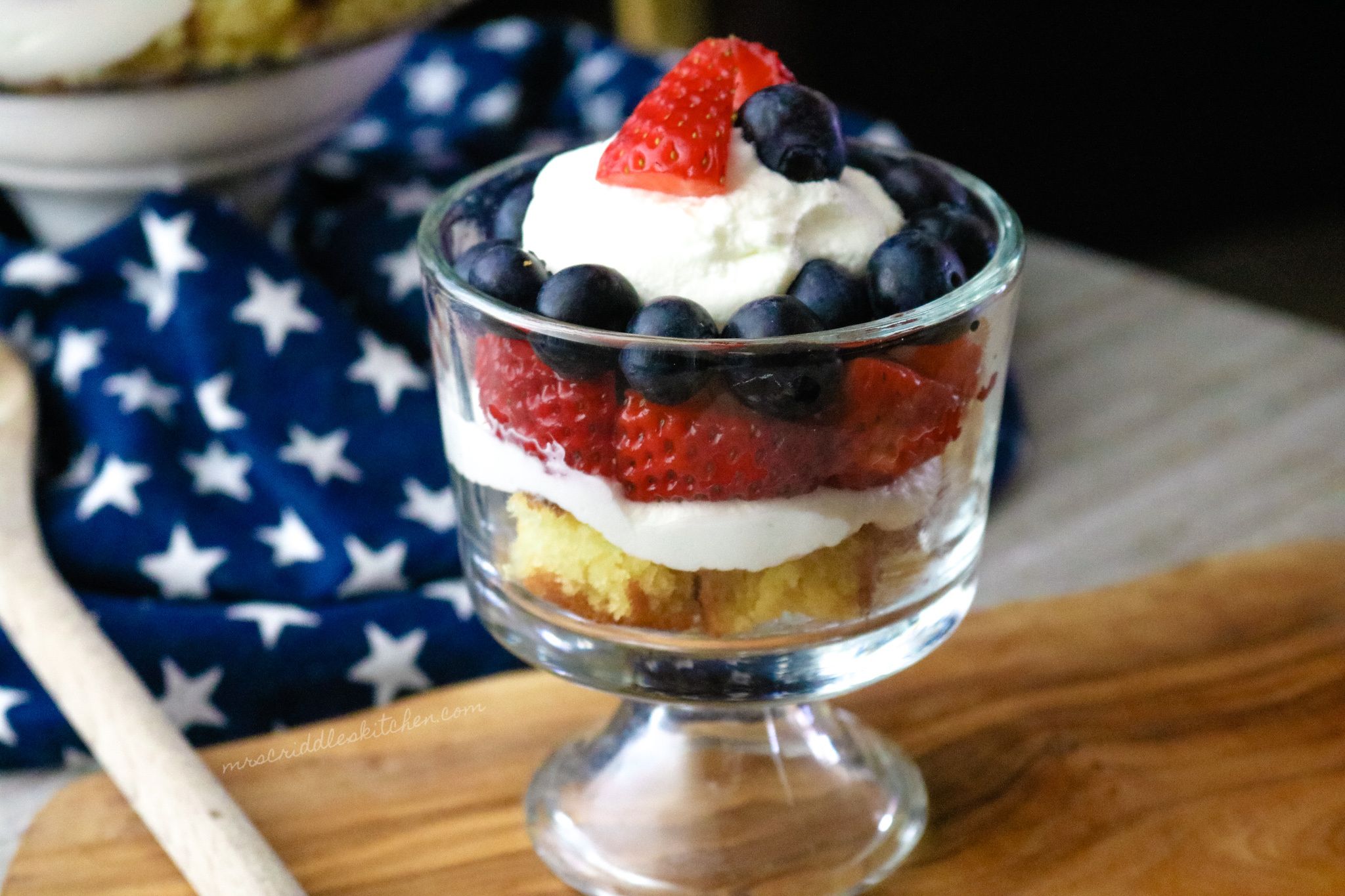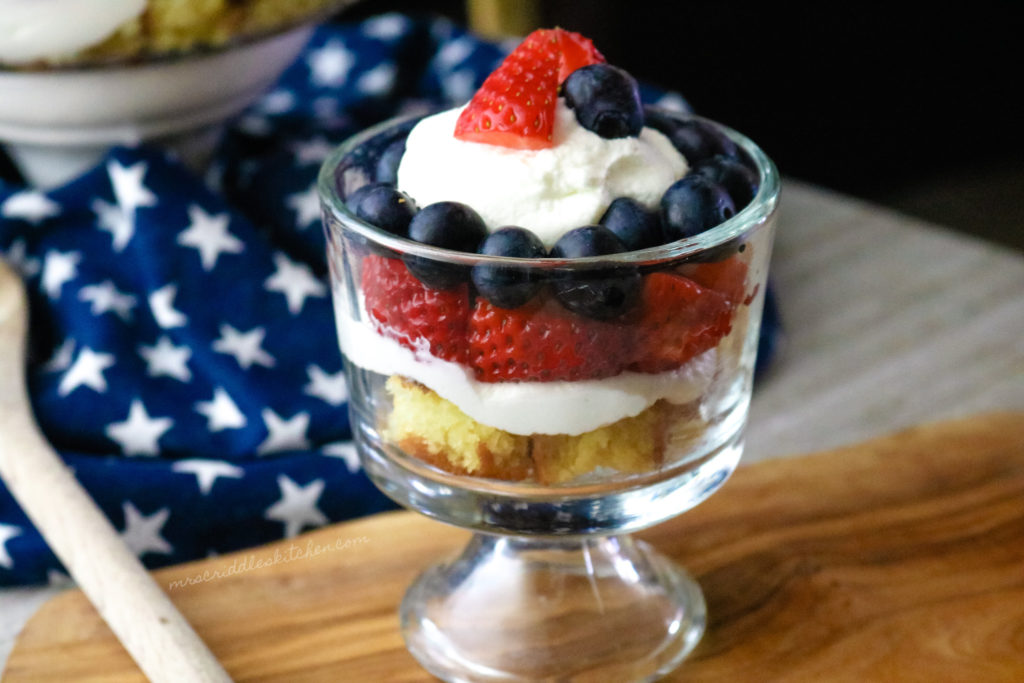 I made the cake using Almond Flour for the majority and then I used oat fiber. Oat fiber is basically straight fiber, and pretty much has zero fat and zero carbs. But if you would rather stay away from oat and make this completely gluten-free just replace the oat fiber measurement for measurement with coconut flour. I find that those two are of the same consistency.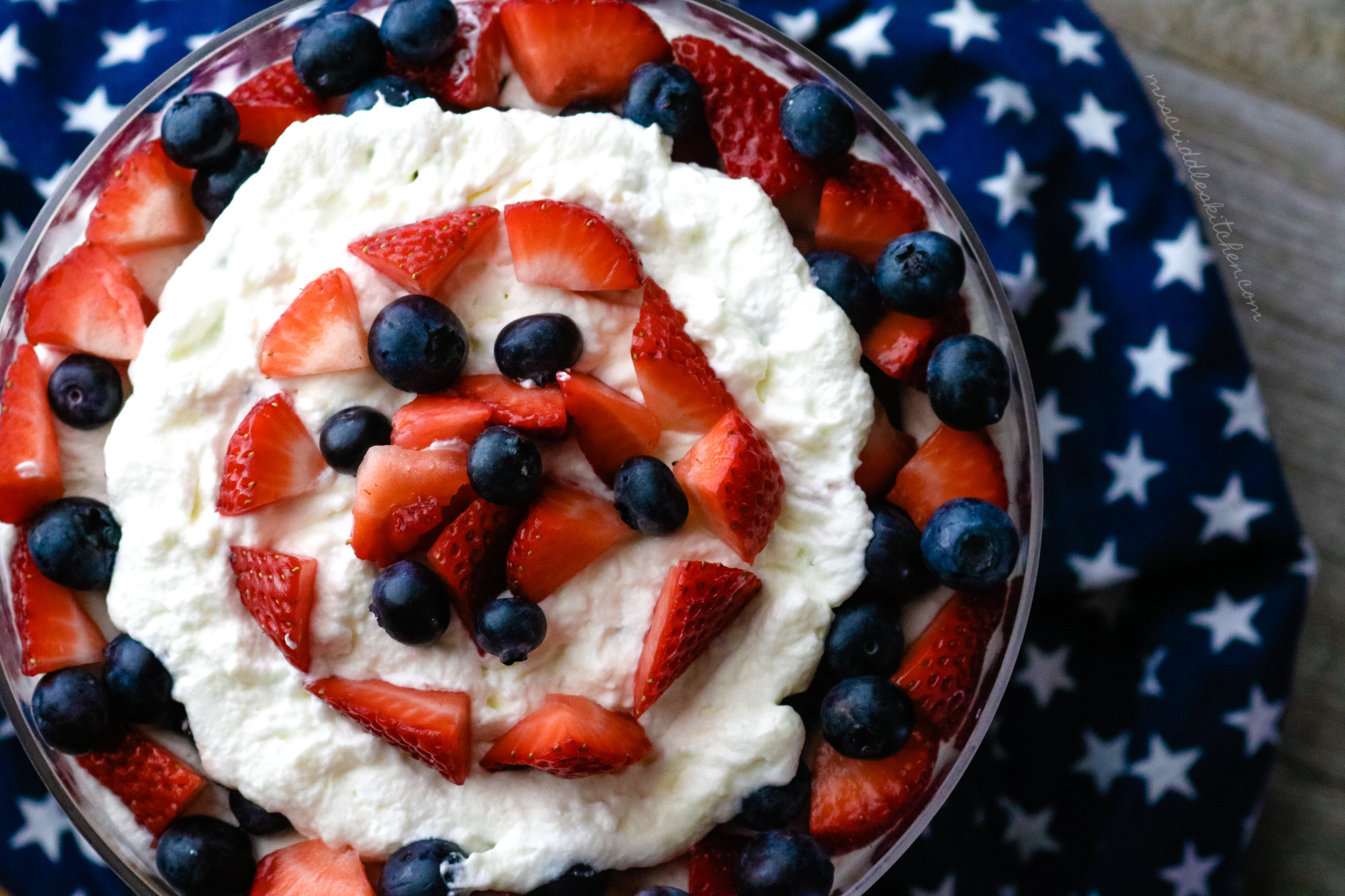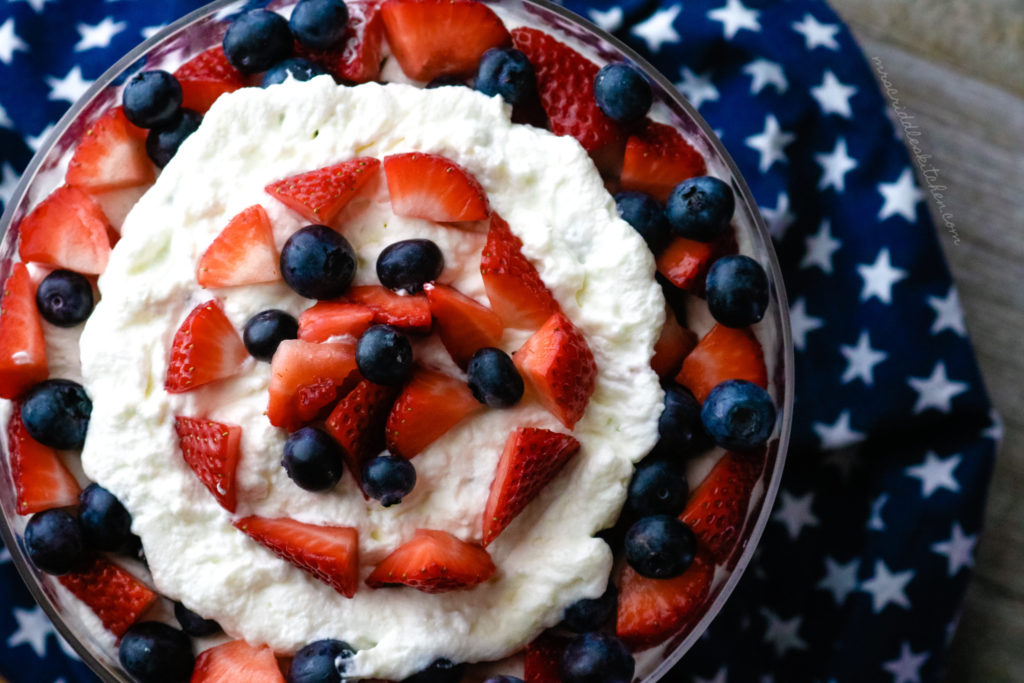 I use low glycemic fruit to keep the fruit sugar low but also because they are RED & BLUE! Making them perfectly festive. I usually slice my strawberries up and put in a sweetener but with the sweet cake and the sweet whipped cream, I just felt it best to keep the fruit at it's natural flavor. But if you like a more juicy strawberry simply put the sliced fruit in a bowl with a tablespoon of sweetener. They will absorb the sweet and put off the juiciest of juices.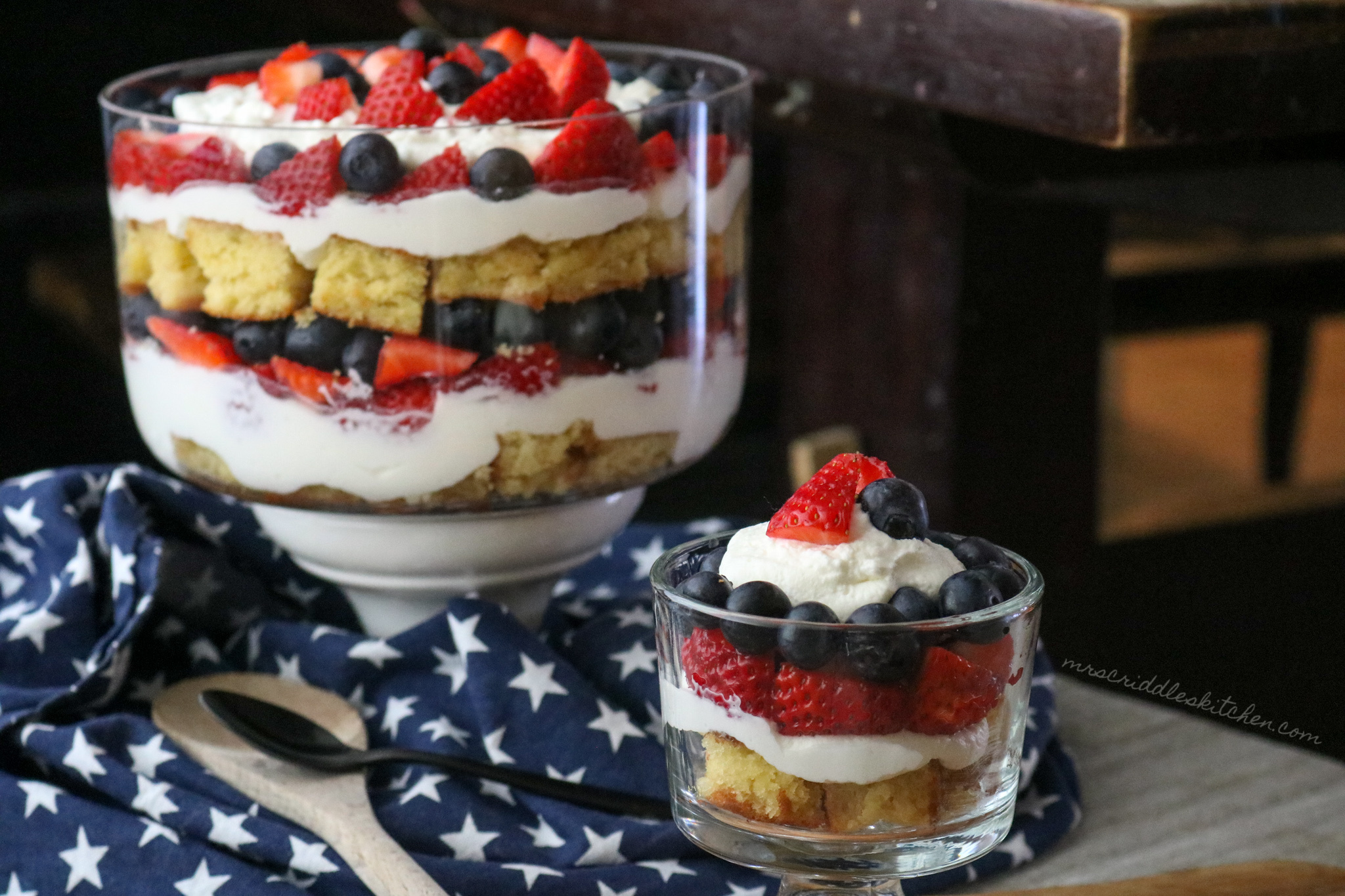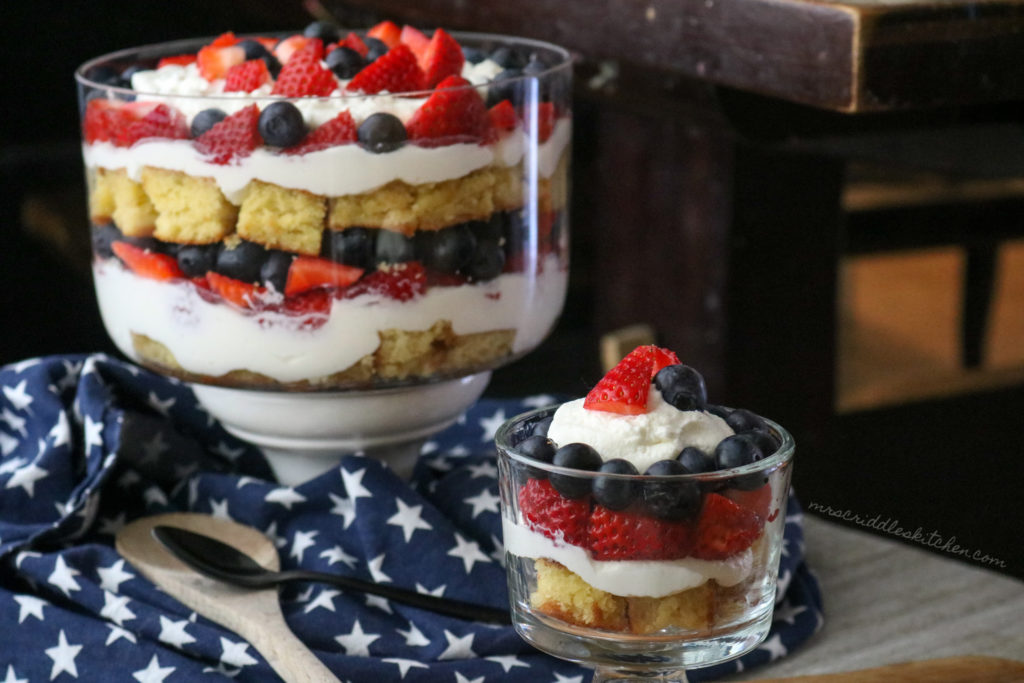 You will have enough cake to make a beautiful big trifle.. as long as you don't snack on it too much. We had to try several bites so some of the cake was gone before it made it to the trifle bowl. Another idea you can do instead of a big trifle is to make individual mason jar trifles! Put a lid on, place in a cooler and you are good to go! I would store this Red, White & Blue Trifle, covered, in the fridge!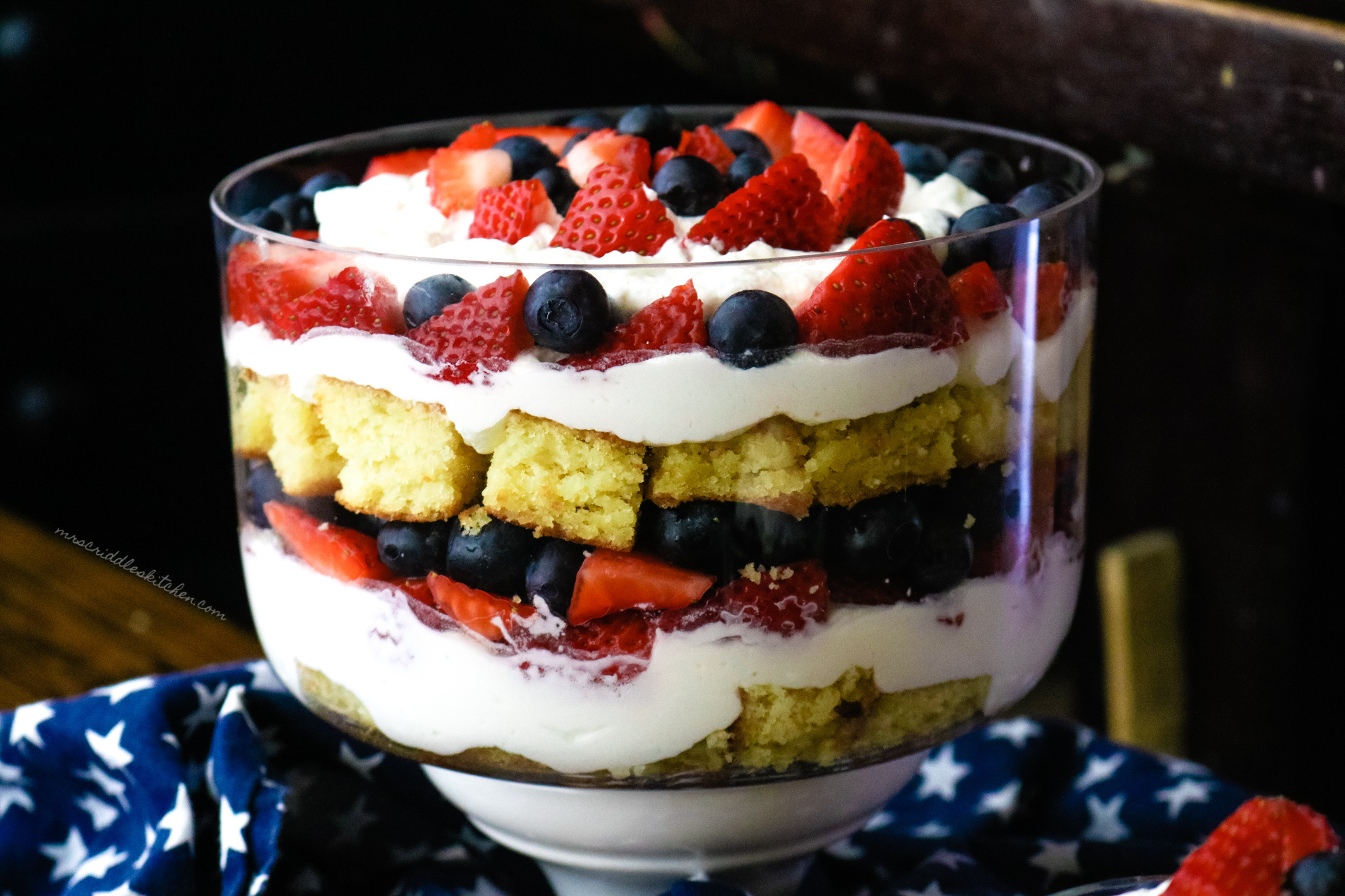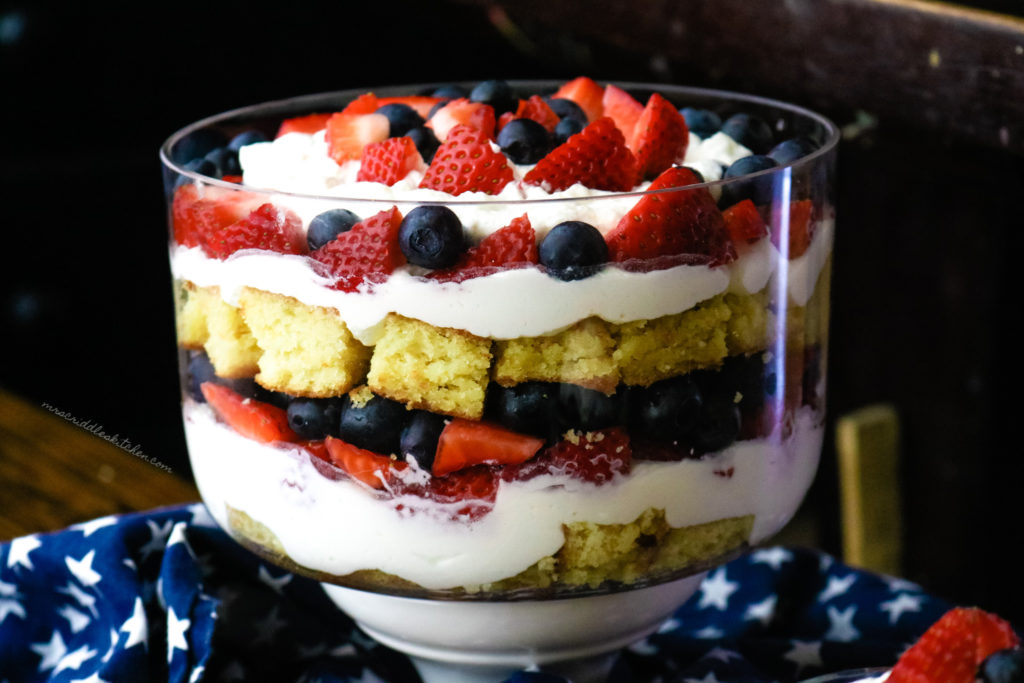 Here is a tip for you… if you do not have a trifle bowl, but do have a cake stand with a glass lid, simply turn the cake stand upside down and place the glass lid top into the bottom of the cake stand. I did that for the big trifle pictures above! Works well! Even for punch!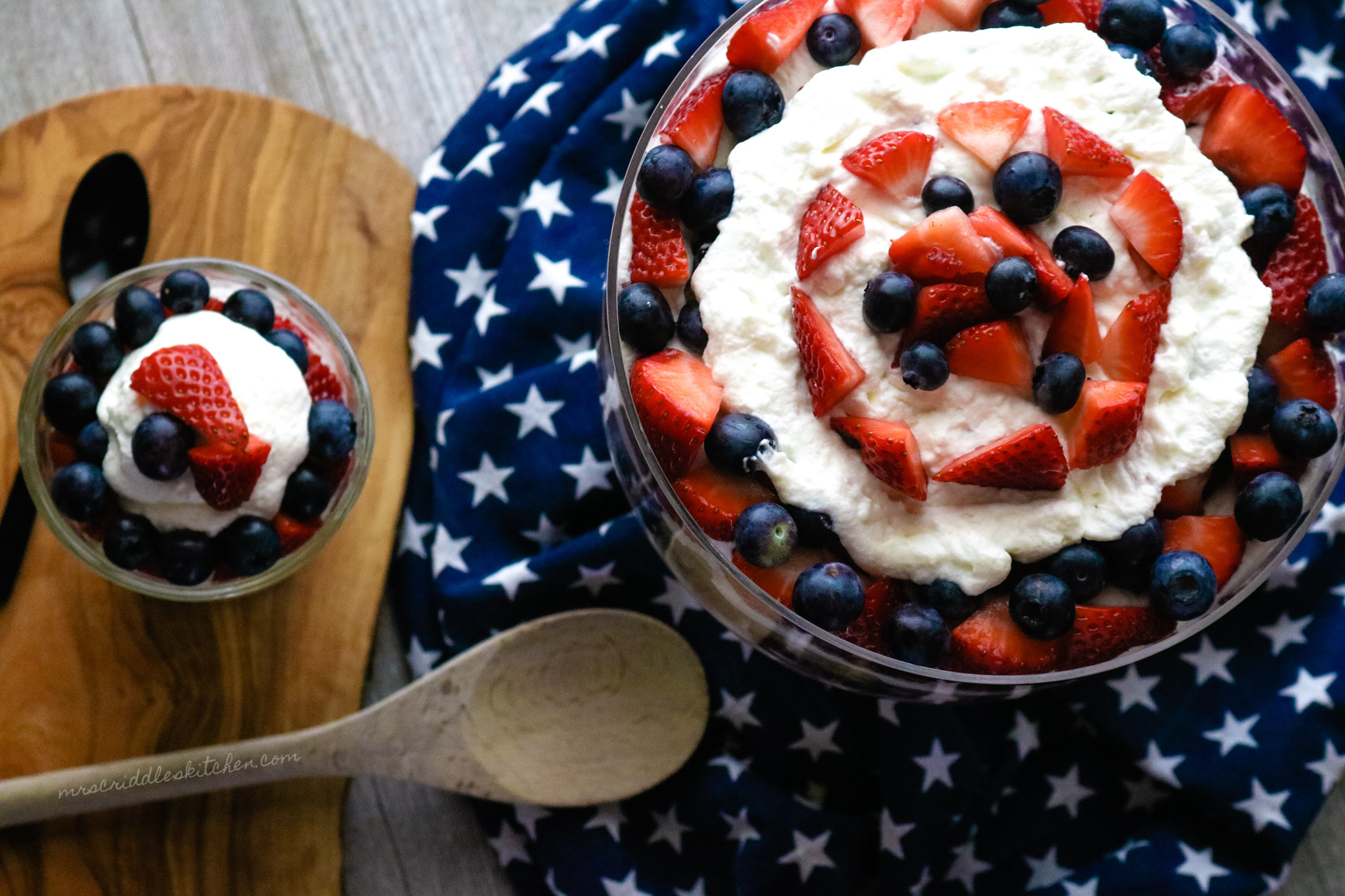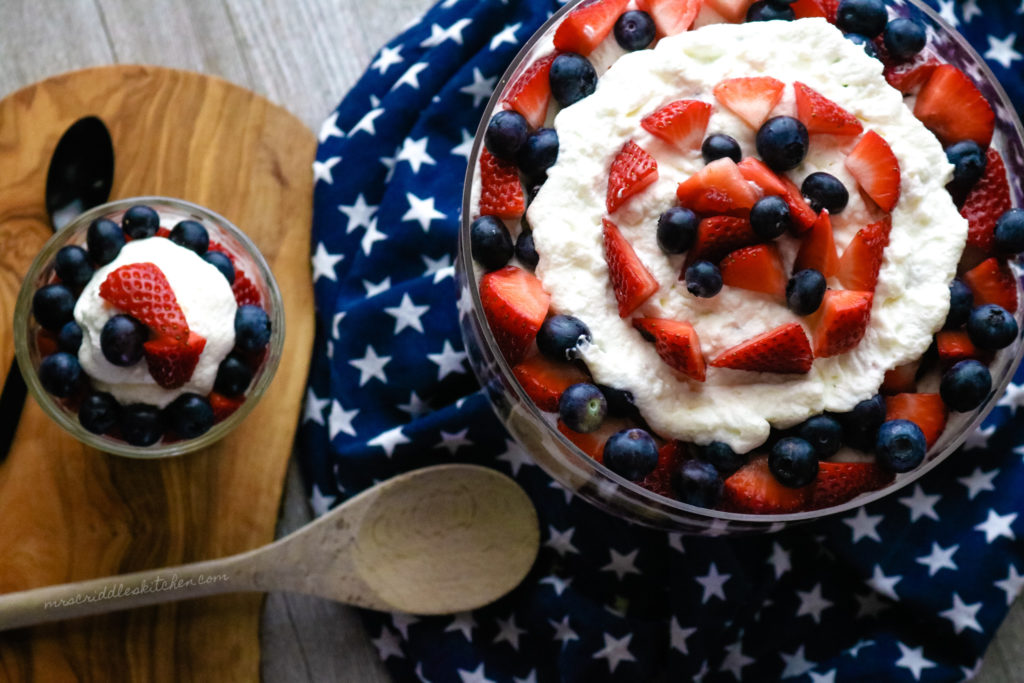 Here are a few other tips or answers to questions you might have:
Grease the bottom of the 9X13 pan before laying down your parchment paper in it. After you have placed the parchment paper in it, grease it again. I use a canned coconut oil spray.
If you do not have sour cream you can replace with a 0% Greek yogurt or even a kefir. This will bring the carbs up a little bit.
You can replace the butter with coconut oil & the sour cream with a canned coconut cream for dairy-free cake. Also, there is a dairy-free whipped cream you can use to make this trifle completely dairy-free.
To use THM Baking Blend instead of Almond Flour I would try using 1 3/4 to 2 cups and adding another egg in. Now I have not tried this but it is what I would do.
For the sweetener, I love the THM Gentle Sweet! It is what I use in most all my desserts. If you would like to try a different sweetener you can. For Swerve or Xylitol you will want to use about a cup and a 1/4 total for the cake. For the whipping cream, try about 1/3 to 1/2 a cup of Swerve or Xylitol. If you are using a sweeter sweetener… use less. For Pyure or Truvia you will want to use 1/2 cup for the cake and about 2 tbsp. for the whipped cream.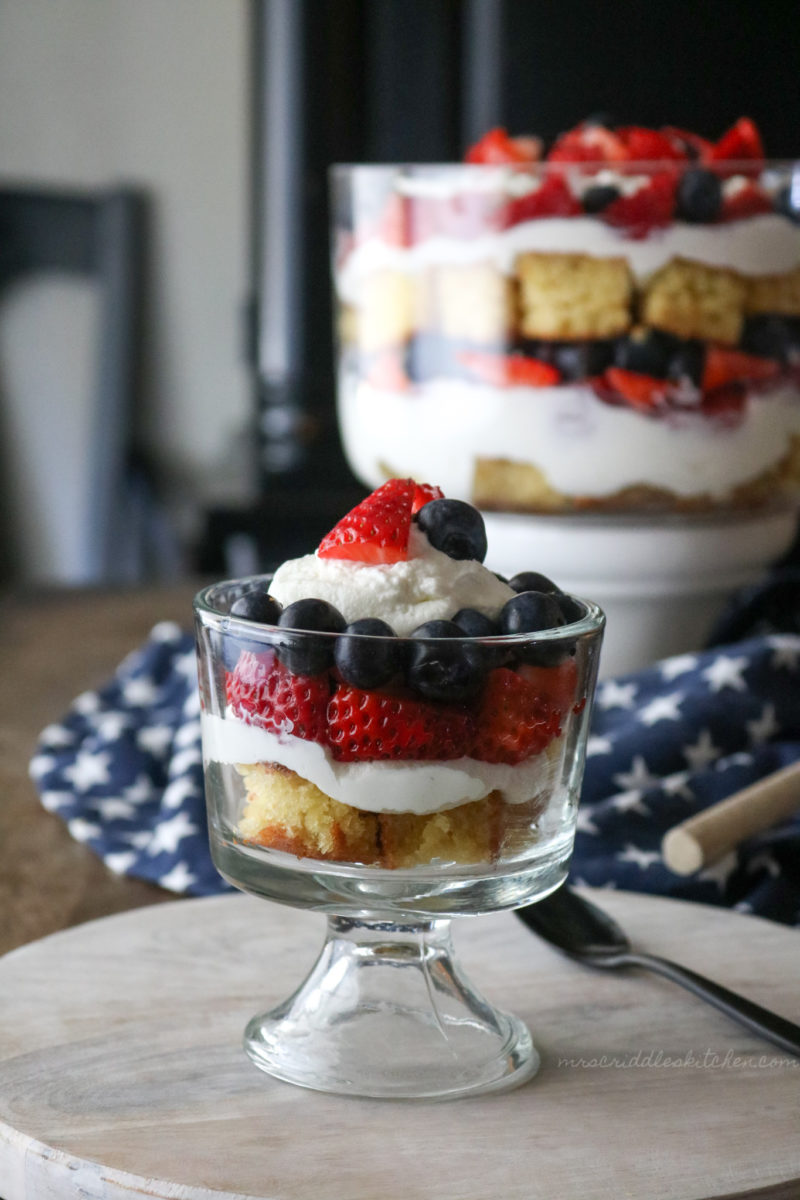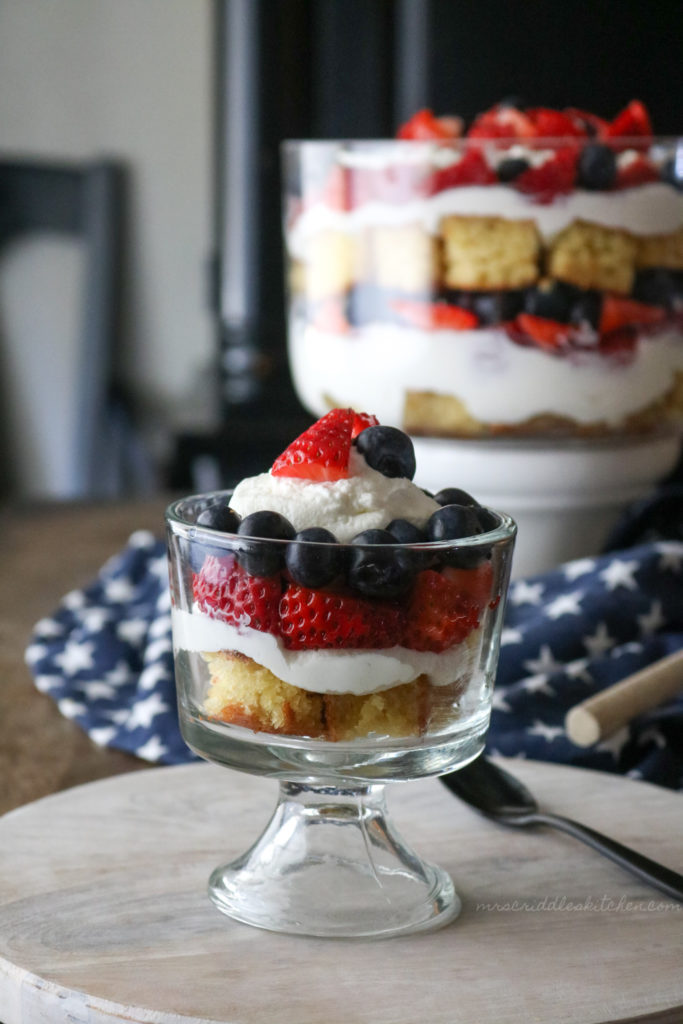 Here are a few other of my recipes you might want to try…
Recipes from my blogging buddies to try:
No Bake Berry Cheesecake Pudding
Affiliate Links:
Print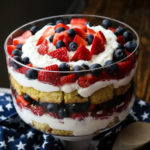 Red White & Blue Trifle
Author:

Cook Time:

25-27 mins

Total Time:

25-27 mins
---
Cake batter-
2 cups of almond flour
1/2 cup of oat fiber or coconut flour 
1 1/2 tsp of baking powder
1/2 tsp of salt
1 cup (two sticks) of melted butter unsalted butter
3/4 cup of THM Gentle Sweet (see post above on tips for other sweeteners)
1 tsp vanilla
1/2 tsp of almond flavor (this is optional, but makes it great)
1/2 cup of sour cream
1/4 cup unsweetened cashew milk or almond milk or even half & half
4 room temperature eggs
Whipped Topping-
2 cups of heavy whipping cream
1/3 cup of THM Gentle Sweet
1 tsp vanilla
Pinch of salt
1 lbs of washed strawberries
1 lbs of washed blueberries
Parchment paper for bottom of pan
---
Instructions
Preheat oven to 350 degrees.
Grease a 9X13 glass cake pan and place a piece of parchment paper in the bottom.
Grease parchment paper.
In a big bowl combine butter, sweetener, 1 tsp of vanilla and 1/2 tsp of almond flavor.
Add in the eggs and mix well.
Add in the almond flour, oat fiber, baking powder & salt.
Mix well.
Add in the sour cream & cashew milk.
This batter will be thick.
Spread into greased pan and bake for 25-27 minutes.
While cake is baking, mix whipping cream, sweetener, pinch of salt and vanilla until fluffy.
Chop strawberries to desired size.
Once cake is done, flip over onto a cutting board and allow to cool completely.
You can speed this up by putting cake into freeze for 10 minutes.
Once cold, cut cake into squares.
Assemble the trifle.  
Cake, whipped cream, fruit, cake whipped cream fruit. 
End with whipped cream & fruit!
Enjoy!
---