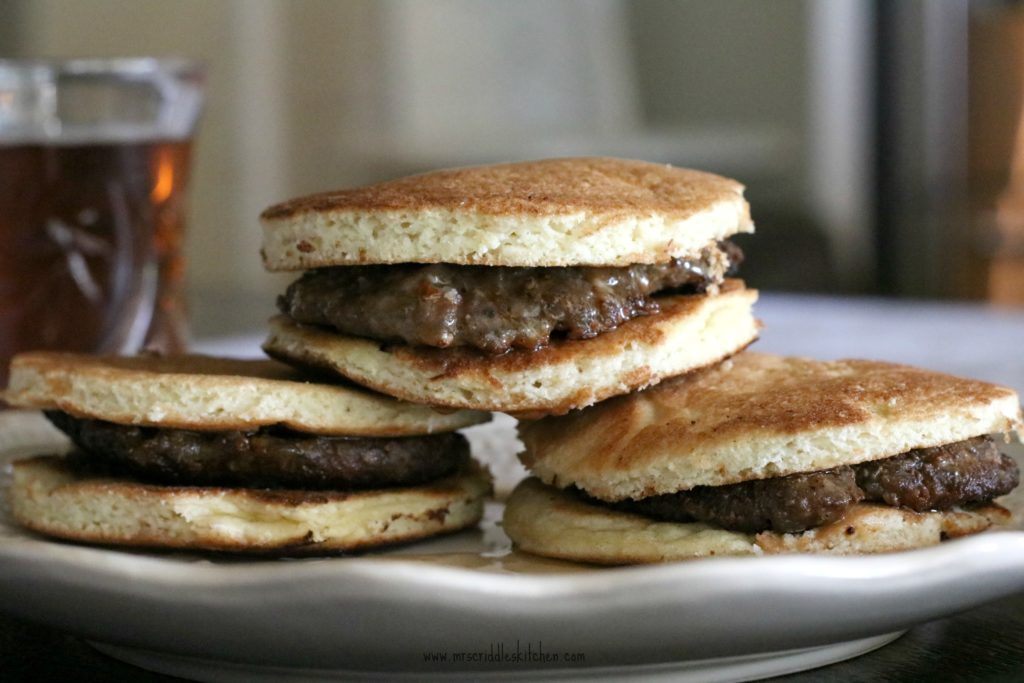 (This post contains affiliate links.)
Sausage McCriddles
My 5 1/2 year old boy absolutely loves the McGriddles from McDonald's. He literally begs for them and will eat two at a time when he gets the chance. I HAD to make a more healthy version of this that I could feel good about him eating. And then my 16 year old daughter said, "MOM LET'S CALL THEM MCCRIDDLES!!!" HAHAHA! Perfection!
So I present to you the McCriddle.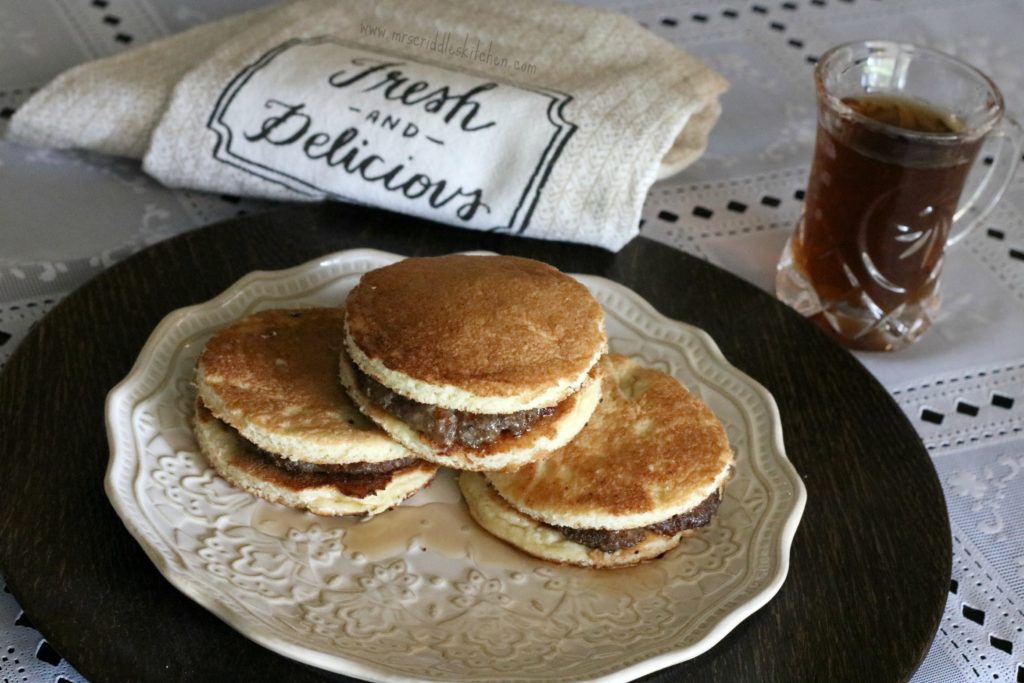 I tried the pancake several ways but came up with this as the best option.
Also, it is dairy free and grain free and of course, sugar free, low carb and TRIM HEALTHY MAMA friendly!!
You can use Turkey or Pork sausage, whatever your preference.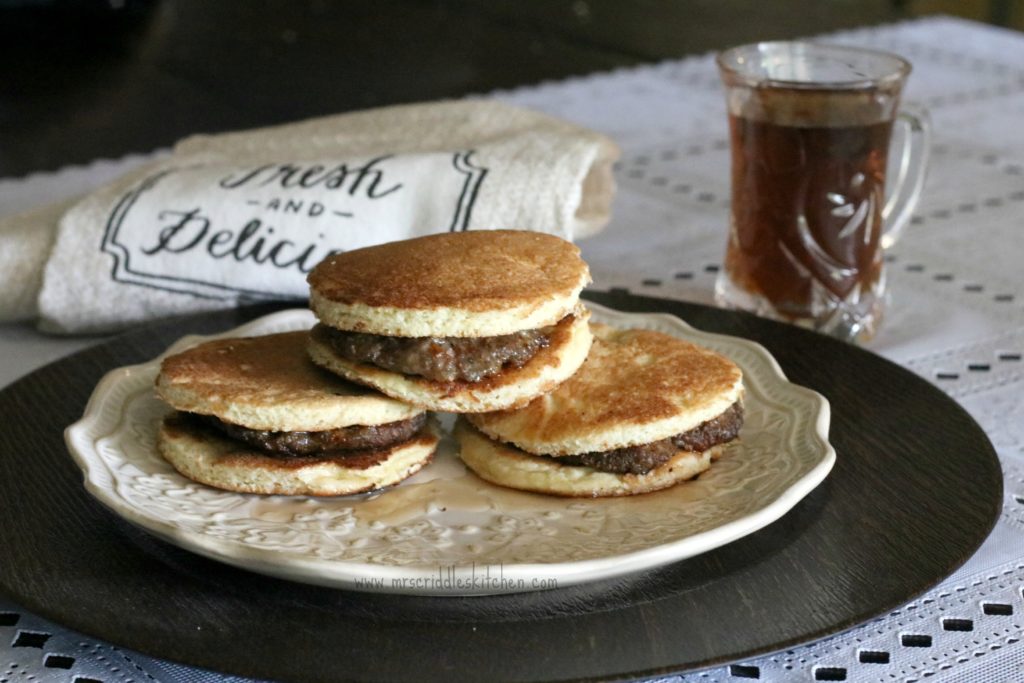 Oh and I used a sugar free syrup but I have also made the delicious sugar free syrup in the Trim Healthy Mama Cookbook on page 480. If you need a link to a good sugar free recipe you can check out Gwen's Nest Pancake Syrup here… Stevia Syrup Recipe
I like to put a swirl of syrup in the batter as it is cooking on the griddle and then flip.
These freeze well! Just make ahead, freeze in baggies or wrap well, take out and pop in microwave for 1 minute. Drizzle the syrup over the top when ready to eat.
**NOTE- the pancakes need to cook longer than usual to get a good crust on the top to hold together well. I didn't time the amount but it was at least 3 minutes a side.
If you want to make a Trim Healthy Mama purchase, I would love if you used my affiliate link here:
In this recipe I use THM Gentle Sweet. If you want to purchase would you mind using my affiliate link here: THM GENTLE SWEET
Print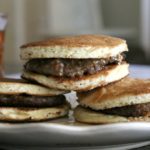 Sausage McCriddles (THM S, Low Carb)
---
Description
Mrs. Criddle's low carb version of the McGriddles.
---
1

–

16

oz tube of Turkey or Pork Sausage cut into

six

to

eight

patties and cooked… you might have extra patties, we have a couple patties.
Batter-

2

egg whites fresh whisked to stiff peaks

1/2 cup

of almond flour finally ground (scoop and shake)

1/4 cup

of coconut flour (scoop and shake- do NOT pack at all)

1 tsp

of baking powder

2 tbsp

. of THM Gentle Sweet (if you are using THM Super Sweet use about

2 tsp

, if you are using xylitol or erythitol use 1/4 a cup, if using Pyure or Truvia use

1 tbsp

.)

1/4 tsp

salt

2

large eggs

1/2 cup

of cashew milk or almond milk

1 tsp

vanilla flavoring
**Optional- you can use 1/2 tsp of maple flavoring to give it more of a maple flavor.
**Optional- if you feel like the batter needs a little binding, you can add 1/2 tsp of Psyllium husk flakes at the very end.
Coconut oil spray to spray griddle or skillet
Sugar free syrup to drizzle over sausage patties and in the batter as cooking.
---
Instructions
Slice the patties & pat into round circles.
Cook until done.
Heat griddle at 400 degrees or put a big non stick skillet on medium high heat.
Mix together the flours (please remember to just scoop gently and shake. You do not want to pack in the flours or it changes the batter consistency.), baking powder, sweetener and salt.
Add in the 2 whole eggs, cashew or almond milk and mix.
Whisk eggs whites until you get a stiff peak.
Gently fold in the egg whites until incorporated.
Once incorporated, spray griddle with coconut oil or butter.
Scoop out about 1 1/2 tbsp. of batter and use a spoon to make in a circle large enough for your patty.
Allow to cook until you can quickly slide a spatula under the pancake (it took longer than a regular pancake for me… possible 1-2 minutes to a little longer each side. Just test your griddle accordingly.)
As the top cooks, drizzle a little syrup into the raw batter on the griddle.
Slide a non-stick spatula under the pancake QUICKLY.
Flip and cook the other side.
Do this until you have used the batter up.
Assemble the McCriddles.
Take two pancakes, place a sausage in between and drizzle pancake syrup over the sausage.
**Optional- you can cook up and egg to add to this.
***NOTE- these do freeze well. If you are making ahead to freeze, do not put the syrup on.
Wrap well or place in freezer baggies.
Take out and heat up for 1 minute.
Drizzle syrup on.
---