Peach Cobbler Breakfast Bake- low fat, sugar free, THM E.
(This post may contain affiliate links.)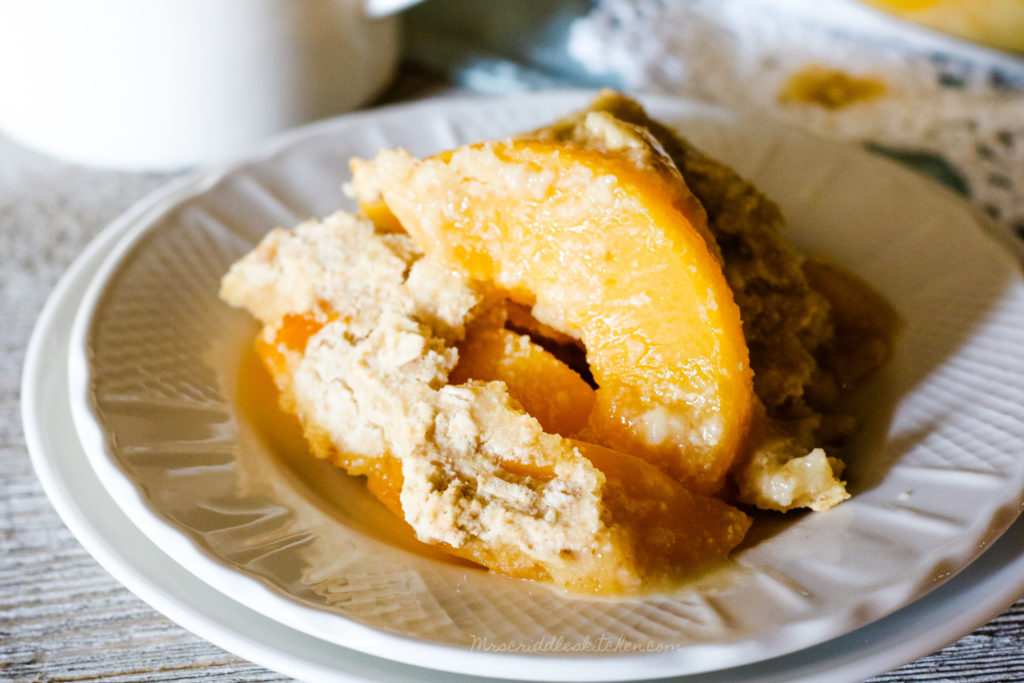 Peach Cobbler Breakfast Bake- yay for a new LOW FAT- SUGAR FREE recipe! I love love peach cobbler! How about you? Of course, most peach cobblers are FULL of sugar. This one is, of course, sugar free and you can eat it for breakfast too! Or lunch… or dinner… or dessert!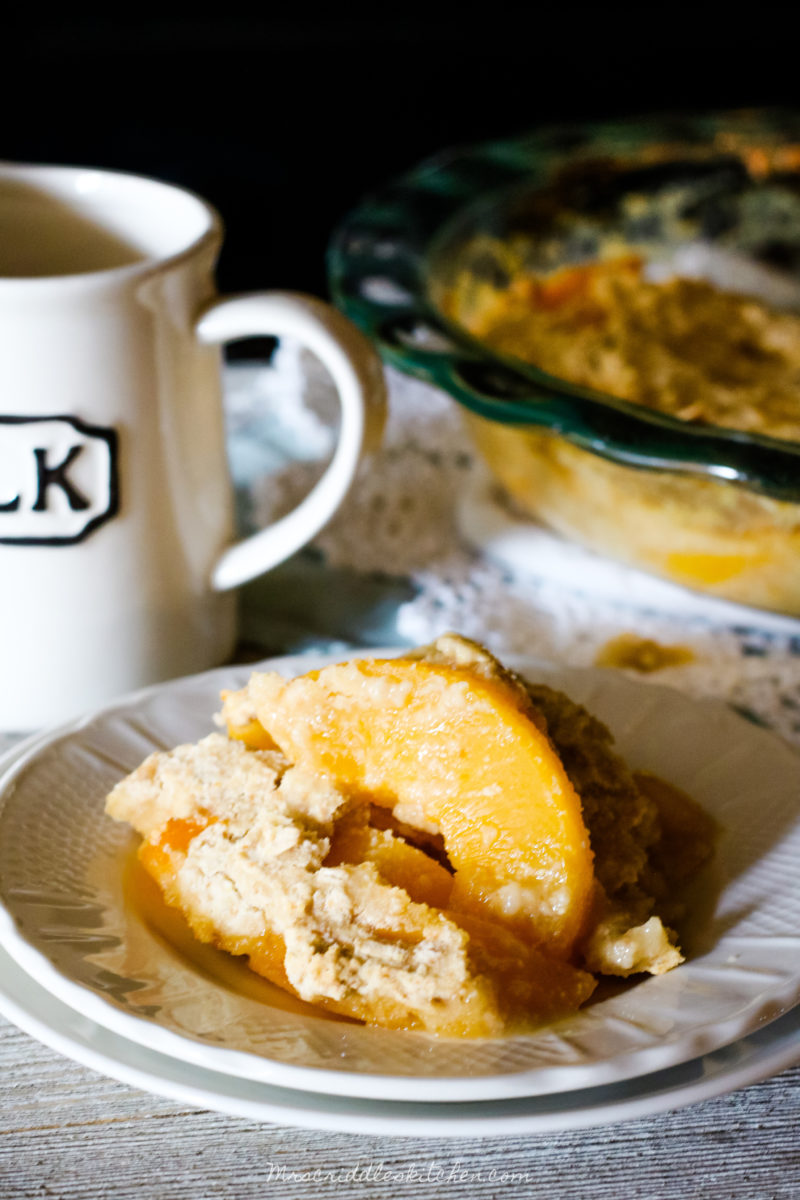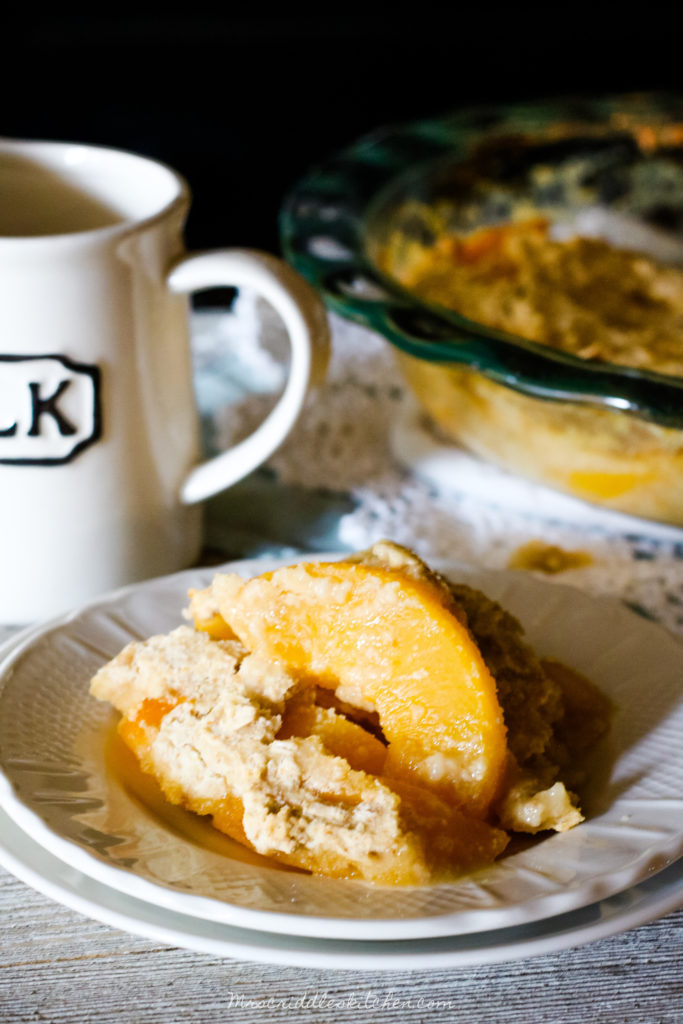 My oldest daughter, Abby, created this yumminess! Another thing that's great about this it's dairy free AND egg free! If you used gluten-free oats, you have a very allergy friendly dish!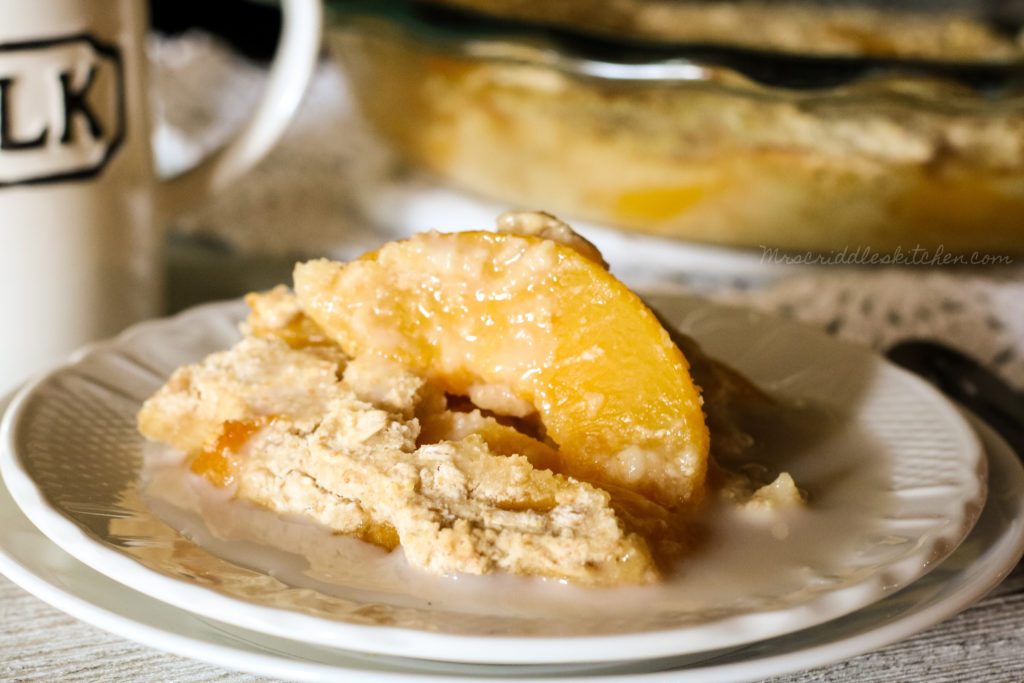 As a Trim Healthy Mama this Peach Cobbler Breakfast Bake would be considered and E meal because of the good carbs. It doesn't have a lot of protein other than the oatmeal but if you are worried about that… just add in a protein smoothie or an egg white omelette.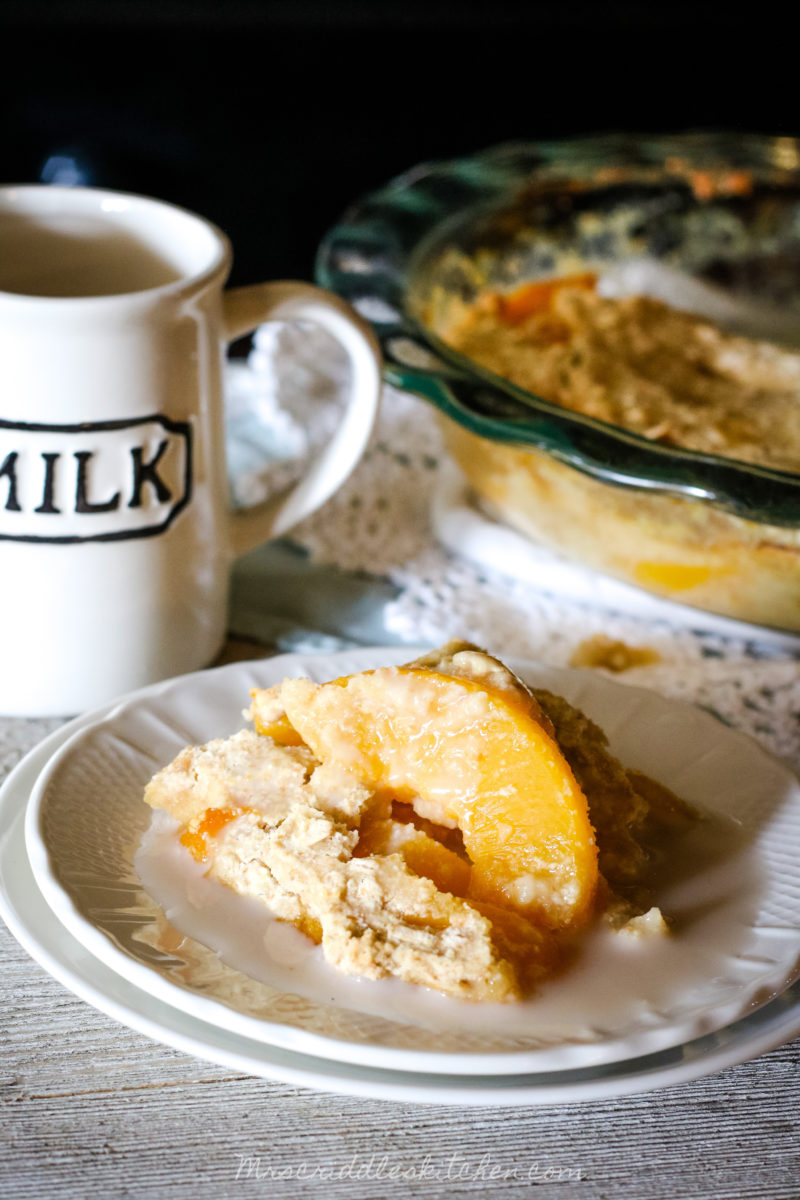 THIS Peach Cobbler Breakfast Bake made a big round deep pie platter of cobbler! You can make it in an 9X9 glass dish if you'd rather. It mixes up quick and you could even make it the night before, placing it in the oven for a quick bake. You could possibly freeze it and bake it, although I have not tried it yet. It would be nice to have a ready to bake breakfast meal in the freezer!
Oh I did want to mention I used canned peaches. BUT I used the canned peaches that are in their juice only. I believe frozen would work second best. I do not know how fresh peaches would work… you want them juicy!
I also drizzled a little bit of cashew milk over the warm Peach Cobbler Breakfast Bake! You can do that or even a little half and half if you aren't dairy-free!
If you would like to try another freezer friendly THM breakfast check out my Blueberry Muffins. These are NOT dairy-free but really delish! Or you could do the McCriddles! Those are a HUGE hit with my family & freeze well also!
If you are interested in purchasing any of the THM Products in this recipe please use my affiliate link here if you'd like. THM STORE
Print
Peach Cobbler Breakfast Bake
Author:

Cook Time:

45 min

Total Time:

45 minutes

Yield:

8
---
Description
A low fat, sugar free Trim Healthy Mama E recipe that works just as good as a dessert as a breakfast casserole!  Dairy-free, sugar-free, and egg-free.
---
Peach Cobbler Breakfast Bake-
2- 15 oz cans of peaches in its juice (pour most of the juice out)
3/4 cup of THM Baking Blend
3/4 cup of unsweet cashew milk (or almond milk)
1/2 cup of old-fashioned oats (I use the Trader Joe's Gluten-Free Oats)
6 tbsp THM Gentle Sweet
1 tsp vanilla
1/2 tsp Baking Powder
1/2 tsp salt
---
Instructions
Light grease a deep pie dish or a 9X9 baking dish.
Preheat the oven to 350 degrees.
Pour the peaches into the greased baking dish.
Mix the THM Baking Blend and the cashew milk together in separate bowl.
Add in the rest of the ingredients and mix well.
Pour thick batter over the top of the peaches.
Spread as evenly as possible.
Bake for 25 minutes and then cover with foil.
Bake the 10 minute then remove foil.
Bake the remainder 10 minutes without the foil.
Total baking time: 45 minutes
Scoop out and drizzle cashew milk or even sweetened half and half over the top of each serving (optional).
---
Keywords: low-fat, sugar-free, thm E, good carbs