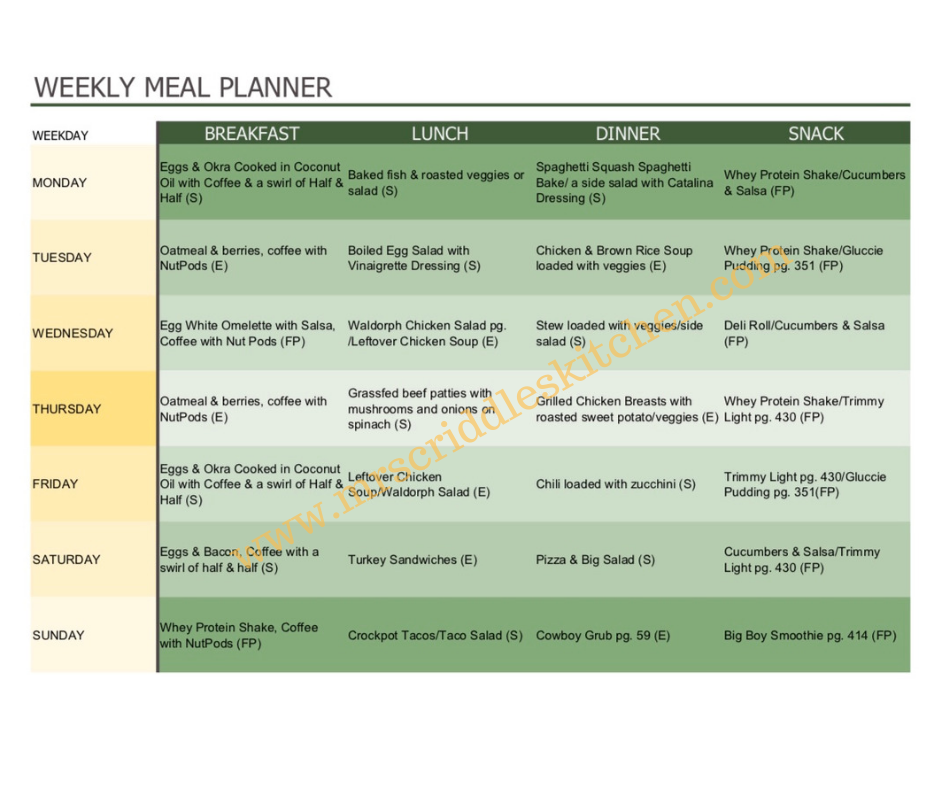 (To access a PRINTABLE version of this menu, click the picture above!)
(This Post Contains Affiliate Links!)
I just made up my weekly menu, actually I am going to repeat this so it's a two week menu for me.
Thought I would share with you… you can never get enough help when it comes to prepping and menu planning.
My amazing friend Darcie at Darcie's Dish is the Menu Planning Queen and also has so many great prepping ideas!
Please go check her site out for weekly menus and prep ideas…. DARCIE'S DISHES
Back to my menu…
Most of my recipes are either on my site or on the Trim Healthy Mama Page or Facebook Page.
I will link to the recipes here as best I can.
For the rest I just make them as I go from memory.
IE: Baked chicken breasts and Grassfed Beef Patties.  Make those as you normally would.
Try to prep ahead your salad (clean, cut and store) and you could even roast a big pan of veggies and store to be warmed up for dinners or soups.
Also, boil eggs for the week.  And make up baggies or containers of your drinks/smoothies/pudding.
When I say Whey Protein Shake I am using a scoop of the THM Chocolate or Strawberry Whey Protein Powder and 8 oz of Cashew or Almond milk.
For my snacks: I tried to keep it really simple & FP.  But these are just options.  Choose a snack you like but try to keep it FP if you can.
Sippers:  I really recommend you doing sippers.  The GGMS or the Singing Canary are GREAT choices and really help you lose those stubborn pounds!!
Day One:
Eggs in coconut oil to get your metabolism revving!
Just broil your fish for several minutes
For the Spaghetti Squash Bake I am going to make this up as I go. Hahaha!  Basically, I am using grassfed beef that I will rinse the excess fat off.
I will make up a batch of Spaghetti Sauce (<- click link)  add it to my meat with spices and Italian Seasonings.
Microwave or bake a spaghetti squash.  Mix half of it in with two eggs and about 1/2 cup of Parmesan Cheese & Italian Seasoning/ salt & pepper.
Spread a half of the spaghetti squash mixture on the bottom of a 9 X 13 baking pan.  Add half of the meat sauce on the spaghetti sauce mixture.
Add remaining spaghetti sauce and meat sauce on top.  Sprinkle with Parmesan Cheese.  Bake for 350 degrees for 30 minutes.  Serve with a side salad with my Catalina Dressings (<- link).
Day Two:
For the oatmeal, I LOVE the Sweatpant Oatmeal!  You can find a link to it here.
Here is where your boiled eggs come in use with your salad.  You can use the Catalina dressing you made on day one or your own dressing.
Here is a link the the Chicken & Brown Rice Soup.  This is an old recipe but still a great soup and it's crockpot friendly!
Day Three: 
Okay, for the egg white omelette just make as you normally would with lots of non starchy veggies.
The Waldorph Salad is on the Trim Healthy Mama Facebook page (click the link).  It is one of the very first E meals I tried from the original THM book.  I LOVE IT!
For dinner I am doing a Harvest Stew (<- click link) loaded with non starchy veggies!
Day Four:
For breakfast Sweatpant Oatmeal.
Skillet cooked grassfed (or just store bought beef patties) with sauted mushrooms and onions on a bed of spinach.  Use the dripping as a sauce!
Baked chicken breasts & roasted sweet potatoes/veggies for dinner.
Day Five:
Eggs in coconut oil again to switch it up good and trick your metabolism!
Leftovers for lunch.  Chili for dinner.  I just a make a good chili recipe that I always make.  Pearl has a good one in the THM Cookbook too!
Day Six:
Eggs and bacon for breakfast.  I chose an S again because we are usually on the run on Saturdays and I can get a bacon and egg taco anywhere locally and put it on a low carb tortilla or homemade on plan Wonder Wrap!
Turkey Sandwiches for lunch.  THIS one is my favorite… Warm Chicken Sprouted Sandwich on the Trim Healthy Mama facebook page.  Just replace the chicken with Turkey.
Dinner is Pizza.  One of the times I am choosing to add cheese.  I usually do this Chicken BBQ Pizza or just pepperoni & cheese on a THM Crust.  I like this Crust from the THM Cookbook page 211.
Day Seven:
For breakfast I am doing a Whey protein shake because we will be running out the door for church.
Lunch will be Tacos or Taco Salad from my Crockpot Taco Recipe.
Dinner is Cowboy Grub from the Trim Healthy Mama cookbook pg 59.
Here are a few links (affiliate) of my favorite items at the Trim Healthy Mama Store: