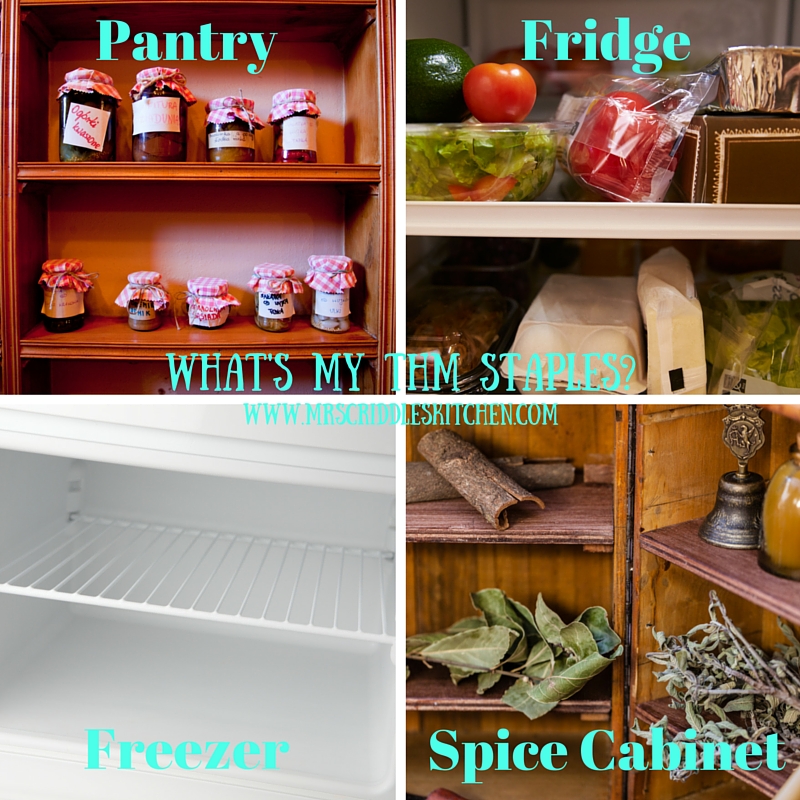 So what does a seasoned THM Mama have in her pantry, fridge, freezer & spice cabinet? What's my THM Staples?
I thought it would be fun to share with y'all what all I keep on hand as a seasoned THM mama.
There are a few THM Special ingredients that I really enjoy and have to have…
One is the THM Gentle Sweet…. wow do I love this stuff. This is the best sweetener ever. I think if I only had this special ingredients I would be fine. It sweetens everything perfectly and it's powdered so it mixes well!!
Another special ingredient is the THM Baking Blend. Love this stuff too. Especially to create quick Brownie's In A Bowl for my husband and I when we need a night time treat.
Those are my two MUST-HAVE special ingredients! But I do have several others. I really enjoy the THM Peanut Flour. It's great for sauces and cookies. And I love MCT OIL. I love the collagen and am just starting to use it. And the gelatin is a fun ingredient to have too. I also do always have coconut flour, almond flour, Sprouted Whole Wheat & Spelt flour on hand but I don't really think of those as special ingredients either. The Not-So-Naughty-Noodles are amazing to have on hand, I think! I also REALLY like Red Palm Oil but don't always have it available. And for a thickener I have to have Xanthan Gum or Gluccie. If you would like to purchase some of the ingredients I mentioned above… you can through my affiliate link here… THM STORE.
But if you were to go into my fridge, freezer, pantry & spice cabinet.. here is what you will ALWAYS find…
In the Fridge-
Heavy Whipping Cream, Half and half, GREEK YOGURT (plain & Triple 000), COTTAGE CHEESE, BUTTER, Cheeses, sour cream, Cream cheese, Almond or Cashew milk, Liquid aminos, salsa, Parmesan cheese, egg whites, Lily's chocolate chips, sugar free peanut butter, sugar free apple sauce, sugar free jelly or jam, fresh fruits & veggies when in season (salad, garlic, zucchini, squash, cabbage, celery, sweet potatoes, tomatoes, cilantro, avocado, bell peppers, cucumbers, cauliflower, radishes, lemons, limes, ginger, strawberries, blueberries), real mayo, mustard & eggs.
In the Freezer-
Nuts of all sorts, Ezekiel Bread, Almond flour, Coconut Flour, Okra, Baker's dark chocolate, Joseph Pitas or Lavash Breads, sprouted whole wheat flour, sprouted spelt flour, Frozen Fruit, coconut shreds, frozen veggies that are easy for meal prep, and frozen beef, chicken, turkey & some BACON.
In my Pantry-
Progresso Light Soups, chicken or beef broth, tomato paste, some canned veggies, Rotel, canned beans, dried beans, brown rice, lentils, quinoa, coconut milk & cream (still haven't used those), canned pumpkin, Mission Low Carb Tortillas, Wasa Crackers, Baked Blue Corn Tortilla Chips, Old Fashioned Oats, Ground Old Fashioned Oats, fresh apples or other fresh fruit, blue corn flour, apple cider vinegar & distilled vinegar, olive oil, balsamic vinegar, coconut oil & teas (oolong, green tea, black tea, flavored teas, & coffee).
In my Spice Cabinet-
Yes, I actually have a spice CABINET! My MUST HAVES- good salts (mineral or pink or sea salts), garlic powder, onion powder, cumin, chili powder, dried basil, dried oregano, cinnamon, pumpkin pie seasoning, baking powder & soda, gluccie & xanthan gum, cocoa powder, Cajun seasoning, poultry seasoning, pepper, lemon pepper, red pepper, nutmeg, cloves, turmeric powder and curry powder, maple flavoring & vanilla.
And there you have it. Those are my Must-Haves, that you will always always find in my kitchen!