Brownie Truffle Bites- a low carb, sugar-free, THM S sweet treat that everyone will love! Combining both a yummy brownie recipe with truffle goodness!
(THIS POST MAY CONTAIN AFFILIATE LINKS FROM AMAZON, TRIM HEALTHY MAMA & LAKANTO.)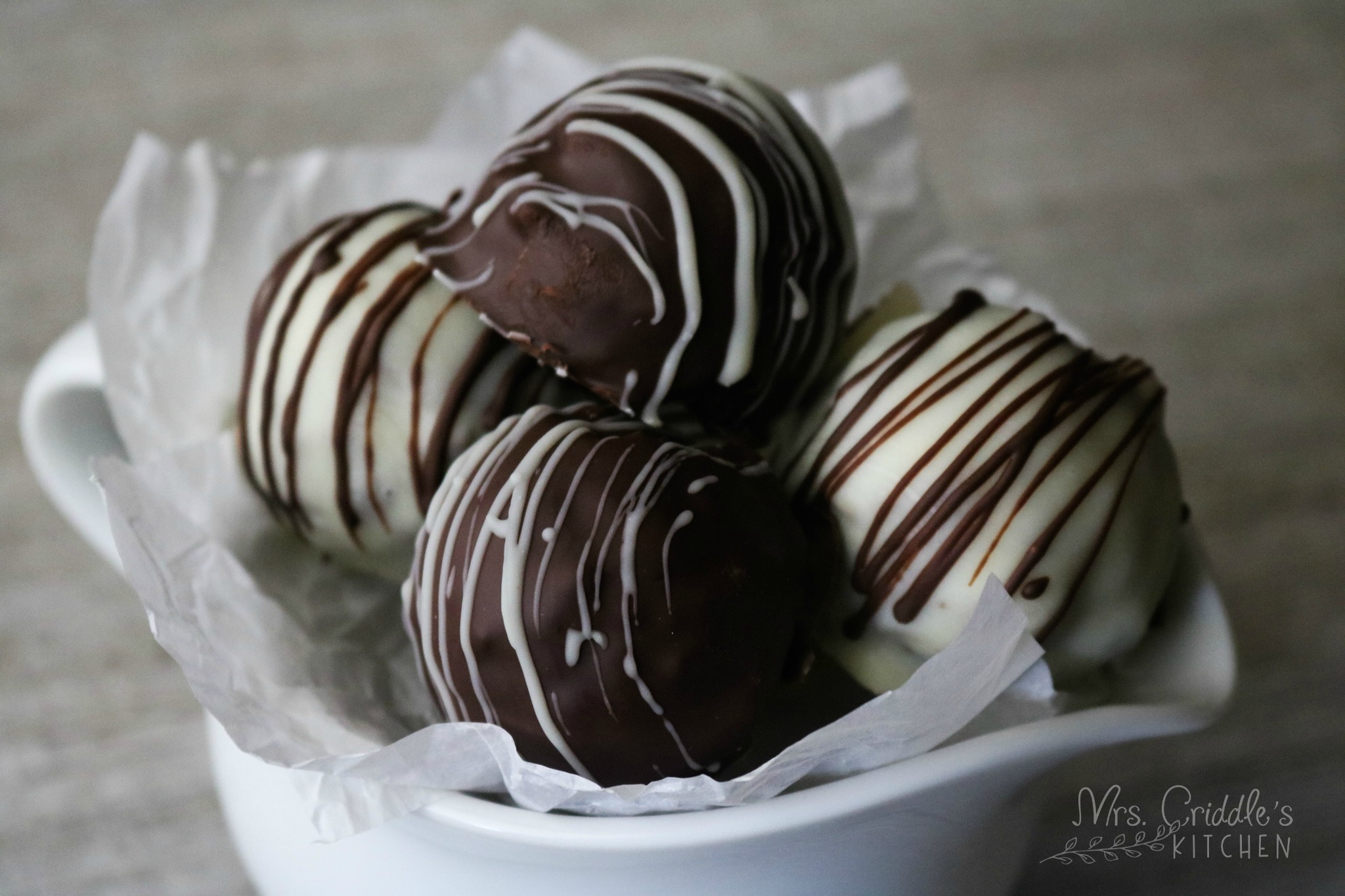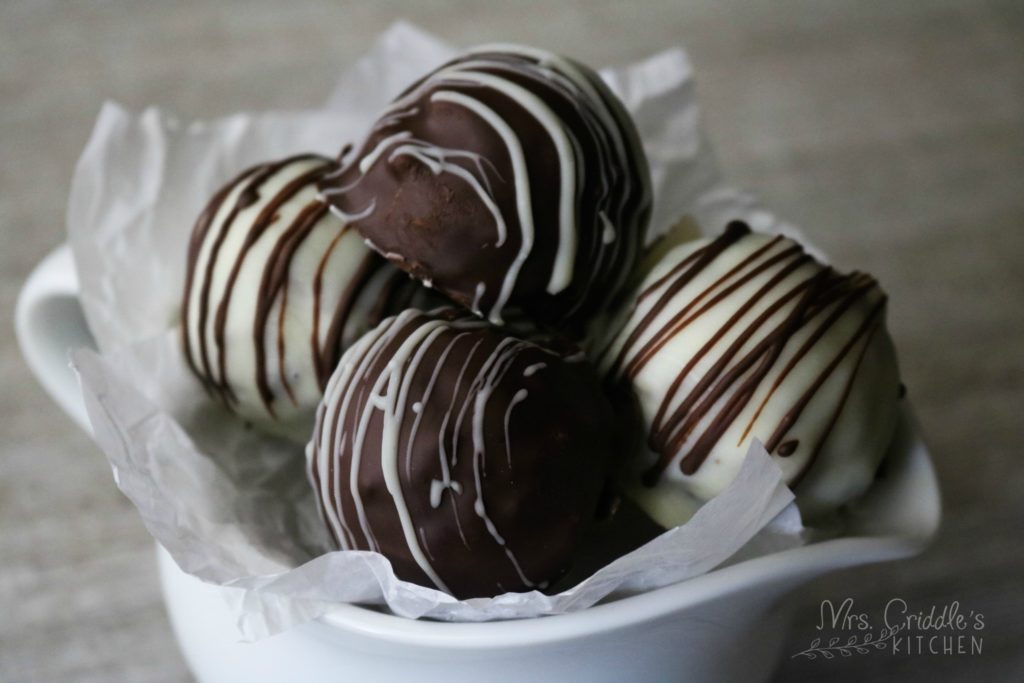 These low carb Brownie Truffle Bites are DA BOMB! Yeah, I cannot believe how perfect these little guys turned out the very first time! And let me tell you… they are incredible! Ok, I'll stop repeating myself! Basically, you take the brownie recipe, cream cheese and chocolate for the coating to make beautiful truffles! YES PLEASE!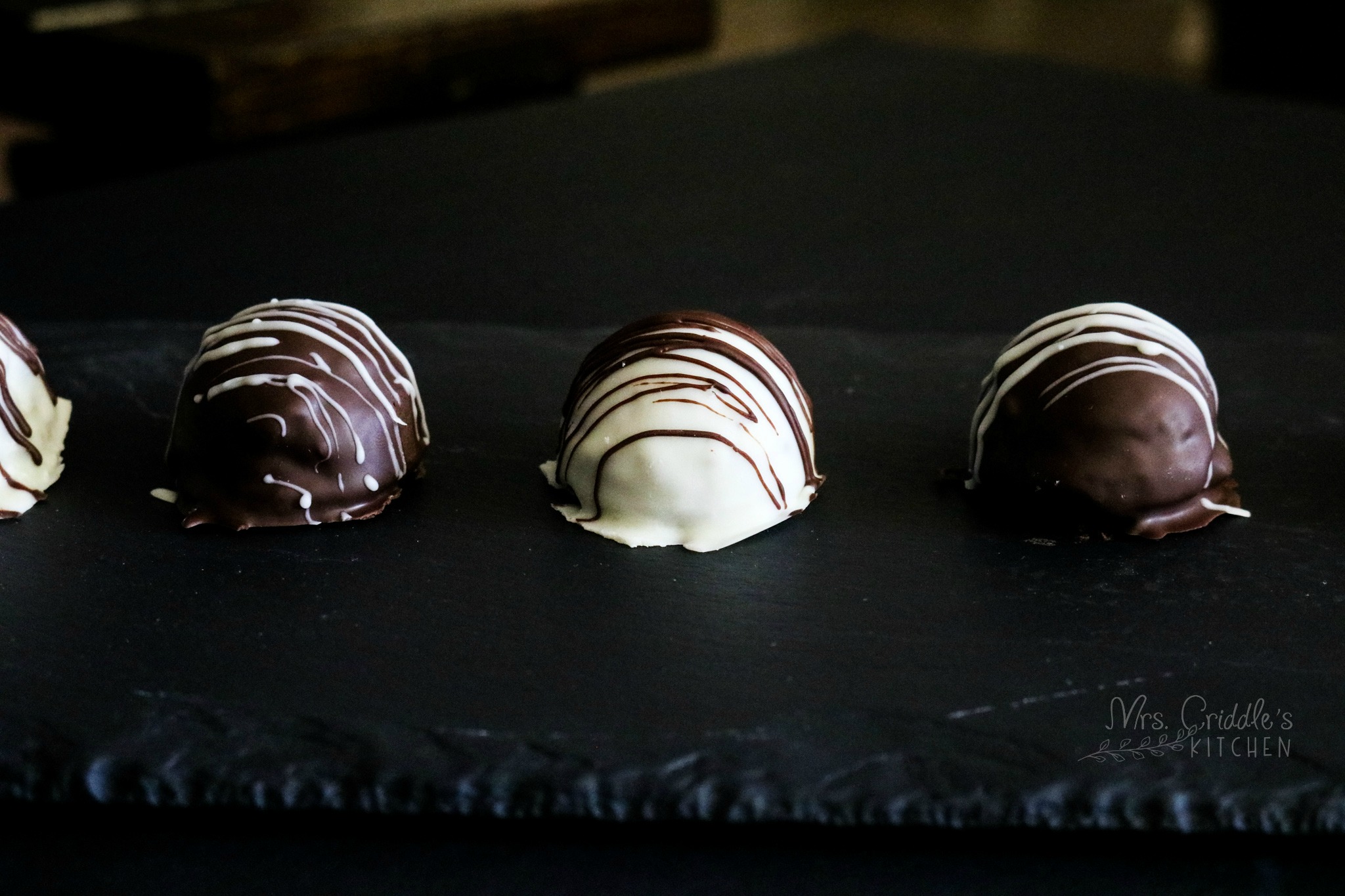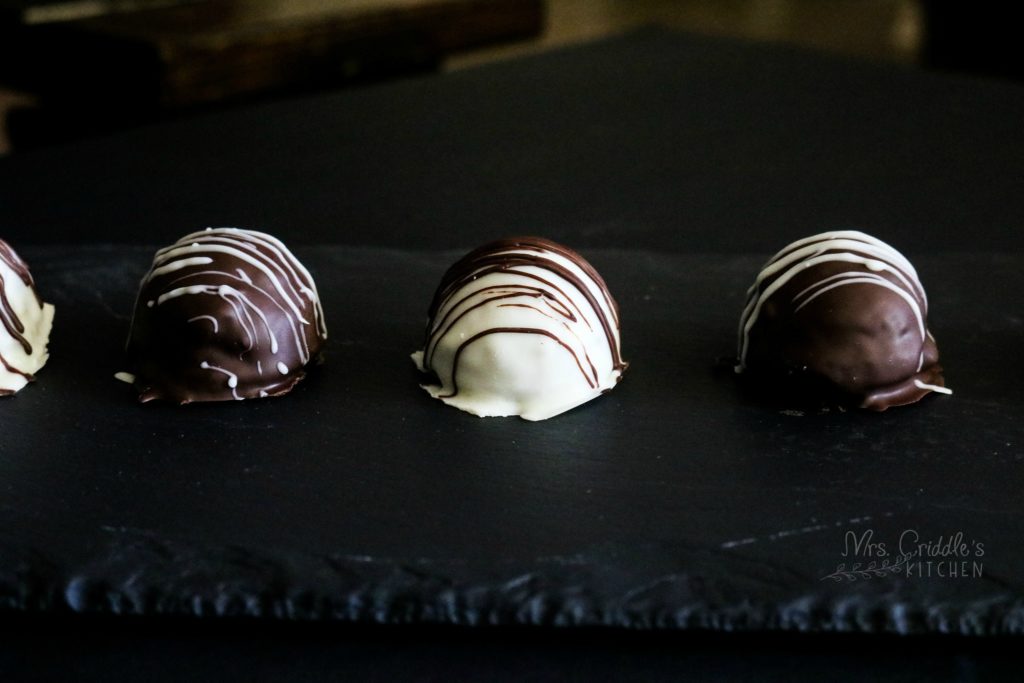 So the base of these low carb brownie bites is this Double Chocolate Walnut Brownie recipe that my daughter Abby created. It is such a great, easy brownie recipe that we've made over and over so it's pretty much fail proof! I've taken the to many events & parties and no one knew they were low carb! That alone makes me happy.
After I baked the brownies exactly as the recipe called for, I allowed them to cool completely. In a big bowl I added chunks of the brownie (I did feed some of the ends of the brownies to my kids, I just couldn't keep them away). I cut up the cream cheese, to make it easier to blend, and placed in the bowl with the brownies. Mix it all together with a hand mixer.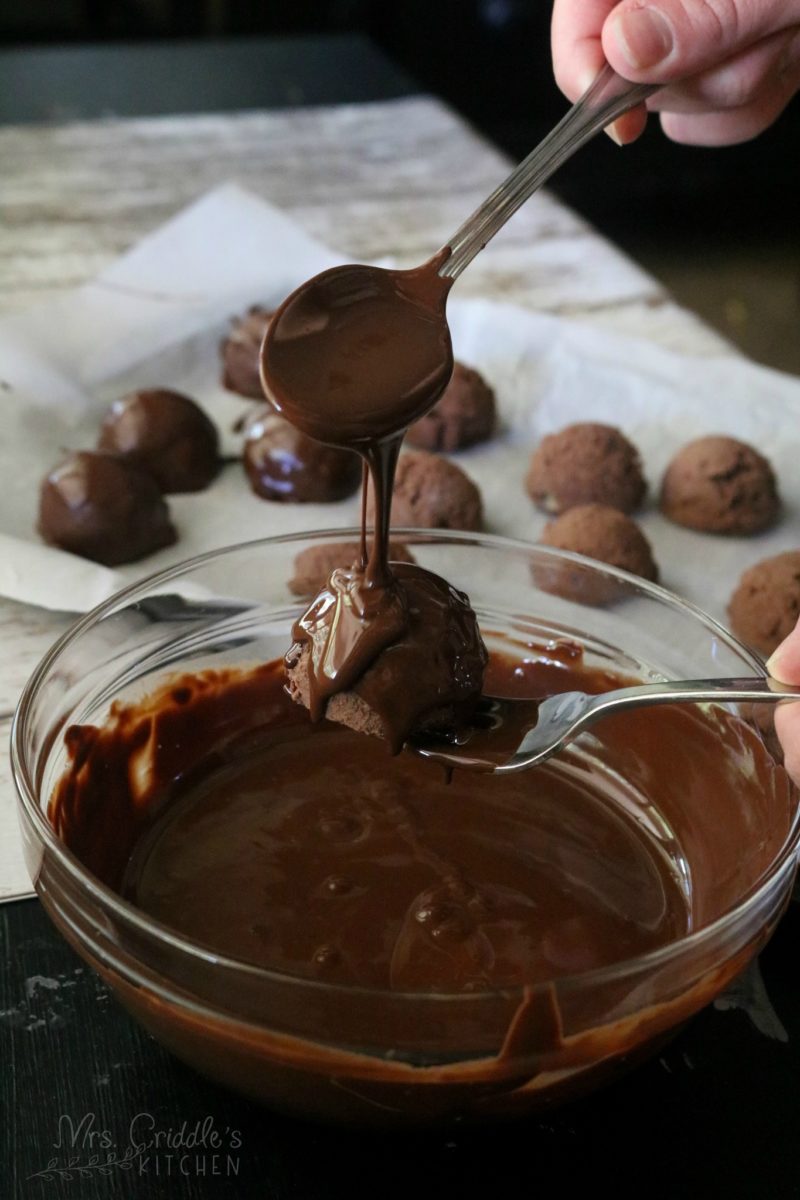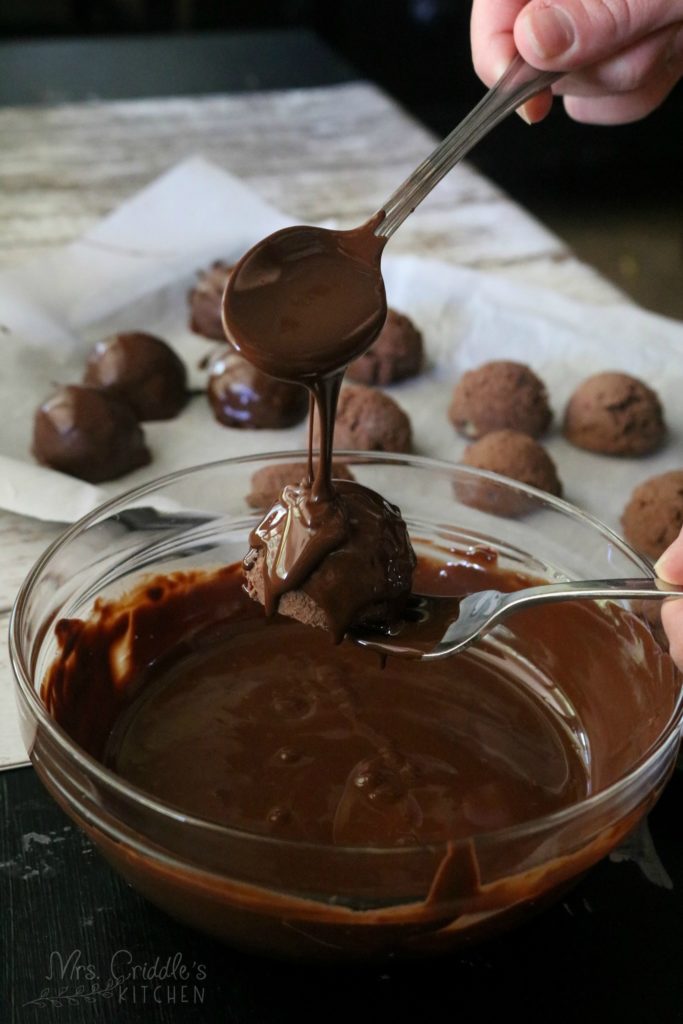 I placed the bowl in the freezer for about 10 minutes to thicken it up a little. After the batter had harden slightly, I scooped out balls of it with a mini muffin scoop and placed on a large cookie sheet that I put parchment paper on.
Freeze again until completely frozen and hard, approx. 20 mins. While the balls are freezing, mix up your chocolate and coconut oil in a microwavable bowl and melt.
Take a frozen brownie bite, place on a fork, like the picture above and drizzle the chocolate over the bites covering completely. Once coated, pop back into the freeze for 5 minutes to harden up again.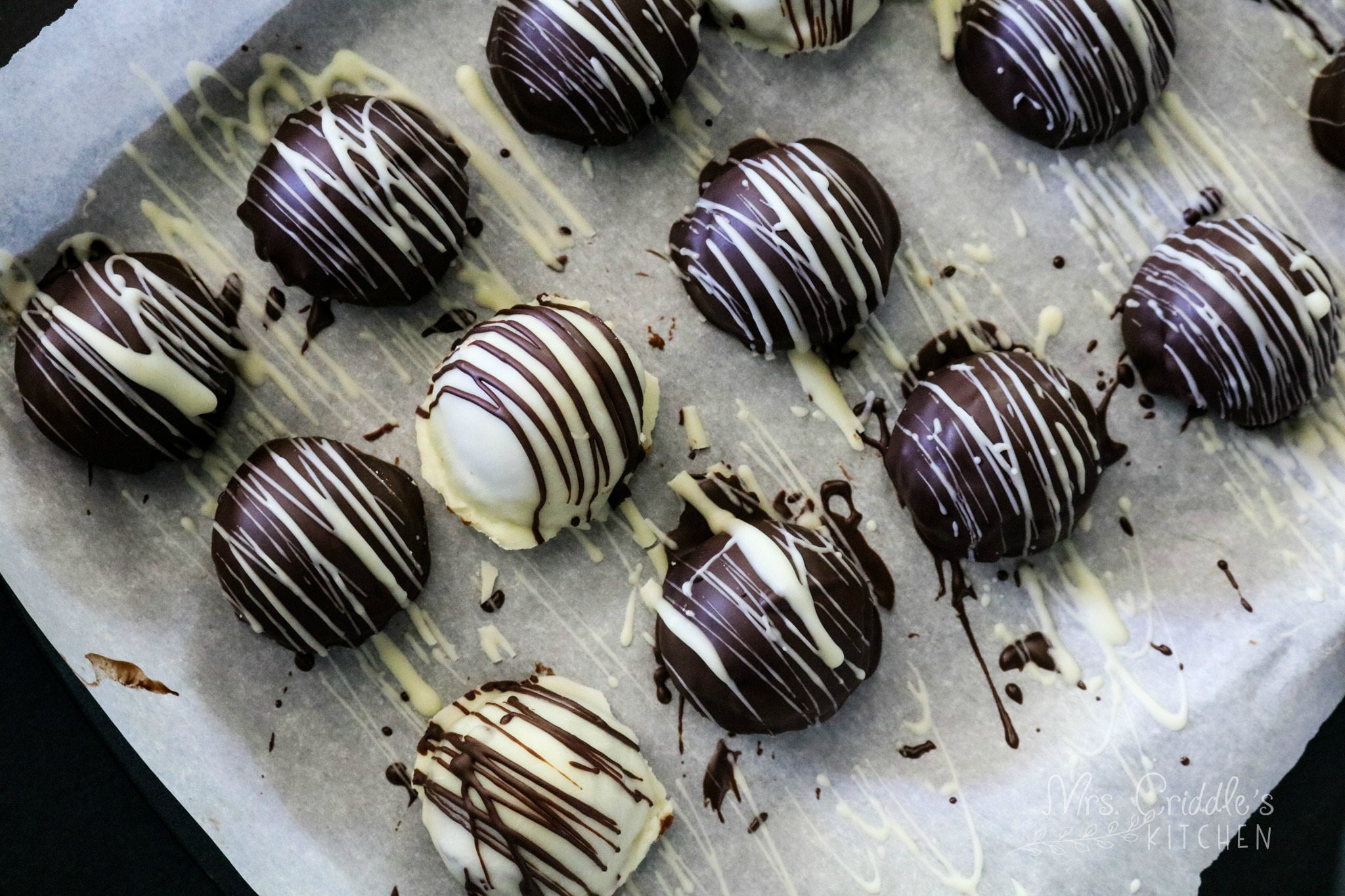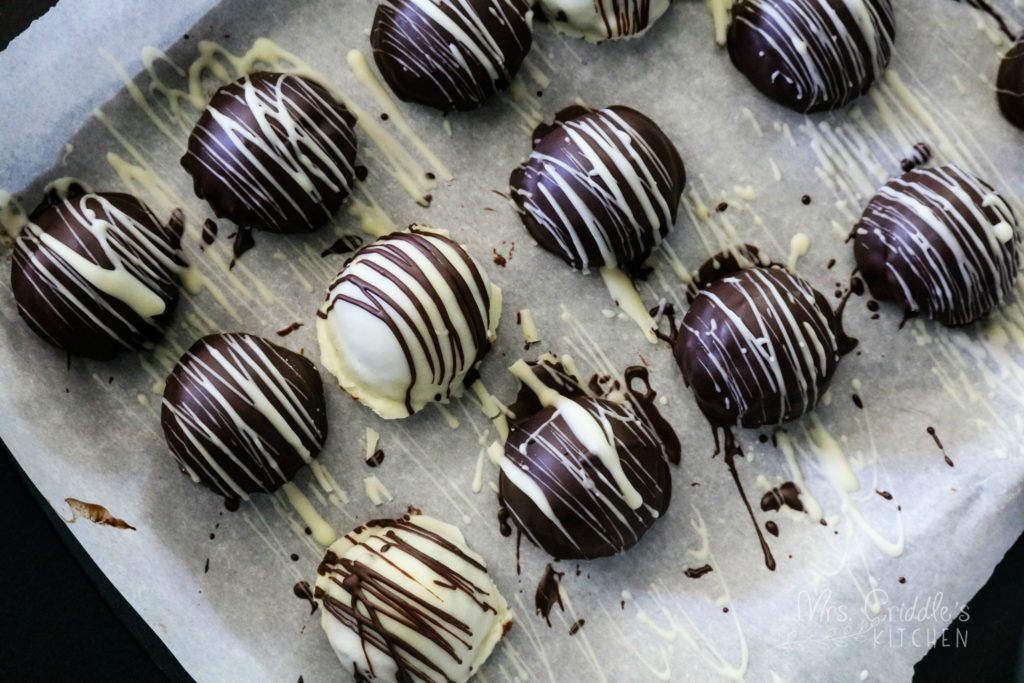 You should have a little bit of white and dark chocolate left over. Using that you will drizzle the white chocolate over the dark chocolate bites and the dark chocolate over the white chocolate bites. How pretty does that picture look above?!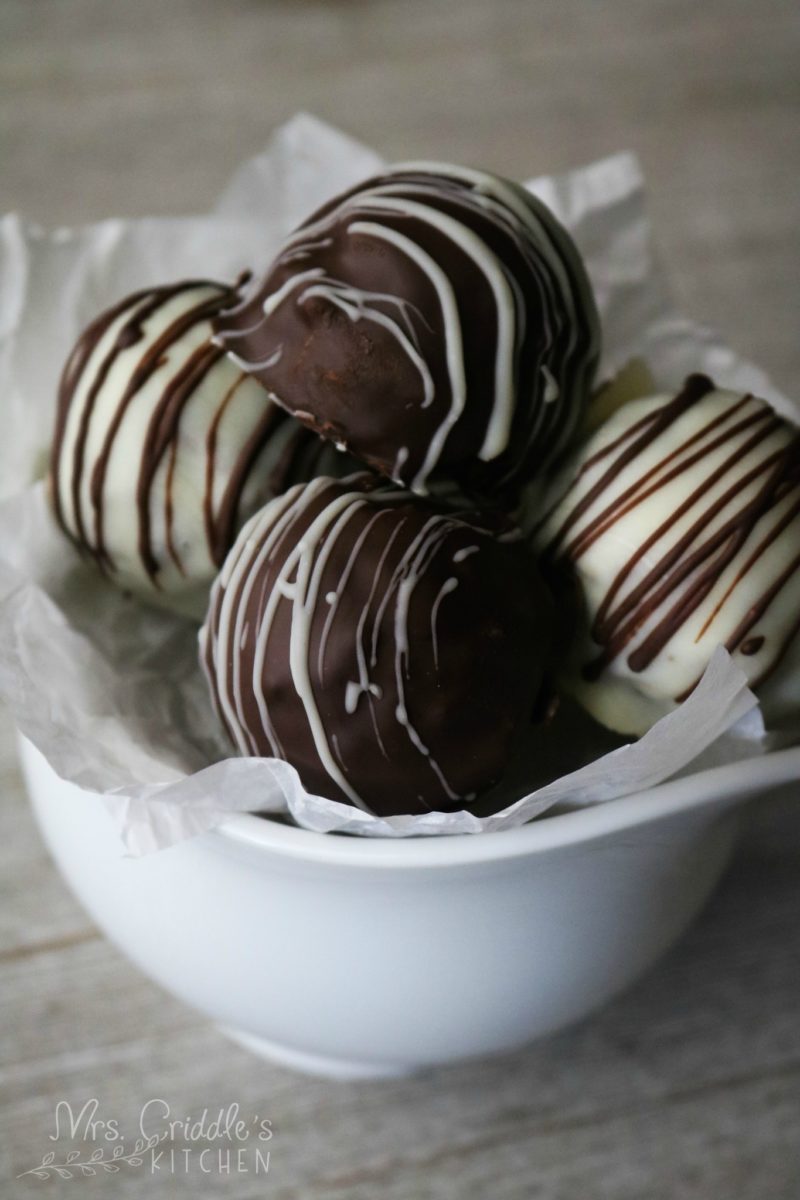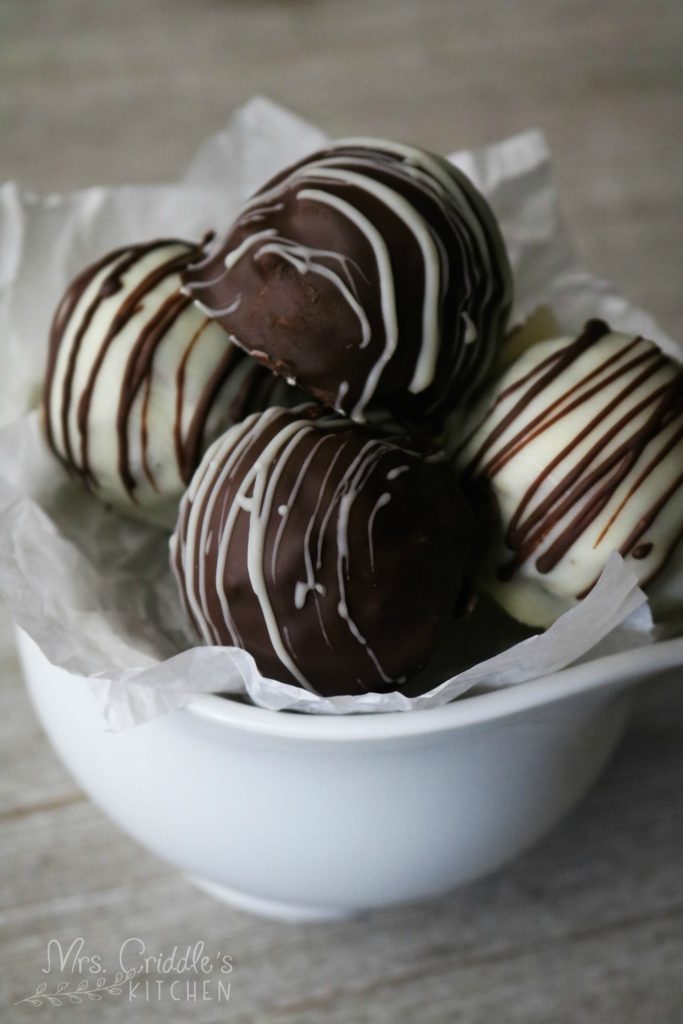 And you are finished! This recipe makes about forty-two 2″ brownie bites. I store these in a big plastic container and I layer with parchment paper or wax paper to prevent them from sticking to each other.
And honestly, you can decorate them however you'd like. I just gave you an easy example above of what I did. I used mostly semi-sweet Lily's Chocolate Chips and a little bit of the Bake Believe White Chocolate Chips that I find at Wal-Mart. Use whatever brand you can find, it shouldn't make much of a difference. Just be careful when you microwave the chips, you do not want to burn the chips!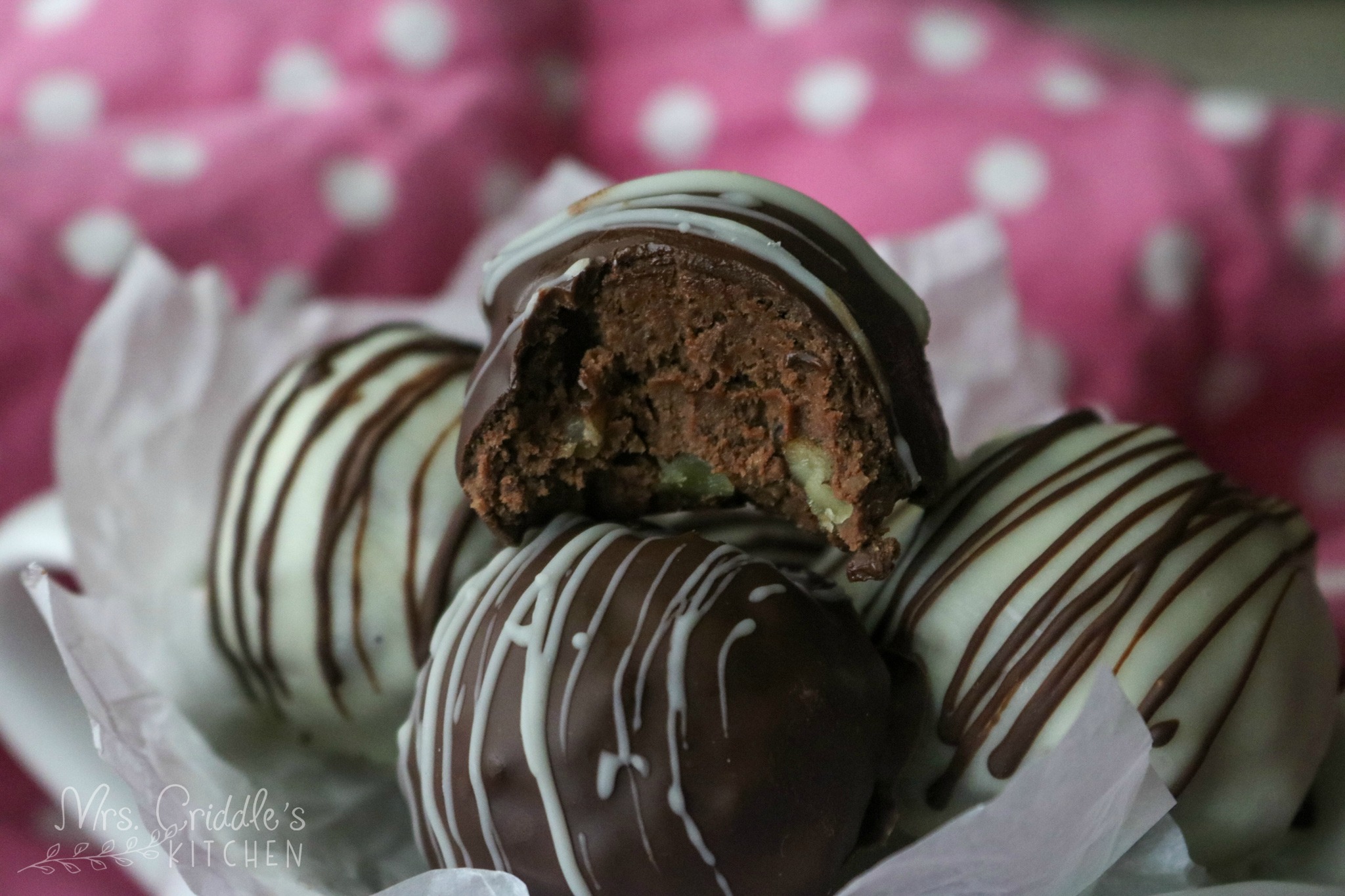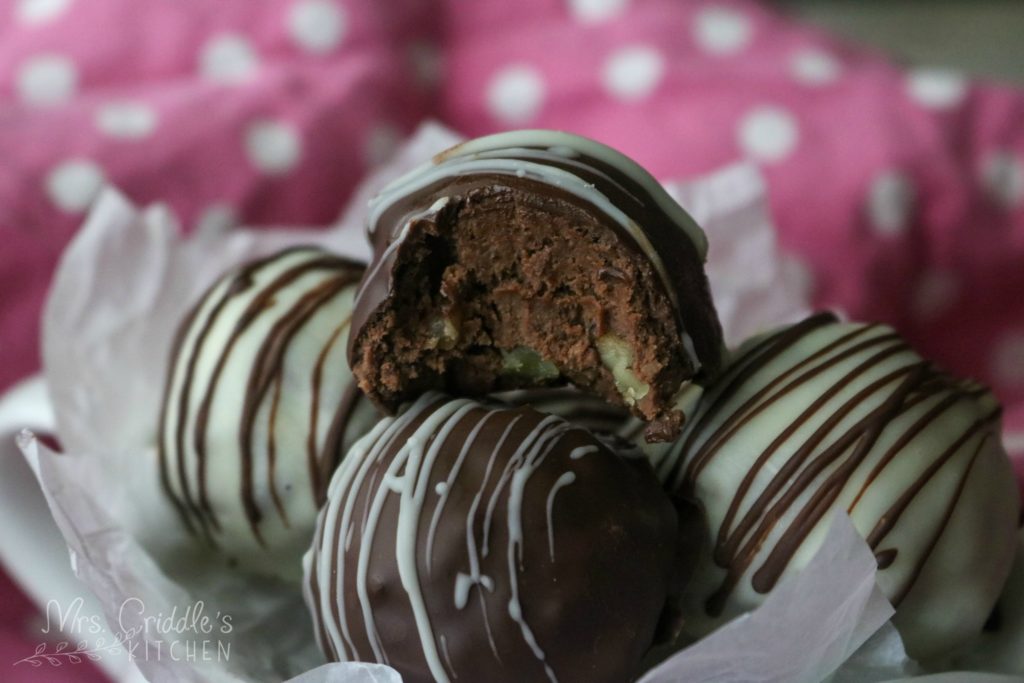 See the yummy inside of these Brownie Truffle Bites! They are rich and decedent with out being too much! And, like I said above, no one will know they are healthier by being low carb and sugar-free! My husband and kids could not get enough of them. Win win for me!
For my Trim Healthy Mama friends these are a THM S because of it being high in good fat.
Here are a few things you might want to purchase with my affiliate link:
Lily's Semi-Sweet Chocolate Chips
Print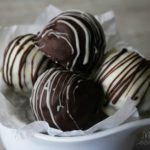 Brownie Truffle Bites- low carb, THM S
---
Description
Brownie Truffle Bites- a low carb, sugar-free, THM S sweet treat that everyone will love!  Combining both a yummy brownie recipe with truffle goodness!
---
---
Instructions
Follow the link to the brownie recipe.
Make brownies as recipe says.
**Note- if you do not have walnut use pecans (that's what I did)
Bake the Double Chocolate Walnut Brownie recipe and allow to cool completely.
Put 90% of the baked brownies into a big bowl in chunks (I cut off the edges of the brownies to leave out brownie bits that were too dry).
Cut up the cream cheese and add to the bake brownies.
Mix up with a hand mixer until completely combined.
It will be very moist but if it is too moist and won't hold it's shake, place the mixture into the freezer for 10 minutes to harden up.
Scoop out 2″ balls of brownie cream cheese mixture and place on a parchment paper lined cookie sheet.
Put brownie bites into the freezer for 20 minutes or until hard.
In a microwaveable bowl add the Lily's Semi Sweet Chocolate chips and 2 tbsp. of coconut oil.  
Microwave on high for 1 minute, mix and heat again for 30 secs until melted. DO NOT OVER HEAT.
You will repeat this step for the Bake Believe White Chocolate Chips and 1 tbsp. of coconut oil.
Take the frozen bites out of the freeze, place on a fork, drizzle chocolate over them.
Gentle place back on the cookie sheet with a spoon.
The chocolate will harden up on the bites.
After you have made all the bites you can place them back in the fridge or freezer to harden up before drizzling the left over chocolate over the top.
Most of the bites will be semi sweet and 1/3 will be white chocolate but you should have a little bit of both the white and semi sweet chocolate left.
Take a spoon, scoop the remaining chocolate and shake over the top of the cold brownie bites in the same direction. 
Refer to my photo to see how to do the chocolate.
Store in an air tight container, layer parchment paper on top of each brownie bit to keep them from sticking together.
Enjoy.
---