Low Carb Peanut Butter Cookies- a yummy low carb, sugar-free, THM S treat to keep you on plan & even your kids happy!
(This post may contain affiliate links to Amazon, THM & Lakanto Monkfruit.)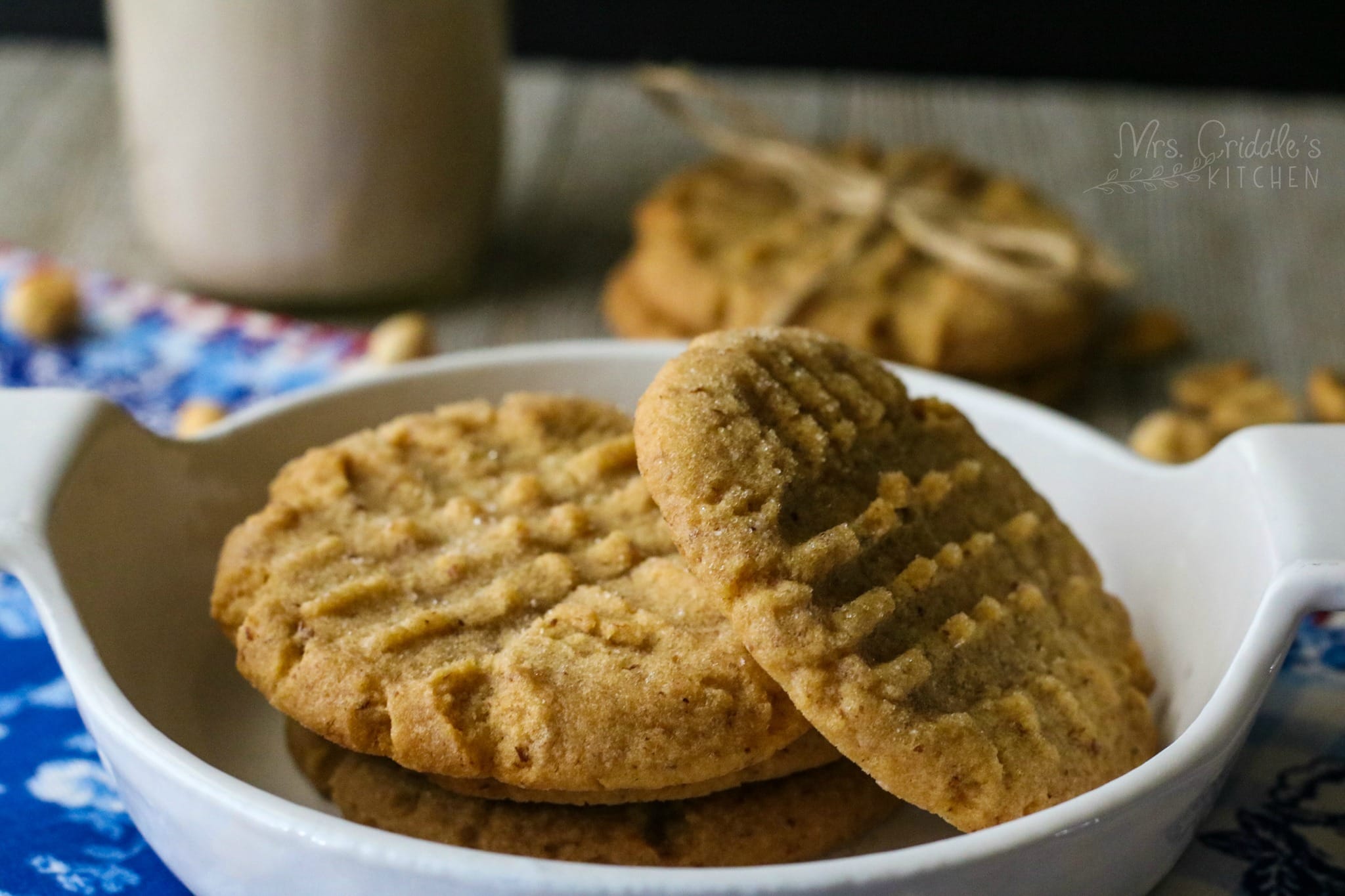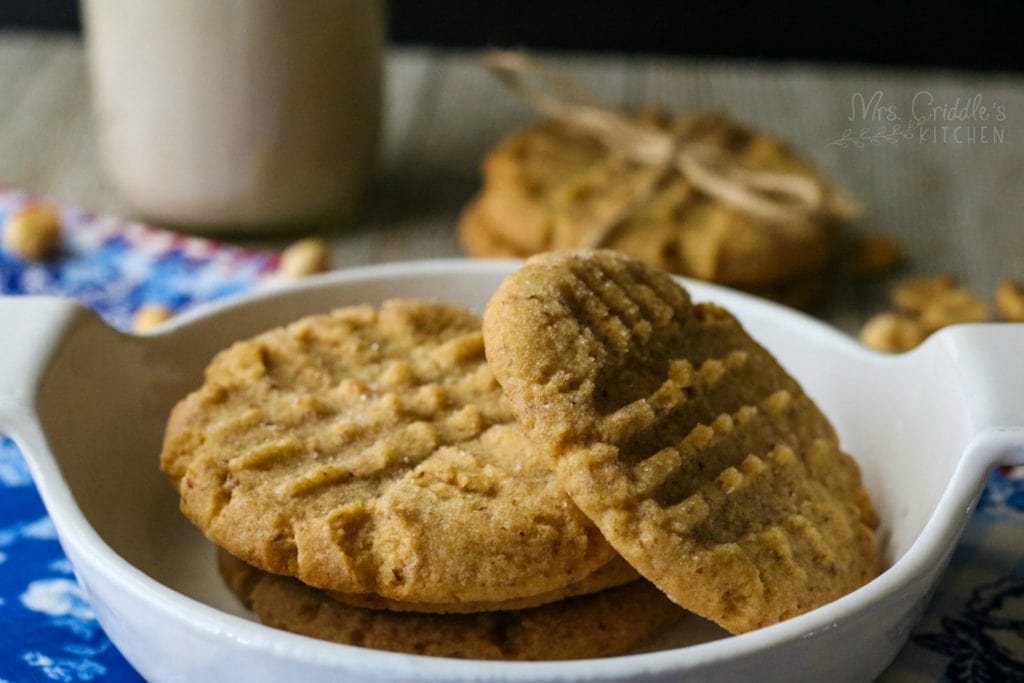 These Low Carb Peanut Butter Cookies make a perfect snack or even dessert and the best thing is they are SUGAR-FREE! I don't know about you but I get happy about sugar-free desserts! Mainly because I love sweet things! And I love eating sweet things! With these I CAN EAT THEM AND NOT FEEL BAD! And you want to know the coolest thing about these… my almost 12 year old daughter Ally created this recipe!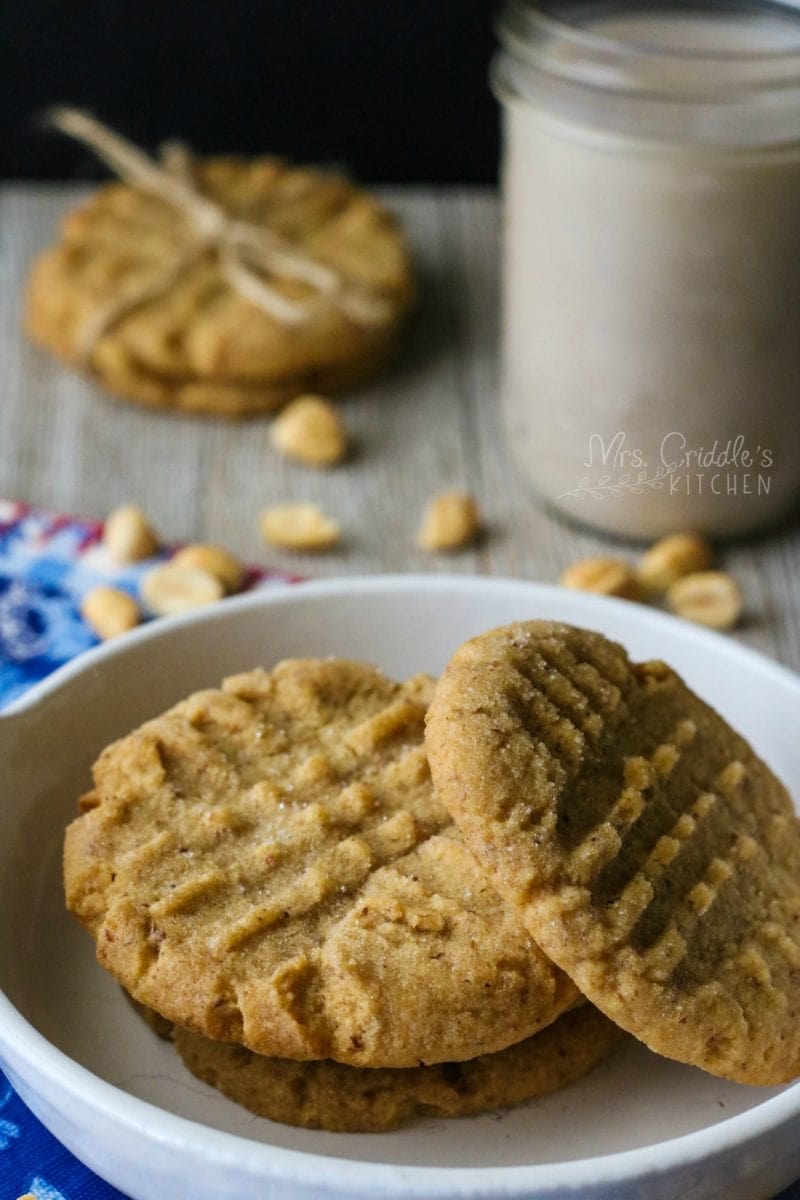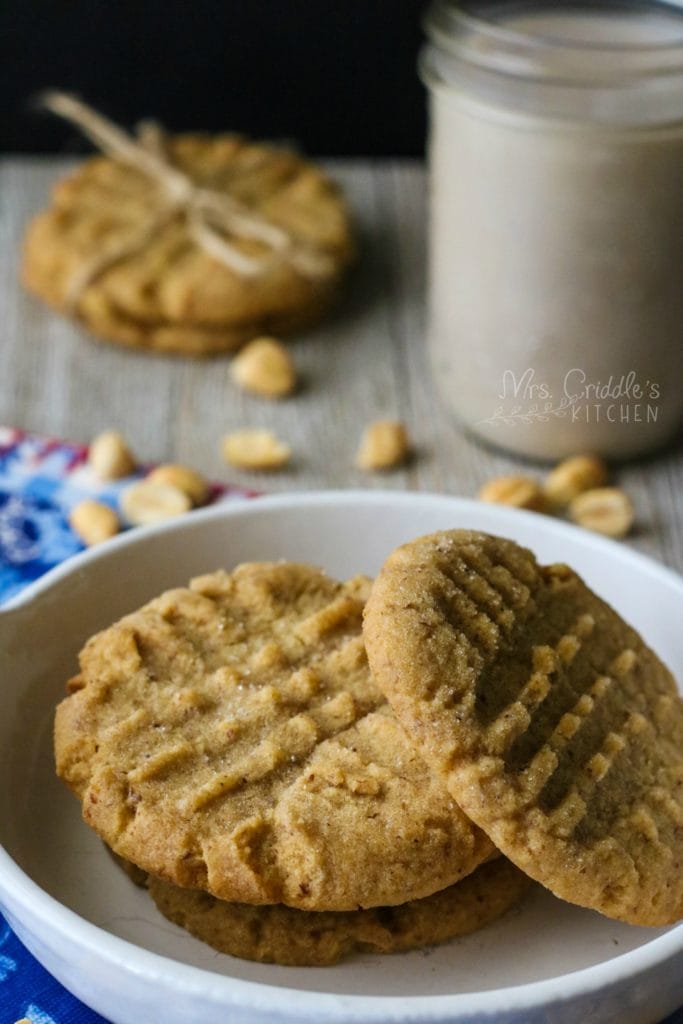 Something else I love about these Low Carb Peanut Butter Cookies is that they actually hold their shape! It's hard to find a sugar-free, low carb cookie that actually will stay firm. And that usually has to do with the lack of actual sticky sugar. With these, I use both Lakanto Monk Fruit Sweetener & the THM Gentle Sweet. I have found that using that by using both the sweeteners it helps to firm up cookies.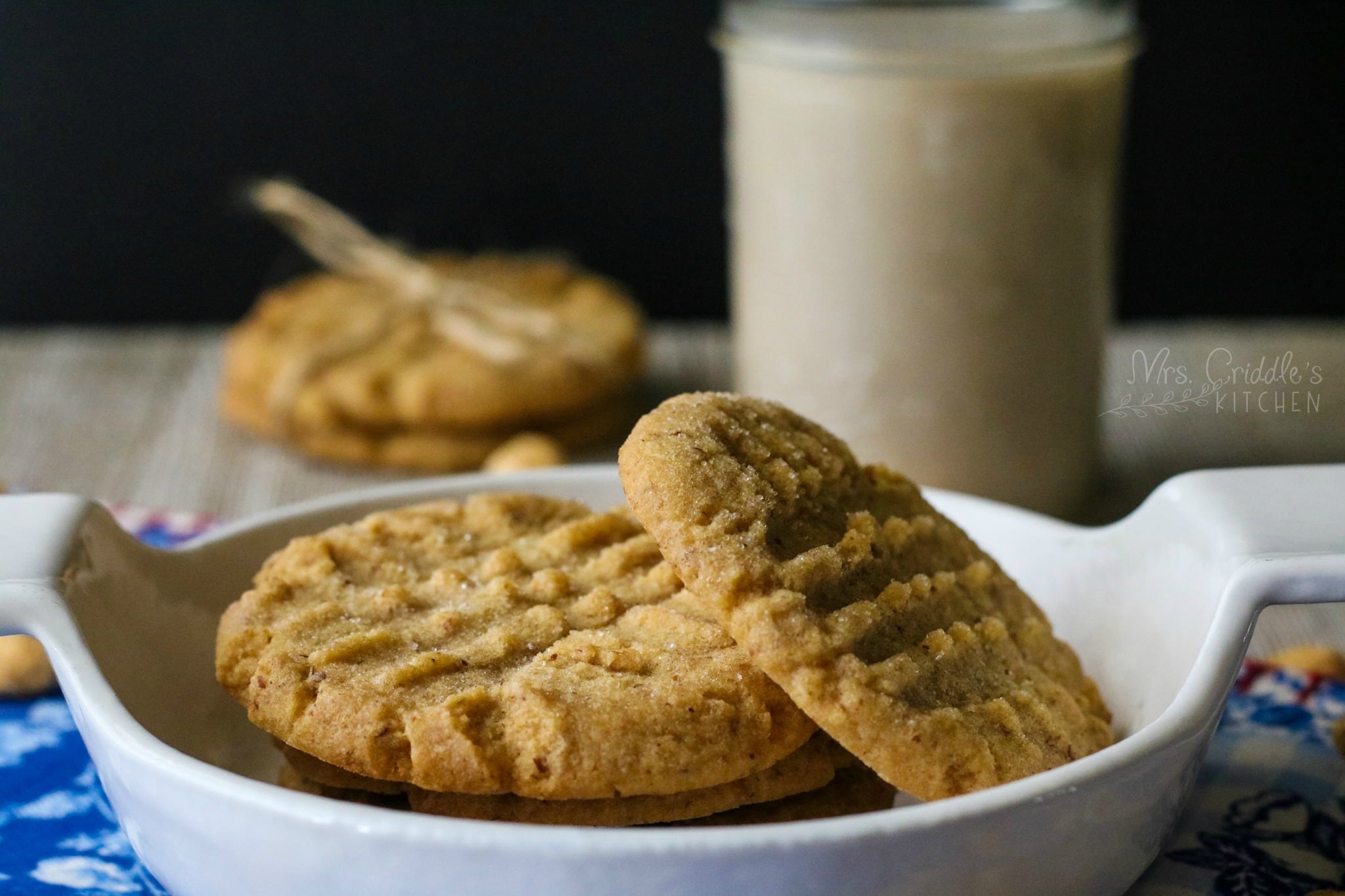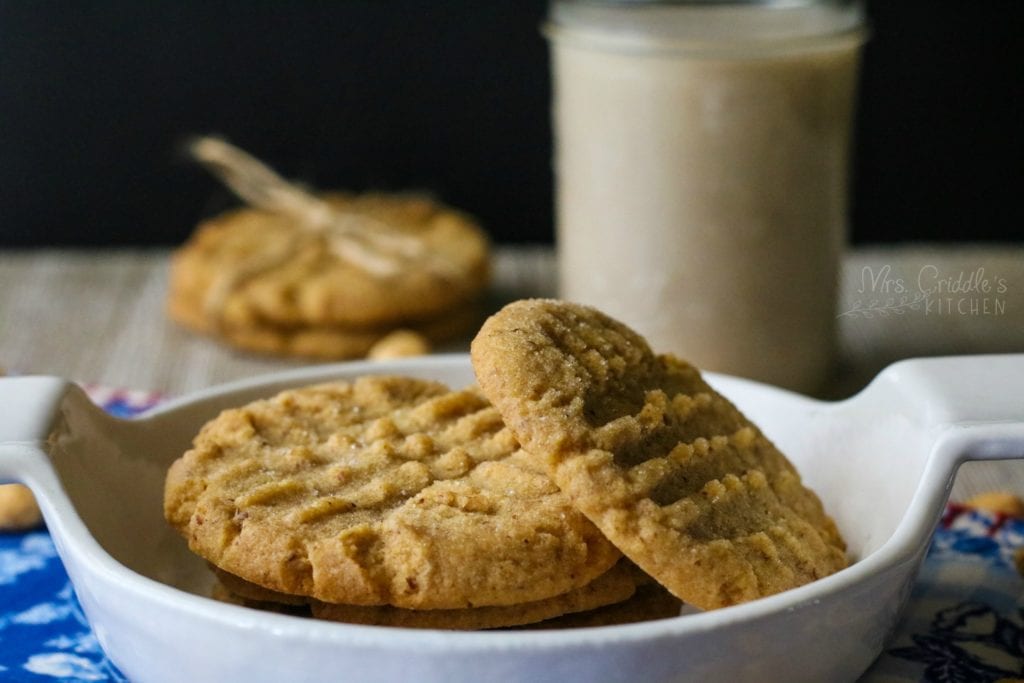 I also used THM Baking Blend in this recipe. I love it because it really gives you a lighter cookie instead of adding in more almond flour. And this also helps give your cookies a little more protein! The THM Baking Blend is something I always have in my pantry… its not only low carb but also a low fat baking blend.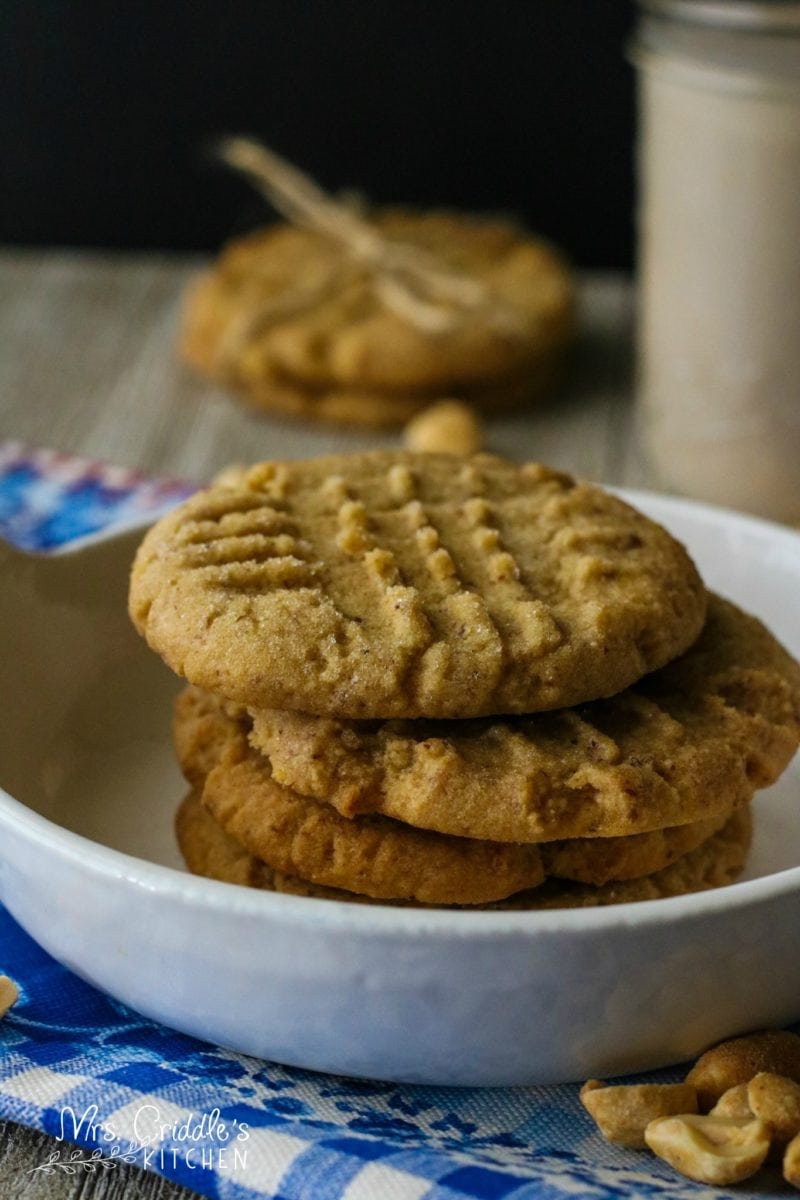 When choosing peanut butter to make low carb desserts, you will want to look for peanut butter that is more natural without added sugar. In fact, it usually will only have more ingredient and that is peanuts. Sometimes it might have an oil or even salt but most of the natural peanut butter I have found is just ground peanuts. I don't really have a specific brand.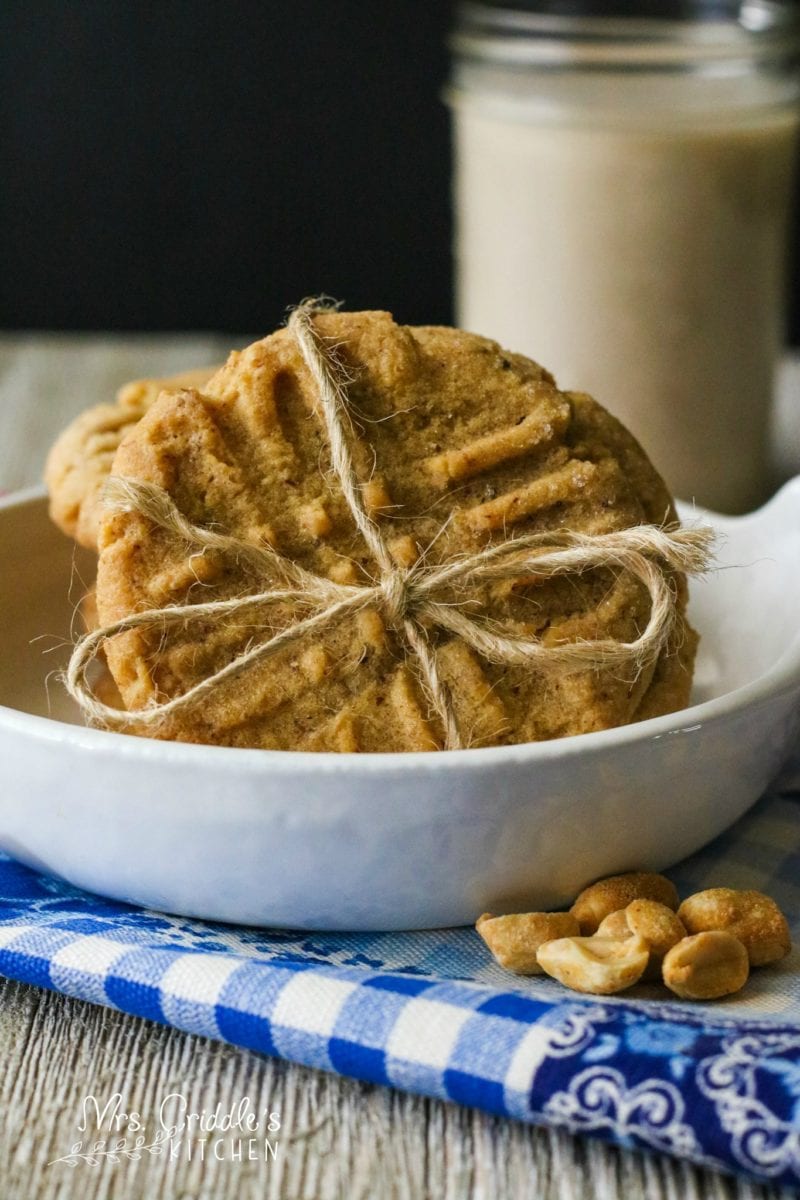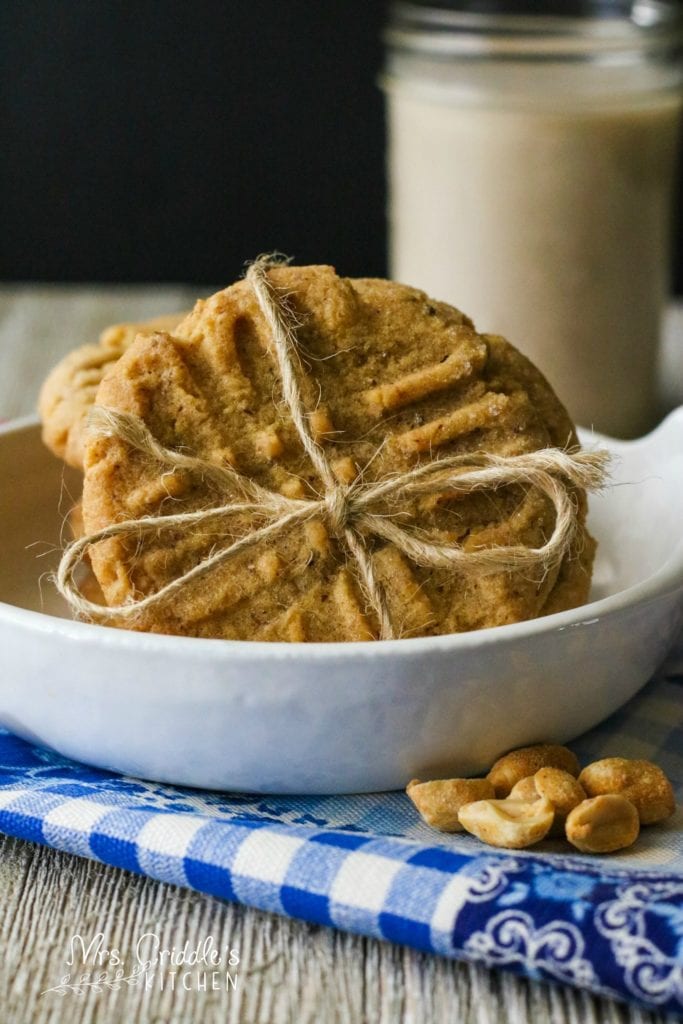 Peanut Butter Cookies always have a certain look… they are flat with a crisscross look. To achieve this, you will roll each cooking into 1.5-2″ balls, roll the balls into the sugar-free sweetener, and then take a form and make a crisscross by pressing down into the cookie one way, switching directions and pressing down again. This is a fun cookie to get your kids to help you with.
Hope you enjoy this low carb peanut butter cookies! They are an S for my Trim Healthy Mama friends.
Other cookie recipes you might want to try…
Affiliate Links of things you may want to purchase…
Print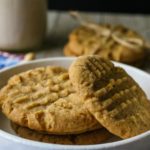 Low Carb Peanut Butter Cookies
---
Description
Low Carb Peanut Butter Cookies- a yummy low carb, sugar-free, THM S treat to keep you on plan & even your kids happy!
---
2 1/4 cups of THM Baking Blend
1 tsp baking soda
1 tsp baking powder
a good pinch of salt
1 cup of sugar free peanut butter
1 cup (two sticks) of room temperature butter
1 cup of Lakanto Monk Fruit
1/2 cup of THM Gentle Sweet
2 eggs
1 tsp of vanilla
**extra Lakanto Monk Fruit for rolling cookies in
---
Instructions
Preheat oven to 375 degrees.
Line a large cookie sheet with parchment paper.
Add THM Baking Blend, baking soda, baking powder & salt to a bowl, mix and set aside.
Add butter, sweetener, eggs and vanilla to a big bowl and mix with a mixer.
Add in peanut butter to the wet ingredients and mix.
Slowly, adding a little at a time, add the dry ingredients and mix until completely combined.
Scoop 1 1/2 to 2″ mounds of cookie dough, roll into balls, roll the balls into the extra Monk Fruit sweetener.
Place cookie balls on the lined cookie sheet, take a fork and press down into the cookie dough balls.
Switch directions with the fork and press down into the cookie dough to create a crisscross.
Place cookies into the oven and bake for 7-9 minutes.
DO NOT OVER BAKE!
Remove from oven and allow to cool before eating.
Enjoy
---