Mango Chicken & Rice is a low fat dish that is exploding with amazing summer flavors. A THM E.
(This post may contain affiliate links from Amazon & Trim Healthy Mama.)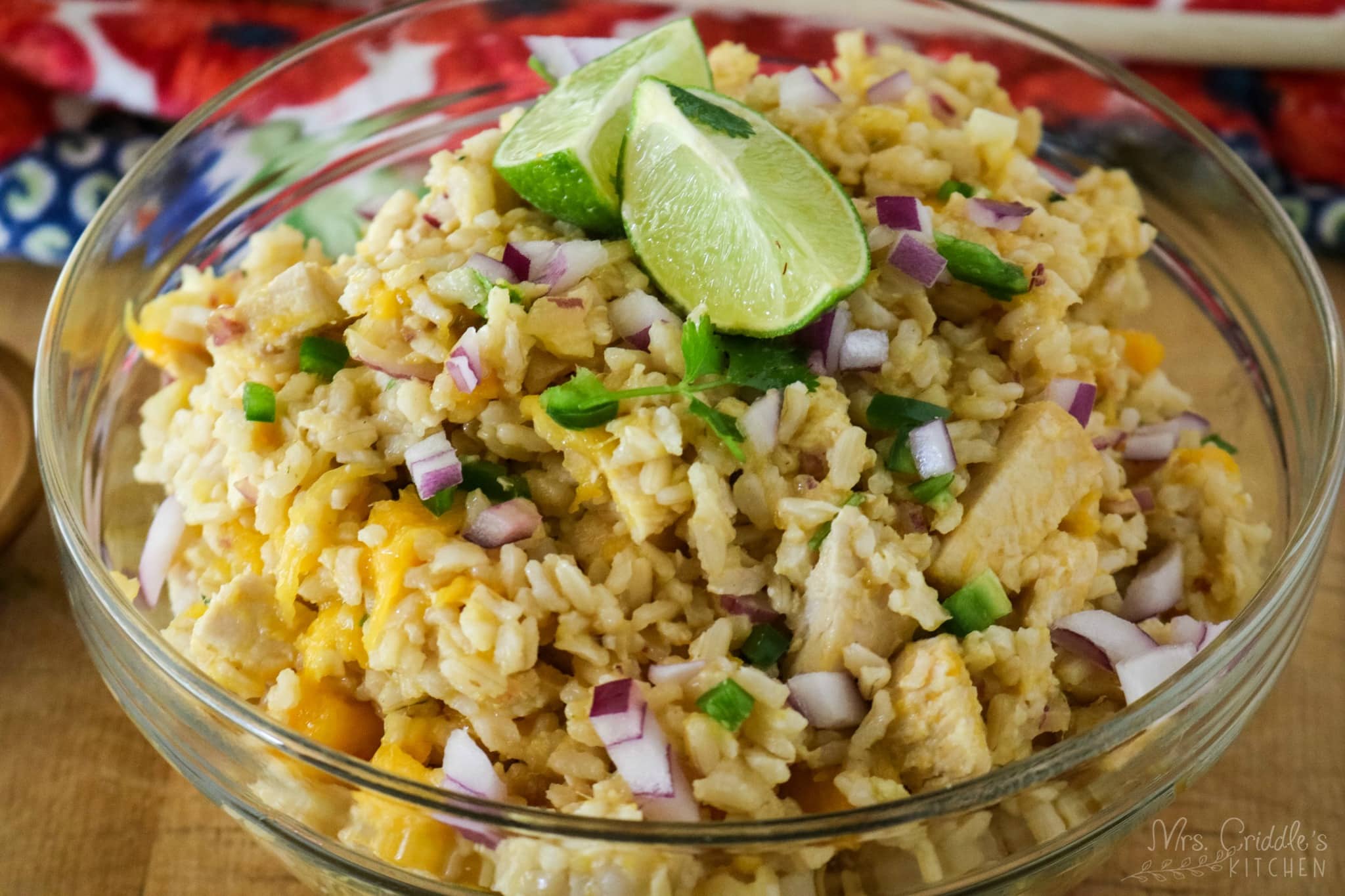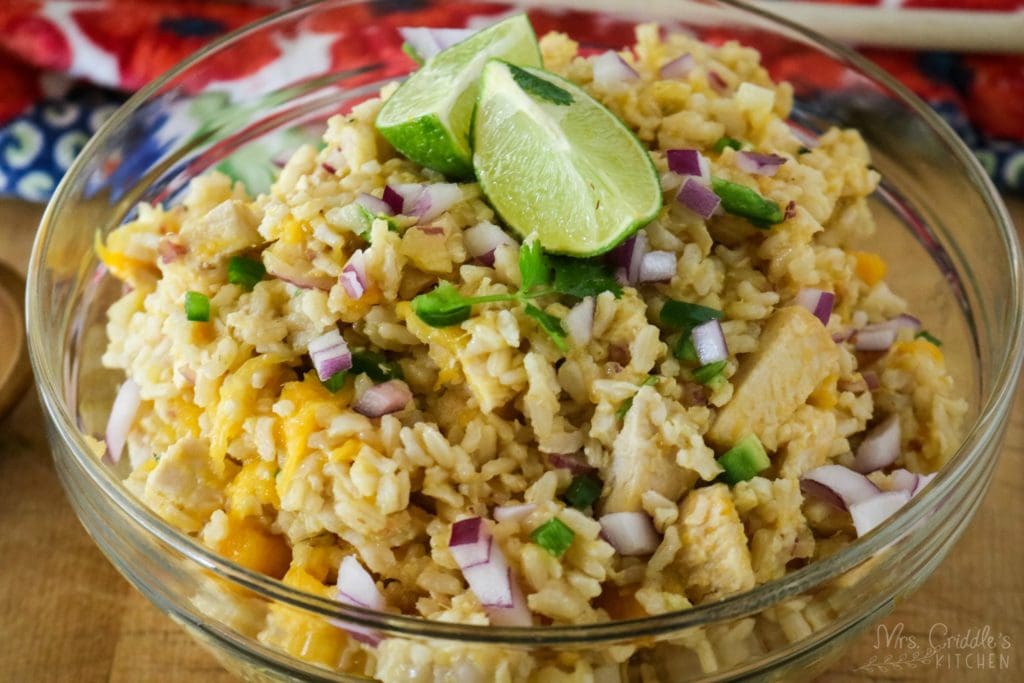 OH my goodness, y'all… this Mango Chicken & Rice dish is such a beautiful dish that is so full of summer flavors! I love it and almost couldn't stop eating. Had to hold myself back.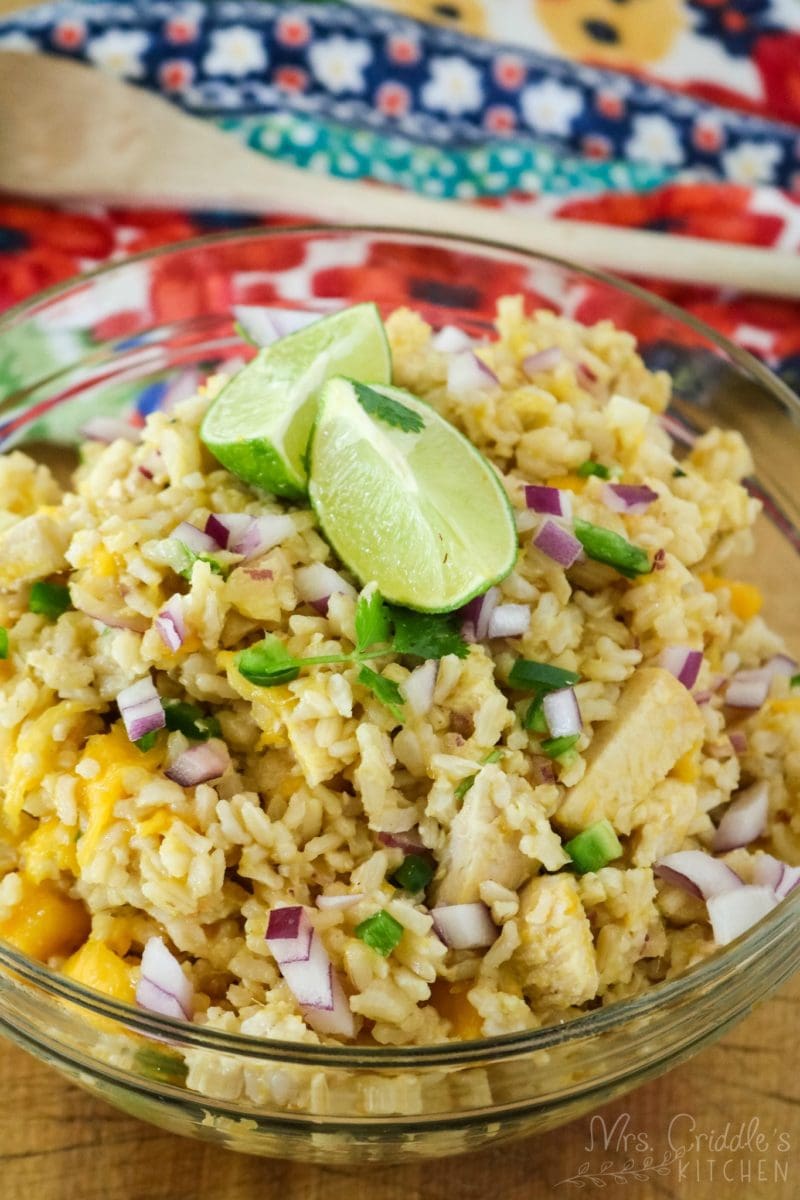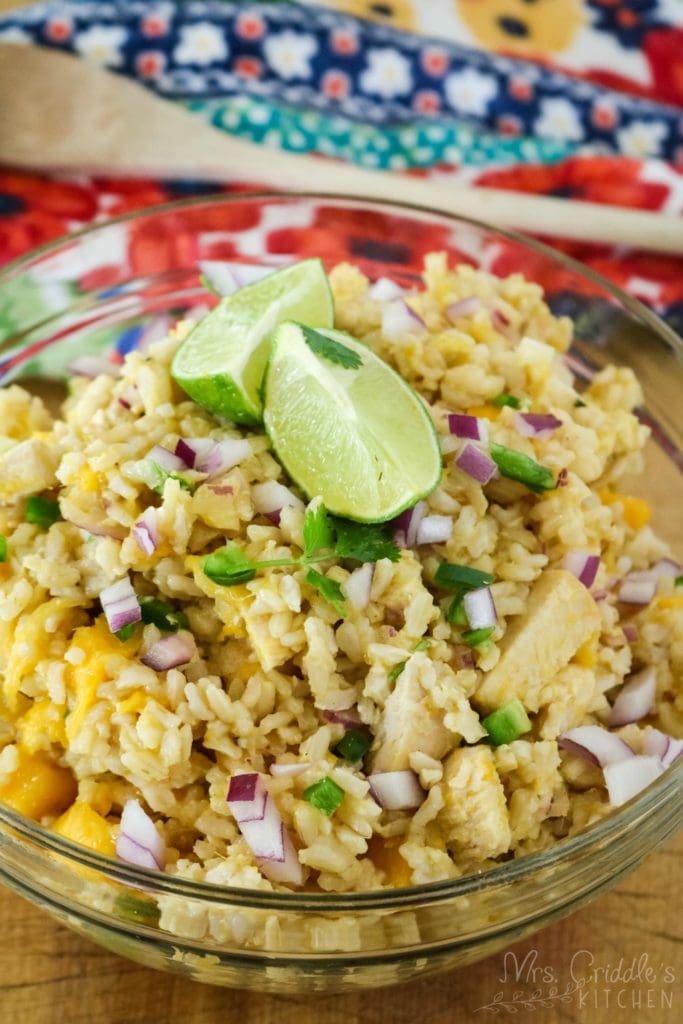 I love this dish too because it's just EASY! I made 90% of it this with leftovers from the night before. It's really no fuss meal and is so filling. I personally this it's kid friendly as well but I guess that depends on your kids. 😀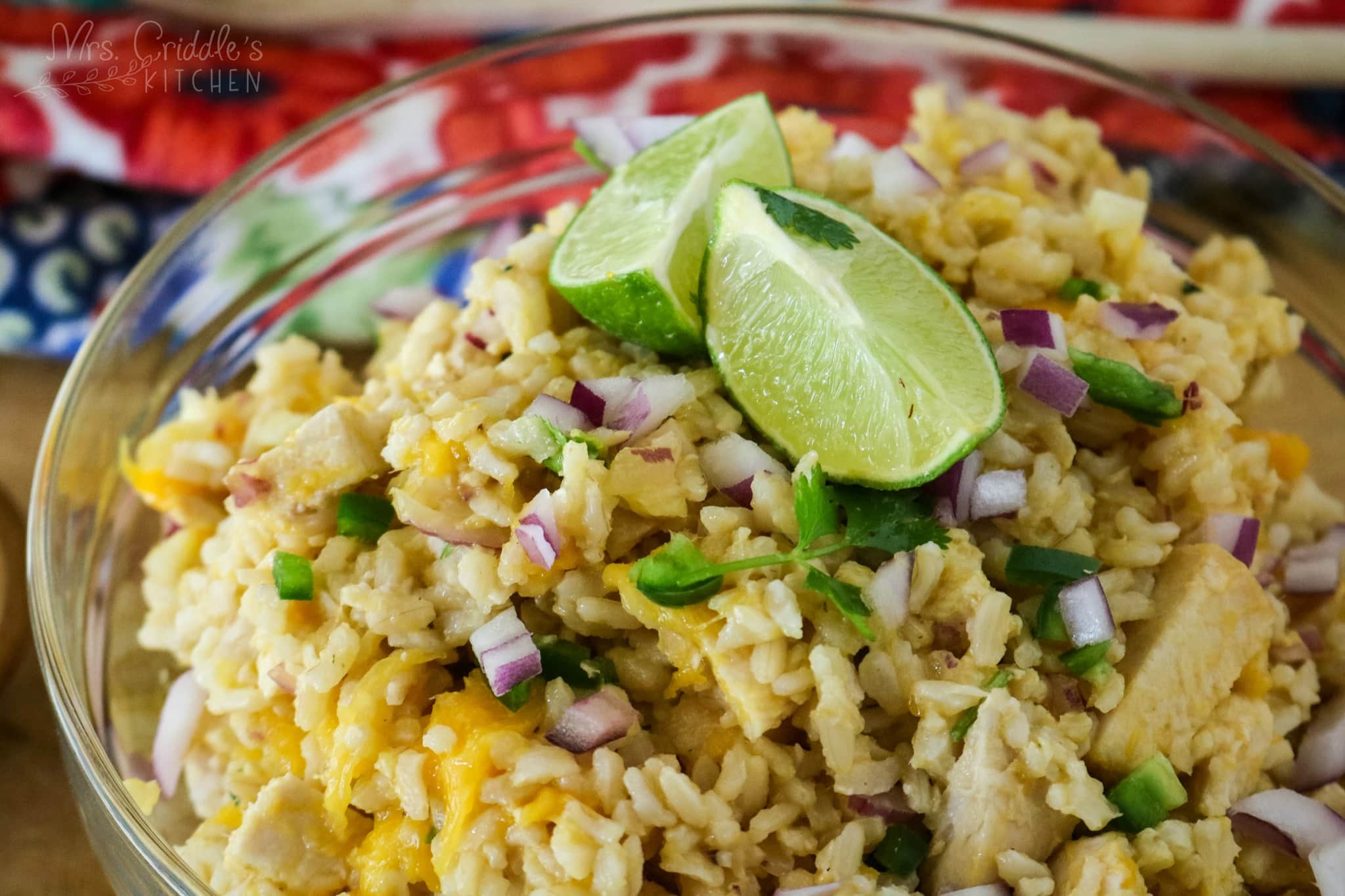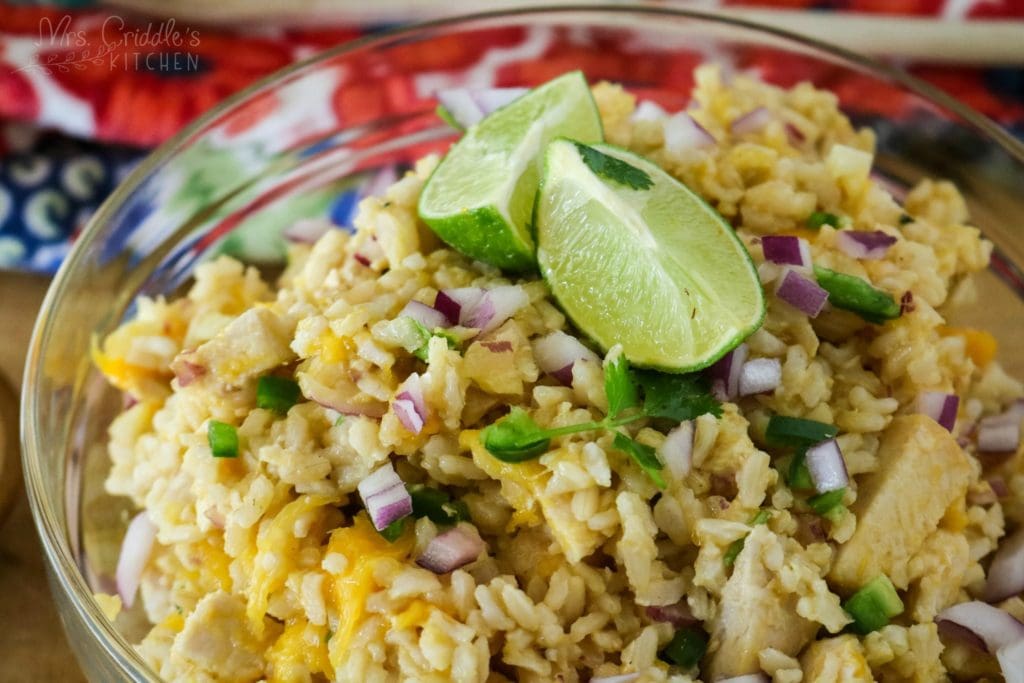 Another thing I love about this is that it's really simple summer ingredients! Nothing crazy that you wouldn't easily be able to find anywhere. I love fresh herbs! The cilantro in this dish came from our garden. And the cool this about this is, if you really do not like cilantro, you can use basil or parsley.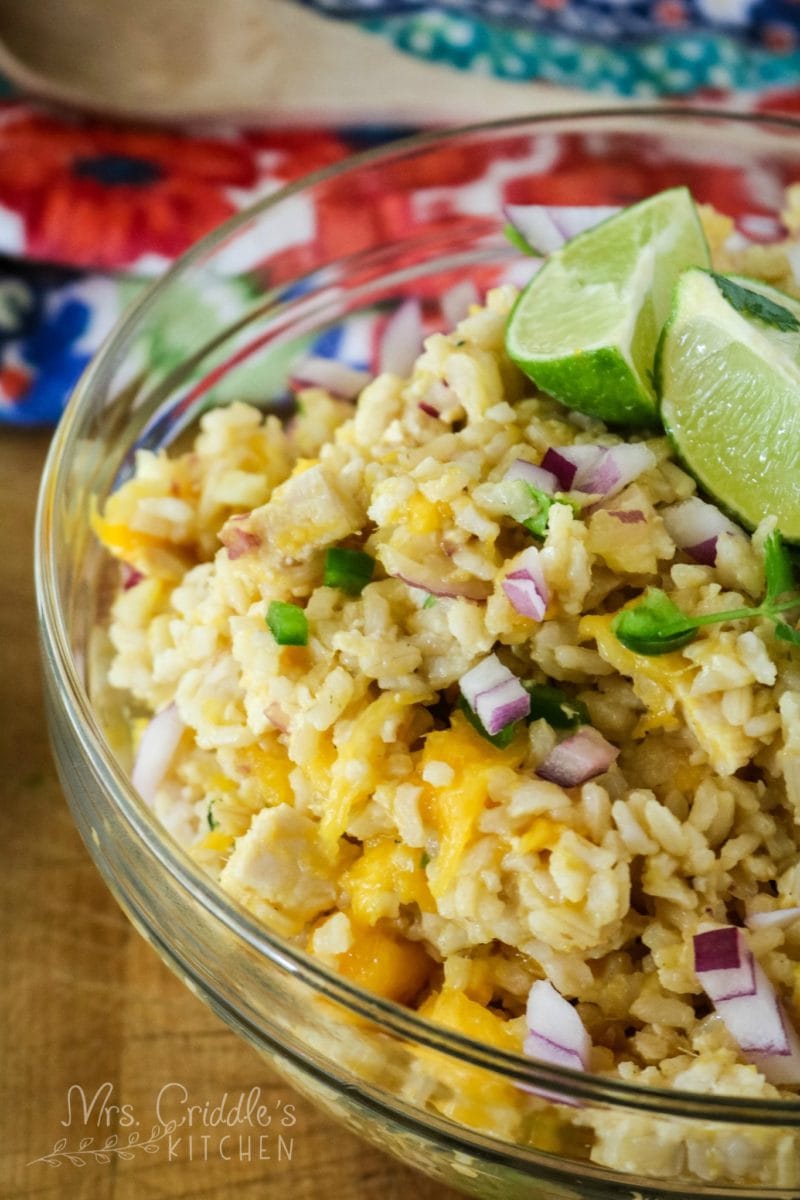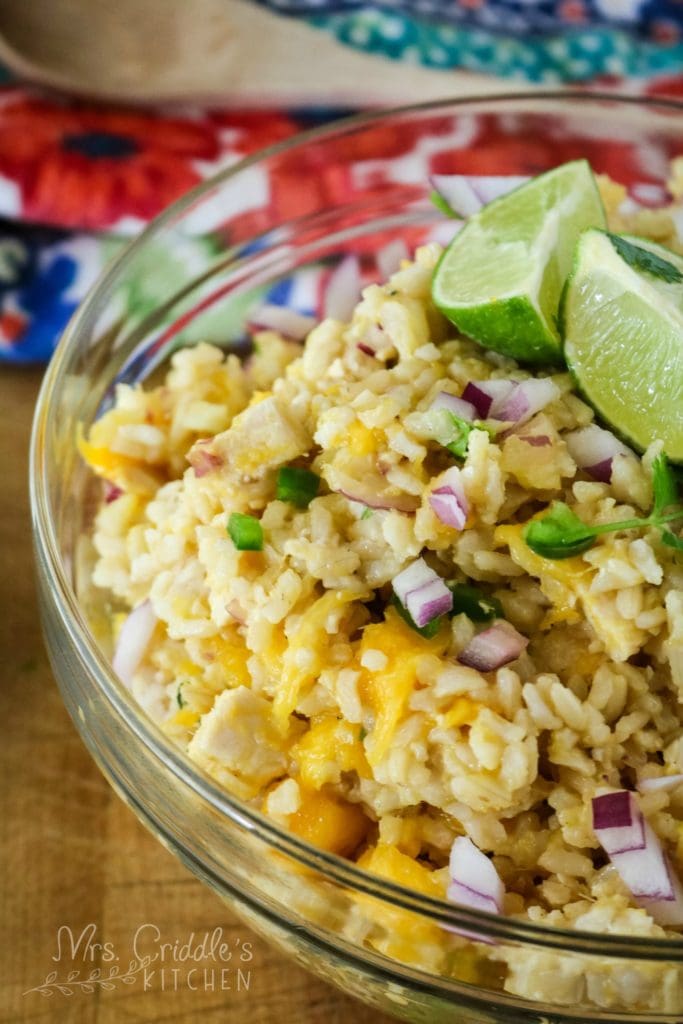 For this Mango Chicken & Rice dish you will need cooked brown rice. I use brown rice because it's just better for you and gentler on your bloodsugar. I made the brown rice the night before, stored it in my fridge and it was nice and cold for this dish!
Next, cooked chicken breasts. I made sheet pan chicken last night for dinner and had a couple of chicken breasts leftover that I had put in my fridge.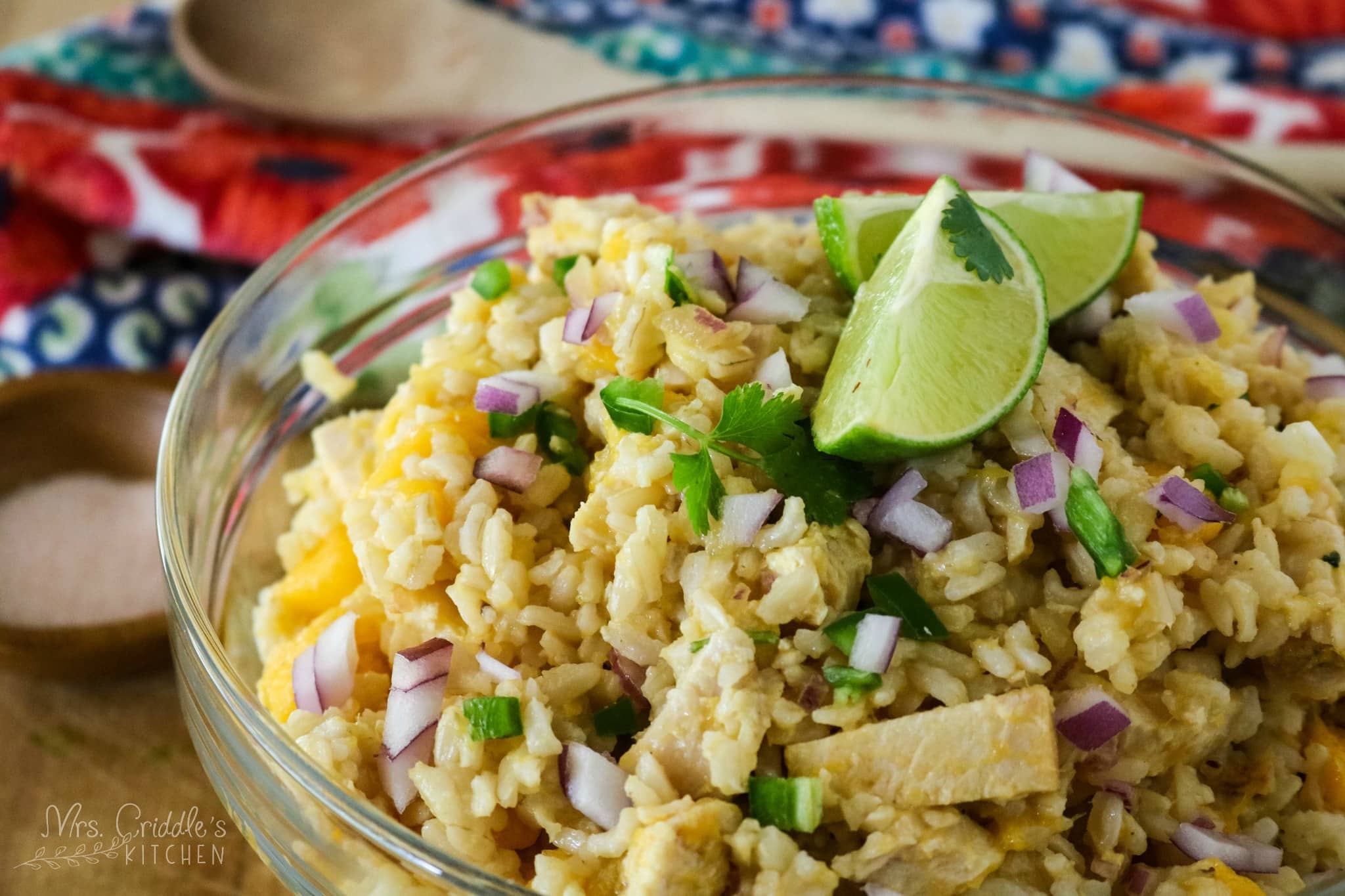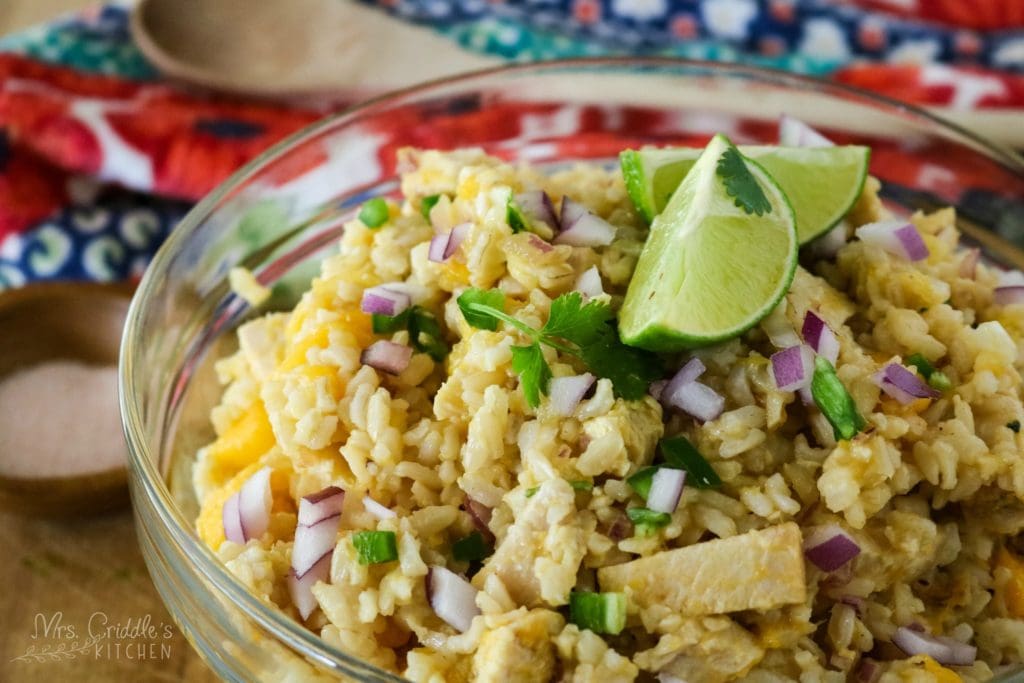 The hardest part of the dish was chopping the veggies and chicken up. And that's not even hard.
Peel and slice the mango. Oh my I love love mango! It is my most favorite fruit! I love the BIG Mangos! They are relative inexpensive and are all over here in Texas. If you haven't tried them, look for one that is not green. It needs to have only a little green but mostly is red, orange and yellow. They just have this beautiful orange, sweet, juicy flesh. YUM!
Chop up a fresh red onion… if you don't have or use red onions you can use yellow or white. What I love about red onions is that they are more mild than yellow or white. I always have them on hand for Mexican dishes or dishes that I use raw onions in. Plus, I mean, you can't go wrong with colorful food… it just tastes better!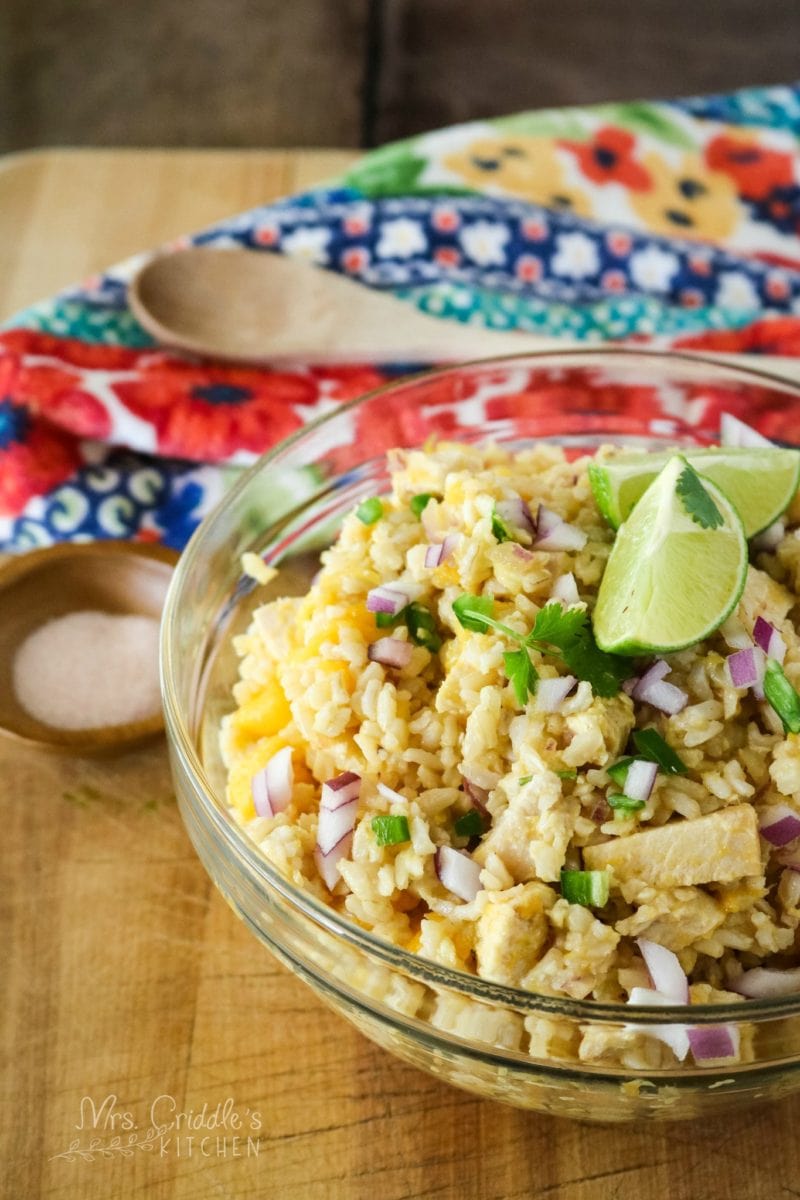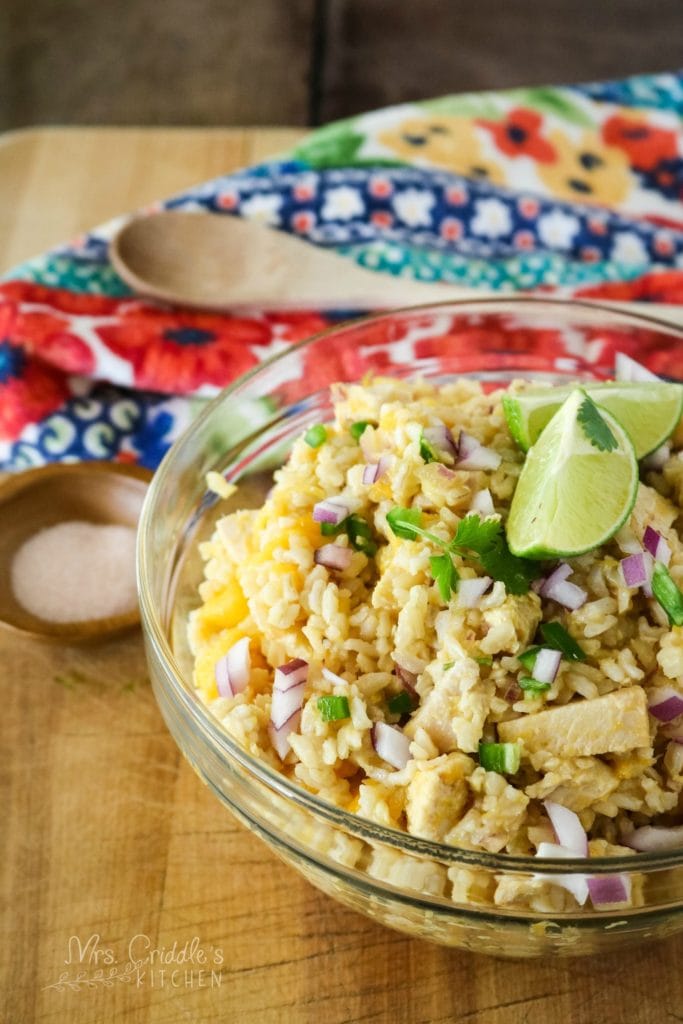 Lastly, you will add the fresh cilantro, fresh garlic, freshly squeezed lime, freshly chopped jalapenos (this is optional) and a couple good pinches of mineral salt. Mix it all together and eat up!
This is a low fat, good carbs meals so its an E… for my Trim Healthy Mama friends. Remember to get in your e meals! Especially us ladies need those carbs once in a while!
Here are a few other E recipes your might want to try…
From My Blogging Buds:
Rohnda's Roasted Sweet Potatoes
Affiliate links to items you may want to purchase:
Print
Mango Chicken & Rice Low Fat/THM E
---
Description
Mango Chicken & Rice is a low fat dish that is exploding with amazing summer flavors. A THM E.
---
4 cups of cooked/cold brown rice
2 medium sized chicken breasts cold, cooked and chopped
2 large mangos, peeled, sliced and chopped
1/2 cup of red onions chopped
2 cloves of fresh garlic chopped
a handful of fresh cilantro chopped (you can use fresh basil or even parsley)
Juice from one large lime
** 1 jalapeno de-veined and de-seeded and chopped (optional)
a couple good pinches of mineral salt
---
Instructions
In a large salad bowl, dump the cold brown rice, chopped chicken, chopped mango, chopped red onion, chopped garlic, chopped cilantro, and chopped jalapeno.
Mix.
Squeeze the lime all over the top of the dish.
Sprinkle the salt.
Mix again.
Eat now or chill in fridge.
Enjoy.
---
Notes
Make sure that you seasoned your chicken well before cooking… I usually season with mineral salt, garlic powder, and pepper.  That's my go-to seasoning.