Mini Red Velvet Cupcakes- THM S are a low carb, sugar-free option for those on a no-sugar lifestyle.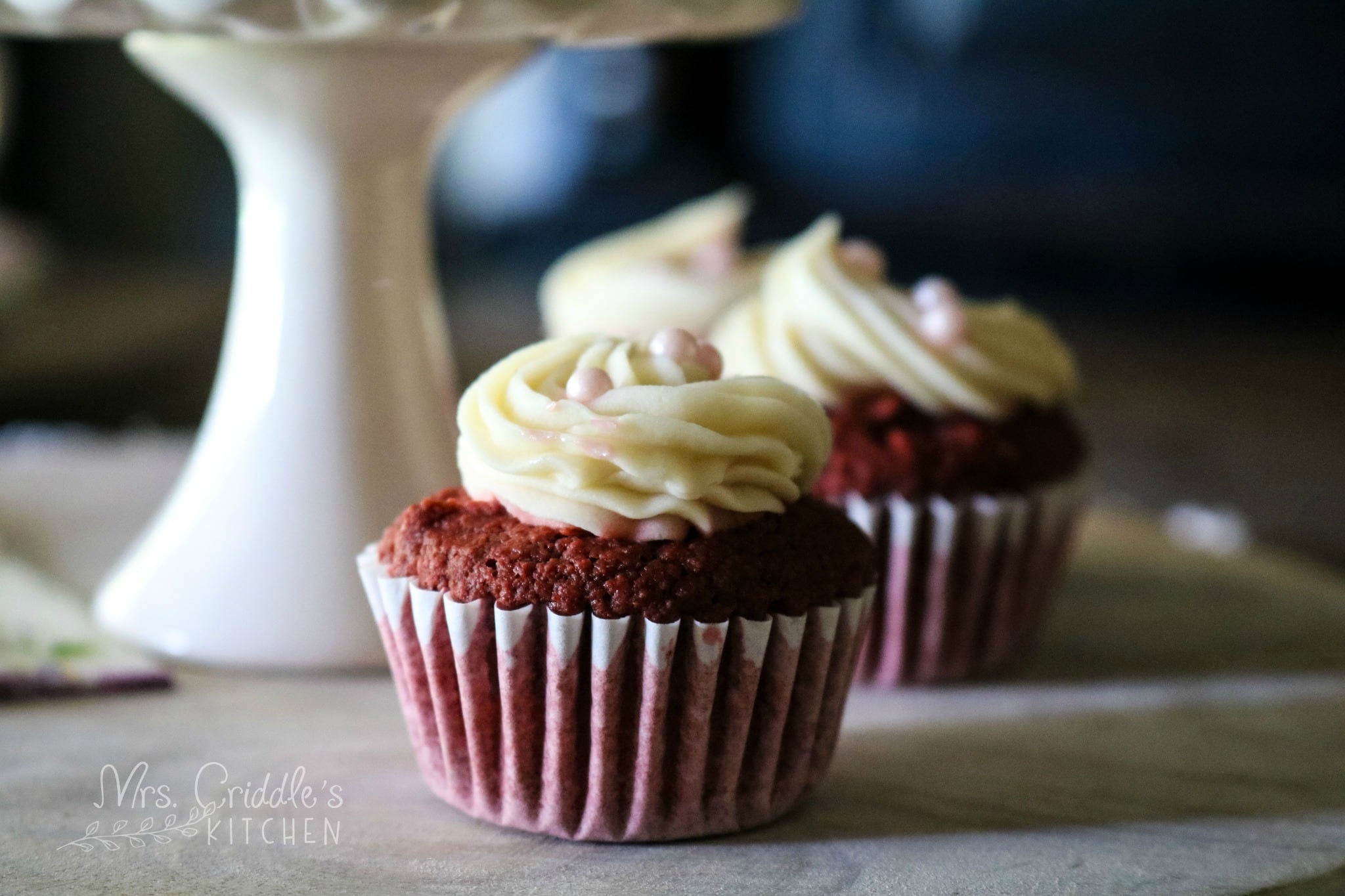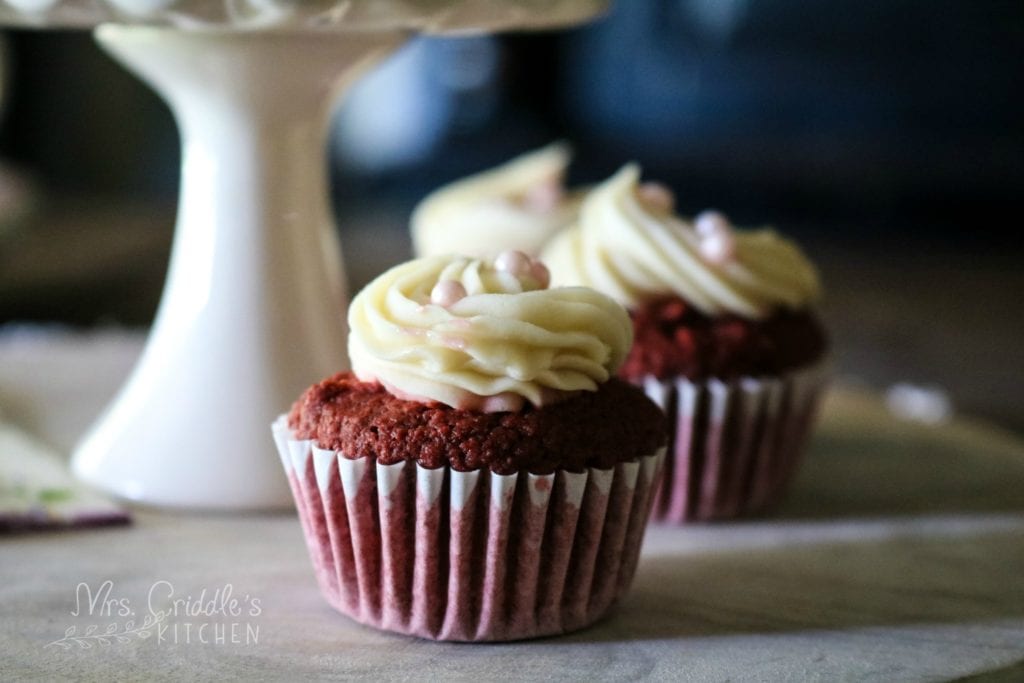 (This post may contain affiliate links from Amazon, Lakanto & Trim Healthy Mama.)
These Mini Red Velvet Cupcakes- THM S are so cute, aren't they? My 18 year old daughter, Abby, created this recipe. She has a knack at figuring out good recipe conversions taking tradition sugary recipes and turning them into low carb, sugar-free and THM!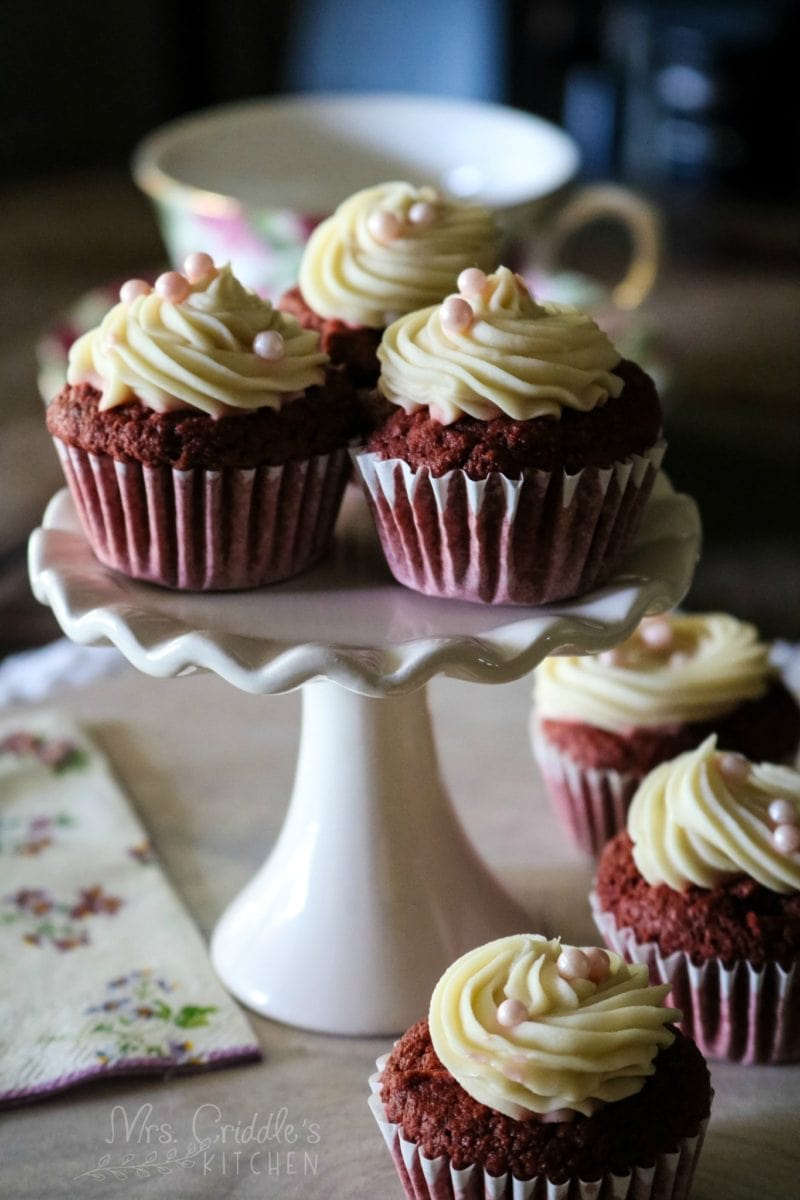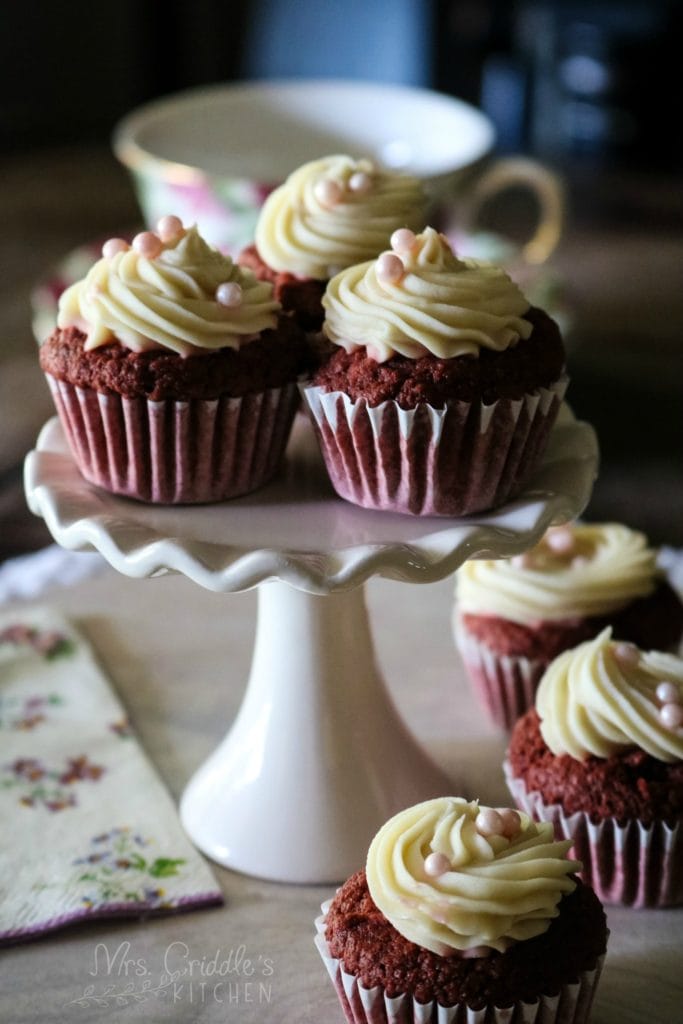 It was off of her recipe that I created my Red Velvet Cake! Her recipe just really turned out so perfectly! I do believe they are some of the best sugar-free cupcakes I've eaten!
These are mini cupcakes and make about thirty-two. I do think everyone should have a mini muffin tin! They just make perfect sized treats for little hands or even just a perfect bite-sized bits for anyone to keep you from overindulging.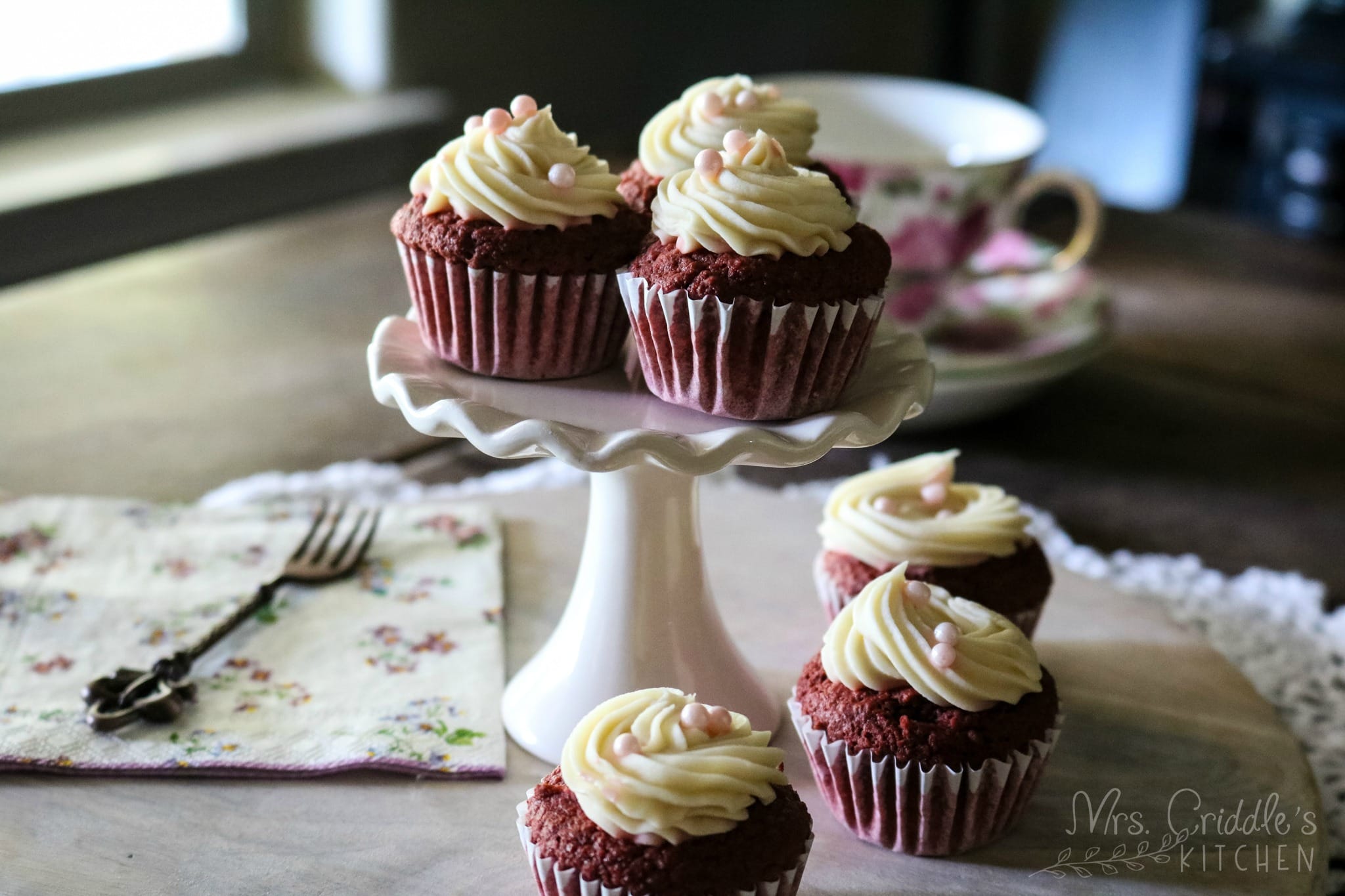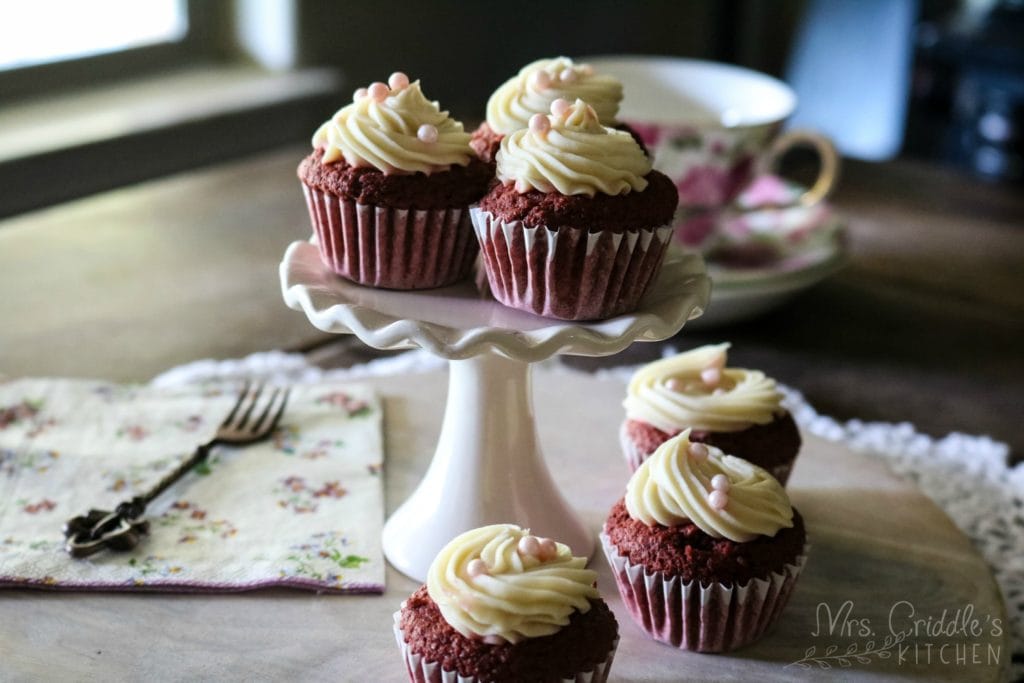 To keep these Mini Red Velvet Cupcakes in the low carb range I used THM Baking Blend as the "flour". Because this flour blend tends to be a bit thirsty you need to make sure you are adding in the correct amount of liquid. That is why we have three eggs and 1/2 a cup of unsweetened cashew milk. If you are going to try and use almond flour instead you will want to add more almond flour because it does not absorb like the Baking Blend does. So you could use about 2 cup of almond flour for this and you could also take away an egg.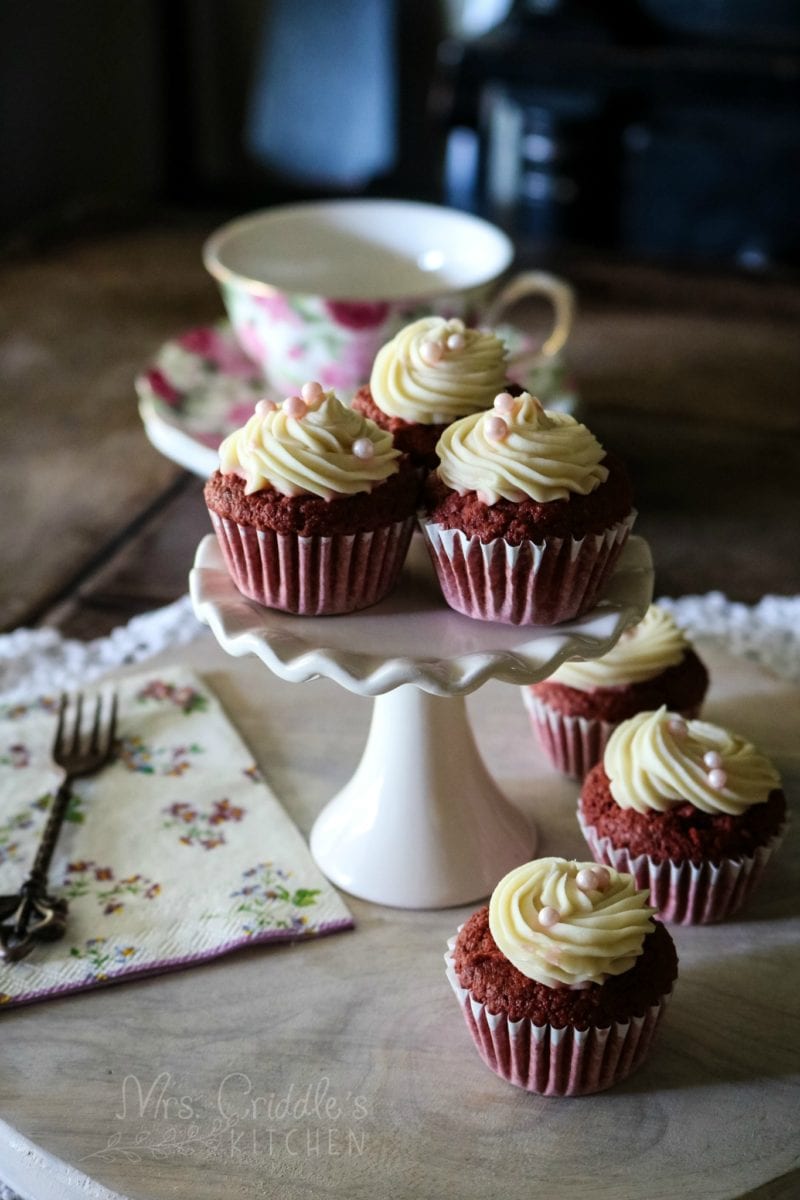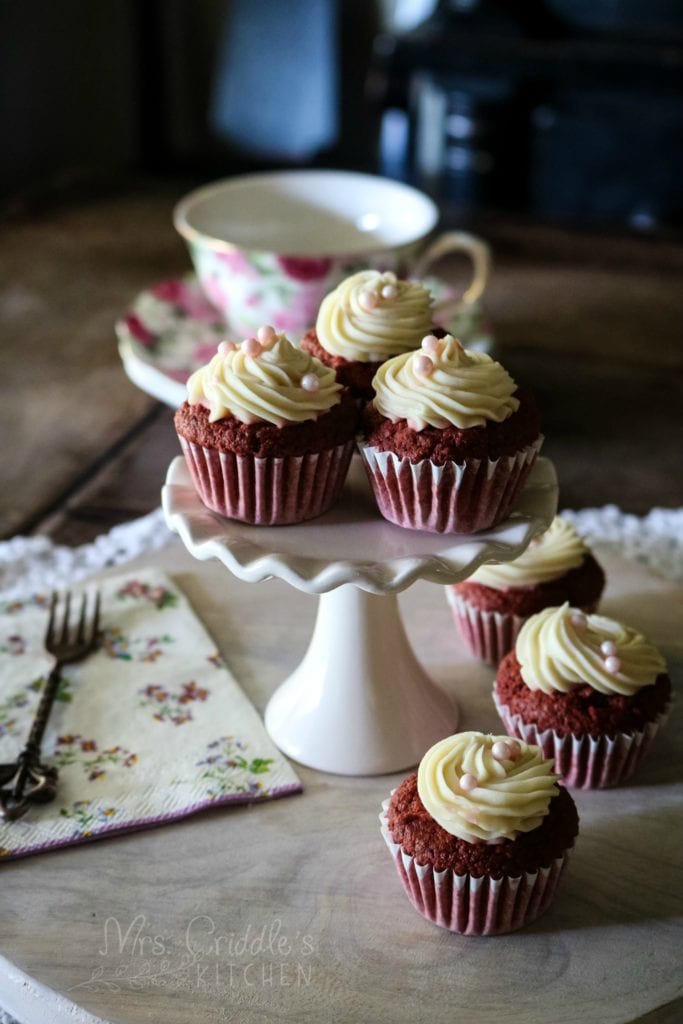 The sweetener that we used for this sweetener is the Lakanto Monkfruit. I really does a great job in baked recipes. It measures the same as white sugar. It also adds a little firmness to bakes goods so I really like it with cookies. For the icing my daughter used powdered Swerve. It also measures as sugar or powdered sugar.
You can use THM Gentle Sweet as well but you will want to use about 1/3 cup and then taste to see if it's sweet enough. You don't want to over sweeten it because the icing is on the sweeter side.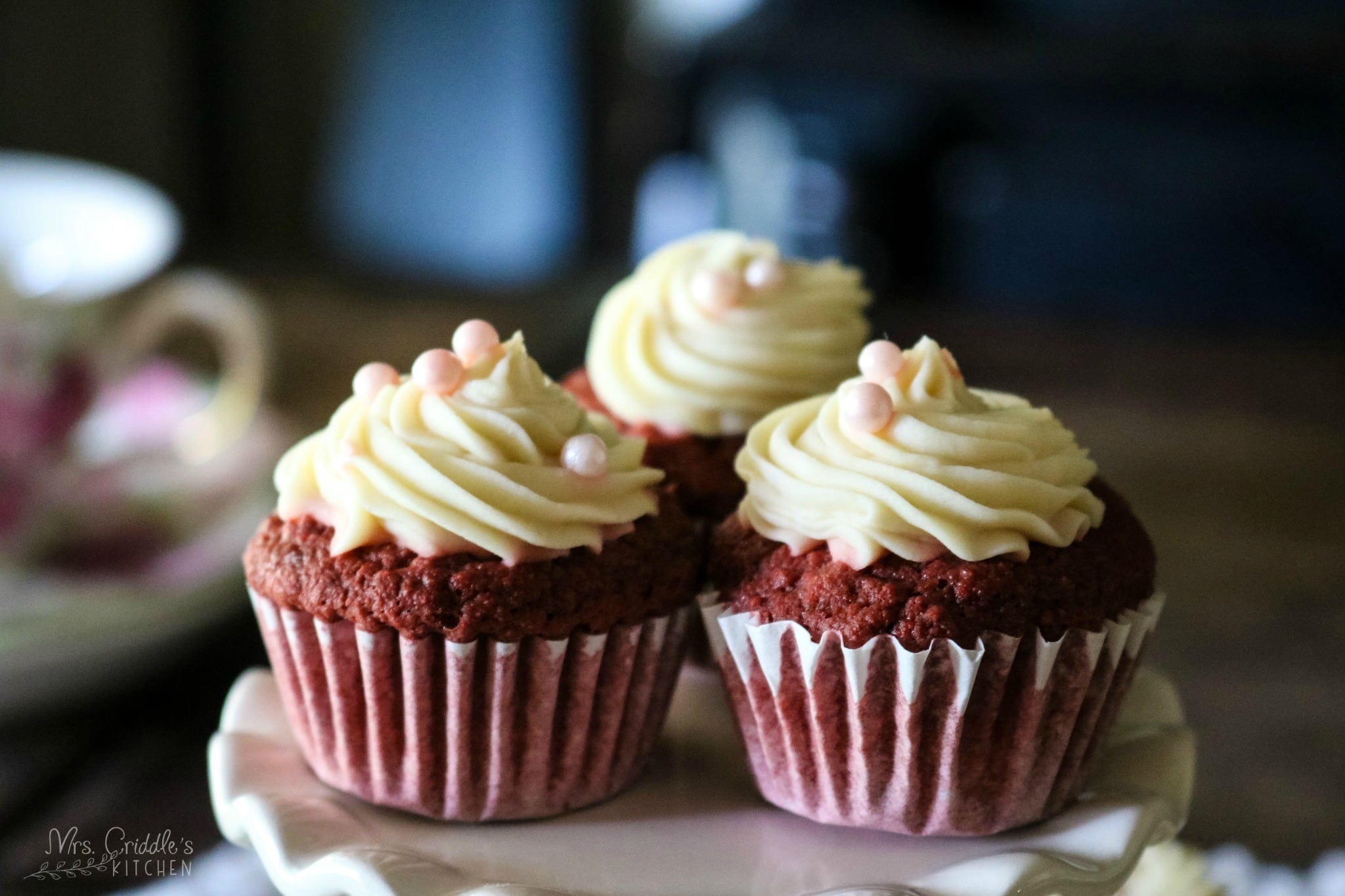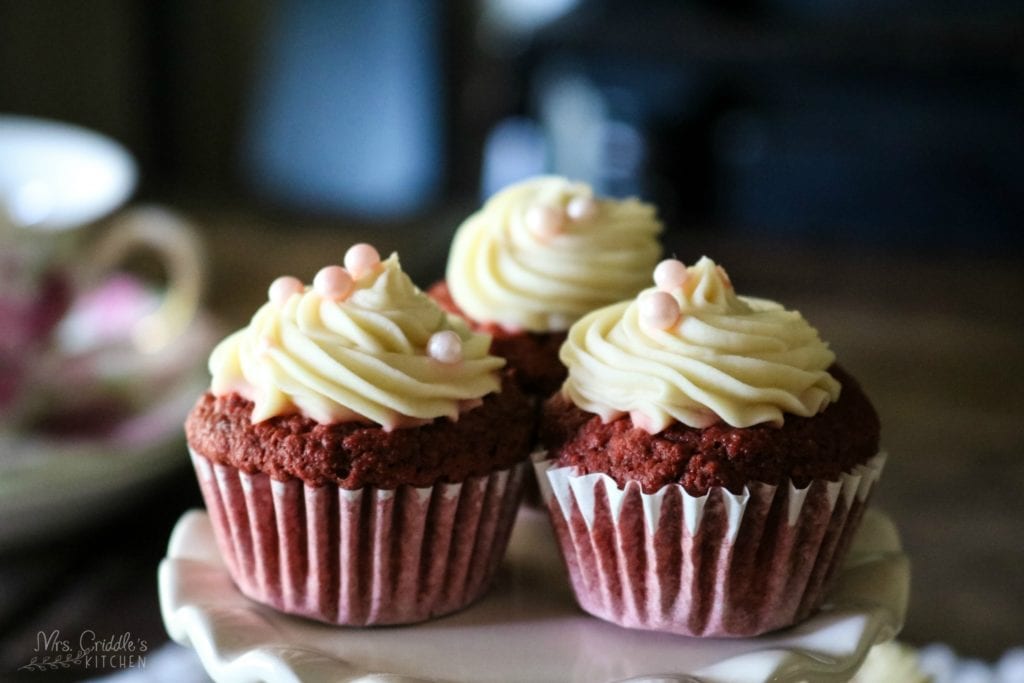 My daughter is great with piping… me not so much. So if you aren't going to pipe like this, and just ice the cupcakes with a knife you won't need as much icing. You can half the recipe.
Also, I wanted to note… the little pinkish pearls on top are NOT sugar-free. My daughter used those for more of a prop . You can leave them off or find some that are sugar free or even just use a very small few for the tops of the cupcakes.
I used a regular red food coloring because that's what I had on hand but I did buy a all-natural food coloring to try out.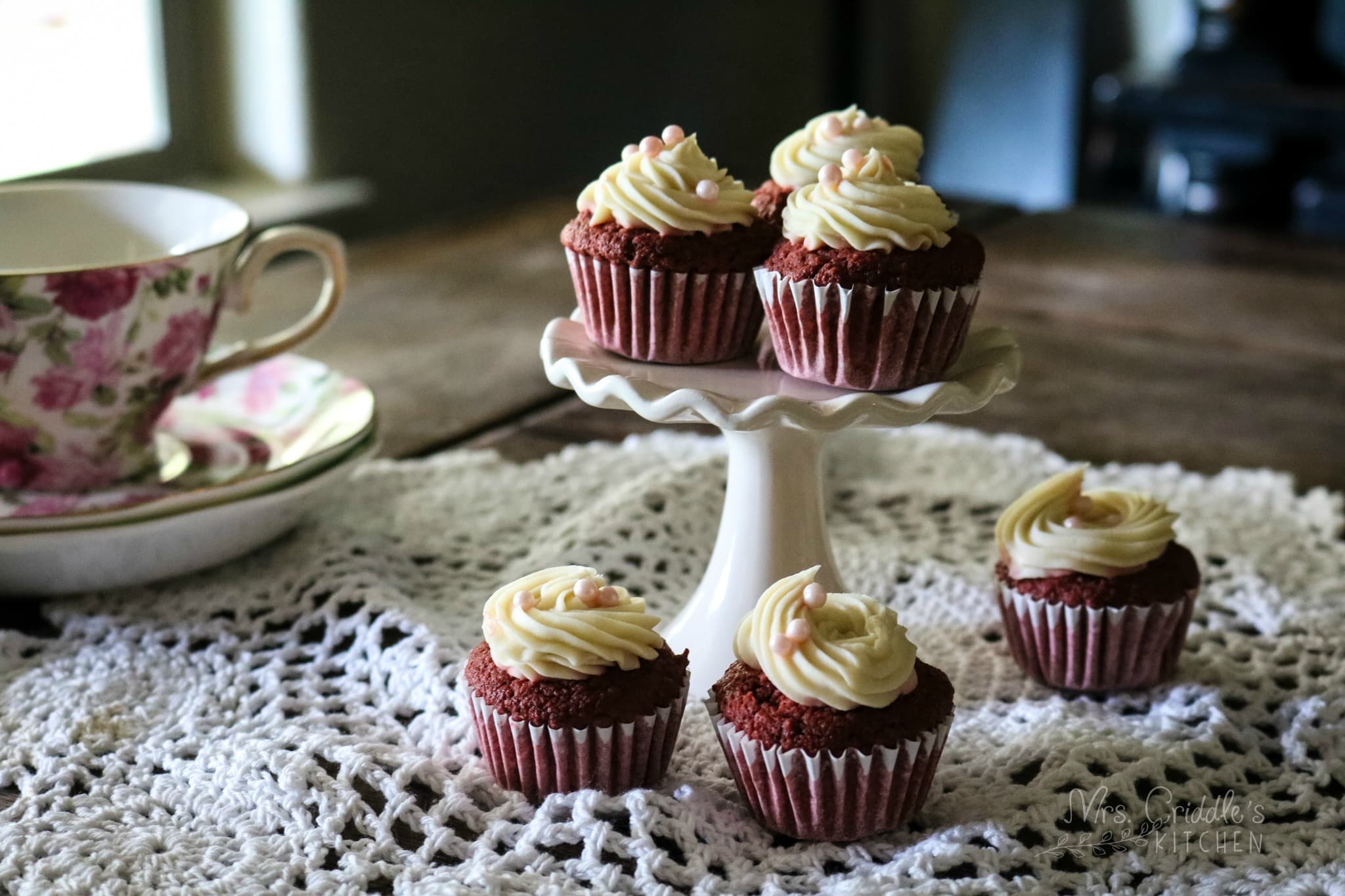 Give these other recipes a try:
Peanut Butter & Jelly Cupcakes
Chocolate Cupcakes with Peanut Butter Frosting
Items you may want to purchase using my affiliate links:
Print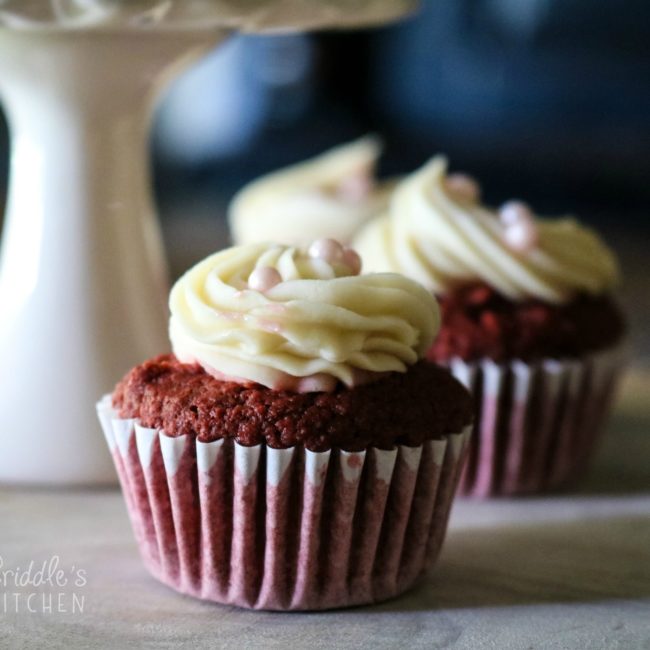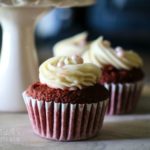 Mini Red Velvet Cupcakes- THM S
---
Description
Mini Red Velvet Cupcakes- THM S are a low carb, sugar-free option for those on a no-sugar lifestyle.
---
Cupcakes-
1 1/4 cup of THM Baking Blend
1 tbsp plus 2 tsp of cocoa powder
1/4 tsp of baking powder
1/4 tsp of salt
1/4 cup of melted butter
2 tsp of a natural red food coloring
3/4 cup of Lakanto Monkfruit (you can use 1/2 cup of THM Gentle Sweet)
3 eggs
1/2 a cup of unsweetened cashew milk
1 tsp of white distilled vinegar
1/2 tsp of vinegar plus 1/2 tsp of baking soda (to combine and fold into cupcake batter)
Icing-
4 tbsp of unsalted room temp butter
4 oz of cream cheese (1/2 of a cream cheese package)
1 1/2 cups of Powdered Swerve (you can use Gentle Sweet but use 3/4 cup instead and grind in your blender to reach a finer consistency)
2 tsp of vanilla
a pinch of salt
---
Instructions
Preheat oven to 350 degrees.
Put cupcake liners into your mini muffin tin.
In a small bowl add the 1/2 cup unsweetened cashew milk & 1 tsp of vinegar to create a buttermilk type taste.
Mix the butter and sweetener and vanilla in a medium bowl.
Add the eggs, one at a time and mix after each egg is added.
Add in the Baking Blend, Cocoa powder, baking powder and Salt to a small bowl and mix.
Add the cashew milk/vinegar mix alternating with the dry ingredients and mix.
Add the natural red food coloring.
After those are combined add in the unsweetened cashew milk/vinegar mixture.
Gently fold together.
Fill cupcake liners with about a tablespoon and a half of batter.
Bake for 12-15 minutes
While the cupcakes are baking mix all of your icing ingredients together.
Place in a piping bag or a freezer bag and cut the tip off to give you a piping bag.
Pipe onto the cupcakes after they have cooled completely
---