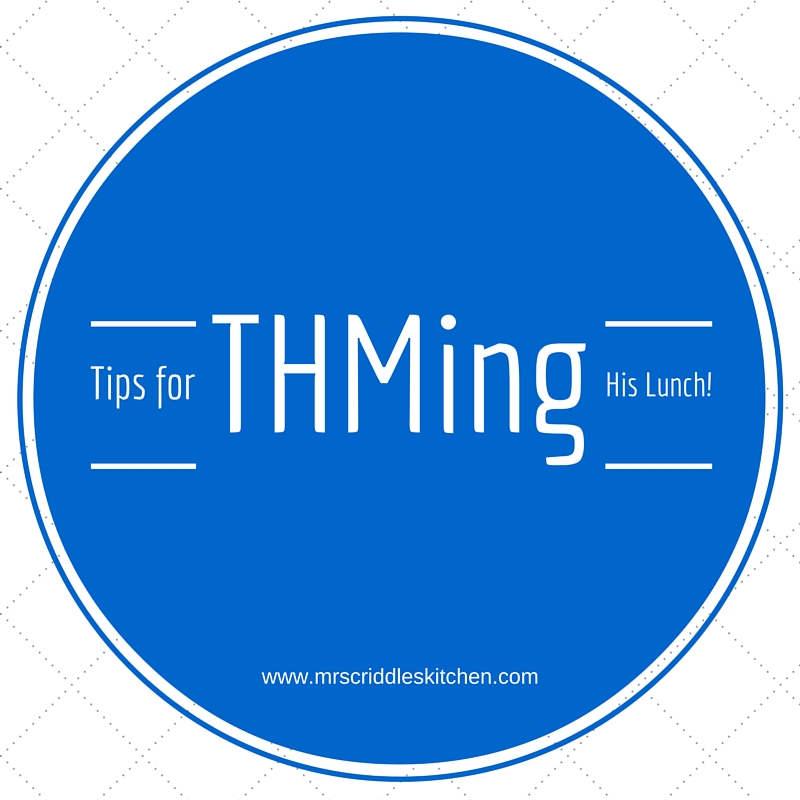 Tips for THMing His Lunch- (this post does include affiliate links)
Keeping your honey on plan with you might be daunting.. I think it can be hard especially if you go into it not prepared. Or expect your husband to just KNOW what to eat or how to eat it. BUT, I think, if you give him the tools, he can totally do it!
My husband recently wanted to get healthy with me and we decided to pack his lunches again THM Style. So we found a good quality lunch kit big enough to fit a couple drinks, ice packs and room for his lunch, for about $20 at Academy or you can check this one out here… Lunch Bag Insulated Kit
. I have packed his lunch off and on since we've been married. My husband isn't too hard to pack for. Mainly, EASY is what he wants. Easy to take out, easy to grab. He doesn't have an office he works out of so he cannot heat anything up. He's mostly eating on the road from one job to the next, so I have to make it easy on him to pull out and grab and it has to be ready to go. I try to give him a variety and am not too concerned about it being a crossover because he works hard and burns it off. I do need to have snacks and lots of protein in his kit though. If you husband has access to a kitchen and is able to have a more complex lunch you have so many more options!! Yummy soup you could place in a mason jar for him to heat up. Or TACO SALAD CRUNCH in a mason jar for him to simply dump out and eat.
**Remember those guys get more food than you… they also can afford to have crossovers. A week and a half of eating THM and my husband had lost 8 lbs… totally NOT fair.. haha! 😉
So below are my HUSBAND'S #3 Top Tips (three because guys are just that simple)…
(1.) LOTS OF PROTEIN– men love meat! However many ways you can present meat to a man, however many way you can pack meat for his lunch, he will love you for it (this was my husband's exact words)! Good quality lean deli meat is an awesome choice (if you can) and easy to put in wraps or low carb tortillas or on sprouted bread. Mine loves meat roll ups on either low carb tortillas or lettuce with pickles and cheese, that simple.
Baked, smoked, or grilled meats that you or your hubby make ahead and have ready for his lunch are awesome! I make a chicken salad that my husband LOVES! It's easy if you have already cooked chicken!
Canned chicken or tuna… ok some of you are not too keen on canned but these can be awesome for quick lunches or even snacks!
EGGS are another great protein that men love. Deviled eggs, egg tacos, boiled eggs in a baggie with a little mineral salt & pepper, egg salad, etc…Also, my husband loves tacos with the crepes recipe from the old Trim Healthy Mama book. And eggs aren't that expensive still so these are a great option.
Nuts, if your husband isn't allergic and it's something you can have on hand. Keep almonds in serving size baggies or containers for him to grab. I am noticed if I keep the nuts in more of a self-serving size it's easier NOT to over induldge! 😉 My husband also LOVED the Pay Off Day Candies from the new Trim Healthy Mama Cookbook
(pg 381). I make those ahead and FREEZE them. A great addition of protein for his lunch. You can also make a THM TrailMix. Toast up some of his favorite nuts in a skillet with a little touch of coconut oil or butter and add spices, other nuts, even unsweetened coconut strips. Let cool and place in a container for him to snack on.
(2.) Drinks- find an on plan drink that he loves & send him off with it! It will keep the cokes (or sodas, we call all soft drinks Coke here in Texas) away. My husband LOVES LOVES them GGMS! Almost more than me! I was REALLY surprised at how much he liked it and he requests it all the time now. I put his in a big mason jar with a lid. I also have found big throw-away straws that I pack in his lunch. Here is a link to those… Another couple drinks my husband likes are bai5
and Blue Sky Free Soda
. In the winter, you can pack him a warm sipper in a good thermos!
(3.) Snacks snacks snacks- lots of good snacks are a MUST (per my husband). I already mentioned the Pay Off Day Candies, but a couple other snacks my husband LOVES are the THIN MINT MILKSHAKE (from Gwen's Nest, seriously almost daily snack, meal or dessert for us), THM Cowboy Cookies (Baking Blend option and also the peanut butter option), NO BAKE COOKIES from Sheri Graham or the No Bakes from the new Trim Healthy Mama Cookbook
(pg. 316), Mock-A-Roos, etc… my husband LOVES sweets so sweet snacks are a must for him! Another "sweet snack" that I pack for my husand's lunch is a Brownie-In-A-Bowl (I've included a pin to my recipe since it's not on my page yet). For this I make up in a bowl that he can take in his lunch and cover with foil. It stays moist and delish!
For more non-sweet snacks my husband likes Baked Blue Corn Chips (if you don't have those you can toast up low carb tortillas) and Salsa or Guacamole, cheese sticks wrapped in meat, pickles, cucumbers or veggies with Homemade Ranch or French Onion Dip, cheese or dried meat slices, the list goes on and on. Another great quick snack that you can roll up for you husband are Deli Logs.
I make the Deli Logs by mixing 1- 8oz 1/3 less fat cream cheese, 1/2 of an extra small can of chopped black olives, a little salt & pepper & garlic powder together and spread this onto lean deli meat, then roll up, chill and cut in half. (I also use these for appetizers for parties)
Another great snack is fruit. Strawberries with the Peanut Butter Cup Dip is amazing, or applies and cheese (crossover but it's ok for my husband), frozen blueberries, a pear or even an orange with greek yogurt or cottage cheese (make ahead and place in a spill proof container), Cottage Berry Whip from the Trim Healthy Mama Cookbook
(pg 374).
I hope this has given you some ideas on how to prepare your Trim Healthy Man's lunch!!
For more info on helping your man be a Trim Healthy Man you can read Chapter 28 of the new Trim Healthy Mama Plan
. Also, please go read this awesome article called Trim Happy Hubbie from Amanda with THE COERS FAMILY!
Below is a very humble picture one of my husband's packed lunches. We has since upgraded to a better lunch kit (the smoothie was his breakfast).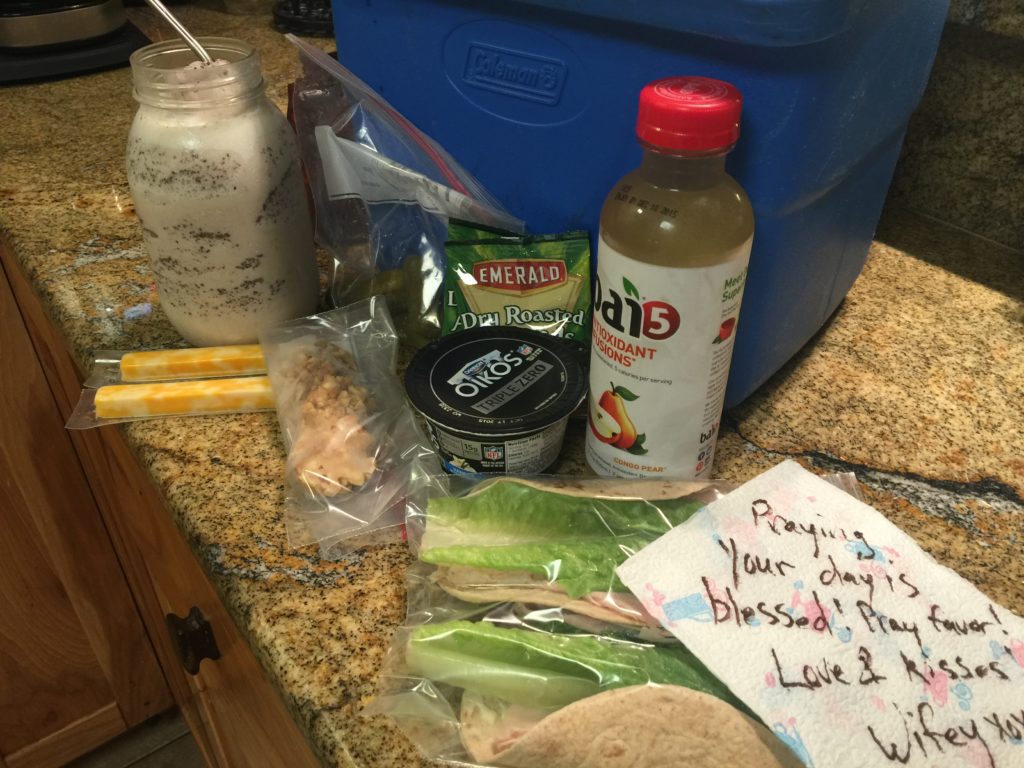 If you would like to order THM products through my affiliate link >HERE<, I would be blessed!