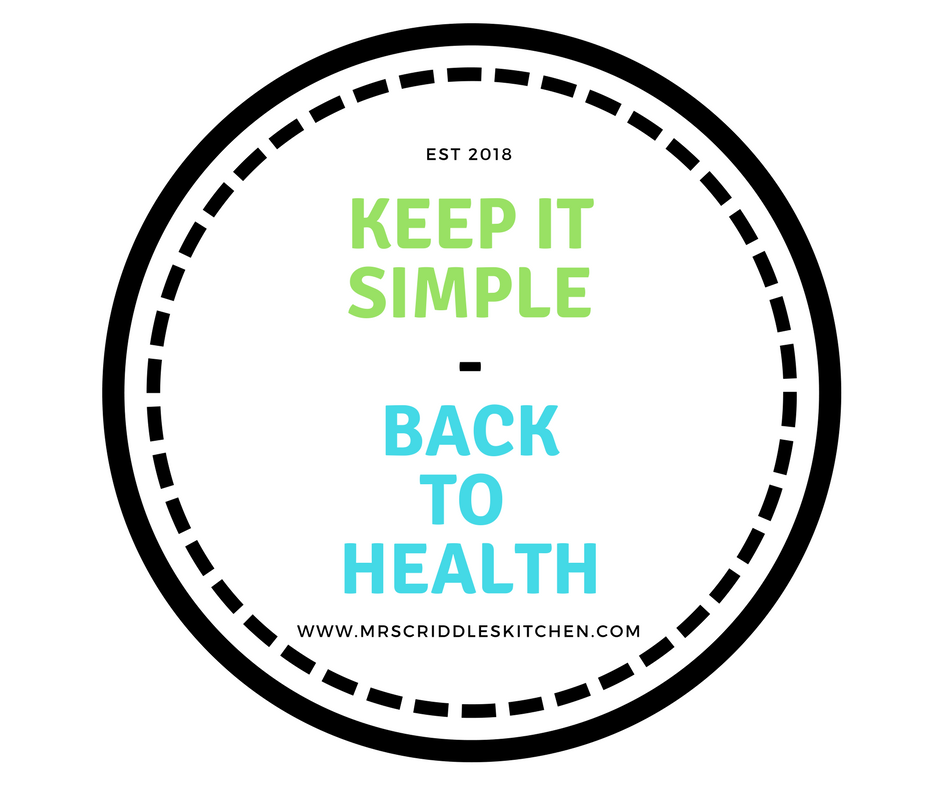 (This post may contain affiliate links, ie: amazon, blogger products, etc.)
KEEP IT SIMPLE-BACK TO HEALTH
Hi guys! It's been a while! I was hoping to get this post out around the first of January for the "resolutions or fresh starts"… but I guess life happened. You know that saying.. "January is just a practice month"… haha! So here's to a fresh start in FEBRUARY!!
So recently I was thinking back to when I first started my Trim Healthy Mama Journey and how quickly and amazingly it worked for me. What did I do then that I'm not doing now?! Seems like I do good for a while (or so I think) and then get discouraged and cheat.
Two things I realized as I was going back over my first success…
I followed the book. Mind you, it was the very first Trim Healthy Mama book, but I followed it to the T! We didn't have all the wonderful ingredients yet, which are so so awesome to have, so what I focused on was just keeping my meals in separate fuel modes. I really switched it up every day. E breakfast, fp snack, S lunch, fp snack, E dinner, and if I had dessert it would be fp or E.
I followed the weekly meal plans in the book and ate my skinny chocolate. I had big beautiful simple shakes and smoothies with good protein. I didn't overdo the cheese, I didn't overdo the cream, I didn't overdo the nuts, I didn't overdo the air-popped popcorn. I really stuck with the basics of the plan and I LOST BIG! I ended up around 45-50 lbs gone before I became pregnant with my number 6th baby and only gained 18 lbs with him. I felt AMAZING. The birth was AMAZING. Everything was really perfect.
Fast forward to the year after his birth. I allowed myself to go off plan, get really lax, stayed in one fuel mode for days and even weeks at a time. I over ate nuts, cheese & cream. I started going off plan more and more. Gaining back more and more weight. And when I would get serious, I would stick with just low carb, not switching up, not waiting between meals. I was so frustrated with myself!
Finally, I had to just stop… take a set back and really look at what I was doing, or NOT doing right.
This is when I realized I needed to Keep It Simple, and GET BACK TO THE BASICS!!
I love how the sisters are so good about talking BALANCE! Balance… I definitely needed balance in my journey to Get Back My HEALTH! I know Trim Healthy Mama works! It works amazing when you do it right! And I needed to do it right.
What do I mean by getting back to the basics? Well, not trying to go all fancy and create elaborate desserts or meals, but really keeping it to the simple basics of the fuels.
Not that there is anything wrong with being elaborate, haha! I create RECIPES! But if you find yourself in a place where you've gained or stalled… really check yourself. See what you are overdoing
Another reason I say keep it simple is… If you are like me and its too much work, you will fizzle out. If you are constantly in the kitchen making a new recipe you're going to tire out. Especially if you are not used to the ingredients.
I love prepping and think it's wonderful! But if you can keep the meals to stuff you know or to easy-to-make meals, I think you will keep at it until you have it and it's easy. But please don't give up on the harder, more complicated recipes, just save them for special occasions!
So going back over my THM beginnings… what did I do to start out and keep it a success? I planned ahead. If I knew I was going to be going out, I took wraps with me to keep me on plan. If I went to a Mexican restaurant I would actually toasted up the Joseph Lavash bread or low carb tortilla, place in a bag and take with me. I wasn't temped by the chips and salsa. That was a big help.
Another thing that really helped with my success the first round was fp snacks. I kept most of my snacks to Fuel Pulls. The first book and now the new books give great options for fuel pulls.
Skinny chocolate… that was another thing that I ate that I have not been making or eating. Coconut oil has so many wonderful benefits. Don't skip this. Here are my tips on making Skinny Chocolate.
Okay back to the meals… to my success the key was switching it up daily. I switched every day. I'd go from S breakfast to fp snack to E lunch to fp snack to S dinner to fp dessert. Then the next day I would do E breakfast, fp snack, S lunch, fp snack, E dinner and fp dessert. That's what worked well for me. To really shake up my body.
Speaking of shake… I had LOTS of shakes. The Big Boy Smoothie was probably my most favorite! I had one every day practically! It was giant and filling! Those shakes really held me over and kept me from cheating.
Now if you feel like you are doing all the right things but still not losing… take a couple days and write down everything you are doing. For example, I was putting half and half in my coffee instead of heavy whip on S days. The amount I put in was like 1/3 a cup… those carbs add up. And if I didn't take that into my carb account for my S meal, which I didn't, I was crossing over each time. Also take into consideration the amount of heavy whip you use in your coffee. Too much of a good thing is NOT always a good thing. My point, just be cautious to not over do foods that can make you stall! I'm guilty of too much dairy, too much cheese, too many nuts. I really have to "scale" (see what I did there) those back to get the scale moving.
Also be mindful of your time in between meals. Try to not eat too soon in between meals, especially when mixing fuels up for the next meal.
Let's talk E meals… guys, those are important! Please don't leave them out! Remember E meals can be as simple as cottage cheese with a sliced pear or a Peaches and Creamy Yogurt Smoothie.. Or add a decent scoop of seasoned brown rice to your grilled chicken plate. It doesn't take a lot of work and if you are like me, you have probably over thought it. I was so scared of E meals until I realized how simple and delish they are!
These are my favorite two E meals…
Turkey Sandwich by Trim Healthy Mama
I don't think I need to speak to much about S meals. I think most of us have those down and maybe even over do them (guilty). But I do want to say if you can do less of a heavy S (cheesy, nutty, creamy) and try more pure fats (coconut oil, butter, olive oil) you will have even more success losing.
DRINKS! Wow, I drank a TON of the GOOD GIRL MOON SHINE when I first started my THM Journey!! Y'all need to check it out! And if you cannot handle the taste work it until you can! There are amazing recipes out there for this wonder drink! I love the GGMS but I also LOVE the Singing Canary!
Below is what my days look like. I switch up as best I can and try to sneak in Skinny Chocolate where I can! Tweak this menu to work for you!
SWITCHING IT UP!
Day One-
Coffee- (5:30 am) An S… with 2 tbsp. of half and half, a 1/2 scoop of Integral Collagen, THM Super Sweet Blend, and sometimes I'll add a tsp of MCT oil or Coconut oil
Breakfast- (8:30 or 9:00 am) A deep S… eggs cooked in butter or coconut with sautéed spinach or okra
Lunch- (12:00/12:30 pm- no snack because it's lunch time). An E… a BIG salad with roasted chicken or turkey breast with sliced strawberries, cucumbers, bell peppers. I make a homemade dressing. It's really simple. I use like MCT Oil in my dressings. It's really light. I put one tsp of MCT Oil in a dressing jar or small mason jar add about 3 tbsp. of White Vinegar or you can do Balsamic in place of white vinegar, a good pinch of mineral salt, a tsp of Bragg's 24 Herbs and Seasonings, pepper, garlic powder, and a tsp or more of THM Gentle Sweet. Shake it up well. That's my go-to dressing!
Snack- (3:00/3:30 pm)- An fp… One Wasa cracker with a smear of 1/3 less fat Cream Cheese, a smear of homemade strawberry sauce (sliced strawberries, covered with water, and 1/4 cup of THM Gentle Sweet, simmer till it makes a sauce, store in a mason jar in the fridge) and a couple of slices of fat free turkey deli meat. I will also have pickled okra.
Dinner- (6:00/6:30 pm)- An S… Hamburger patties with roasted veggies (zucchini, okra, radishes, onion, cauliflower) drizzled with olive oil, sprinkled with the Bragg's 24 Herbs and Seasonings, garlic powder, pepper, and mineral salt. Add a big salad to it with mixed greens, cucumbers, olives, red bell peppers, maybe a little blue cheese and you can make the above dressing (double or triple it) but since it's an S you can use a good tbsp. or two of MCT oil.
Day Two-
Coffee- (5:30 am) An fp… just two tbsp. of half and half with 1/2 a scoop of Integral Collagen.
Breakfast- (8:30 or 9:00 am) An E… an egg white omelette with onion, bell pepper, okra and spinach, sprouted toast. For this I just use a good quality coconut oil canned spray. Trader Joe's has a great one! Cook the veggies up first. Spray the pan again. Pour in the egg whites. Toast up two sprouted or sour dough pieces of bread. Spread the toast with one a tsp of butter to get that fat in you need. Smear with strawberry sauce and eat with your omelette.
Lunch- (12:00/12:30 pm)- An S lunch… a bowl of yummy S soup from any of the THM cookbooks or you can do my Easy Chicken Soup (fp) . And then have yourself a big S smoothie or a couple of pieces of Skinny Chocolate.
Snack- (3:00/3:30 pm)- An fp… Cottage Berry Whip or if you are dairy free do a simple Whey Protein Shake using cashew or almond milk.
Dinner- (6:00/6:30 pm)- An E… Grilled boneless, skinless chicken breasts (seasoned with mineral salt, pepper, garlic powder, and the Bragg's 24 Herbs and Seasoning… you can also spray them with the canned coconut oil spray), a baked sweet potato and a roasted okra (lightly sprayed with the coconut oil and seasoned like the chicken, baked in a dish in the oven or on a skillet). For the sweet potato I open, sprinkle in mineral salt and a little cinnamon and THM Gentle Sweet or Swerve. It is sooooo yummy this way!!
Dessert- a good fp smoothie or Cottage Berry Whip is a great snack or dessert.
Hope that gives your a good grasp of my day with switching it up.
Now if I am on the go, it will look different. I will bring along my wraps and maybe eat bunless hamburgers in a wrap, plus a side salad with ranch. When eating out I always ask for my dressing on the side without croutons and I do a little trick I learned… dip my fork in the dressing and then take a bite. Helps me from eating too much dressing!
So I wanted to give you guys lots of help "getting back on track"! Here are several great articles to weed through, that might really help you take your health back!
4 Things to Do When You Fall off the THM Bandwagon by Gracefilled Homemaking
When Staying on Plan Seems Difficult by Darcie's Dishes
THM New Habits Challenge 2018 by Mixing With Michelle
My Top 10 Weight Loss Tips by Joy Jane
To The Trim Healthy Mama: When You Feel Like It's Just Not Fair by Oh Sweet Mercy
Check this out below for great MENU PLANNING Ideas from Northern Nester!! (affiliate link)
If you need a group challenge go check out Chrissy Beniot's Facebook group!! The Challenge Group
Making THM Work for You from Nana's Little Kitchen
When You're Overwhelmed on THM by Briana Thomas
My THM Recovery Plan- What To Do When You Eat Off Plan by Claire with CookieCrumbFun
Trim Healthy Mama Book Study 2018– by Judy with Wonderfully Made Dearly Loved (she will periodically have study challenges on her Facebook group)
My Top Trim Healthy Mama Tips by Working At Homeschool
Weekly Menu & Grocery List Free Printables by Mrs. Criddle's Kitchen
NOW I want to give you great easy meals ideas for THMing Success!!
FP Meals and Snacks-
Meals:
Beautiful Biscuits by Oil of Joy
Chicken Jambalaya by Mrs. Criddle's Kitchen
Chicken Lettuce Wraps (fp option) by Mrs. Criddle's Kitchen
Chicken Spaghetti by Mrs. Criddle's Kitchen
Low-fat Tuna Stuffed Pepper for One by Oh Sweet Mercy
Mongolian Beef Egg Roll in a Bowl by Mamashire
Sweet Mustard Bacon Chicken Strips by Mamashire
Smoothies:
Blueberry Lemon Smoothie by Oh Sweet Mercy
Café Mocha Late by Joyful Jane
Chocolate Peanut Butter Shake by My Montana Kitchen
Dark Chocolate Shake by Joyful Jane
Frosted Lemonade by Mamashire
Frosted Strawberry Lemonade by Nana's Little Kitchen
Peanut Butter Cookie Nog by Briana Thomas
Strawberry Healthy Stealthy Shake by Joyful Jane
Tiramisu Smoothie by Nana's Little Kitchen
Salads & Soups:
Bacon Cauliflower Soup by Joy Filled Eats
Chicken Enchilada Soup by Mrs. Criddle's Kitchen
Easy Chicken Soup by Mrs. Criddle's Kitchen
Snacks:
Air Fried Kale Chips by Mamashire
Angel's Berry Cake by A Home With Purpose
Orange Creamsicle Gummies by Joy Filled Eats
Strawberry Milk by Briana Thomas
Twice Baked Spaghetti Squash by Joy Filled Eats
Watermelon Gelatin Dessert by Oil of Joy
Yummy Salmon Dip Salad by Briana Thomas
Need more ideas? Here is a 50 Terrific Fuel Pull Snack Ideas Round Up by Oh Sweet Mercy
Also here is a great detox salad!
Salmon Kale Superfood Salad by Wholesome Yum
I wanted to share with you Tips on Feeding Your Man on THM!
And if you love prep please go check out Darcie's Dish for great Menus!!
Go sign up to follow the Trim Healthy Mama page on facebook for great recipes, testimonies, etc!
Here is a link to their Hangry Pocket Videos! Make several and go freeze them!
YOU CAN DO THIS!!! This is about getting your health back on track! It may take time but that's ok! Its ok if losing weight/getting healthy doesn't happen overnight! We are all on this journey together! And if you have a cheat or a bad day, it's ok… don't allow yourself to stay down in the dumps, get back up!
I really wanted to find a way to help someone get back on track so I thought a giveaway would be a great perk to getting back on track! So here you go! I am hoping this can truly help someone to get their health back, to prepare and to keep it simple, and have a few extra little bonuses to encourage you to keep going!
This giveaway includes:
1- Homemaker Planner
1- Set of Measuring Spoons
1- Pioneer Woman set of Two Spice Jars
1- Pioneer Woman Tea Towel
1- Pioneer Woman Creamer Jug
1- THM Gentle Sweet
1- THM Baking Blend
1- THM Baobab Boost Powder
1- THM Chocolate Whey Protein Powder
1- THM Chocolate Cuffin Mix
1- THM Cinnamon Cuffin Mix
1- THM Chocolate Chips
1-THM Jar of Trader Joe's Coconut Oil
***NOTE this is for USA Residents Only. I'm so sorry about that. If shipping wasn't so expensive I would include anyone!! Keep scrolling past to enter the giveaway! And may God Bless