LOW FAT STRAWBERRY SHORTCAKE
(THIS POST CONTAINS AFFILIATE LINKS.)
This Low Fat Strawberry Shortcake is a very simple ingredient, easy-to-make "dessert"or snack that will amaze you with its taste!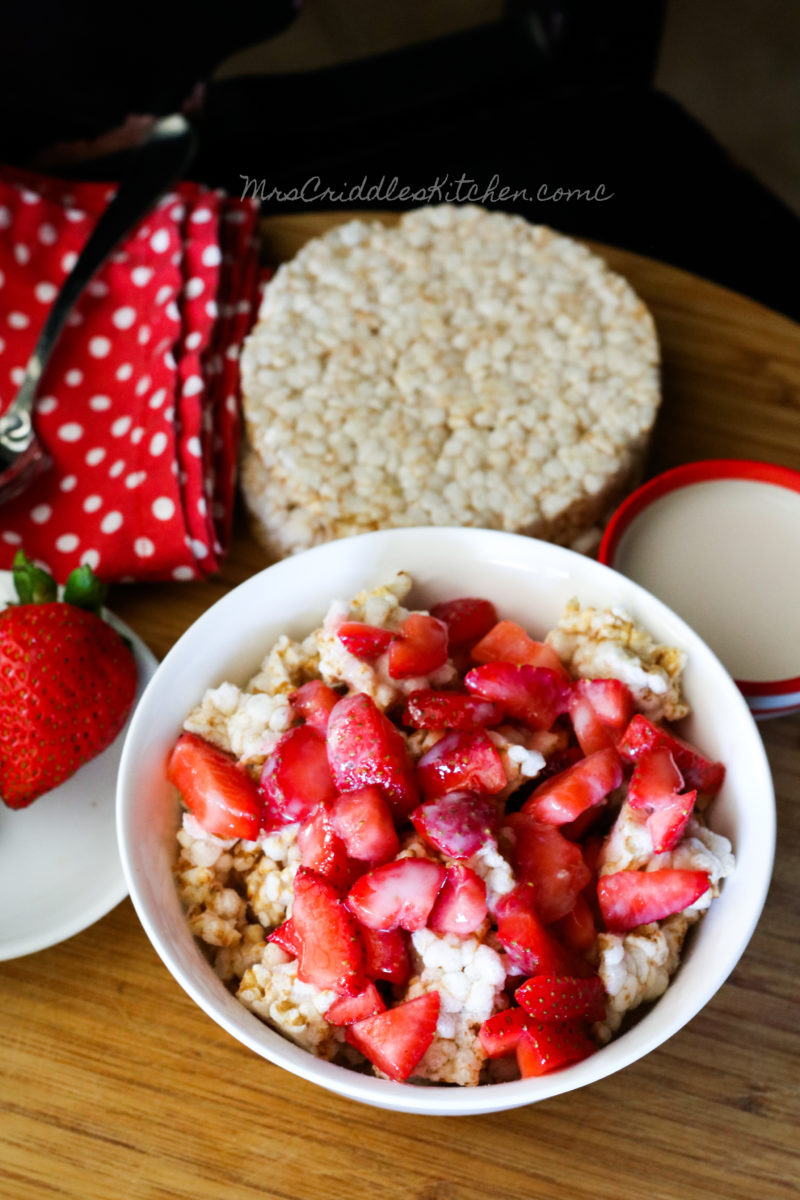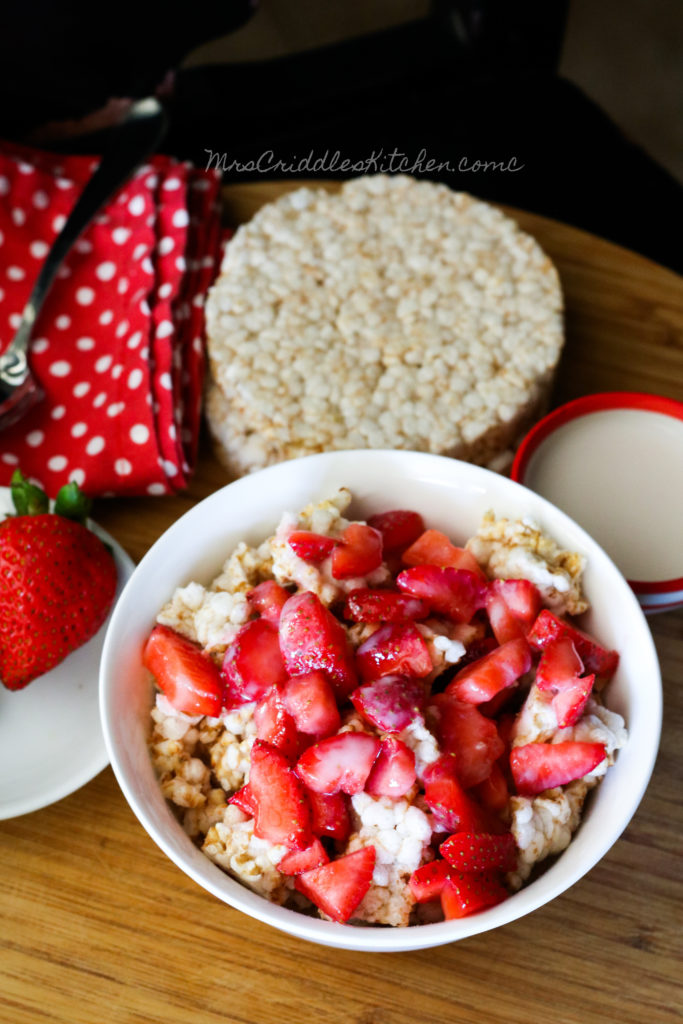 This Low Fat Strawberry Shortcake is THE BOMB! It's a Trim Healthy Mama E dessert or snack! And it's so so so easy to make there won't be any excuse for you to NOT get your E (low fat/good carbs) in!
Y'all…. If you know me, you know that this season of my life is extremely busy. I am doing everything possible to try to stay on plan and eat RIGHT! Most of the time I get stuck in an S rut (low carb for those who don't know what I mean by S) because it's easy to find S (low carb) pretty much anywhere nowadays.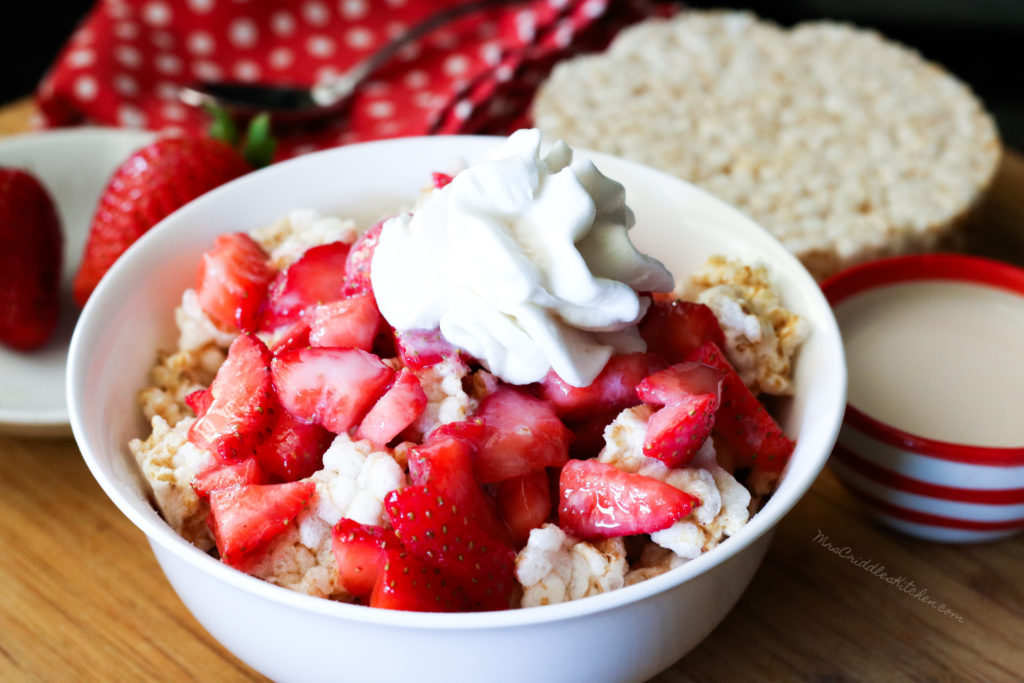 I came up with this one night because I NEEDED a dessert but had just had an E meal. I also did not feel like spending a long time in the kitchen getting out lots of different ingredients. Especially after being out all day in the van taking my kids here an there from practice, to classes, to games. I was D. O. N. E. ! Plus it's just stupid hot here in Texas.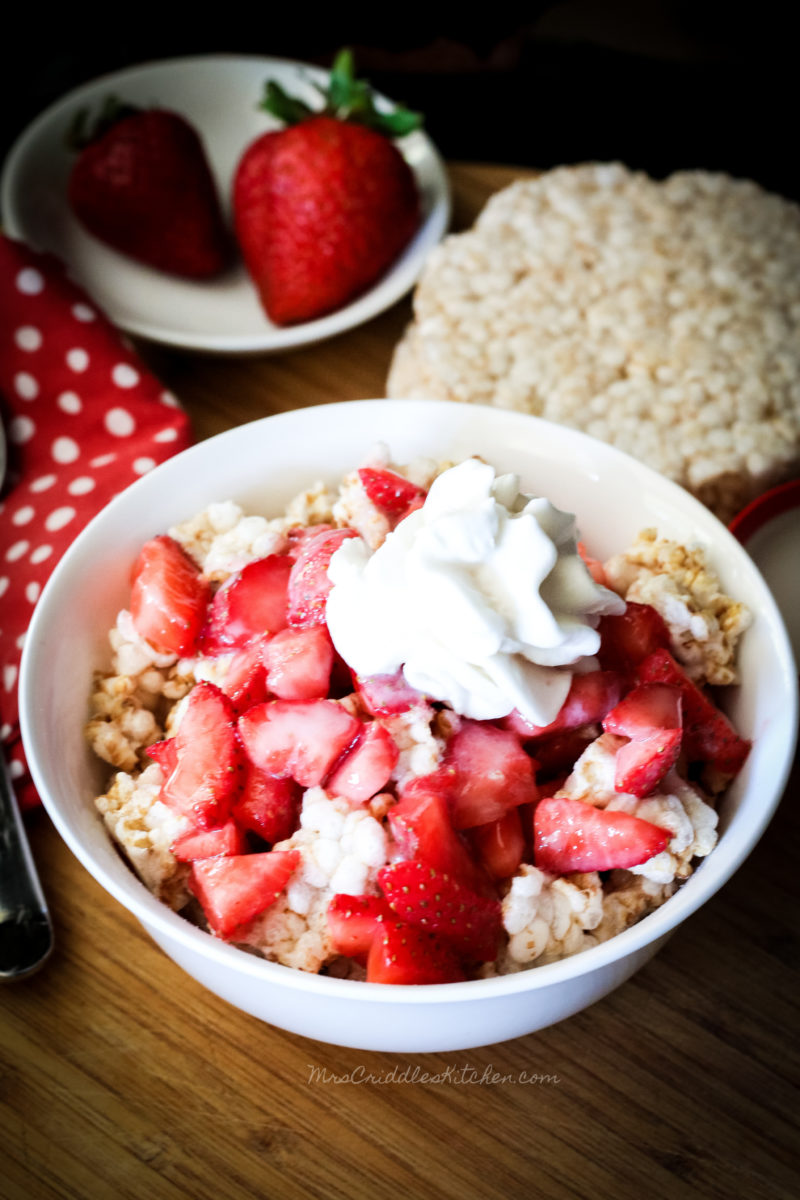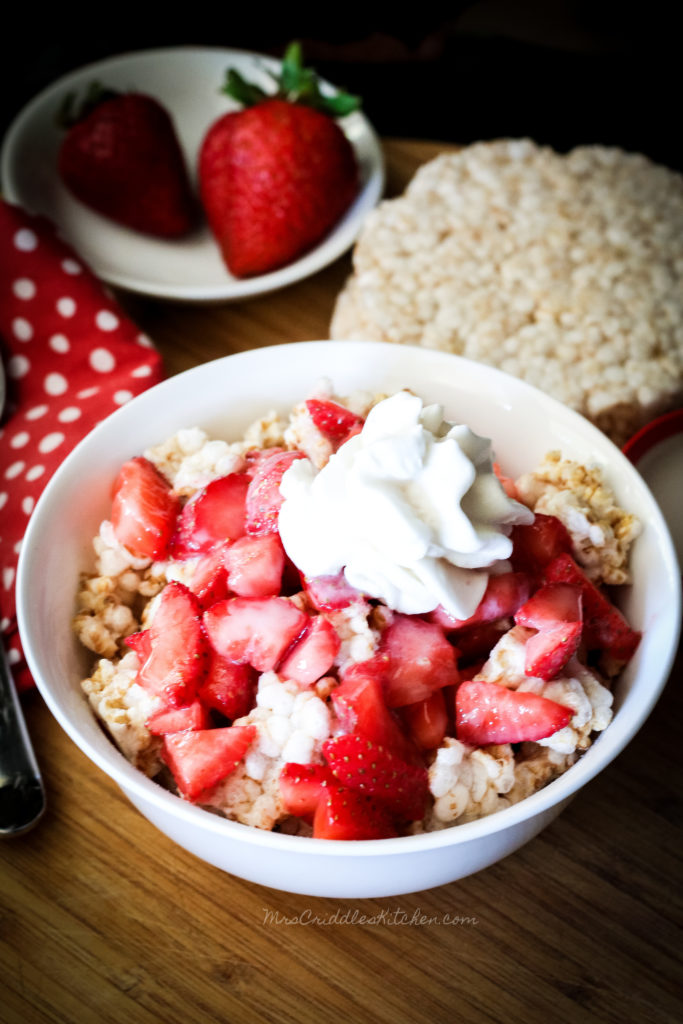 This Low Fat Strawberry Shortcake literally took me 5 minutes to throw together. Hardest part was cutting up the strawberries. But if you had them already prepped and chopped… way easier! And it's dairy-free! I added about 2 tbsp of an Almond Milk Canned Whipped Cream that had less than 0.5 grams of fat in 2 tbsp of it. And less and 1 gram of sugar. Not too bad. But I've also left it off. Or you could even use a small amount of the Regular Low fat Reddi Whip!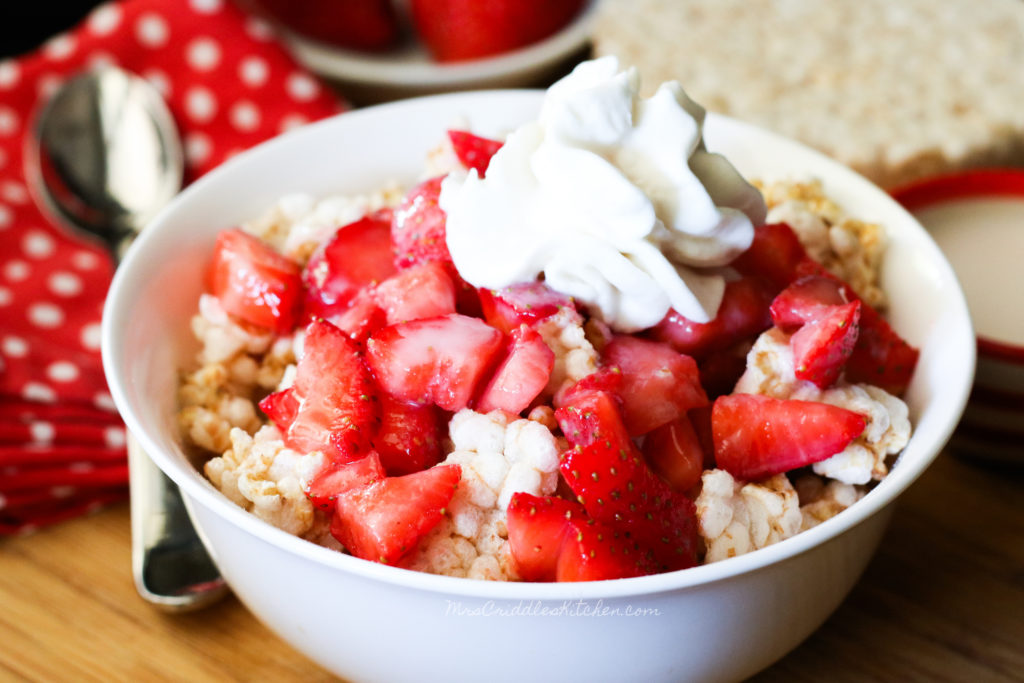 If you are wondering about the "CAKE" part… I used brown rice cakes from Lundberg. These rice cakes are my favorite over every other brand. They are crunchier and hold up better when soaking up the yummy sweetness of the cashew or almond milk! I've used the Lundberg Brown Rice Cakes as cereal when I needed a crunch. Just crunch it up in a bowl, sprinkle sweetener on it and put cashew milk over it. Boom.
These rice cakes were perfect for this dessert! Each layer soaked up the sweetened strawberry juice and sweetened cashew milk I used. If you have a choice between this brand another… go with this one! AND they are organic!! I am not even being paid to say good stuff about them! ha!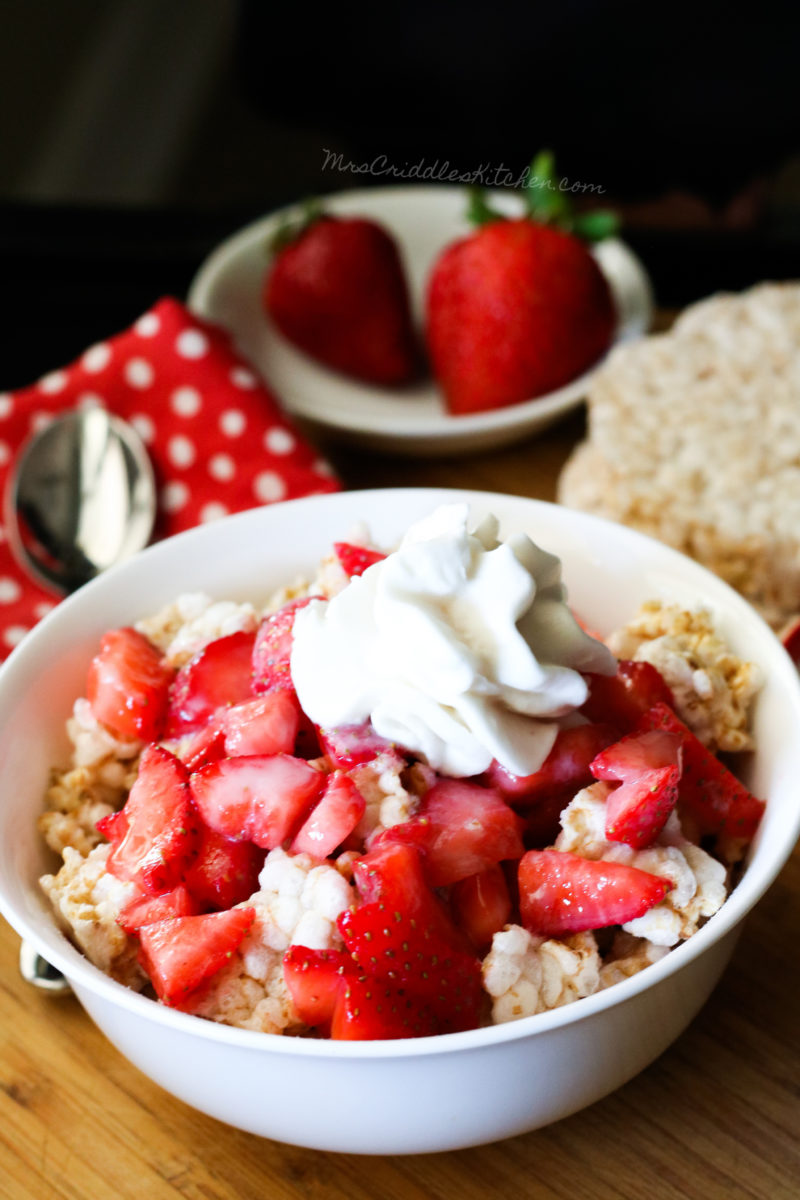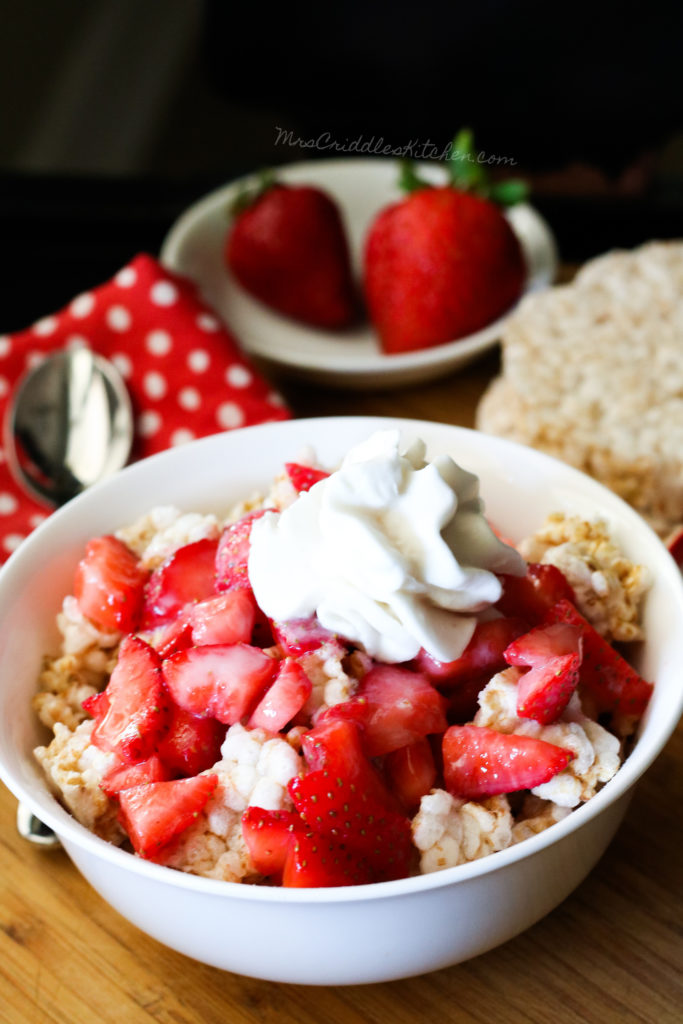 Us women really need our E's… at least in moderation. Trim Healthy Mama is big on making sure to mix it up… not getting stuck in a low carb mindset. And for me, that has been what I gravitate towards.
Plus, I love cream in my coffee and it's so hard to give that up. haha! BUT if I can focus more on E's else where, like snacks, desserts… I can have my coffee with CREAM and DRINK IT TOO!
Also, I have seen what not having enough E's has done to my body and I am determined to get out of that hole! Starting with one sweet treat at a time. 🙂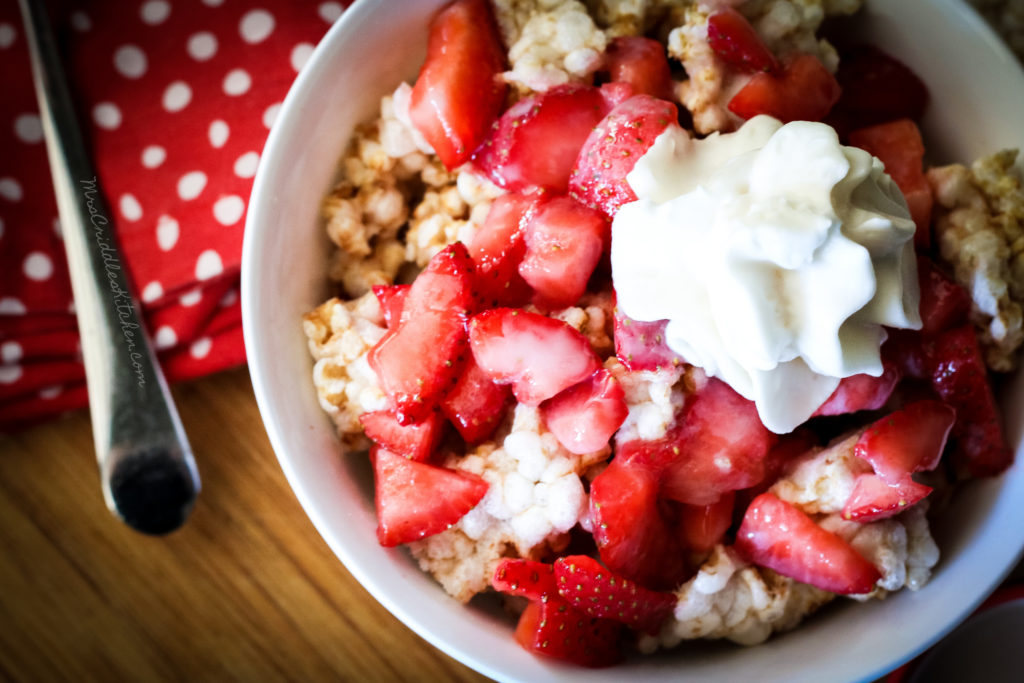 This Low Fat Strawberry Shortcake can also be switched up… try adding blueberries or even an apple or cherries! You won't regret this dessert at all. It is scrumptious! And because this was a dessert, I didn't have protein with it. If you are worried about getting your protein in, try adding some 0% vanilla Greek yogurt on the side.
I do want to add… if this is a dessert and you feel like you have had too many carbs just cut the brown rice cakes back to just one. This dessert is gives you a good portion!
If you'd like to try another delicious E (low fat) dessert try my Peach Cobbler Breakfast Bake!
Or go check out my friend Briana's E Desserts.
If you'd like to purchase the sweetener I use you can use my affiliate link here: THM GENTLE SWEET
Print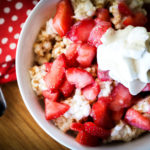 Low Fat Strawberry Shortcake (THM E)
---
Description
A low fat sugar free dessert that's delicious and easy to make.
---
4 large strawberries chopped into bite sized pieces
2 Lundberg Organic Brown Rice Cakes
1/4 cup of unsweetened cashew milk (you can use almond milk or coconut milk unsweetened)
1.5 tbsps of THM Gentle Sweet (you can use 3 tbsp of Monkfruit, Swerve or Xylitol, or half the amount for Pyure)
**optional- add a tsp of vanilla to the cashew milk
***optional- only 2 tbsp of low fat Almond Reddi Whip or Regular Low Fat Reddi Whip
---
Instructions
Chop strawberries up and put 1 tbsp of sweetener over them.  
Mix the strawberries and allow to sit (5 minutes) while you get the rest of the ingredients.
In a small bowl or cup mix 1/2 a tbsp of sweetener in with the unsweetened cashew milk.
If you are adding vanilla in, here is where you would add it to the cashew milk.
Crunch one of the rice cakes up in a bowl.
Add half of the sweetened strawberries to the crunched rice cake.
Crunch up the other rice cake and add to the top.
Place the final amount of strawberries over the top of the rice cake.
Drizzle the sweetened cashew milk over the top of the strawberry shortcakes.
Add the Low Fat Reddi Whip to the top if you would like.
Enjoy!
---