Strawberry Chicken Salad- a fun summery salad using poppy seed dressing, strawberries and almonds to create a low carb/keto/thm S Chicken salad.
(This post may contain affiliate links from Amazon & Trim Healthy Mama.)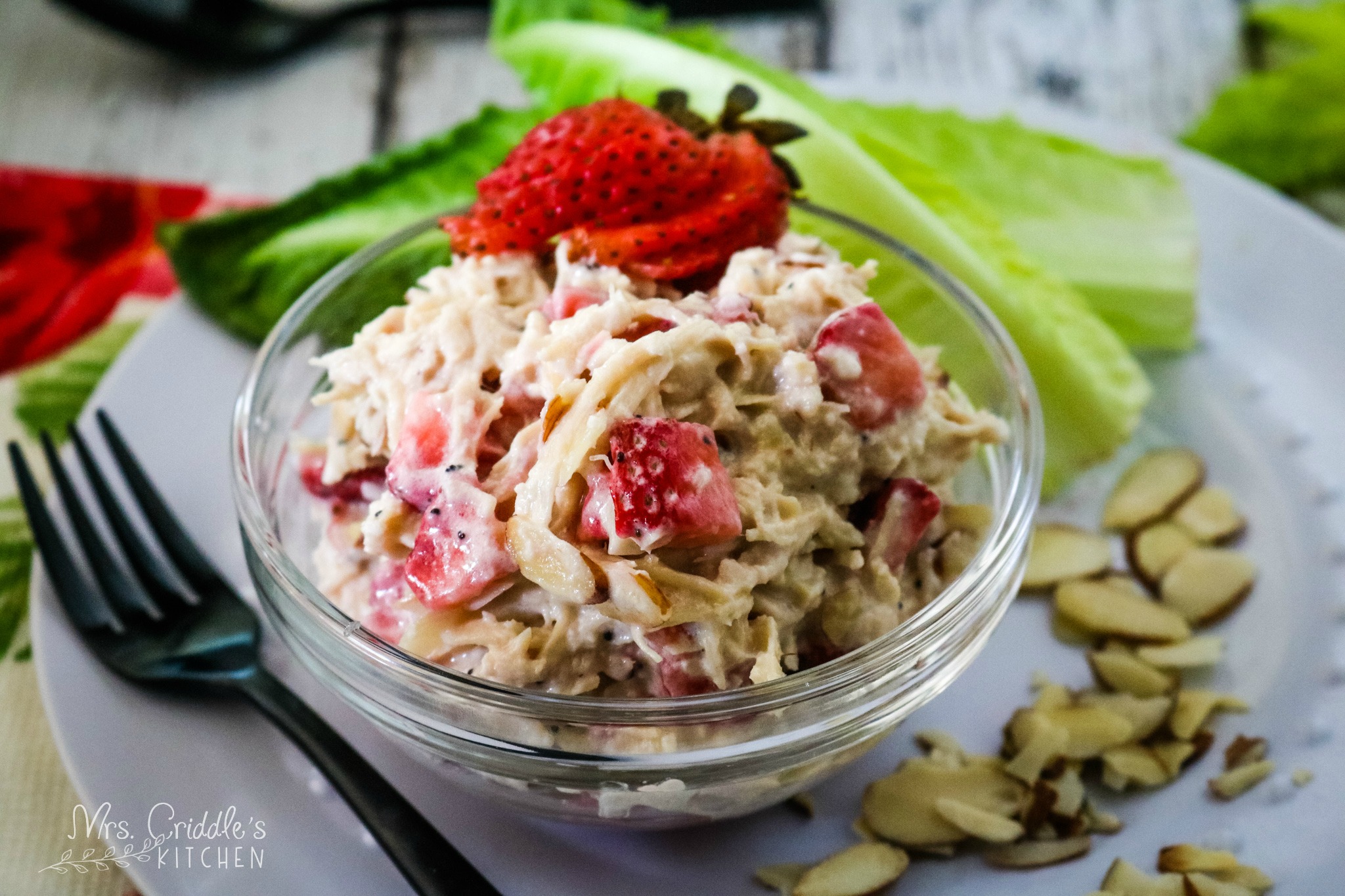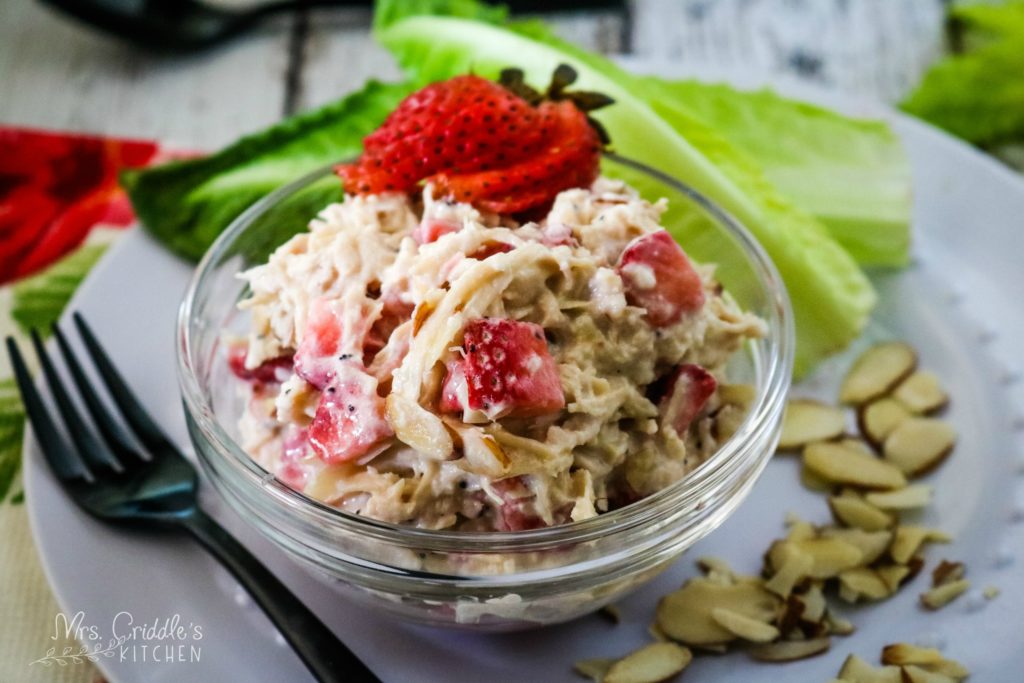 Strawberry Chicken Salad a summer recipe that I'm excited to share with you! Strawberries are in season right now so this makes this salad even better. This one is a little unusual because in the sauce mix I add a little bit of Poppy Seed Dressing to give it a little kick. It really works well!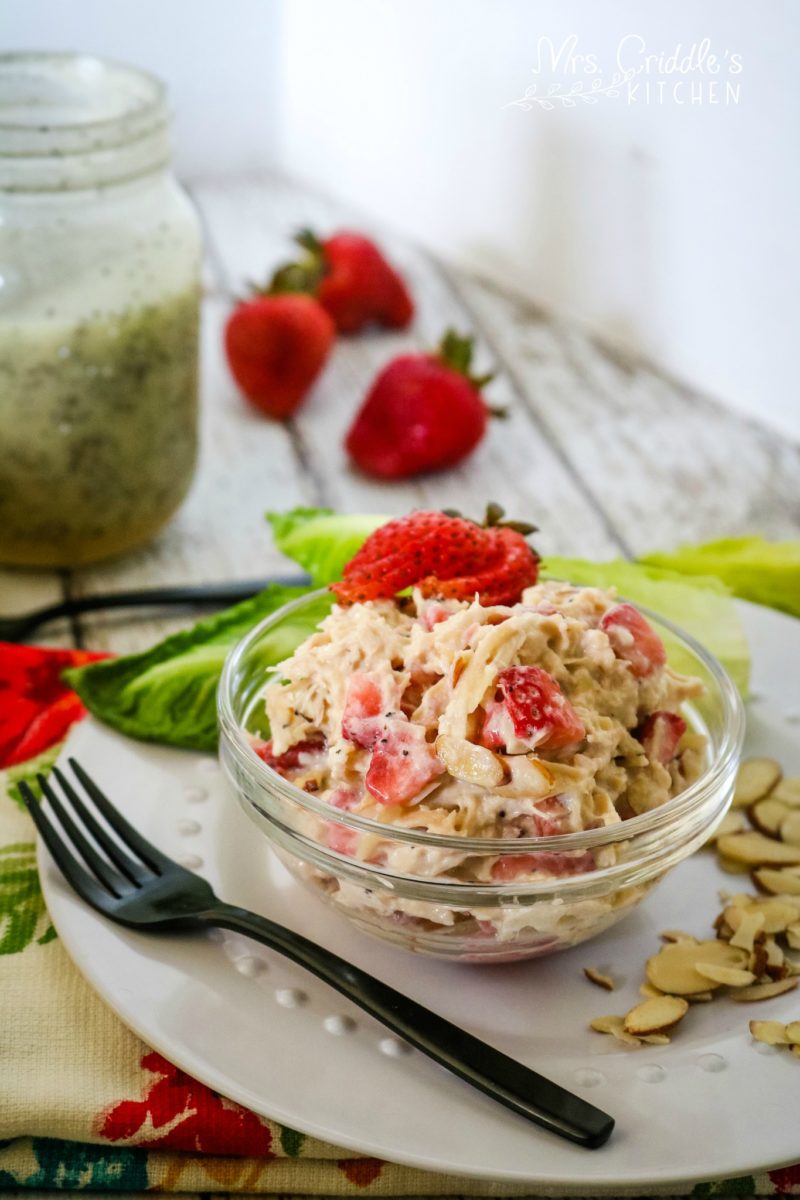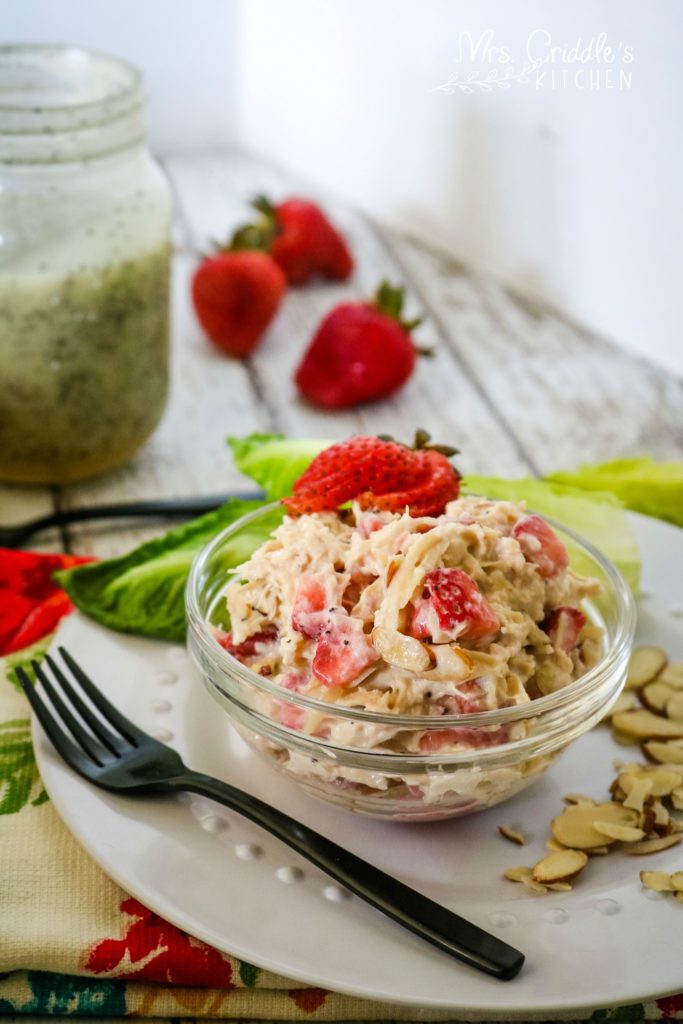 I created this recipe to be very easy. Both the Poppy Seed Dressing and the chicken salad are very easy to make! For the Strawberry Chicken Salad, I used canned chicken breast. I usually get the 12.5 oz canned chicken from Costco or Sam's in a pack of 4. Yes, its just convenient! And for this mama of 7 convenience is a must!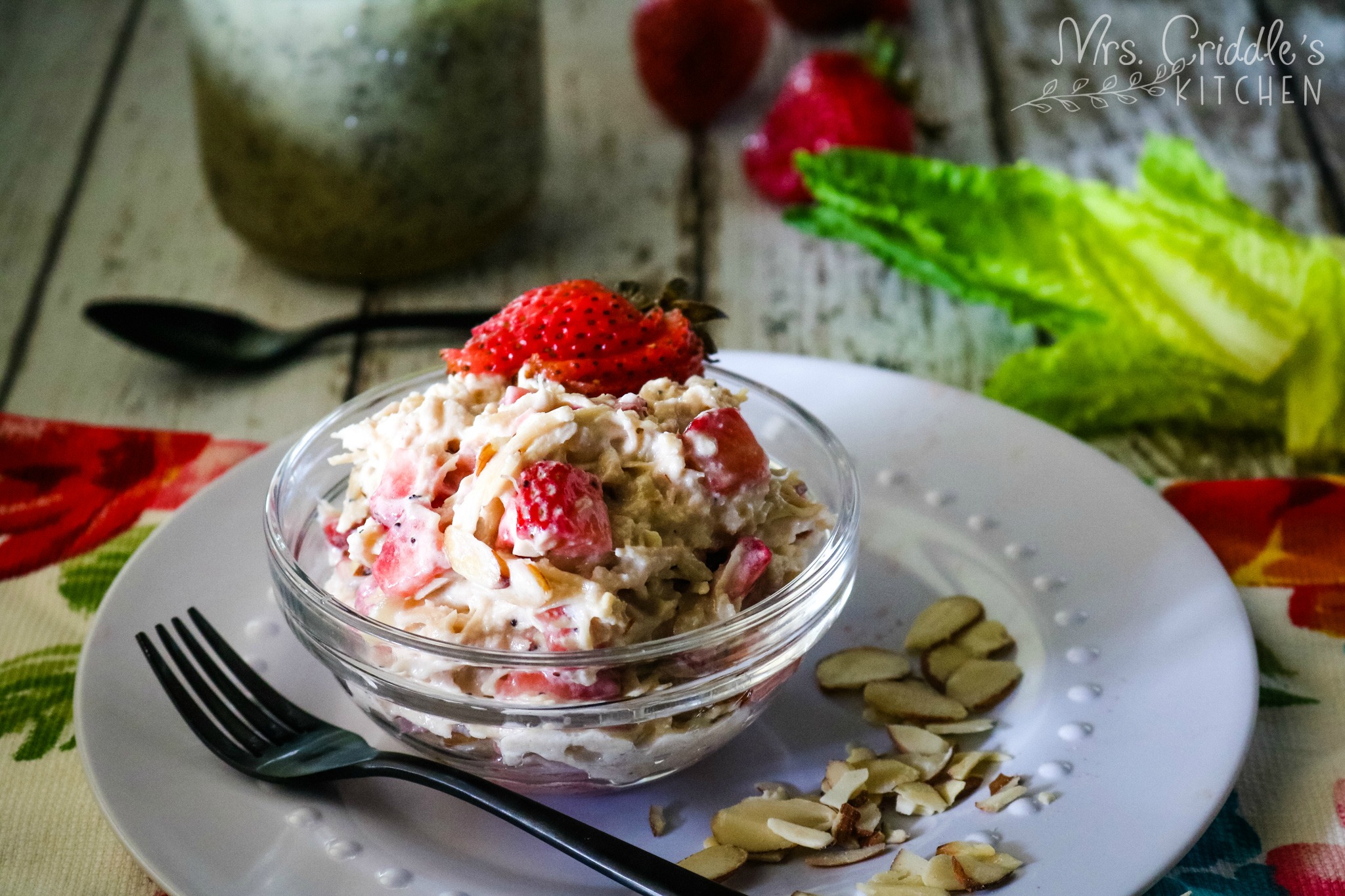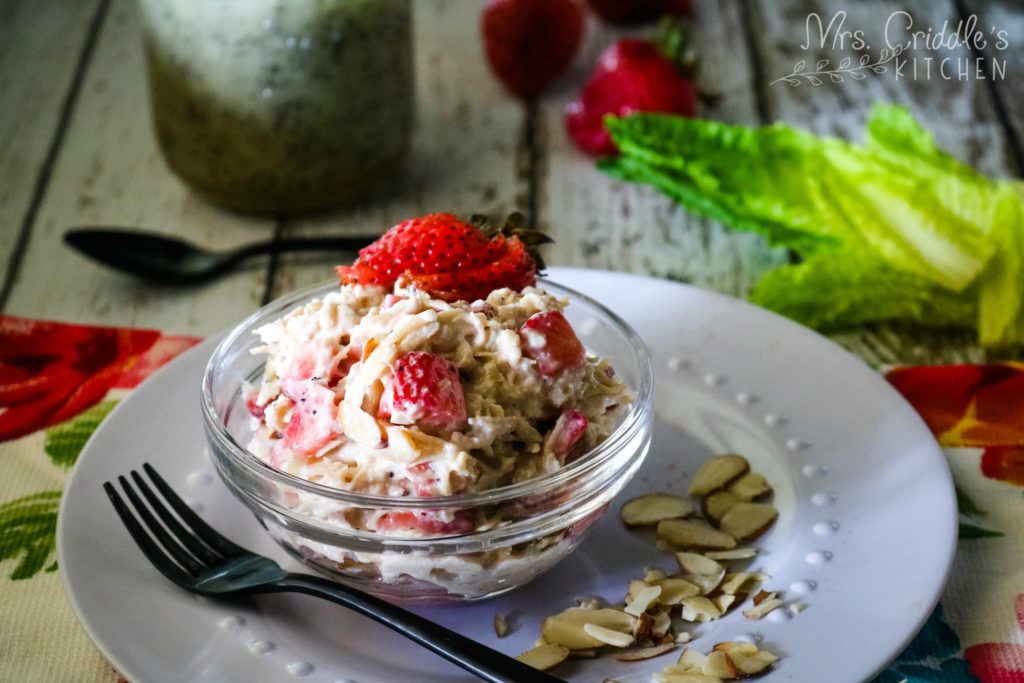 Make up your Poppy Seed Dressing recipe first… like I said, its easy. A one jar dressing. Next, open the canned chicken, drain it well and put the canned chicken into a medium bowl.
Add in mayo, poppy seed dressing, sliced strawberries, slivered almonds and, this is optional, chopped celery.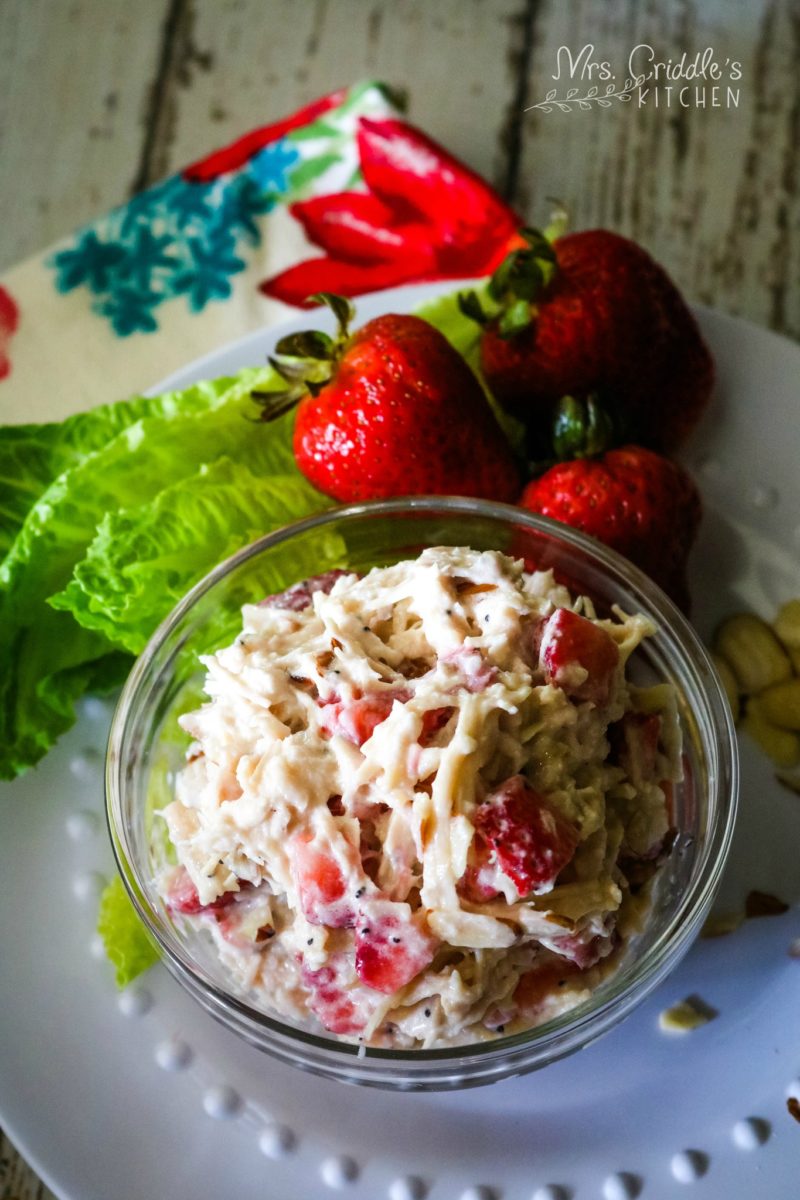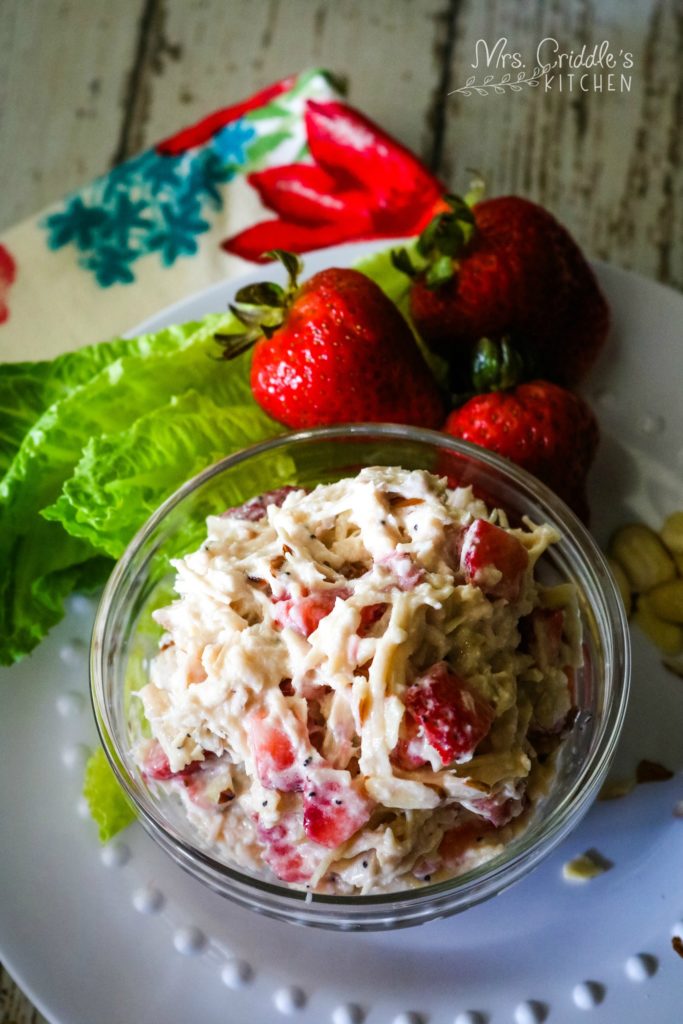 I used about 4 big strawberries for this dish but you can used less or more… how ever you want to do this. You could even use pecans if you don't have the almonds. I've done that before.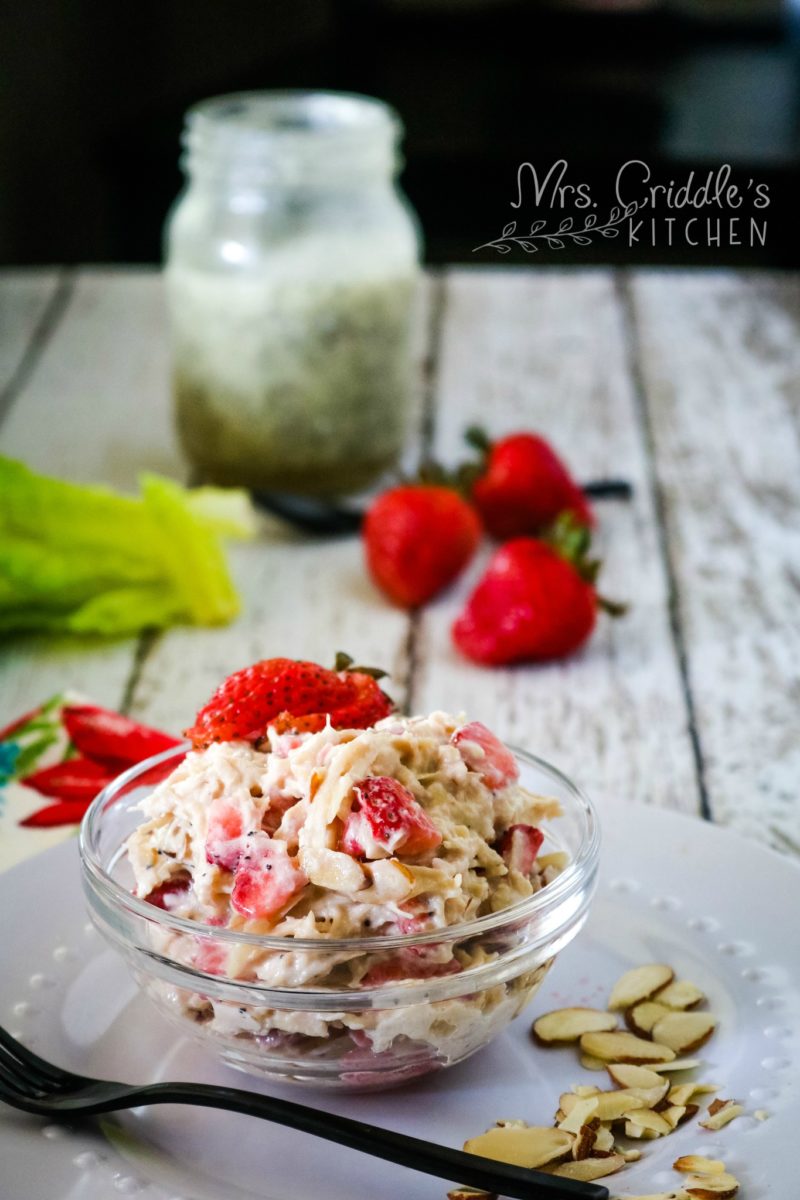 That's literally how easy this Strawberry Chicken Salad is! It will last a good 4 or 5 days in the fridge and makes a great lunch! If you are wondering what to eat this with you can do a couple things…
1. To Keep it Low Carb use Celery Sticks
2. Toast up Low Carb Tortillas Into Crackers
3. Eat Inside of Lettuce Boats
4. Eat With Cucumber Slices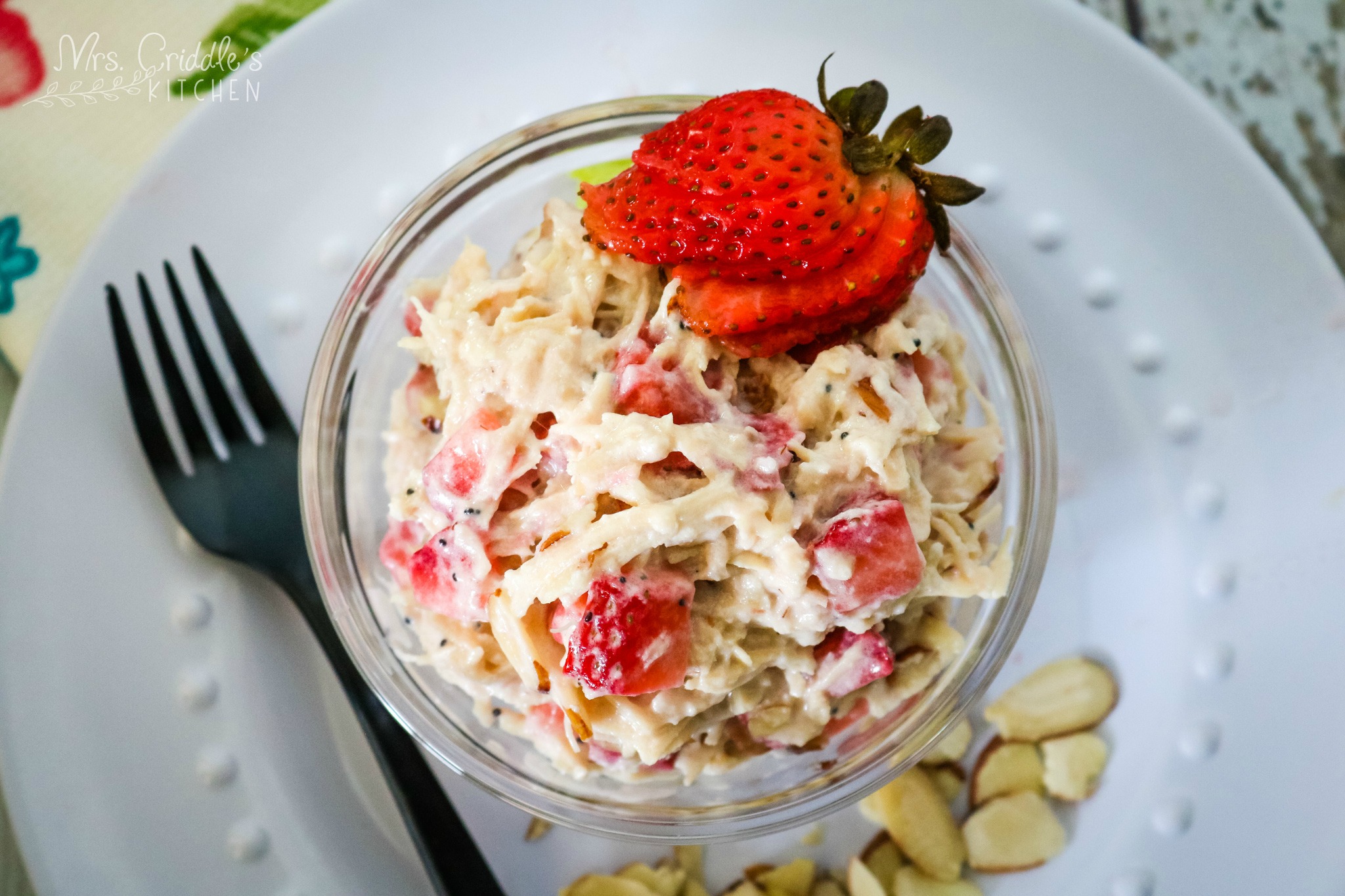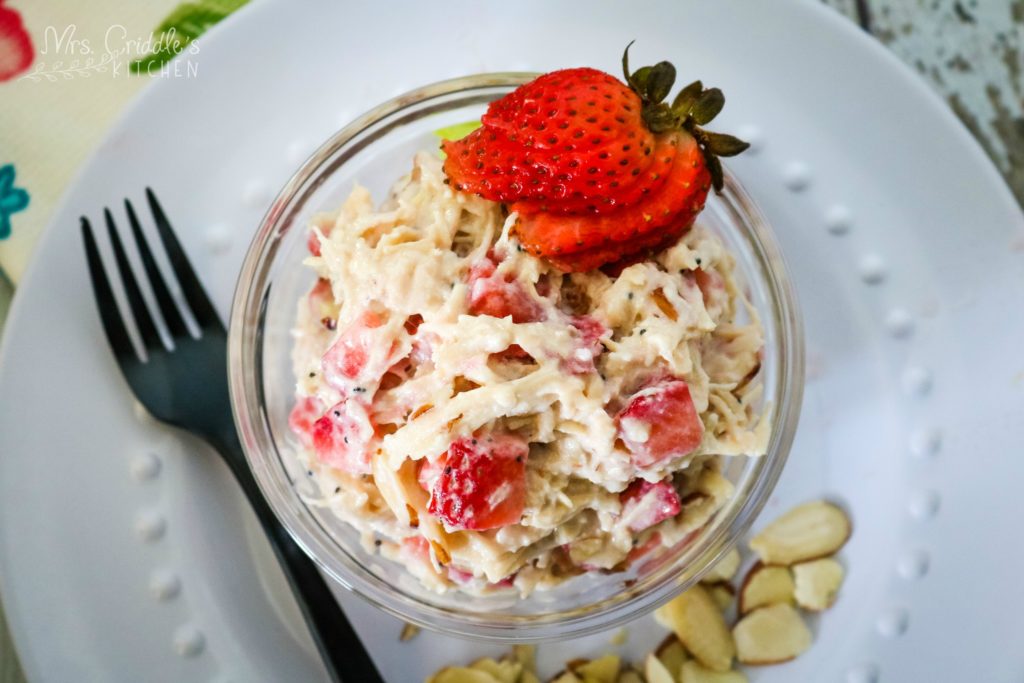 If you keep to those tips you will stay on plan! For my Trim Healthy Mama friends this Chicken Salad is an S meal. A higher in good fat meal. So this works, of course, with Keto or Low Carb as well.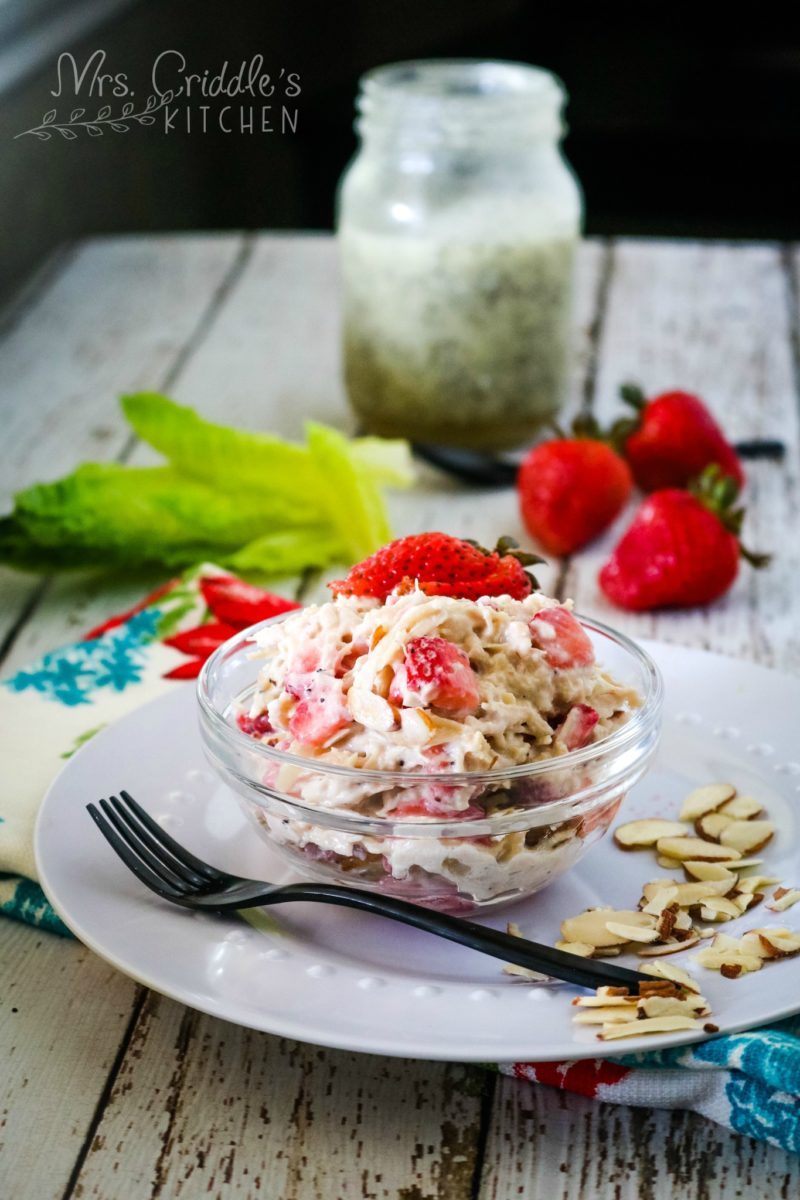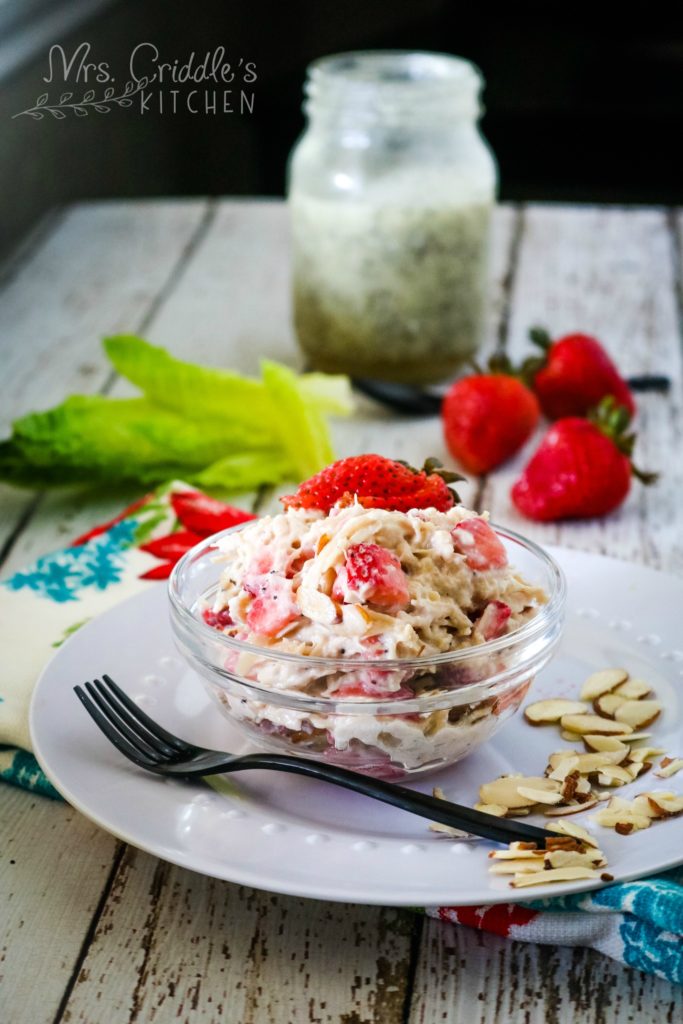 A couple other recipes you might want to try…
Blueberry Walnut Chicken Salad
Affiliate links to items you might need:
Print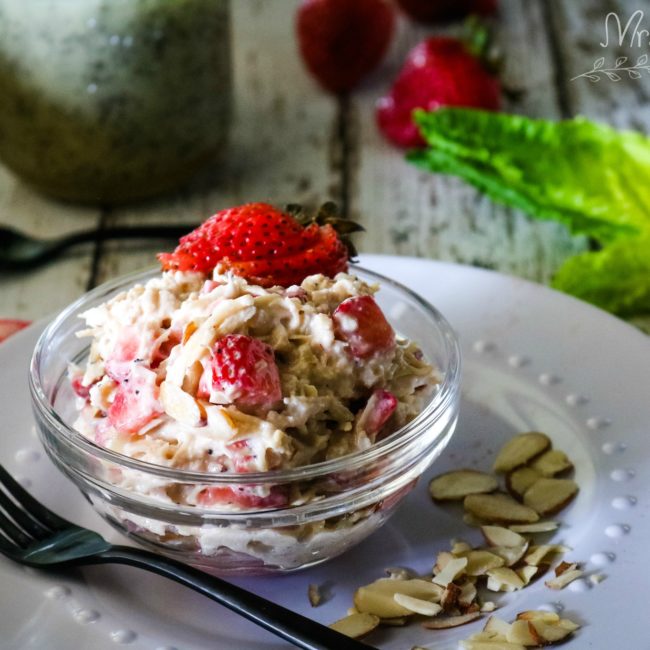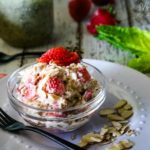 Strawberry Chicken Salad -Low Carb
---
1– 12.5 oz can of cooked chicken breast drained
1/4 cup of mayo (I used Duke's)
1/4 cup of Poppy Seed Dressing 
1/4 cup of sliced almonds
1/4 cup of strawberries chopped or sliced 
a good pinch of salt
a dash of pepper
**optional- Celery sticks
---
Instructions
Drain canned chicken & place in a bowl.
Add Poppy Seed Dressing and mayo.
Add sliced almond, salt & pepper.
Slowly mix in the chopped strawberries.
Eat with celery sticks or toasted low carb tortillas cut into crackers or in lettuce boats.
Enjoy.
---