Mango Salsa- a fun & festive with tangy, spicy, sweet mixture of flavors that you won't want to stop eating. This is an THM E you can eat with Blue Corn Tortilla Chips or use as a relish on your favorite savory dishes.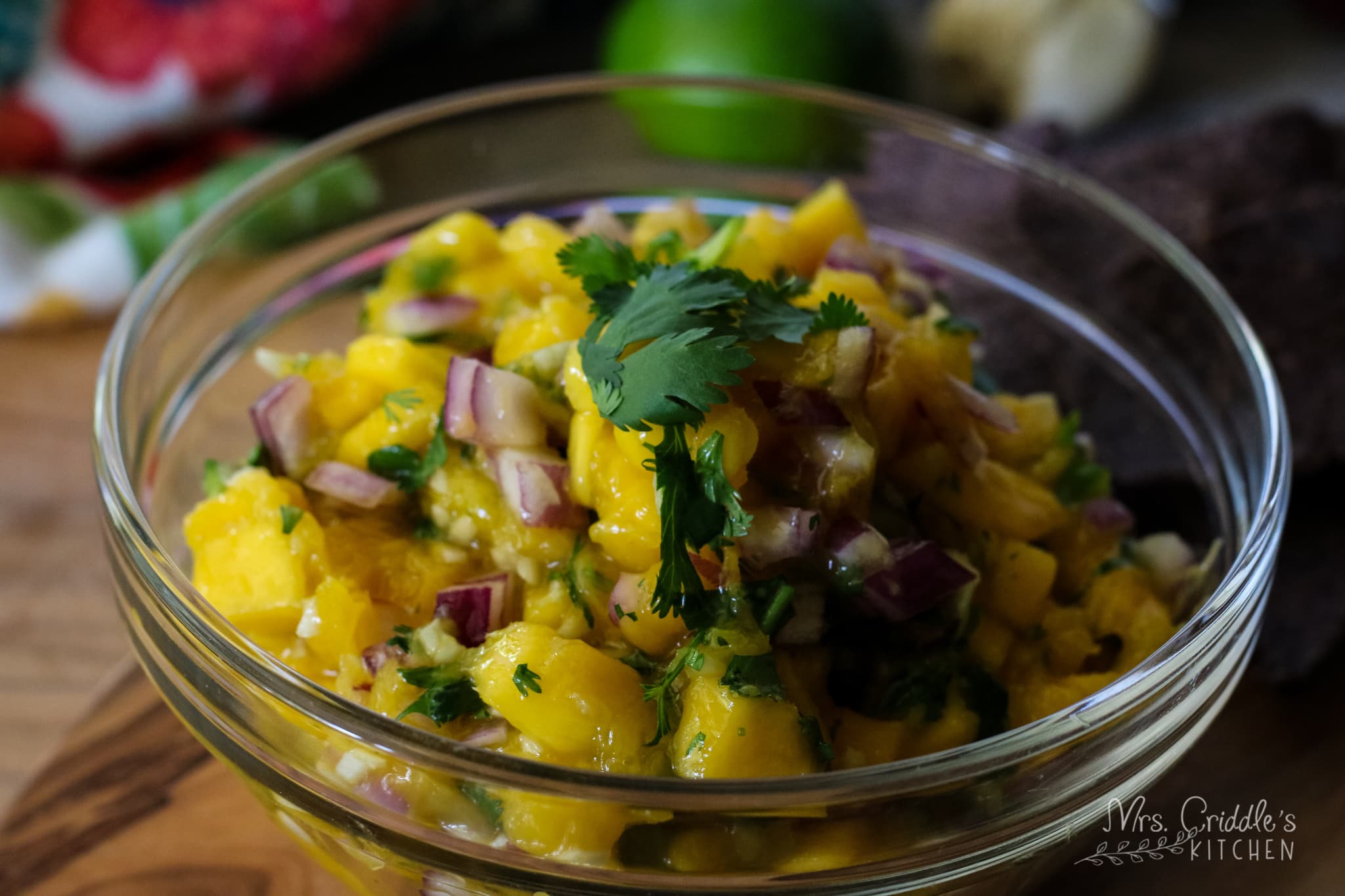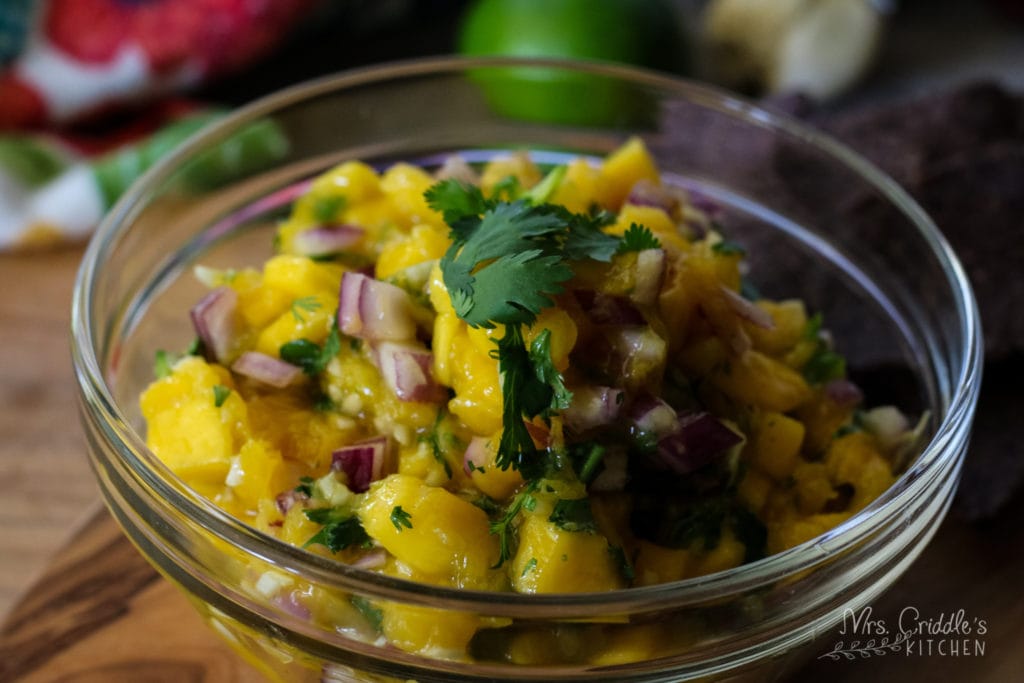 (This post may contain affiliate links from Amazon & Trim Healthy Mama.)
If you haven't tried Mango Salsa… you need to! First off, I adore adore adore Mango! If you've not tried it… give it a try, you won't be sorry. Go for a mango that is a little on the squishy side. You don't want a really firm one.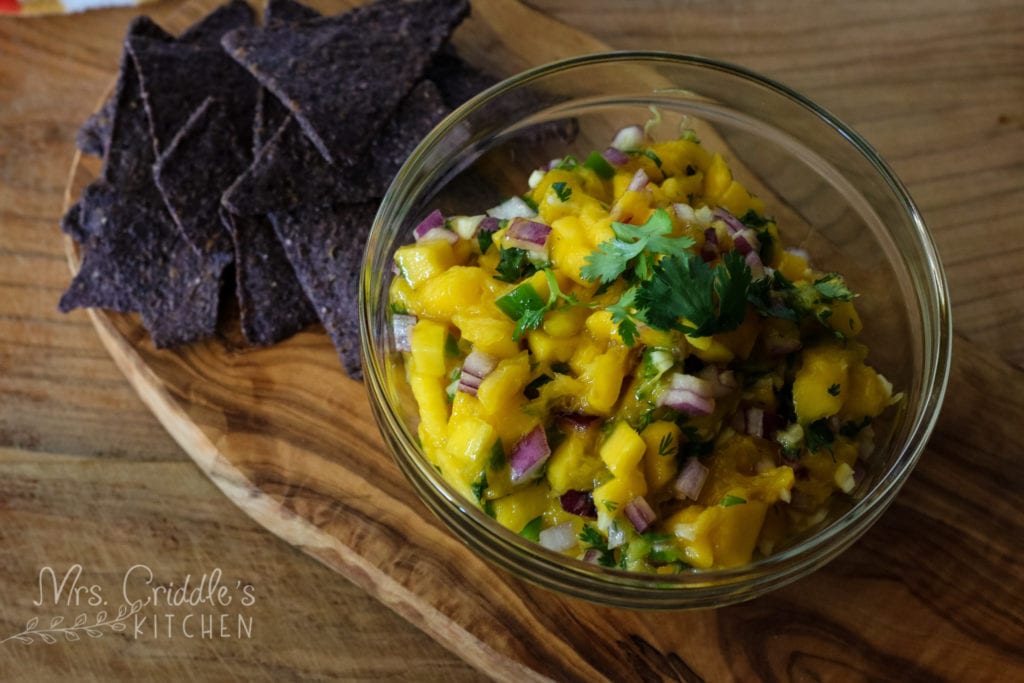 I rarely buy salsa any more because it's so easy to make. And the same goes for Mango Salsa. There are no crazy ingredients just everything you should be able to find mostly year round.
You also do not need any special appliance like a blender to make this. I guess you could but I would rather not turn my mango into mush.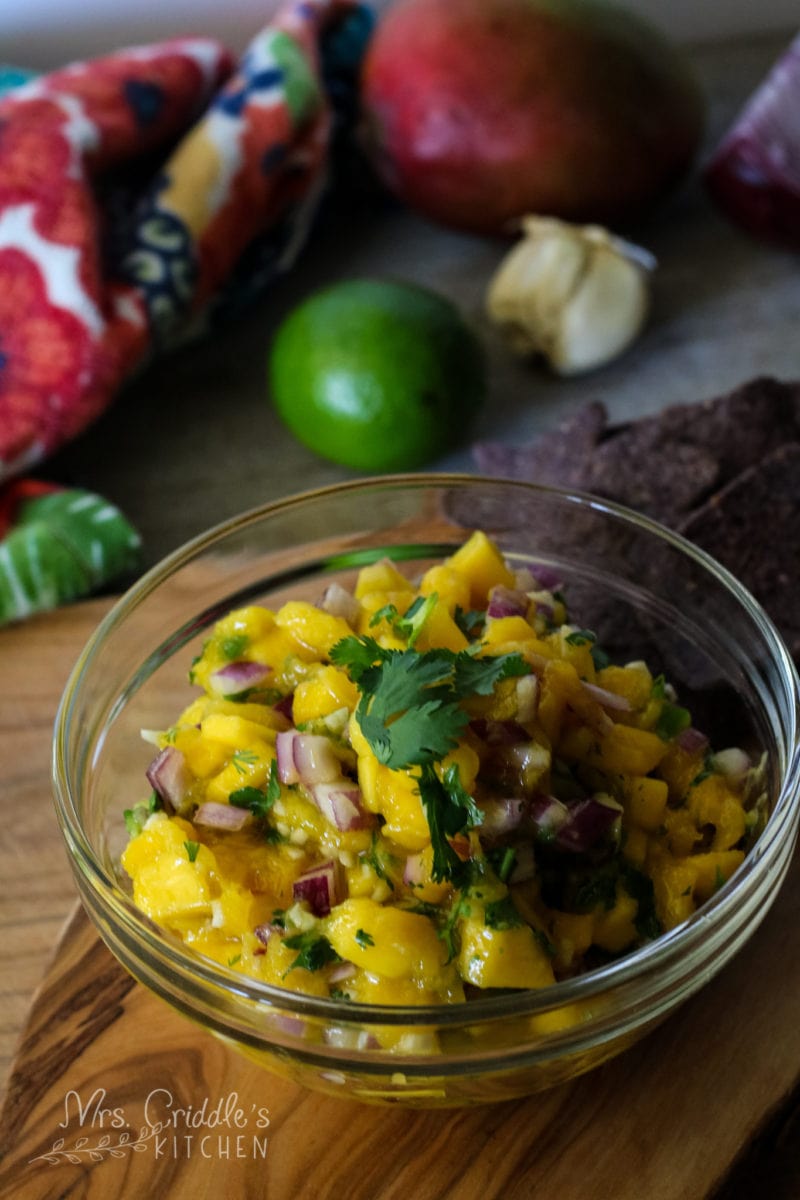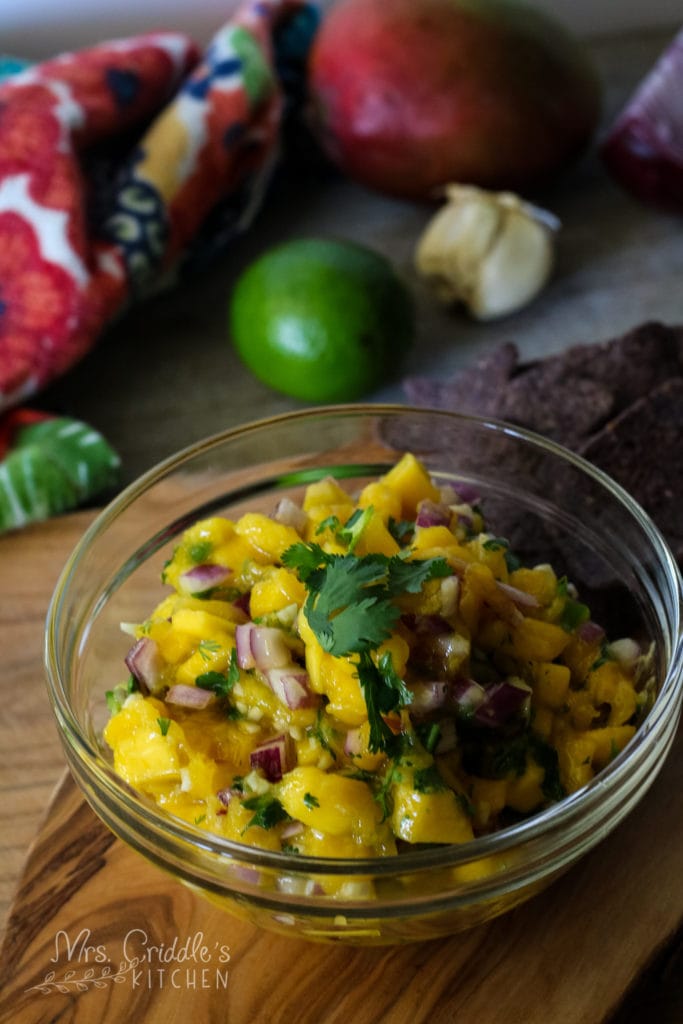 So what do you eat this with, you might want to know… since this is more of a good carb salsa because of the mango, we eat this with more lean meals. Chicken Breast Fajitas, Fish Tacos, over cooked Chicken breast, over lean pork or as a side with Blue Corn or Baked Corn Tortilla Chips.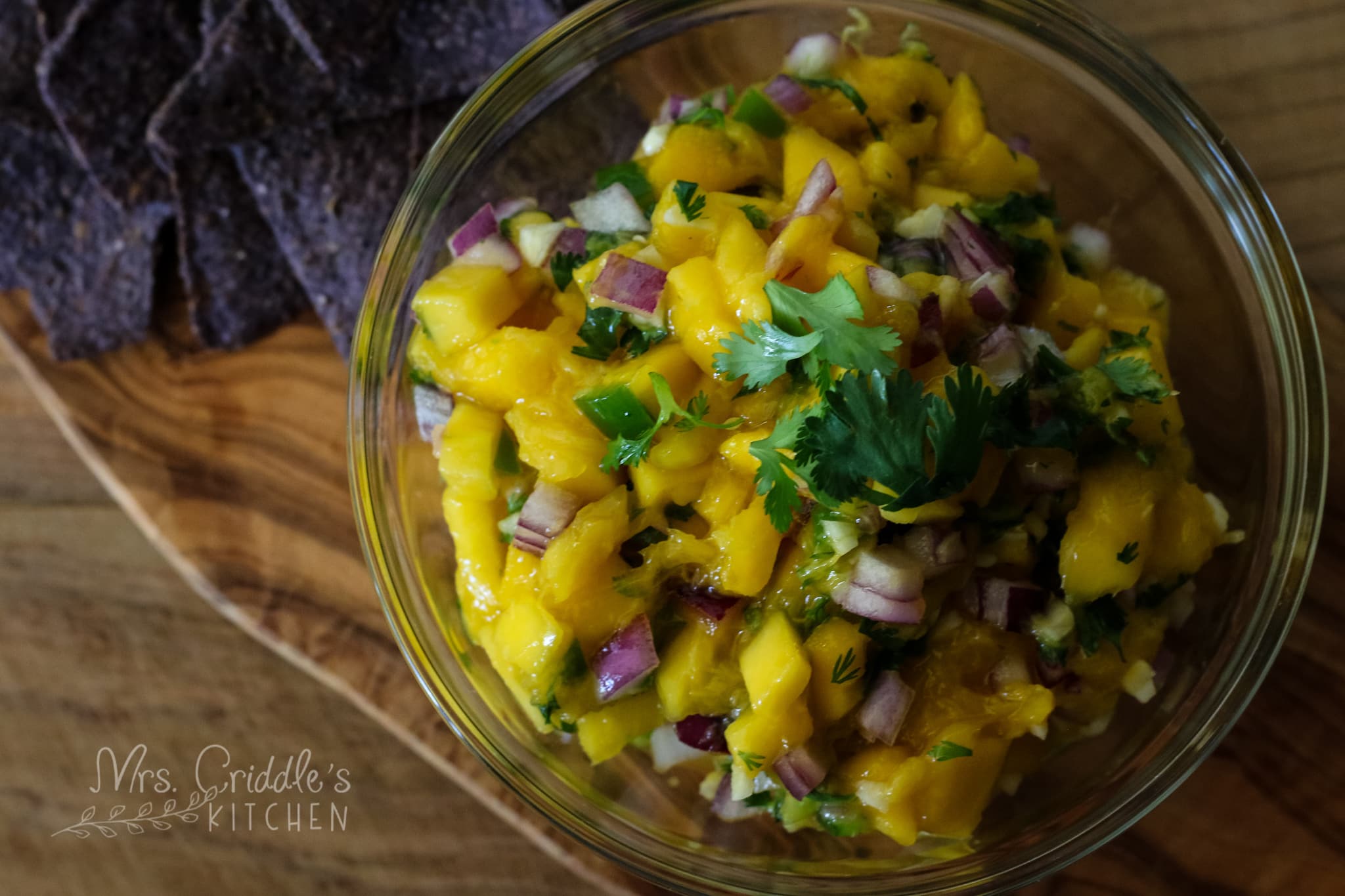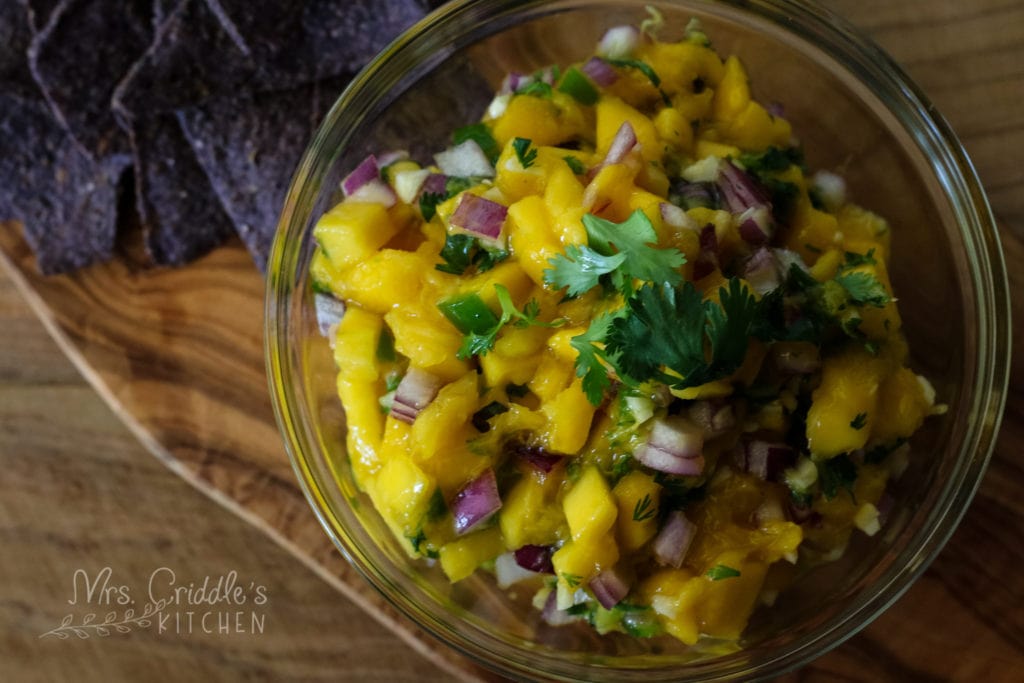 Exactly how easy is this to make? Like this… peel and slice up mango, chop onion & garlic, de-vein & de-seed jalapeno, add chopped cilantro, squeeze in lime and sprinkle salt. Boom. That is is!
The longer it sits the better the flavors meld together. Store it in an air-tight container and keep in the fridge.
This is a THM E for my Trim Healthy Mama friends, so good carbs because of the fruit sugar in the mango.
Other Recipes you might want to try…
Grilled Chicken with Mango Salsa
Items you may want to purchase with my affiliate links:
Print
---
2 Ripe Mangos peeled and sliced and then chopped
2 cloves of fresh garlic chopped (you can add more if you like lots of garlic)
1 large jalapeno de-veined & de-seeded, sliced and chopped
1/3 cup of red onion chopped
a Handful of washed cilantro chopped
1/2 a lime squeezed over top
1 tsp of mineral salt
---
Instructions
Peel & slice and then chop mango into a medium bowl.
Add other vegetables and cilantro.
Squeeze lime over the top and add salt.
Mix well.
Serve with Blue Corn Tortilla Chips or Baked Tortilla Chip.
Enjoy
---