Grilled Chicken with Mango Salsa- a low fat summer dish that's perfect for those grilling outdoor days!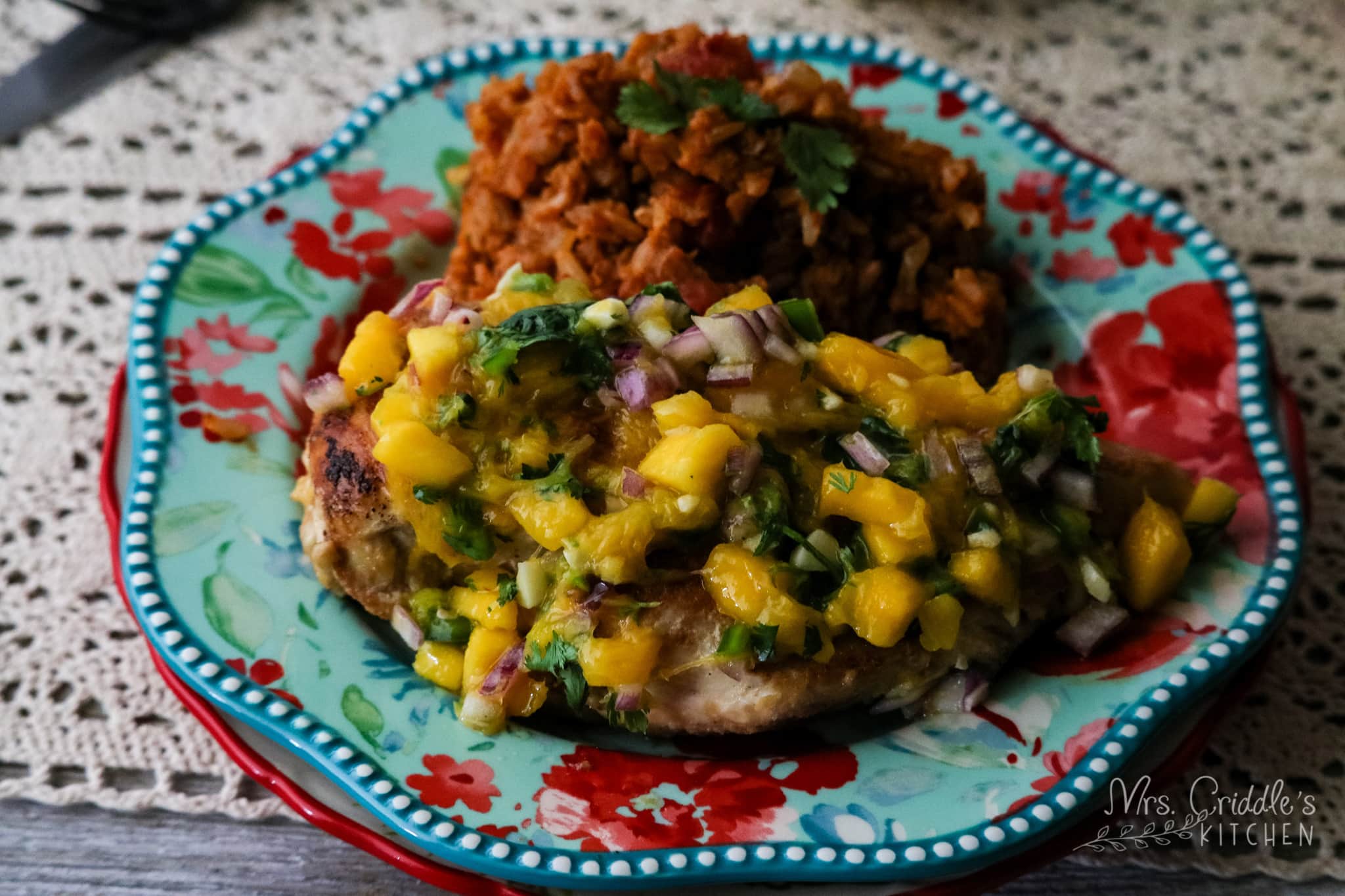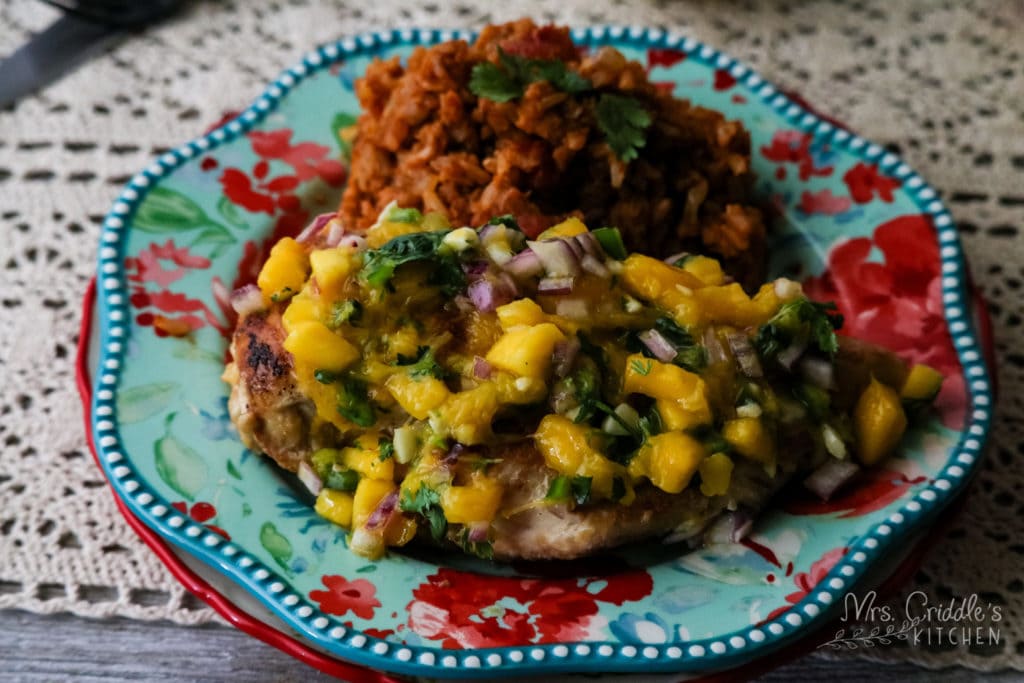 (This post may contain affiliate links from Amazon or Trim Healthy Mama.)
Grilled Chicken with Mango Salsa a fairly easy summer dish that you will love! The flavors are full palate with tangy, sweet and savory all together in one beautiful dish.
Y'all I think I have mentioned several times how much I love both mango & colorful food! Mango is the epitome of summer to me and I also believe it belongs on most Mexican dishes. Also, every meal should have color. Colorful food just tastes better. And look at that beautiful colorful dish!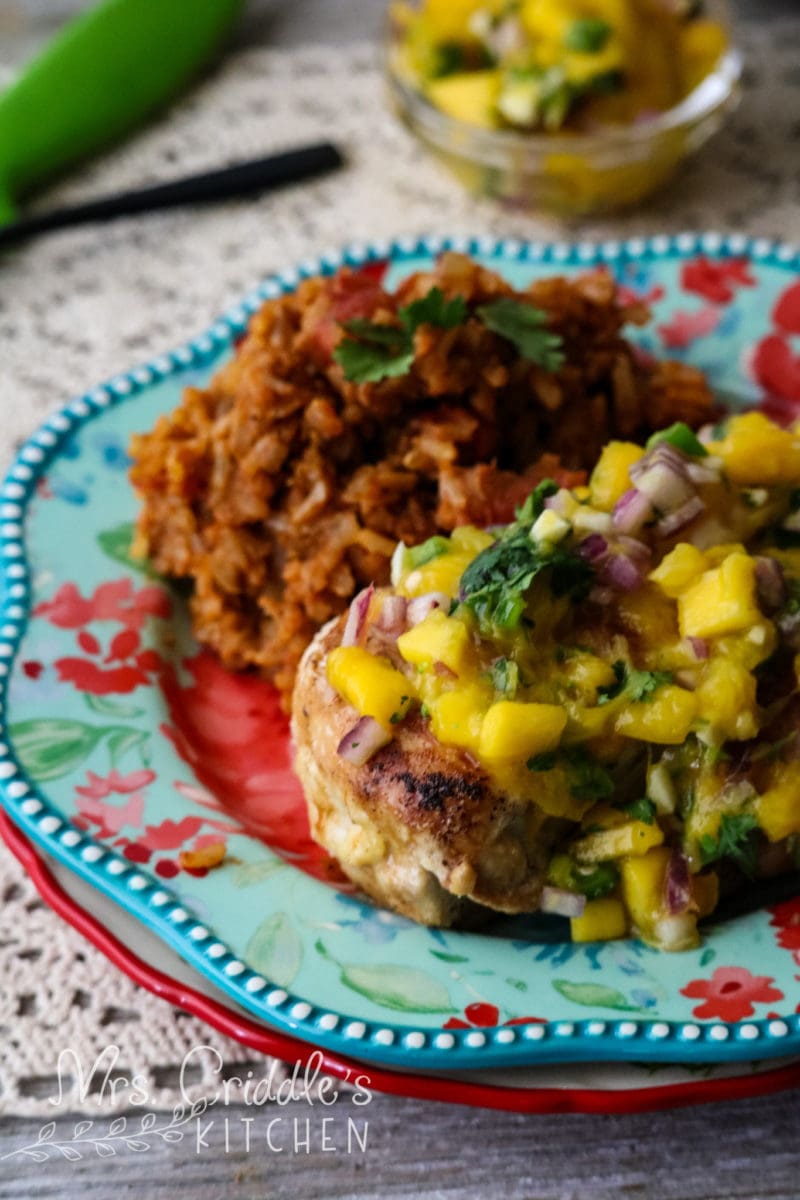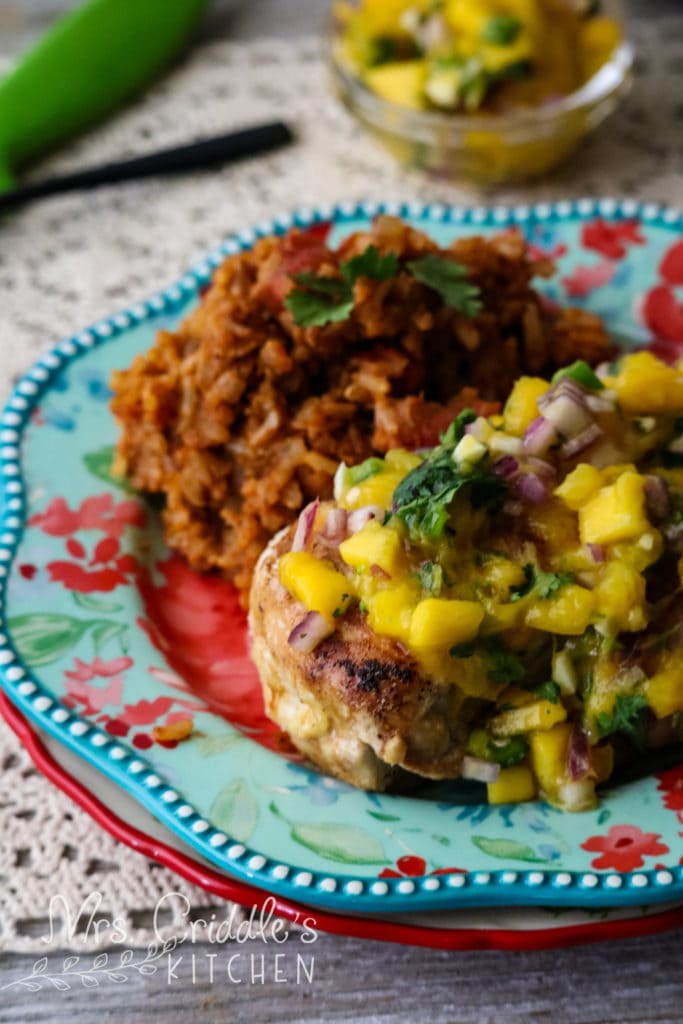 This Grilled Chicken with Mango Salsa is very easy to make. First, make a big batch of Mango Salsa (<~ click link for recipe), set aside and get the chicken ready to go.
Hopefully cooking chicken is an easy task for you… I will be honest. I stink at cooking chicken. I usually over cook it, like 90% of the time because I'm so worried about it getting cooked completely.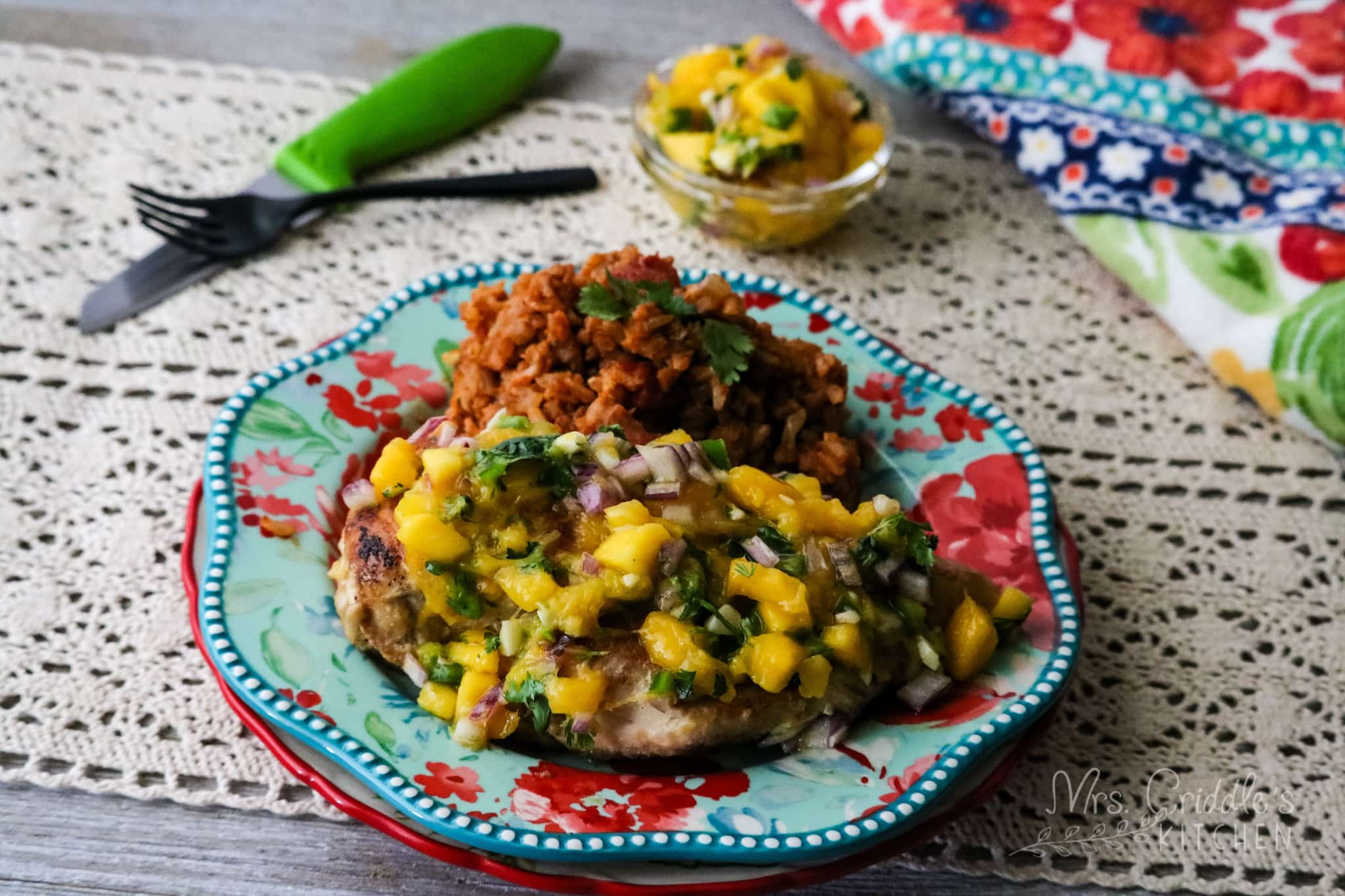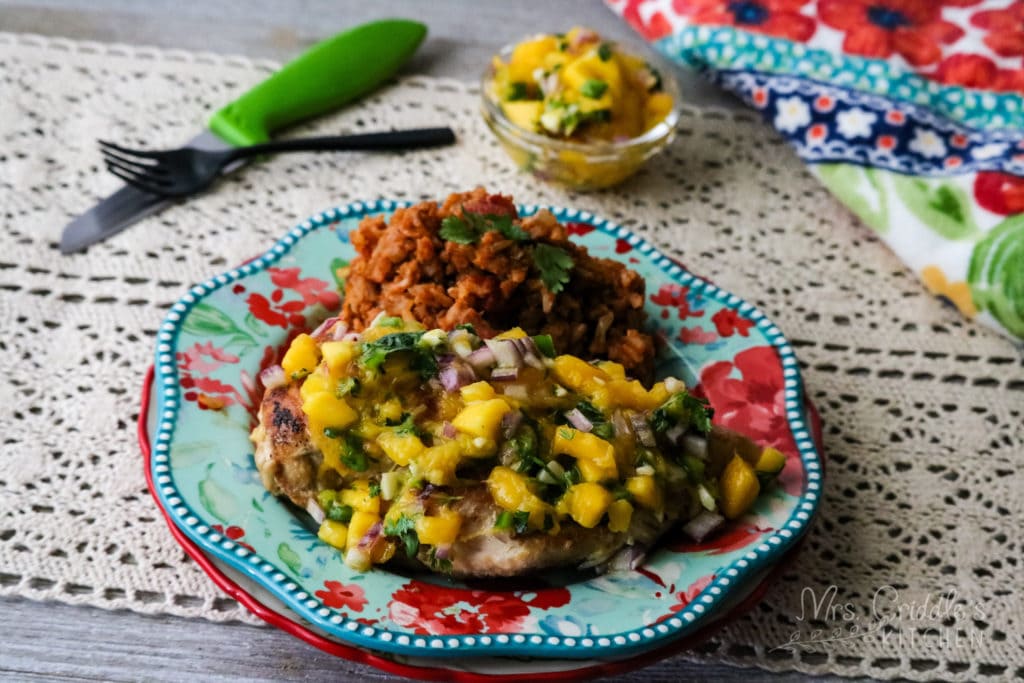 I'm going to give you a couple ideas but please do your own research or do what works best for you to get the perfectly grilled chicken. Also, if you have tips on how to grill or skillet cook chicken… leave them in the comments for me! I need all the help I can get! haha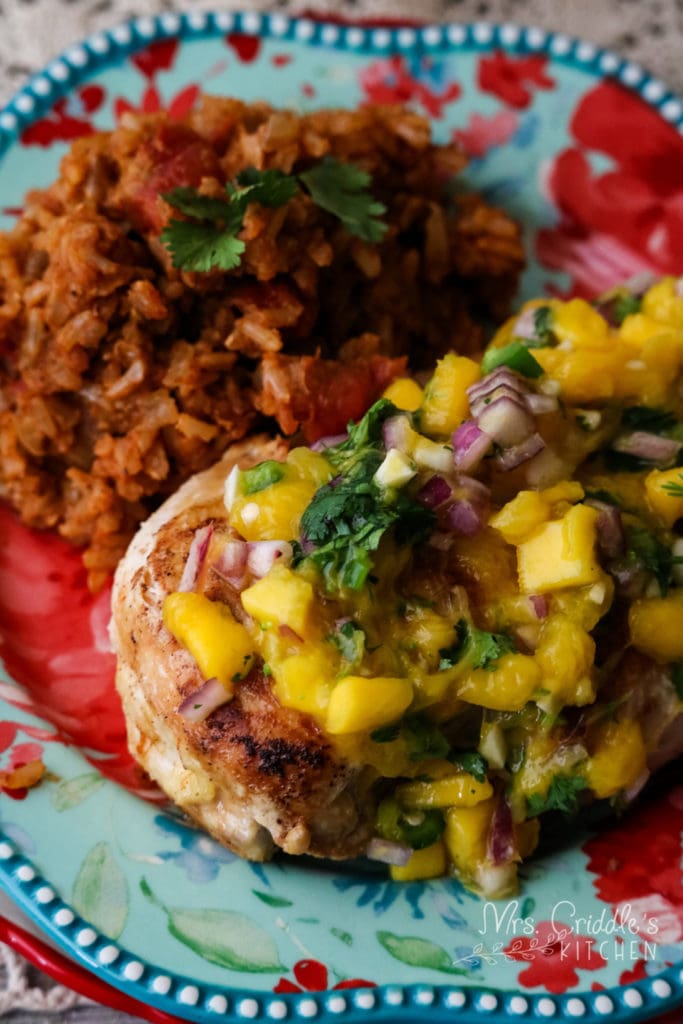 Here are a few helpful tips on grilling chicken:
How To Grill Chicken & Keep It Juicy
Now, I will tell you how I usually cook my chicken even though I am NO expert. I heat up a pan with a lid and use about a tbsp of avocado oil to coat the pan.
One thing I am big about is seasoning. Use lots & lots of seasoning. My favorite go-to seasoning is very simple… salt, pepper, garlic powder & onion powder. That's it.
After seasoning the chicken well on both sides place down in the pan and cover with the lid. Allow to cook on one side for at least 7 minutes. Flip to the other side and cook until it reaches about 170 degrees. I don't have an example of how, I use a meat thermometer to make sure it reaches the correct temp. I think a meat thermometer is a MUST! That's how I cook my chicken… like I said, if you have tips… please share!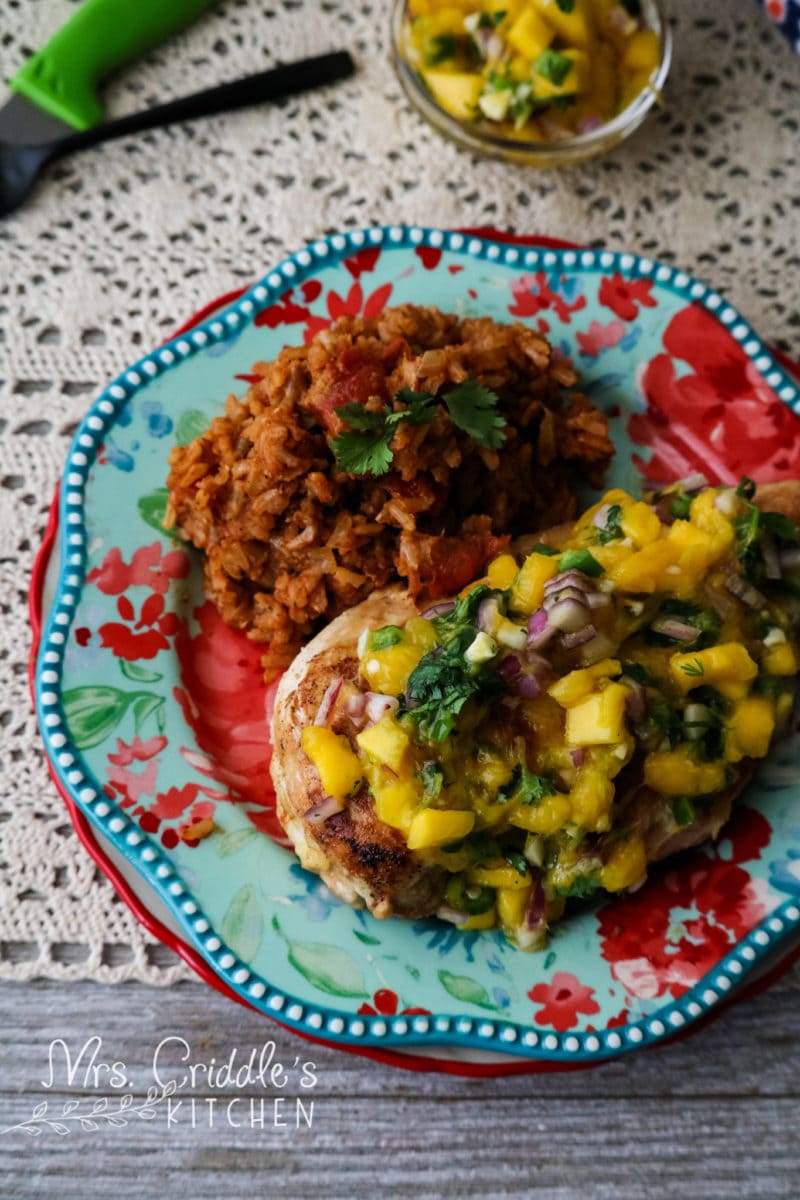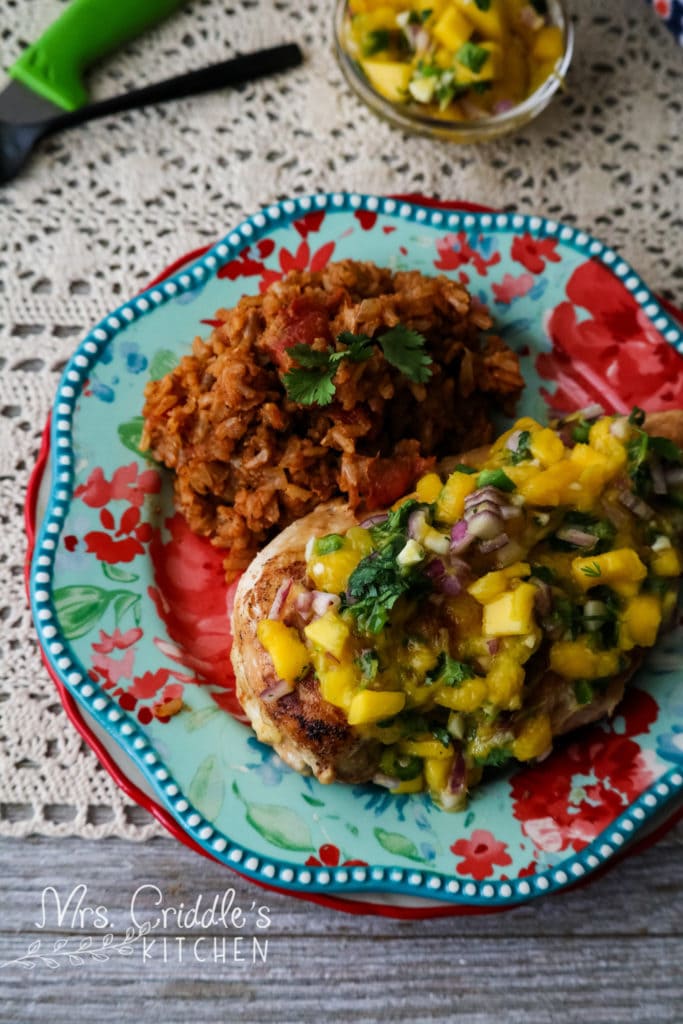 Once the chicken is grilled to your liking, plate up your chicken and add a big scoop of mango salsa. I like to make this dish with either a Mexican Brown Rice and a big salad! It's a very fresh low fat meal with lots of good carbs!
Other Recipes to try:
Items you may want to purchase with my affiliate link:
Print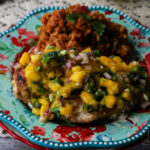 Grilled Chicken with Mango Salsa THM E
---
Description
Grilled Chicken with Mango Salsa- a low fat summer dish that's perfect for those grilling outdoor days!
---
2 or 4 trimmed chicken breasts (for best results use a meat tenderizer, cover with plastic wrap, pound the chicken to a thinner consistency)
1 recipe for Mango Salsa
Salt 
Pepper
Garlic Powder
Onion Powder
1 tbsp of avocado oil
---
Instructions
Get grill ready.
Use meat tenderizer to hammer chicken thin.
In ziplock bag put chicken and oil.
Make sure the chicken is coated evenly with the oil ( you can also just spray with a avocado oil or high heat oil spray).
Season chicken breasts well with garlic powder, onion powder, salt & pepper.
Place on grill and grill until temperature of chicken reaches 170 degrees.
Take off grill, plate and add a big scoop of mango salsa to each chicken.
Serve with Mexican Brown Rice & a Big Salad.
Enjoy.
---