Feeding Him THM- meals that will win him over to your healthy THM way of eating! Proven to please!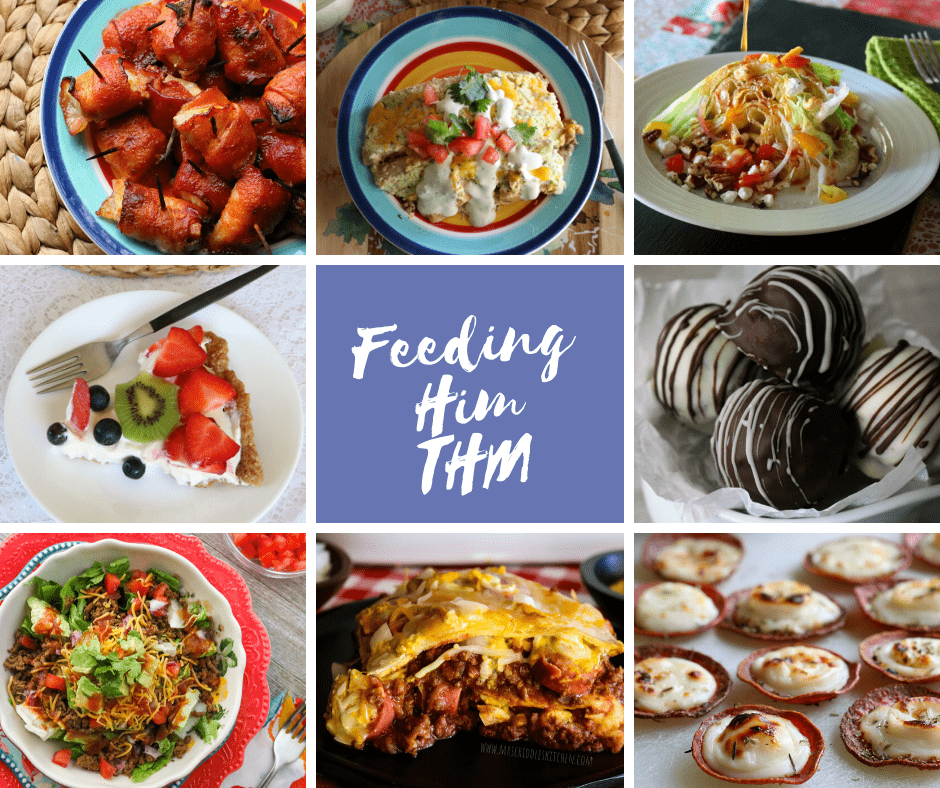 (This post may contain affiliate links from Amazon, Trim Healthy Mama, Lakanto & Smart Baking Co.)
Father's Day was just yesterday. We were so busy graduating our first kiddo the day before that we mainly just relaxed and my husband, Jarod, made a few requests for dinner. And it just so happened to be an one of my THM Recipes.
That had me thinking about making a post about his favorite THM recipes…. Feeding Him THM! Maybe that will help you get your man on plan. Haha! These recipes are tried and true to us. And I will add a list of my husband's favorite treats from the THM Cookbooks as well!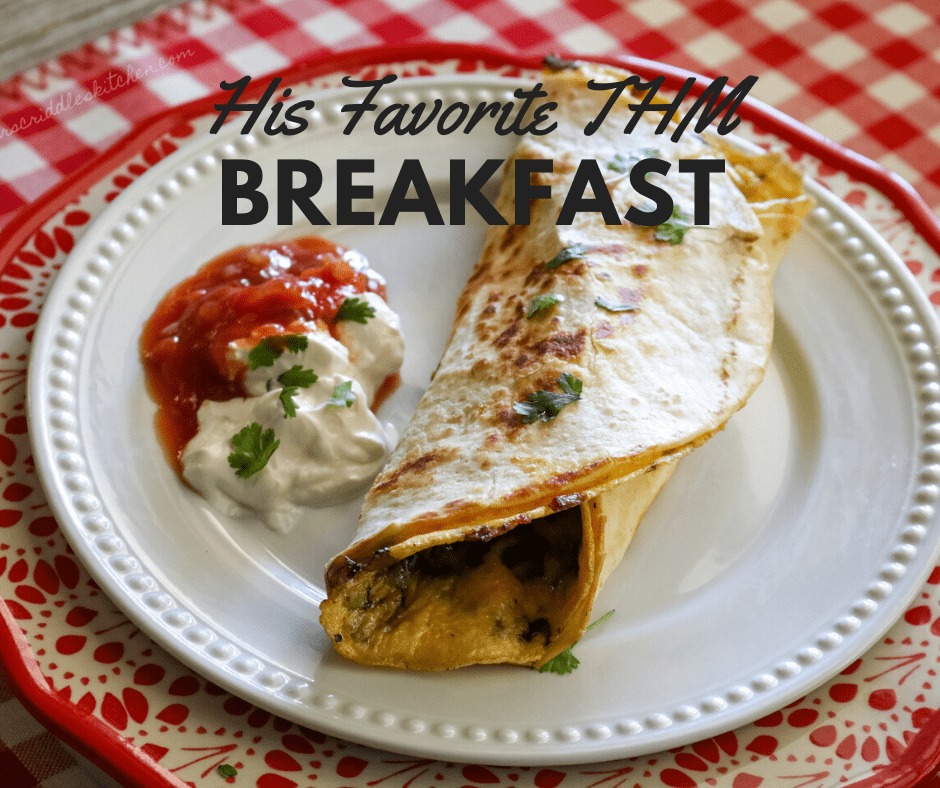 Let's start with breakfast… we aren't huge breakfast eaters except on the weekend or Tacos. Haha! I don't know if it's just a Texas thing or not but breakfast tacos are a huge deal here. We eat breakfast tacos easily two or three times a week.
Just a little note on a the breakfast tacos. We buy Mission Brand Carb Smart tortillas that have 3 carbs in them per tortilla. If I cannot find that I with go with another brand. Sometimes, if I have time, I will make the Wonder Wraps from the THM Cookbook (pg 204 of the Trim Healthy Mama Cookbook) and use that for the tortilla part of the tacos.
Since guys can handle & need more crossovers than us girls, corn tortillas can be used for their "tortillas" part of breakfast tacos.
Here are a few of our favorite breakfast taco combination:
eggs, bacon, and salsa
bean & bacon & cheese (mostly for him since this would be a crossover
eggs, salsa, cheese
sauted onions & peppers, eggs, bacon, salsa
carne guisada & cheese (I make this but don't have a recipe yet)
Here is a list of other breakfast recipes Jarod loves:
Sausage McCriddles (yes McCriddle because they are my take on the McDonald McGriddle)
Lemon Smoothie (this is my husband's favorite breakfast smoothie and it's an FP)
Rancheros Omelette (this is off of the THM Membership Site! If you don't have that membership, I highly recommend getting it! There are several fabulous recipes off of that site along with menus I LOVE… ie: Stubborn Loser's Menus & Veggie-Full Ultra-Trimming Menu.)
Trim Healthy Mama Pancakes out of the Trim Healthy Mama Cookbook on page 259.
Here are a few other meal options of my husband's for breakfast:
Kirkland Protein Bars from Costco. My husband has a pack of these at the office and carries a few in his truck when he's on the run.
Two other options that Jarod will do is just a quick Protein shake with a scoop of the THM Chocolate Whey Protein Powder and unsweetened cashew milk or he will do a scoop of THM Integral Collagen in his coffee. Both of these usually hold him over until lunch.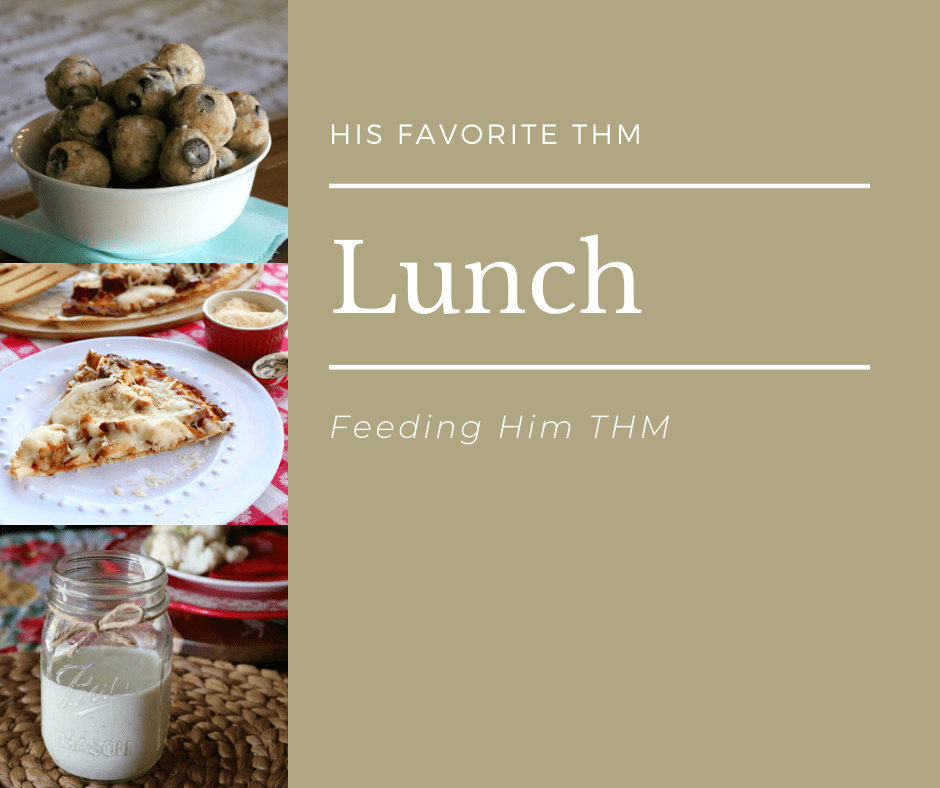 Feeding Him THM… for lunch! This we have down to a pretty good science. Jarod isn't really picky (thank goodness) and doesn't mind eating the same thing over for the week. I do try to mix it up a little but in all honesty his lunch is very consistently the same week to week.
In these lunch containers I found for fairly cheap, I will put deli meat (I try to get Boar's Head deli meat or a more natural deli meat), cheese slices or cheese sticks, pickles and mustard in a small container. If I have room I will fold two low carb tortillas & place in the container.
Along with the wraps, I add a Mason Jar Salad. My husband LOVES this! Usually, I won't add a protein because he has the "protein" in his wraps but I will add in lots of different veggies. I buy organic bagged lettuce that is already washed and chopped. That makes it so much easier for me. Other times I will buy organic lettuce in bulk, wash it, chop it and place in a big Z-lock bag.
In small containers I put Parmesan Cheese & Salad Dressing. That way his salad does not wilt with the cheese & dressing.
Here are the mason jars & lids I buy….
I will also put in a few snacks for my husband for later in the day when he gets hungry.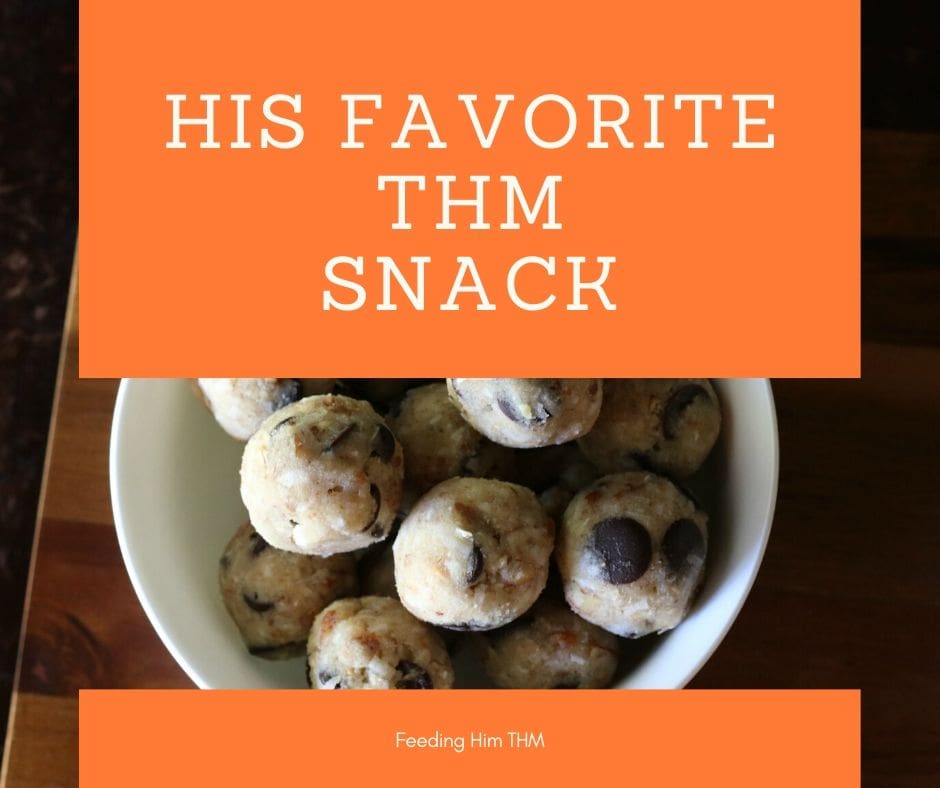 Here are a few of his favorite snacks:
Nuts… I try to put about 1/3 cup of nuts into small snack sized bags. I usually throw in about two, to help hold him over for dinner. I only do 1/3 a cup so he doesn't overdo it. Haha
Double Chocolate Walnut Brownies these have been made SO MANY TIMES!
Cowboy Cookie Protein Bites (these are great little protein bites that tastes like cookie dough and that's one thing my husband LOVES… COOKIE DOUGH!)
Chunks of Raw Cheddar by Kerrygold… wow that cheese is YUMMY!
Boiled Eggs… I salt and pepper these ahead of time so he doesn't have to do that at work.
Quest Protein Chips … these are more of a personal choice but having a chip for him is a big plus. These are very low in carb at 4 grams per bag.
THM No-Bake Cookies on page 316 of the THM Cookbook. These go so fast in my house so I usually double or triple the recipe.
Pay Off Day Candies on page 381 of the THM Cookbook.
Skinny Chocolate Truffles are a huge favorite of Jarod's! On page 384 of the THM Cookbook.
Here are a few favorite appetizer type snacks:
Crunch Puffs on page 460 of the THM Cookbook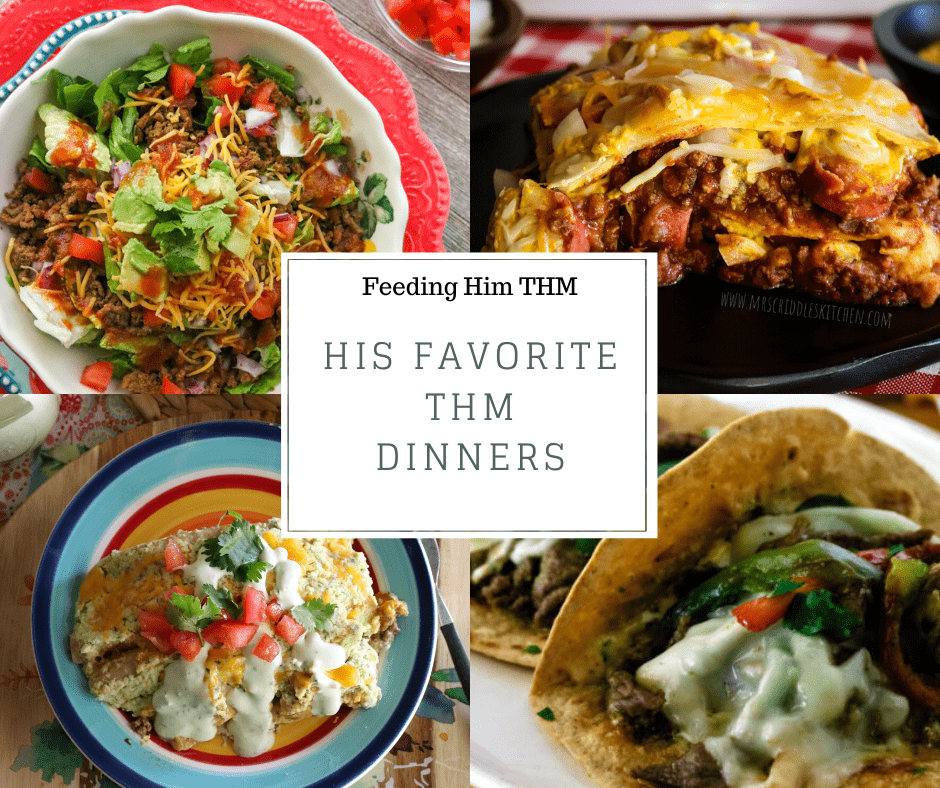 Moving on to dinner in my Feeding Him THM post, here are his FAVORITE THM MEALS! These I have made over and over, so very tried and true!
First I'll give you his favorite E meals…
Taco Salad Crunch… this is hands down his favorite E dinner!
Sweet N Sour Chicken… this is an older recipe but still one that we made quite frequently.
Grilled Chicken with Mango Salsa
Now on to his favorite tried & true S meals…
Coney Island Casserole… this was his Father's Day Dinner request!
Like I said above Jarod isn't a picky eater. I can serve most of this with a salad or a side of green beans or peas. Sometimes I will make a big sheet pan of roasted veggies. If it's an E meal I'll make a sweet potato or more starchy veggies and or a pot of brown rice.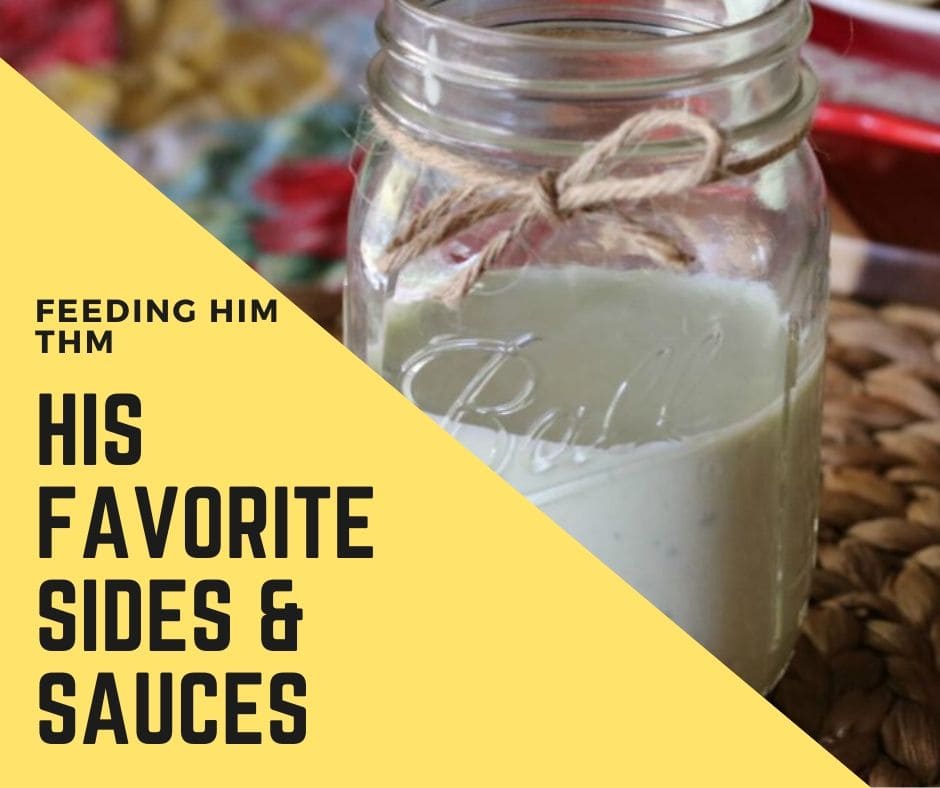 Favorite Sides:
Mexican Brown Rice (an E)
Mango Salsa (an E)
Favorite Dressings: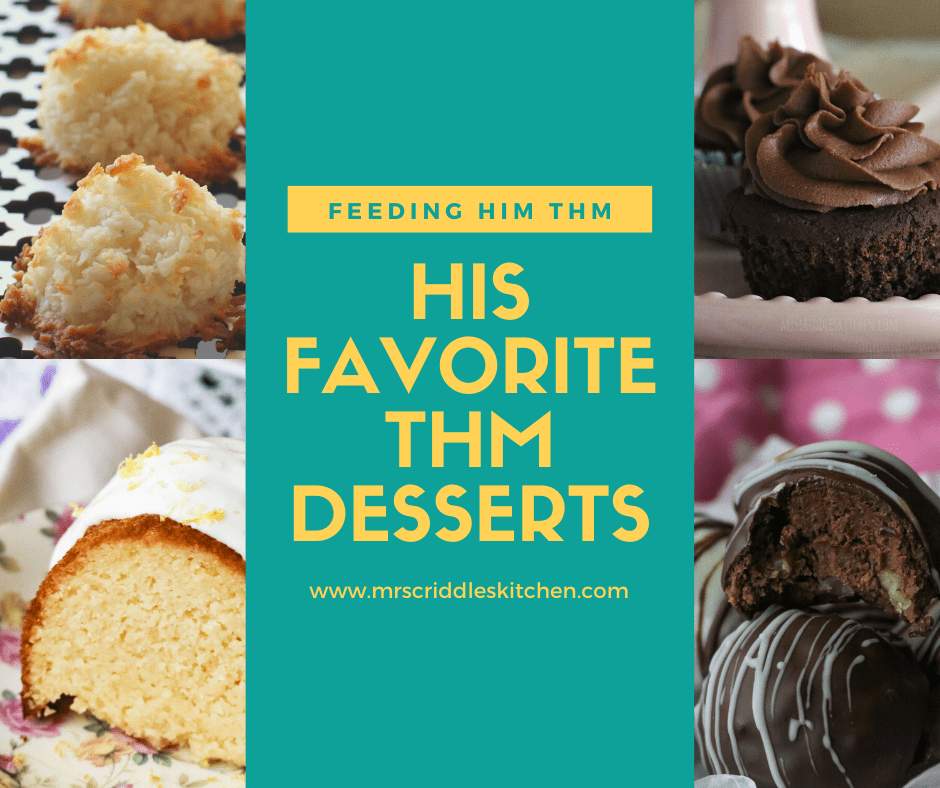 Let's talk Dessert! Here are my guy's favorites:
Sweet Vanilla Cake with Zesty Lemon Icing
Thin Mint Shake from Gwen's Nest
Ice Cream by A Better You With Coach Becky
We do make several different cookies but I need to blog the recipe.
It's not too hard keeping my man on plan… haha! I just need to be prepped and have things available for him to grab! He's not a huge snacker at work but when he comes home he is. And if I don't have things planned he will go for the kids crackers or chips. So easy access is a must! If he has to make something healthy… he's probably not going to do it, therefore, he's not eating it.
Before I go here are his favorite drinks…
Virgil's Zero Root Beer THIS IS SO GOOD! And if you can find the glass bottle kind it's AMAZING!
Also, I make him Hot White Tea because it helps with lowering blood pressure.
Out of all the sweeteners out there his favorite is the THM Gentle Sweet and Lakanto Monkfruit. The Gentle Sweet does not affect his stomach as bad as some do.
A couple of other fun items you might want to purchase:
My husband isn't perfectly on plan but he does try and that at least makes me happy! Healthy daddy makes mama happy! 🙂